---
---
New on the Blog:
Erich Wilbrecht: Former Olympian Loves Flying On Skis and Listening to the Birds in Jackson Hole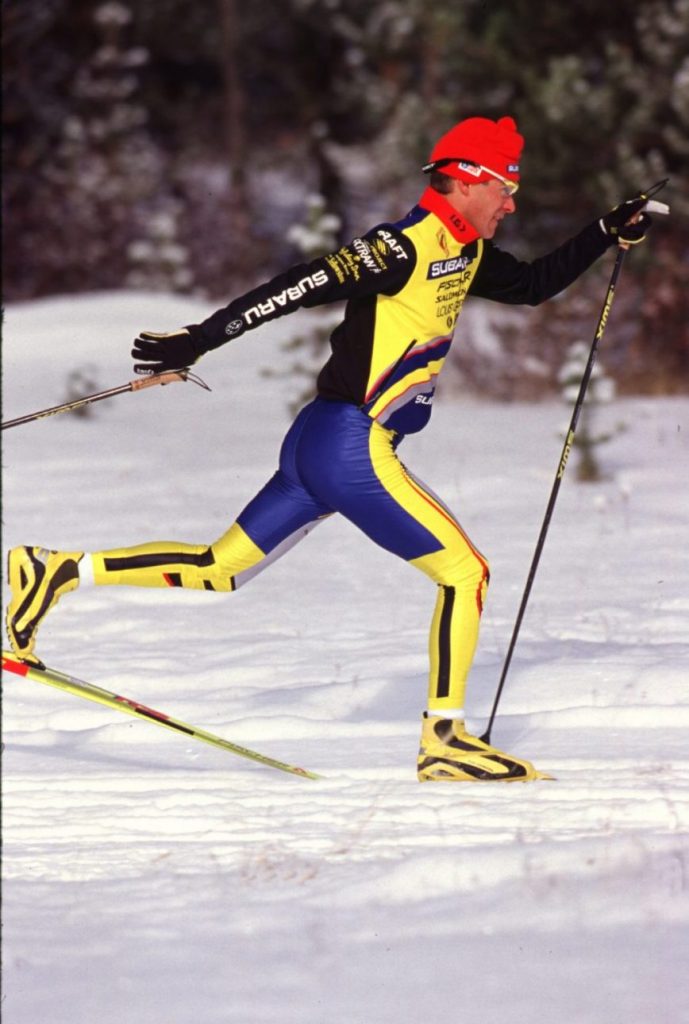 A former Olympic biathlete and an inaugural member of the Jackson Hole Ski & Snowboard Club Hall of Fame, Erich Wilbrecht is a Nordic force to be reckoned with.
Erich grew up on wildlife refuges and moved to Jackson at the age of 16 when his dad took the job managing the National Elk Refuge with the US Fish & Wildlife Service. Erich grew up cross country running, and when Jackson didn't have a cross country running team, he thought he should learn how to ski and joined the Nordic team, eventually getting recruited to ski on Dartmouth College's Nordic team.
With national team athletes in Jackson, Erich was first exposed to biathlon in high school. Then his coach at Dartmouth, a biathlete himself, encouraged his team to give it a shot (pun intended). Erich thought that his experience hunting as a kid would prepare him to excel at biathlon, but "target shooting is not the same as hunting–it's a completely different deal," said Erich.
After dabbling in biathlon in college, Erich attempted it more seriously and made the US National team. He spent the next eight years training and went on to make five World Cup Teams and the 1992 US Olympic Team.
---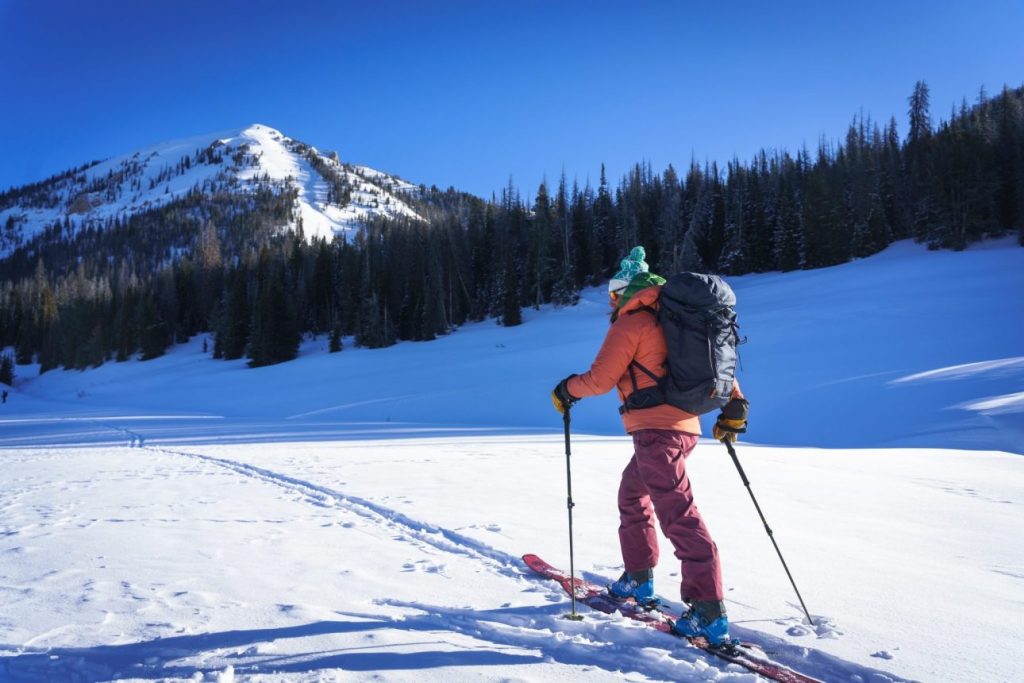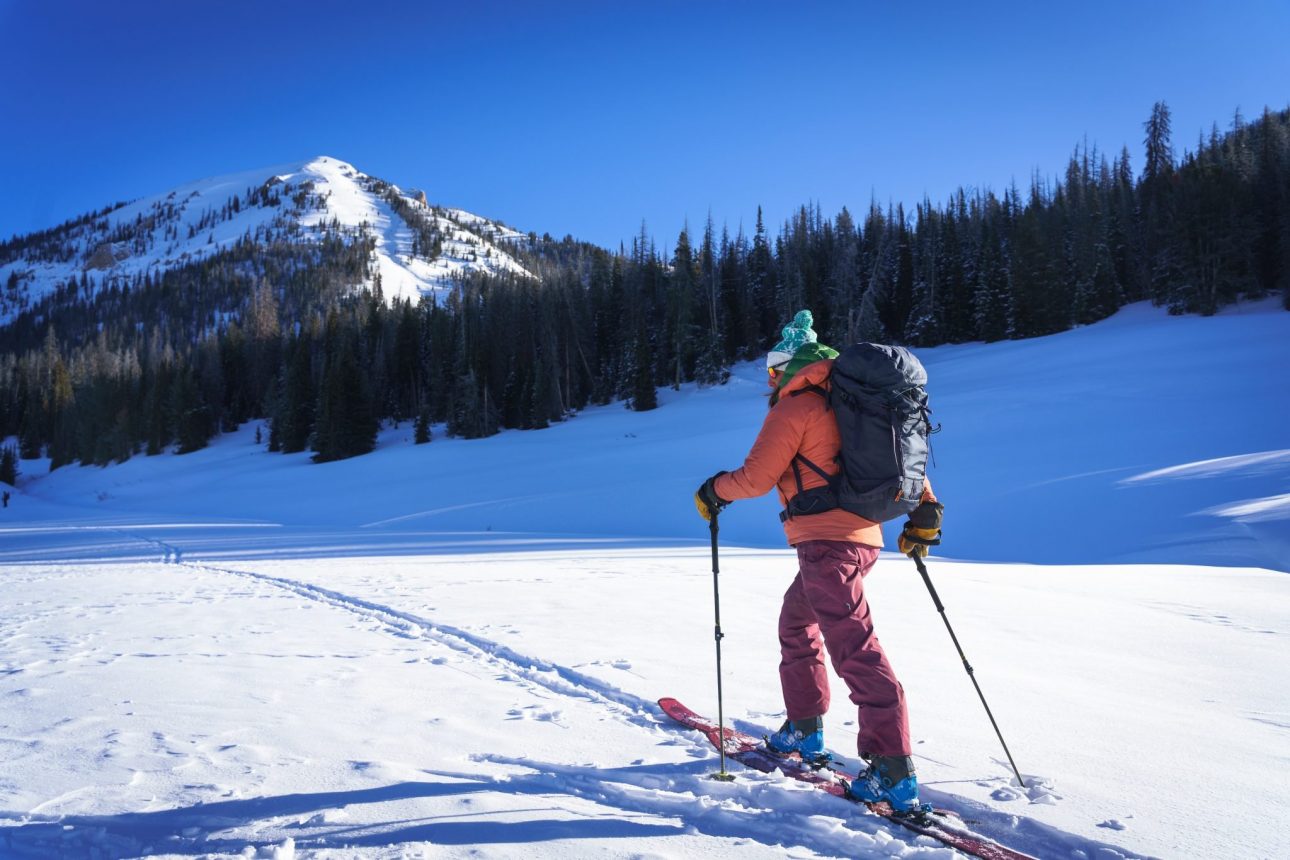 Orijin Media and Partners Present the Virtual Premiere of
Denizens of the Steep: Finding Balance in the Backcountry
Backcountry Skiing film featuring local athletes highlights the urgent conservation challenge facing the Teton Bighorn Sheep herd and how winter recreationists can be part of the solution.
Orijin Media along with Osprey Packs and Fat Tire are proud to present a virtual screening of Denizens of the Steep: Finding Balance in the Backcountry.
For Ski Mountaineer and guide Kim Havell, the mountains are a place of adventure and solitude in wild places. However, the explosion in popularity of backcountry skiing, especially in the high alpine of Grand Teton National Park, has her concerned about a remnant population of bighorn sheep who are now on the verge of extinction. Denizens of the Steep connects the joy of backcountry skiing with the urgent need to conserve an iconic species.
"If there was a written code of backcountry ethics, I think we would all mostly agree what a lot of it would be and how we approach the day when we go out and so forth. Wildlife protection and conservation is an offshoot
from that and so is protecting the wild places in which we roam." – Kim Havell
Featuring additional interviews with Grand Teton National Park Biologists, Exum co-owner Nat Patridge, Outfitter and Jackson Hole Ski Patroller Pete Linn, and Patagonia Athlete Max Hammer, the film seeks to elevate conservation voices seeking to find a common future for wildlife and recreation in our most cherished places.
Denizens of the Steep is proudly supported by Osprey Packs, Fat Tire, the Teton Conservation District, Wyoming Game and Fish Department, Maven, and the Iowa and Wyoming chapters of the Wildsheep Foundations.
---

February 17,2021 Nature Update

by Cathy Shill, founder of The Hole Hiking Experience
https://www.holehike.com
"Discover the harmony within you and you will feel the harmony that runs through nature." – Joseph Cornell
Lots of new snow this week in Jackson Hole. Blowing snow and fresh powder is expected in February and Mother Nature is performing well. Each morning begins with fresh snow and the increased frenzy of hitting the slopes.
Skiers love to play in the mountains since our dry climate and cold temperatures create perfect light and fluffy powder. Smiles abound with the morning ski forecast: overnight snow of 13 inches, 9 inches, 6 inches so snow pack is getting deeper and deeper. We are currently 96% of average snowfall for this season. Stormy forecast continues so more smiles to come.
In February, driving conditions can be treacherous. Being prepared is crucial during the winter months. Driving north in the valley can be quite challenging at this time of year. White out conditions exist when the snow is blown across the road. Don't forget to check out road conditions at https://wyoroad.info/pls/Browse/WRR.RoutesQuery and the avalanche and snow report at https://www.jhavalanche.org/viewTeton. Be prepared and make wise decisions if going into the backcountry. Here's to making a plan, staying safe and the heartfelt wish for NO avalanche fatalities during this winter season in Jackson Hole!
During a powder week, touring can be a bit challenging if you expect a packed surface. Trails are groomed but the continual snow and wind can quickly change conditions. For the grooming schedules of Jackson Hole and Teton Valley groomed trails, check out JH Nordic: https://jhnordic.com/grooming/.
For the latest groomed trail conditions and last groomed info, see the JH Nordic Daily Trail Report at: https://jhnordic.com/category/nordic-trail-reports/ or subscribe to the email version on JHNordic.com home page (daily or select any day(s) of the week).
Lots of places near town to minimize your drive. Don't forget about the local Nordic centers which can be a great choice on a stormy day. Three options in Jackson Hole, with daily grooming: Teton Pines, Trail Creek, Shooting Star, Turpin Meadow Ranch (please check hours and cost).
Stormy weather makes nature quiet. Wildlife finds the balance between energy conservation and meeting their needs. If the day is stormy with lots of fresh snow, animals wait for the snow to settle to minimize calorie loss. Best time to look for tracks and activity is three days after a storm cycle since the snow begins to consolidate and settle. Adaptations to winter helps survival. Storm after storm can be challenging.
Join one of our local naturalists to learn about winter, adaptations and fun places to explore. We take care of the details so you can relax and enjoy your day.
The Hole Hiking Experience | www.holehike.com | 307.690.4453
---
Casting Call!
Photographer / Director Jason Lindsey is casting for a personal project around Jackson, Wyoming the week of February 15th. We are looking for active people who enjoy doing winter outdoor activities. We are also casting for Ranchers, Wranglers or Cowboys/Cowgirls. COVID Protocols will be followed. If you are interested and fit this criteria, please submit your information for consideration. This is a paid role.
● Male or Female
● 65-80 yrs old
● All Ethnicities
● Active in Outdoor Activities / Ranchers / Wranglers / Cowboys / Cowgirls
● Available any day between February 16 – 19th for 1-2 hours
Please send the following to talia@jasonlindsey.com
● Full Name
● Age
● Full Body Photo (can be a phone snapshot)
● Close up head/shoulders photo (can be a phone snapshot)
● Contact Info (Phone / Email)
● Availability this week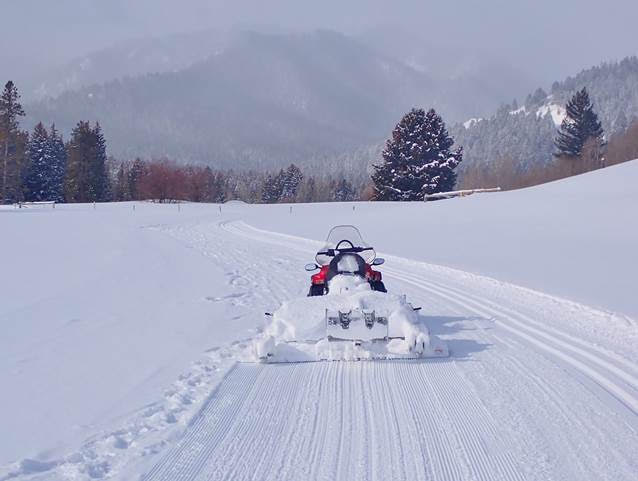 Last Updated: 2/17
Big News!
Well yes, it is a glorious day to ski and the Ginzu Groomer was able to lay not only some nice classic tracks, but also knock in some pretty good if a little soft skate lanes almost everywhere, and this afternoon will be a hive of activity when nearly 200 youth disperse throughout our wonderful terrain, but this is not the really BIG NEWS. JHSC is officially launching a campaign to purchase a new Pisten Bully!
While our current Paana has been serving us well for the past years, the time has come to move on to a newer, more efficient machine. We will be reaching out throughout our community to build support for this big undertaking and would appreciate any support that any could contribute. Read on for the full press release, and by the way, groomer's choice for today is the sunny fields and a new Pisten Bully 100!
---
Last Updated: 2/17
Cache creek and May park are groomed and in good shape. Game creek will be done around 11:00
Game Creek is groomed and ready to go.
---
Last Updated: 2/13
Groomed Cache to Noker 2 wide, hagen, sidewalk, hagen highway, river trail, and sidewalk around the trailhead. The sidewalk between the trailhead and bridge 2 is wind hammered and not groomable right now by human power but everything else should set up nice with the colder temps tonight.
Grooming provided by Friends of Pathways.
---
Last Updated: 2/12
With lots of snow in the forecast, come out early to find perfect corduroy and classic tracks. We groom daily from approximately 6:30am-9am. We still have a few pairs of skis remaining, a decent size run of touring boots, lots of hats/gloves, and a good selection of jackets and pants from Swix and Daehlie.

Call us for specific retail questions (307) 699-3394 or tetonpinesxc@gmail.com. Our hours are 9am-4pm daily.
---
Last Updated: 2/16
Look for snowy conditions over the next 7 days as the forecast is calling for daily accumulations of 2"-6". Winds appear to be light to moderate with higher gusts this weekend. Overall, skiing should be enjoyable. Get out and have fun! Next Update will be Monday 2/22.
Please See the following Restrictions
Dog Loops & All Nordic Skiing Trails OPEN
Sled Hill OPEN
Classic Tracks SET
Snow Shoeing Loop OPEN
Casual Walking Not Permitted
---
Last Updated: 2/17
Teton Village Pathway from Lake Creek Bridge north to just south of the GTNP moose-wilson road south entrance was groomed this morning. Nice for an easy , flat nordic ski, fat bike , or trail run. Or if you're commuting by ski or bike from Wilson or Jackson!
Groomed by Jackson Hole Mountain Resort, and funded by Teton Village Association .
---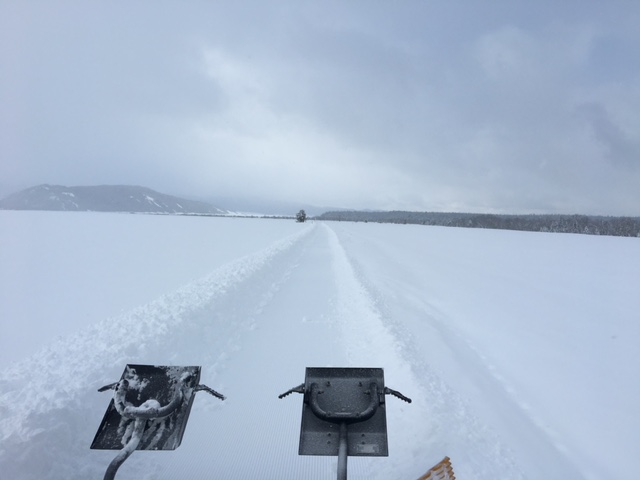 Last Updated: 2/16
Today GTNP Taggert to South Jenny. A foot or so of fresh snow will make for soft trail conditions. Cold and overcast.
---
Last Updated: 2/17
The dining room is closed for a private event today, February 18, but our trails are open and are expected to be pretty quiet. So if you are in the mood for solitude come up to Turpin to find peace where the road ends and tranquility begins.

https://www.turpinmeadowranch.com/adventures/winter-adventures/
https://www.turpinmeadowranch.com/the-ranch/live-conditions/
https://www.turpinmeadowranch.com | 307.543.2000, office
---
Last Updated: 2/17
Cross Country/Fat Bike 15k: XC OPEN (Last groomed 2/13/2021, Fat Bike CLOSED.

Trail Etiquette: Please keep your dogs leashed in the parking lot and be sure to clean up after them!
---
Grooming Schedule: Tuesday, Thursday, & Sunday
Last Updated: 2/17
Skate: Set | Classic: Set
Heading out to spend the evening on the snowmobile. The cold temps and packing things down should make for good skiing tomorrow morning.
Please do not park in the library parking lot. Please be sure to keep your dogs on a leash and to clean up after them.
---
Grooming Schedule: Monday, Wednesday & Friday
Last Updated: 2/17
Skate: Not Set | Classic: Not Set
Groomed Tuesday night. Set skate and classic track. Possibly a little fluff on top!
---
Grooming Schedule: Monday, Wednesday, Friday
Last Updated: 2/17
Skate: Set | Classic: Set
Did a combination of drag and roll to try and get a smooth surface. Snow is very soft so I suspect it will track out quickly. Sure looks like you could have a good ski out there right now though.
---
Grooming Schedule: Monday, Wednesday, Friday, Saturday
Last Updated: 2/17
Skate: Set | Classic: Set
Wednesday: 12-18 inches of light density snow has fallen in canyon past 48 hours, so track remains quite soft. Used the roller past 2 days, but continues to snow after groom.
---
Grooming Schedule: Tuesday, Friday, Sunday
Last Updated: 2/17
Skate: Set | Classic: Not Set
Groomed Campground and Yetis loops. I set the skate track but I did NOT set the classic track.
No dogs December 1 – April 15.
---
Grooming Schedule: Tuesday, Thursday, & Saturday
Last Updated: 2/17
Skate: Set | Classic: Set | Singletrack: Not Set
Heading out to groom, should be starting in the next 20 min. Hope to be done by 7:30pm. Stay tuned to this channel..
No dogs allowed.
---
5th Street Singletrack
Grooming Schedule: As needed
Last Updated: 1/25
Singletrack: Set
Did a few laps around the park with the sled and tire drag this afternoon. It will be firm and ready for action as soon as the snow sets up a bit.
---
Southern Valley Singletrack
Grooming Schedule: As needed
Last Updated: 2/17
Singletrack: Not Set
We are in a storm cycle and trails are very soft due to all the new snow. It needs to stop snowing for a couple days and the temperature needs to drop for the trails to firm up. Till then, consider alternative places to ride, like plowed roads, or machine groomed snowmobile trails. Or, go ski powder!
No dogs December 1 – April 15.
---
Darby Canyon
Grooming Schedule: As needed
Last Updated: 2/17
Groomed to ATV trailhead 2/17
---
South Leigh Road
Grooming Schedule: As needed
Last Updated: 2/17
Groomed this morning 2/17
---
Pinnacle Trail
Grooming Schedule: As needed
Last Updated: 2/17
Groomed 2/16 to the meadows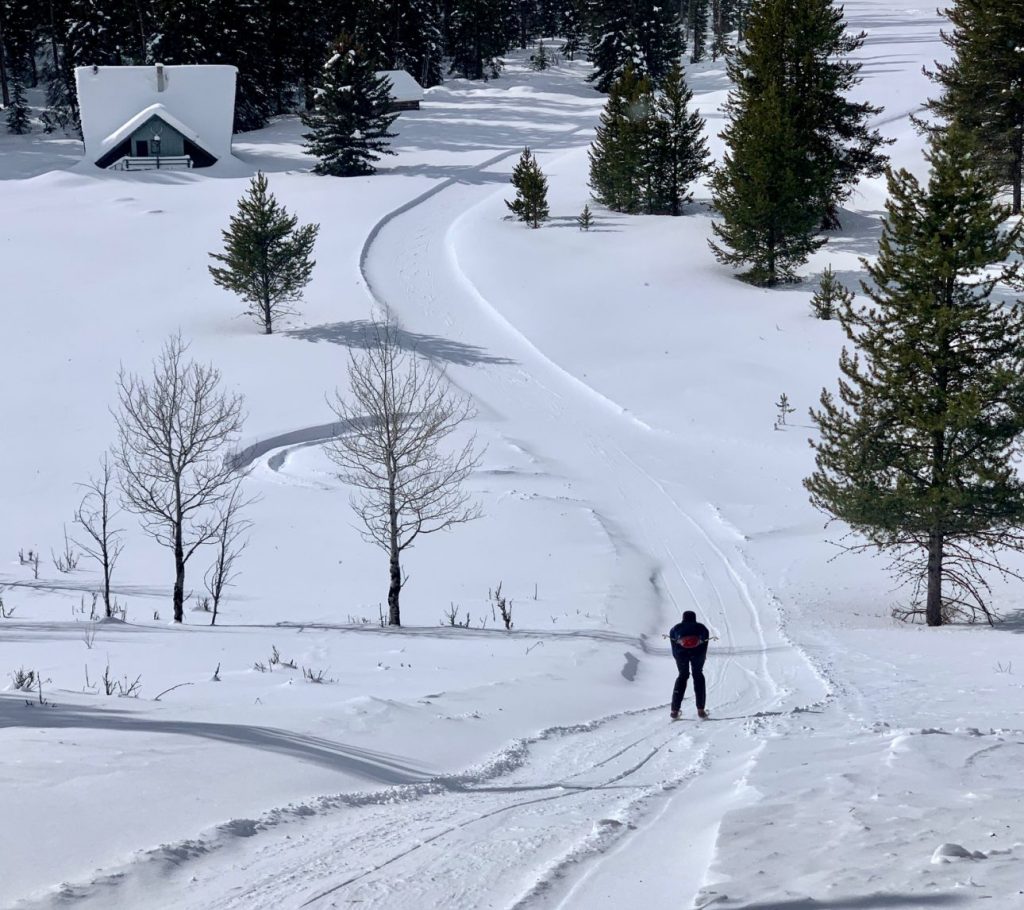 TETON PINES NORDIC
THURSDAY, FEBRUARY 18TH | 11:00-12:30pm
With JH Ski Club Nordic coaches, small groups, at Teton Pines Nordic. For more information and to sign up online, click below.
---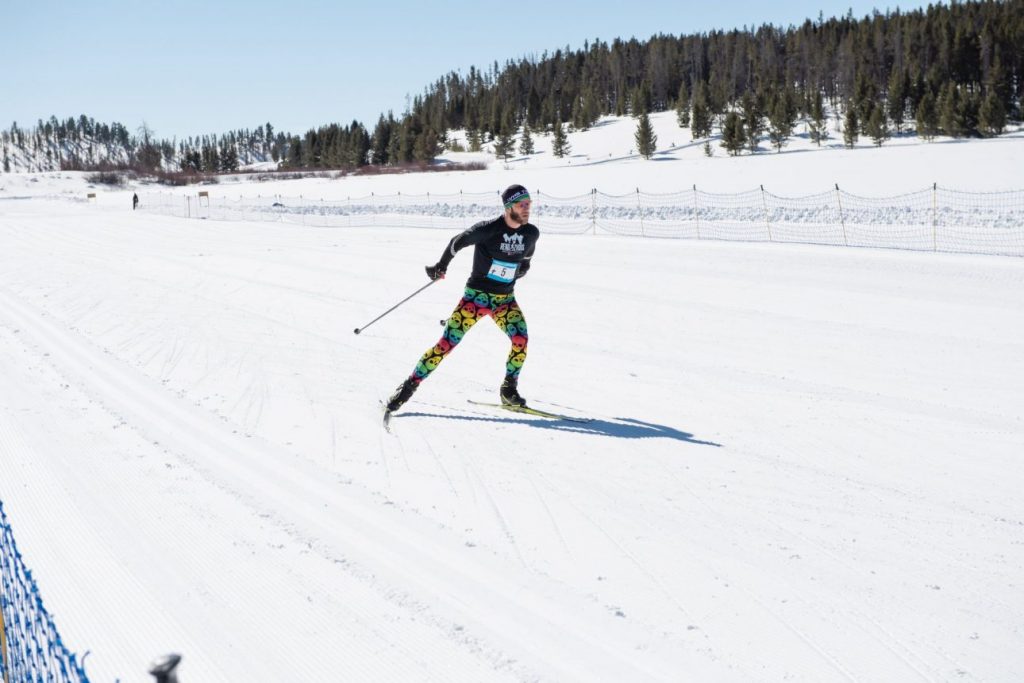 WHITE PINE NORDIC SKI TRAILS | PINEDALE, WY
FEBRUARY 27, 2021
6k, 10k, 20k and races. Races will all be mass start, freestyle race. Prizes and giveaways!
---
---
We'd love to hear about your outdoor adventures, what your doing to stay healthy, safe, respectful of community health guidelines – send pictures or post on FB and Insta – #JHNordic