---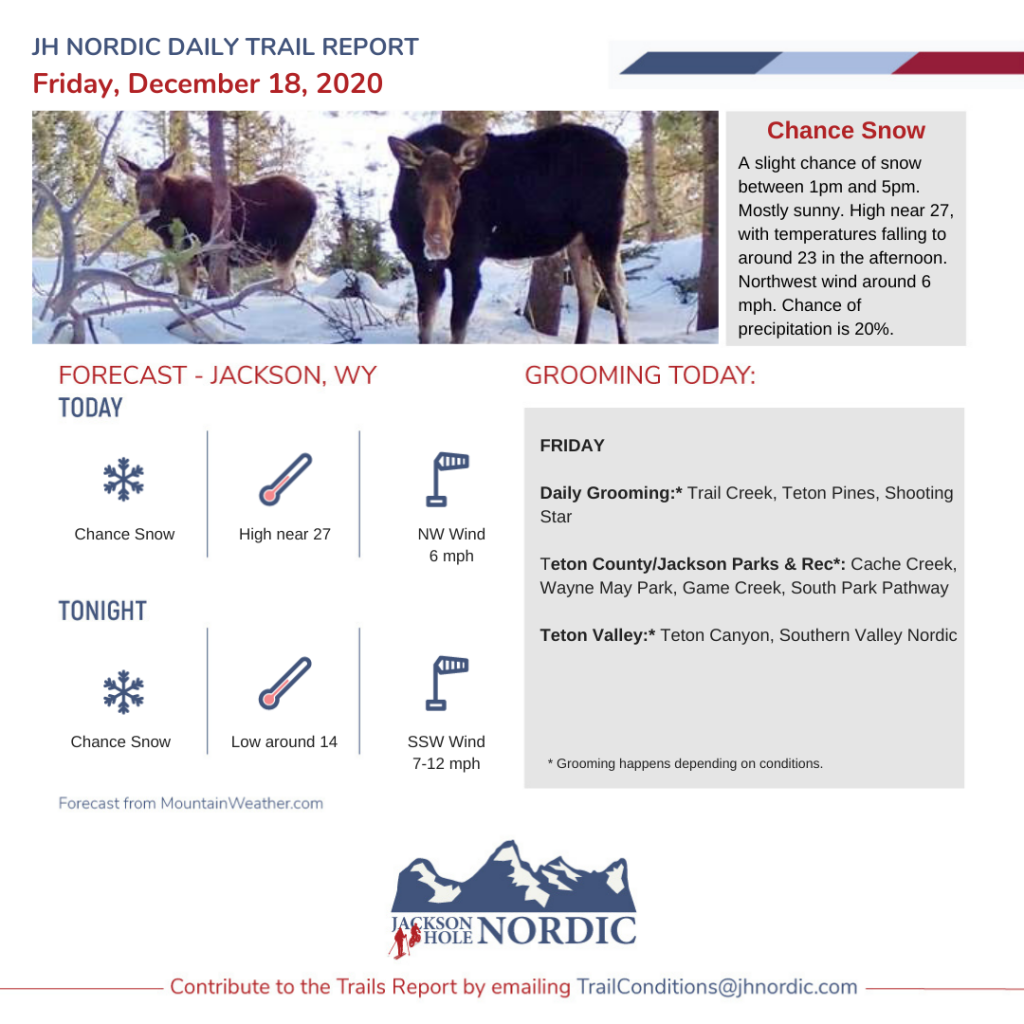 ---
Growing up in Western Pennsylvania, Scott started Nordic skiing at a little Nordic center in the rural mountains–first working as a lift operator and then delving into the sport with his brothers. He continued skiing in college in Erie, Pennsylvania, then went on to help organize the Pennsylvania Cross Country Skier's Association after college and ended up becoming the Pennsylvania Cross Country Skier Champion for one year. Scott was inspired by the evolution of skate skiing in the early 1980s after Bill Koch won the silver medal in the 30 km event at the 1976 Winter Olympics.
---
Parks & Rec Update
The Teton County/Jackson Parks and Recreation Department will have the PistenBully groomer back up and running today. Normal grooming schedule will start back up tomorrow. With the new snow we are currently receiving we hope to be able to hit everything with the PistenBully from here on out.
Staff got approval this week from the Board of County Commissioners to keep the pathway along Highway 22, from Emily's Pond entrance to Town city limits, clear for as long as possible into the winter. This resulted from a collaboration with Teton County Community Pathways, support from our Elected Officials and Yellow Iron Excavation.
In addition, staff will clear the Indian Trails pathway from the north end of Tribal Trail Rd to Highway 22 as resources and time allows.
Thanks to everyone for doing your part to keep the community safe and your patience as we work on the groomer and let the snow keep piling up.
---
Banff Film Festival Goes Virtual
Skinny Skis has been Jackson's local host for the Banff Centre Mountain Film Festival World Tour for over 20 years and for the first year ever the festival has been made available online! While the format is new we are still your local host so please use the links below to rent through us. We will be back to the full, in person, screenings in future years as sharing these amazing mountain stories with our community has been a privilege over these many years.

So please enjoy the 2021 edition of the Banff Mountain Film Festival from the comfort and safety of your own home this season as presented by your friends over at Skinny Skis by tapping the links below. Thank you for your support and enjoy the show!
---
Beautiful, snowy day on the dike including a bald eagle sighting!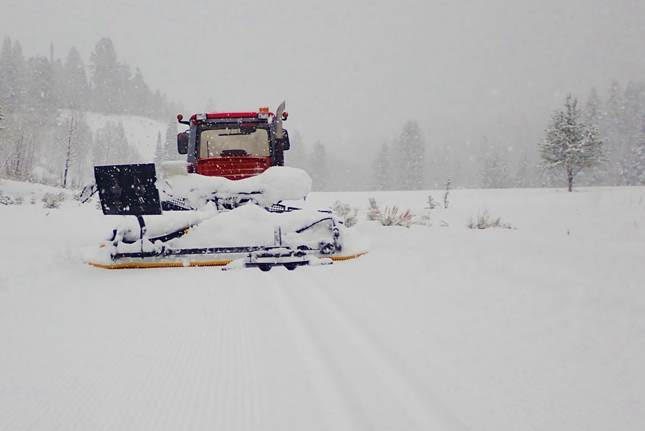 Last Updated: 12/17
Race Updates!
Snow is massively dumping today at Trail Creek, setting the base for a great high school race on Saturday. As everything else this year, things are kind of being made up as we move forward but the final plan as of December 17th is in place. Saturday's race will begin at 12:30 PM and most likely wrap up around 4 PM. This necessitates closure of all trails except those on the National Forest to the public on Saturday until the race is concluded around 4 PM. And to repeat, no spectators will be allowed at Saturday's race. We are trying our hardest to keep racing going this year and greatly appreciate your understanding. National Forest trails might be groomed Saturday morning depending on grooming conditions. The exact trails involved in the race can be viewed on this course map.
Moving on to the Betty Woolsey, it is a go! Mark December 26th on your calendar and get those classic technique skis ready to go. As you might have guessed, there will be no mass start this year. Start time is 10 AM with 30 second start intervals and 0.5k, 3k, 5k, and 10k options. Double classic tracks will be spaced wider than you've ever seen before at Trail Creek. Registration is online only and available at the Betty Woolsey Registration Page.
Today's grooming was the race course for Saturday's race. By the end of grooming snow totals were topping eight inches with heavy snow still falling. A classic track was placed but was also rapidly being covered. Skiing conditions are "fantastic rustic". Those hyper-regulars might notice a bit of grooming towards Mug's Meadow; note that it is not really skiable yet, we are just laying out routing to facilitate snow moving going forward. Check it out if you want, but the through gate is not yet open.
An amazing flock of cedar waxwings were hanging out in the big aspen tree beyond the stadium this morning. They were darting down and feeding on dried fruit on some of the smaller trees. Kind of a special treat if you get to check them out today!
Groomer's choice for today is to ski both the 3 and 5 k courses.
---
Last Updated: 12/17
PistenBully will be up and running for grooming tomorrow morning. We will resume normal grooming schedule at that time. Thanks for your patience.
This morning I groomed the levee with the snowmobile and pull behind groomer. I am currently at stilson and should be done around 8:30. I am leaving the old classic tracks which should still ski ok.
---
Last Updated: 12/16
Skiing conditions are great at the Pines! We are grooming daily with the snowcat and have good coverage for both skate and classic. With lots of snow in the forecast, our conditions will continue to get better and better!
We are looking for volunteers to help out over the holidays. We still need coverage on most days between Dec. 22 and Dec 31. Help in the rental room or outside directing our guests to the check-in window and rental room area. We are operating almostly completely outside this winter to keep everyone safe and healthy. We have warm areas for employees and volunteers so don't worry about freezing during your shift. We are in need of rental room staff (paid position) for the remainder of the winter. Flexible schedule and hours.
Please call or email Cody for more details: (307) 733-1733 or tetonpinesxc@gmail.com
---
Last Updated: 12/16
Last night winds provided beneficial drifting that deposited snow onto the majority of the trails. Currently the snow profile is at an intermediate phase and may ski awkward in spots until more snow accumulates so our equipment can sit flat. Grooming will now be a daily decision of the Pistenbully or the Snowmobile depending on conditions the day of.
The Sled Hill will be available to use this Saturday (12/19/2020). The heavy overnight drifting made it possible to do a first groom on that area this morning and needs time to set up/freeze before it can be open. Thursday Night is calling for high winds and heavier snowfall, which should benefit the sled hill for its final preparations prior to utilizing it on Saturday. Please note, the sled hill will only be groomed once per week in order to maximize its life span until heavier snow returns and allows for more frequent grooming.
Please See the following Restrictions for the remainder of the week.
· Dog Loops & All Nordic Skiing Trails OPEN
· Sled Hill CLOSED UNTIL SATURDAY 12/19
· Classic Tracks Not Set… NEED MORE SNOW
· Snow Shoeing… NEED MORE SNOW
· Casual Walking Not Permitted
· Early Season Conditions
· Grooming is currently via snowmobile and occasionally Pistenbully
· **SKI W/Caution!!… Current Depths and Coverage are Very Deceiving
Next Update will be on Monday 12/21. We'll continue to monitor conditions on a daily basis and notify all whenever Classic Tracks or Snowshoeing may return. Thanks.
---
Last Updated: 12/18
Turpin is fully groomed and opened for skiing! Thanks to this last round of storms the trails have filled in nicely with full cover everywhere. Trails are all groomed daily. Look forward to seeing all those familiar faces and getting to know some new ones. Remember to recreate responsibly and social distance. Bring a mask as it is required to enter the lodge. Lunch and dinner are both by reservation only.
---
Last Updated: 12/16
XC OPEN (Last groomed 12/12/2020), Fat Bike CLOSED.

Trail Etiquette: Please keep your dogs leashed in the parking lot and be sure to clean up after them!
Grooming Schedule: Tuesday, Thursday, & Sunday
Last Updated: 12/16
Skate: Set | Classic: Set
I rolled three passes everywhere this morning, except the two inner northern loops, Wheel Line and Vertigo. The coverage is nearly complete now, with a minimum of grass showing. Everything except the northern loop had a good base following Tristan's heroic efforts Monday night and should provide a reasonably decent skating surface. The northern loop had a lot of fresh snow and will take a few more grooms to get firm. The classic track is set everywhere and may be the best option at Alta today. Enjoy!
Please do not park in the library parking lot.
---
Grooming Schedule: Monday, Wednesday & Friday
Last Updated: 12/16
Skate: Not Set | Classic: Not Set
Driggs was rolled today. Early season conditions exist!
---
Grooming Schedule: Monday, Wednesday, Friday
Last Updated: 12/16
Skate: Set | Classic: Set
Classic in skate tracks set. Snowmobile packed Walker's loop.
---
Grooming Schedule: Monday, Wednesday, Friday, Saturday
Last Updated: 12/16
Skate: Set | Classic: Set
Plan to roll, reset both skate and classic tracks this morning. Imagine track will remain fairly soft. Finish by 10am.
---
Grooming Schedule: Tuesday, Friday, Sunday
Last Updated: 12/17
Skate: Set | Classic: Set
Come and get it before it all fills in! All trails are groomed and the classic track set very well. Lightly snowing with no wind.
No dogs December 1 – April 15.
---
Grooming Schedule: Tuesday, Thursday, & Saturday
Last Updated: 12/17
Skate: Set | Classic: Not Set
Spent about 2 hrs re-establishing the course. Skiable? Yes, but very soft and slow. The longer it sits, the better and faster it will be. No classic set; may come back after the storm to set the tracks.
No dogs allowed.
---
5th Street Singletrack
Grooming Schedule: As needed
Last Updated: 12/16
Singletrack: Set
Weds night – Rode in a lap of 5th St. singletrack. It's soft but if you're looking for a workout and have a winning tire combination it should be passable. Ditches are filled in. Will try to keep trail established through this snow cycle with updates posted as applicable.
---
Southern Valley Singletrack
Grooming Schedule: As needed
Last Updated: 12/17
Singletrack: Set
We're heading out this evening to groom some of the singletrack trails. Please be aware of the machinery after 7pm Thursday, 17th.
No dogs December 1 – April 15.


THURSDAYS, DEC 10TH – MARCH 18TH | TETON PINES
8 clinics every other week from 11am-12:30pm, starting on December 10th -March 18th, alternating skate skiing and classic cross-country.
---
SATURDAY, DECEMBER 26th | TRAIL CREEK
Register with the JH Ski Club. A community favorite, honoring Betty Woolsey of Trail Creek Ranch. All ages welcome, interval start. Come dressed to ski and wear a mask!
---
Based on our goal to Recreate Responsibly, the JH Nordic Alliance has decided to cancel this season's Annual Free Winter Trails Nordic, Fat Bike and Snowshoe Event. Stay tuned for January 2022! In the meantime, we encourage you to get out safely, responsibly, wear a mask, keep your groups small, and space out!
---
We'd love to hear about your outdoor adventures, what your doing to stay healthy, safe, respectful of community health guidelines – send pictures or post on FB and Insta – #JHNordic