"It is better to go skiing and think of God than to go to church and think of sport." – Fridtjof Nansen. That's the quote you'll find next to Scott's name on the JH Nordic website, and his passion for Nordic skiing lives up to it.
Growing up in Western Pennsylvania, Scott started Nordic skiing at a little Nordic center in the rural mountains–first working as a lift operator and then delving into the sport with his brothers. He continued skiing in college in Erie, Pennsylvania, then went on to help organize the Pennsylvania Cross Country Skier's Association after college and ended up becoming the Pennsylvania Cross Country Skier Champion for one year. Scott was inspired by the evolution of skate skiing in the early 1980s after Bill Koch won the silver medal in the 30 km event at the 1976 Winter Olympics.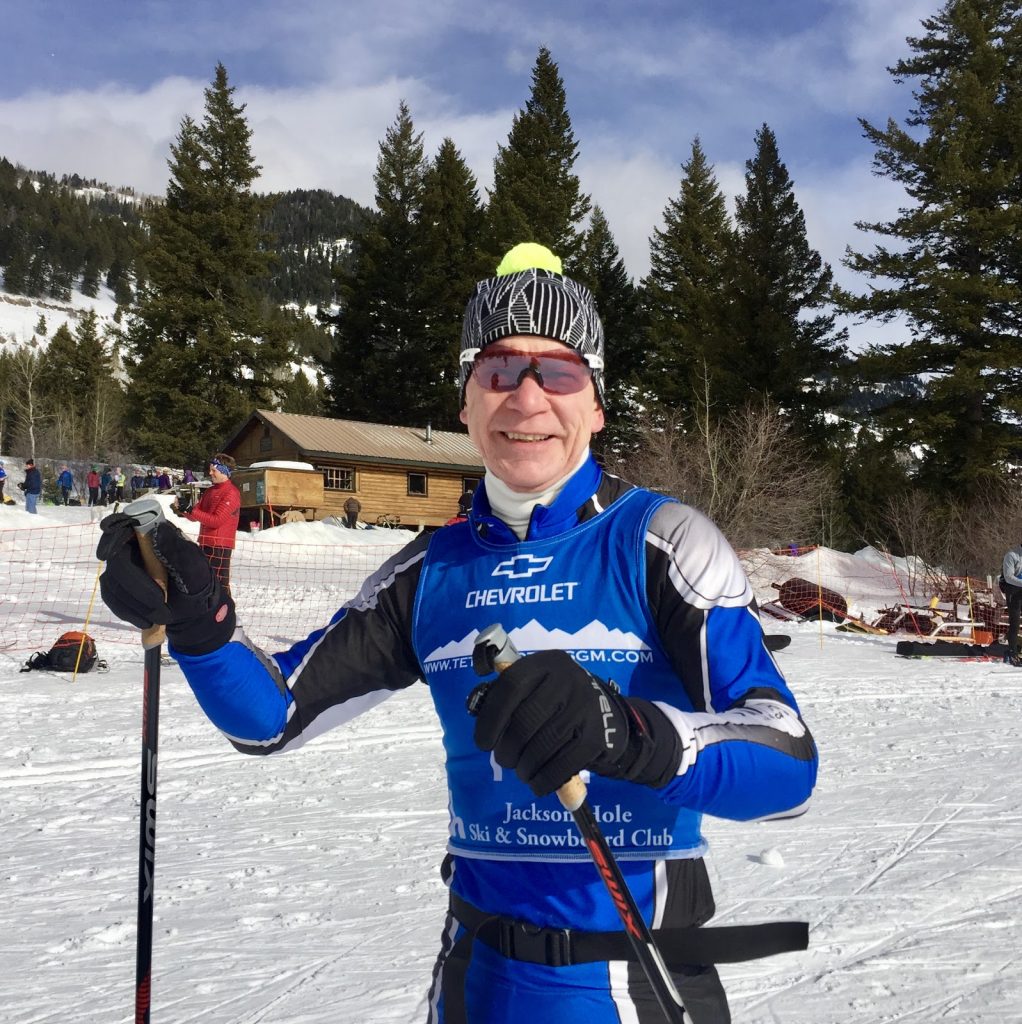 Scott thinks Nordic is the best sport in the world: "The great thing about Nordic skiing is it's a lifelong pursuit. You can do it almost until the day you die–it's easy on your body," Scott said, adding "I don't think there's anything better than a workout in cold weather when you're breathing that steam out, and I think it's about the healthiest thing you can do."
The Importance of the Nordic Community
The Nordic community itself has also been extremely important to Scott.
"The people the sport attracts are the type of people with which I want to be associated–people that are concerned about their health. People that like the outdoors, people that, when they're done, like to go get a nice warm bowl of soup." 

– Scott Horn
While alpine skiing makes him crave french fries and other greasy foods, after a Nordic ski, you can find Scott seeking out healthy food options, like a good bowl of soup with some fresh bread. It's the activity, the community, and the cravings that all align to make Nordic skiing so healthy and rejuvenating for Scott.
Scott found his way to Jackson through a Nordic ski camp in West Yellowstone, Montana. After alpine skiing for a day at Jackson Hole Mountain Resort, he happened upon a job opening at the resort for a human resources director. Since he had his masters in human resources management and past corporate experience in the field and wasn't loving his job back east, Scott followed up on the opportunity and ended up moving out to Jackson in 1994.
His First Ski in Jackson Hole
His first real ski in Jackson Hole was one to remember. When he flew out to interview at Jackson Hole Mountain Resort, he met up with two ex-Olympians, Erich Wilbrecht and Jim Curran, for an April ski on Phillips Pass. On the way, they went to Nora's Fish Creek Inn for some huevos rancheros, and he ate the entire plate.
"I'm coming from the east coast, Phillip's Pass is almost at 8,000 feet, and I'm with two Olympians, so I've got my huevos rancheros [in my stomach] while skiing at altitude," Scott said, laughing. "That was probably the most difficult day of skiing I ever had, trying to keep up with those two. I was just trashed by those guys."
Scott has been involved with the Jackson Hole Nordic Alliance since the beginning. He met Nancy at Jackson Hole Mountain Resort, and after he retired, he became more active in the Nordic Alliance.
"I don't know where our whole Nordic community would be right now if it wasn't for Nancy Leon," Scott said. "She has been the person that has made things happen, so [I have] a lot of honor and respect for everything she has done."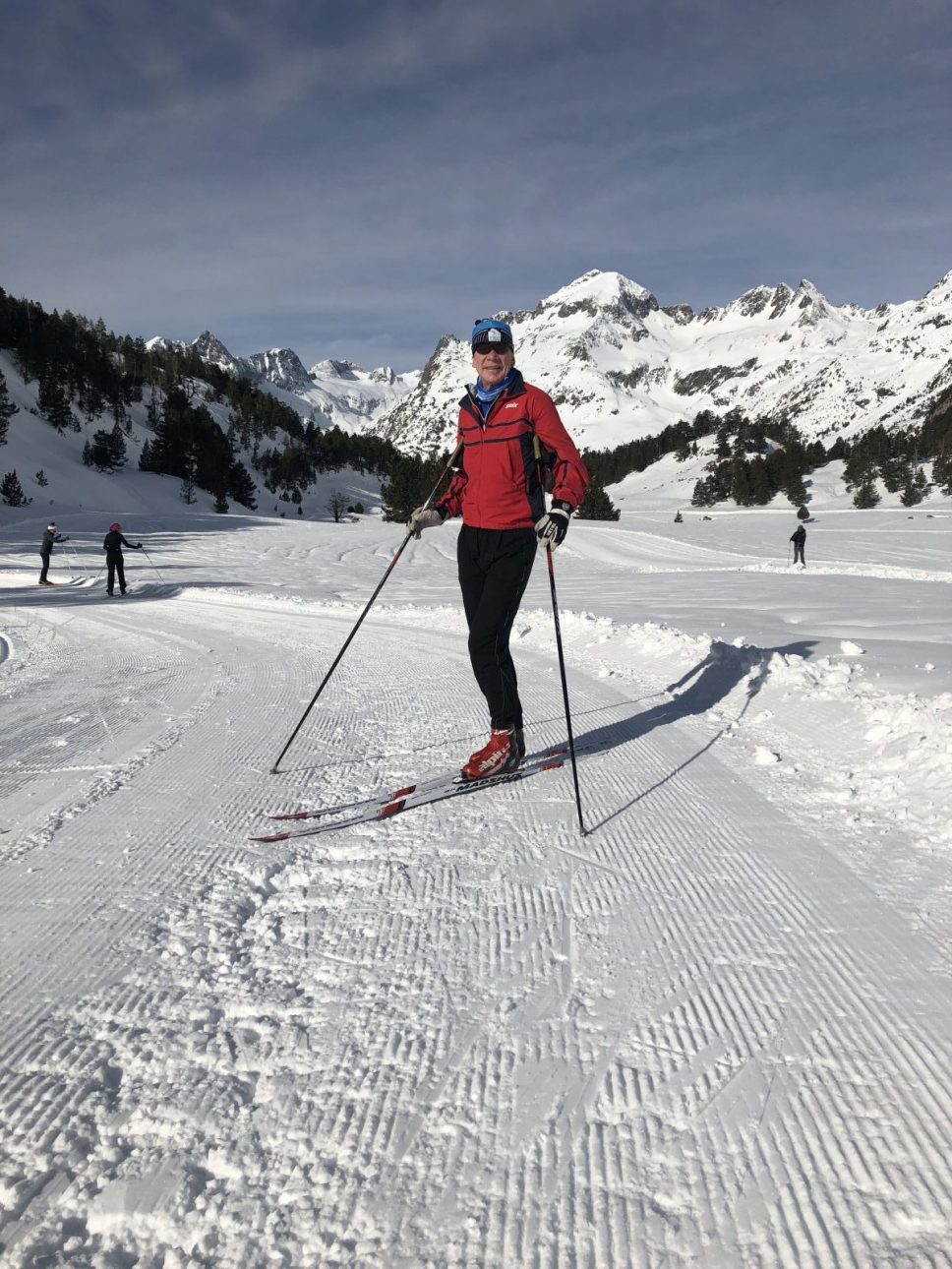 Scott has been the head coach for the Jackson Hole Nordic Masters Recreation Clinics, which is now in its third season. The clinics run every other week with Nordic coaches from the Jackson Hole Ski & Snowboard Club Nordic Program joining Scott to teach small groups. The clinics are designed to help adult skiers of all ages practice their technique while having fun and improving their fitness. 
Before coaching locally, Scott competed in Masters Nordic races here in Jackson Hole, as well as across the US and internationally. In the last decade, Scott has traveled to master races all over the world, but Spain and Argentina were his favorite places.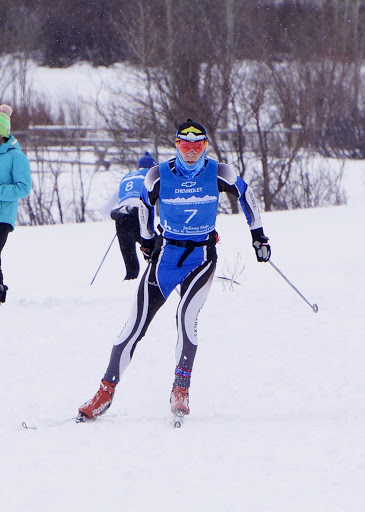 "I liked both Spain and Argentina because [Nordic skiing isn't] the main sport–it's a periphery sport, but the people that are into it are so enthusiastic," said Scott. "Argentina was really cool because [we were] racing in the middle of August. It was amazing to leave Jackson when it's 80 degrees and fly down there and be on snow."
Nordic Skiing, a Wholesome Activity
Scott found that the spirit of the Nordic community that he loves so much was a commonality regardless of where he went.
"The word I keep coming up with is wholesome–I think it's a wholesome activity," Scott said. "And the values that surround it–hard work, healthy competition, and the appreciation of nature and the outdoors are all so positive." 
Scott also thought that masters racing at an older age with other people at older ages allowed for more community building and friendship instead of competitiveness.
"In my younger years, the competitive part [was] too much and my ego [was] too big, but particularly when you get into masters racing, the ego settles down a little bit," Scott said. "The competitive part is still important, but with age, people put the activity in the proper perspective. The most important part becomes the experience and the people that you meet when you're out skiing."
Scott has been drawn back to his time spent studying psychology in college and the ideas. regarding self-realization and self-actualization that Mazlov and others espoused He has come to understand self-realization as actually realizing that the self is not as important as the community and larger world beyond the self–we are all connected.
"It just makes the sport better because it's not all about me–it's about the whole community, Scott said. "And that's part of the reason why I'm giving back, trying to help out the kids [at the Ski Club] and coaching other masters."
Scott has seen his own maturity and evolution occurring within his perspective on Nordic skiing.
"Someone said, 'when you change the way you look at things, the things you look at change.' As a younger person, I looked at [Nordic skiing] just as a competition about getting on the podium. And as I've gotten older, I've changed the way I look at the sport, what's important about it, the values of it, and it's changed the sport itself for me."
Though Scott has skied in Argentina, Alaska, Germany, and Spain and loves the Nordic facility at Mt Van Hoevenberg in Lake Placid, New York, he's found a wonderful home base and skiing paradise in Jackson where he can count on consistent conditions and trail variety.
"We've got the best snowfall of just about anybody. When I lived back east, you could get to the weekend and it rained or it didn't snow, you just weren't sure. But where we live [in Jackson], from mid-December until mid-March, you know you can go out and ski somewhere and it's gonna be good," Scott said. "The other great thing about this place is that you have so many opportunities and different types of trails, so you can always find whatever you need."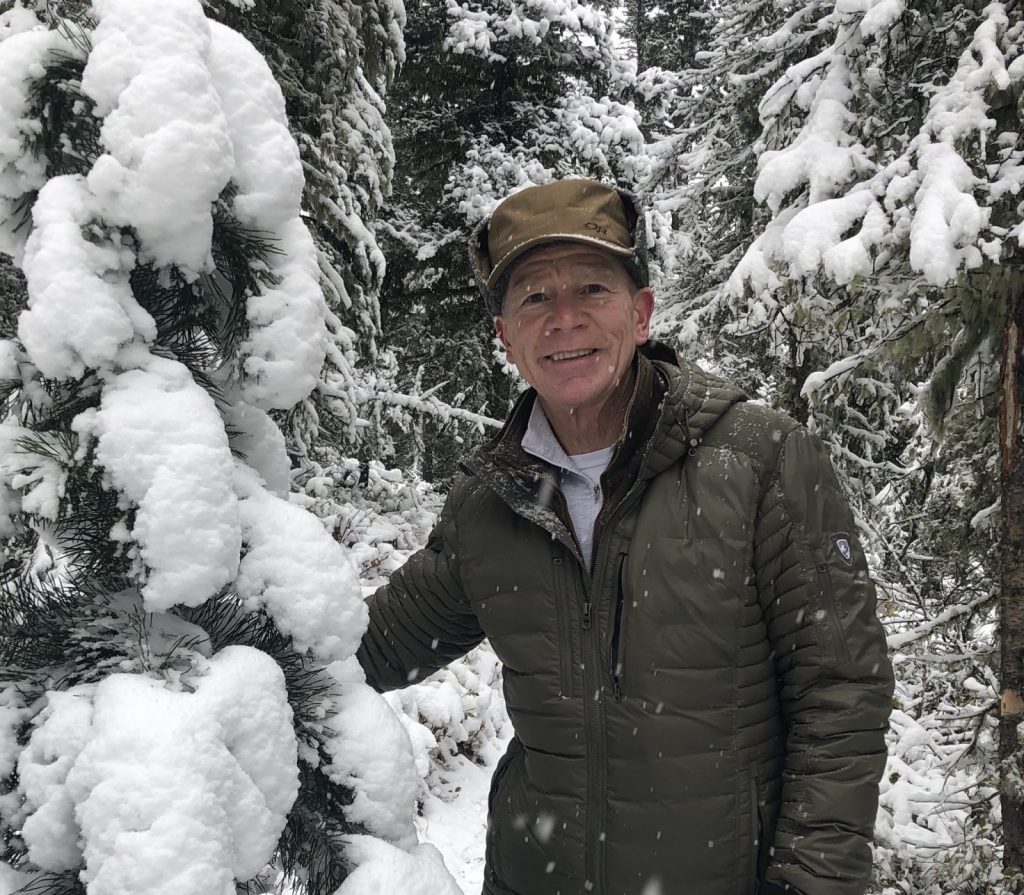 Nonetheless, Scott loves skiing in Grand Teton National Park, starting at the north end in the trees where the terrain is great and the wind is calm. He also cherishes going down Moose Wilson Road with his "old beater skis" for his first ski after the first snow in November.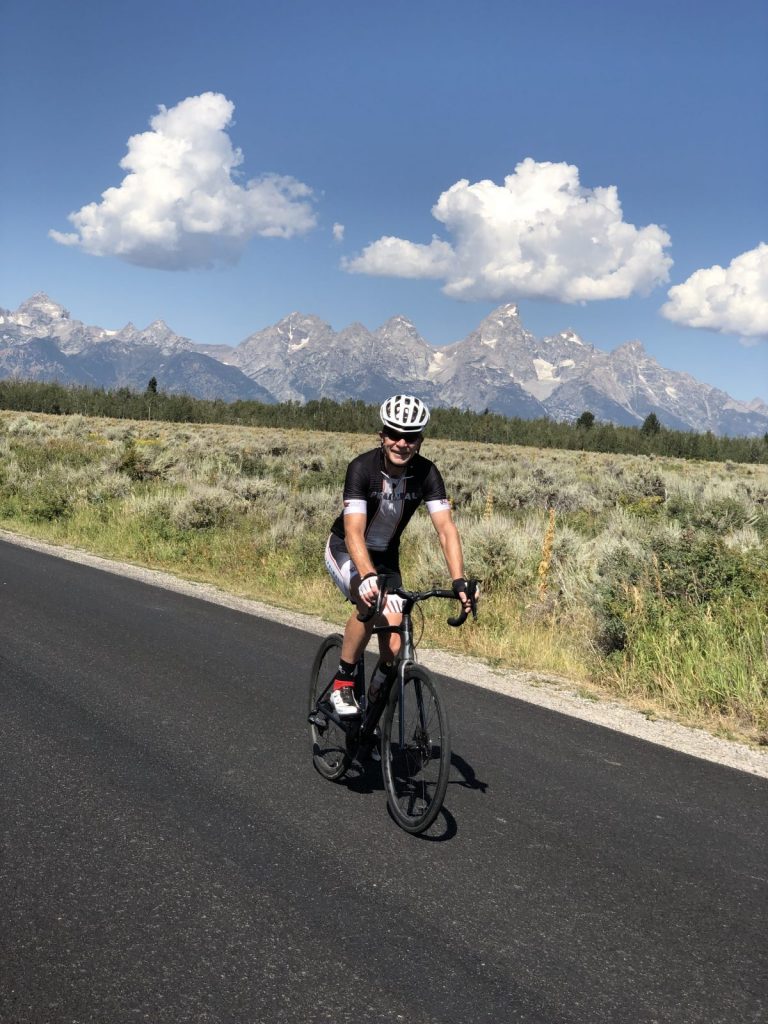 Scott's Nordic Pro-Tip
When asked what pro-tip Scott would give to a Nordic skier, he emphasized the importance of focusing on technique and taking a lesson.
"I used to do running races, and then in the winter I'd do ski races, and the guys I couldn't beat in a running race, I could easily beat in a ski race because I worked on my technique," Scott said. "It's more than just your heart and lungs and who's got the best motor, it's also who's got the best technique."
Scott has also had his fair share of moose encounters on the trail, but he once had a little scare with some different tracks while in the backcountry going up to a ski hut on the Victor side. His guide looked down at the tracks in the snow and said "oh my god, there's a mountain lion on the trail," so a freak-out ensued.
"Then we continued and went around the next turn, and there's a guy with his German shepherd, saying 'c'mere Skippy, c'mere Skippy,'" Scott said, chuckling, "so it was Skippy the German Shepherd, not a mountain lion that the tracks were from, but the guide had us all so scared."
While Scott's most important advice is about honing technique, there are two more unique pieces of advice he leaves us with: look out for Skippy the German shepherd and wait a little bit after eating the Huevos Rancheros from Nora's before going for a Nordic ski up on Phillips' Pass.