---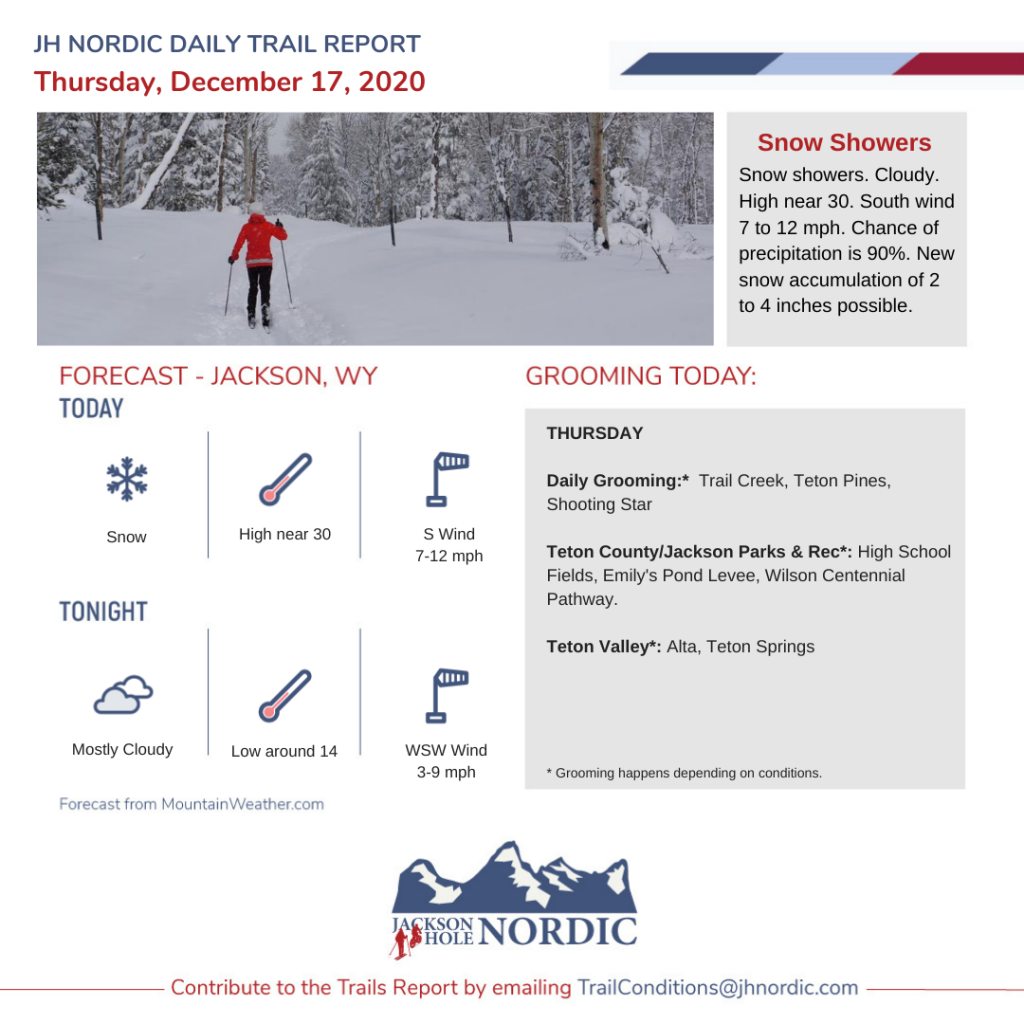 ---
December 17, 2020 Nature Update
by Cathy Shill founder of The Hole Hiking Experience
https://www.holehike.com
"The real voyage of discovery consists not in seeking new lands but in seeing with new eyes." – Marcel Proust
Fresh snow in Jackson Hole! After a sunny, cold weekend, the weather has changed and snowy weather is forecasted for most of this upcoming week. Fresh snow brightens the landscape and our dry climate creates light and powdery snow. Ideal for a winter adventure.
It's still early season so being conservative helps protect your gear. I like to xc ski on roadways since less rocks and obstacles. Two favorites early season locations are Two Ocean Lake and Toppings Lake. You can ski beyond the gates on the forest roads You can also tour in the trees which is nice with the new soft snow.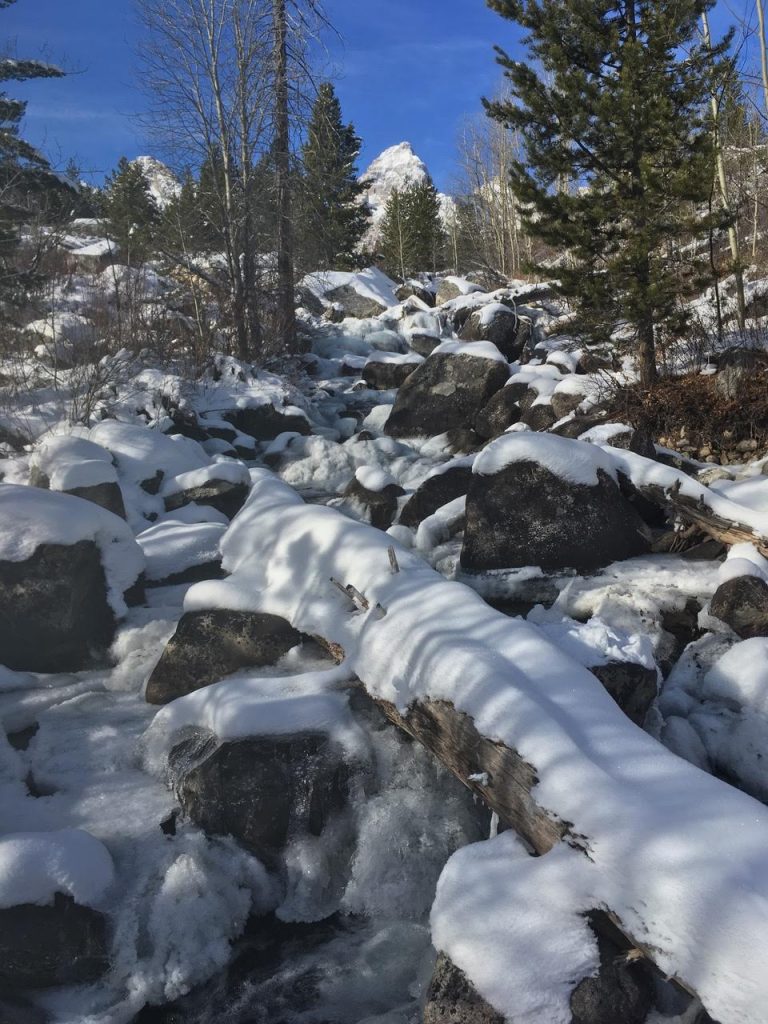 With national forest nearby, you can go into the woods to cut a Christmas Tree. The Bridger-Teton National Forest surrounds Grand Teton Park and Jackson Hole so lots of options and approved locations. Get a permit here.
My nephew is here to snowboard and enjoy a Jackson winter before he begins medical school. Truly his first Christmas away from home. What a better way to celebrate time in Jackson Hole then heading to the hills to find a tree? We cut a spruce that was growing in the shade of other trees. Best to cut a spruce and leave Lodgepole Pine which allows in more sunlight. Cutting conifers in aspen groves is also encouraged. Harvesting a tree to shine brightly in your house is a fun tradition in Jackson Hole. Skiing Christmas morning may be the next tradition to share with my nephew.
As the snow accumulates, we begin to glimpse the season of winter. During an average year, the Jackson valley receives over 100 inches of snow. The landscape will turn white and tour options become endless as the snow blankets the vegetation. The forecast and fresh snow makes for a great week ahead with the start of winter right around the corner.
Join us to learn and discover trails off the beaten path! The day is customized to your interests and physical ability. Can't beat a day to explore Grand Teton Park with a local naturalist. Book Now: 307.690.4453 https://www.holehike.com/ski-snowshoe-winter-tours/.
---
Turpin Meadow Ranch Opens this Weekend!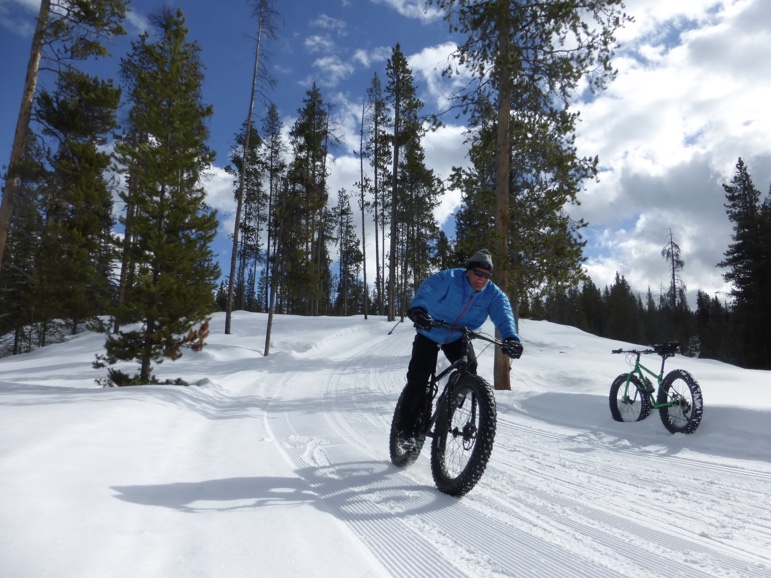 Turpin Meadow Ranch Opens its groomed trails, historic main Lodge, and overnight cabins Saturday Dec 19th
Here's what you need to know!
We can't wait to escape up to Turpin Meadow Ranch for a day or overnight of Nordic skate and classic skiing, fat biking, snowshoeing on 12 miles of groomed trails.
Changes and Updates for Winter Season 2021 
As a result of Turpin Meadow Ranch's commitment to keeping all of our guests and staff safe, and to provide an excellent opportunity for guests to winter recreate, we have implemented a few changes to enhance our operation:
1. Trail and Season Pass available Online
Guests can now purchase their Trails Passes online in advance and we strongly encourage them to do so.  This will aid in reduced time for guests to check-in at the lodge and minimize the number of guests in the lobby at any one time. (Guests will still need to check-in before hitting the trails but it will be a concise, and simple process.) This includes the daily pass and season pass for Adults and Youth.   Buy Day Passes Here | Buy Season Passes Here
2.  Online Advance Acknowledgment of Risk
In addition to being able to purchase trial passes online.  Guest will receive a confirmation email with a link to sign in advance of their "Acknowledgement of Risk", again speeding up the check-in process upon
arrival.  Sign the document online.
3.  Rental Equipment
Rental equipment will be on a first come first serve basis.   As a result, rental equipment will not be available for reservations. Guests can call ahead and see what may be available before they arrive.  307.543.2000
4. Reservations Required for Lunch & Dinner
Guests will need to call in advance or day-of to make a lunch or dinner reservation.  We will have limited seating this season so we encourage everyone to book a reservation early.  Reservations will be every 30
minutes starting at 11:30 am through 2:30 pm for Lunch.  Dinner will be 5:30 pm – 8:30 pm Monday through Sunday. Guests can call 307.543.2000 to make a reservation in the Lodge.
5. COVID-19 Protocol
Guest will be required to wear a face-covering when entering the lodge.  This includes when guests are using the restroom facilities, check-in upon arrival, shopping in the retail area, and entering the restaurant.  Face coverings can be removed when actively dining but must be worn to move about the restaurant or when departing.  Guests should practice proper social distancing when in the lodge and restaurant, and not enter the facility if they are displaying any COVID like symptoms. Only one (1) guest per party will need to check-in at the front desk prior to using the trail system if they have purchased trail passes and signed their "Acknowledgment of Risk" in advance.  Turpin Meadow Ranch will adhere to all the current and future recommendations put in place by the Teton County Health Department and we ask that our guests do the same. 
6. LIVE Trail & Weather Conditions 
View the LIVE stream Ranch Cam to see current conditions and
weather in real-time. 
See you at Turpin Meadow Ranch this winter!

Last Updated: 12/16
Looks Like a Race Course!
The first race of the season is on tap for Saturday morning. This high school race will have both 3 and 5 kilometer skate versions and will hopefully be a great start to the season. Don't forget that spectators are not allowed this year but hopefully there will be enough other trails for you to get your ski in on Saturday. When plans are finalized we'll let you know what time they plan to wrap up the race.
Today's grooming was with the Pisten Bully and covered pretty much all trails recently groomed. All three of the play areas were groomed today in anticipation of a busy practice schedule this afternoon. The close field, Woolsey Woods, Armin's, and Moose Loop all received multiple passes with fresh classic tracks. You'll even find double classic tracks in the close field. The wind was picking up a bit in the field as grooming concluded. Beginning on Thursday, grooming will focus on the race courses.
A whitetail doe and her two fawns have been hanging around the cabin lately and they were lollygagging around enough this morning so that they could even have their pictures taken. Whitetail deer seem to be new immigrants in the past few years to the Trail Creek area.
Groomer's choice for today is Woolsey Woods.
---
Last Updated: 12/16
As of now the Pistenbully is still down. More than likely I will only be able to get the snowmobile out tomorrow. I'll groom Stilson, the levee, and the school fields tomorrow with the snowmobile and Tiddtech groomer.
Unfortunately this morning the Pistenbully started having some mechanical issues. We are working to get those resolved but in the mean time I will be going out with the snowmobile to groom. Expect early season conditions and no new classic tracks.
---
Last Updated: 12/16
Skiing conditions are great at the Pines! We are grooming daily with the snowcat and have good coverage for both skate and classic. With lots of snow in the forecast, our conditions will continue to get better and better!We are looking for volunteers to help out over the holidays. We still need coverage on most days between Dec. 22 and Dec 31. Help in the rental room or outside directing our guests to the check-in window and rental room area. We are operating almostly completely outside this winter to keep everyone safe and healthy. We have warm areas for employees and volunteers so don't worry about freezing during your shift. We are in need of rental room staff (paid position) for the remainder of the winter. Flexible schedule and hours. Please call or email Cody for more details: (307) 733-1733 or tetonpinesxc@gmail.com
---
Last Updated: 12/16
Last night winds provided beneficial drifting that deposited snow onto the majority of the trails. Currently the snow profile is at an intermediate phase and may ski awkward in spots until more snow accumulates so our equipment can sit flat. Grooming will now be a daily decision of the Pistenbully or the Snowmobile depending on conditions the day of.
The Sled Hill will be available to use this Saturday (12/19/2020). The heavy overnight drifting made it possible to do a first groom on that area this morning and needs time to set up/freeze before it can be open. Thursday Night is calling for high winds and heavier snowfall, which should benefit the sled hill for its final preparations prior to utilizing it on Saturday. Please note, the sled hill will only be groomed once per week in order to maximize its life span until heavier snow returns and allows for more frequent grooming.
Please See the following Restrictions for the remainder of the week.
· Dog Loops & All Nordic Skiing Trails OPEN
· Sled Hill CLOSED UNTIL SATURDAY 12/19
· Classic Tracks Not Set… NEED MORE SNOW
· Snow Shoeing… NEED MORE SNOW
· Casual Walking Not Permitted
· Early Season Conditions
· Grooming is currently via snowmobile and occasionally Pistenbully
· **SKI W/Caution!!… Current Depths and Coverage are Very Deceiving
Next Update will be on Monday 12/21. We'll continue to monitor conditions on a daily basis and notify all whenever Classic Tracks or Snowshoeing may return. Thanks.
---
Last Updated: 12/16
Slowly but surely the snow is beginning to fall. We are still a healthy foot away from being able to occasionally utilize the Pistenbully/Snowcat. This weekend's forecast is calling for some promising accumulations and should increase the potential of opening additional Nordic activities in the following week(s). Anticipate early season conditions to persist through the weekend and reminder that the track is currently available for Nordic Skiing only. Please see the following restrictions for the upcoming week:
Turpin Meadow Ranch opens for its winter season this Friday, December 18th. Daily groomed Nordic ski and fat bike trails, plus trails groomed and ungroomed for snowshoeing.
The Nordic trail system at Turpin Meadow Ranch has been established for this winter season. I was on the trails on Saturday December 12 and while there was no classic track set, I glided along most of the trails in the hills. Truthfully, it was still thin in places (some willow tops are poking out) but despite the lack of coverage the conditions were fast and fun and my prediction is the trails will be in top form on opening day because of the snow we have been getting (and what has been predicted for this week).
We have flat and rolling trails as well as steep hills to provide fun for all skill levels. While you are out there, enjoy the scenery and the quiet stillness that is exceptional at Turpin. We have been seeing chickadees, stellar jays, and squirrels in the woods. There is also a pine martin who can sometimes be spotted by those who are paying attention! Do not forget, we also have single track for fat bikes and if you snowshoe you can choose your own adventure on and off of the groomed routes. Check out real time conditions via the LIVE RANCH CAM: https://www.youtube.com/watch?v=WeeDyqRKqVI
---
Last Updated: 12/16
XC OPEN (Last groomed 12/12/2020), Fat Bike CLOSED.

Trail Etiquette: Please keep your dogs leashed in the parking lot and be sure to clean up after them!
Grooming Schedule: Tuesday, Thursday, & Sunday
Last Updated: 12/16
Skate: Set | Classic: Set
I rolled three passes everywhere this morning, except the two inner northern loops, Wheel Line and Vertigo. The coverage is nearly complete now, with a minimum of grass showing. Everything except the northern loop had a good base following Tristan's heroic efforts Monday night and should provide a reasonably decent skating surface. The northern loop had a lot of fresh snow and will take a few more grooms to get firm. The classic track is set everywhere and may be the best option at Alta today. Enjoy!
Please do not park in the library parking lot.
---
Grooming Schedule: Monday, Wednesday & Friday
Last Updated: 12/16
Skate: Not Set | Classic: Not Set
Driggs was rolled today. Early season conditions exist!
---
Grooming Schedule: Monday, Wednesday, Friday
Last Updated: 12/16
Skate: Set | Classic: Set
Classic in skate tracks set. Snowmobile packed Walker's loop.
---
Grooming Schedule: Monday, Wednesday, Friday, Saturday
Last Updated: 12/16
Skate: Set | Classic: Set
Plan to roll, reset both skate and classic tracks this morning. Imagine track will remain fairly soft. Finish by 10am.
---
Grooming Schedule: Tuesday, Friday, Sunday
Last Updated: 12/16
Skate: Set | Classic: Not Set
Heading out now with roller to pack down trails. I plan to return in the early morning tomorrow as well. Expect soft conditions tomorrow morning. Probably be best to get your classic skis ready to go!
No dogs December 1 – April 15.
---
Grooming Schedule: Tuesday, Thursday, & Saturday
Last Updated: 12/14
Skate: Not Set | Classic: Not Set
Rolled out the Skate/Nordic track this afternoon. The classic track was not set. Early season conditions still exist and the snowpack is thin with weeds and cart path hazards. Be careful.
---
5th Street Singletrack
Grooming Schedule: As needed
Last Updated: 12/14
Singletrack: Set
As of Monday 8pm – skinned in two laps, should be ridable, especially if it sets up overnight. Thanks to whoever skinned a partial lap. Think snow (and bikes)!
Trail Etiquette: Please keep your dogs leashed in the parking lot and be sure to clean up after them!
---
Southern Valley Singletrack
Grooming Schedule: As needed
Last Updated: 12/12
Singletrack: Set
Happy Hour got a good groom today. All the other trails are rider packed and ripping fast. Some of the sun exposed areas on hillbender are really soft mid-day. Be careful to avoid creating mud and snow ruts by riding early and late when temp are colder to help take care of this resource. We need more snow before we groom the rest of the Singletrack trails. Enjoy the ride.
No dogs December 1 – April 15.


THURSDAYS, DEC 10TH – MARCH 18TH | TETON PINES
8 clinics every other week from 11am-12:30pm, starting on December 10th -March 18th, alternating skate skiing and classic cross-country.
---
SATURDAY, DECEMBER 26th | TRAIL CREEK
Register with the JH Ski Club. A community favorite, honoring Betty Woolsey of Trail Creek Ranch. All ages welcome, interval start. Come dressed to ski and wear a mask!
---
Based on our goal to Recreate Responsibly, the JH Nordic Alliance has decided to cancel this season's Annual Free Winter Trails Nordic, Fat Bike and Snowshoe Event. Stay tuned for January 2022! In the meantime, we encourage you to get out safely, responsibly, wear a mask, keep your groups small, and space out!
---
We'd love to hear about your outdoor adventures, what your doing to stay healthy, safe, respectful of community health guidelines – send pictures or post on FB and Insta – #JHNordic