---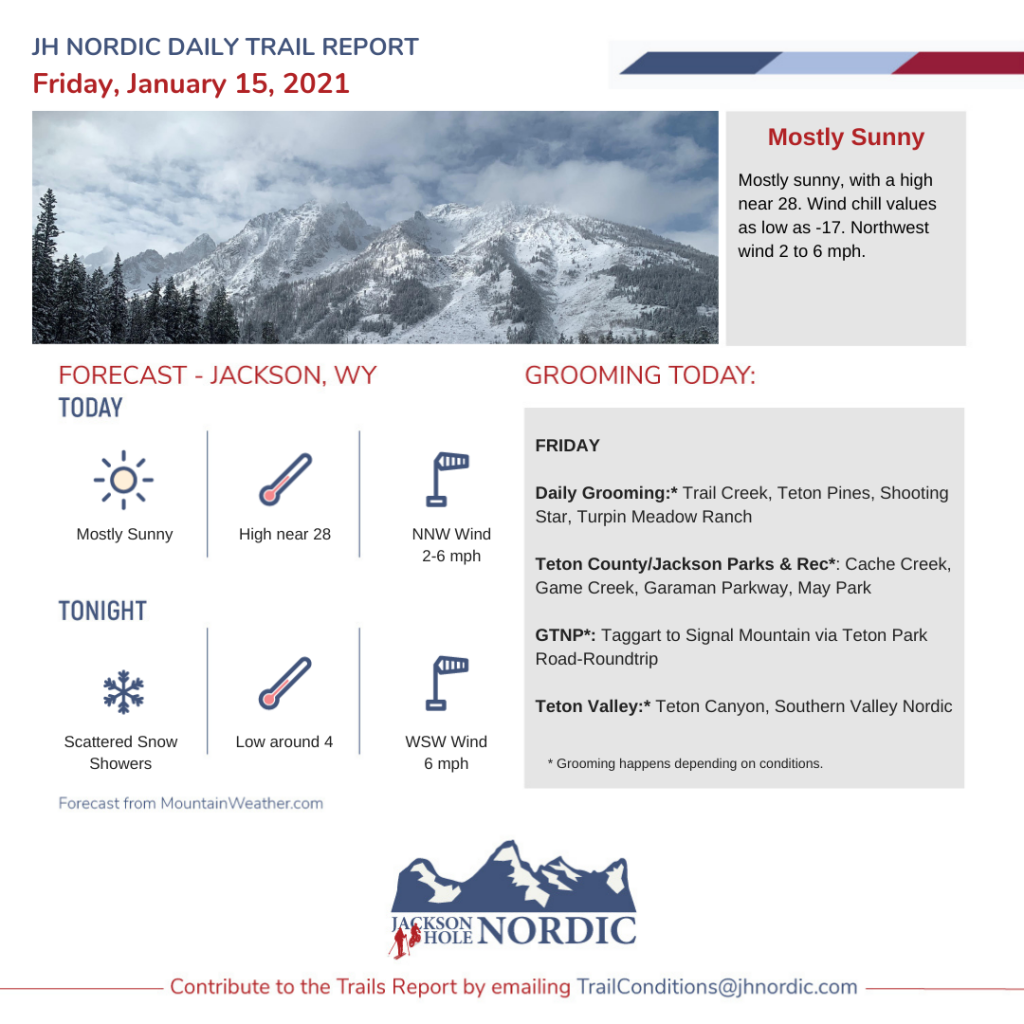 ---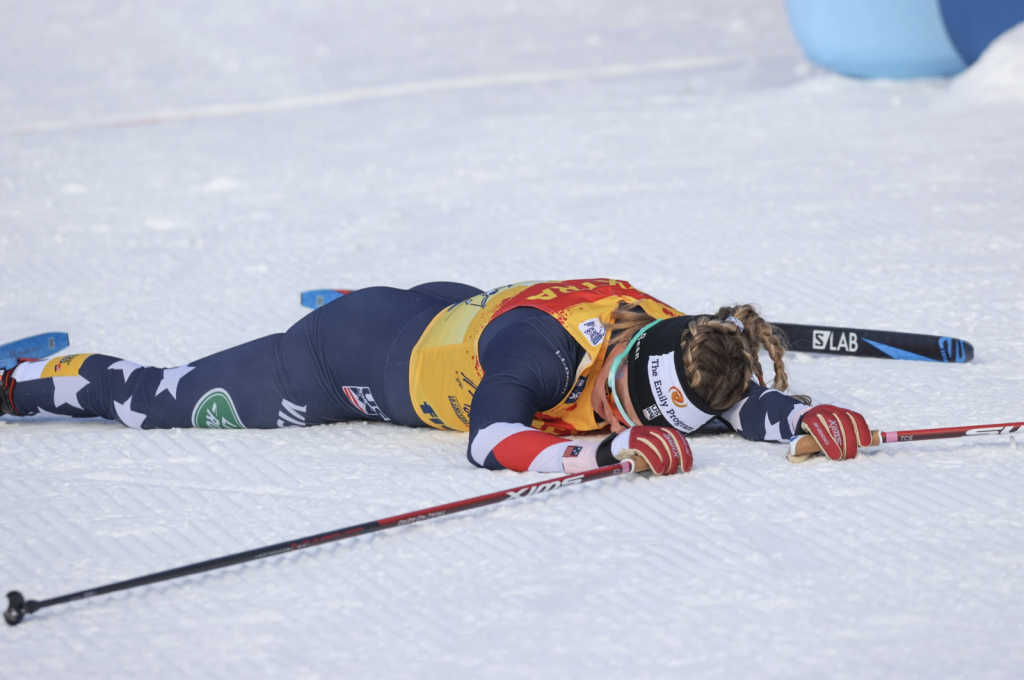 Article from the New York Times
After Jessie Diggins crossed the finish line of the Tour de Ski cross-country race in Val di Fiemme, Italy, she collapsed onto her belly with arms and legs splayed on the snow, body heaving. A grueling eight-stage race held over 10 days, the Tour de Ski is the World Cup cross-country ski circuit's marquee event and, by most accounts, its toughest.
---
Moose Antler Drop
By Jackson Hole Ecotour Adventure
With shallow snow in the Jackson Hole Valley, we're still seeing plenty of moose out on wildlife tours of Grand Teton National Park as they gather in the sagebrush flats. Though some still have antlers, more and more of them are falling off, an annual occurrence for all of our 4 deer species. By the end of January, few moose will still carry antlers.

Antlers are primarily reproductive organs, their size and shape can be attractive to potential mates. In addition, during the fall, bull moose will urinate and scoop up the scent from the ground with their antlers, a moosey cologne that is believed to help trigger estrus in female moose.

In early winter, cells called osteoclasts begin to break down the bone cells which attach antlers to the skull. As this connection weakens the weight of the antler, an impact from sparring or rubbing against a tree, or shake of the head will knock them to the ground. Antlers can weigh upwards of 20 lbs, shedding this weight undoubtedly makes winter just a little easier for moose.

The visible scar in the second picture will soon heal over and we won't see much in terms of antler growth for several months. As forage conditions improve in the spring osteoblast cells will facilitate rapid bone growth, which can reach up to an inch per day at the peak!

As a reminder, harvesting antlers in National Parks is illegal and antler hunting in NW Wyoming in National Forests and other areas is closed until May 1st in order to protect wintering wildlife.

Thanks to ETA Naturalist @kels_wellington for the great shots!
---
January 13, 2021 Nature Update

Provided by Cathy Shill founder of The Hole Hiking Experience
Kindness is like snow.
It beautifies everything it covers.
-Kahlil Gibran
Frigid mornings and sunny afternoons dominate the week. Most days begin with a fog layer due to the cold temperatures. By late morning, the heat of the sun burns away the fog as temperatures begin to rise. Always fun to look at valley web cams to get updates: seejh.com/live & JHNordic.com (for GTNP -Taggart) . When the fog layer settles in Jackson Hole, you usually can go higher into the mountains where the sun shines.
Wildlife continues to move to their winter territories. We have been seeing lots of wildlife near the Gros Ventre River as we drive north on Highway 89/191. Make sure to give them space and limit disturbance. Hard time of the year for them.
What do the animals do when the temperatures get so cold? Snow is a great insulator so they use the insulating properties of snow to help them stay warm. New snow and powdery snow contain a high percentage of trapped air among the snow crystals. The trapped air retains heat. It works a lot like our down coats trapping air between the feathers which helps us stay warm.
Species have adapted to use the insulating properties of snow. Larger animals create snow beds to stay warm. You can see these depressions as you tour throughout the valley. Places where they bed down to sleep. Grouse and small weasels' tunnel into the snow to reach a depth of insulation where they don't shiver. If you winter camp, a snow cave or igloo will keep you warmer than a tent. Always lots to be learned from the natural world. Observation is the key.
Winter is a special time to visit Jackson Hole. Endless places to explore and fewer visitors during the winter months. As the snow world becomes established, you can put on your skis and go. Most of the valley vegetation will get covered by snow. If close to town, you can't beat a tour up Cache Creek. It's a great option if you only have a short amount of time. If in Grand Teton Park, endless options so check out JHNordic.com/trails/ (select GTNP region)
Lots of happy clients!
Thank you so much to the Hole Hiking Team! We had a great snowshoe hike with Belinda last week. She was punctual, knowledgeable and energetic! Her passion for the nature and wildlife was second to none! Would recommend this to anyone traveling to the Jackson area.
Join us to learn and discover about this amazing ecosystem! The Hole Hiking Experience (www.holehike.com) 307.690.4453
---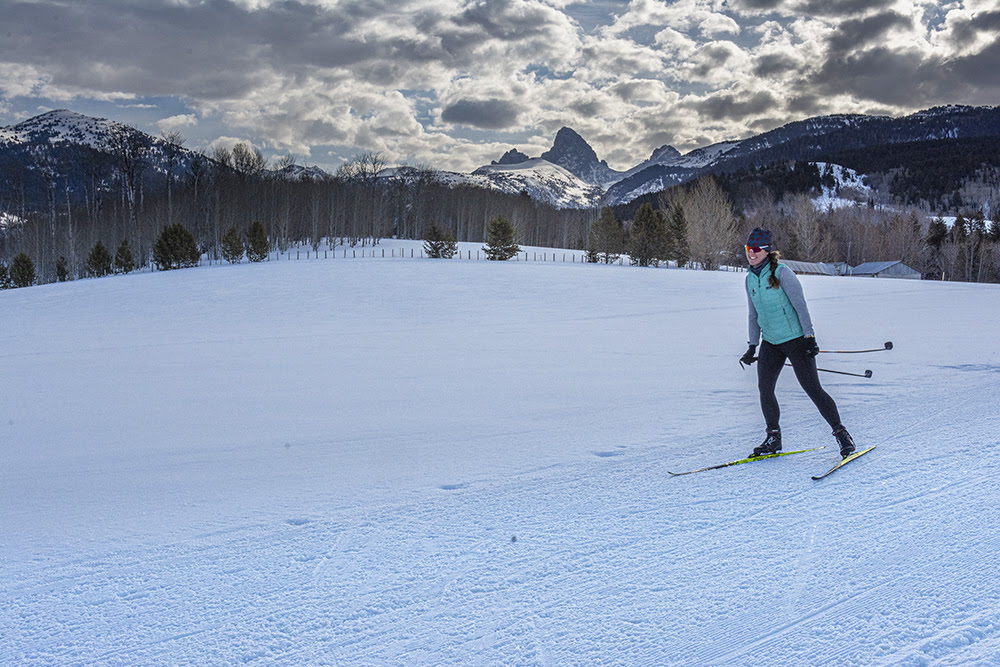 TVTAP Winter Trails Challenge Update
Thank you to everyone who has signed up for our TVTAPs Winter Trails Challenge! After the first 10 days, you've logged over 900 miles and raised more than $4000 so our volunteers can keep grooming. Obviously we'll hit our mileage goal, so look for us to increase the challenge. Nothing like moving the goalpost!!!

You can register any time until February 14, but we don't want you to miss out on any opportunities to win great prizes. Get your team together or register solo today!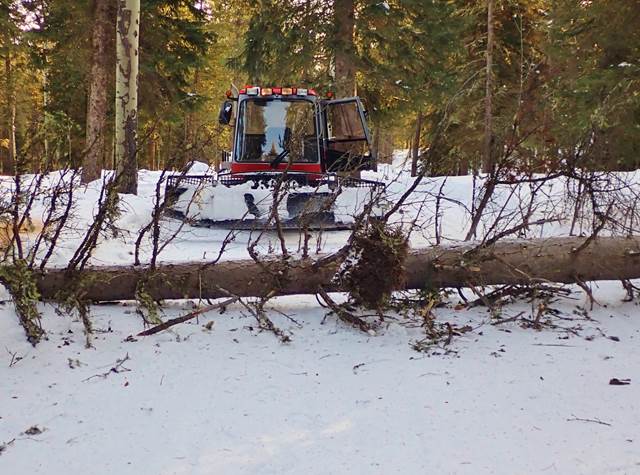 Last Updated: 1/14
Blow Wind Blow!
The weather in the past 24 hours has trended towards the boisterous side with some very strong winds coming late in the day yesterday along with a variable slate of precipitation. Probably the first thing that you will notice if you ski in the woods today is that the snow is littered with needles, cones, and other bits of organic debris that has been blown off the trees. The grooming departments estimates that around 31,680,000 (email if you want the calculations) pieces of organic matter have fallen on our trails in the past 24 hours.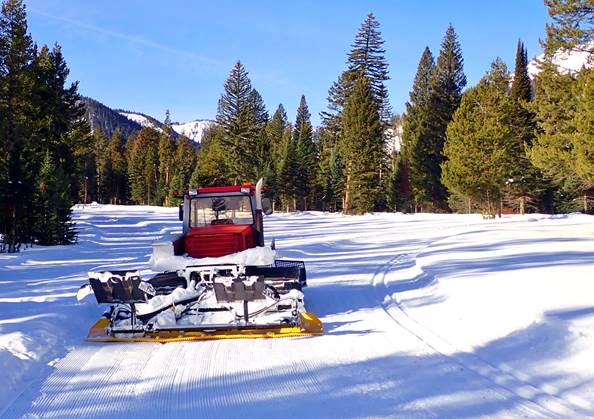 With all that being said, things are coming around today. The wind is still moving, but speeds are dropping towards the gentle breeze range. The Pisten Bully was hard at it today, softening the icy glaze that happened, moving trees off the trails, and attempting to bury the fallen debris. The result is that while the snow is still a bit dirty, you should be able to have a reasonable to pretty good ski today if you make it out.
Until next Monday Trail Creek will be lightly utilized by the JHSC teams so you will also find plenty of room. Today you will discover that the Pisten Bully laid skate lanes and double classic tracks in the close field, skate lanes and single classic tracks on pretty much every other trail that wasn't on the National Forest, and at least a single classic track pass on the National Forest trails.
Groomer's choice for today is Moose Loop.
---
Last Updated: 1/14
The school fields and the levee are groomed and in decent shape. The classic tracks are shallow but should still ski well. Expect the same conditions at stilson and It will be finished around 11:00.
---
Last Updated: 1/14
Check out the new snow cat for grooming perfection, just arrived this morning! We tested the before and after. The new groomed corduroy was silky smooth, nice and wide…will be a great bonus!

Daily grooming, wide corduroy skate ski lanes with well defined classic tracks make for excellent ski conditions. Skate and classic cross country ski/ boots/ pole rentals. . If you want to explore Grand Teton NP and the Jackson Hole area on xc skis, we carry the must have xc ski trail guidebook for our region in the shop:
https://www.facebook.com/SkiYellowstone
Please call or email Cody for more details: (307) 733-1733
or tetonpinesxc@gmail.com
---
Last Updated: 1/14
Wednesday's weather event created a very stubborn ice layer on our trails. We'll do our best to soften things up, but conditions will likely ski on the firm and icy side until the next forecasted snow system arrives this Sunday. Due to the icy profile, the classic tracks may be shallow and have inconsistent depths/widths. Overall, the weather looks very nice through Saturday and skiing should be fast & enjoyable. Next update will be Sunday 1/17. Enjoy!
Please See the following Restrictions
Dog Loops & All Nordic Skiing Trails OPEN
Sled Hill OPEN
Classic Tracks SET Inconsistent Depths due to Ice
Snow Shoeing Loop OPEN
Casual Walking Not Permitted
---
Last Updated: 1/6
Groomed this morning, from Lake Creek Bridge to end of pathway near GTNP South Entrance. Nice corduroy, skate and classic skiers, fat bikers all out enjoying!
---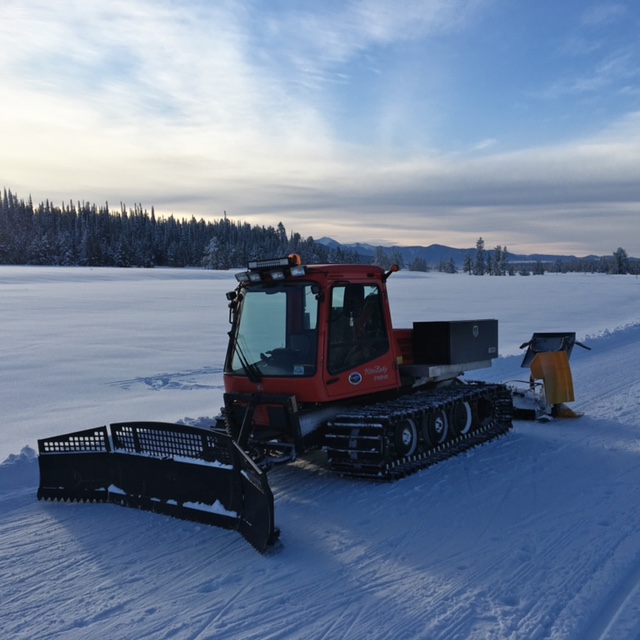 Last Updated: 1/12
Making our way to Jenny Lake this morning in GTNP. The trail conditions are looking good with some overcast skies.
---
Last Updated: 1/14
After some snow and big wind yesterday there are a few spots with some small moguls, but those will hopefully be gone when I groom this afternoon. Other than that the trails groomed nicely! Skating should be fast and its another beautiful blue-bird day here in the valley. To help with social distancing and to get you on the trails faster please purchase your trail passes and sign your waivers online in advance (see link below). As always, remember to recreate responsibly. Bring a mask as it is required to enter the lodge. Lunch and dinner are both by reservation only.
https://www.turpinmeadowranch.com/adventures/winter-adventures/
https://www.turpinmeadowranch.com/the-ranch/live-conditions/
https://www.turpinmeadowranch.com | 307.543.2000, office
---
Last Updated: 1/14
XC OPEN (Last groomed 1/14/2020, Fat Bike CLOSED.

Trail Etiquette: Please keep your dogs leashed in the parking lot and be sure to clean up after them!
---
Grooming Schedule: Tuesday, Thursday, & Sunday
Last Updated: 1/13
Skate: Set | Classic: Set
Groomed this evening. Reset classic track and skate lane.
Please do not park in the library parking lot. Please be sure to keep your dogs on a leash and to clean up after them.
---
Grooming Schedule: Monday, Wednesday & Friday
Last Updated: 1/11
Skate: Set | Classic: Not Set
Smoothed and leveled with drag. Skiing should be quite good.
---
Grooming Schedule: Monday, Wednesday, Friday
Last Updated: 1/13
Skate: Set | Classic: Set
Snow got pretty wet today and then received a layer of graupel. Rolling the track smooth things out a bit and gave it some texture. Rolling the track smoothed things out a bit and give it some texture. The classic track had completely filled in and is now reset. Classic track in fair condition. Cooler temperatures overnight should set up the track fairly well.
---
Grooming Schedule: Monday, Wednesday, Friday, Saturday
Last Updated: 1/13
Skate: Set | Classic: Set
Wednesday evening: Reset both skate and classic tracks as skies were clearing and temperatures dropping. A large over snow vehicle had driven down middle of the track earlier in the day, so there is still some damage left behind, but not too bad.
---
Grooming Schedule: Tuesday, Friday, Sunday
Last Updated: 1/14
Skate: Set | Classic: Set
Will begin grooming at 430 pm. It should set up well overnight.
No dogs December 1 – April 15.
---
Grooming Schedule: Tuesday, Thursday, & Saturday
Last Updated: 1/14
Skate: Set | Classic: Set | Singletrack: Not Set
Difficult grooming conditions after the rain from yesterday. Skate is solid and fast… classic track has seen better days… should be better once it softens a bit.
No dogs allowed.
---
5th Street Singletrack
Grooming Schedule: As needed
Last Updated: 1/14
Singletrack: Set
Thurs PM – 5th St. singletrack surprisingly excellent! Aside from a few frozen footprints possibly the fastest it's ever been! Firm and fast. Clockwise is easier. Multi-lap for a great workout! Enjoy!
---
Southern Valley Singletrack
Grooming Schedule: As needed
Last Updated: 1/14
Singletrack: Set
Trails are solid and firm with the warmup and cool down yesterday. High winds has shedded some snow from trees and there are limbs and branches across trail. Use caution.
No dogs December 1 – April 15.


TETON PINES
JANUARY 21st
All welcome (no beginners)
Drop-in $35 (includes clinic & Teton Pines Nordic all day ski pass)
or $30 (if you already have a Teton Pines Nordic pass or membership).
---
Based on our goal to Recreate Responsibly, the JH Nordic Alliance has decided to cancel this season's Annual Free Winter Trails Nordic, Fat Bike and Snowshoe Event. Stay tuned for January 2022! In the meantime, we encourage you to get out safely, responsibly, wear a mask, keep your groups small, and space out!
---
---
We'd love to hear about your outdoor adventures, what your doing to stay healthy, safe, respectful of community health guidelines – send pictures or post on FB and Insta – #JHNordic