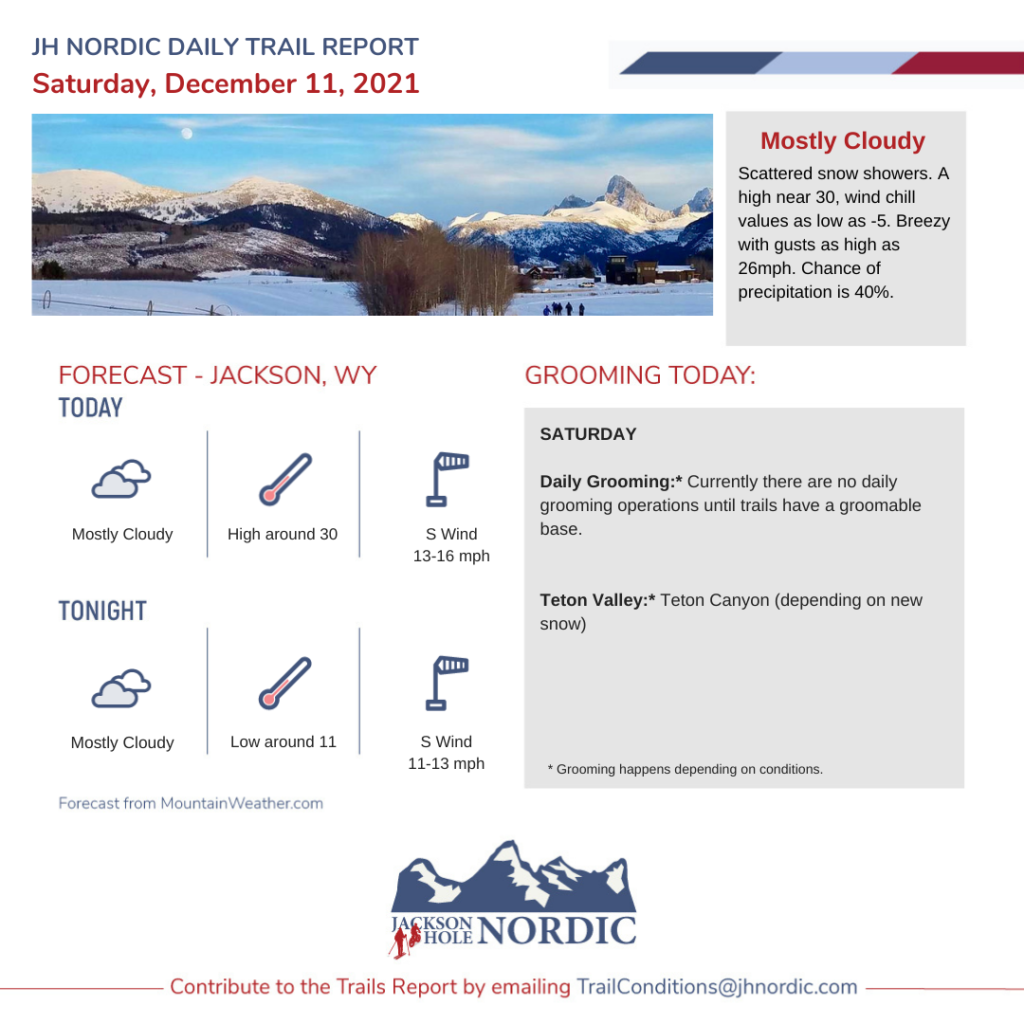 ---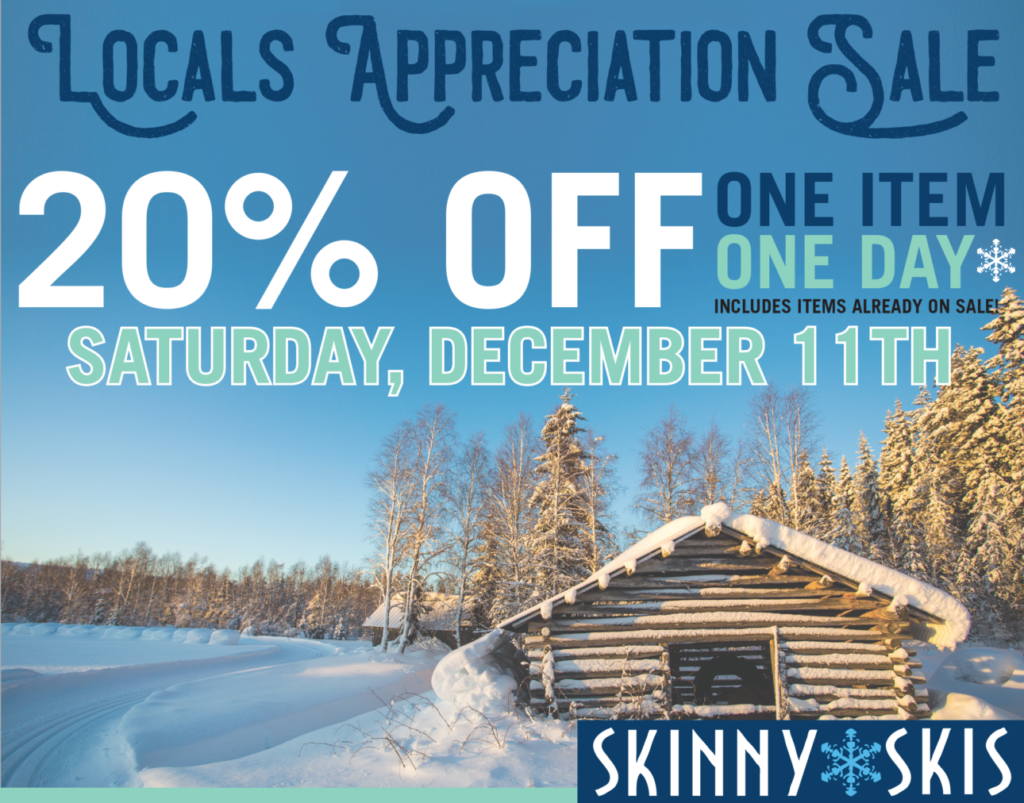 Happening Today:
Skinny Skis Sale
It's back! Our legendary Locals Appreciation 20% Off One Item One Sale is returning this Saturday, December 11th! To show our appreciation for our local customers who have supported us for over 47 years we are bringing back this amazing limited time sale. Swing by the shop this Saturday to get 20% off of any one item in the store (including items already on sale).

*One day only, limited to stock on hand, no holds, or special orders.
---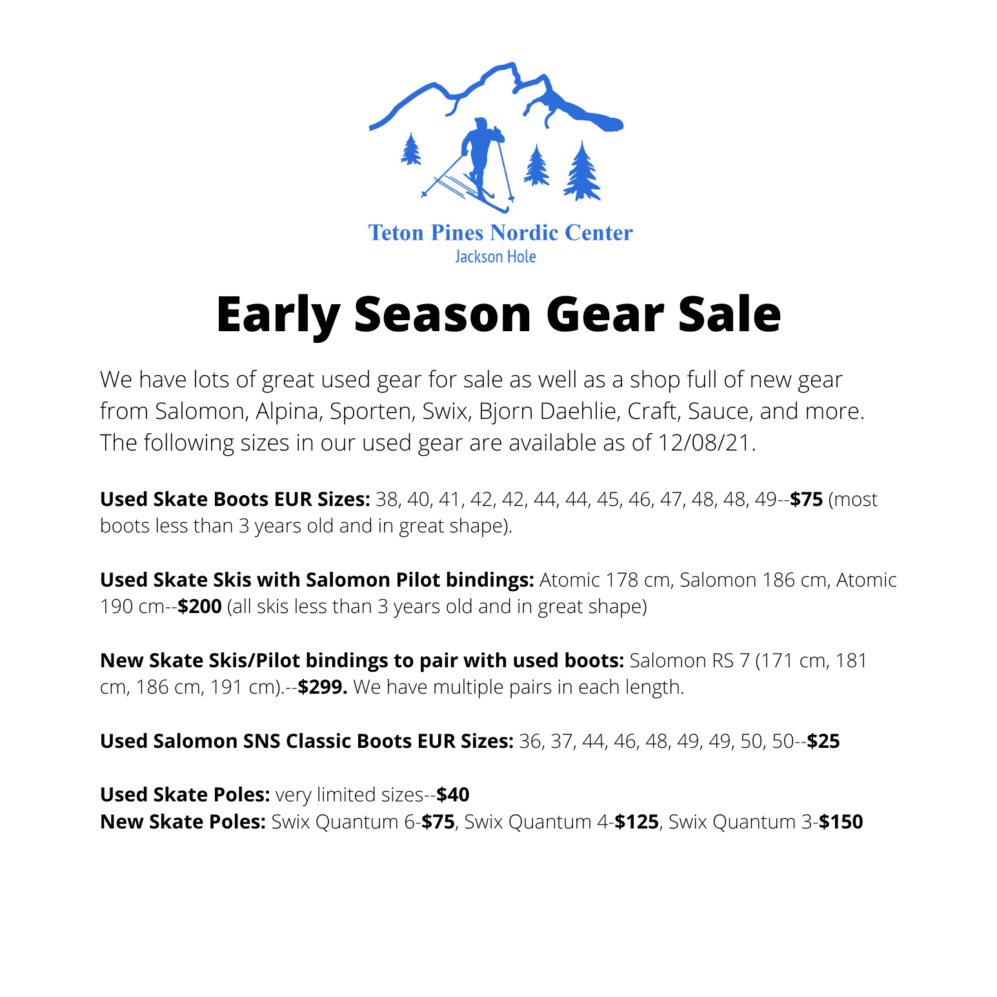 ---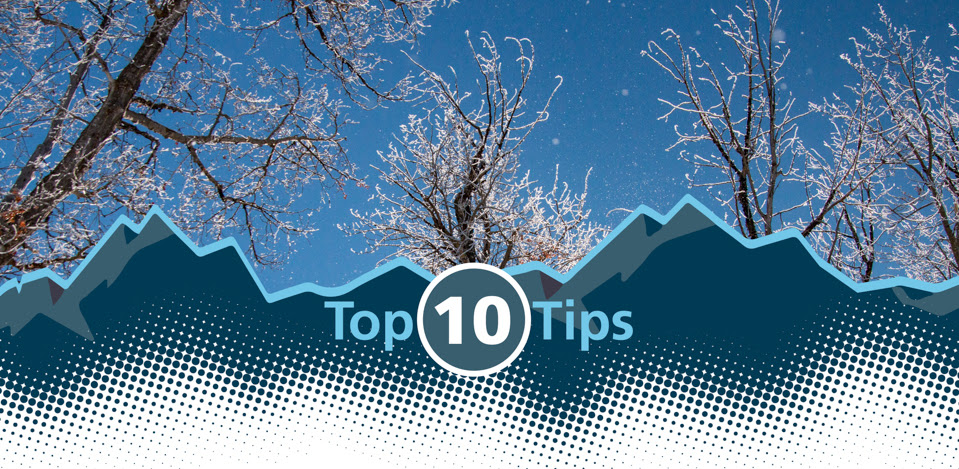 Grand Teton National Park has shared a great article to help visitors plan like a park ranger by following their list of the Top 10 Tips you should know before visiting the park. Limited services and seasonal road and wildlife closures make a winter visit far different than a summer experience. Plan ahead, recreate responsibly, and help ensure this iconic landscape may be enjoyed by future generations.

1. Plan ahead, plan ahead, and did we mention…PLAN AHEAD! Many facilities, roads, and areas are closed in the winter. Yellowstone is not accessible from the south without a guide.

2. Be flexible. Have a plan A, B, C… Between full parking lots and road closures, it is best to have multiple options for visiting Grand Teton in the winter.

3. Know the snow. Fresh powder turns are not worth your life. Those venturing into the mountains should use careful snowpack assessment and good terrain choices.

4. Keep the wild in wildlife. Wildlife are active in Grand Teton, including in developed areas. Don't feed foxes, squirrels, or any other wildlife. Avoid disturbing wildlife by following winter closures for animals like bighorn sheep.

5. It's ruff for dogs in the park…Grand Teton is a wild place. National parks are not always the best place for your dog. In the winter you can walk your dog on a leash up to six feet on the closed Teton Park Road from Taggart to Signal Mountain. Dogs are not allowed on trails or pathways.

6. Slooowwww doooowwwwnnn! Slowing down is the best way to avoid losing control on slick roads. Maintain a large following distance from other vehicles. Give snowplows plenty of space. Wildlife is active near park roads, be vigilant while driving and save a life by slowing down. Follow the nighttime speed limit of 45mph.

7. Brrrrrrring winter clothes. Make sure to have a coat, hat, gloves, waterproof snow pants, and waterproof boots. Layers will ensure you will be comfortable in the cold. Bring traction devices to help with icy trails.

8. Dust off those skinny skis. A portion of the Teton Park Road is groomed for cross-country skiing and skate skiing. Grooming is made possible through the support of Grand Teton National Park Foundation and a Federal Highway Administration Recreational Trails Program grant managed by the State of Wyoming.

9. It's okay to ghost us and Leave No Trace. Dispose of trash and pet waste properly and follow Leave No Trace Principles by packing out what you bring in.

10. We're all in this together! Visitors to Grand Teton National Park are reminded to recreate responsibly and be COVID-19 safe. Follow guidance from the Centers for Disease Control and Prevention and local and state authorities, by maintaining social distancing and wearing a face covering when in crowded outside areas.
---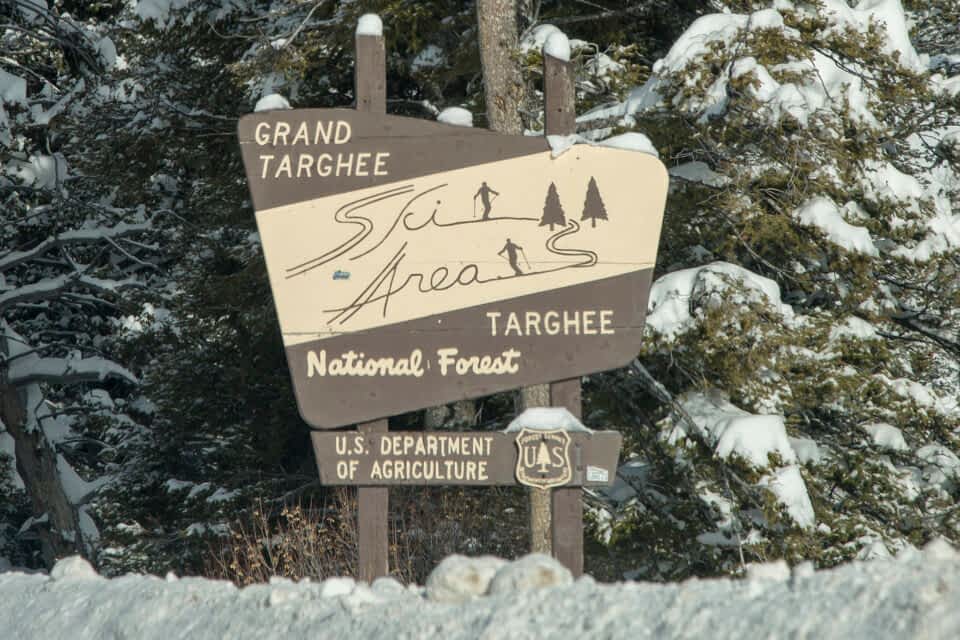 Winter closures in the Caribou-Targhee National Forest are currently underway.
In the Teton Basin, starting Nov. 27 the majority of south-facing slopes on the Teton Mountain Range will be restricted. The gate to Teton Canyon closed on Nov. 19. Dogs must be on a leash at all trailheads and they are not allowed on the South Valley trail system from Dec. 1 through April 1.
"The forest has numerous seasonal wildlife closures areas," said Kaye Orme, Forest Recreation Program Manager. "Although dates differ slightly between ranger districts, the purposes are similar: to protect winter range, wildlife and other natural resources."
Lower elevations tend to be used heavily by wintering wildlife and protecting this habitat is essential to their survival. "When people enter closed winter range, animals are forced to move to new locations," said Nate Yorgason, Wildlife Program Manager. "Moving away from people requires animals, such as deer, elk and moose, to use energy they cannot spare, leading to a weakened condition, which can have a direct effect on the animals' ability to fend off disease or predators."
In addition to wildlife and resources, winter travel restrictions also prevent conflicts with competing recreation uses. Snowmobiling is not allowed in designated wildlife winter ranges or Wilderness Areas. Hikers and other motorized users should be aware that some trails and areas are closing, even though they may still be passable due to the lack of snow.
The Forest Service will continue to provide winter patrol presence on the Forest. "We encourage visitors to review the current maps and check the avalanche forecast to help them make better decisions when using the National Forest," said Palisades District Ranger, Tracy Hollingshead. "Also, let someone know where you're going and when you'll be back. Be prepared for changing weather conditions. Most importantly, enjoy your time on the National Forest!"
---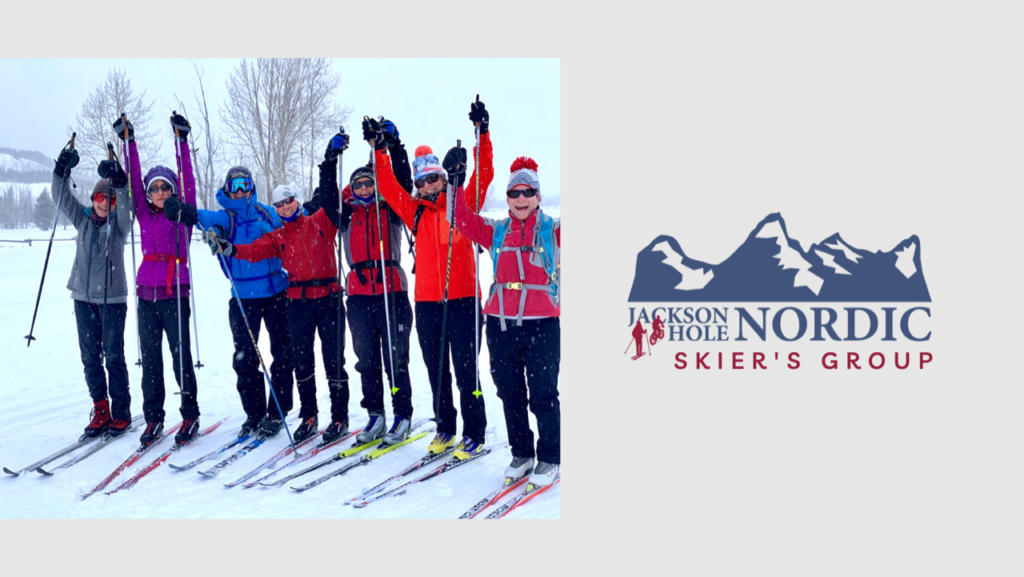 Join the new JH Nordic Facebook Group! This group is designed to give Nordic skiers a place to meet up, plan ski outings, coordinate car pooling, and share trail knowledge.

Not yet open, grooming coming soon
Currently minimal snow, but as everyone is aware, a balmy fall can turn to full winter in a matter of days if a big storm system moves in, so make sure you get your passes purchased and are ready to go! Passes can be purchased at the Trail Creek page.
---
Grooming coming soon
Grooming scheduled to begin in mid December after sufficient snowfall and a groomable base. Updates to follow.
---
Grooming coming soon
Pending snowfall and a groomable base, more updates to follow. Fat bike trails are groomed by Friends of Pathways; main trail is groomed by Parks & Rec
---
We are open 9am-2pm M-F until further notice. We will roll and open for skiing as early as the weather allows.
---
Not yet open, grooming coming soon
Pending snowfall and a groomable base. Updates to follow.
---
Grooming coming soon
The inner park road is closed to vehicles at the Taggart Trailhead. Grooming is scheduled to begin in mid December, after sufficient snowfall and a groomable base. Updates to follow.
---
Not yet open, grooming coming soon
Grooming scheduled to begin mid December. The ranch opens for lodging December 18, we hope to open trails December 19 snow conditions permitting.
https://www.turpinmeadowranch.com/the-ranch/live-conditions/
https://www.turpinmeadowranch.com | 307.543.2000, office
---

Trail Etiquette: Please keep your dogs leashed in the parking lot and be sure to clean up after them!
---
The Core, Jolly Green Giants, and Roundabout is open for Snowshoeing and Fatbiking
Currently, a portion of Grand Targhee Nordic Trail Pass purchase's will be donated to TVTAP. Snowshoe trails are pretty much always open, trails close to fatbikes with 3″ of new snow.
---
Grooming Schedule: Tuesday, Thursday, & Sunday
Not yet open, grooming coming soon
We hope to begin grooming soon. The farm fields at the Alta Track were aggressively tilled this fall, so it will take quite a bit of snow coverage before we can begin grooming. Let it snow!
Please do not park in the library parking lot. Please be sure to keep your dogs on a leash and to clean up after them.
---
Grooming Schedule: Monday, Wednesday & Friday
Not yet open, grooming coming soon
We hope to begin grooming soon. LET IT SNOW!
---
Grooming Schedule: Monday, Wednesday & Friday
Not yet open, grooming coming soon
We hope to begin grooming soon. LET IT SNOW!
---
Grooming Schedule: Monday, Wednesday, Friday & Saturday
Last Updated: 12/7
Skate: Set | Classic: Not Set
Friday: Hoping for a couple inches of new snow this morning. If that is the case, plan to roll the track and reset classic on the back half. Expect first mile to remain a bit scratchy.
---
Grooming Schedule: Tuesday, Friday & Sunday
Not yet open, grooming coming soon
We need more snow before grooming can begin. The good news is that the dry weather enabled the installation of a new bathroom facility at the Mike Harris trailhead. The pathway construction has come to a halt for the winter season. We do not plan on grooming the pathway corridor this winter due to the lack of a safe access across the highway.
---
Teton Reserve Nordic
Grooming Schedule: Monday, Thursday & Saturday
Not yet open, grooming coming soon
NEW VENUE! We are working hard to create an amazing Nordic trail for you to enjoy around the Teton Reserve golf course. The trail will be about 7KM in length and have 100 ft. of elevation gain/loss. Teton Reserve plans to have their Clubhouse open (normal business hours) for the public to utilize the bathroom facility, and purchase a warm drink or pint of something frothy. We need about a foot of snow before taking the groomer out on the course. Stay tuned for more updates.
No dogs allowed.
---
5th Street Singletrack
Not yet open, grooming coming soon
---
Southern Valley Singletrack
Grooming Schedule: As needed
Grooming coming soon
Please don't ride muddy trails. We need more snow and freezing temperatures before any grooming happens. Stay tuned…
---
Darby Canyon
Grooming Schedule: As needed
Grooming coming soon
No grooming operations until there is more snow.
---
South Leigh Road
Grooming Schedule: As needed
Grooming coming soon
Has not been groomed since March 2021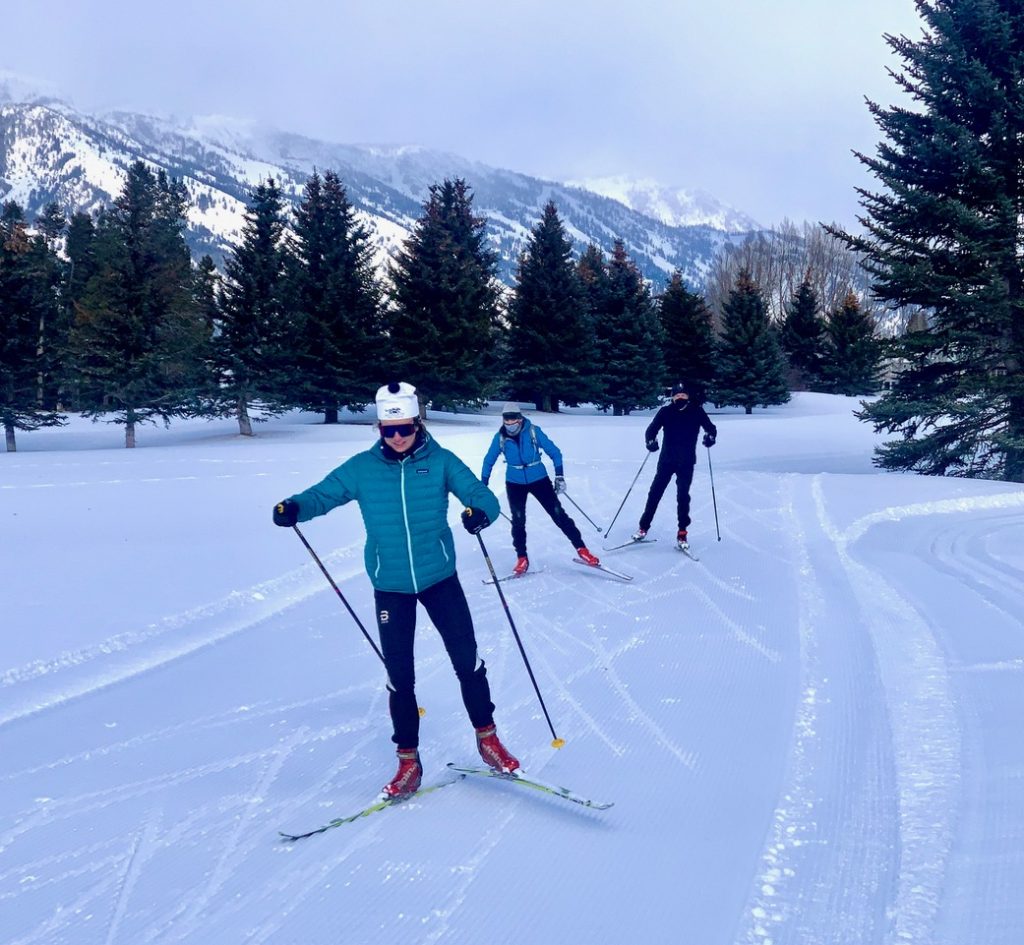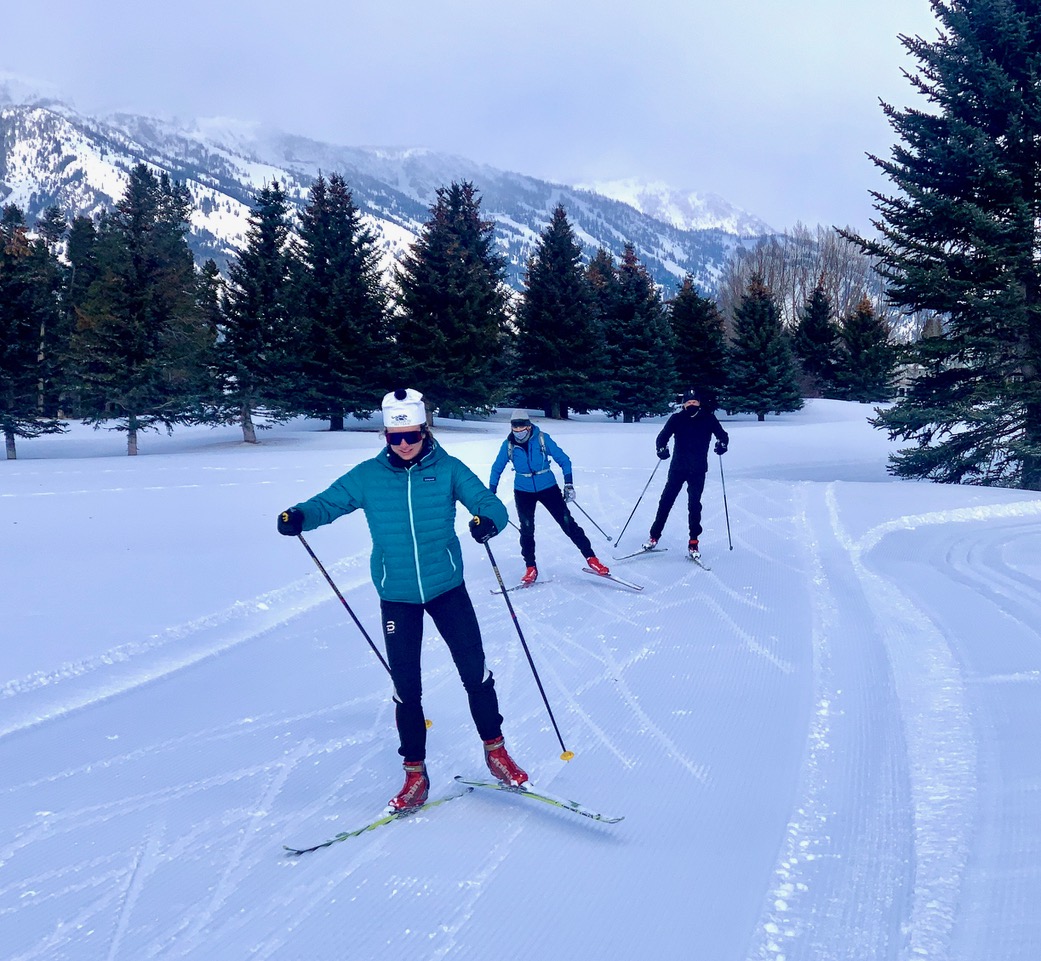 FIRST SKATE SKI CLINIC THURSDAY DECEMBER 16, 2021

There will be 10 clinics, starting with 2 clinics in December, then running every Thursday in January and February from 11am-12:30pm. The Nordic Masters clinics will focus on skate ski and classic cross country skiing every other week.
Joining all 10 clinics is your best approach to developing your full Nordic skiing technique, balance, stride, stamina, and overall fitness while having fun in a small group. For those who only wish to focus on one technique, we are offering a Skate Ski Clinic series of 5 clinics or a Classic Cross country series of 5 clinics.
---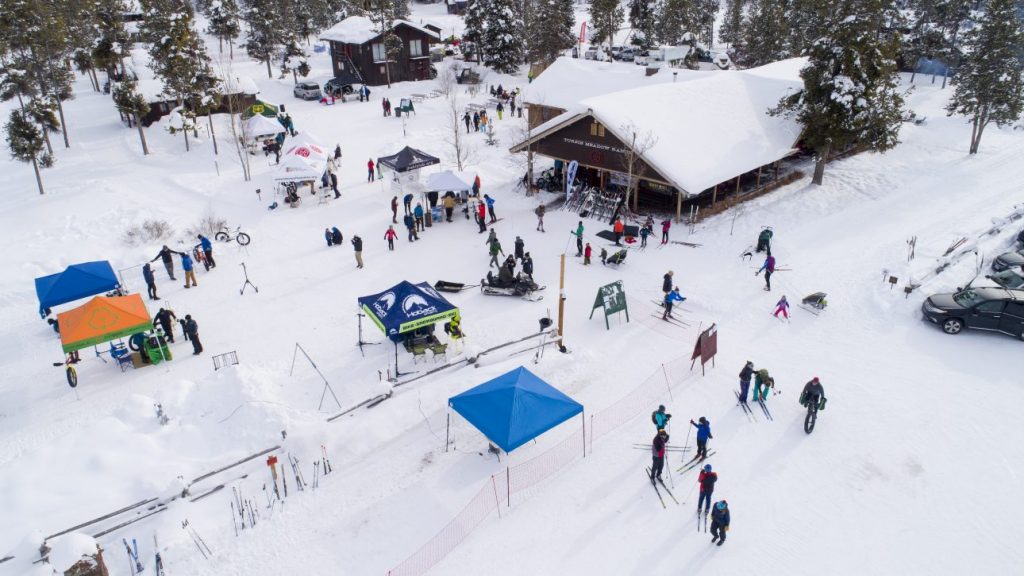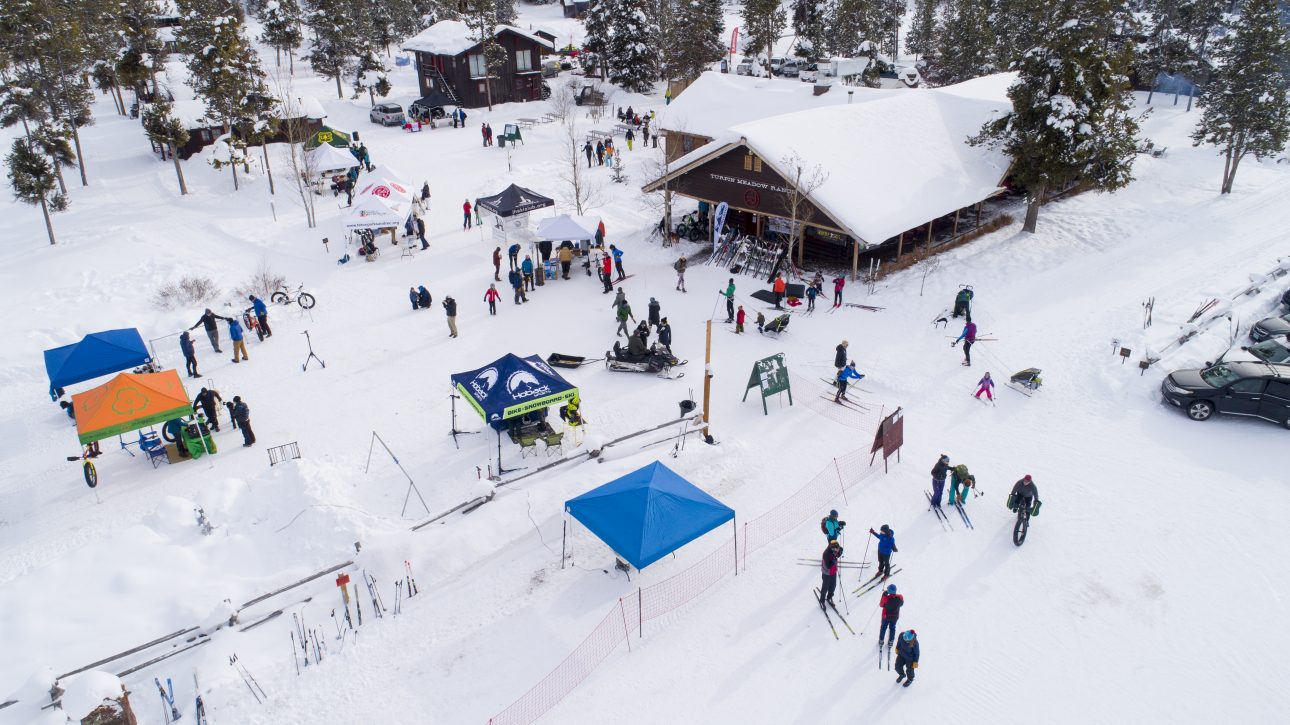 SPONSORED BY THE JH NORDIC ALLIANCE MEMBERS
SAVE THE DATE: SUNDAY, JANUARY 9TH, 2022
Turpin Meadow Ranch – 1 hr north of Jackson- Buffalo Valley Road (off Hwy 287/26) – Parking onsite/carpooling encouraged.
Fun, Free Community Day – with Raffle benefiting a local Nordic Alliance non-profit:
Free trail pass and demo gear, though it is encouraged that folks bring their own equipment to maximize time on the snow!

Family, friends, visitors, dogs (on leash) welcome: please register in advance to secure your spot!

Bringing your own skis recommended to use between free demos and tours .
Email : Info@JHNordic.com for more info
---
---
We'd love to hear about your outdoor adventures, what your doing to stay healthy, safe, respectful of community health guidelines – send pictures or post on FB and Insta – #JHNordic