Fat biking is expected to be much more popular this winter due to the COVID-19 pandemic that not only increased outdoor recreation activity in the summer and fall, but also has caused the ski areas in Jackson to limit their lift capacity. People are likely to spread out throughout Jackson Hole and Teton Valley to participate in a greater variety of activities, including fat biking. Since social distancing is done easily on bikes, fat biking will be a great way to participate in some safe, healthy, winter fun this year.
With help from Chris Owen at Friends of Pathways and David Hunger from Teton Mountain Bike Tours, we have put together information on operation updates, gear recommendations, and responsible recreation for fat biking this winter.
One of the most popular fat bike trail areas is up Cache Creek trail in East Jackson. With Cache Creek trail itself as a wide, multi-use trail, plus the Hagen and Sidewalk single tracks on either side slopes, there is some excellent terrain to explore. The two single-track fat bike trails are custom groomed by Friends of Pathways' own fat biking experts, Chris Owen and Kris Quant. Since this grooming on snowmobiles is more labor-intensive, Chris and Kris will be grooming along a flexible timeline, rather than a predetermined schedule, based on when it snows. To maximize efficiency, they plan to groom strictly after storms.
Other popular fat biking trails include:
Teton Valley ID: Southern Valley Trails at the western base of Teton Pass; Teton Canyon, Grand Targhee, and a number of trails in the Big Hole Mountains.
Jackson Hole: A number of Bridger-Teton Forest service roads are groomed (or tracked) for snowmobiling and make excellent bike trails: Gros Ventre Road east of Slide Lake, CD Trail off west side of Togwotee Pass, Shadow Mtn. A number of shared groomed trails for fat bikes and Nordic skiing include Turpin Meadow Ranch, Game Creek, Emily's Pond, Wilson Centennial.
Etiquette/Responsible Recreation:
Gear & Apparel
While fat biking, the most important consideration is how to keep your hands and feet warm and comfortable. For your hands, hefty, expedition-style mittens will be best (rather than gloves that isolate your fingers from each other), and hand warmers never hurt. For your feet, your warmest winter boots (like a Sorel winter boot) will be your best bet. However, there are two options for more dedicated bikers who want to invest in more fat-bike specific gear: pogies and 45 Nrth boots.
Other than your hands and feet, it's important to have a good layering system that will keep you from sweating when you get hot going uphill so that you don't freeze going downhill. It's good to have a few pieces of clothing that easily come on and off, including a skull cap for under your helmet and wind-proof pants. Chris Owen likes the three-quarter down pants that ski racers wear in between races–they keep him warm when going downhill and are easy to get on and off when needed. Wear a ski or insulated helmet to protect your head in case of a fall and to keep it warm.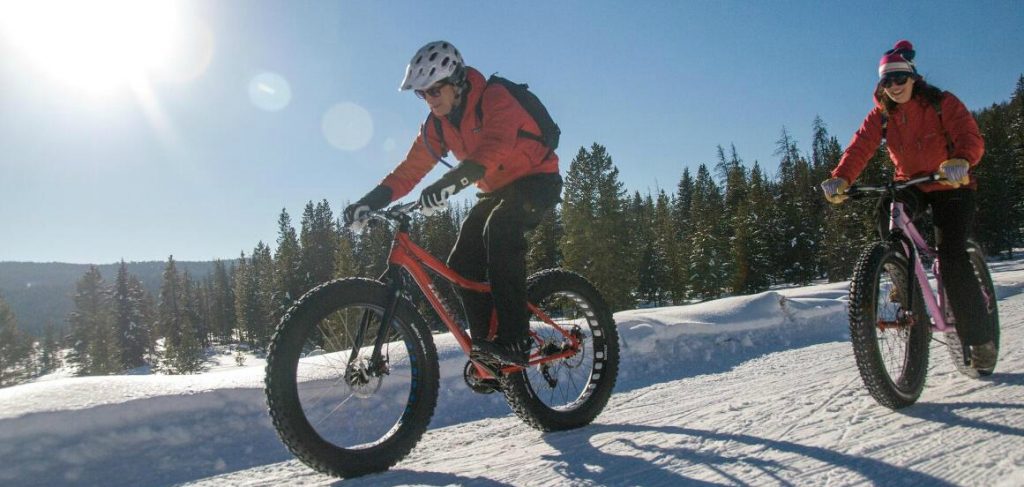 Teton Mountain Bike Tours had huge summer and fall tour participation, and it appears that the winter will follow suit. This is the first year they have booked tours during the second week of November, and there are already more than 5 tours booked for the week of Christmas. If you're planning on booking a fat bike tour this winter, it's best to do so sooner rather than later. TMBT has fat bikes in various sizes included with their winter tours. Or TMBT offers Fat Bike Rentals, allowing you to explore and experience Jackson's snow-packed trails, roads, and pathways on your own.
With the COVID-19 pandemic still in full swing, some of the tour operation logistics have been updated:
All tours will be half-day in duration. Full-day tours usually include a lunch stop to fuel up, get warm, and use the restroom, but with uncertainty around the safety and feasibility of indoor seating, it does not make sense to spend a full day out fat biking. This is the current plan, but it is subject to change.
Masks will be worn when social distancing is not possible. But while biking, social distancing is easy, so Teton Mountain Bike Tours staff and guests will not be required to wear masks while on the bikes.
They are recommending that guests who have access to cars use their cars for transport to and from the bike shop in order to minimize close contact between guests and guides inside of a shared van. However, if people do not have access to a car, masks will be worn in the vans and the vans will be cleaned thoroughly.
For the first time this year, tour guests will be offered the option of renting a pair of 45 Nrth Wölvhammer boots (as mentioned above) for an additional $25 dollars to keep their feet extra warm. These will not be available to people just renting bikes, but bikes will still be available for rent. Though some other bike retailers may end up selling their rental fleets, Teton Mountain Bike Tours will continue to be a reliable source for fat bike rentals all winter long.
Check out tours in Grand Teton National Park and Bridger-Teton National Forest this season!