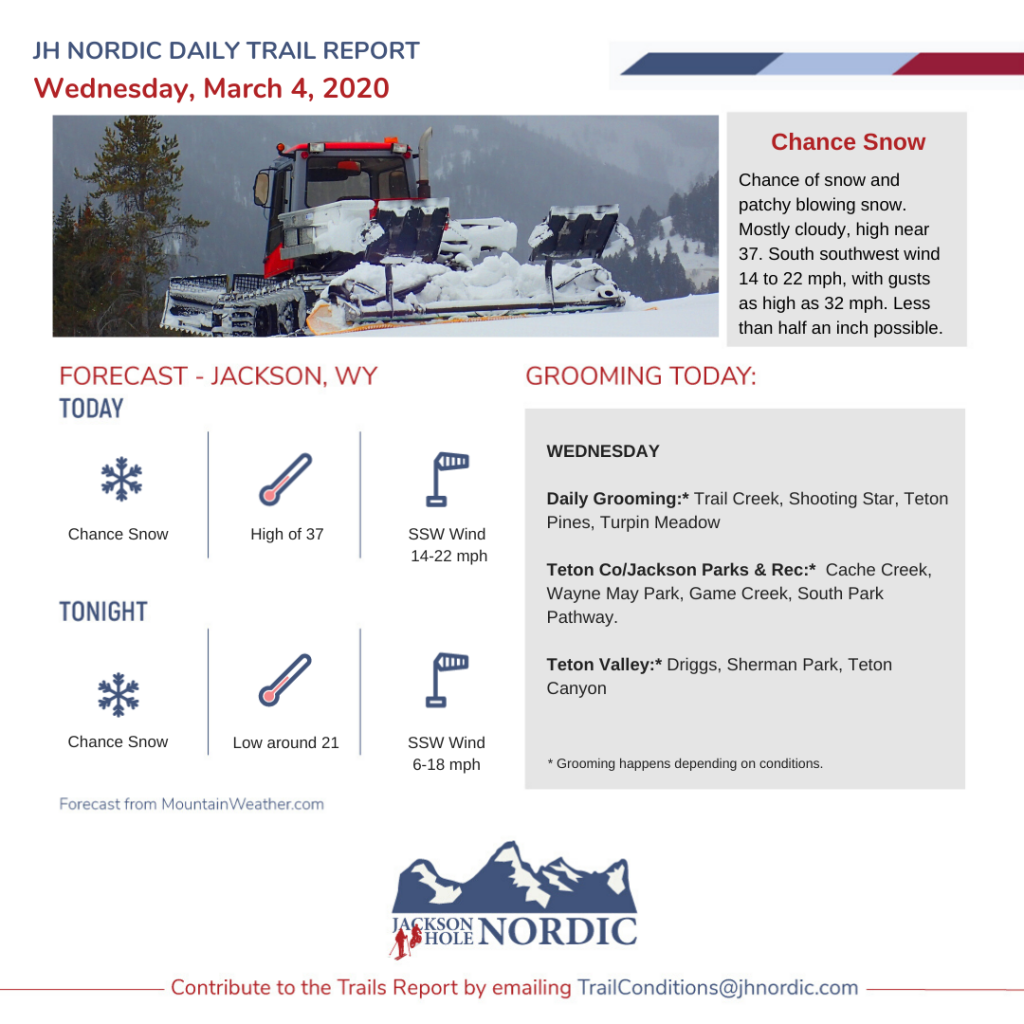 ---
Thank you for continually sharing your photos with us of Nordic skiing in Jackson Hole
---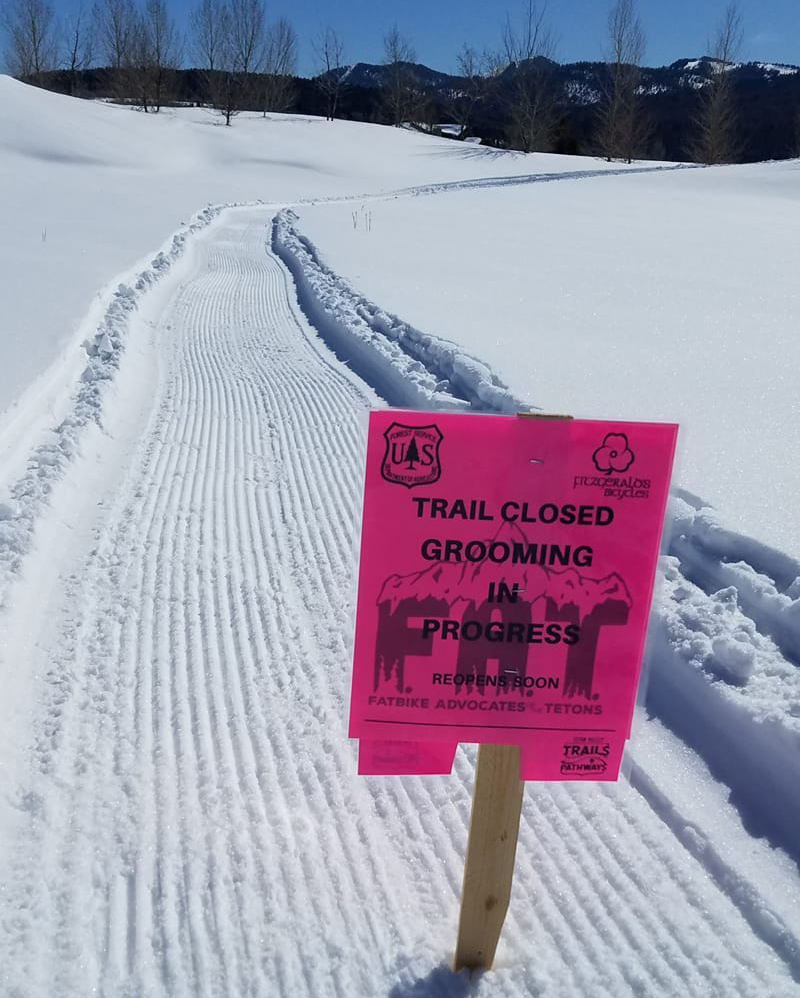 Fat Bike Grooming Update
Conditions are excellent, but please be sure to respect the grooming, as well as plan to get off the trails before snow becomes too soft. Groomers are trying to groom trails during the day to make it easier on the volunteers. Please respect the temporary closures. (Usually till the following morning to allow the trail to setup) Safety is paramount when the groomer is on trail. Enjoy!




---
Grant Success with Idaho Falls Nordic Ski Patrol & CFTV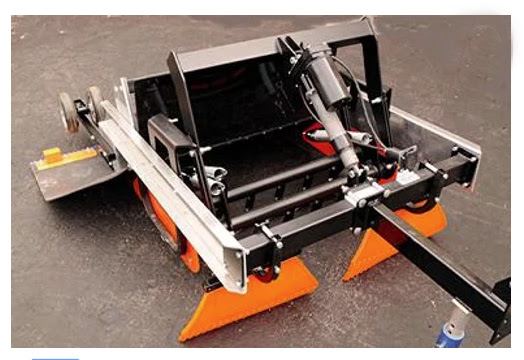 Congrats to TVTAP on securing this grant for a new ginzu!

Recent grants through the Idaho Falls Nordic Ski Patrol and Community Foundation of Teton Valley have funded 60% of a new Ginzugroomer for the local Nordic Trails. Thank you IFNSP and CFTV!

What does this mean for you? Better conditions for skate skiing. More opportunities to set Classic track. Less equipment downtime. Gives older equipment for a longer lifespan.Keeps the Nordic Program humming! TVTAP maintains almost 200k of winter trail equipment. 
---
Last Big Regional Race of the Year: West Yellowstone Rendezvous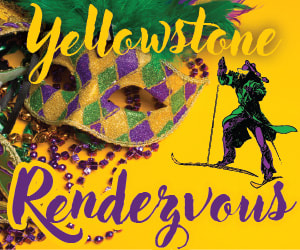 Are you ready to put a winter's worth of training to the test while you enjoy the beauty of the Yellowstone region? You are invited to participate in the 41st annual Yellowstone Rendezvous Race on March 7th, 2020 in West Yellowstone, Montana. There are six different races to choose from depending on your age and ability: 2K, 5K, 10K, 25K classic, 25K and 50K.
Registration closes at noon on Thursday so if you've been thinking of going, register soon!
---
Togwotee Winter Classic Fat Bike Race This Weekend
Friday Mar 06 – Saturday Mar 07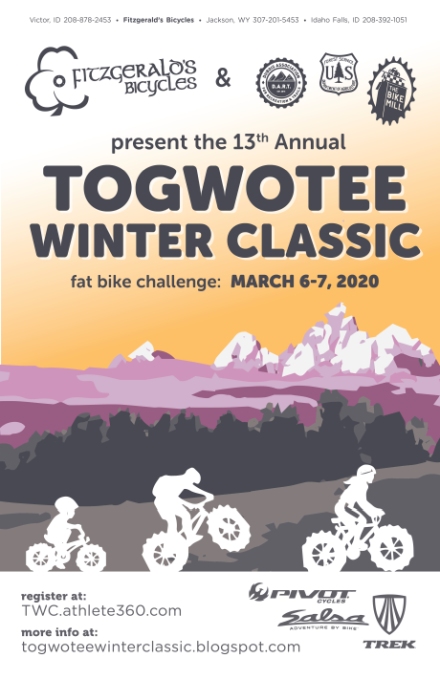 The Togwotee Winter Classic is a not-for-profit fat bike race on groomed snow and/or snowmobile trails at 8000′ to 9,600′ in elevation under extreme winter conditions.
The course for this year will be different. There will be a 35-mile loop and a 20-mile loop. See link for maps, more info.
---

Last Updated: 3/3
Grooming Daily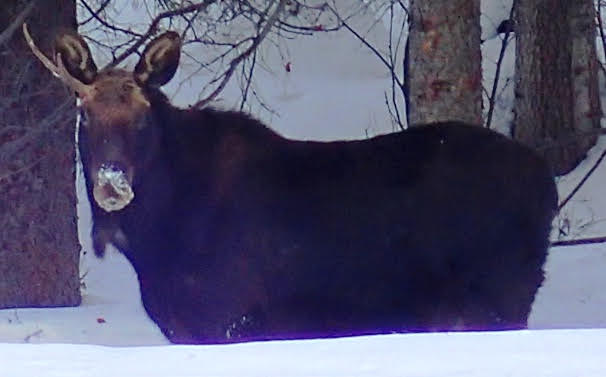 Balance!
This poor guy has been wandering around for the past couple of days with half of his juvenile attempt at macho moosedom still clinging to his big brown head and the other half most likely abandoned to the small furry creatures of the forest floor.  It actually doesn't seem to be bothering him much and within a couple months, it will surely be replaced with a much more substantial crown of glory.
If you are looking to hone your balance today, you might consider a Nordic ski.  As of 11 AM conditions at Trail creek are partly sunny but also with a few flakes coming from somewhere.  The temperature is quite warm being right at freezing; however, the wind is whipping along quite briskly today.
Today's Ginzu grooming covered most major trails with combinations of skate and classic passes.  Classic tracks are a bit on the variable side today, ranging from quite nice to nonexistent due to drifting and hard conditions in some spots.  Skating will mostly be quite nice with carve able and fast conditions most places with the exception of a few icy patches in southern exposures.  With a little flexibility and balance a great skiing experience can be had today!
Groomer's choice for today is Animal Farm.
---
Last Updated: 3/3
Grooming Daily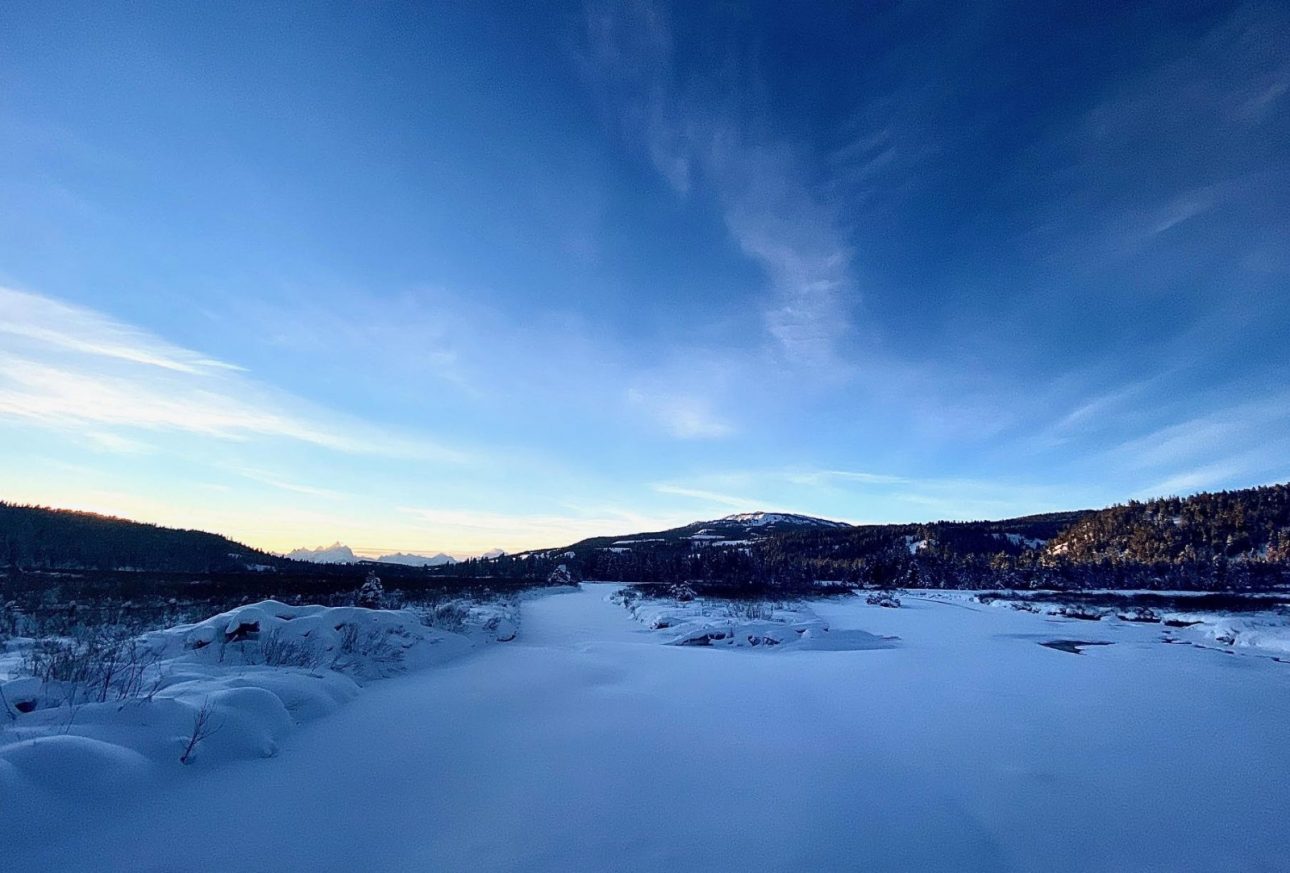 Everything was groomed fresh this morning! It is substantially warmer today than the last few days, so the trails will be quite soft. But that's no excuse to not come up! (With your dog of course!) Hope to see you this week before we close! Stay classy, Jackson Hole.
---
Grooming Today: Cache Creek, Wayne May Park, Game Creek, South Park Pathway
Last Updated: 3/3
The school fields and the levee are groomed and in good shape. Stilson will be done around 10:30.
---
Taggart Lake Trailhead to South Jenny. It's a windy one out there today.
---
Last Updated: 3/3
Grooming Daily
We are closing early(3pm) on Tuesday March 3, but will resume normal hours on Wednesday March 4 (9am-4pm).
Conditions are still good and holding steady but watch the thermometer as we are in some pretty serious freeze/thaw cycles from now until the end of the season. The skiing will be best late morning after the temps begin to raise. Skate skiing conditions are typically awesome this time of year but classic track skiing conditions can vary drastically. The warm days make resetting the classic track challenging so please bear with us as we rapidly approach the end of the season! We've had incredible ski conditions and grooming for the past 100 days—so please thank our great groomers(Mike, Mark, and Curt)when you see them!
Our entire classic rental fleet is on sale now as we prepare to bring in a new rental fleet next season!
Classic package:
Salomon Snowscape 7 skis
Salomon Escape/Siam/etc boots
Swix poles
Total: $275 (dates for pickup vary on size you need—call us for details).
We have spring gloves, base layers, hats, jackets and a few pairs of pants remaining! We also have great deals on classic, BC, and skate skiing poles, boots, and skis!
---
Last Updated: 3/2
Grooming Daily
March is officially here and hints of spring weather are expected to appear! This week should provide plenty of enjoyable days for Nordic skiing. With the days being longer, combined with above freezing high's, expect the snow to be ever evolving throughout the day and icy patches may frequent certain exposures. Have fun!
Next Update: Friday
---
Update: 2/22
Teton village pathway trail – groomed on Tuesday. Firm, packed snow.
---
Update: 2/22

Skier Update: Trail is ' groomed' – not perfectly smooth corduroy, more "flattened and rolled". Occasionally, there is a classic cross-country track, sometimes not. Certainly a nice hour and bit around the golf course with great views, a fun place to ski if you are looking for a new flat, groomed trail to try out.
Groomed with classic track on Tuesdays, Thursdays, and Saturdays.
---
Last Updated: 3/3
Grooming Daily
Expect soft, playful conditions on the mountain with the chance of a little sunshine peeking through the clouds throughout the day. Skies will be partly sunny, temperatures will be cooler with a high near 23. Expect occasional snow showers in the morning with additional accumulations up to 1″.
Cross Country/Fat Bike 15k: XC OPEN (Last groomed 3/3/2020), Fat Bike CLOSED.
---
Last Updated: 3/3
Nordic:Breezy, but not moving snow so far. All multi-use trails groomed this morning. Tree Loop and perimeter of Upper Surveyor also. Headed for the Golf Course now. Hopefully will have Golf Course and CCC trails done by lunchtime (Editor's update: Mike won't get to the CCC Pond trails today). About 16F degrees at Nordic Equipment Building this morning, slight breeze. Have a nice day.
Fat Bike 2/13: All Lower Kelly Park is groomed with a great riding base. Should be perfect conditions for the next 3-5 days due to high pressure system. For more information contact Geared Up, 307-399-5539 c.307-760-1912, www.gearedupbikes.com

Grooming Today: Driggs, Sherman Park, Teton Canyon

Grooming Schedule: Tuesday, Thursday, Saturday, Sunday
Last Updated: 3/3
Skate: Good | Classic: Good
---
Grooming Schedule: Monday, Wednesday, Friday
Last Updated: 3/2
Skate: Excellent | Classic: Excellent
As good as it gets!
---
Grooming Schedule: Monday, Wednesday, Friday
Last Updated: 2/25
Skate: Fair | Classic: Fair
Groomed on 2/24, 6 pm
---
Grooming Schedule: Monday, Wednesday, Friday, Saturday, Sunday
Last Updated: 3/2
Skate: Good | Classic: Good
Apparently it did not warm up too much in canyon yesterday, so snow is still quite manageable. Able to reset both classic and skate tracks this morning. Both look to be good.
---
Grooming Schedule: Tuesday, Thursday, Saturday
Last Updated: 3/2
Skate: Excellent | Classic: Excellent
Groomed Sunday evening – finished around 7:30. All came out excellent. Should be the best conditions for a while with the warm temps coming in the forecast.
---
Grooming Schedule: Tuesday, Friday
Last Updated: 3/2
Skate: Excellent | Classic: Good
---
5th Street Singletrack
Grooming Schedule: as needed
Last Updated: 2/9
Singletrack: Poor
Skinned a lap after some foot traffic then rode front portion on triple wide. Need a sled for more compaction but will keep trying!
---
Teton Springs Singletrack
Grooming Schedule: as needed
Last Updated: 3/2
Singletrack: Excellent
Plowed with v plow. All good
---
Southern Valley Singletrack 
Grooming Schedule: as needed
Last Updated: 3/2
Singletrack: Excellent
---
Darby Canyon
Grooming Schedule: as needed
Last Updated: 3/2
---
South Leigh Road
Grooming Schedule: as needed
Last Updated: 3/3
JH Nordic Masters Recreational Clinic
Thursday, March 5
Teton Pines Nordic Center | 11am-12:30pm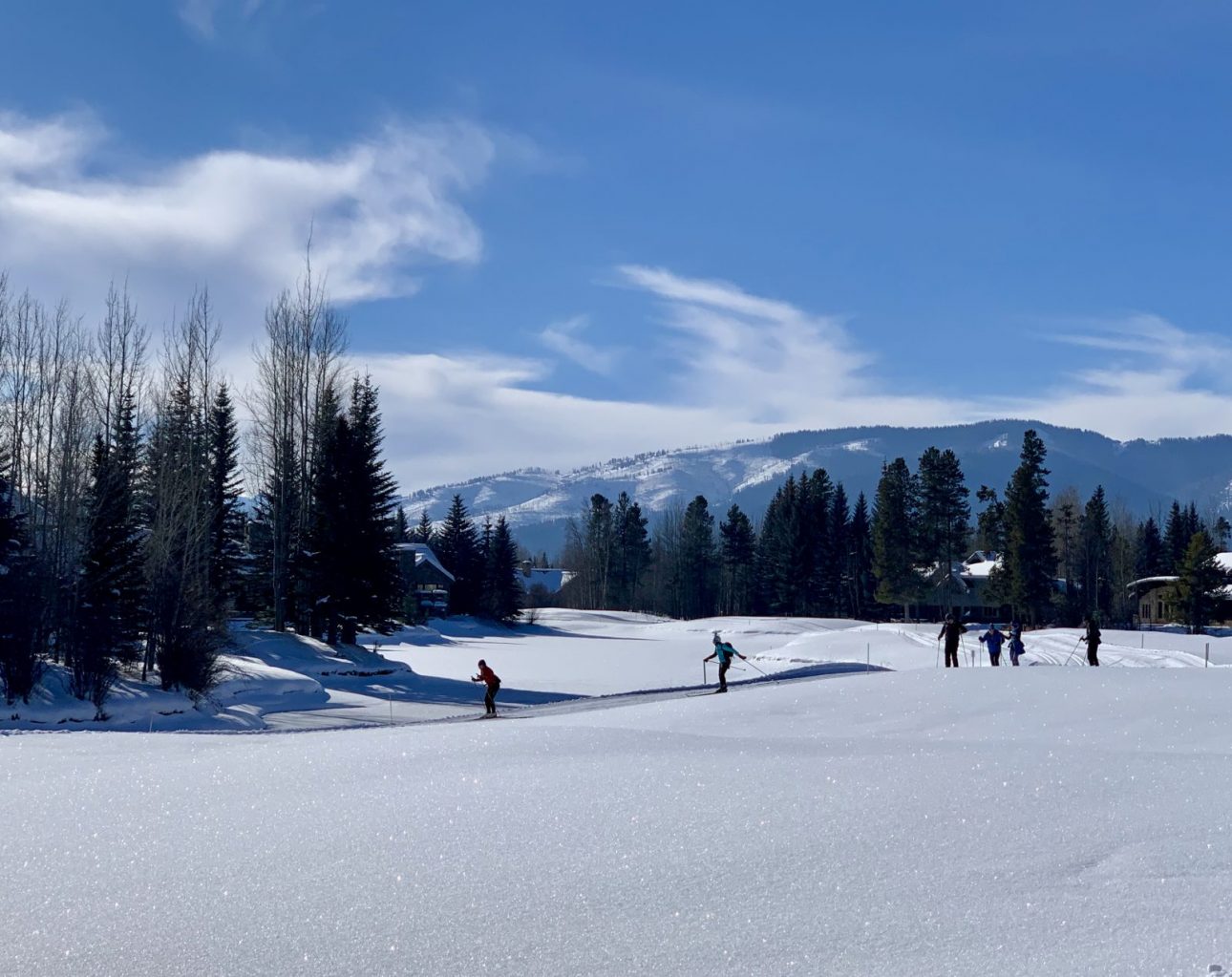 Join us Thursday, March 5th for Tips, Technique, & Fun. This clinic will focus on classic skiing technique.
Coaches provided by JH Ski Club Nordic Program
-Open to all (no first time beginners)
-Drop-in $35 (includes clinic & Teton Pines Nordic all day ski pass)
-Teton Pines/Season pass holders and Members: $30
Register: email : info@jhnordic.com or call: 307 739 6399
Click here for more information.
---
Send us your event dates, stories, photos
Follow JHNordic on Facebook, Instagram @JHNordic, #JHNordic
Sign up for Daily or Once a Week JH Nordic Trail ConditionReports to know what's groomed,
what's happening first thing every morning – or just Saturdays.