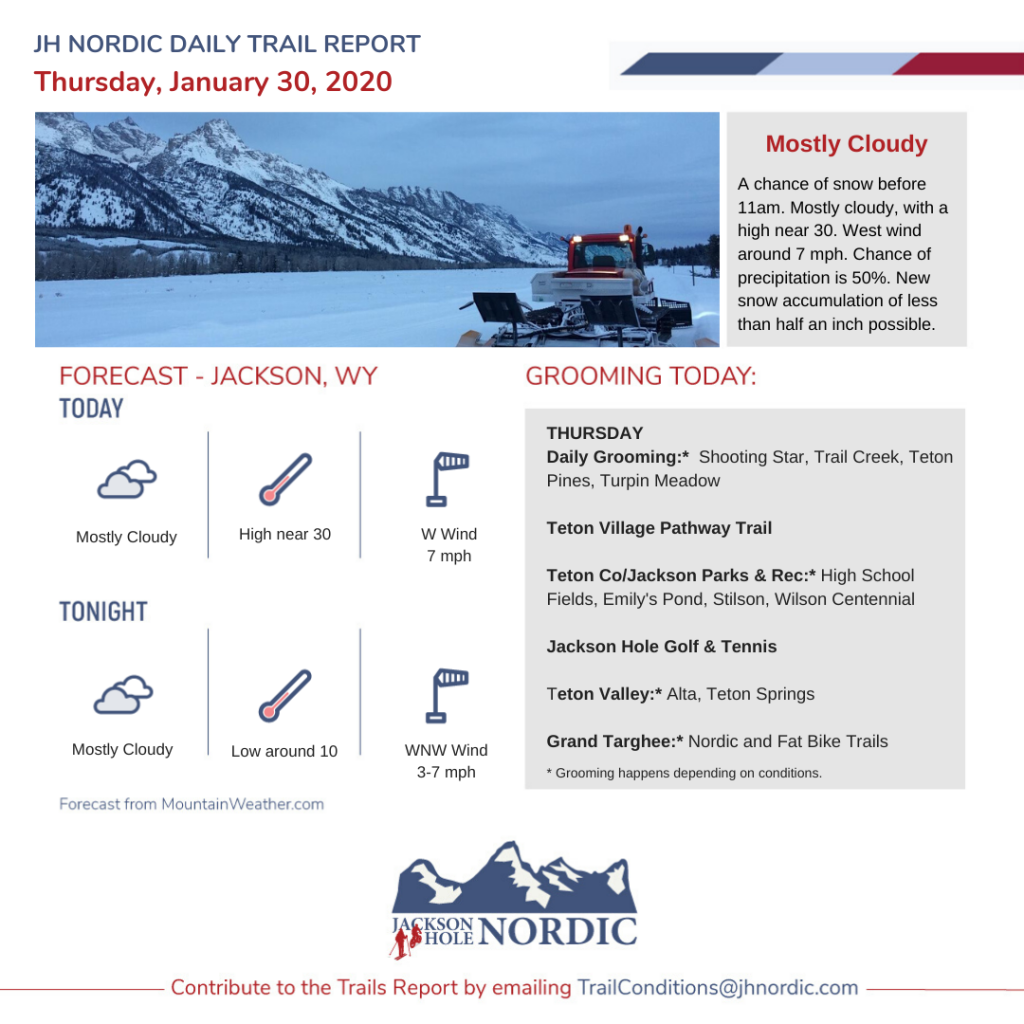 ---
Thank you for continually sharing your photos with us of Nordic skiing in Jackson Hole
---
2x Olympian Erik Bjornsen Instructs the Skate Skiing Fundamentals
We were so fortunate to have 2x Olympian Erik Bjornsen guest instruct our 2nd Annual JH Nordic Recreation Masters Tips, Technique & Fun Clinics at Teton Pines Nordic Center on Thursday, January 23rd.
Erik covered the fundamentals of skate skiing and showed us how it was done; V1, V2 and V2 Alternate techniques.
---
Part Time Preschool Nordic Instructors Needed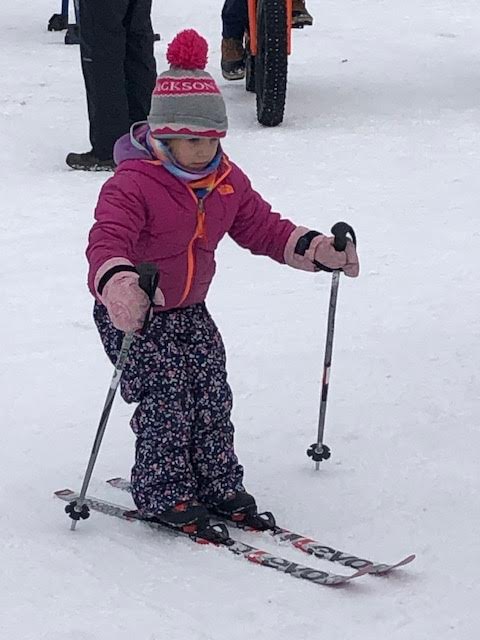 Do you desire to make a difference? Do you like to create smiles? Share your passion of nordic skiing by providing fun, games and learning to our youngest in Jackson WY. Join the Snow King team of instructors in our Pre School Ski School program. We provide snow-play and instruction to youth (ages 3-5) at various preschools in the area. Part-time sessions are 900am-1200pm consisting of 2, one-hour blocks. A one-hour break is built into session for travel and lesson preparation. Sessions are M-F, February 2020 only. Instructors will have off and on snow assistance with preschoolers from the preschool staff.
Beginner/enthusiast level nordic experience preferred. No teaching experience required, program training will be provided. This is the perfect program for those who can't offer a huge time commitment and enjoy sharing their love of winter sports with children.
Contact george@snowkingmountain.com by January 30th to apply.
---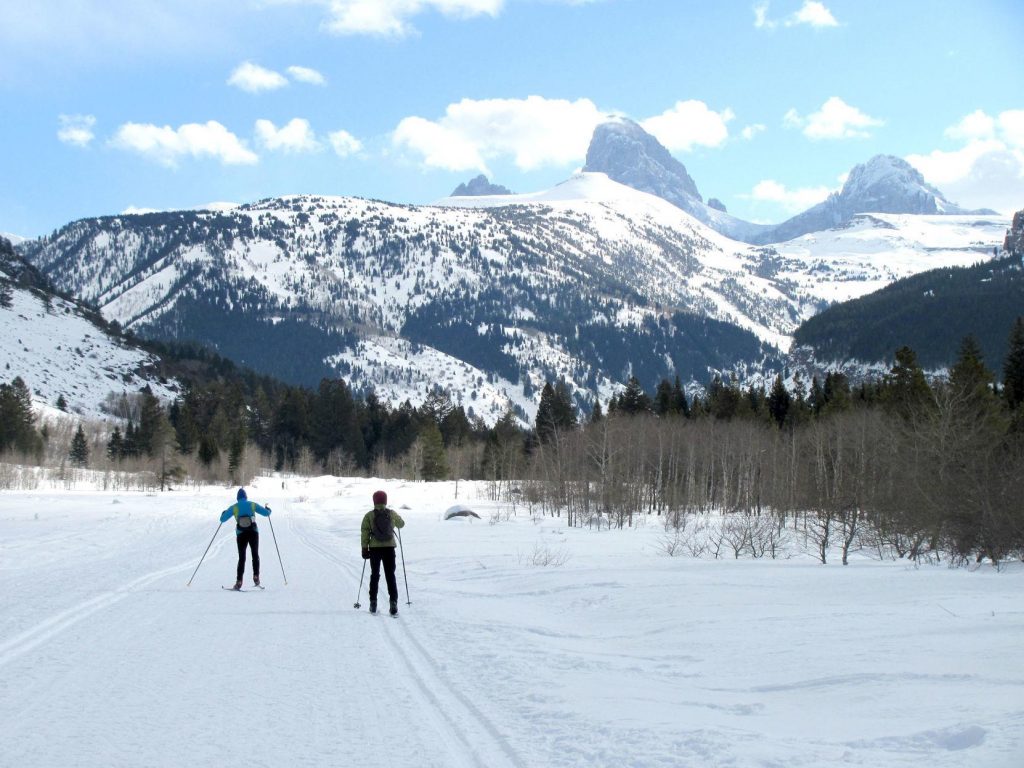 Dog Bites Prompt Trail Ban on Teton Trails
Following a rash of dog bites on the Teton Canyon trail, officials have banned dogs in a separate trail system in Teton County, Idaho. Teton Canyon trail still allows dogs, but TVTAP is taking extra measures to ensure good dog management.
Yeti trail and Nemo-Lady Slipper Trails (Southern Valley Trails) are closed to dogs until april 15th.

Last Updated: 1/29
Grooming Daily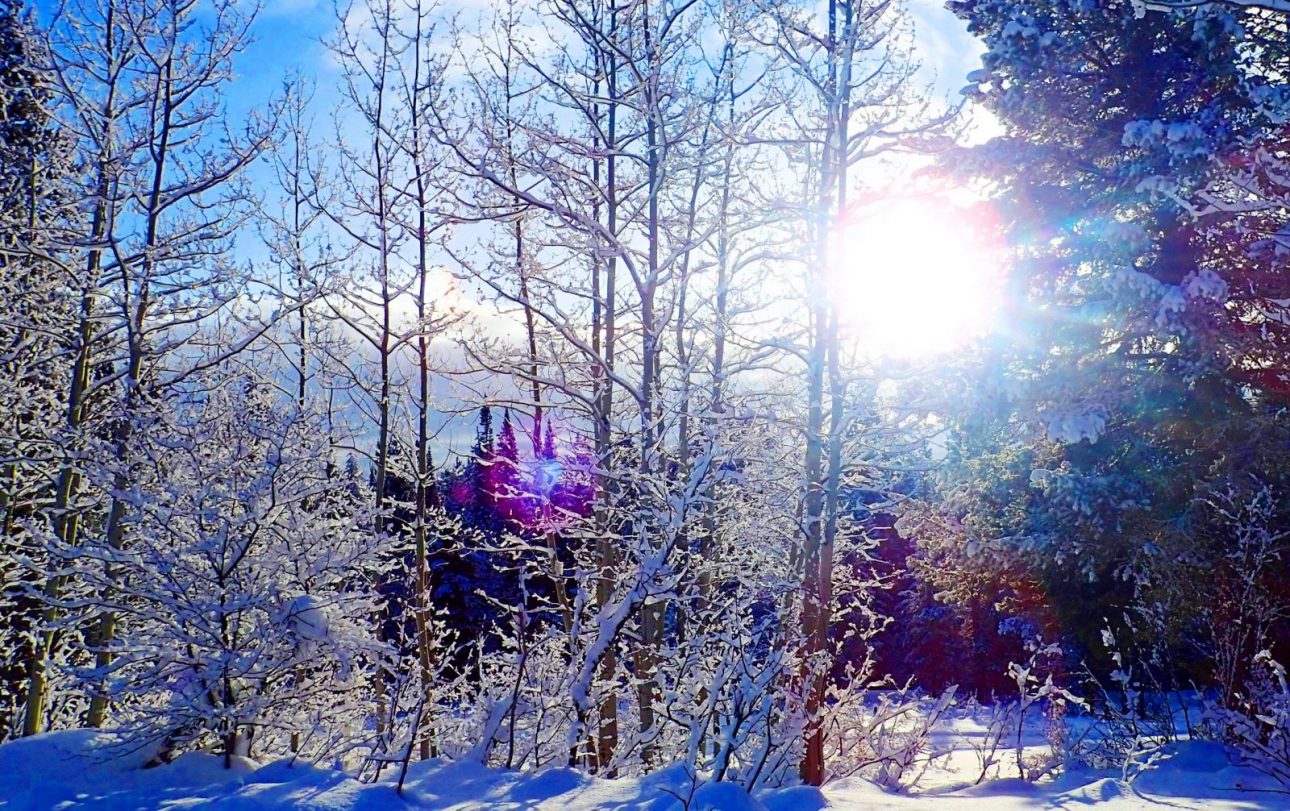 Planetary Problems!
While the above title brings to mind a myriad of events from pandemics to politics to climate change, most of these topics go way beyond the scope of a grooming report.  However, we do have some planetary problems relevant to our Nordic world to discuss today.
Our trusty Pisten Bully seems to have one component that is not quite as trusty as the rest, namely the final planetary drive.  These drives contain components that seem to be undersized for the stresses they have to bear, have failed in the past, and unfortunately are causing problems once again.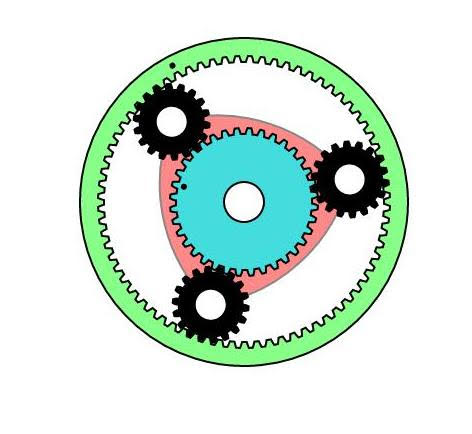 If you are curious as to how planetary gears work, click on the gear image to see a fascinating animation and the image below details the exact location of where our suspect planetary gear reduction final drive resides in our own Pisten Bully.
With the bad news out of the way there is nothing but great things to report.  In past instances parts were weeks away in Europe but this time the replacement drive was in Reno and is en-route with hopes of replacement happening early next week.
Looking at skiing today, that is also looking fantastic.  Overnight about 3 inches fell which for the first several hours of grooming the Ginzu Groomer was able to lay down in the nicest classic tracks of the week and some very crisp if a little soft corduroy.  After two passes through the entire network, the temps warmed enough (-1ºC/31ºF as of 11:30 AM) that the Ginzu ceased to function, but the roller was able to make a third pass throughout the fields and stadiums.
What you will find today if you make it out is lots of sunshine, calm conditions, warm temps, and nothing but the beauty of three inches of fresh whitewash over our miles of trail.
Groomer's choice for today is Boiler Loop.
---
Last Updated: 1/29
Grooming Daily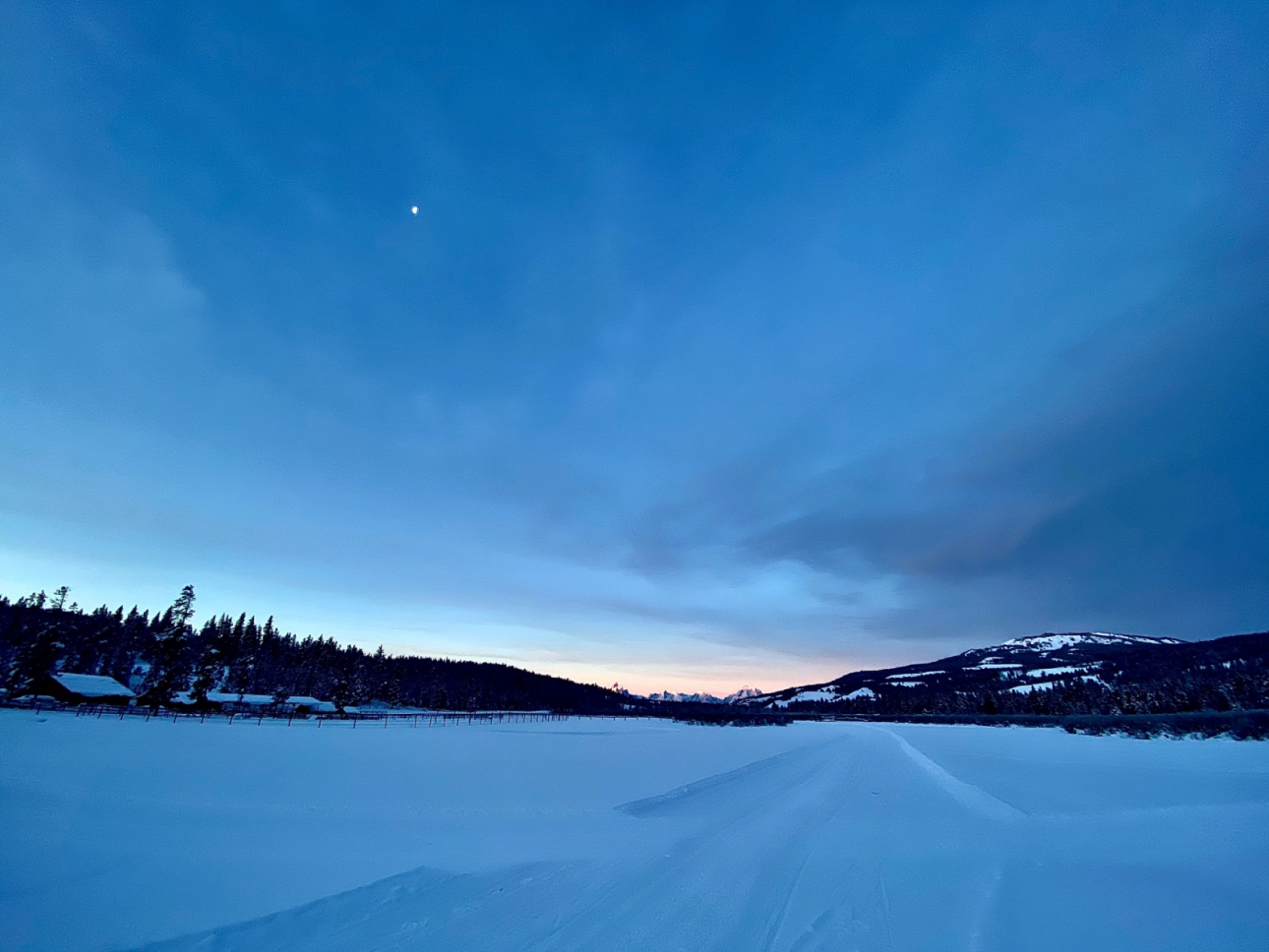 We received close to 3 inches overnight and reset the classic and skate tracks this morning. It was an absolutely beautiful morning and refreshing to see the Tetons from our trails again. The clear skies have given way to snow this afternoon, however. With all of the new snow, our skate lane is running a little soft but still fast! We groom daily and we expect it to settle nicely overnight. Come see us this weekend! We have skis you can rent and a cozy lodge with a restaurant and bar. Bring your dog!
---
Last Updated: 1/29
Grooming Today: High School Fields, Emily's Pond, Stilson, Wilson Centennial

Cache Creek and May park are groomed and in good shape. Once they set up they should be firm and fast. I'll be heading to Game Creek shortly and should be done around 11:15.
---
Last Updated: 1/28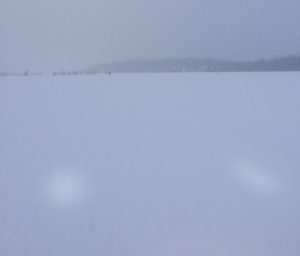 Major flat light out there this morning! Grooming from Taggart Lake Trailhead to South Jenny.
---
Last Updated: 1/28
Grooming Daily
Conditions are great at the Pines. Be sure to head out early to take advantage of the fresh grooming. Call Teton Pines to book lessons if you're looking to get into the sport or want to sharpen your technique: 307-733-1733.
The shop is open 9am-4pm daily with great deals on gear.
---
Last Updated: 1/27
Grooming Daily

Nordic skiing continues to be very enjoyable. Look for this warmer winter weather pattern of light snow and mild winds to continue all week. Have fun!
Next Update: Friday
---
Update: 1/23
Grooming is twice a week, on variable days, typically after new snowfall.
---
Update: 12/24
Grooming Today
Season Passes are available to non members for $100, passes can be picked up in the admin office at JHGTC M-F 9am-5pm or by calling 307.733.7787. 
We purchased a new groomer 2 years ago so we do now have a set cross country track with enough room for skate skiers and/or fat bikes next to the set track.
There are no other services available (ie. No lunch) though dinner is offered Thursday, Friday and Saturday evenings beginning at 5:30pm; Clubhouse amenities are reserved for members only.
We groom the track on Tuesdays, Thursdays, and Saturdays
Contact Steve Cole, Membership Director, at:
scole@gtlc.com
or 307.733 .7787.
---
Last Updated: 1/29

It's shaping up to be an incredible day on the mountain with partly sunny skies and a high near 21
Cross Country/Fat Bike 15k: XC OPEN (Last groomed 1/28/2020), Fat Bike CLOSED.
---
Last Updated: 1/29
Nordic: Half Moon Tie-In, Kelly Park, Kelly Tie-In, Upper and Lower Surveyors, Powerline, Moose Ridge, Tree Loop, Old Road Trail, Aspen, and Looney Lane all groomed this morning. 1″ of new snow at the warming hut. 4F degrees at the equipment building. Calm. Sun coming up. Road not plowed yet, dusting of snow on the road.
Fat Bike 1/23: As of Thursday, January 23rd, all fat bike single track in the Kelly Park and Upper Skyline corridor has been groomed. The trails are in good condition, however remember with warmer day-time temperatures reduce tire pressure to around 3-4lbs. We want to remind everyone that all single track is multi-use, so skiers and other users are welcome to utilize the single track system. The only reason it is there, is FOR FUN, so go have fun!

Grooming Today: Alta, Teton Springs
Grooming Schedule: Tuesday, Thursday, Saturday, Sunday
Last Updated: 1/28
Skate: Excellent | Classic: Excellent
---
Grooming Schedule: Monday, Wednesday, Friday
Last Updated: 1/29
Skate: Good | Classic: Good
---
Grooming Schedule: Monday, Wednesday, Friday
Last Updated: 1/27
Skate: Good | Classic: N/A
---
Grooming Schedule: Monday, Wednesday, Friday, Saturday, Sunday
Last Updated: 1/29
Skate: Fair | Classic: Good
---
Grooming Schedule: Tuesday, Thursday, Saturday
Last Updated: 1/27
Skate: Good| Classic: Good
Would have put "excellent" on both skate and classic, but it will be soft for a bit, particularly classic. On another note, it's the first time your back-up groomer didn't get stuck! 🍻Enjoy it out there!
---
Grooming Schedule: Tuesday, Friday
Last Updated: 1/27
Skate: Excellent | Classic: Good
---
5th Street Singletrack
Grooming Schedule: as needed
Last Updated: 1/8 @2pm
Singletrack: Not Set
Figure 8 has 2" of fresh, longer loop flagged awaiting sled.
---
Teton Springs Singletrack
Grooming Schedule: as needed
Last Updated: 1/20 @ 4pm
Singletrack: Fair
Still pretty soft, but hopefully will harden up tonight.
---
Southern Valley Singletrack 
Track Grooming Schedule: as needed
Last Updated: 1/23
Singletrack: Fair
---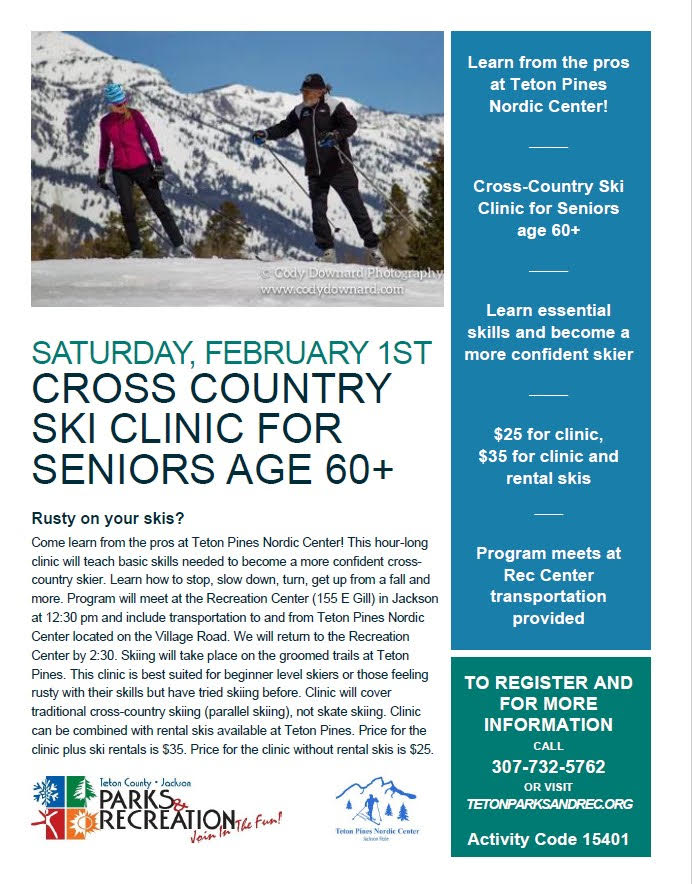 ---

JH Nordic Masters Recreational Clinic
February 6
Teton Pines Nordic Center | 11am-12:30pm
Tips, Technique, & Fun – Coaches provided by JH Ski Club Nordic Program
Open to all (no first time beginners), Small groups.
Drop-in $35 (includes clinic & Teton Pines Nordic all day ski pass)
Teton Pines Nordic Pass holder/Members: $30
To Register, email info@jhnordic.com or call: 307 739 6399 to RSVP
---
Best of Banff Film Festival World Tour-hosted by Skinny Skis
February 6 and 7
JH High School Auditorium | 7:00 p.m.
Tickets on sale now at Skinny Skis, Hungry Jacks and Valley Bookstore.
$12/night or $20 for both nights. Every year has been a sell-out, so get your tickets now!
---
Send us your event dates, stories, photos
Follow JHNordic on Facebook, Instagram @JHNordic, #JHNordic
Sign up for Daily or Once a Week JH Nordic Trail ConditionReports to know what's groomed,
what's happening first thing every morning – or just Saturdays.