---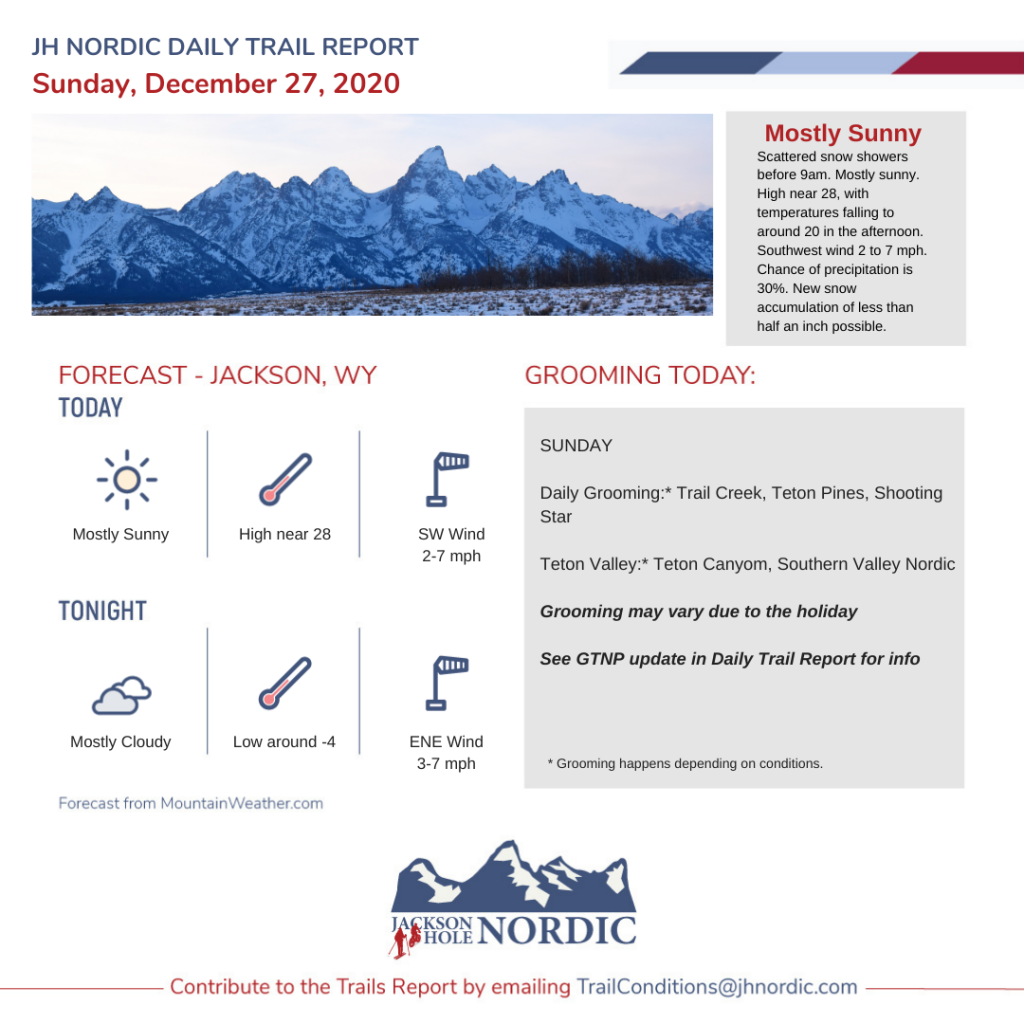 ---
The 14-mile section of the Teton Park Road between the Taggart Lake Trailhead and Signal Mountain in Grand Teton National Park will be groomed approximately three times a week dependent on snow and weather conditions. All four lanes will be groomed on Tuesdays and Sundays from Taggart Lake Trailhead to South Jenny Lake Junction. On Fridays, two lanes will be groomed from Taggart Lake Trailhead to Signal Mountian. Due to the holiday season, grooming will not occur on Jan.1 but there will be additional grooming to Signal Mountain on Dec. 29 and Jan. 5.
Cross country skiing, skate skiing, walking, and snowshoeing are permitted on the groomed trails but recreationists are reminded to use the designated tracks for the appropriate uses. Dogs are only permitted in the multi-use lane.
There are four lanes from Taggart Lake Trailhead to South Jenny Lake Junction. From South Jenny Lake Junction to Signal Mountain, the groomed trail is reduced to two lanes,  a multi-use ski, snowshoe, and walking lane and a skate ski lane.
---
Weekend Highlight
Your update on all things JH Nordic from this week, in one place.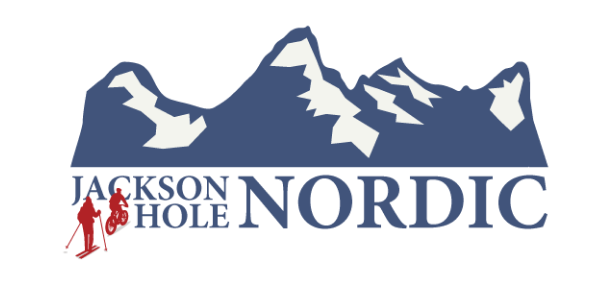 ---
BTNF Steward, Linda Merigliano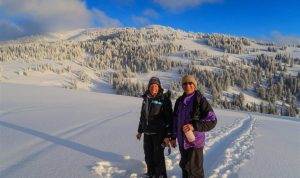 Linda Merigliano acts as a dedicated outdoor leader of some of Wyoming's most cherished public lands. She acts as the Recreation Program Manager for the Jackson and Black Rock areas of the Bridger-Teton National Forest, and one of local leaders in Recreate Responsibly.
Her focus is on providing recreation opportunities and working with the public to promote responsible recreation so that people can enjoy public lands in a way that protects wildlife and water and minimizes impacts on other visitors.
Spanning from Kemmerer to the Yellowstone border, the Bridger-Teton National Forest is one of the largest national forests in the United States, covering an area of nearly 3.4 million acres and including large swaths of designated wilderness.
The national forest offers a plethora of opportunities for Nordic skiing, fat biking, and snowshoeing in the winter, leading to a partnership between Linda at the Forest Service and the Jackson Hole Nordic Alliance.
---
The Hole Hiking Experience
Cathy Shill, founder of The Hole Hiking Experience, shares some knowledge about recreating in Jackson Hole this winter!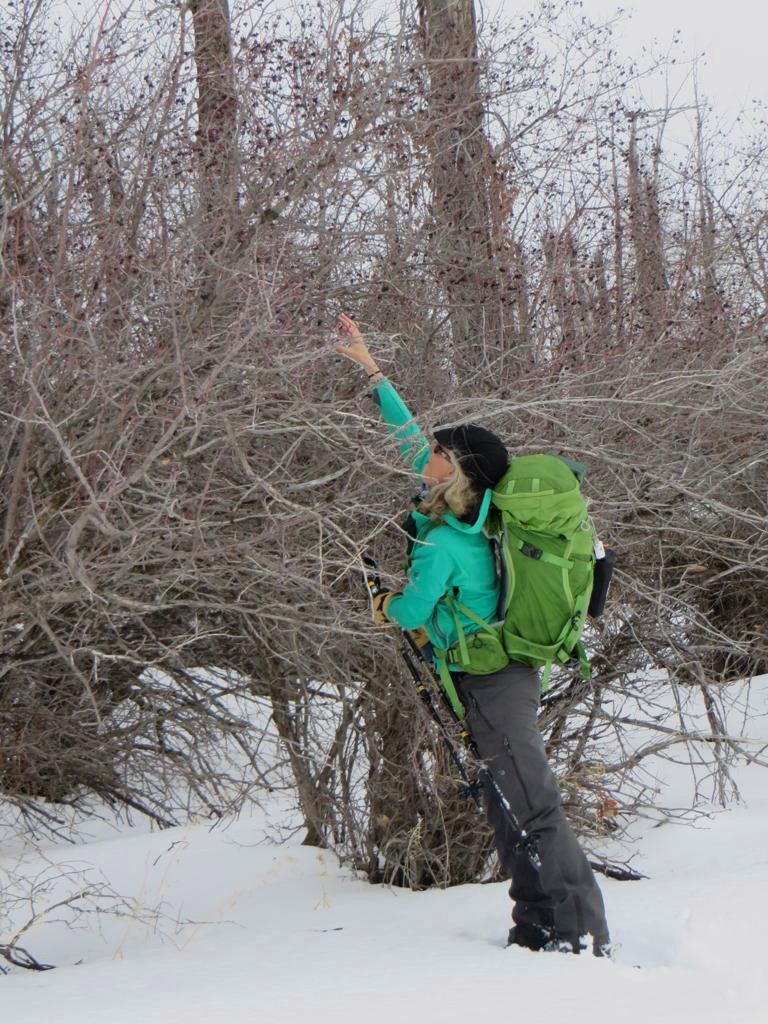 Moose Creek in the Targhee-Caribou National Forest is less travelled than some other recreation areas and is a fun place to cross-country or snowshoe. Teton Canyon gets busy but you can't beat the views on this groomed trail. Both trailheads require a drive over Teton Pass, which makes for a nice day if the weather permits. The holiday tourism could make this a good week to stay away from the Granite Canyon and Taggart trailheads in Grand Teton Park.
Animals are still on the move and we are seeing lots of wildlife on our Hole Hike tours. It is always fun to learn about the animals and to join a naturalist who knows where to look! Guide, Heather Mathews, grabs a Hawthorne Berry that the bears couldn't reach.
The Hole Hiking Experience has been sharing this Ecosystem for over 30 years, so join us to get off the beaten track. www.holehike.com
307.690.4453
---
Teton Valley Trails and Pathways are challenging YOU–the community of winter trail users–to log more than 2000 miles on Teton Valley Winter Trails in January and February.
Sign up here as an individual or team and start logging your miles on January 1, 2021. You'll get a cool buff designed by local artist, Cy Whitling and a chance to win prizes from Yostmark and Fitzgerald's Bicycles.
Prizes Awarded to:
Top Individual Mileage
Top Individual Fundraiser
Top Team Mileage
Top Team Fundraiser
Milestones throughout the challenge like top weekly mileage, fundraising goals and more!
This challenge is here to encourage you to get out and enjoy winter, our groomed trails with a little hint of that Teton Valley competitiveness. Sign up today and start logging miles on New Year's Day!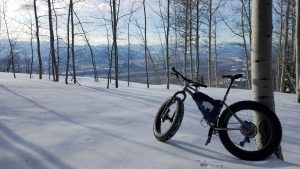 ---

Last Updated: 12/26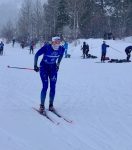 Betty Woolsey Success!
There was a great turnout of racers this year! We saw a showing of competitors, younger and older, for a fun day outside during the holidays. Hosted by the JH Ski Club Nordic program , The Betty Woolsey race was a great example of how we can #RecreateResponsibly. The event was socially distanced and full of masks, while still allowing for community connection.
The course map is here.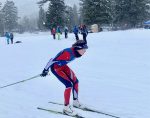 The course itself is kind of a new creation in an attempt to make things as safe as possible.  In past years two parallel tracks were set on the final grooming pass with a limit of spacing just slightly over a meter.  This year our creative response to the pandemic was on the second to last pass to set a classic track about a half meter from skiers right with the final pass setting a second classic track that was nearly two meters from the first pass.  There are pinch points and the tracks do disappear from place to place as Trail Creek is such an amazingly diverse place, but mostly you'll find two widely spaced sets of classic tracks.
In general the skiers left track will be the most continuous track although there are places where skier's right will be faster.  In order to get your best time you'll have to use your brain to make some split second decisions; but it should be fun! 
Groomer's choice for today is to ski the Betty Woolsey course!
---
Last Updated: 12/26
The levee is groomed and in good shape. Stilson will be done around 9:30. The school fields still will not be groomed, hopefully today's storm will bring enough snow to allow for grooming. Monday Cache will be groomed to noker mine draw.
---
Last Updated: 12/19
We are open daily 9am-4pm (closed Christmas Day). We groom 16km of track each morning for both skate and classic skiing. The conditions are great right now and will continue to improve as we get more snow this week.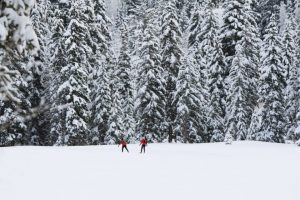 Please come ready to ski as we do not have an indoor area for getting ready this year. We have lots of covid protocols to keep everyone safe and healthy this season. Please check in with us at our outside window/intercom located on the southside of the Teton Pines Clubhouse. The main Clubhouse upper level/front door is closed to the public. The restaurant is closed to the public this winter as well.
We still have lots of nordic gear in our shop if you need to pick up some last minute gifts for the nordic skiers on your list! We currently have a good selection of sizes in skate gear ( skis/boots/poles) but our classic gear is currently in short supply. We are expecting a small shipment of classic skis around Jan 1. We have a great selection and supply of hats, jackets, pants, socks and gloves by Daehlie, Skida, and Swix. If you want to explore Grand Teton NP and the Jackson Hole area on xc skis, we carry the must have xc ski trail guidebook for our region in the shop: https://www.facebook.com/SkiYellowstone
Please call or email Cody for more details: (307) 733-1733 or tetonpinesxc@gmail.com
---
Last Updated: 12/26
The track has been skiing great over the last several days and it groomed out excellent again today. Look for snowy weather to develop this afternoon, which could cause drifting if the winds pick up.  Reminder the snow shoe loop is still closed until more snow accumulates (potentially open Sunday if this storm produces). Next update will be tomorrow. Enjoy!.
Please see the Following Nordic Restrictions:
Dog Loops & All Nordic Skiing Trails OPEN
Sled Hill OPEN (Will be Groomed Again once more Snow Returns)
Classic Tracks SET
Snow Shoeing Loop CLOSED UNTIL MORE SNOW
Casual Walking Not Permitted
Early Season Conditions  
**SKI W/Caution!!… Current Depths and Coverage are Very Deceiving
---
Last Updated: 12/23
Teton village pathway – from Lake Creek Bridge north to the end of bike path/GTNP south entrance groomed today. Thanks to JHMR for the grooming and Teton Village Association for making it happen!
---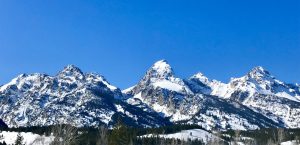 Last Updated: 12/27
Grand Teton Park Foundation has provided the following modifications to the grooming schedule for Teton Park Road over the holidays:
Sunday 12/27 — Grooming to 4 passes x4 miles Taggart to south Jenny
Tuesday 12/29 — Grooming to Signal Mountain AND 4x to South Jenny
Friday 1/1 — No grooming.
Sunday 1/3 — Grooming 4x to South Jenny
Tuesday 1/5 Grooming to Signal Mountain AND 4x to South Jenny
[Back to regular schedule after 1/5]
Remember that dogs must be on leash, and are only allowed on the groomed trail in the section of GTNP.Please consider making a donation to the Grand Teton National Park Foundation for funding winter grooming -one of our most iconic trails. Note "Nordic grooming" on your donation.
---
Last Updated: 12/26
On Boxing Day, December 26, we got a fresh layer of snow and it was warm which made for soft conditions and magical scenery. People were out snowshoeing, skating, and classic skiing, it was just too soft for the fat bikes. 
To help with social distancing and to get you on the trails faster please purchase your trail passes and sign your waivers online in advance. To keep an eye on live conditions, check out the webcams here.
---
Last Updated: 12/26
Cross Country/Fat Bike 15k: XC OPEN (Last groomed 12/26/2020) Fat Bike OPEN.

Trail Etiquette: Please keep your dogs leashed in the parking lot and be sure to clean up after them!
Grooming Schedule: Tuesday, Thursday, & Sunday
Last Updated: 12/23
Skate: Set | Classic: Set
I smoothed out the skate lanes after yesterday's wind and drifting. There was about 1″ of drifted snow which I packed down with the ginzu. I tried to set the classic track, but with mixed results. In some spots it looked good, in others there wasn't enough new snow over the crust to reset it.
Please do not park in the library parking lot.
---
Grooming Schedule: Monday, Wednesday & Friday
Last Updated: 12/25
Skate: Not Set | Classic: Not Set
Cold temperatures made it possible to drag groom Driggs track. Track has early season conditions good for classic
---
Grooming Schedule: Monday, Wednesday, Friday
Last Updated: 12/25
Skate: Set | Classic: Set
Enjoy your holiday with a little skate, classic, walk or bike on the reset tracks. The classic track is (sort of) set. Lots of weeds showing through. 🤞🏼 for the the coming storm.
---
Grooming Schedule: Monday, Wednesday, Friday, Saturday
Last Updated: 12/26
Skate: Set | Classic: Set
Saturday: Forecast says, snow all day. Plan to reset both skate and classic tracks this morning. Will begin grooming at 8am, finish by 10am.
---
Grooming Schedule: Tuesday, Friday, Sunday
Last Updated: 12/26
Skate: Set | Classic: Set
The forecast is for up to 6″ of new snow today and overnight. I plan to reset the skate and classic tracks in the early am. I hope to be done grooming by 9am.
No dogs December 1 – April 15.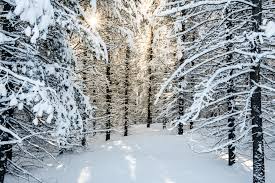 ---
Grooming Schedule: Tuesday, Thursday, & Saturday
Last Updated: 12/26
Skate: Set | Classic: Set
Skate and classic tracks are as good as they've been all season. Get on out there and enjoy the glide! The fat bike singletrack is in. There are two tracks that go to/from the Lodge Trailhead – USFS boundary. See the map for details online or on the trailhead kiosk. Enjoy the ride!
No dogs allowed.
---
5th Street Singletrack
Grooming Schedule: As needed
Last Updated: 12/25
Singletrack: Set
Friday, Christmas night — 5th Street's firm, 5th Street's fast, 5th Street's super firm. A little bumpy by the parking lot, but all else pretty buff. Merry Christmas everybody!
---
Southern Valley Singletrack
Grooming Schedule: As needed
Last Updated: 12/25
Singletrack: Set
Happy Hour, Nemo, Hillbender, lower Lady Slipper and Pole Canyon Connector are riding really well and are rider packed. Upper lady slipper is in need of more snow and good grooming. Unfortunately, hikers continue to post hole the heck out of it and are not choosing to wear snowshoes. It's a bumpy ride.
No dogs December 1 – April 15.
---


THURSDAY, JANUARY 7th | TETON PINES
The third of eight in the clinic series featuring classic XC ski. Sessions run bi-weekly from 11:00am – 12:30pm through March 18th, alternating between skate skiing and classic cross-country.
SATURDAY, JANUARY 9TH | GRAND TARGHEE
The 18th annual Ridge Classic benefits both Teton Valley Trails and Pathways and Teton Valley Ski Education Foundation. The race will start at 10 am. The 24, 14, and 7 km races will be intervals starts separated by 20 seconds. Individual start times will be emailed to registered participants on Friday before the race.
---
Based on our goal to Recreate Responsibly, the JH Nordic Alliance has decided to cancel this season's Annual Free Winter Trails Nordic, Fat Bike and Snowshoe Event. Stay tuned for January 2022! In the meantime, we encourage you to get out safely, responsibly, wear a mask, keep your groups small, and space out!
---
We'd love to hear about your outdoor adventures, what your doing to stay healthy, safe, respectful of community health guidelines – send pictures or post on FB and Insta – #JHNordic