Togwotee Pass remains to be one of the prettiest and vast backcountry locations near Teton Valley. Located on the Continental Divide, behold wide sweeping views of Grand Teton National Park to the west and dramatic scenes of the Absaroka Mountains for which Togwotee is home.
To access the Brooks Lake Road Nordic Trail, take Hwy 287, 5 miles east of the Togwotee Pass summit.
Length: 5.4 miles
Terrain: Medium
Difficulty: Intermediate
Snow Type: Snowmobile Tracked, Skier Tracked, Snowshoe Friendly, Fat Bike Friendly, Dog friendly
Trail: Out and Back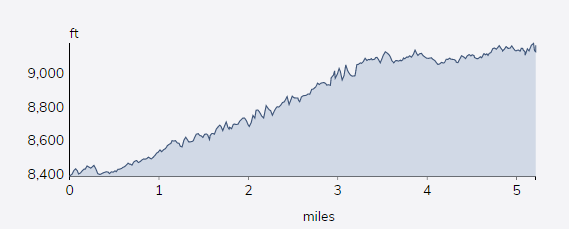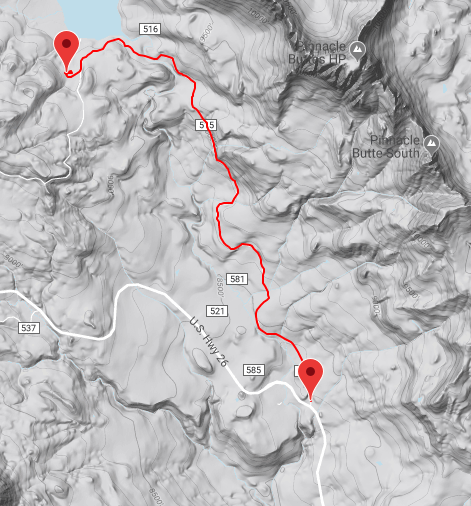 Views of Absaroka Mountain Range
Throughout the winter Brooks Lake Road is closed to regular car/truck traffic and is primarily used for snowmobiles, fat bikes, skis, and snowshoes making the trail quite packed down and perfect for cross-country skiing. The trail is a continual uphill climb taking you towards Brooks Lake and the famous Brooks Lake Lodge (see elevation profile). It is a forested trail that offers views of the Absaroka Range, including the striking Pinnacles, while you meander uphill.
You will know you have reached mile 4 when the trail splits, continue on the main road heading left towards the lake and the lodge. The trail right heads towards Bonneville Pass. After an additional mile, you will have reached the lake and lodge. Stop into the lodge for lunch (from December through the middle of March) and return the way you came for a nice downhill ski.
Brooks Lake Lodge is listed by the National Park Service on the Register of Historic Places and was built in 1922. The lodge first served as a stopping point for visitors headed to Yellowstone National Park but was soon turned into a guest ranch of its own for vacationers alike to revel in the beauty of Togwotee Pass and the Absaroka Mountains. The lodge represents an architectural style and attitude reflective of the Rocky Mountain Region during the early 1900s and still emulates today the attitude of the American West. Visitors can enjoy cross-country skiing, snowmobiling, snowshoeing, and fishing throughout the winter and spring months.