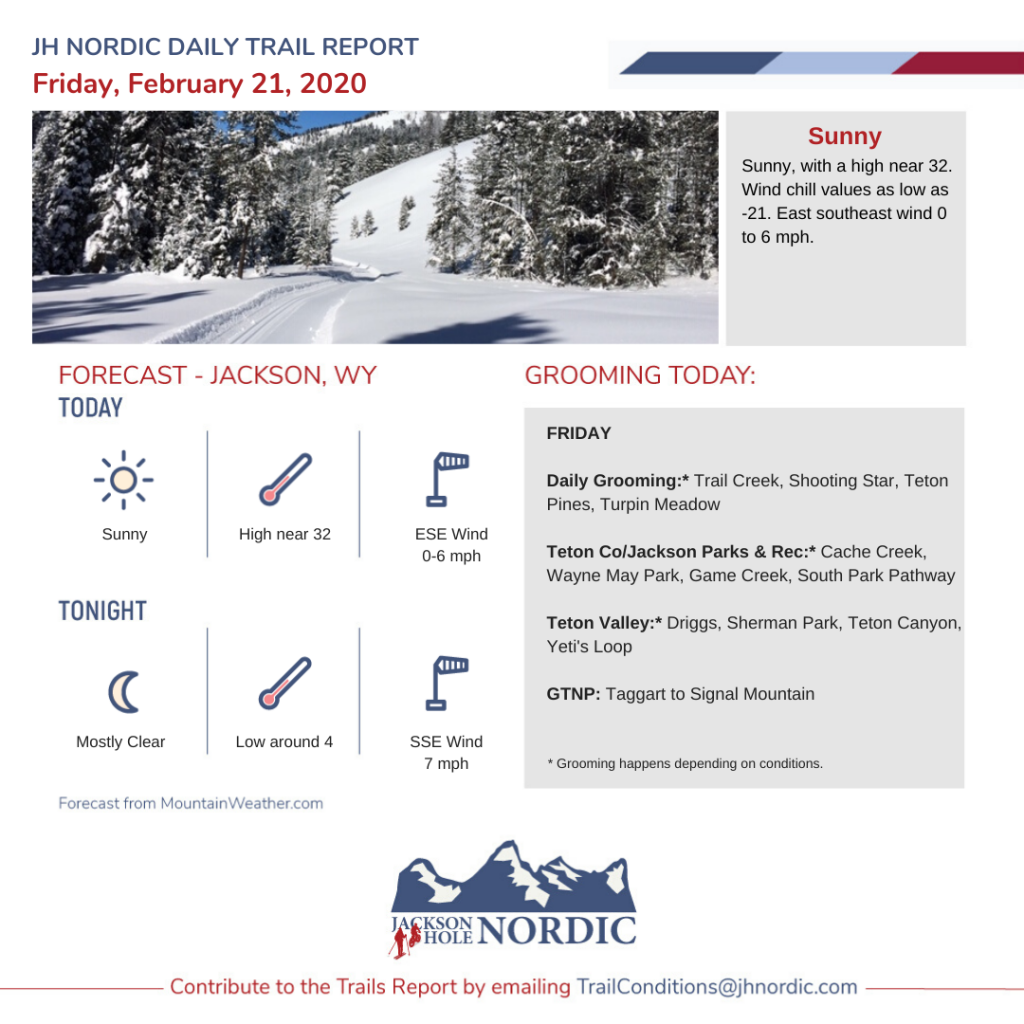 ---
Thank you for continually sharing your photos with us of Nordic skiing in Jackson Hole
---
Areas of Central Teton Range in Park Temporarily Closed for Nonnative Mountain Goat Management
Grand Teton National Park will implement a temporary area closure for public and operational safety during nonnative mountain goat removal activities beginning today, Friday, February 21. The temporary closure may be in effect for up to one week.

The closure area is bounded on the south by South, Middle and Grand Tetons, Mount Owen and Teewinot Mountain peaks; bounded on the west by the park boundary; bounded on the east by the western shores of Jackson, Leigh, String and Jenny Lakes; and bounded on the north by Rolling Thunder Mountain and Eagle Rest Peaks. No public access will be allowed in the area during this time. Signs will be posted at main access locations and a map of the temporary closure area can be viewed at https://www.nps.gov/grte/learn/management/temporary-closures-and-compendium-amendments.htm. 
---
LATITUDE is a poetic short documentary film that follows four daring young women to the 79th parallel, less than 700 miles from the North Pole to rediscover themselves amidst Svalbard's epic arctic ocean sailing, ice mountain climbs and ski descents.
This 8 min. film was produced by JH Ski & Snowboard Club staff member Brittney Ziebell, on her adventure with 3 other women to the Arctic . It is so very inspiring to "keep exploring".
---
Trip Report – GTNP Taggart to Jenny Lake via groomed trail
Thanks to last weekend's huge snowfall, and a twice groomed trail from Taggart trailhead to South Jenny Lake on Tuesday, the Teton Park Road trail is skiing very nicely. We recommend classic skis until the groomer passes and packs the skate track down again on Friday. The skate track is soft, and skis well, but takes more effort due to softness. The classic tracks (2 set side-by-side) are smooth, firm, perfect for any classic cross-country ski up to approx 65mm wide. We took a side-trip over to the historic, snow-covered Lucas Fabian cabins (at mile 2 from the Taggart trailhead. Always a favorite place for a snack, with an Old Jackson feel, crossing Cottonwood creek via wooden bridge to reach the cabins.

Last Updated: 2/20
Grooming Daily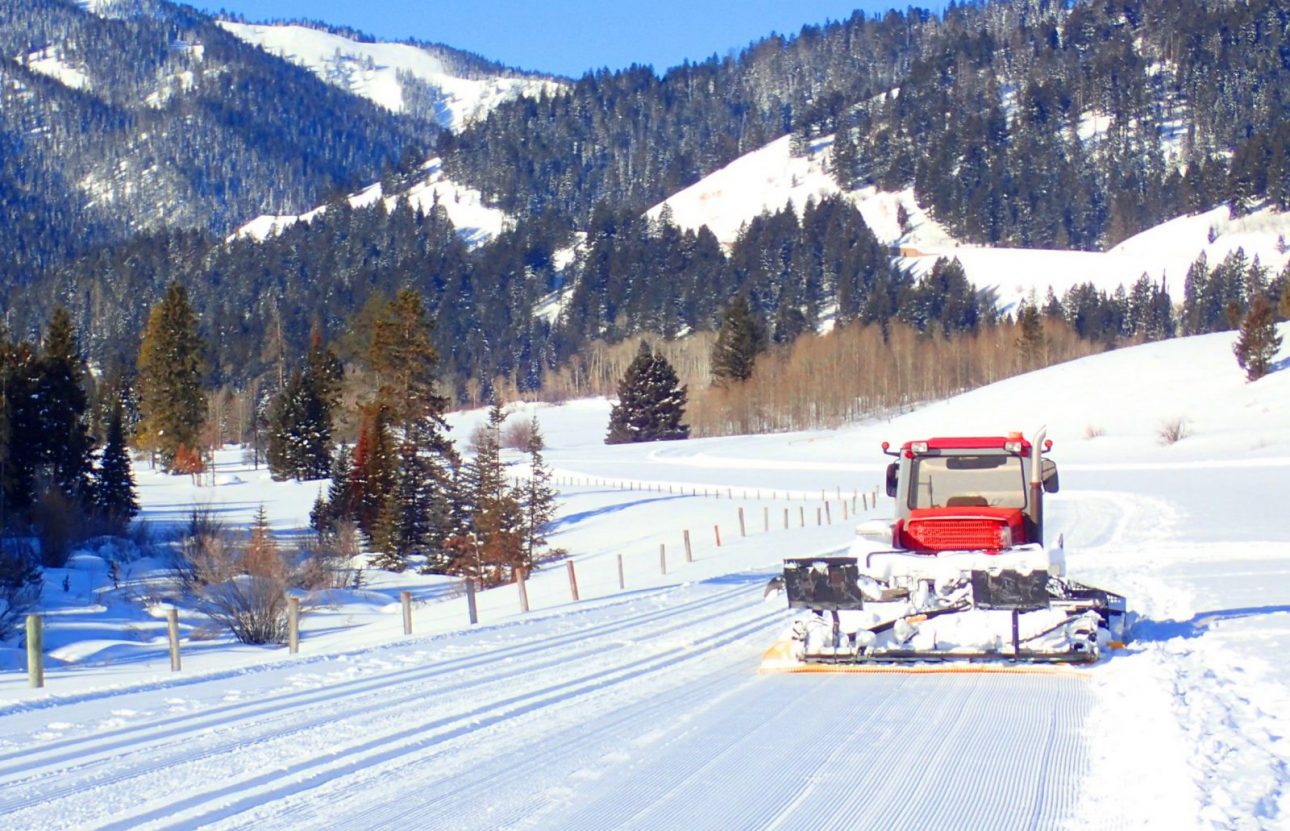 Lovin' the Sunshine!
Coach Kathy's Lollipoppers didn't let a little chill slow them down yesterday; they were seriously cruising the sunny trails, loving every minute of it.  Grab an extra layer and you too can have some great Nordic fun!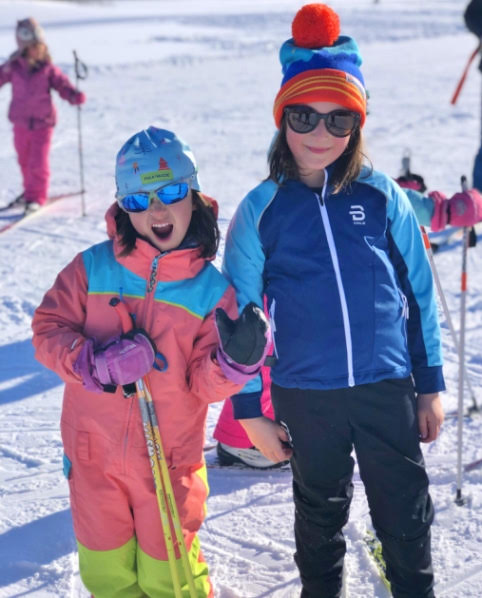 As of 11:45 AM that sun is getting stronger and stronger by the minute, the wind is calm, and the temperature has warmed considerably to -16ºC/3ºF.  Today's grooming was pretty much a total Pisten Bully rework of all the field trails and the non-Forest Service  woods trails with multiple passes and fresh classic tracks.  Most Forest Service trails received only best line PB skate grooming but yesterday's classic tracks are still nice.
While it has been on the chilly side as of late, the bonus of that is that the snow has remained very nice through our recent mini drought.  Look for more snow and warming temperatures towards the weekend.
Groomer's choice for today is the sunny East Fields.
---
Last Updated: 2/20
Grooming Daily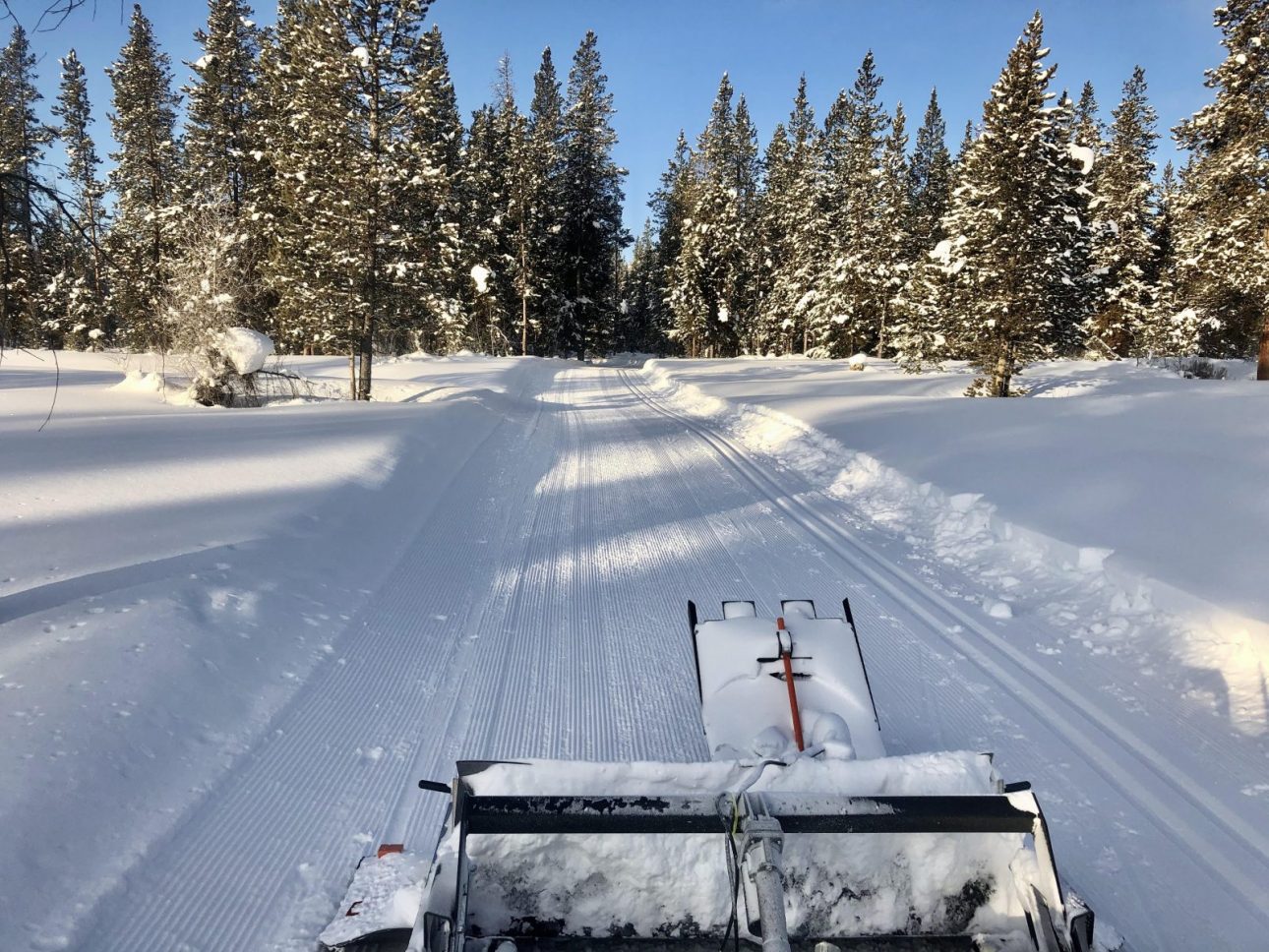 This is probably going to be one of the best days of skiing all year! Everything is hard-packed and fast, plus it's an incredible blue bird day today! So leave work early, pull your kids out of school, bring your dog, and come ski! Stay classy, Jackson Hole. 
---
Grooming Today: Cache Creek, Wayne May Park, Game Creek, South Park Pathway
Last Updated: 2/20
9am: School fields and levee done. Just starting Stilson
---
Grooming Today: Taggart to Signal Mountain
Last Updated: 2/18
Grooming Taggart Lake Trailhead to South Jenny.
---
Last Updated: 2/14
Grooming Daily
President's Weekend Sale!!  Saturday through Monday! 20-60% off most soft goods and 15% off most hard goods. We still have lots of great gear from Salomon, Alpina, Swix, Bjorn Daehlie, Craft and Skida! 
To make way for an entire new rental fleet, we are selling our rental gear beginning Monday Feb 16th. Some boot sizes are limited but give us a call or come out to see what we have left. (very limited skate gear will be for sale).
Ski conditions have been outstanding at the Pines! We expect a bit of snow over the weekend followed by a week of incredible nordic skiing weather! Come on out and enjoy spring!
---
Last Updated: 2/17
Grooming Daily
It looks to be a fantastic week for Nordic skiing boasting plenty of sunshine and calm weather. Conditions will be softer to start the week and gradually firm up each day. Get outside and soak it up! 
Next Update: Friday
---
Update: 2/17
No grooming, as the pathway is covered by snowdrifts, especially in the "windy mile" section. So break-your-own -trail conditions until the next grooming.
---
Update: 2/18
Season Passes are available to non members for $100, passes can be picked up in the admin office at JHGTC M-F 9am-5pm or by calling 307.733.7787. 
We purchased a new groomer 2 years ago so we do now have a set cross country track with enough room for skate skiers and/or fat bikes next to the set track.
There are no other services available (ie. No lunch) though dinner is offered Thursday, Friday and Saturday evenings beginning at 5:30pm; Clubhouse amenities are reserved for members only.
Groomed with classic track on Tuesdays, Thursdays, and Saturdays.
Contact Steve Cole, Membership Director, at:
scole@gtlc.com
or 307.733 .7787.
---
Last Updated: 2/20
What about some fresh, fast corduroy? Picture this – the sun is shining, the corduroy is glistening, and the slopes are empty.
Cross Country/Fat Bike 15k: XC OPEN (Last groomed 2/20/2020), Fat Bike OPEN.
---
Last Updated: 2/16
Nordic: All trails above groomed this morning except Flatline and Heart Attack. Couple of inches of fresh, fluffy snow, and lightly snowing now. 17F degrees at the Nordic Equipment Building.
Fat Bike 2/13: All Lower Kelly Park is groomed with a great riding base. Should be perfect conditions for the next 3-5 days due to high pressure system. For more information contact Geared Up, 307-399-5539 c.307-760-1912, www.gearedupbikes.com

Grooming Today: Driggs, Sherman Park, Teton Canyon, Yeti's Loop

Grooming Schedule: Tuesday, Thursday, Saturday, Sunday
Last Updated: 2/20
Skate: Excellent | Classic: Excellent
---
Grooming Schedule: Monday, Wednesday, Friday
Last Updated: 2/19
Skate: Good | Classic: Good
Left the classic tracks alone – they look good. Did one pass over the skate track. Beautiful day!
---
Grooming Schedule: Monday, Wednesday, Friday
Last Updated: 2/18
Skate: Fair | Classic: Excellent
---
Grooming Schedule: Monday, Wednesday, Friday, Saturday, Sunday
Last Updated: 2/19
Skate: Good | Classic: Good
---
Grooming Schedule: Tuesday, Thursday, Saturday
Last Updated: 2/19
Skate: Excellent| Classic: Good
Reset both Skate and Classic tracks. Seems that skating should be really nice and classic good.
---
Grooming Schedule: Tuesday, Friday
Last Updated: 2/18
Skate: Excellent | Classic: Excellent
---
5th Street Singletrack
Grooming Schedule: as needed
Last Updated: 2/9
Singletrack: Poor
Skinned a lap after some foot traffic then rode front portion on triple wide. Need a sled for more compaction but will keep trying!
---
Teton Springs Singletrack
Grooming Schedule: as needed
Last Updated: 2/10
Singletrack: Good
Ground up the ruts and footprints and left a corduroy finish. Cold temps should make for firm trails.
---
Southern Valley Singletrack 
Grooming Schedule: as needed
Last Updated: 2/20
Singletrack: Good
---
Darby Canyon
Grooming Schedule: as needed
Last Updated: 2/18
---
South Leigh Road
Grooming Schedule: as needed
Last Updated: 2/18

February 22
Alta Nordic Trail | 10am – 2pm
Hosted by TVTAP

This is a beautiful trail race across the foothills of the Tetons. There is something for everyone and fun for all. Come enjoy a very family oriented race in Alta, WY on TVTAP's Alta Nordic Trail. It is a freestyle race, so either skate or classic skiing is allowed. Kids can choose between the 1/2k, 2.5k, or 6k. The big kids and adults can choose to take on the 10k, or do two laps to conquer the 20k race.
---
JH Nordic Masters Recreational Clinic
Thursday, March 5
Teton Pines Nordic Center | 11am-12:30pm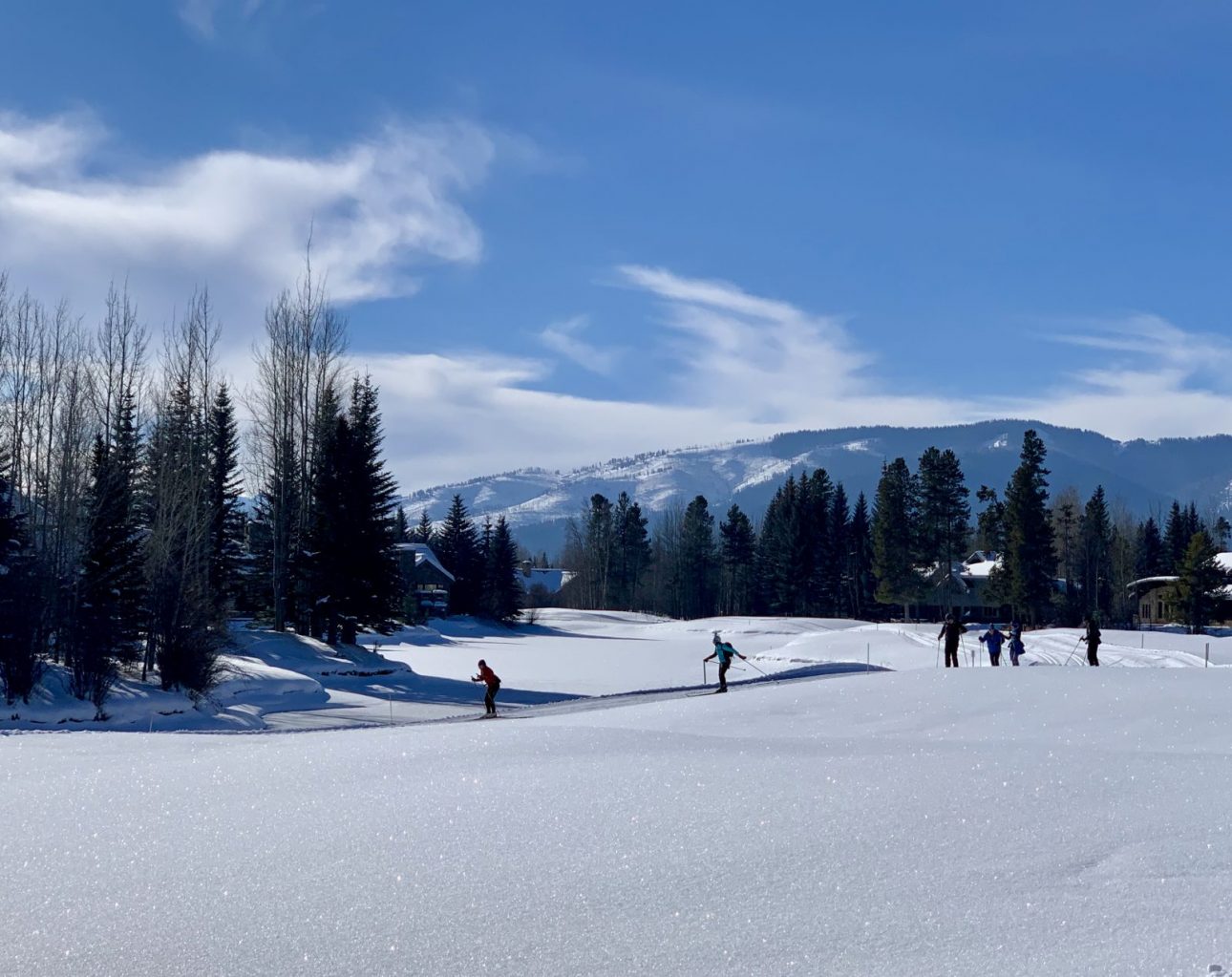 Join us Thursday, March 5th for Tips, Technique, & Fun. This clinic will focus on classic skiing technique.
Coaches provided by JH Ski Club Nordic Program
-Open to all (no first time beginners)
-Drop-in $35 (includes clinic & Teton Pines Nordic all day ski pass)
-Teton Pines/Season pass holders and Members: $30
Register: email : info@jhnordic.com or call: 307 739 6399
Click here for more information.
---
Send us your event dates, stories, photos
Follow JHNordic on Facebook, Instagram @JHNordic, #JHNordic
Sign up for Daily or Once a Week JH Nordic Trail ConditionReports to know what's groomed,
what's happening first thing every morning – or just Saturdays.