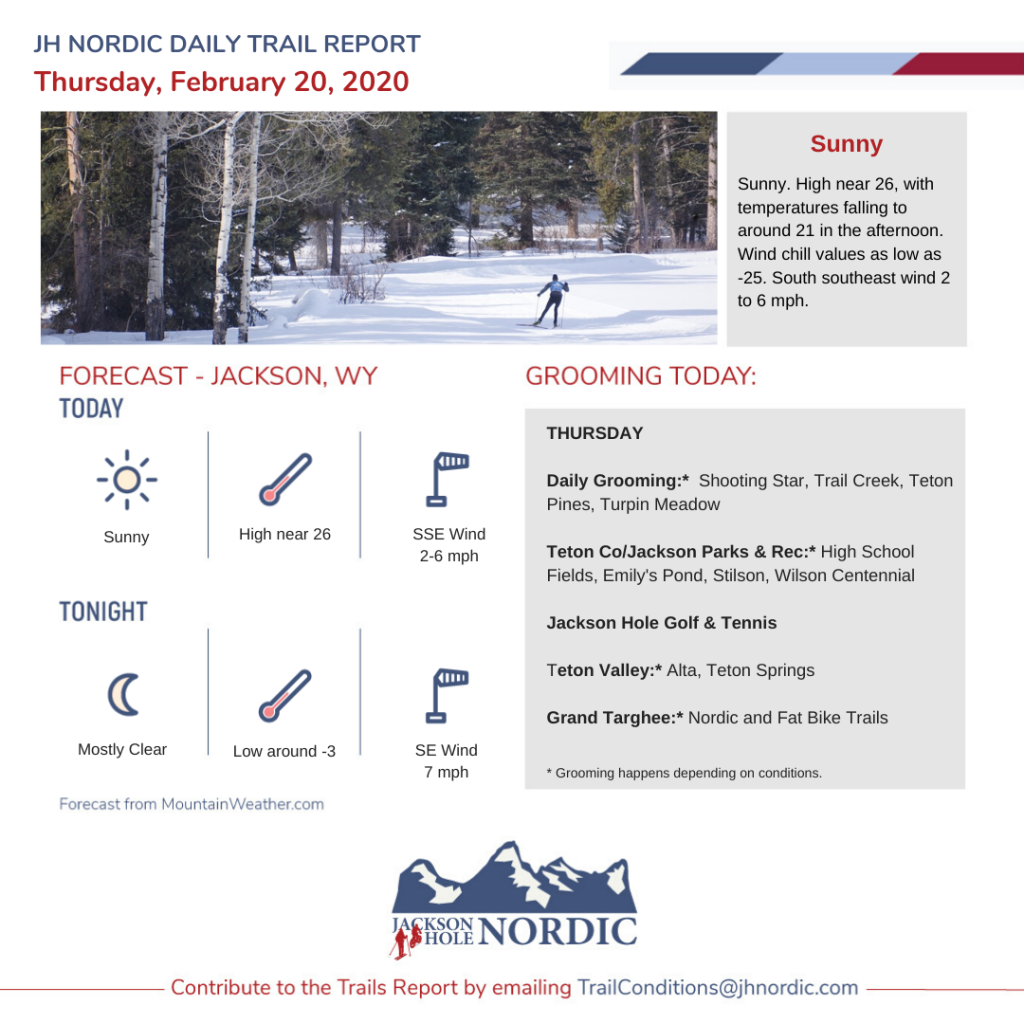 ---
Thank you for continually sharing your photos with us of Nordic skiing in Jackson Hole
---
Trip Report – GTNP Taggart to Jenny Lake via groomed trail
Thanks to last weekend's huge snowfall, and a twice groomed trail from Taggart trailhead to South Jenny Lake on Tuesday, the Teton Park Road trail is skiing very nicely. We recommend classic skis until the groomer passes and packs the skate track down again on Friday. The skate track is soft, and skis well, but takes more effort due to softness. The classic tracks (2 set side-by-side) are smooth, firm, perfect for any classic cross-country ski up to approx 65mm wide. We took a side-trip over to the historic, snow-covered Lucas Fabian cabins (at mile 2 from the Taggart trailhead. Always a favorite place for a snack, with an Old Jackson feel, crossing Cottonwood creek via wooden bridge to reach the cabins.
---
Join us Today for a Skate Ski Clinic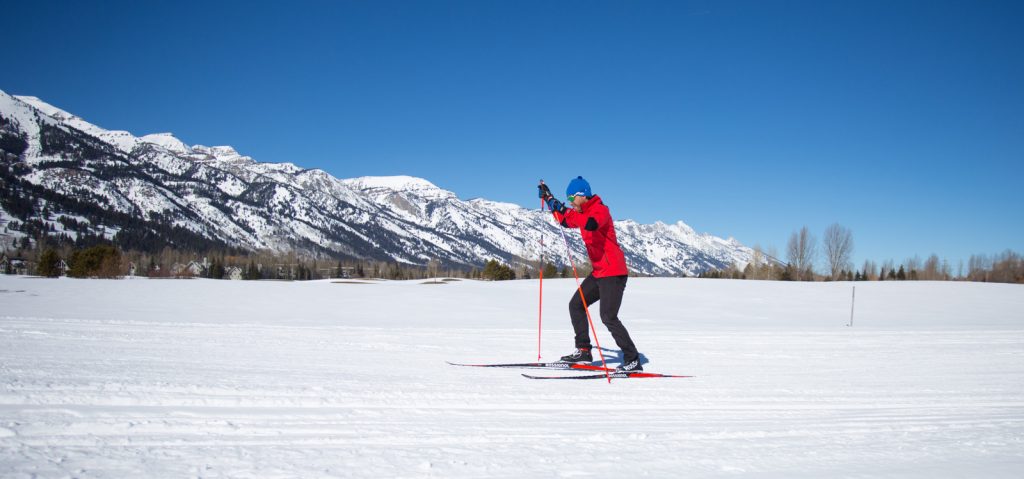 If you haven't yet, here's another chance to join us for a Recreational Master's Clinic! Conditions and weather will be at their best. Now is a great time for a mid-season tune up on technique, tips and fun. Teton Pines Nordic is currently skiing smooth to perfection.
The JH Nordic Rec Masters Program is for recreational skiers to improve their techniques, with an average of 10-13 skiers and 1-2 coaches per clinic.
Who is it for? The clinic is open to all, however, if you are a first time skier or beginner, we recommend taking a lesson or two from Teton Pines Nordic Center to get a strong foundation on your skills and technique.
What is the fee? Drop-in: $35 (includes Teton Pines full day trail pass) or $30 with Teton Pines Nordic season pass/Teton Pines members
When and Where?
Today, February 20
Teton Pines Nordic Center on Moose-Wilson Road in Wilson
11am-12:30pm.
Questions? Contact info@jhnordic.com
---
Thankful for Trail Ambassadors and Grooming in GTNP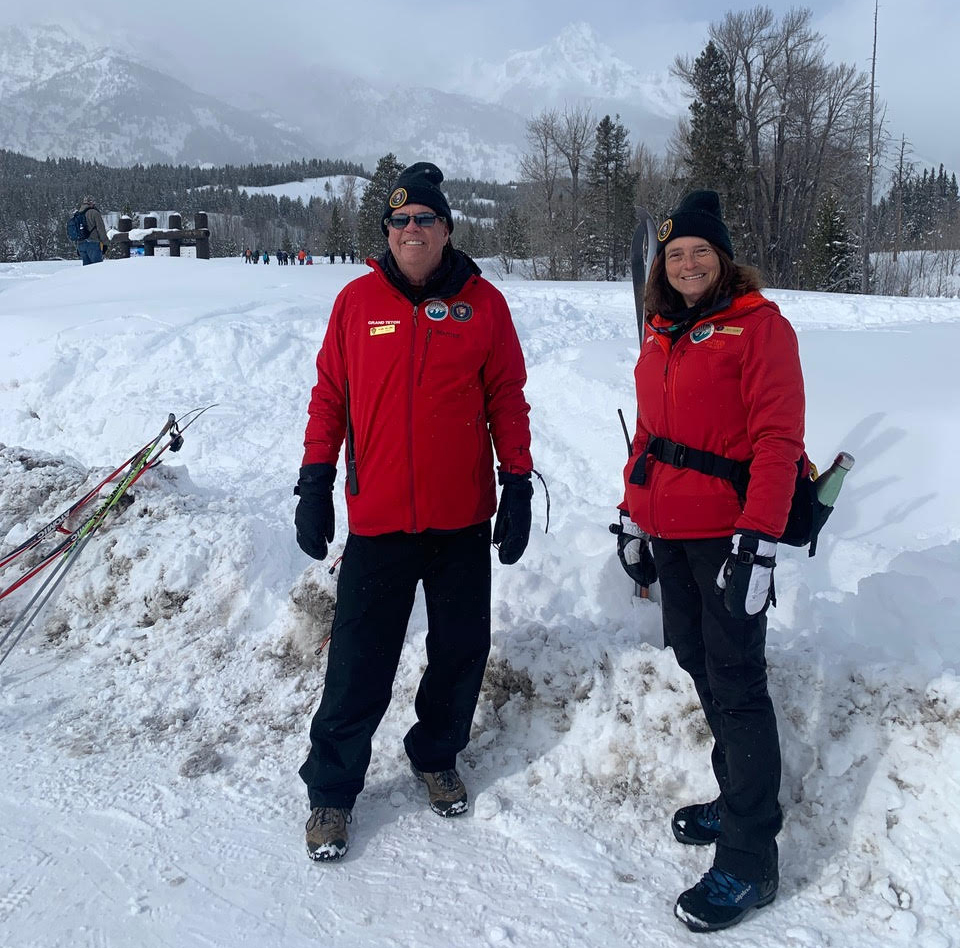 Thank You Ambassadors
A big thanks to our volunteer Nordic Ambassadors who help with trail information, assist skiers and snowshoers, and provide information about winter wildlife, weather, mountain landscapes, and more.
Donate to Grooming
The JH Nordic Alliance is also grateful for the community-supported and GTNP Foundation supported grooming. Please support grooming this winter at GTNPF by donating to gtnp.org/donate and note "Nordic".
---
Ten JHSC Nordic athletes qualify for Junior Nationals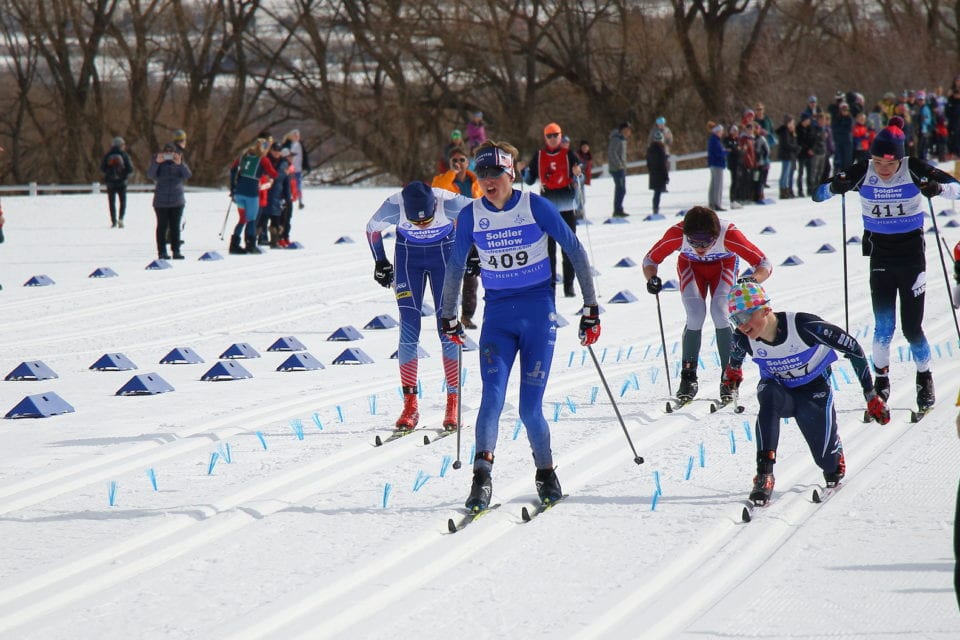 The JH Nordic Alliance commends these fine young athletes from the JH Ski and Snowboard Club Nordic program, representing Jackson Hole in the Junior Nationals.
JHSC Nordic student-athletes last weekend traveled to Soldier Hollow, Utah to compete in the final qualifier for the U.S. Junior National Championships. Ten JHSC athletes, and one alternate, were selected to represent the Intermountain Divisional (IMD) Team at U.S. Junior National Championships in Truckee, California.

Last Updated: 2/19
Grooming Daily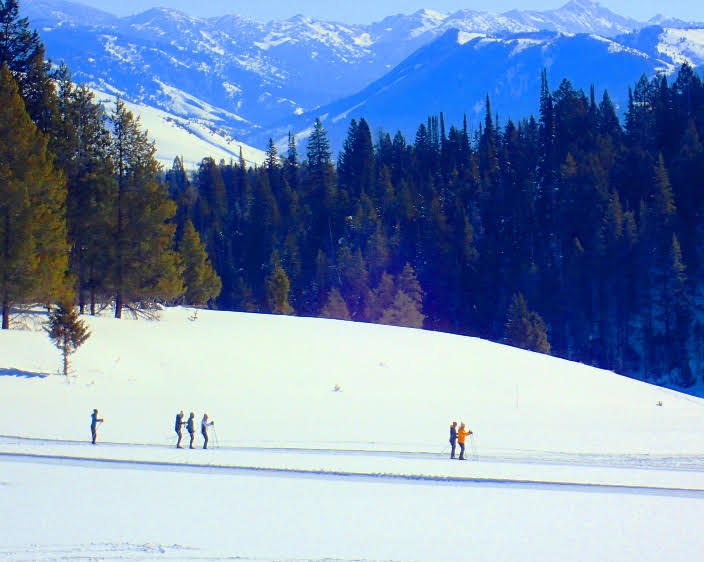 Hitting the Trails!
On the one hand you might look at the 11 AM temperature of -17ºC/2ºF and think that I really don't want to ski today or, you could take the attitude of this hardy group of women this morning that there is endless sunshine and ski trails beckoning and that the only logical thing to do is jump on your skis and take advantage of it.  Today is definitely one of those blue sky endless opportunity kind of days!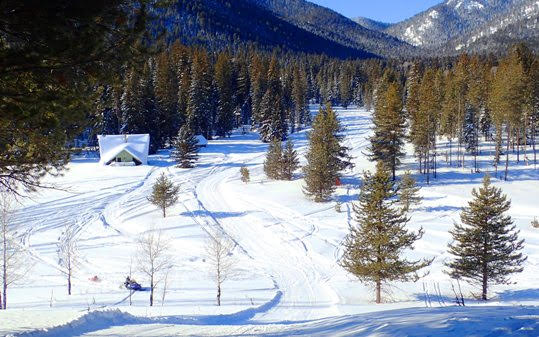 In addition to no clouds there is no wind today at Trail Creek.  Today's grooming was mostly Pisten Bully best line skate grooming as classic tracks are mostly fresh and crisp.  However the prep/comp team was doing intervals on Woolsey Woods last night which shredded the trails about as much as the elk and moose did in a few other sections so several areas did also receive fresh classic tracks.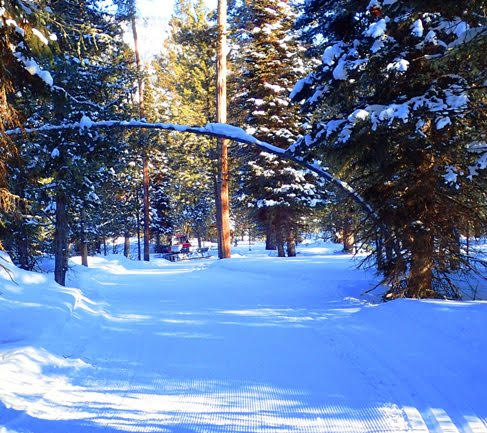 If you are back in the Armin's section you will notice a plethora of snowmobile tracks.  The younger members of the Seiffert gang are thoroughly enjoying their annual President's Week visit and as we get to enjoy their generous acceptance of our skiing on their property throughout the season, the least we can do is let them have some fun while they are here.
Groomer's choice for today is Woolsey Woods.
---
Last Updated: 2/19
Grooming Daily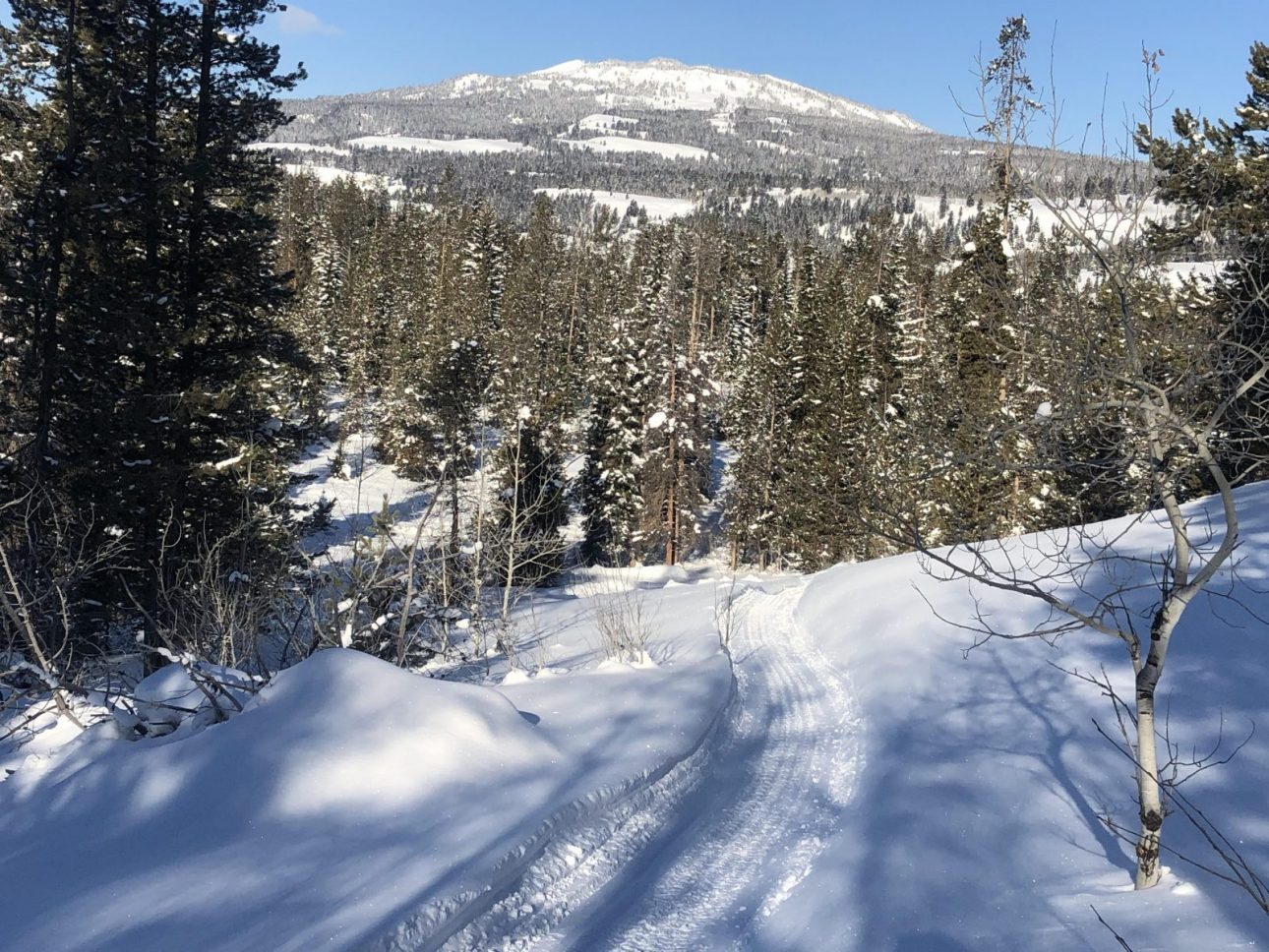 Absolutely perfect day today!  Not a cloud in the sky.  All the trails groomed out perfectly this morning.  The singletrack fat bike trails are probably in the best condition they have been all year.  Come out and enjoy a day of skiing, biking or both, just make sure and enjoy this wave of sunshine while it lasts. 
---
Grooming Today: High School Fields, Emily's Pond, Stilson, Wilson Centennial
Last Updated: 2/19
9am: Cache Creek and May Park are done. Headed to Game Creek.
---
Last Updated: 2/18

Grooming Taggart Lake Trailhead to South Jenny today.
---
Last Updated: 2/14
Grooming Daily
President's Weekend Sale!!  Saturday through Monday! 20-60% off most soft goods and 15% off most hard goods. We still have lots of great gear from Salomon, Alpina, Swix, Bjorn Daehlie, Craft and Skida! 
To make way for an entire new rental fleet, we are selling our rental gear beginning Monday Feb 16th. Some boot sizes are limited but give us a call or come out to see what we have left. (very limited skate gear will be for sale).
Ski conditions have been outstanding at the Pines! We expect a bit of snow over the weekend followed by a week of incredible nordic skiing weather! Come on out and enjoy spring!
---
Last Updated: 2/17
Grooming Daily
It looks to be a fantastic week for Nordic skiing boasting plenty of sunshine and calm weather. Conditions will be softer to start the week and gradually firm up each day. Get outside and soak it up! 
Next Update: Friday
---
Update: 2/17
No grooming, as the pathway is covered by snowdrifts, especially in the "windy mile" section. So break-your-own -trail conditions until the next grooming.
---
Update: 2/18
Season Passes are available to non members for $100, passes can be picked up in the admin office at JHGTC M-F 9am-5pm or by calling 307.733.7787. 
We purchased a new groomer 2 years ago so we do now have a set cross country track with enough room for skate skiers and/or fat bikes next to the set track.
There are no other services available (ie. No lunch) though dinner is offered Thursday, Friday and Saturday evenings beginning at 5:30pm; Clubhouse amenities are reserved for members only.
Groomed with classic track on Tuesdays, Thursdays, and Saturdays.
Contact Steve Cole, Membership Director, at:
scole@gtlc.com
or 307.733 .7787.
---
Last Updated: 2/18
Today will be served sunnyside-up! With an additional 2″ of fresh added to the mix, conditions will remain supremely soft and shreddable. A week of sunshine is on the menu so don't forget the sunglasses, sunscreen, and sunny-day vibes.
Cross Country/Fat Bike 15k: XC OPEN (Last groomed 2/15/2020, no classic), Fat Bike CLOSED.
---
Last Updated: 2/16
Nordic: All trails above groomed this morning except Flatline and Heart Attack. Couple of inches of fresh, fluffy snow, and lightly snowing now. 17F degrees at the Nordic Equipment Building.
Fat Bike 2/13: All Lower Kelly Park is groomed with a great riding base. Should be perfect conditions for the next 3-5 days due to high pressure system. For more information contact Geared Up, 307-399-5539 c.307-760-1912, www.gearedupbikes.com

Grooming Today: Alta, Teton Springs

Grooming Schedule: Tuesday, Thursday, Saturday, Sunday
Last Updated: 2/17
Skate: Good | Classic: Good
---
Grooming Schedule: Monday, Wednesday, Friday
Last Updated: 2/19
Skate: Good | Classic: Good
Left the classic tracks alone – they look good. Did one pass over the skate track. Beautiful day!
---
Grooming Schedule: Monday, Wednesday, Friday
Last Updated: 2/18
Skate: Fair | Classic: Excellent
---
Grooming Schedule: Monday, Wednesday, Friday, Saturday, Sunday
Last Updated: 2/19
Skate: Good | Classic: Good
---
Grooming Schedule: Tuesday, Thursday, Saturday
Last Updated: 2/17
Skate: Good| Classic: Excellent
Roller groomed for Skating, and it may be a bit soft today. Ginzu groomed for Classic, and it should be excellent.
---
Grooming Schedule: Tuesday, Friday
Last Updated: 2/18
Skate: Excellent | Classic: Excellent
---
5th Street Singletrack
Grooming Schedule: as needed
Last Updated: 2/9
Singletrack: Poor
Skinned a lap after some foot traffic then rode front portion on triple wide. Need a sled for more compaction but will keep trying!
---
Teton Springs Singletrack
Grooming Schedule: as needed
Last Updated: 2/10
Singletrack: Good
Ground up the ruts and footprints and left a corduroy finish. Cold temps should make for firm trails.
---
Southern Valley Singletrack 
Grooming Schedule: as needed
Last Updated: 2/18
Singletrack: Good
---
Darby Canyon
Grooming Schedule: as needed
Last Updated: 2/18
---
South Leigh Road
Grooming Schedule: as needed
Last Updated: 2/18
---
---
TODAY!
JH Nordic Masters Recreational Clinic
February 20
Teton Pines Nordic Center | 11am-12:30pm
Join us Thursday, February 20th for Tips, Technique, & Fun. This clinic will focus on skate skiing technique.
Coaches provided by JH Ski Club Nordic Program
-Open to all (no first time beginners) –
-Drop-in $35 (includes clinic & Teton Pines Nordic all day ski pass)
Teton Pines /Season pass holders and Members: $30
Register: email : info@jhnordic.com or call: 307 739 6399
Click here for more information.
---
10th Annual Alta Skate Ski Race

February 22
Alta Nordic Trail | 10am – 2pm
Hosted by TVTAP

This is a beautiful trail race across the foothills of the Tetons. There is something for everyone and fun for all. Come enjoy a very family oriented race in Alta, WY on TVTAP's Alta Nordic Trail. It is a freestyle race, so either skate or classic skiing is allowed. Kids can choose between the 1/2k, 2.5k, or 6k. The big kids and adults can choose to take on the 10k, or do two laps to conquer the 20k race.