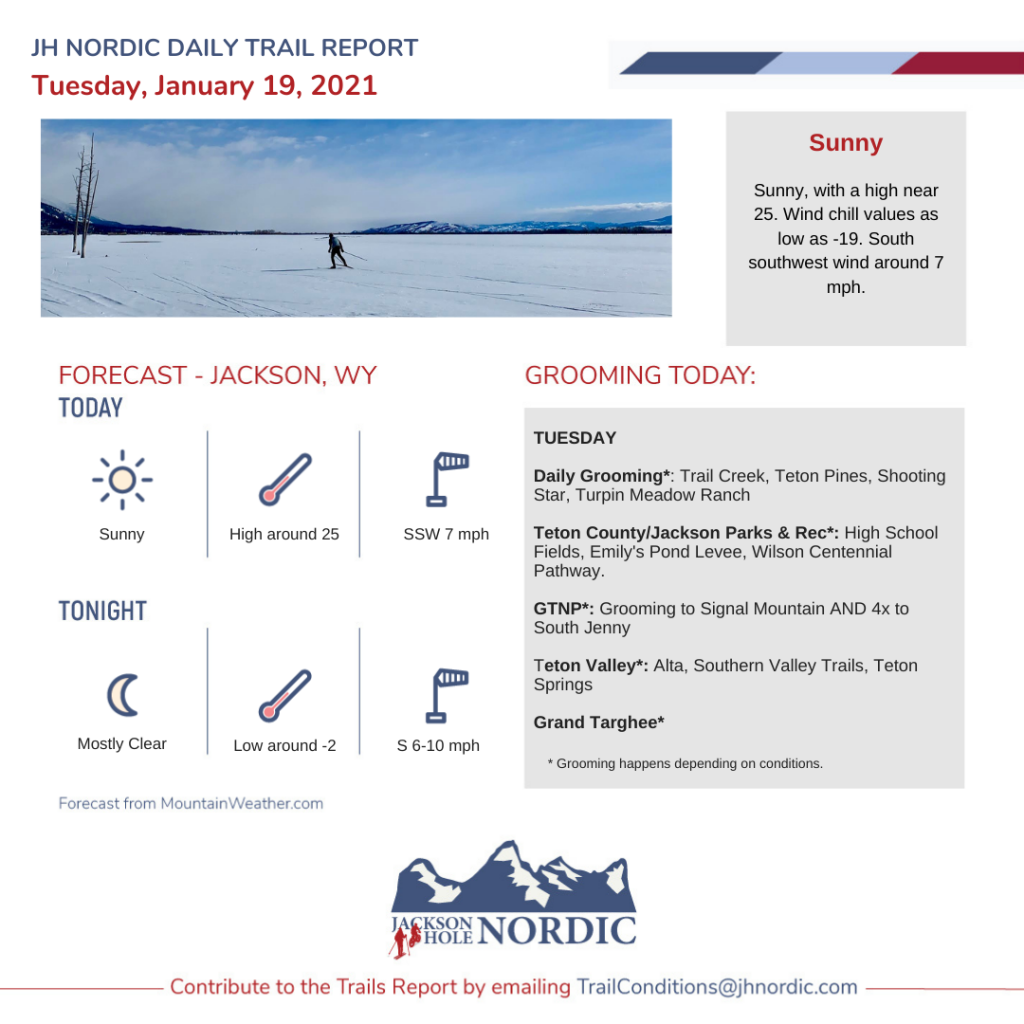 ---
NEW on the Blog:
Teton Valley Trails and Pathways: An Essential Part of Our Winter Recreation Landscape in Teton Valley
For the past 22 years, Teton Valley Trails & Pathways (TVTAP) has worked to promote a trails and pathways connected community. In the summer, they focus on building and maintaining trails on both public and private lands in partnership with the US Forest Service (Caribou-Targhee and Bridger-Teton) and other stakeholders. In the winter, they groom a winter trail system for cross country skiing, snowshoeing, fat biking, and dog walking. Last year alone, they groomed over 7,000 miles total Nordic ski and fat bike trails and had over 30,000 visits.
"It's a tremendous community benefit," said Dan Verbeten, Executive Director at TVTAP. " Our trails and pathways that we work on serve as a quality of life benefit, a public health benefit, an economic development benefit, and a recreation benefit. It offers all of that to the community."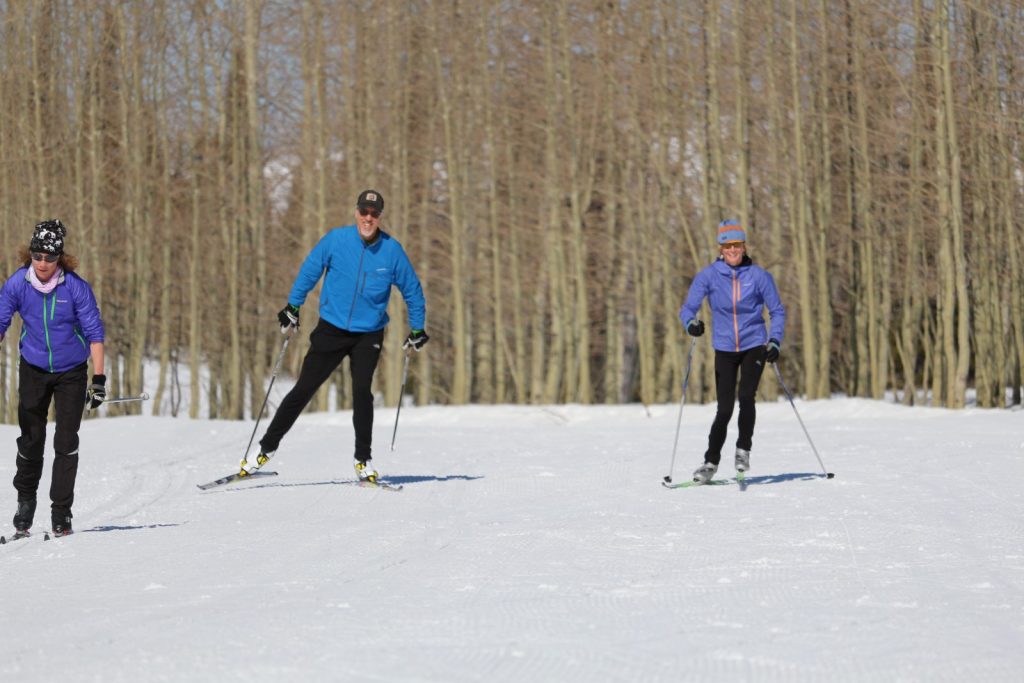 Jackson Hole Nordic Recreational Masters Clinics
Hosted by Masters Coach Scott Horn and Jackson Hole Ski Club Nordic team coaches, the clinics are back for Season 3! Work on your technique and form with professional tips and exercises from USSA certified coaches. Stay and ski all day with your clinic ski pass at Teton Pines Nordic center. There will be two coaches and 2 small groups per clinic, and plenty of outdoor space to stay socially distanced. Meet local nordic skiers, bring your friends and family. We ask that everyone wear a mask or double buff.
The next clinic is on Thursday Jan 21st for skate skiing.
Check out the link below to register for the clinic as well as to see upcoming clinics throughout the season!
---
Exploring Yellowstone in the Winter
Broadening horizons and exploring in Yellowstone National Park!
Yellowstone has miles of trails for the adventurous skier and snowshoer. Though track is set only on a few trails, all unplowed roads and trails are open to cross-country skiing and snowshoeing. There is so much to see in the National Park including lots of thermal features and wildlife. On this trip report bison, elk and coyotes were spotted. What an incredible adventure.
For more information about trails in Yellowstone and safety recommendations for cross country travel in the park click the link below.

Last Updated: 1/18
A Blank Slate!
While not a whole lot of snow (around a short inch) fell yesterday, the wind did kick up a bit pretty much cleansing the Nordic pallet of Trail Creek for today. Never to fear, the Pisten Bully has been hard at it today, bringing most every trail back into nice skiing condition.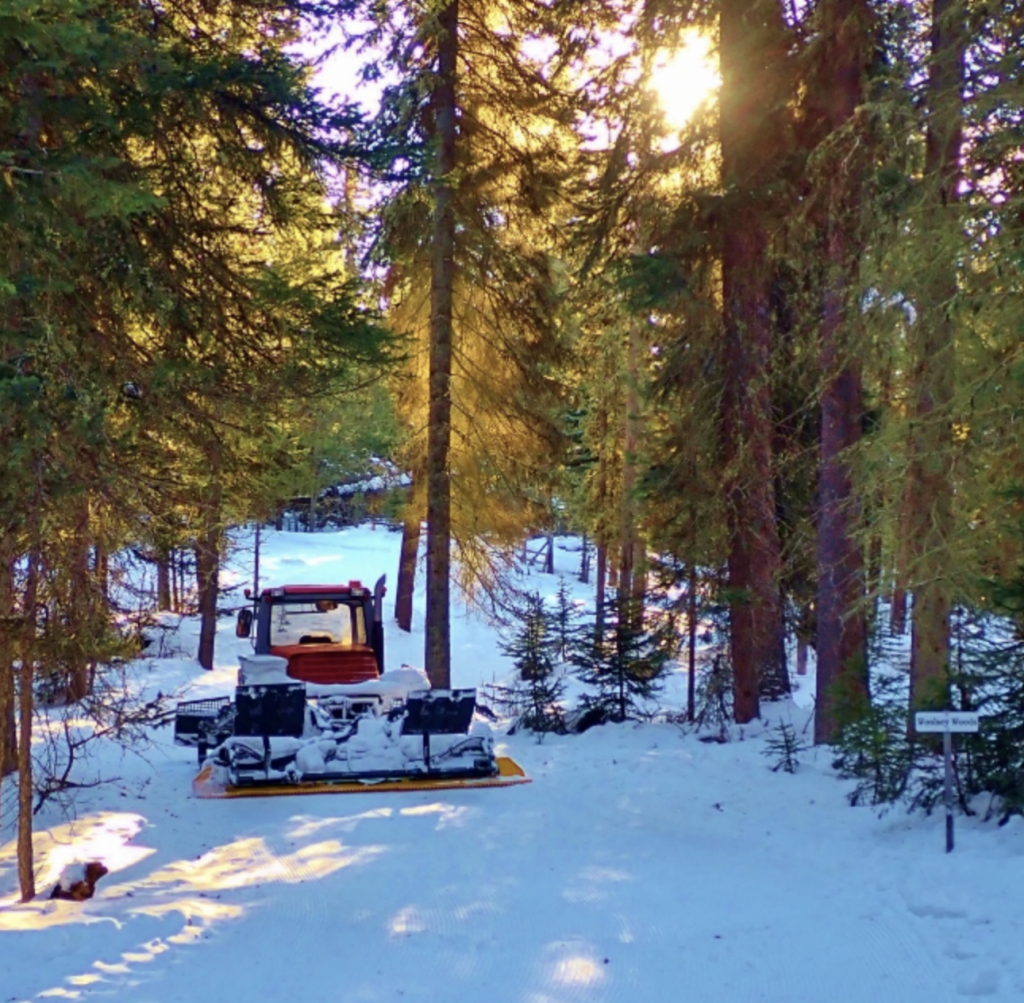 The fields were a bit more of a mixed bag to start with some drifting and some glazed patches where the snow had been blown clear. The woods trails mostly had a uniform thin covering of some dense snow. While both sections responded nicely, the woods are skiing slightly better than the fields today. All play areas were groomed today for the busy practice schedule and the National forest trails only received limited grooming today as time ran out.
Practice today won't be quite as busy as a usual Monday as the Prep and Comp teams have the day off according to their calendar after a busy weekend of racing (results can be found here). Juniors, Teewinots, and Lollipoppers are still on board so things will still be quite busy. Looking ahead Tuesday and Thursday are the quietest days this week with all teams practicing Wednesday.
The final Wyoming High School race of the season will be Friday and Saturday with Friday's race taking up most trails not on the National Forest and Saturday being restricted to the fields. Don't forget that no spectators are allowed this year because of the pandemic.
Groomer's choice for today is the groomed woods trails
---
Last Updated: 1/16
The school fields are groomed and I decent shape with shallow classic tracks. Grooming will resume Monday with Cache creek to noker mine draw.
---
Last Updated: 1/14
Check out the new snow cat for grooming perfection, just arrived this morning! We tested the before and after. The new groomed corduroy was silky smooth, nice and wide…will be a great bonus!

Daily grooming, wide corduroy skate ski lanes with well defined classic tracks make for excellent ski conditions. Skate and classic cross country ski/ boots/ pole rentals. . If you want to explore Grand Teton NP and the Jackson Hole area on xc skis, we carry the must have xc ski trail guidebook for our region in the shop:
https://www.facebook.com/SkiYellowstone
Please call or email Cody for more details: (307) 733-1733
or tetonpinesxc@gmail.com
---
Last Updated: 1/17
Fantastic Nordic conditions should continue through Thursday! Trails will likely remain hard packed with icy sections and ski fast. Weather is calling for light snow on Sunday followed by more cold/dry weather until Friday. Next Update will be on Friday. Enjoy!
Please See the following Restrictions
Dog Loops & All Nordic Skiing Trails OPEN
Sled Hill OPEN
Classic Tracks SET Inconsistent Depths due to Ice
Snow Shoeing Loop OPEN
Casual Walking Not Permitted
---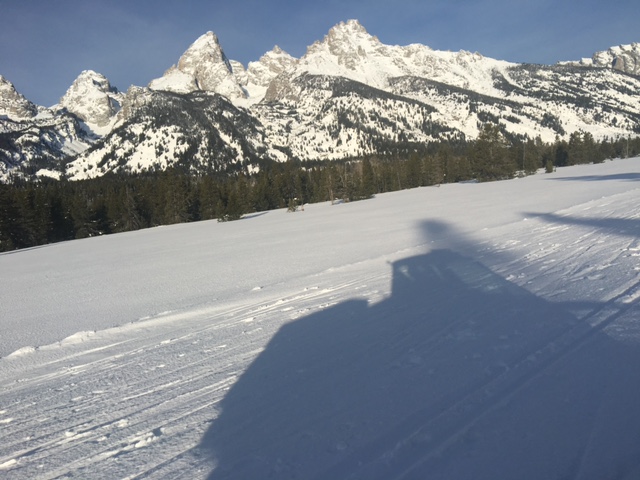 Last Updated: 1/15
Cold and clear out this morning- expect good skiing conditions from Taggart lake trail head to signal mountain and back today.
---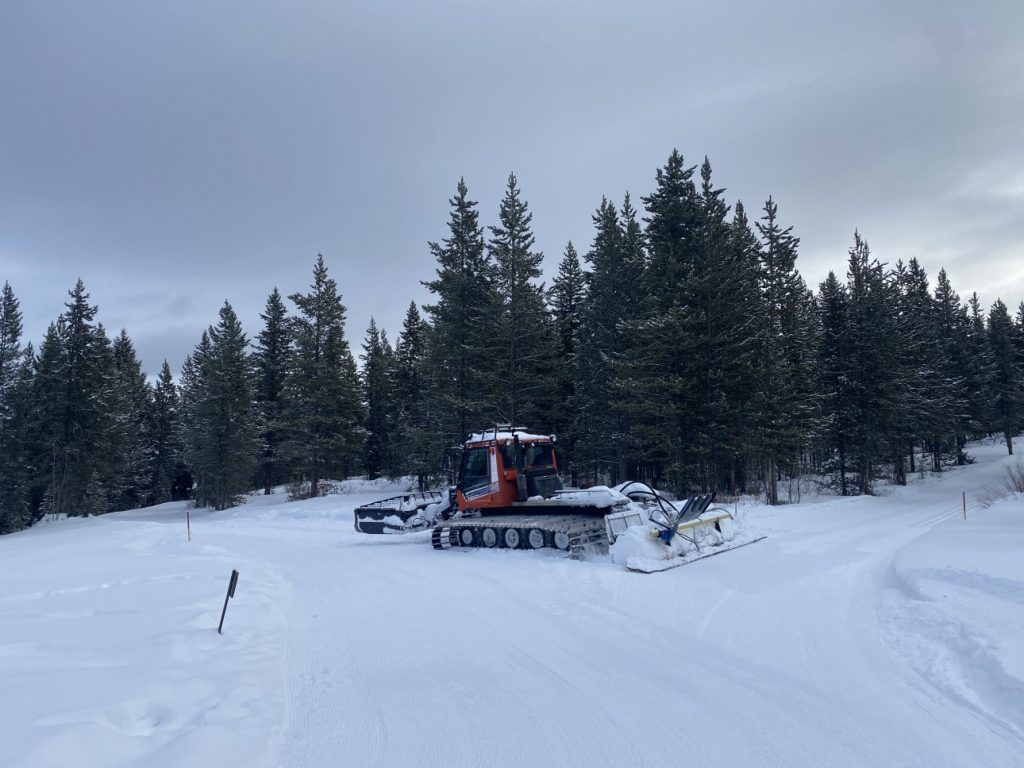 Last Updated: 1/18
We got another few inches yesterday and throughout the night. So trails will be on the softer side again today. If we get a cold night tonight, tomorrow should be phenomenal skiing! To help with social distancing and to get you on the trails faster please purchase your trail passes and sign your waivers online in advance (see link below). As always, remember to recreate responsibly. Bring a mask as it is required to enter the lodge. Lunch and dinner are both by reservation only.
https://www.turpinmeadowranch.com/adventures/winter-adventures/
https://www.turpinmeadowranch.com/the-ranch/live-conditions/
https://www.turpinmeadowranch.com | 307.543.2000, office
---
Last Updated: 1/18
XC OPEN (Last groomed 1/17/2021, Fat Bike OPEN.

Trail Etiquette: Please keep your dogs leashed in the parking lot and be sure to clean up after them!
---
Grooming Schedule: Tuesday, Thursday, & Sunday
Last Updated: 1/17
Skate: Set | Classic: Set
Sunday: Reset skate track and classic on Northern loops, with mixed results. Skate looks to he good.
Please do not park in the library parking lot. Please be sure to keep your dogs on a leash and to clean up after them.
---
Grooming Schedule: Monday, Wednesday & Friday
Last Updated: 1/18
Skate: Set | Classic: Set
Just enough new snow ( 1") to freshen the skate track. Classic track is set and, hopefully, firm up tonight.
---
Grooming Schedule: Monday, Wednesday, Friday
Last Updated: 1/18
Skate: Set | Classic: Set
The skate track, classic track, and singletrack have all been re-set. I hope you have a great MLK day and enjoy the ride and glide!
---
Grooming Schedule: Monday, Wednesday, Friday, Saturday
Last Updated: 1/18
Skate: Set | Classic: Set
Monday: Plan to reset both skate and classic tracks this morning. A bit of new snow should allow both to turn out well, especially skate.
---
Grooming Schedule: Tuesday, Friday, Sunday
Last Updated: 1/18
Skate: Set | Classic: Set
I plan to groom and reset the skate track starting by 4:45. I will groom Campground loops first and yetis loop second. Please be aware of the machinery. Thank you.
No dogs December 1 – April 15.
---
Grooming Schedule: Tuesday, Thursday, & Saturday
Last Updated: 1/18
Skate: Set | Classic: Set | Singletrack: Set
Cat groomer groomed Nordic last night. Groomed singletrack this morning. Trails look great!
No dogs allowed.
---
5th Street Singletrack
Grooming Schedule: As needed
Last Updated: 1/14
Singletrack: Set
Thurs PM – 5th St. singletrack surprisingly excellent! Aside from a few frozen footprints possibly the fastest it's ever been! Firm and fast. Clockwise is easier. Multi-lap for a great workout! Enjoy!
---
Southern Valley Singletrack
Grooming Schedule: As needed
Last Updated: 1/14
Singletrack: Set
Trails are solid and firm with the warmup and cool down yesterday. High winds has shedded some snow from trees and there are limbs and branches across trail. Use caution.
No dogs December 1 – April 15.


TETON PINES
JANUARY 21st
All welcome (no beginners)
Drop-in $35 (includes clinic & Teton Pines Nordic all day ski pass)
or $30 (if you already have a Teton Pines Nordic pass or membership).
---
Based on our goal to Recreate Responsibly, the JH Nordic Alliance has decided to cancel this season's Annual Free Winter Trails Nordic, Fat Bike and Snowshoe Event. Stay tuned for January 2022! In the meantime, we encourage you to get out safely, responsibly, wear a mask, keep your groups small, and space out!
---
---
We'd love to hear about your outdoor adventures, what your doing to stay healthy, safe, respectful of community health guidelines – send pictures or post on FB and Insta – #JHNordic