For the past 22 years, Teton Valley Trails & Pathways (TVTAP) has worked to promote a trails and pathways connected community. In the summer, they focus on building and maintaining trails on both public and private lands in partnership with the US Forest Service (Caribou-Targhee and Bridger-Teton) and other stakeholders. In the winter, they groom a winter trail system for cross country skiing, snowshoeing, fat biking, and dog walking. Last year alone, they groomed over 7,000 miles total Nordic ski and fat bike trails and had over 30,000 visits.
"It's a tremendous community benefit," said Dan Verbeten, Executive Director at TVTAP. " Our trails and pathways that we work on serve as a quality of life benefit, a public health benefit, an economic development benefit, and a recreation benefit. It offers all of that to the community."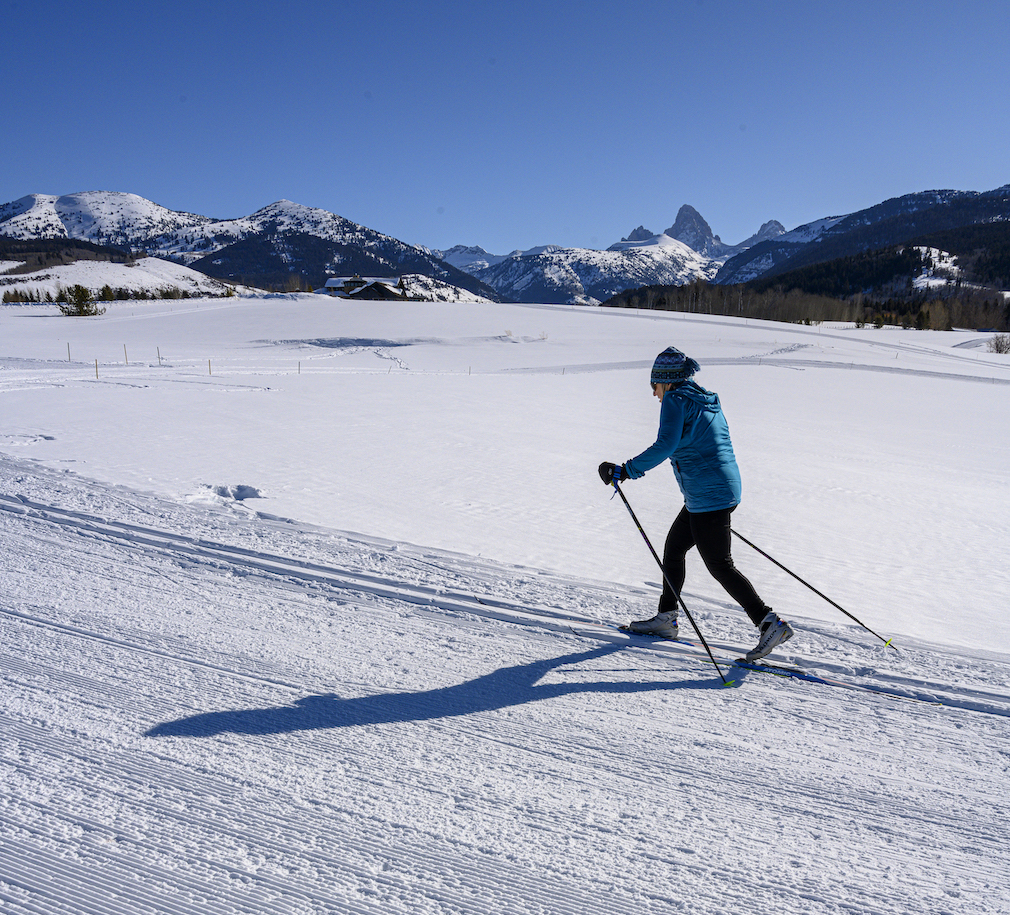 Without fees to use their trails, TVTAP relies on donations and some grant writing to fund their efforts. Dan is also one of the "whopping" two people that work full-time for TVTAP, so they also rely on a pretty robust group of volunteers, as well as some contract employees that help out with communications and grooming–it isn't always easy to get some to volunteer to groom on a powder day. In 2020, there were 76 volunteers that helped out TVTAP, accumulating over 680 hours of volunteer time for all of their efforts.
Popular Nordic ski and fat biking trails groomed by Teton Valley Trails And Pathways:
"I think we just build a tremendous amount of goodwill for our organization and this community. I believe that what we offer to this community really is part of the winter identity in this valley now," Dan said. "People can come here in the winter and can enjoy their time up at Grand Targhee, but what we do also provides an alternative for people to do while they're in Teton Valley. And we obviously have a lot of locals from Jackson Hole and Teton Valley skiing and riding on our trails too."
Community Collaboration behind the Alta Nordic Track
One of the most unique TVTAP trails, the Alta Track, crosses through land owned by 27 different landowners. It began unofficially with one landowner in Alta, Wyoming who wanted to start grooming in some fields. TVTAP helped legitimize the effort by working with the adjacent landowners. Even as land has changed hands or people have built more houses, support has remained strong because people love having a ski trail so close to their house. It's possible that a few more landowners will be added this year.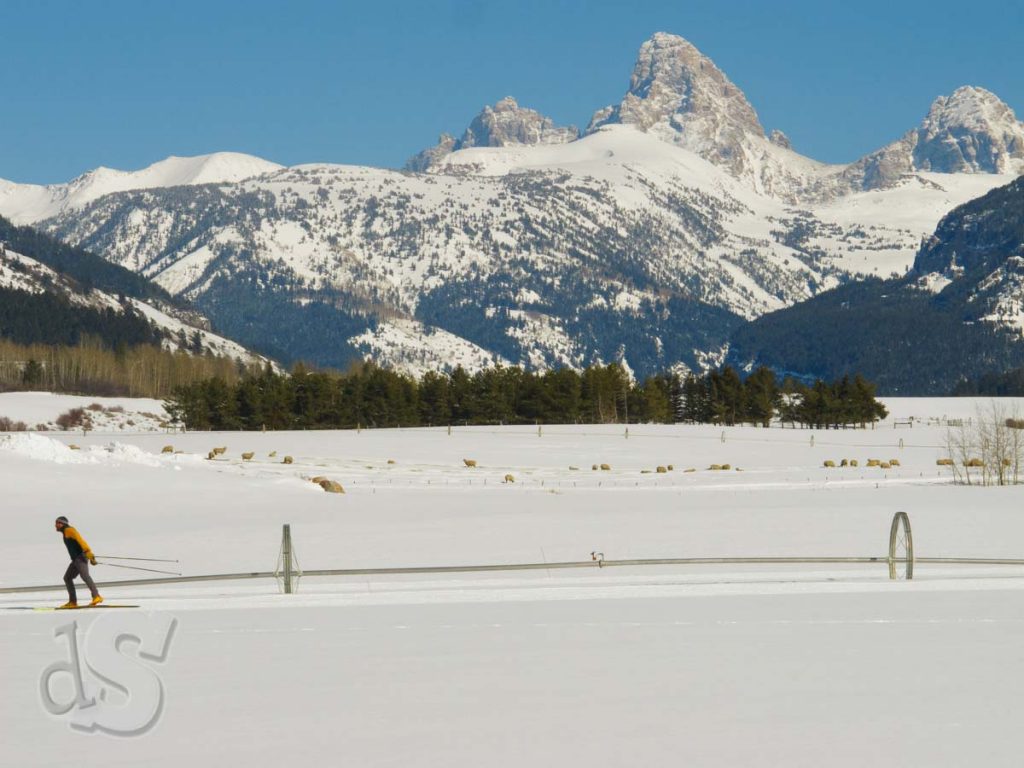 "What we've experienced is that some of the people that are moving to those lots now actually see the cross country ski trail as a tremendous benefit," Dan said. "To have a ski trail right outside my house–I'd love to have that too. I believe it's actually something people find appealing when they consider moving there, so it has carried on each year, and people are excited for it. It is definitely a value add [to those properties]."
With such success on this collaborative trail, TVTAP's focus is shifting towards balancing the threshold of use and promoting responsible recreation.
"There have been some issues, so I think that as this situation matures, we're going to continue to be out there with a greater presence engaging trail users to make sure they recreate responsibly," Dan said. "[We want people to] be grateful that people are letting them ski on private land."
Southern Valley Trails Project Year Round Success
For the past three years, TVTAP has been working with the US Forest Service on the Southern Valley Trails Project. It's a multiyear, year round trail project with designated non-motorized summer use, which is very popular with mountain bikers, trail runners, and walkers. In the winter, TVTAP leads efforts to groom the cross country ski loop and single track fat bikes trails out there.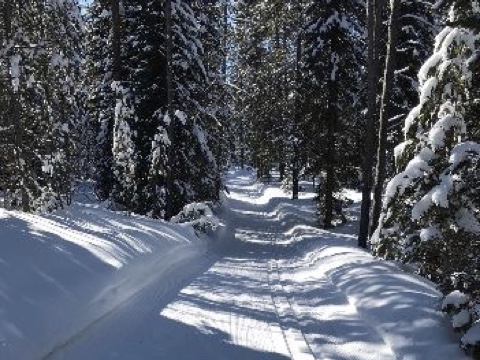 "It's adding 20 miles of single-track bike trails. Right now, there's a 5 kilometer cross country ski trail that's also in place as part of that system, and then next year a pathway connection will be built just outside of Victor to access the trail system as well," Dan said.
The biggest challenge that TVTAP is facing right now is concerning dogs. While some dog owners are diligent, others have not been. Unfortunately, due to several incidents where people were bitten by dogs, the Forest Service opted to close the Southern Valley Trails to dogs for the winter season.
"I have two dogs, and I love skiing with my dogs," Dan said. "As a community over here, there's just going to have to be an elevated responsibility with dog owners to make sure their doggies are well-behaved," Dan said. "That is probably the number one issue that really reared its head last year."
In the future, maintaining access to all of their tracks and trails will become a more prevalent challenge for TVTAP. Because some of their trails are on private lands, they might just lose access to that ground as development fills in.
"Thankfully we have people that want us to groom in their area," Dan said. "I think we will potentially lose one [area] after this winter, but I think we have new alternatives already in the queue."
Balancing Recreation and Environmental Stewardship
Both with TVTAP and personally, Dan strives to find a balance between recreation and environmental stewardship to combat the negative impacts of consumptive recreation.
"I think we've been really successful at getting more people out–it's worked, and now we're almost having to react to how well it worked," Dan said. "If we can, it would be great if we could bring that in through education effort and making sure people are aware of how to recreate responsibly."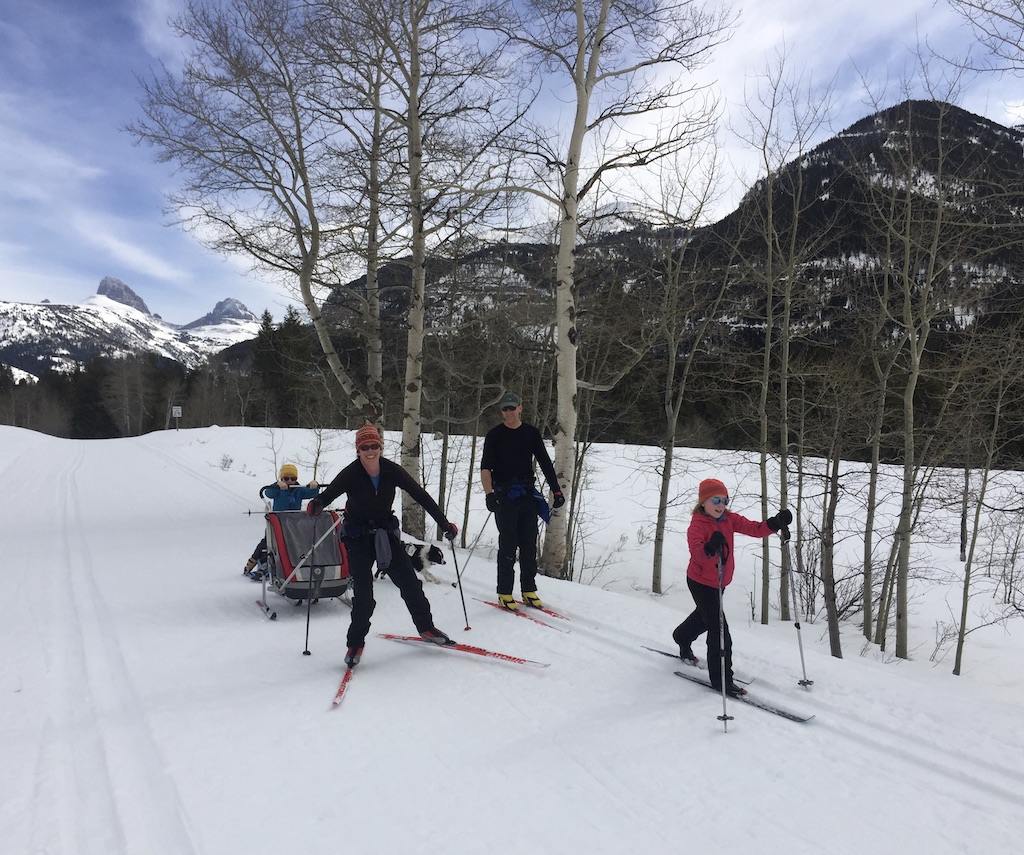 In their upcoming projects, TVTAP has been making concerted efforts to mitigate the impacts of new trail and pathway development. In advancing their mission of a trails and pathways connected community, they are consistently evaluating their impact and ways to mitigate them in new projects.
For a pathway project that TVTAP is currently working on, winter access will be completely prohibited due to winter ranges for elk and leashes will be required for dogs because it's adjacent to a riparian corridor where there is a lot of wildlife.
"That particular pathway project has been designed and implemented from day one in a way that tries to balance recreation and conservation," Dan said. "I think that once it opens up, people will enjoy it and it will be an opportunity to talk about how we can recreate responsibly in both the design and the way we use pathways and trails in the future."
If you would like to support Teton Valley Trails & Pathways Nordic ski and fat bike trails, you can donate or check out their website to learn more about how to get involved. Check out their fun community events, too!
All TVTAP winter trail grooming info and trail maps are found on JHNordic.com/trails, the JH Nordic Daily Trail Report and TVTAP.org.