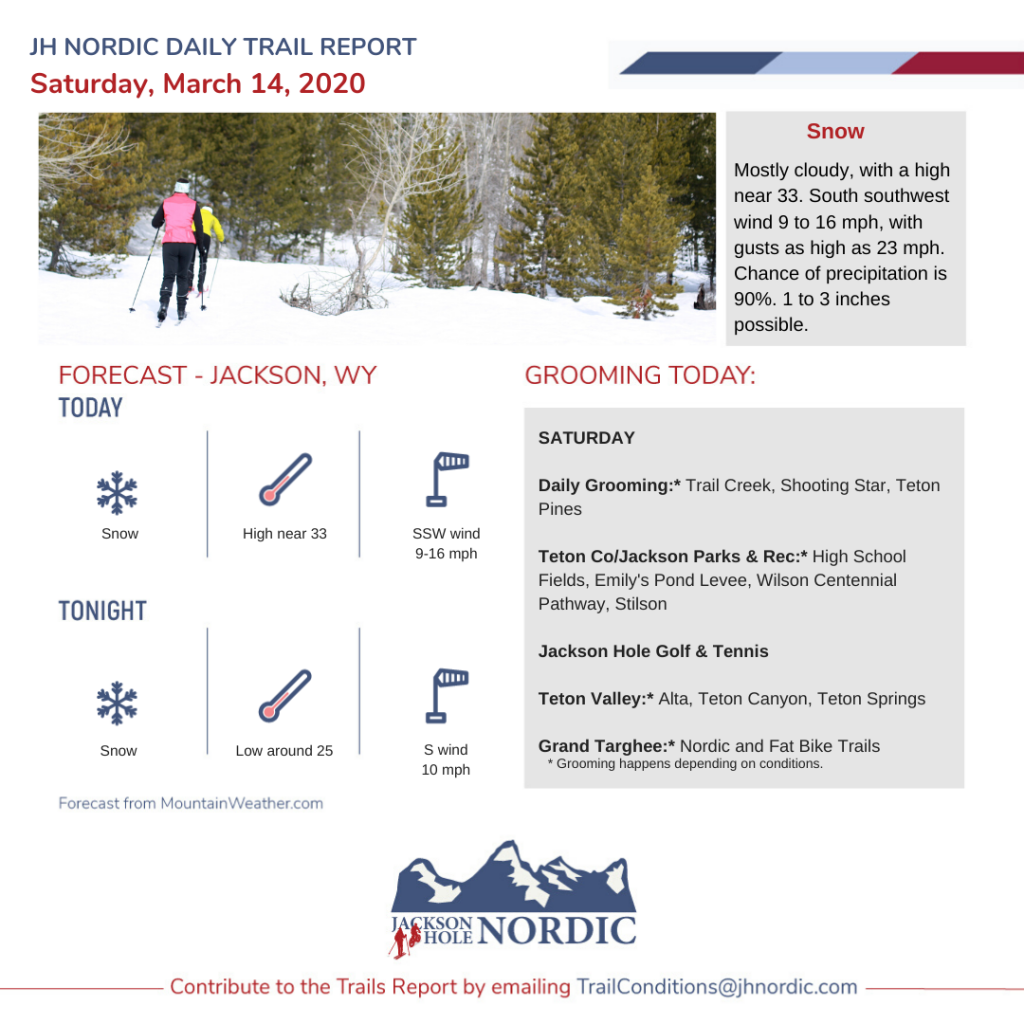 ---
Thank you for continually sharing your photos with us of Nordic skiing in Jackson Hole
---
Crust Cruising & final weekend for Teton Park Road groomed trail skiing
A stunningly beautiful day in GTNP, far away from the cares of the world. The crust was smooth and firm out in the wide open meadows, as well as along Cottonwood Creek. Classic and skate skiers enjoyed this vast open playground. The groomed trail was also in good condition, with 2 classic tracks (per standard set up) and a wide skate lane. Some friends went to Jenny Lake, others skied from Taggart to Signal Mountain trailhead (14.4 miles) and did a car swap shuttle.Others stopped off to explore the Lucas Fabian cabins en route to Jenny Lake.
---
Bears are active in Grand Teton
Time to get your bear spray out and ready for your outings. Park Rangers advised that approximately  50% of male grizzlies start to emerge from hibernation beginning 15th March. 
Black and grizzly bears are roaming throughout the park even in most winter months—near roads, trails, and in backcountry areas. Hikers and backcountry users are advised to travel in groups of three or more, make noise, and carry bear spray. Visitors must stay 100 yards from bears. For more information on bears checkout out Safety in Bear Country.
---
GTNP – wildlife closure surrounding Timbered Island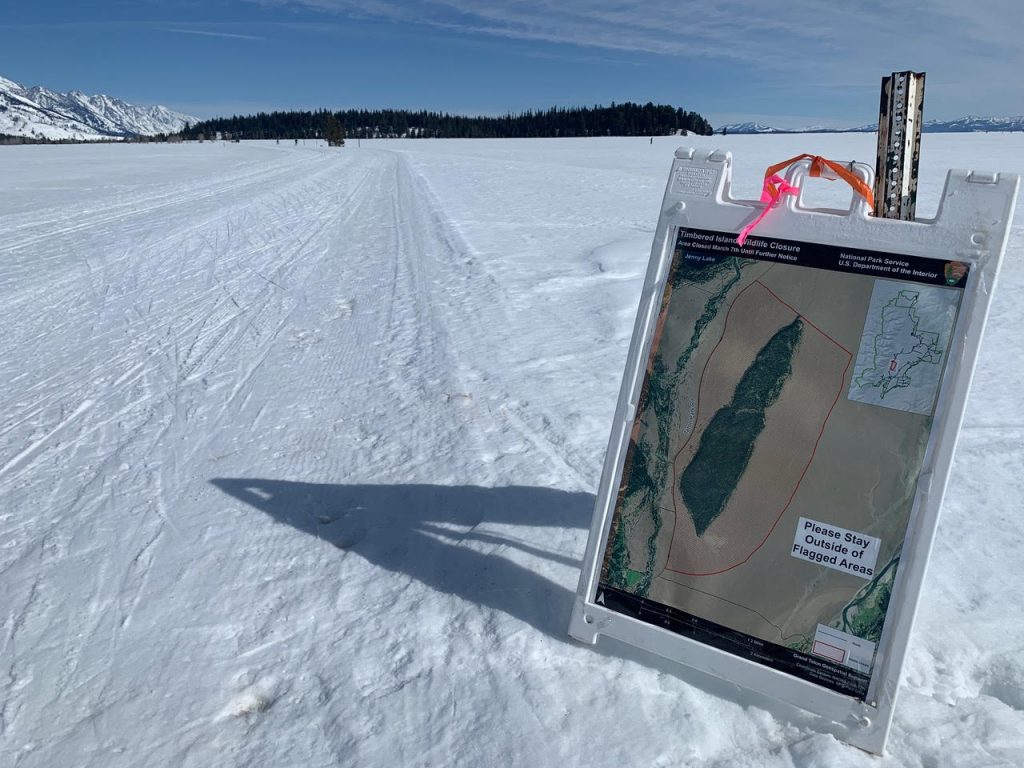 The GTNP Rangers were on the Teton Park Road, marking off the wildlife closure surrounding Timbered Island. They expanded the closure area to leave a 200 yard margin from the timbered edge and updated the map.
For skiers going off the groomed road trail (i.e. on the crust), please be considerate to leave a wide margin away from the Timbered Island .
---
Snow Plowing Operations in the Park
Spring plowing will begin in Grand Teton National Park on Monday, March 16. The plowing operations mark the end of over-snow access on the 14-mile section of the Teton Park Road between Taggart Lake Trailhead and the Signal Mountain area.

For safety reasons, visitors may not access the Teton Park Road once plowing operations are underway. Rotary snow removal equipment and plows may be working at any time, and the roadway will be closed to all uses at all times until further notice. Skiers and those on snow shoes using areas adjacent to the roadway are cautions to avoid the arc of snow blown from the rotary equipment because pieces of ice and gravel can be thrown great distances.
---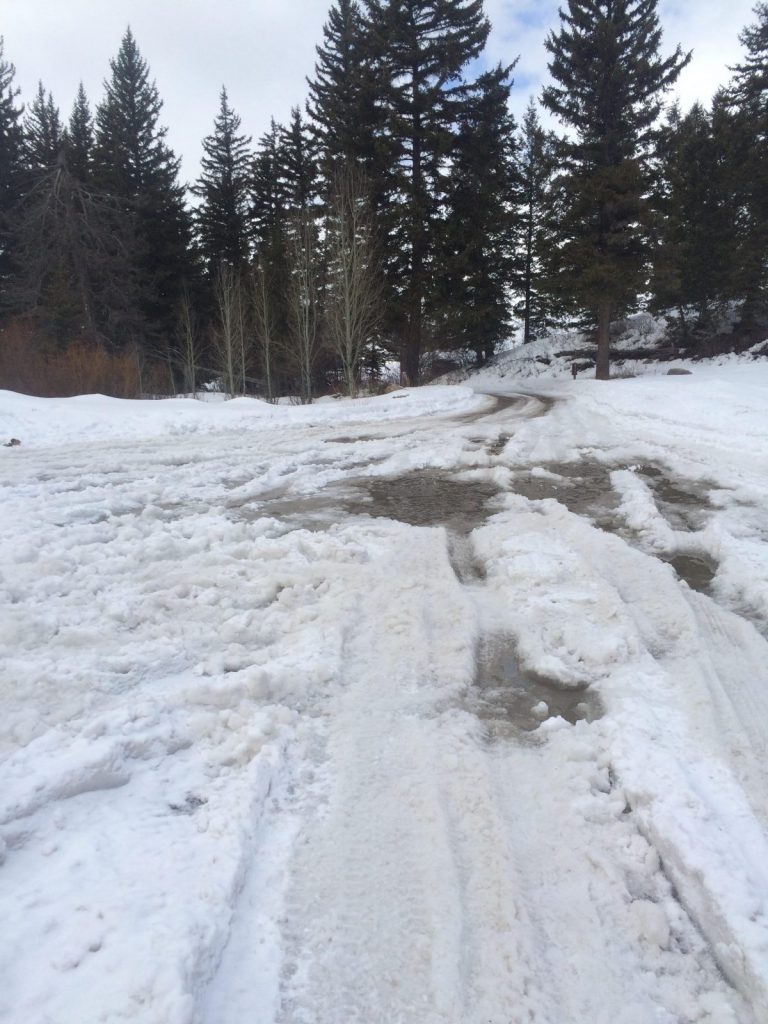 Cache Creek and Nelson Drive Trailhead Updates
Mid-March typically brings melting snow, potholes, and slush. This year is no different. The Cache Creek road remains in pretty good shape although watch for potholes. However, the parking area has large pockets of water, slush and ruts. Conditions can change quickly so recreationists are advised that high clearance vehicles may be necessary within the parking area. The Nelson Drive trailhead is not plowed so conditions at this time of year preclude vehicle use. Several vehicles have become stuck this week so the parking area will be closed starting Thursday March 12th until the snow melts.  

Last Updated: 3/13
Grooming Daily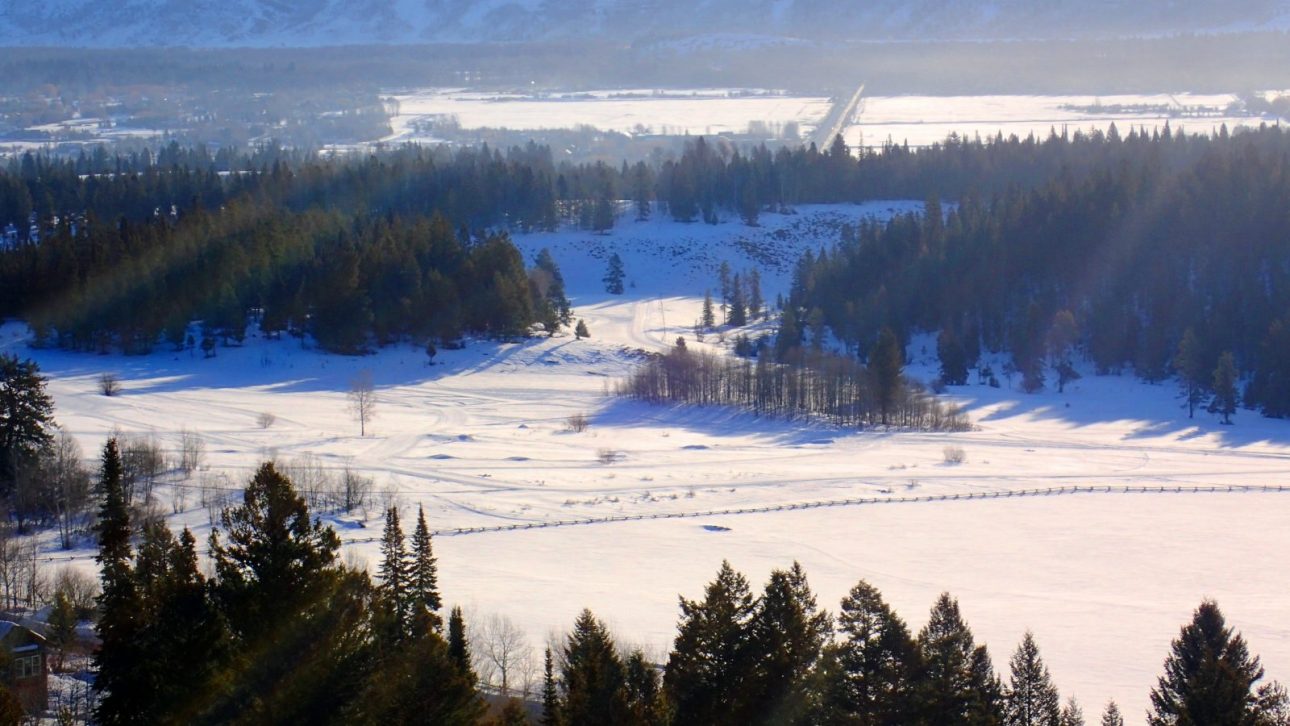 Sunny Fields!
The sun is shining here today at Trail Creek even if it is a bit of a somber day in the bigger world and Nordic picture.  According to the XC Junior National Championships website and the Soldier Hollow website, both the national championship and the Western Club Championships have been cancelled.  As of report time these websites are the only information available to the groomer.
Moving forward one still needs to keep fit and perhaps a nice long solitary Nordic ski is one of the better avenues to keep oneself in a good mental and physical state and what better place to do that than Trail Creek.
Today's grooming happened late yesterday afternoon.  Yesterday's temperatures were about 10ºF cooler than the previous day, making the snow a bit more resistant to being set.  Some woods classic tracks were reset with mixed results, however, the majority of classic tracks are in pretty good shape and the skate lanes which were mostly reset last night will be really nice once the temperatures begin to warm later in the day.
Grooming will once again commence late in the afternoon today.  Tomorrow a winter weather advisory is in effect with expected snowfall of around 6 inches over the weekend.  Next grooming after this afternoon will be Sunday morning.
Groomer's choice for today is a healthy ski in the sunny fields
---
Last Updated: 3/8
Last Day of Grooming was 3/8
Thanks to everyone for making this another great winter! We appreciate all of our regular guests who have become part of the Turpin family. We hope to see all of you again next season for more skiing, and biking. Thanks to all who made the journey out this winter, we hope you had a memorable ski or bike. Looking forward to seeing you all again next season.
Grooming ended March 8th. No lodge services available. Trails are open but no longer being groomed.
---
Grooming Today: High School Fields, Emily's Pond Levee, Wilson Centennial Pathway, Stilson
Last Updated: 3/13
12pm: Game Creek is groomed with shallow classic tracks. Skate lanes will have spring conditions.
8am: Cache and May park are groomed and in decent shape. Although classic tracks are very shallow. Game Creek will be finished around 11:15.
---
Last Updated: 3/13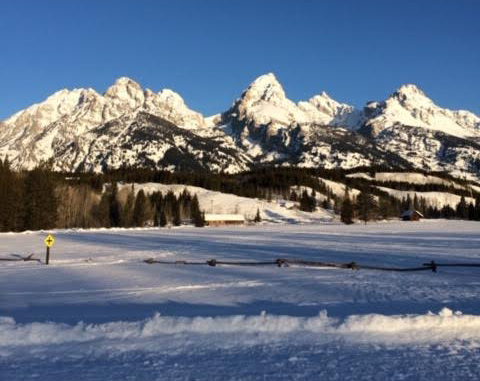 Sunny day in GTNP today as we groom from Taggart Lake to Signal Mountain for the last time this spring.  Enjoy the sunshine and spring skiing conditions.  We will be grooming Taggart to Jenny on Sunday. 
---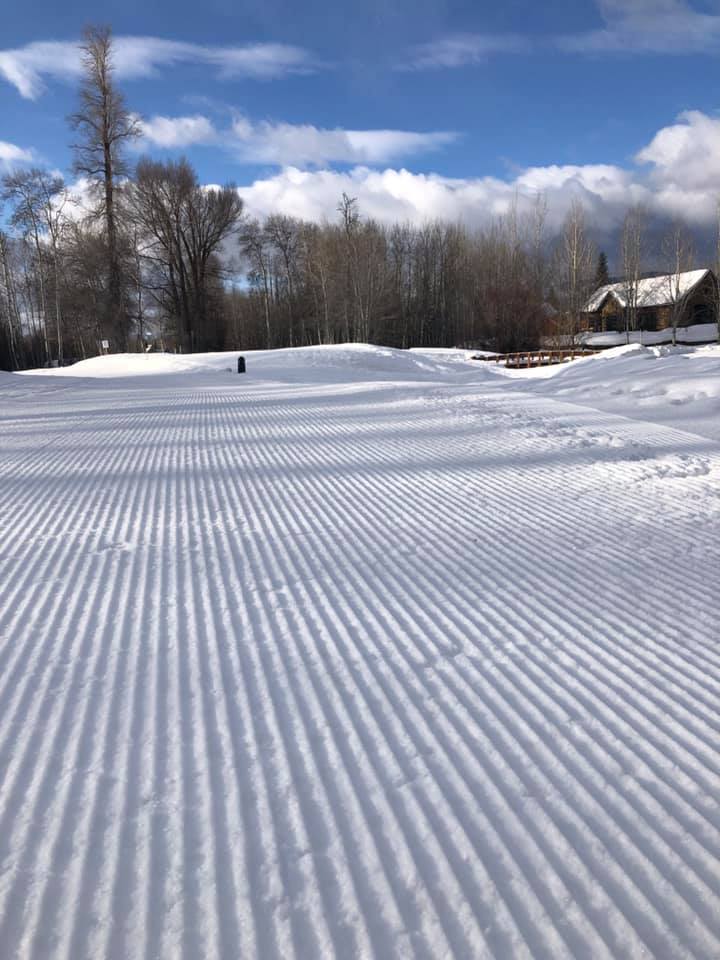 Last Updated: 3/10
Grooming Daily
Conditions are still good at Teton Pines even with the warm temps. We are still grooming daily with the snowcat Skate skiing will be awesome from around 9:30-11 until the warm temps soften and slow things a bit Classic skiing has been fast in the mornings and soft beginning around noon. We are in the typical spring freeze/thaw cycle which makes grooming the classic track a little challenging. Calling us is best for the most current conditions (307)733-1733. Softgoods are 20% off in the shop, so come in before it's too late. Our closing is scheduled for March 20.
---
Last Updated: 3/13
Grooming Daily
Enjoy Friday's sunshine as it looks to be a snowy weekend. Overall, skiing should be enjoyable. We've delayed our black sand operation until next week and after the snow storms settle. Have fun! 
Next Update: Monday 
---
Update: 2/22
Teton village pathway trail – groomed on Tuesday. Firm, packed snow.
---
Grooming Today
Update: 3/9

From our Nordic track maintenance team:
With rising temperatures and winter coming to an end, adjustments will be made to the route of the groomed trail. Beginning this past weekend, the trail will only be groomed on the north side of Spring Gulch Road.
This accomplishes two important things. For one, it allows us to extend the grooming period of the season because as the roadways clear it becomes increasing difficult and unsafe for the staff to cross the roads with grooming equipment. In addition, suspending grooming operations south of Spring Gulch Road helps us minimize disturbances to the local moose population. In general, please be extra mindful not to disturb wildlife during this important period for their winter survival.
---
Last Updated: 3/13
Grooming Daily
Cross Country/Fat Bike 15k: XC OPEN (Last groomed 3/12/2020), Fat Bike OPEN.
---
Last Updated: 3/13
Nordic:Most trails above groomed this morning. Road dry. Chilly now, 9F degrees. Sun is poking out. Looks like it is going to be a nice day.
Fat Bike 2/13: All Lower Kelly Park is groomed with a great riding base. Should be perfect conditions for the next 3-5 days due to high pressure system. For more information contact Geared Up, 307-399-5539 c.307-760-1912, www.gearedupbikes.com

Grooming Today: Alta, Teton Canyon, Teton Springs

Grooming Schedule: Tuesday, Thursday, Saturday, Sunday
Last Updated: 3/11
Skate: Good| Classic: Poor
---
Grooming Schedule: Monday, Wednesday, Friday
Last Updated: 3/11
Skate: Good | Classic: Not Set
Ran the drag over the loops by High School and Elementary. Did not get to the east loop. Track surface is soft in afternoon and early evening hard in morning until sun has been on for about an hour. Track is starting to get thin so may be looking at end of season for Driggs. Wait to see what happens with predicted storm this weekend.
---
Grooming Schedule: Monday, Wednesday, Friday
Last Updated: 2/25
Skate: Fair | Classic: Fair
Groomed on 2/24, 6 pm
---
Grooming Schedule: Monday, Wednesday, Friday, Saturday, Sunday
Last Updated: 3/13
Skate: Good | Classic: Fair
Smoothed out the skate lane. First mile or so is a bit icy and pockmarked with paw and foot prints, after that it improves and is skating fast. Classic track will have to wait for more snow.
---
Grooming Schedule: Tuesday, Thursday, Saturday
Last Updated: 3/13
Skate: Excellent | Classic: Poor
Just finished resetting the trails. It is a bit windy this afternoon, but the skating looks really good, and the classic tracks did not set very deep.
---
Grooming Schedule: Tuesday, Friday
Last Updated: 3/13
Skate: Good| Classic: Good
---
5th Street Singletrack
Grooming Schedule: as needed
Last Updated: 2/9
Singletrack: Poor
Skinned a lap after some foot traffic then rode front portion on triple wide. Need a sled for more compaction but will keep trying!
---
Teton Springs Singletrack
Grooming Schedule: as needed
Last Updated: 3/2
Singletrack: Excellent
Plowed with v plow. All good
---
Southern Valley Singletrack 
Grooming Schedule: as needed
Last Updated: 3/2
Singletrack: Excellent
---
Darby Canyon
Grooming Schedule: as needed
Last Updated: 3/9
---
South Leigh Road
Grooming Schedule: as needed
Last Updated: 3/9
JH Masters Recreational Clinic – Skate Ski 
Thursday, Mar 19, 2020
Teton Pines Nordic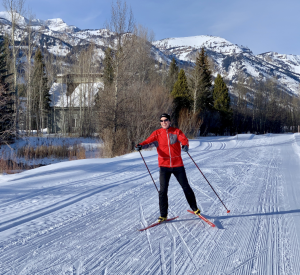 Tips, Technique, & Fun -Coaches provided by JH Ski Club Nordic program
Open to all (no first time beginners)
-Drop-in $35 (includes clinic & Teton Pines Nordic all day ski pass
Teton Pines Pass holder or member $30
Register – email : info@jhnordic.com or call: 307 739 6399
---
Send us your event dates, stories, photos
Follow JHNordic on Facebook, Instagram @JHNordic, #JHNordic
Sign up for Daily or Once a Week JH Nordic Trail ConditionReports to know what's groomed,
what's happening first thing every morning – or just Saturdays.