---
Thank you for continually sharing your photos with us of Nordic skiing in Jackson Hole
Freedom Flight
Read below a story from WyoFile about the journey of the eagle who flew through a window in a home south of Jackson near Hoback Junction on Jan. 28. Really cool that our local Teton Raptor Center can rescue and restore lives for our bald eagles, and so many of our large native birds. We love seeing bald eagles , hawks, owls, trumpeter swans, and many more birds while out on the winter trails. Keep your eyes in the sky (and waterways) while you venture out..
A volunteer at the Teton Raptor Center in Wilson released a rescued bald eagle from a crate last Friday and watched it fly to freedom. Anne Hare kneeled beside the repurposed dog crate that center workers had carried to the top of a mound of snow. She reached to the latch, helped the door swing open and watched the bird hop out. It took another hop then stroked the air with its wings and took off, disappearing into the landscape after flying a quarter mile or so.
"I got to rescue, then rehab, then release," Hare said.
The eagle flew through a window in a home south of Jackson near Hoback Junction on Jan. 28, startling resident Reed Moulton, who summoned a rescue. Teton Raptor Center rescuers captured the bird inside his house and have been caring for it since. Among other things, rehabilitators dressed cuts and bruises and cleansed lead from its system. After training sessions, they deemed the eagle fit to fly and capable of making its living in the wild.
The eagle will turn 31 this spring, according to a band on one leg. It had faithfully nested in the Hoback area for years, observers believe, and its mate was likely the bird circling overhead when center workers rescued it.
Hare released the bird in Wilson, five miles or so from its nest. Center workers said they didn't want it closer to home because, as things go in Jackson Hole, its mate had bonded with another male only the week before. A fight between the males could have been deleterious, given the rescued bird's weakened state.
Before its release, rescuers cut a small, square hole in the bird's left wing feathers so they will be able to identify it when it is soaring. The missing piece should not affect its flight and will fill in later in the spring when the bird molts, they said.

---
Trip Report: Kelly Warm Springs
Nice family outing in the new snow…
Connie, Gannett and I went skiing this evening at Kelly Warm Springs.  While the snow was a bit sticky we did have a good time.  As of 7 PM there was about 10 inches of fresh snow on top of a rock hard crust.  We set two parallel tracks for about a mile and a quarter.  -Steve S.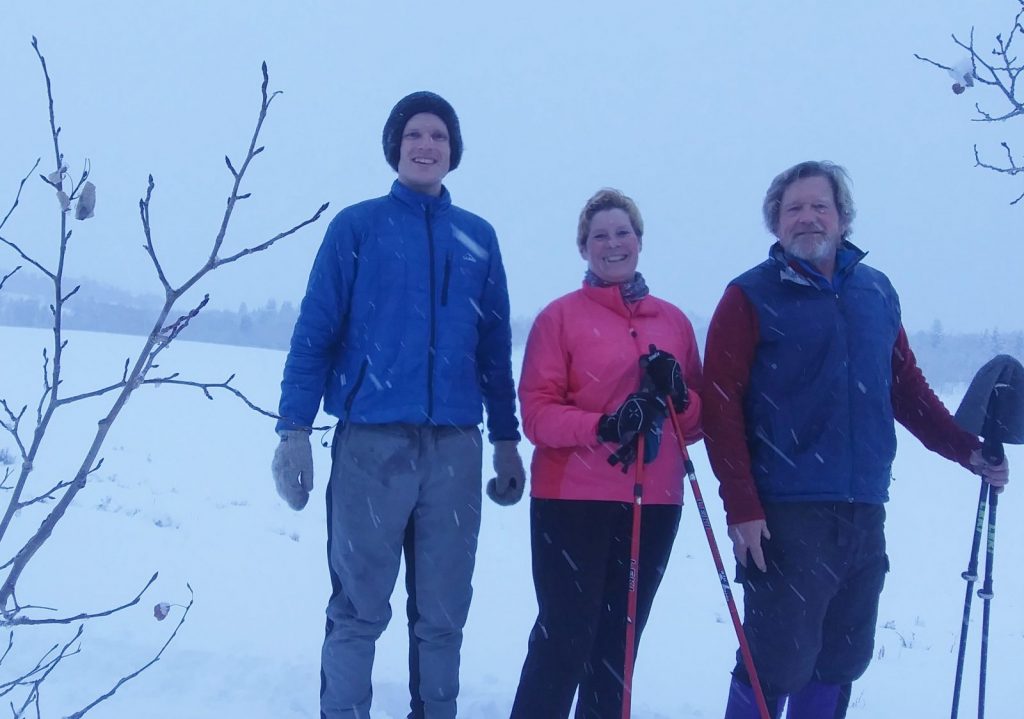 ---
Bears are active in Grand Teton
Time to get your bear spray out and ready for your outings. Park Rangers advised that approximately 50% of male grizzlies start to emerge from hibernation beginning 15th March.
Black and grizzly bears are roaming throughout the park even in most winter months—near roads, trails, and in backcountry areas. Hikers and backcountry users are advised to travel in groups of three or more, make noise, and carry bear spray. Visitors must stay 100 yards from bears. For more information on bears checkout out Safety in Bear Country.
---
GTNP – wildlife closure surrounding Timbered Island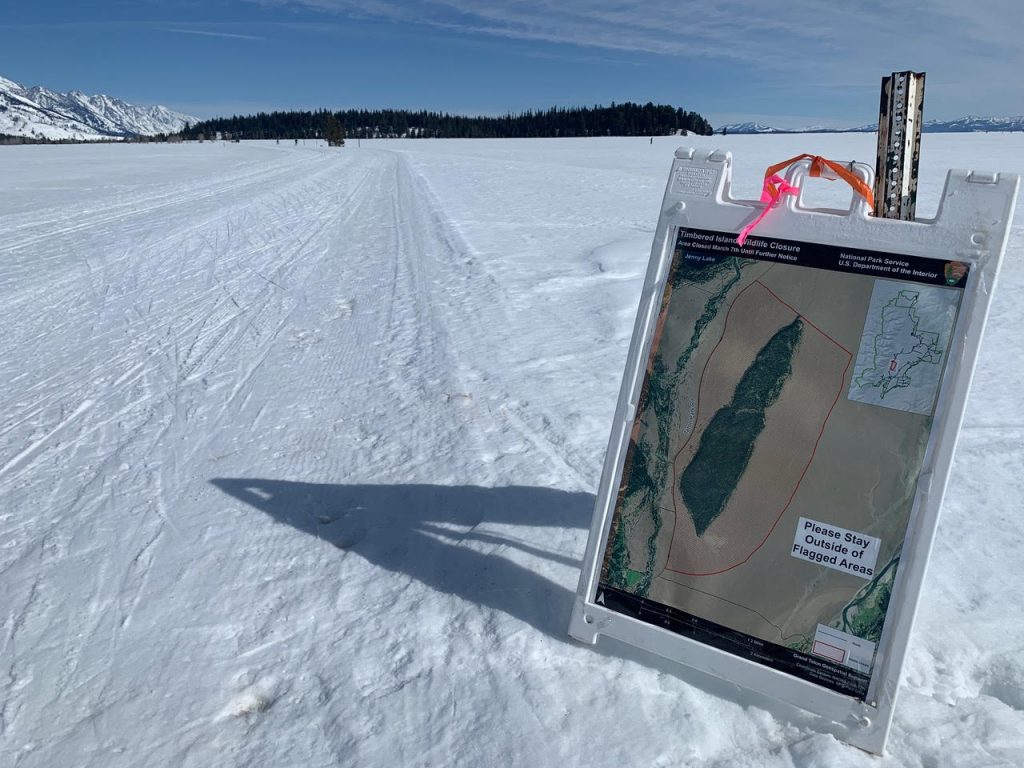 The GTNP Rangers were on the Teton Park Road, marking off the wildlife closure surrounding Timbered Island. They expanded the closure area to leave a 200 yard margin from the timbered edge and updated the map.
For skiers going off the groomed road trail (i.e. on the crust), please be considerate to leave a wide margin away from the Timbered Island .
---
Snow Plowing Operations in the Park
Spring plowing will begin in Grand Teton National Park on Monday, March 16. The plowing operations mark the end of over-snow access on the 14-mile section of the Teton Park Road between Taggart Lake Trailhead and the Signal Mountain area.

For safety reasons, visitors may not access the Teton Park Road once plowing operations are underway. Rotary snow removal equipment and plows may be working at any time, and the roadway will be closed to all uses at all times until further notice. Skiers and those on snow shoes using areas adjacent to the roadway are cautions to avoid the arc of snow blown from the rotary equipment because pieces of ice and gravel can be thrown great distances.
---

Last Updated: 3/14
Grooming Daily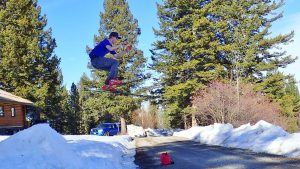 Wow!
The image above was taken near the end of a very festive final official practice for the prep and comp teams of Jack Love defying gravity as he and his perhaps somewhat abused Nordic skis are in the process of clearing the road at Trail Creek. The grooming department is happy to report that he landed it perfectly, what a feat!
There is more wow going on today at Trail Creek with 8:45 AM conditions being -1ºC/30ºF, calm, and with moderate to heavy snowfall. So far a strong inch of the beautiful fresh white is on the ground with forecasts being up to the 6 inch range.
The image above was from last night's grooming in which most all trails were smoothed and ready to receive some nice fresh snow. The field classic tracks were reset with mostly positive results yesterday. Woods trail's classic tracks were a bit variable but skate lanes were smooth. From now onwards skiers that can keep their skis moving in the relatively warm snow should find nice conditions although if snowfall amounts get heavy, skaters might have to work a bit.
---
Last Updated: 3/8
Last Day of Grooming was 3/8
Thanks to everyone for making this another great winter! We appreciate all of our regular guests who have become part of the Turpin family. We hope to see all of you again next season for more skiing, and biking. Thanks to all who made the journey out this winter, we hope you had a memorable ski or bike. Looking forward to seeing you all again next season.
Grooming ended March 8th. No lodge services available. Trails are open but no longer being groomed.
---
No Grooming Today
Last Updated: 3/14
The levee and Stilson are groomed but filling in quickly with new snow. The school fields will be finished around 10:30. Grooming to Noker mine draw on mondays is over for the season but cache will still be groomed Wednesdays and Fridays to the typical turn around point.
---
Last Updated: 3/14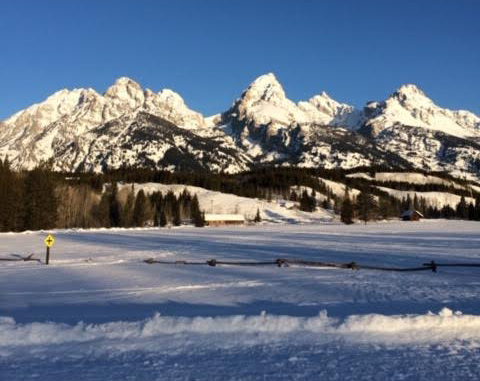 We groom from Taggart Lake to Jenny Lake for the last time this spring.  Read more above about snow plowing operations for the spring. 
---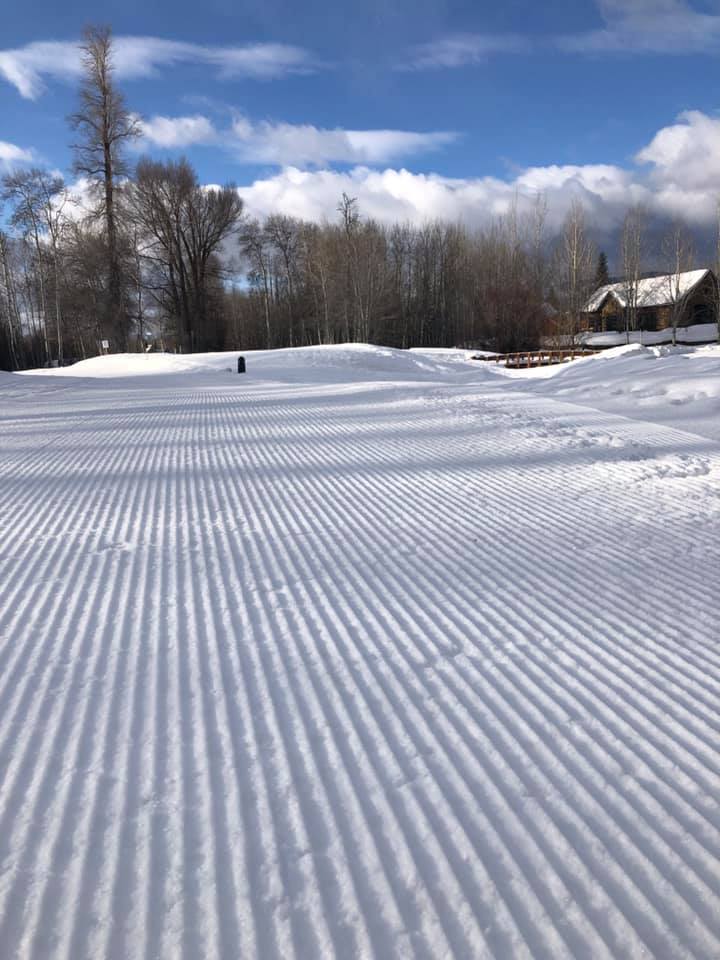 Last Updated: 3/14
Last Day of Grooming
Due to warming temperatures this week and our desire to keep everyone healthy, Sunday March 15 will be our closing day. The shop will close tomorrow, but we will continue to groom for members and pass holders through March 20 if snow conditions permit. Thanks for a great season and we will see you in November!
---
Last Updated: 3/13
Grooming Daily
Enjoy Friday's sunshine as it looks to be a snowy weekend. Overall, skiing should be enjoyable. We've delayed our black sand operation until next week and after the snow storms settle. Have fun! 
Next Update: Monday 
---
Update: 2/22
Teton village pathway trail – groomed on Tuesday. Firm, packed snow.
---
Grooming Today
Update: 3/9

From our Nordic track maintenance team:
With rising temperatures and winter coming to an end, adjustments will be made to the route of the groomed trail. Beginning this past weekend, the trail will only be groomed on the north side of Spring Gulch Road.
This accomplishes two important things. For one, it allows us to extend the grooming period of the season because as the roadways clear it becomes increasing difficult and unsafe for the staff to cross the roads with grooming equipment. In addition, suspending grooming operations south of Spring Gulch Road helps us minimize disturbances to the local moose population. In general, please be extra mindful not to disturb wildlife during this important period for their winter survival.
---
Last Updated: 3/14
Grooming Daily
Good Morning all Wydaho!
Cross Country/Fat Bike 15k: XC OPEN (Last groomed
3/14/2020), Fat Bike OPEN.
---
Last Updated: 3/13
Nordic: Most trails above groomed this morning. Road dry. Chilly now, 9F degrees. Sun is poking out. Looks like it is going to be a nice day.
Fat Bike 2/13: All Lower Kelly Park is groomed with a great riding base. Should be perfect conditions for the next 3-5 days due to high pressure system. For more information contact Geared Up, 307-399-5539 c.307-760-1912, www.gearedupbikes.com

Grooming Today: Alta, Teton Canyon

Grooming Schedule: Tuesday, Thursday, Saturday, Sunday
Last Updated: 3/14
Skate: Good| Classic: Good
---
Grooming Schedule: Monday, Wednesday, Friday
Last Updated: 3/11
Skate: Good | Classic: Not Set
Ran the drag over the loops by High School and Elementary. Did not get to the east loop. Track surface is soft in afternoon and early evening hard in morning until sun has been on for about an hour. Track is starting to get thin so may be looking at end of season for Driggs. Wait to see what happens with predicted storm this weekend.
---
Grooming Schedule: Monday, Wednesday, Friday
Last Updated: 3/14
Skate: Fair | Classic: Not set
Tried to groom out the rogue snowmobile ruts and footprints. It's in better condition than it was but still not great, or even good. It is skatable though.
---
Grooming Schedule: Monday, Wednesday, Friday, Saturday, Sunday
Last Updated: 3/14
Skate: Good | Classic: Not set
The skate track groomed out well this morning, fast and firm. I could not do anything with classic, first mile is rough, back half is all right.
---
Grooming Schedule: Tuesday, Thursday, Saturday
Last Updated: 3/14
Skate: Not set| Classic: Not st
Will look for an opportunity to groom, so stay posted. Groomed last on Friday, but currently it is snowy and windy. As conditions looks doable, I will plan to set trails.
---
Yeti's Loop
Grooming Schedule: Tuesday, Friday
Last Updated: 3/13
Skate: Good| Classic: Good
---
5th Street Singletrack
Grooming Schedule: as needed
Last Updated: 2/9
Singletrack: Poor
Skinned a lap after some foot traffic then rode front portion on triple wide. Need a sled for more compaction but will keep trying!
---
Teton Springs Singletrack
Grooming Schedule: as needed
Last Updated: 3/2
Singletrack: Excellent
Plowed with v plow. All good
---
Southern Valley Singletrack 
Grooming Schedule: as needed
Last Updated: 3/2
Singletrack: Excellent
---
Darby Canyon
Grooming Schedule: as needed
Last Updated: 3/9
---
South Leigh Road
Grooming Schedule: as needed
Last Updated: 3/9
JH Masters Recreational Clinic – Skate Ski 
Thursday, Mar 19, 2020
Teton Pines Nordic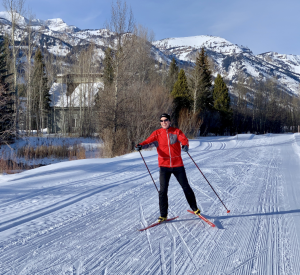 Tips, Technique, & Fun -Coaches provided by JH Ski Club Nordic program
Open to all (no first time beginners)
-Drop-in $35 (includes clinic & Teton Pines Nordic all day ski pass
Teton Pines Pass holder or member $30
Register – email : info@jhnordic.com or call: 307 739 6399
---
Send us your event dates, stories, photos
Follow JHNordic on Facebook, Instagram @JHNordic, #JHNordic
Sign up for Daily or Once a Week JH Nordic Trail ConditionReports to know what's groomed,
what's happening first thing every morning – or just Saturdays.