There comes a point in the winter when our routines begin to feel a bit mundane and our restlessness urges us to explore something new. Fortunately for those in the Jackson area, you don't need to leave the Greater Yellowstone Ecosystem for a new cross-country ski adventure local overnight getaway lodges. Miles of trails await in any direction, each offering something unique.  
So if you feel the urge to ski some new terrain but are not compelled to buy a plane ticket, glide through our list of regional getaways. Some might only warrant a day trip, but other trails might compel you to make it a true weekend getaway and stay the night next to a cozy fire.
Here are our favorite local overnight getaway lodges:
Stay in a historic cabin or yurt in Harriman State Park and ski right from your door. The park offers 20 miles of groomed trails for skate skiing and snowshoeing beginning at the Harriman State Park visitor center. The cabins and yurt are self-catering (BYO food & beverage). Read more about what the Park has to offer here in winter. One hour and a 45-minute drive from Jackson.
Check out the Nordic trails here. Each trail is ranked in difficulty and what it's groomed for, so make sure to check the trail grooming conditions before going out.
Heads up, there's a $7 Motor Vehicle Entrance Fee per vehicle to visit the Park and a $6 per day per person Winter Access Fee. If you plan on going more than once, you can buy a 2022-2023 Winter Season Pass at the Visitor Center.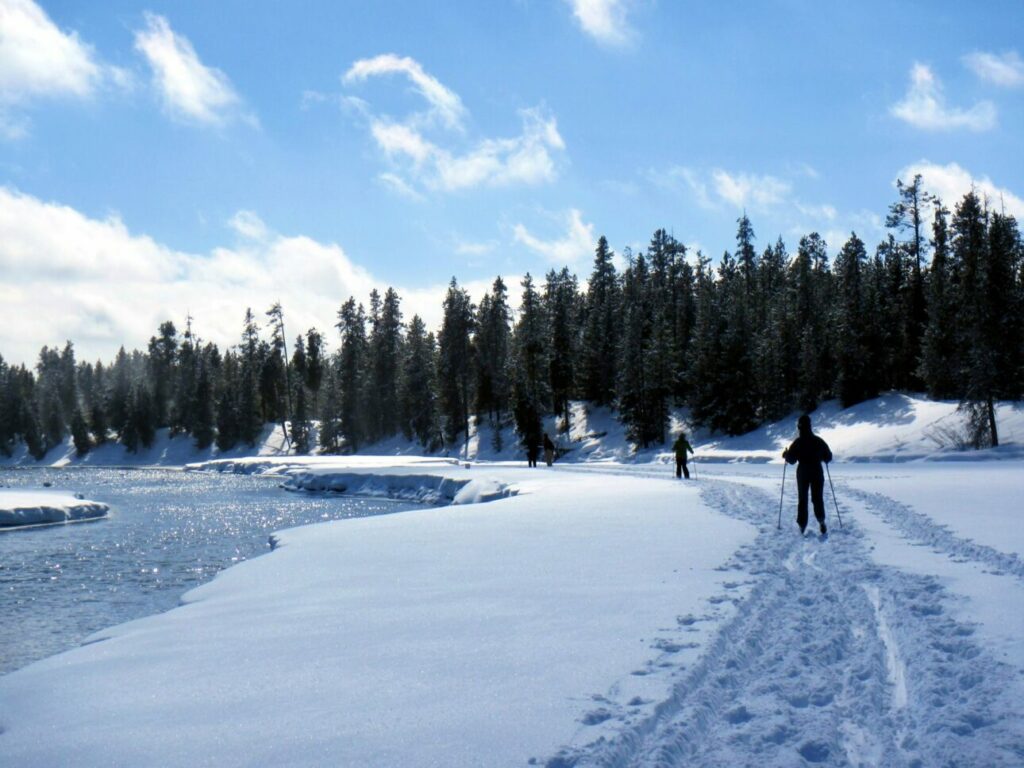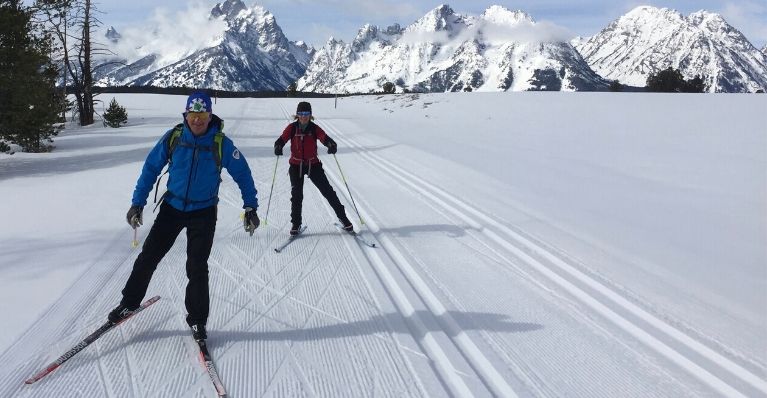 Turpin Meadow Ranch provides 20km of groomed nordic tracks right outside your cabin's door. Along with Nordic skiing, there is an abundance of fat bike single-track trails and plenty of opportunities for backcountry skiing and snowmobiling in the area as well. Trails are groomed daily. Individual cozy log cabins -ski-in/ski-out, that has been beautifully and tastefully restored, sit along the Buffalo Fork of the Snake River at the north end of Jackson Hole and Grand Teton National Park. The historic main Lodge has a large open fire, a full bar, and excellent food. Frequent wildlife such as moose, eagles, and bison in GTNP can be spotted. In recent years, TMR has become very popular for overnights, so reserve early.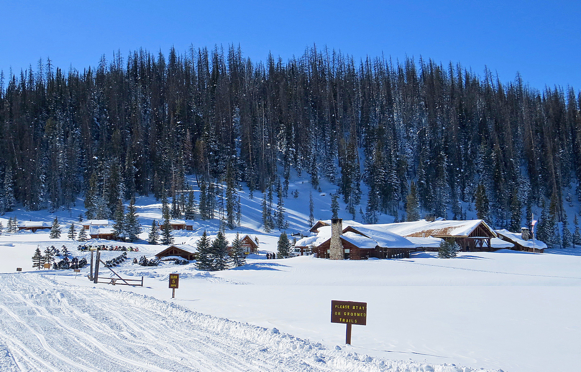 Open from December 19th – March 21st, explore winter at Brooks Lake Lodge. Enjoy views of the Pinnacles, Brooks Mountain, and Richards Peak while you ski on groomed trails (as available) around frozen Brooks lake. Skis are included with your stay! Other winter activities around Brooks Lake Lodge include ice fishing, snowshoeing, snowmobiling, and wildlife excursions. Some of our favorite trails starting from Brooks Lake Lodge include Bonneville Pass, Barbers Point, Upper Brooks Lake, and even the Brooks Lake Lodge summer road.
Trail Creek Ranch can take up to six visitors at a time in winter, so reserve your cabin now! At the historic ranch, home to former Olympian Betty Woolsey, you can cross-country ski or snowshoe for 16 km on groomed tracks right outside your door. Trails are groomed daily by the Jackson Hole Ski & Snowboard Club Nordic Program, offering meadows, forests, and gentle and hilly trails. Teton Pass is right behind the ranch, so for those who like to climb, Old Pass Road offers an un-groomed cardio workout. You can, also, drive to the top of Teton Pass, for a backcountry Nordic ski out to Mt Elly.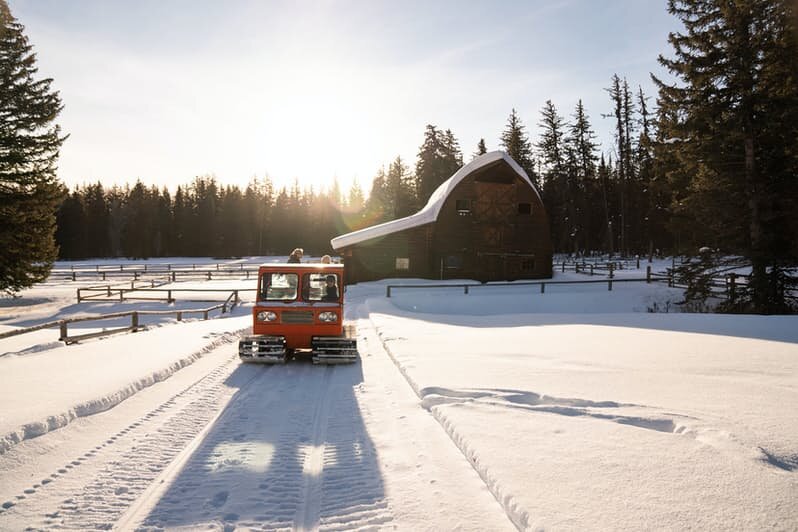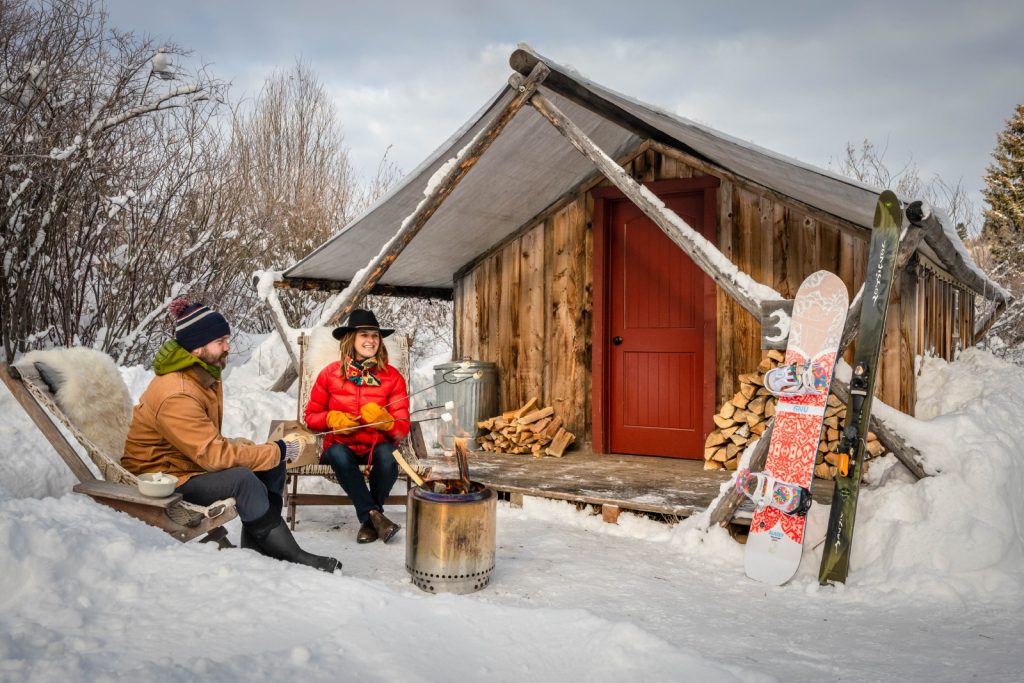 The spectacular cross-country skiing right from the ranch follows Moose Creek into the Teton backcountry. If you don't have skis, that's not a problem. Moose Creek Ranch has Nordic skis for rent. Moose Creek Ranch also has snowshoe and fat biking trails right outside your door, and nearby at Mike Harris/Nemo and Ladyslipper trails. Time at the ranch offers a range of accommodations, from heated "glamping tents" to cabins to their 5-bedroom Ranch House. Check out Moose Creek's backcountry Nordic trail here.
Jackson Fork Lodge, set on the eastern edge of the Wyoming Range, provides access to a vast valley of areas to Nordic ski. On the ranch property, there are 3 groomed cross-country trail loops, (total approx 7.5 miles), that are also open to fat biking and snowshoeing. Open daily. Taking a quick jaunt to the backcountry offers even more adventures. The Ranch has a main lodge and 4 bedroom ranch house for rental -2 night minimum. Trails are dog-friendly and are open to day guests as well. Located approximately 40 miles southeast of Jackson.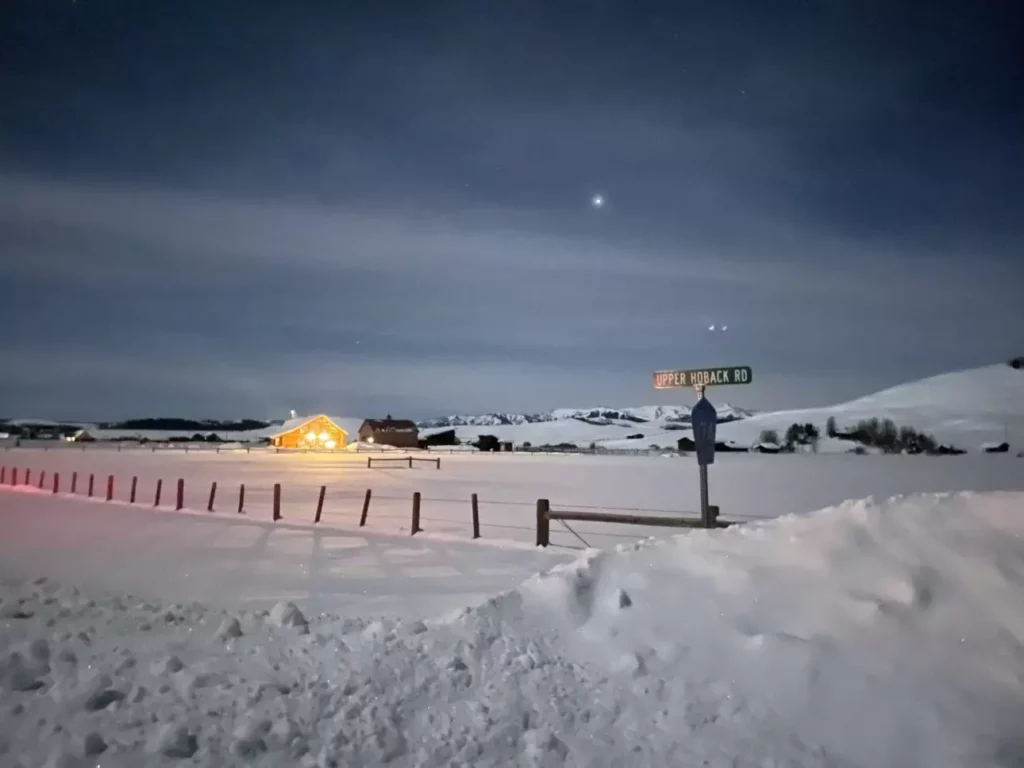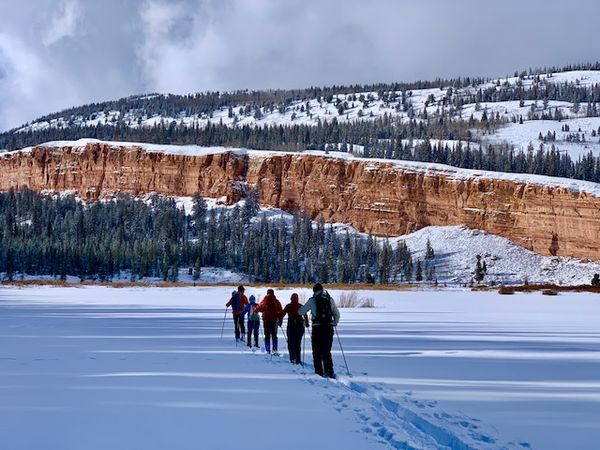 The historic Darwin Ranch sits deep in the Gros Ventre Wilderness in the southeast of the Gros Ventre Range. Completely off-the-grid, The Darwin is known for its summer fly-fishing, horseback riding, hiking, peaceful beauty, amazing food, and rustic, comfortable cabins and cozy main lodge. And now, their newly renovated and winterized 4-room cabin. A 1.5-groomed loop for classic skiing in the eastern meadow, access to cross-country ski on the nearby snowmobile trail network, and endless untracked backcountry valleys and ridges right from the Ranch offer a true wilderness winter escape. Darwin Ranch has put intention into its food program, offering sustainable healthy meals showcasing ingredients from the Greater Yellowstone ecosystem. Limited availability, so contact the Darwin Ranch for more info.
Open from December 16th- March 5th, Old Faithful Snow Lodge offers a variety of winter activities, including classic cross-country skiing, snowshoeing, and walking on snow. There are trails right out from the lodge, as well as shuttles to the more distant cross-country ski spots. The Snow Lodge has a rental shop right near the Lodge. Click here to learn more about the rentals. We love skiing out to Fairy Falls and the Grand Prismatic Spring, to see the wild bison grazing by the thermally warm Firehole River. The Snow Lodge is a popular destination so reserve early.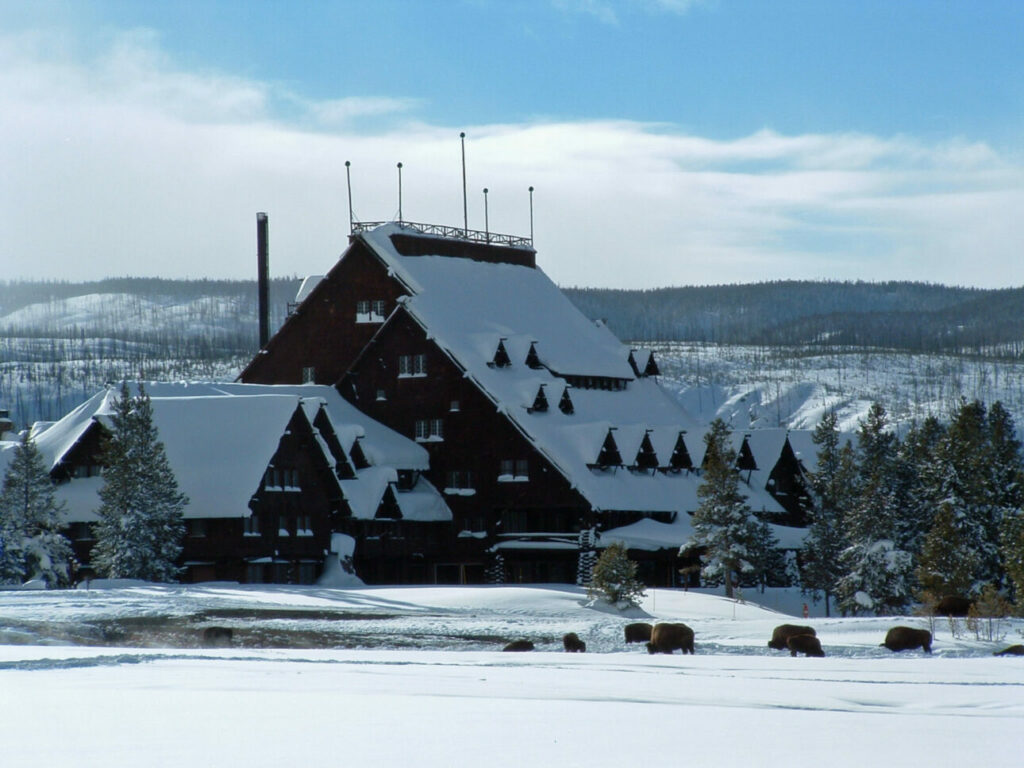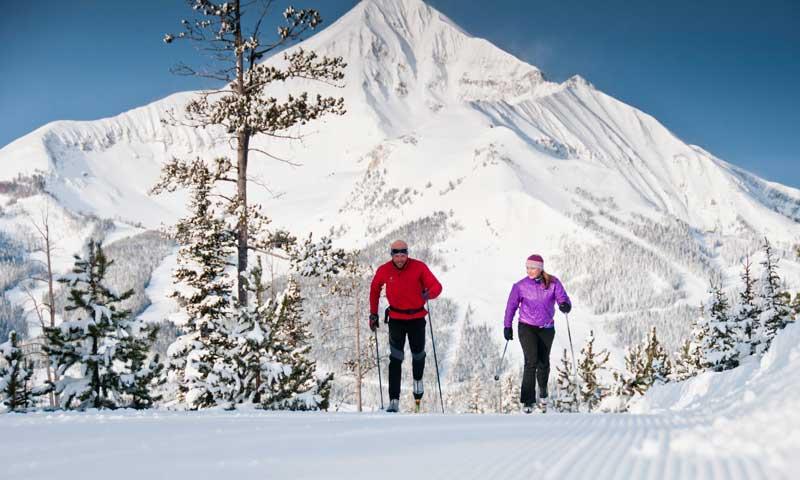 Lone Mountain Ranch is a luxurious ranch resort, with 85 km of groomed track across the mountain terrain for both skate and classic cross-country skiing and a favorite of our local getaway lodges (check out a map of the trails here.) The Ranch provides elegant ski-in-ski-out cabins, farm-to-table cuisine, live Western music in the Saloon, and morning yoga. Lone Mountain was voted #1 Nordic ski destination by the Cross Country Skier Magazine. Near the Lone Mountain Ranch, there are also lots of opportunities for backcountry skiing, snowshoeing, alpine skiing, fat biking, and more! Cross-country ski passes for Lone Mountain Ranch can be purchased here for the 2022-2023 ski season.
Staying at the lodge at the base of Targhee offers limitless opportunities right from your door. Skate and classic Nordic ski on 15km of groomed track, Backcountry nordic, fat biking on dedicated fat bike snow trails. You can get on the lifts at Grand Targhee, spend the day snowshoeing, head into the backcountry, and more! Tuesdays, Thursdays, and weekends are the best days to ski here, as those are the days the nordic trails are maintained. You can purchase cross-country ski passes on their website. With its base at 8000 feet, the snow comes early and stays late. It's also a great workout to test your stamina at elevation!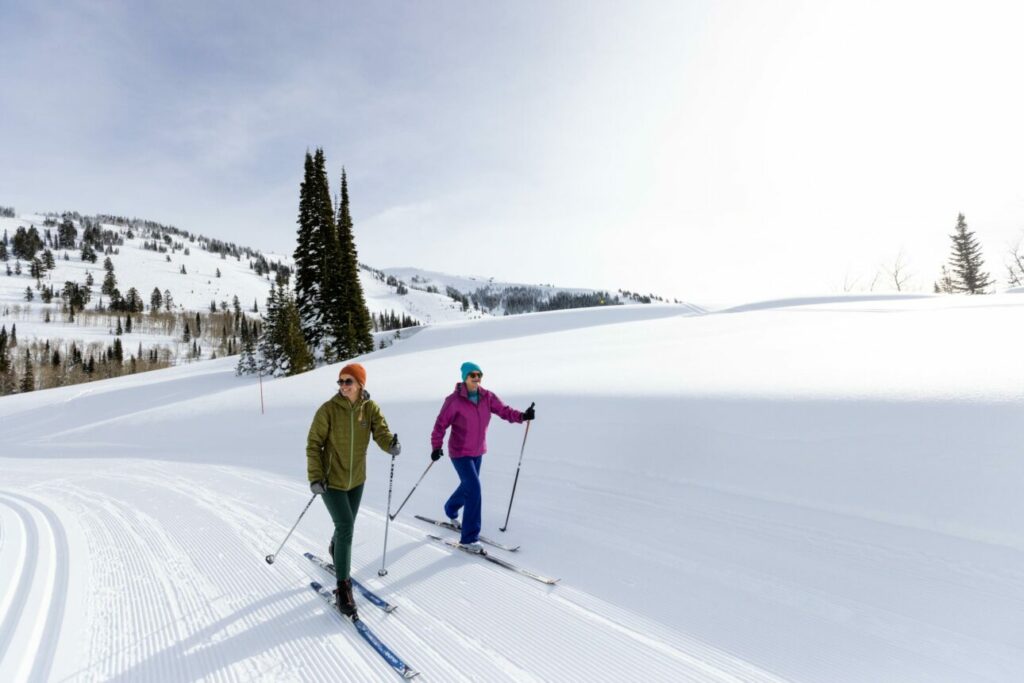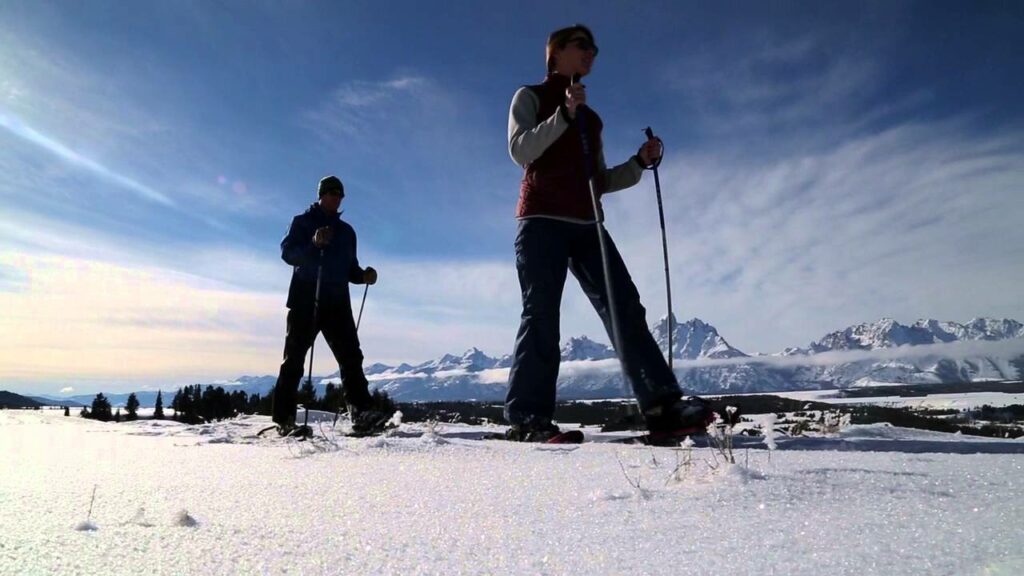 Triangle X is a historic, authentic, working dude and guest ranch with stunning views of the Tetons. A 4-mile groomed loop above the ranch for classic cross-country skiing. The ranch provides easy access to nice backcountry Nordic trails up to Toppings Lake. It provides even more backcountry nordic trails in Grand Teton National Park. Owned and operated for 5 generations by the Turner family, this rustic ranch takes you back to the early days of Jackson Hole. Triangle X offers secluded, quiet, and comfortable lodging in cozy cabins, highlighted with four-star dining. Other activities include snowshoeing, snowmobiling, photography, and wildlife viewing right out your front door. It opens December 26th through mid-March.
Interested in an epic adventure? Teton Backcountry Guides run backcountry yurts in the Teton region. The Teton Canyon yurt is accessible by skiing 4 miles from the Teton Canyon trailhead. Step out the door in the morning and have access to abundant trails to ski on. Another perk of the backcountry yurt is if you are an avid backcountry skier there is plenty of fresh powder to enjoy.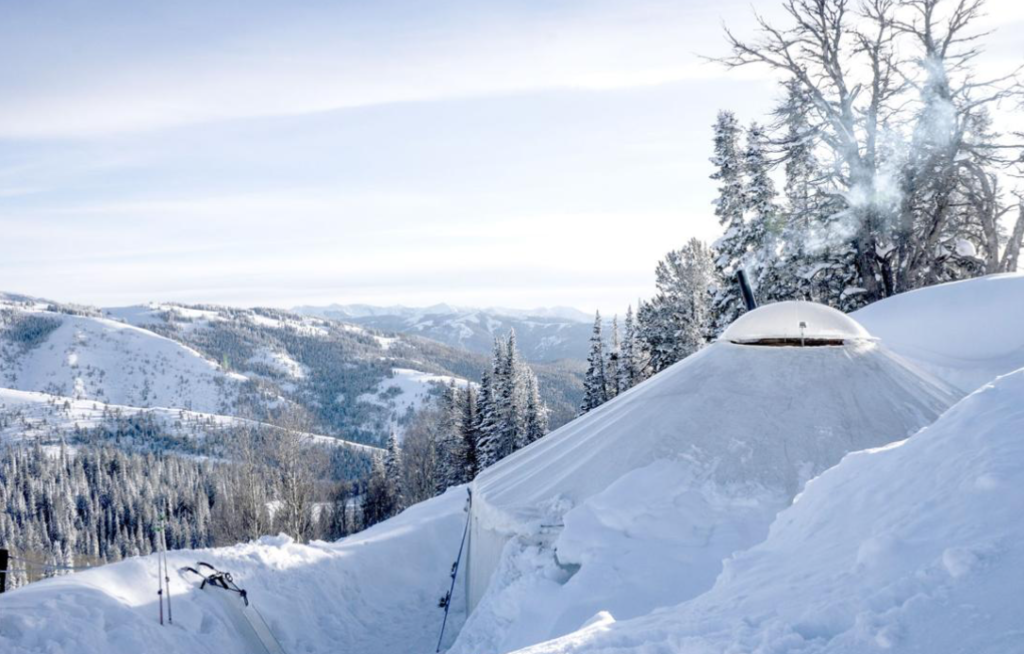 Do you have favorite local overnight getaway lodges with accessible winter trails to add? We'd love to hear from you, hear your experience, your recommendations, and photos on the trail. Email info@JHNordic.com or post a comment.