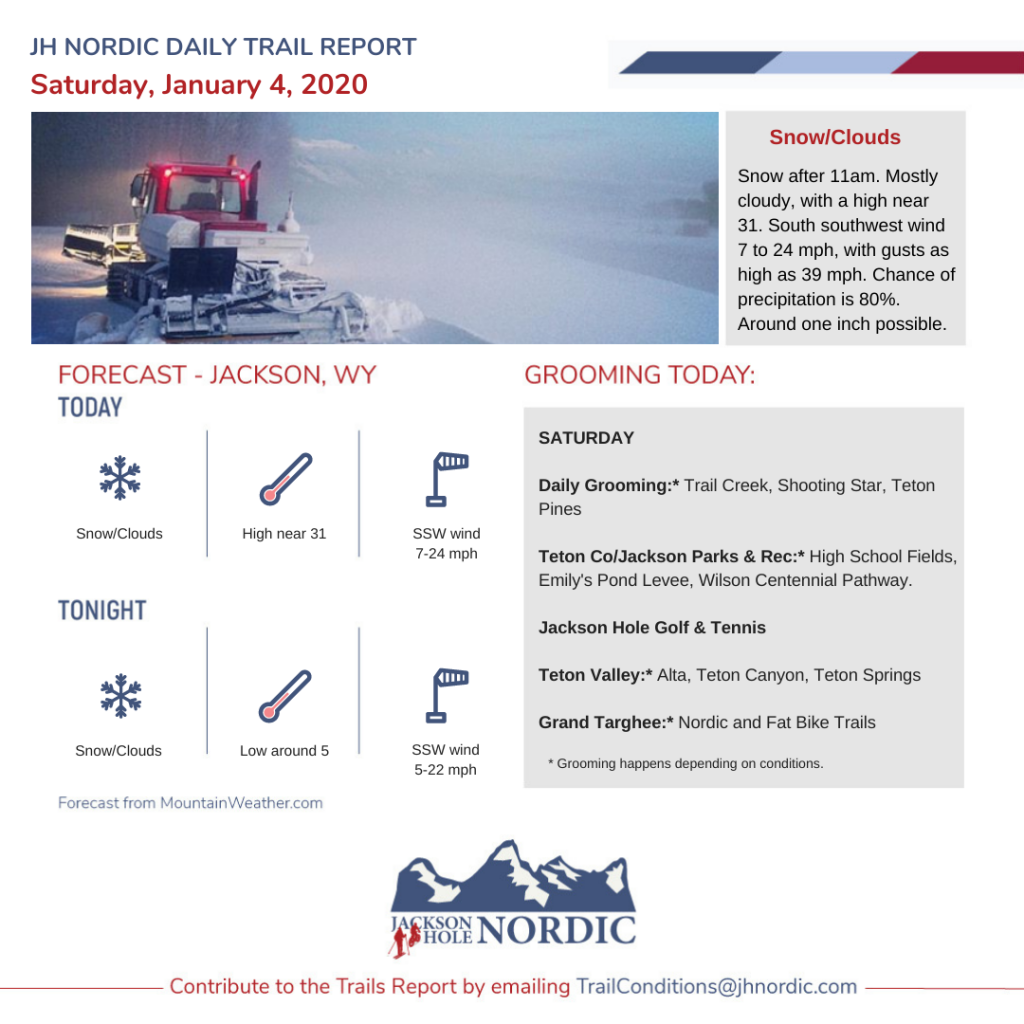 ---
Thank you for continually sharing your photos with us of Nordic skiing in Jackson Hole
---
Sunday! Get ready for our 4th Annual Free Nordic Ski, Fat Bike, Snowshoe Day!
10am-3pm | Turpin Meadow Ranch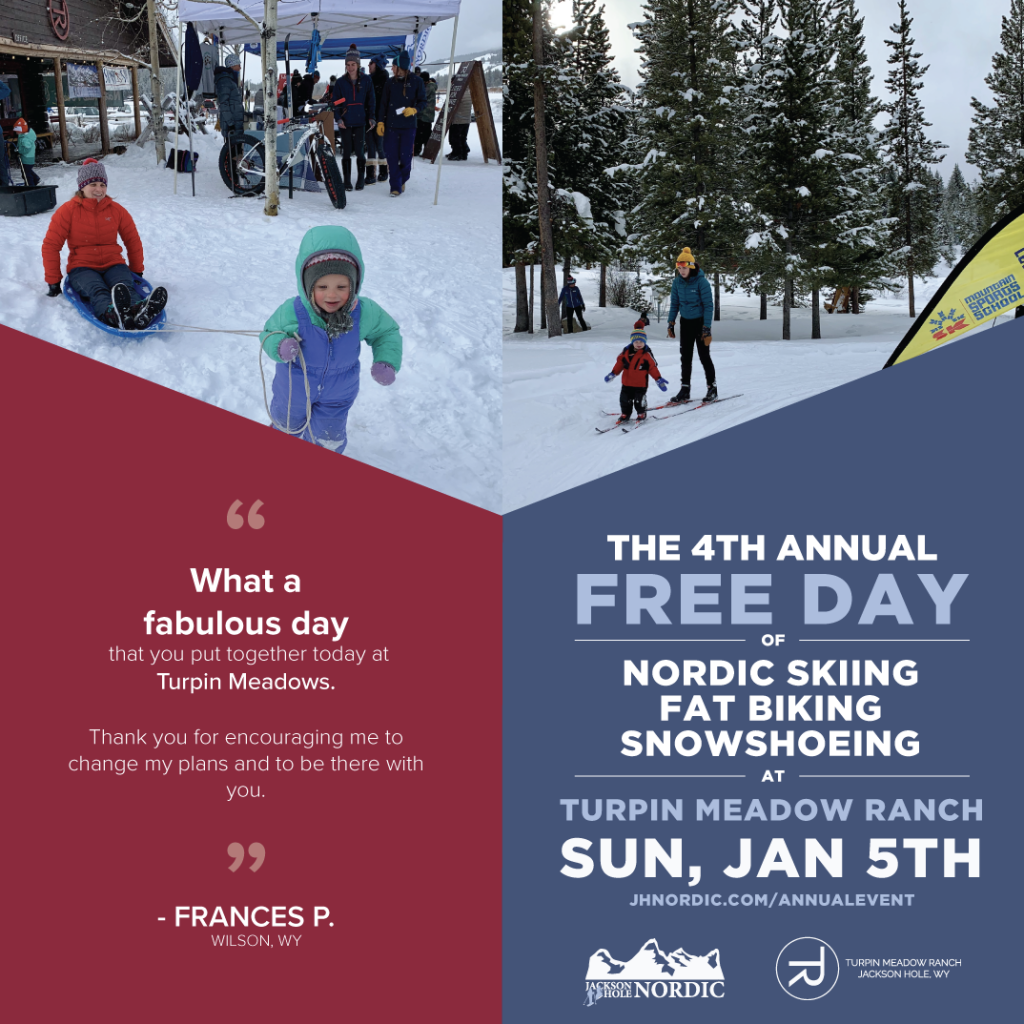 Will we see you there? Demo skis and fat bikes, join in on a free lesson or tour, and enter to win the raffle prizes including a fat bike, nordic skis, and more! Weather is looking good with 40% chance of snowfall – less than 1″ perdicted & high of 25F, low of 12F (perfect weather for outdoor winter fun with the family!)
Roads are well-marked, plowed and driving conditions are good to Turpin Meadow Ranch. All trails are groomed ready to Nordic skiing, Fat Biking and Snowshoeing.
Little Red Cafe will have their food truck at the event and there will be beer by Melvin Brewing.
Speed through Registration by pre-signing the Event Activity and Trail Use Waiver online – click here . 
---
Since the fall, we've been following Bob and Betsy Youngman's Brave Enough A Series on Training for Masters Cross Country Skiers. Part IV in their series focuses on "Training for Endurance".  For those who have missed the previous segments, you can check them out on our blog here, or visit their website for more. Brave Enough is a great resource for good training fundamentals for year-round fitness.
---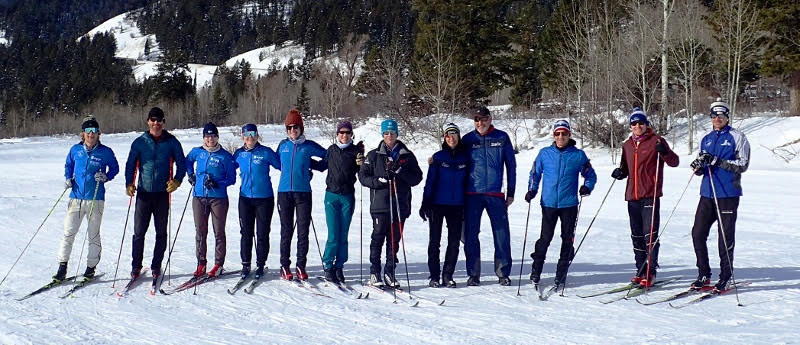 JHSC Club and Community Nordic Update
Find out the happenings of the JHSC Nordic Program, Trail Creek Nordic Center, and Local Nordic Community in the most recent newsletter update!
With the recent series of snow storms hitting Trail Creek, a professional and stacked coaching staff, and pre-season home and regional races in the books, the JHSC Nordic program couldn't be in a better position to tackle an exciting and eventful January. The Lollipopper and Teewinot Teams will begin their season at Trail Creek on Monday the 6th, joining the Development, Junior, Prep and Comp teams on every Monday and Wednesday through the end of the season. If you're interested in observing controlled chaos of over 125 athletes and how the progression of the Nordic program functions, come out to Trail Creek on Monday and Wednesday afternoons.
Read more in the full Newsletter. 
---

GTNP Snowshoe Hikes for Visitors
Grand Teton National Park offers free 2 hour snowshoe hikes on Tuesday, Thursday and Saturday at 1:30. It's free. Meet at Taggart trailhead.
Must have a reservation. Reserve your spot by calling: 307.739.3399.
The park provides wooden historic snowshoes for all participants at no charge. Or bring your own snowshoes or rent through Skinny Skis.

Nordic Here, Turpin Meadows, and Houghton, MI!
Peak Nordic season is here with events coming at us right and left.  Houghton, MI you might ask, but our very own Elijah Weenig is competing at the LL Bean US Cross Country Championships.  In contrast to the Junior Nationals in March, this event is for adults with all the big guns competing.  Racing continues through the weekend with live streaming and results available on their website.
As to Trail Creek and Turpin Meadows, tomorrow (Saturday January 4th) is another freestyle racing opportunity with the 10 K Sandbag Race here at Trail Creek at 10:30 AM (the course can be viewed here) and on Sunday the JH Nordic Alliance's 4th Annual Free Ski, Fat Bike, & Snowshoe Day is happening at Turpin Meadow Ranch.  Plenty to keep the average Nordic enthusiast more than busy.
If you do have a little room in your schedule today it would be a great time to come on out to Trail Creek for an invigorating ski.  The 11:30 conditions are cloudy and calm with a rather warm January temperature of -3ºC/27ºF.  Today's Pisten Bully grooming was best line skate grooming of the entire course with fresh classic tracks on Armin's and the fields.  You will notice a few extra classic tracks in the close field which are for today's practice but they shouldn't cause you much trouble if you ski the course.
Groomer's choice for today is to ski the race course.
---
Last Updated: 1/2
So much new snow! The Pisten Bully has been busy manicuring our trails perfectly with all of this new snow. We got 8-10 inches during the day yesterday (1/1/20) and it laid down beautifully this morning. The classic track was totally reset this morning (1/2/20) and the skate is running a little soft. We expect it to firm up overnight and we will regroom with the Pisten Bully first thing in the morning. The trails are going to be PRIME for FREE SKI DAY this SUNDAY! Bring your dog!
Click on our Turpin Ranch Cam to see real-time weather, conditions and views of the ranch. https://youtu.be/WeeDyqRKqVI
---
Last Updated: 1/3

11am: Game Creek and Three creek pathway are groomed and in good shape. Both should ski nicely.
7am: Cache Creek and May park are groomed and in good shape. I will be heading to Game Creek next and should be done around 11:15.
---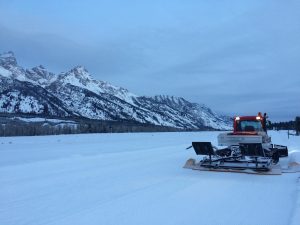 Last Updated: 12/31
Grooming today from Taggart Lake  Trailhead to South Jenny.  There is some snow in the forecast let's hope for a lot!
---
Last Updated: 1/1
The new year brought lot of fresh snow to Teton Pines! The classic skiing should be great today, and skate is going to be a little soft. The wax is: Glide: Swix Violet; Kick: Swix Blue Extra V40.
We are open 9am-4pm daily.
---
Last Updated: 1/3

The trails continue to groom out well each morning but may likely become drifted over in areas as a new winter storm is expected over the weekend. Anticipate breezy to very windy conditions on Friday and especially Saturday. Calmer weather should persist on Sunday. Bundle up!
Next Update: Monday
---
Update: 12/24
A few updates on the Nordic Track and JHG&T.
Season Passes are available to non members for $100, passes can be picked up in the admin office at JHGTC M-F 9am-5pm or by calling 307.733.7787. 
We purchased a new groomer 2 years ago so we do now have a set cross country track with enough room for skate skiers and/or fat bikes next to the set track.
There are no other services available (ie. No lunch) though dinner is offered Thursday, Friday and Saturday evenings beginning at 5:30pm; Clubhouse amenities are reserved for members only.
We groom the track on Tuesdays, Thursdays, and Saturdays
Contact Steve Cole, Membership Director, at:
scole@gtlc.com
or 307.733 .7787.
---
Last Updated: 1/3
Cross Country/Fat Bike 15k: XC OPEN (Last groomed 1/2/2020) no classic, Fat Bike OPEN.
---
Last Updated: 1/2
Nordic: Sunshiny, a little chilly, 8F degrees at the Nordic Warming Hut. Half Moon Tie-In, Kelly Park, Kelly Tie-In, Upper & Lower Surveyor, Powerline, Moose Ridge, Tree Loop, and Old Road Trail all fresh groomed this morning. 2-3 inches of new snow from yesterday. The road is plowed and snow packed, possibly slick. Parking should be plowed. Think the wind will blow today, bundle up. Beautiful morning.
Fat Bike: All Kelly Park fat bike single track has been groomed as of this morning and the trails are in great riding condition. This weekend should be perfect conditions!

Grooming Schedule: Tuesday, Thursday, Saturday, Sunday
Last Updated: 1/2 @ 9am
Skate: Fair | Classic: Good
---
Grooming Schedule: Monday, Wednesday, Friday
Last Updated: 1/3 @ 3pm
Skate: Good | Classic: Good
---
Grooming Schedule: Monday, Wednesday, Friday
Last Updated: 1/3 @ 12pm
Skate: Good | Classic: N/A
---
Grooming Schedule: Monday, Wednesday, Friday, Saturday, Sunday
Last Updated: 1/3 @ 6am
Skate: Good | Classic: Good
---
Grooming Schedule: Tuesday, Thursday, Saturday
Last Updated: 1/1 @ 5pm
Skate: Good | Classic: Good
---
Grooming Schedule: Tuesday, Friday
Last Updated: 1/3 @ 4pm
Skate: Good | Classic: Good
---
5th Street Singletrack
Grooming Schedule: as needed
Last Updated: 1/1 @ 5pm
Singletrack: Fair
Shredded pow then rode in the figure-8. Longer route flagged.
---
Teton Springs Singletrack
Grooming Schedule: as needed
Last Updated: 12/31 @ 3pm
Singletrack: Fair
Hasn't been groomed for a while, but still in good shape.
---
Southern Valley Singletrack 
Track Grooming Schedule: as needed
Last Updated: 1/2 @ 6pm
Singletrack: Fair

TODAY!
Sunday, January 5th 2020 | Turpin Meadow Ranch | 10am-3pm
Mark your calendar and Register online!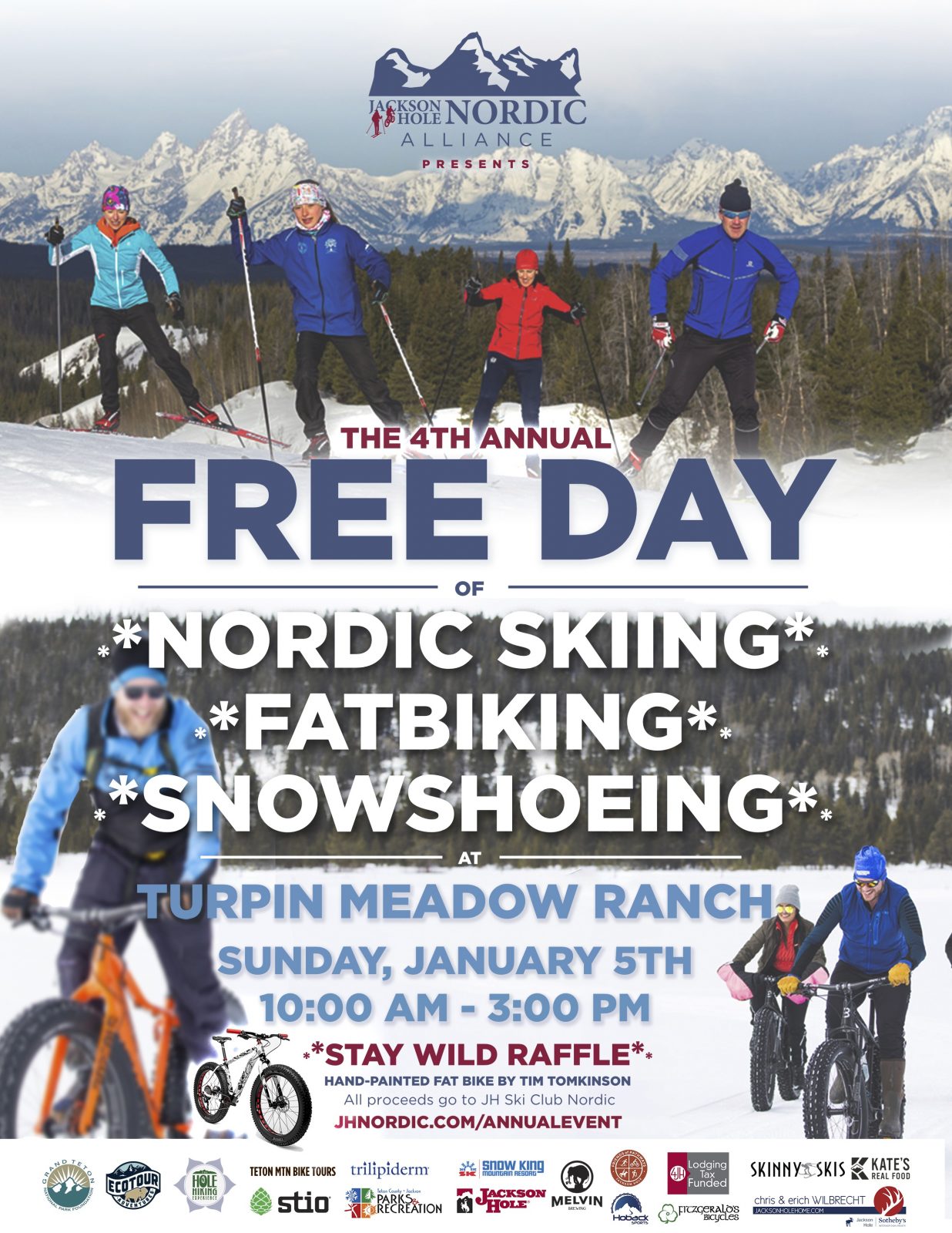 We're getting excited with more demo skis, more fat bikes, Melvin Beer, Kates Bars, Free lessons, snowshoe and BC Nordic tours up the Buffalo Fork, and a huge raffle to benefit the JH Ski Club Nordic program. Raffle will include a Stay Wild fat bike, donated by the JH Travel and Tourism/Lodging Tax supported team, Nordic skis from Skinny Skis, and lots more. Wanna donate to the Raffle? Contact the JH Ski Club: info@JHSkiclub.org
Speed through Registration by pre-signing the Event Activity and Trail Use Waiver online – click here . 
Once the Waiver form is completed online, you will be able to print a pdf copy. We encourage you to print this to present at registration.  We can also look you up as "pre-registered
Sponsored by the JH Nordic Alliance members and JH Travel & Tourism Board
Want to get involved, sponsor an activity, volunteer?
This community event is a great way to connect with our community and visitors. Contact Nancy @: info@JHNordic.com

---
January 9 | Teton Pines, Wilson | 11am-12:30p
Clinic #3 will feature Classic XC Ski Tips, Technique, and Fun! Coaches provided by the JH Ski Club Nordic program. Sign up for all 8 clinics or drop-in. Clinics every other Thursday with Classic XC and Skate ski lessons alternating.
Register: info@jhnordic.com  For more info, see: blog.jhnordic.com
---

January 11 | Grand Targhee Nordic Trails
Long course: 24 km with 1425' elevation gain;
Intermediate course: 14.5 km with 870' elevation gain (compares to Teton Ridge Ranch course of 26 km/ 1680' elevation gain and 13 km /840' of elevation gain.
Kid's races: 6.5 km and 2 km.
"Touring class" level so you can ski the course at your own pace.
Location: Grand Targhee Nordic Trails, Ski Hill Rd., Alta WY – Benefits both Teton Valley Trails and Pathways and Teton Valley Ski Education Foundation.
---
Send us your event dates, stories, photos
Follow JHNordic on Facebook, Instagram @JHNordic, #JHNordic
Sign up for Daily or Once a Week JH Nordic Trail ConditionReports to know what's groomed,
what's happening first thing every morning – or just Saturdays.