---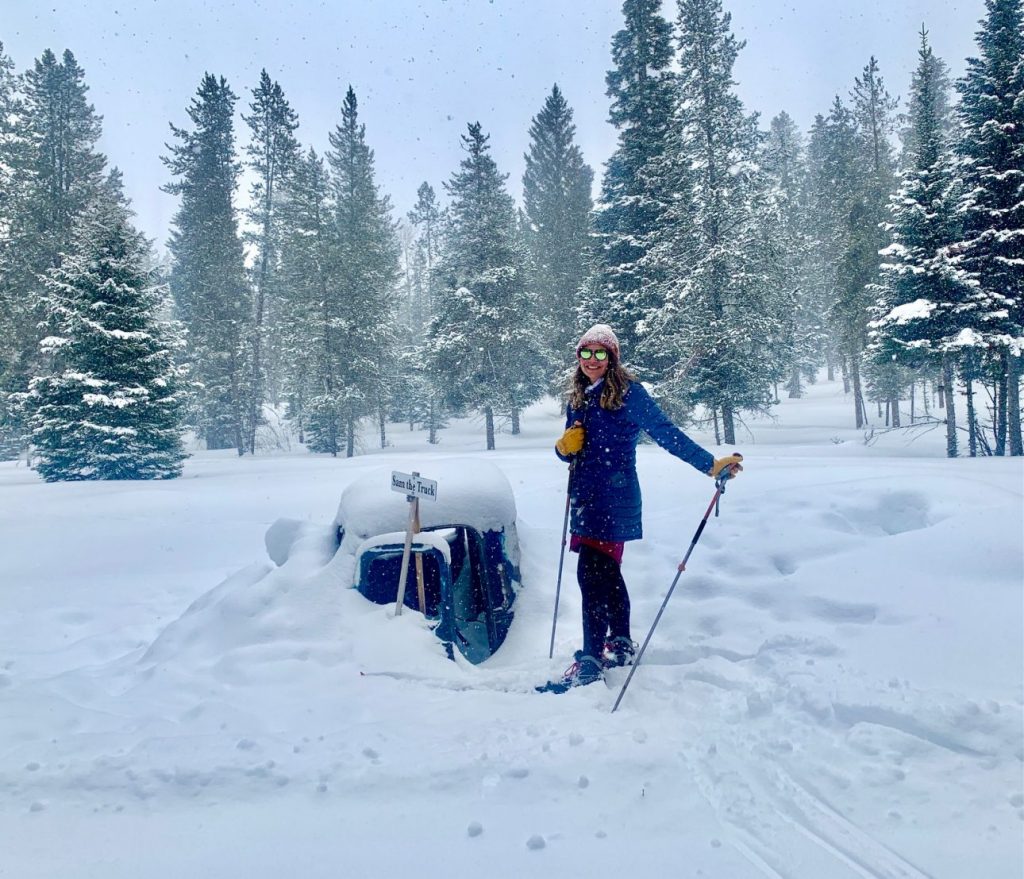 Trip Report: Snow Stormy day at Trail Creek Nordic

Trail Creek Nordic , home of our JH Ski Club Nordic youth program, is a unique treasure in Jackson Hole. Nestled in at the base of Teton Pass, this daily groomed Nordic ski trail network runs on Trail Creek Ranch Land Trust meadows and forests, and Bridger-Teton National Forest lands. It's a favorite place to skate and classic ski in a snowstorm, thanks to its daily grooming through the wooded trails, offering good wind protection.

The Ski Club Nordic program currently coaches 186 local kids ( up 50% over last year, ranging in ages from 5-19 yrs old). 

Steve the Groomer is a real trail steward, carefully grooming classic and skate ski tracks to perfection, every day throughout the winter. Read his interesting reports every day in the JHNordic Daily Trail Report.

With over 15 km ( nearly 10 miles) of loops, flats, hills, meadows, there's plenty of space to explore, have the trail to yourself for most of the time. 
Start by buying your trail pass: pay online or put cash/ check in the trail pass box. 
Out in Woolsey Woods, we followed moose tracks for a long while. Today, the fresh groomed track was soft, easy to get traction for the occasional hill climb. Skiing down Suicide Hill was as easy as it gets, thanks to the dusting of snow. On Homeward Bound trail, we stopped for the obligatory Sam The Truck photo op!
The Ski Club Nordic program is looking for community  donations for a new Pisten Bulley groomer " Snow Cat Campaign ", to retire the old one (10 years of lots of hard work!) . Please consider helping out…
And go explore Trail Creek Nordic trails!

---
GTNP Ski Ambassadors Volunteers
The Grand Teton Ski Ambassadors are park volunteers that ski the Teton Park Road and assist with visitor orientation and park stewardship. They greet recreationists at the Taggart Lake Trailhead and Signal Mountain area providing information about the park and encouraging appropriate use of the groomed trail for foot, ski, snowshoe and pet traffic. They also ski and make visitor contacts on the Moose-Wilson Road.
This winter season there are 21 ski ambassadors, and thus far have made more than 7,000 contacts with visitors of all ages and varying skill levels. They provide a friendly welcome, wayfinding assistance, Leave No Trace reminders and respond to emergencies.
Please say hi to the ambassadors and thank them for their service to Grand Teton National Park and helping with the winter recreational experience at the base of the iconic Teton Range.
---
February 24, 2021 Nature Update

Provided by Cathy Shill, founder of The Hole Hiking Experience https://www.holehike.com
If the doors of perception were cleansed
Everything will appear…as it is, infinite.
-William Blake
It's been a stormy week with fresh snow and wind. On Tuesday, a storm blew in fast and strong making visibility a challenge closing most valley roads. Current snow level is above average so good for water content and summer flowers. If you happen to be in town or planning a visit in the near future, check out the snow banks and large piles of snow. Snow is now quite deep in Jackson Hole.
As much as we love the deep snow, it means stress for most wildlife. Members of the deer family feed on plants and the season of winter greatly reduces food choices. They slowly lose weight through the winter making March and April vulnerable months.
In deep snow, animals have to use more energy or calories to move. One of our local slogans is "Don't Poach the Powder" to encourage us to respect wildlife closures. It's really important so let's help them survive this tough time of year. For wildlife closures, check out this winter travel map: https://www.fs.usda.gov/Internet/FSE_DOCUMENTS/stelprdb5403285.pdf.
As you might imagine, winter is the season for predators as their prey becomes weak. Wolves typically hunt elk and Mountain Lions hunt deer. The weaker animals make for an easier meal. It's balance. It may pull at our heart strings but nature creates balance and balance is needed for a healthy ecosystem.
If you have spent the winter in Jackson Hole, you begin to notice the longer days at this time of year. With March around the corner, change is on the way. Eagles and ravens are paired and spending time near their nests. Wolves mate during February and March. As the days get longer, more changes to come.
March will bring warmer temperatures and it's a wonderful month to play in the snow. Endless tour options. If stormy, stay close to town. When the sun shines, you can't beat a tour beneath the majestic Teton peaks. A snowshoe to Taggart Lake or a cross-country ski to Jenny Lake are certainly favorites in Grand Teton Park.
Join our local naturalists to learn about nature and the beauty of Jackson Hole. With spring around the corner, lots of changes to come and wonderful places to share.

The Hole Hiking Experience | www.holehike.com | 307.690.4453

Last Updated: 2/26
Divine Winter!
Of the 7.8 billion people inhabiting the earth, perhaps only a billion get close to any real snow at all, and in that billion if you count the ones that live in serious snow country like parts of Russia and Scandinavia, mountain towns, and people of the far north you're down to probably less than a hundred million.  Then of that pool, count the ones that can strap on their Nordic skis, and go for a great ski surrounded by nearly perfect winter, and the group has gotten below 1 percent.  Most of you reading this email today could be the 1% if you take advantage and make your ski happen; enjoy that divine winter!
One place you can do just that today would be Trail Creek.  Today's grooming with the Pisten Bully covered pretty much every trail in our 15K network.  Except for Animal Farm and Olympic which received fresh classic tracks, the rest of the forest service trails received a single skate only pass.  However, pretty much every other trail received double passes with fresh classic tracks.  The fields are drifting just a smidge so your best bet today might be the woods.
State Championships are happening today in Casper.  Hopefully results will be posted on the Wyoming High School Activity page when they are done racing. 
Groomer's choice for today is Woolsey Woods.
---
Last Updated: 2/26
Cache and May park are groomed and in good shape. Also, Game creek and three creek pathway are groomed and in good shape.

---
Last Updated: 2/20
We rolled Cache Hagen Sidewalk and Hagen Highway this evening and will snowshoe the trails near the trailhead this weekend.
Grooming provided by Friends of Pathways.
---
Last Updated: 2/22
Grooming daily. Excellent snow quality for both classic cross country and skate skiing. On snowy days, we recommend coming out in the morning just after the groomer sets the track for silky smooth skiing. Rentals available.

Call us for specific retail questions (307) 699-3394 or tetonpinesxc@gmail.com. Our hours are 9am-4pm daily.
---
Last Updated: 2/25
Both the wolves and the winds will be howling at the upcoming Snow Moon, as another fierce winter storm is forecasted to begin Thursday evening and last through Saturday morning. Expect high winds over 30 mph, drifting and heavy snow of 4-12" throughout the day on Friday. Once this system passes, the forecast appears to be perfect for Nordic with a full week of sunny skies, calm winds, and warmer temperatures. As always, we'll do our best to smooth out the trails each morning. Please, pay close attention to the weather, plan ahead and use common sense if you try skiing during the heart of next winter storm. Enjoy and stay safe! Next Update will be Monday 3/1.
Please See the following Restrictions
Dog Loops & All Nordic Skiing Trails OPEN
Sled Hill OPEN
Classic Tracks SET
Snow Shoeing Loop OPEN
Casual Walking Not Permitted
---
Last Updated: 2/17
Teton Village Pathway from Lake Creek Bridge north to just south of the GTNP moose-wilson road south entrance was groomed this morning. Nice for an easy , flat nordic ski, fat bike , or trail run. Or if you're commuting by ski or bike from Wilson or Jackson!
Groomed by Jackson Hole Mountain Resort, and funded by Teton Village Association .
---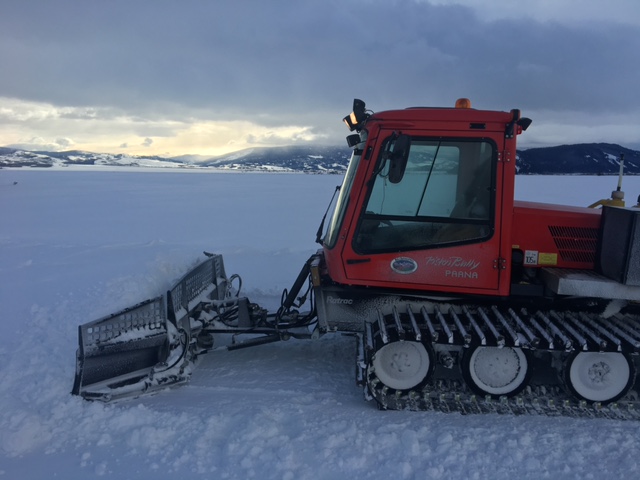 Last Updated: 2/26
Grooming GTNP Taggert to Signal today.
---
Last Updated: 2/25
The trails were pretty hard this morning after the low of -15 last night. They should be nice and fast this afternoon after the sun hits them for a while. The fat bake trails were also groomed and should be nice to ride on! If you're new to skiing or wanting to refine your skills, book a ski lesson with our professional ski instructor Elee (she also does guided tours)! She is a wealth of knowledge and can help take your Nordic skiing, whether it be skate or classic, to the next level! To help with social distancing and to get you on the trails faster please purchase your trail passes and sign your waivers online in advance (see link below). As always, remember to recreate responsibly. Bring a mask as it is required to enter the lodge. Lunch and dinner are both by reservation only.
https://www.turpinmeadowranch.com/adventures/winter-adventures/
https://www.turpinmeadowranch.com/the-ranch/live-conditions/
https://www.turpinmeadowranch.com | 307.543.2000, office
---
Last Updated: 2/26
Cross Country/Fat Bike 15k: XC OPEN (Last groomed 2/25/2021, Fat Bike CLOSED.

Trail Etiquette: Please keep your dogs leashed in the parking lot and be sure to clean up after them!
---
Grooming Schedule: Tuesday, Thursday, & Sunday
Last Updated: 2/25
Skate: Set | Classic: Not Set
Finished up the Alta Track at 9:45 this morning (Thursday). Skipped resetting the classic track because it was quickly being filled with blowing snow. The constant beeeze is creating small drifts in the normal deposition zones. Bundle up and go ski in the sun before the next storm arrives!
Please do not park in the library parking lot. Please be sure to keep your dogs on a leash and to clean up after them.
---
Grooming Schedule: Monday, Wednesday & Friday
Last Updated: 2/24
Skate: Set | Classic: Set
Driggs was set Tuesday evening.
---
Grooming Schedule: Monday, Wednesday, Friday
Last Updated: 2/26
Skate: Set | Classic: Not Set
Unfortunately the weather did not allow for me to groom on Friday. I will do my best to groom the park in the afternoon in Saturday. Standby for updates
---
Grooming Schedule: Monday, Wednesday, Friday, Saturday
Last Updated: 2/26
Skate: Set | Classic: Set
Friday: A few inches of new snow to work with this morning. Will use the roller to pack down and reset both skate and classic tracks. Should finish by 10am.
---
Grooming Schedule: Tuesday, Friday, Sunday
Last Updated: 2/26
Skate: Set | Classic: Not Set
Will roll out the new snow on Yetis and CG in preparation for more snow today & tonight.
No dogs December 1 – April 15.
---
Grooming Schedule: Tuesday, Thursday, & Saturday
Last Updated: 2/26
Skate: Not Set | Classic: Not Set | Singletrack: Not Set
I will plan on grooming Teton Springs Nordic and singletrack early Saturday morning with hopes of being done by 10 AM. Don't rush out there too early, it could also be as late as noon. It all depends. Please be patient and standby for updates.
No dogs allowed.
---
5th Street Singletrack
Grooming Schedule: As needed
Last Updated: 2/18
Singletrack: Set
Got the trail packed in and buffed out yesterday afternoon. It will be good till the next round of snow arrives.
---
Southern Valley Singletrack
Grooming Schedule: As needed
Last Updated: 2/24
Singletrack: Set
Rolled out Hillbender, Nemo, Lady Slipper, and BPA road to Pole Canyon. Trail conditions should be excellent Thursday morning. Then the next storm rolls through. Go enjoy!
No dogs December 1 – April 15.
---
Darby Canyon
Grooming Schedule: As needed
Last Updated: 2/26
Groomed to Pinnacle TH – 2/25
---
South Leigh Road
Grooming Schedule: As needed
Last Updated: 2/26
Groomed 2/25
---
Pinnacle Trail
Grooming Schedule: As needed
Last Updated: 2/26
Groomed to upper meadows – 2/25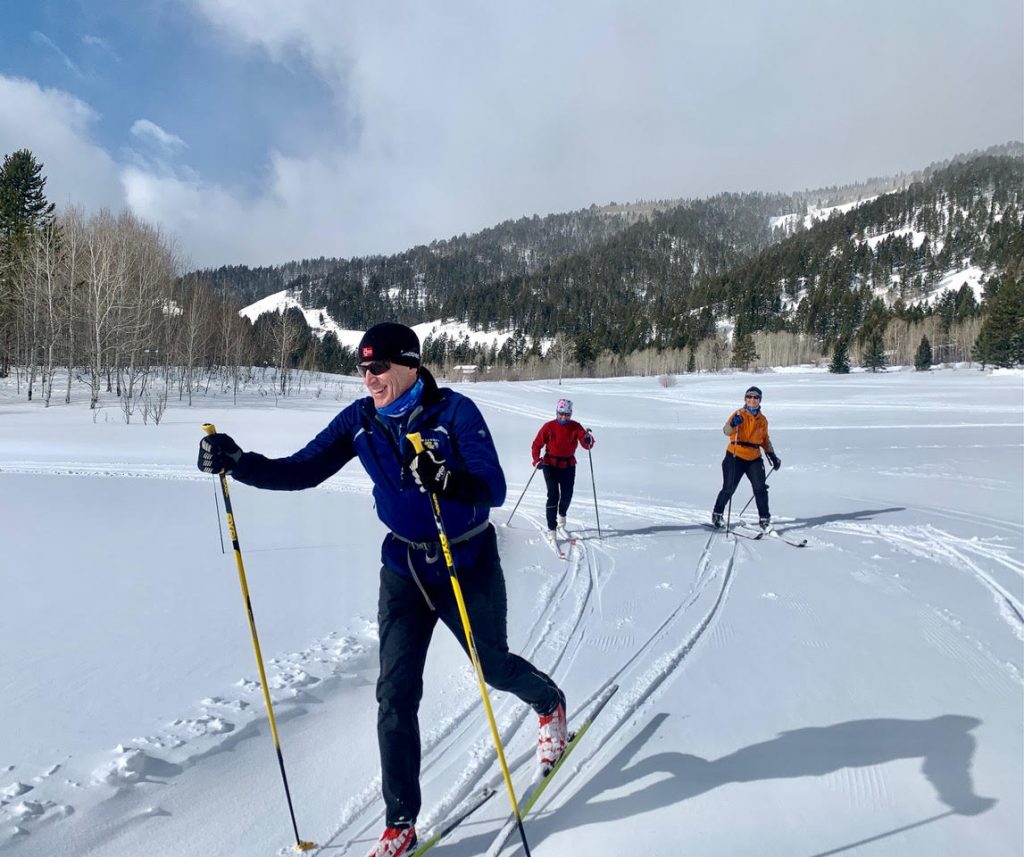 TRAIL CREEK NORDIC CENTER | WILSON, WYOMING
THURSDAY, MARCH 4th
Time: 11am -12:30pm – Meet on snow outside the JH Ski Club Nordic cabin.
3 Nordic coaches from the JH Ski Club – 3 small skier groups based on ability. This clinic will focus on classic XC techniques. BYO Mask.
Trail Creek Nordic trail pass is included for the day for Clinic season pass holders and drop-in participants ($35). Stay on and explore the trails after the clinic.
---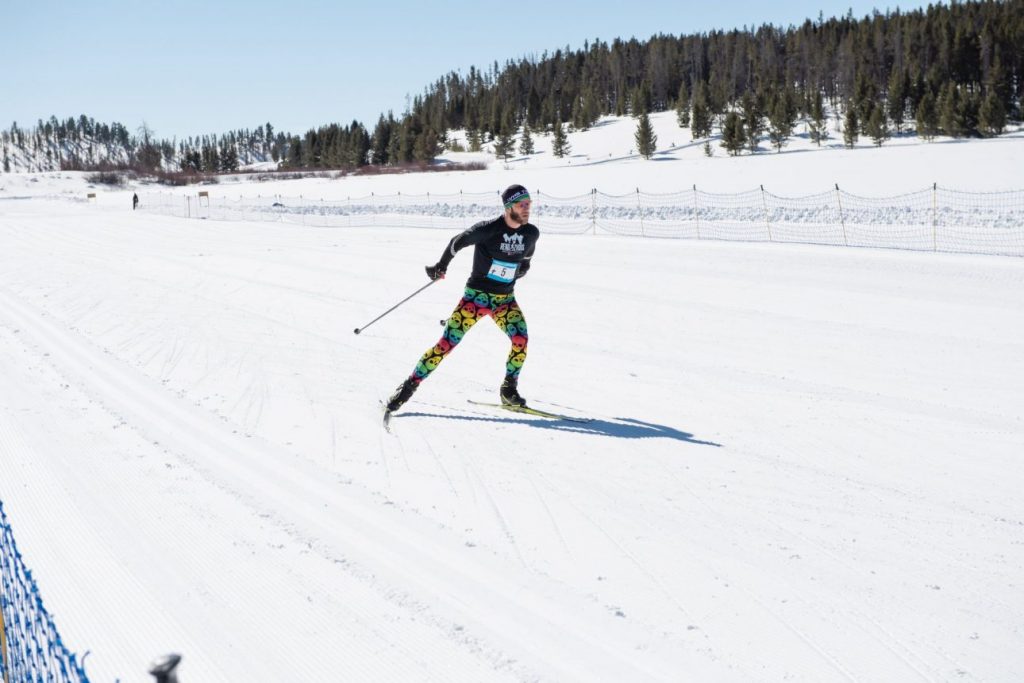 WHITE PINE NORDIC SKI TRAILS | PINEDALE, WY
FEBRUARY 27, 2021
6k, 10k, 20k and races. Races will all be mass start, freestyle race. Prizes and giveaways!
---
---
We'd love to hear about your outdoor adventures, what your doing to stay healthy, safe, respectful of community health guidelines – send pictures or post on FB and Insta – #JHNordic