---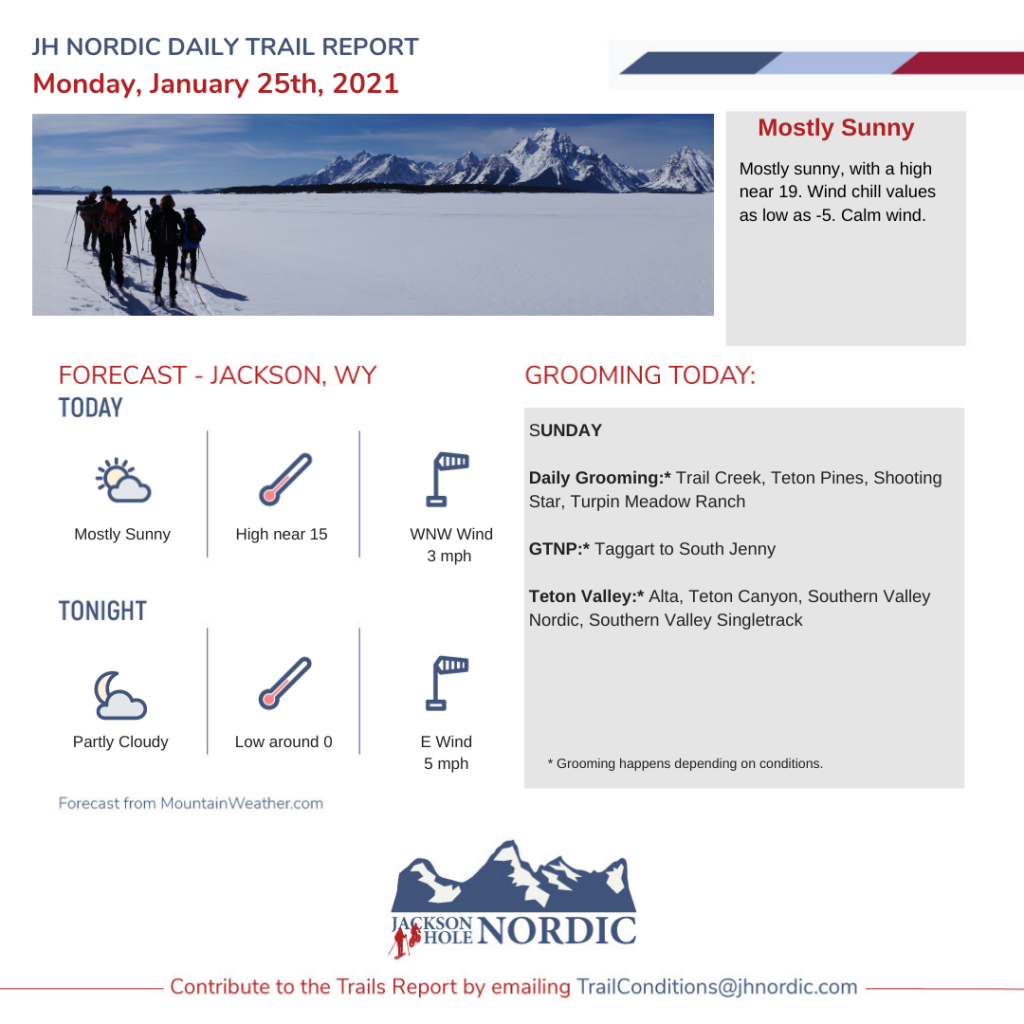 ---
Teton Valley Trails & Pathways (TVTAP): An Essential Part of Our Winter Recreation Landscape in Teton Valley
Dan Verbeten, Executive Director, fills us in on current projects and future challenges
For the past 22 years, Teton Valley Trails & Pathways (TVTAP) has worked to promote a trails and pathways connected community. In the summer, they focus on building and maintaining trails on both public and private lands in partnership with the US Forest Service (Caribou-Targhee and Bridger-Teton) and other stakeholders. In the winter, they groom a winter trail system for cross country skiing, snowshoeing, fat biking, and dog walking. Last year alone, they groomed over 7,000 miles total Nordic ski and fat bike trails and had over 30,000 visits.
"It's a tremendous community benefit," said Dan Verbeten, Executive Director at TVTAP. " Our trails and pathways that we work on serve as a quality of life benefit, a public health benefit, an economic development benefit, and a recreation benefit. It offers all of that to the community."
If you would like to support Teton Valley Trails & Pathways Nordic ski and fat bike trails, you can donate or check out their website to learn more about how to get involved. Check out their fun community events, too!
---
Hidden Gem to Explore!
Ditch Creek is a hidden gem of the Bridger-Teton National forest.  It's an easy, gentle grade classic cross country or fat bike outing into a semi-remote valley of the Gros Ventre Range.  We saw a fat biker with his two little kids in a chariot, and a friendly neighbor with her handsome, friendly Alaskan Malamutes. Otherwise, pristine forest, solitude, a meandering creek, a quiet valley.
---
Fat Biking In Jackson Hole and Teton Valley
Fat biking is expected to be much more popular this winter due to the COVID-19 pandemic that not only increased outdoor recreation activity in the summer and fall, but also has caused the ski areas in Jackson to limit their lift capacity. People are likely to spread out throughout Jackson Hole and Teton Valley to participate in a greater variety of activities, including fat biking. Since social distancing is done easily on bikes, fat biking will be a great way to participate in some safe, healthy, winter fun this year.
With help from Chris Owen at Friends of Pathways and David Hunger from Teton Mountain Bike Tours, we have put together information on operation updates, gear recommendations, and responsible recreation for fat biking this winter.


Last Updated: 1/24
Gray Morning!
While shades of gray were the dominant theme today at Trail Creek, the patient Nordic skier will most likely experience a multi-colored experience later in the day if the forecast holds true. Your mood should definitely not be in the gray zone; if you make it out for a Nordic ski today you will find some really nice conditions.
Today's grooming was with the Pisten Bully and featured multiple passes with fresh classic tracks throughout the fields. The trails have been reconfigured to their more or less "normal" alignment. All woods trails have received double Pisten Bully passes with fresh classic tracks within the past two days. Temps are supposed to warm to the Nordic perfect range today so as the sun comes out things should be great.
Looking ahead this week, the schedule will be somewhat lighter than recent weeks. Several of the teams have tomorrow off and the prep and comp teams are spending a couple of days skiing in town. Also most older kids are off to Bozeman on Friday for the next JNQ.
| | |
| --- | --- |
| Day | Teams |
| Monday, January 25th | Lollipoppers, Teewinots, Devos |
| Tuesday, January 26th | none |
| Wednesday, January 27th | Lollipoppers, Teewinonts, Devos, Juniors |
| Thursday, January 28th | Prep, Comp |
| Friday, January 29th | off to Bozeman JNQ |
| Saturday January 30th | off to Bozeman JNQ |
Thanks once again to all who helped or sacrificed to pull off another great race over the weekend, results will hopefully be posted here soon. There was one interesting relic you might encounter today, a bit of Nordic nonsense residing in the stadium.
Groomer's choice for today is Cle's Climb.
---
Last Updated: 1/23
The levee and stilson are groomed and in good shape. The school fields will be done around noon.
---
Last Updated: 1/21
With the new grooming snow cat, and an inch of soft snow, trails at The Pines were silky smooth, fast today. The JH Nordic Masters skate ski clinic was fun, practicing V2 technique and drills, and simply skiing!Check out the new snow cat for grooming perfection, just arrived this morning! We tested the before and after. The new groomed corduroy was silky smooth, nice and wide…will be a great bonus!

Daily grooming, wide corduroy skate ski lanes with well defined classic tracks make for excellent ski conditions. Skate and classic cross country ski/ boots/ pole rentals. If you want to explore Grand Teton NP and the Jackson Hole area on xc skis, we carry the must have xc ski trail guidebook for our region in the shop:
https://www.facebook.com/SkiYellowstone
Please call or email Cody for more details: (307) 733-1733
or tetonpinesxc@gmail.com
---
Last Updated: 1/22
Last night's snow really freshened things up! Trails may be a touch narrower today and will gradually widen up over the upcoming days. Also, conditions may still have some icy sections and will trend towards being hard packed until our next storm cycle. Forecast is calling for a promising snow system to return around Wednesday of next week. Next update will be Wednesday or Thursday depending on how the weather evolves. Enjoy!
Please See the following Restrictions
Dog Loops & All Nordic Skiing Trails OPEN
Sled Hill OPEN
Classic Tracks SET Inconsistent Depths due to Ice
Snow Shoeing Loop OPEN
Casual Walking Not Permitted
---
Last Updated: 1/24
Grooming done today from Taggart to South Jenny late morning.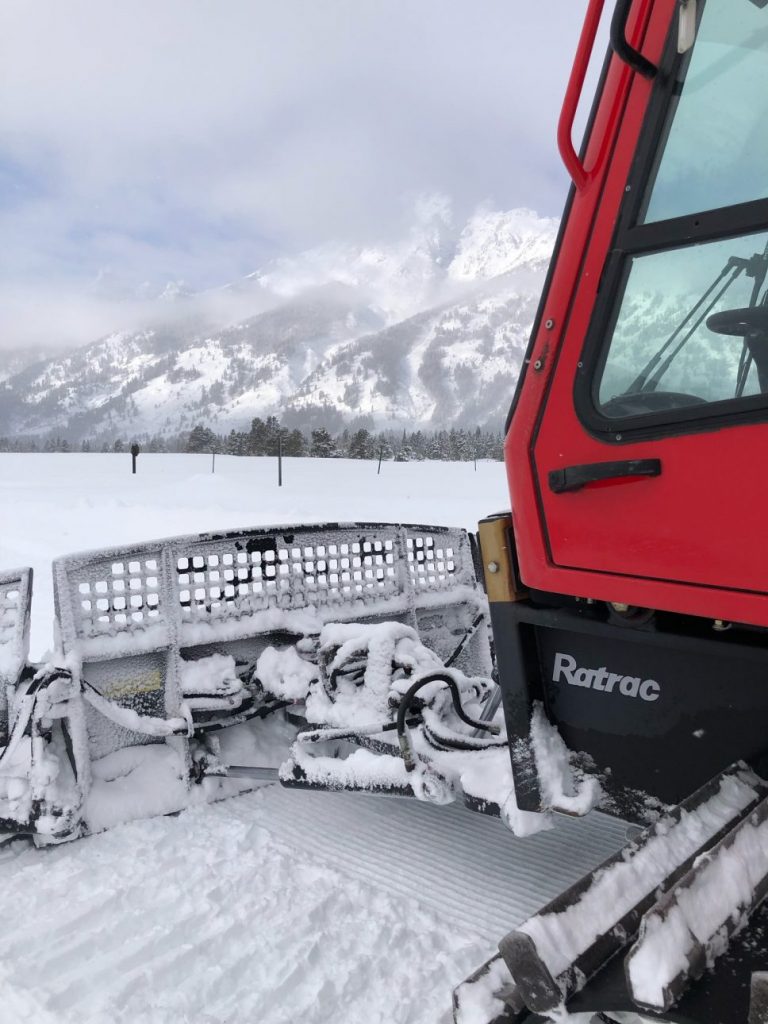 ---
Last Updated: 1/24
All trails groomed BEAUTIFULLY this morning! We are loving all the new snow we're getting up here in the Buffalo Valley. We groom DAILY so come ski our freshly groomed trails and try our Fat Bike single track! Bring your dog!
Want to improve your classic or skate ski skills? Want to explore new places on the edge of the Teton Wilderness by snowshoe? Let us know! Elee, one of our incredible PSIA certified instructors, would love to help expand your XC skills and show you all the incredible things right in Turpin Meadow Ranch's backyard! All rental equipment is included!
To help with social distancing and to get you on the trails faster please purchase your trail passes and sign your waivers online in advance (see link below). As always, remember to recreate responsibly. Bring a mask as it is required to enter the lodge. Lunch and dinner are both by reservation only.
https://www.turpinmeadowranch.com/adventures/winter-adventures/
https://www.turpinmeadowranch.com/the-ranch/live-conditions/
https://www.turpinmeadowranch.com | 307.543.2000, office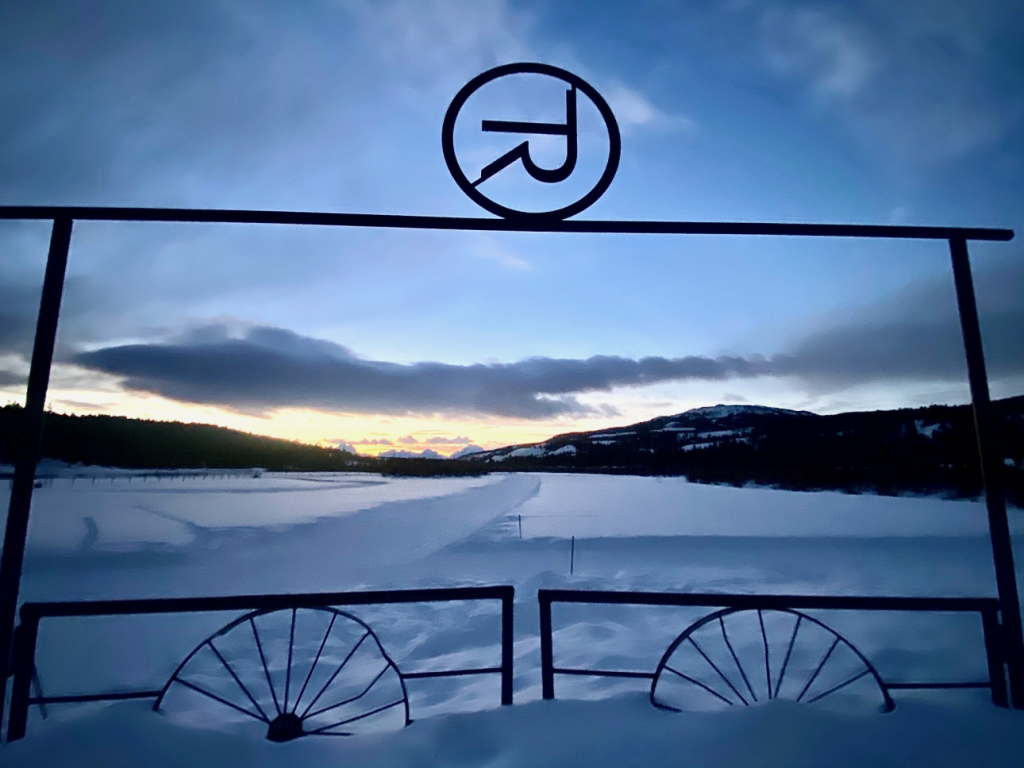 ---
Last Updated: 1/24
Cross Country/Fat Bike 15k: XC OPEN (Last groomed
1/24/2021, Fat Bike OPEN.

Trail Etiquette: Please keep your dogs leashed in the parking lot and be sure to clean up after them!
---
Grooming Schedule: Tuesday, Thursday, & Sunday
Last Updated: 1/24
Skate: Set | Classic: Set
Sunday: Nordic ski conditions continue to be great. This morning, plan to reset the skate track and leave classic alone, as still in good shape from Saturday groom.
Please do not park in the library parking lot. Please be sure to keep your dogs on a leash and to clean up after them.
---
Grooming Schedule: Monday, Wednesday & Friday
Last Updated: 1/22
Skate: Set | Classic: Set
Driggs was groomed Friday evening. Classic and skate in great shape. Main trails and High School, Middle School loop best for skate skiing. East trails great for classic and biking. Conditions are so good you may see Randy Blough checking out Driggs trails.
---
Grooming Schedule: Monday, Wednesday, Friday
Last Updated: 1/23
Skate: Set | Classic: Set
Bonus groom, freshened up the park with a couple of laps. Skating should be great while we still could use some snow to reset a good classic track which is still ok. Hoping the fog will lift for a beautiful day!
---
Grooming Schedule: Monday, Wednesday, Friday, Saturday
Last Updated: 1/24
Skate: Set | Classic: Set
Reset both Skate and classic tracks, looks like the surface is firming up. Have fun!
---
Grooming Schedule: Tuesday, Friday, Sunday
Last Updated: 1/24
Skate: Set | Classic: Set
The skate track and classic tracks on campground and yetis loops are set. Snow conditions are great the sun is out and it should be a fantastic day. Enjoy the glide!
No dogs December 1 – April 15.
---
Grooming Schedule: Tuesday, Thursday, & Saturday
Last Updated: 1/23
Skate: Set | Classic: Set | Singletrack: Set
The skate track, classic track and singletrack have all been reset. The snow is a little bit soft in these warmer temperatures. Enjoy your weekend of riding and gliding.
No dogs allowed.
---
5th Street Singletrack
Grooming Schedule: As needed
Last Updated: 1/19
Singletrack: Set
Thurs night – 5th St. singletrack riding fast and firm. Good times! Go fatbike!
---
Southern Valley Singletrack
Grooming Schedule: As needed
Last Updated: 1/24
Singletrack: Set
Saturday morning I was able to groom happy hour and Pole Canyon connector. SkyLiners Groomed Powerline from Mike Harris to Pine Creek. Sunday morning I groomed Nemo and lower Lady slipper. Hillbender and grumpy connector a rider packed and riding well. Enjoy the ride! Warning, there's a downed Aspen on lower Lady slipper. The trail is rider packed.
No dogs December 1 – April 15.
---
Darby Canyon
Grooming Schedule: As needed
Last Updated: 1/19
Groomed to the Pinnacle summer TH.
---
South Leigh Road
Grooming Schedule: As needed
Last Updated: 1/21
Grooming on 1/22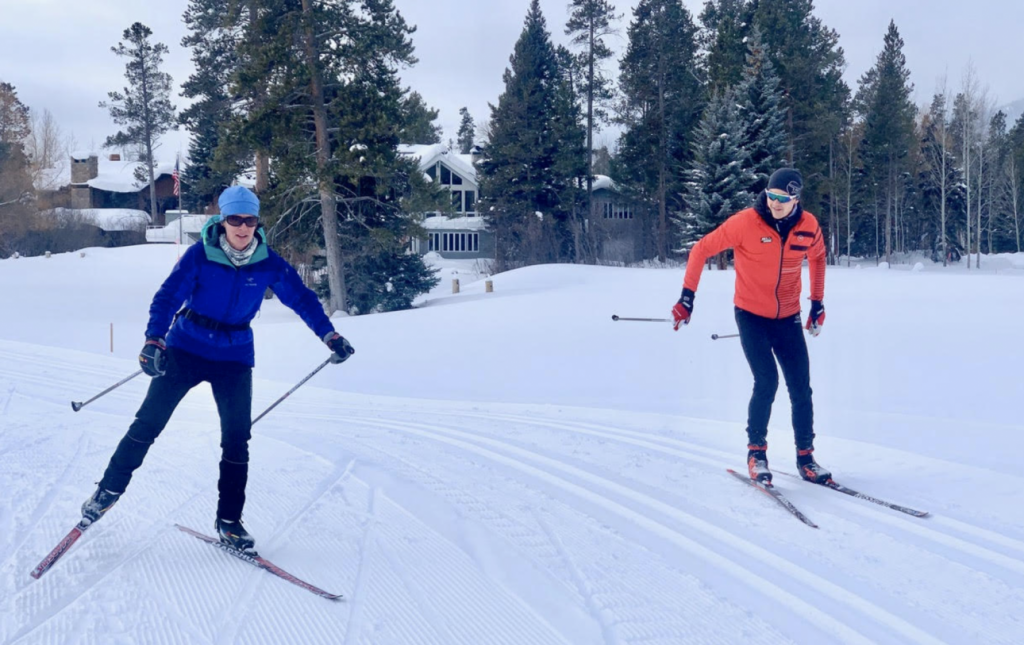 TETON PINES
FEBRUARY 4, 2021
All welcome (no beginners)
Drop-in $35 (includes clinic & Teton Pines Nordic all day ski pass)
or $30 (if you already have a Teton Pines Nordic pass or membership).
---
WHITE PINE NORDIC SKI TRAILS | PINEDALE, WY
FEBRUARY 27, 2021
6k, 10k, 20k and races. Races will all be mass start, freestyle race. Prizes and giveaways!
---
---
We'd love to hear about your outdoor adventures, what your doing to stay healthy, safe, respectful of community health guidelines – send pictures or post on FB and Insta – #JHNordic