---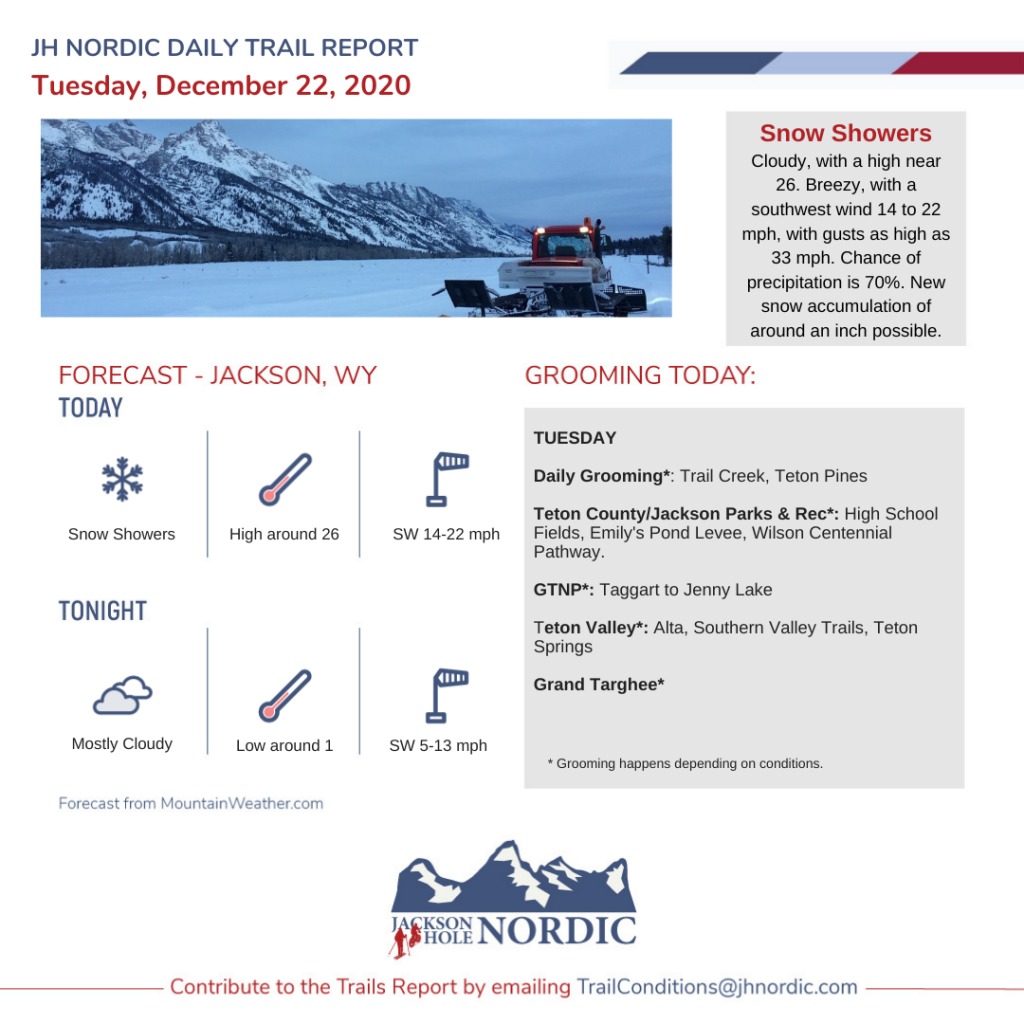 ---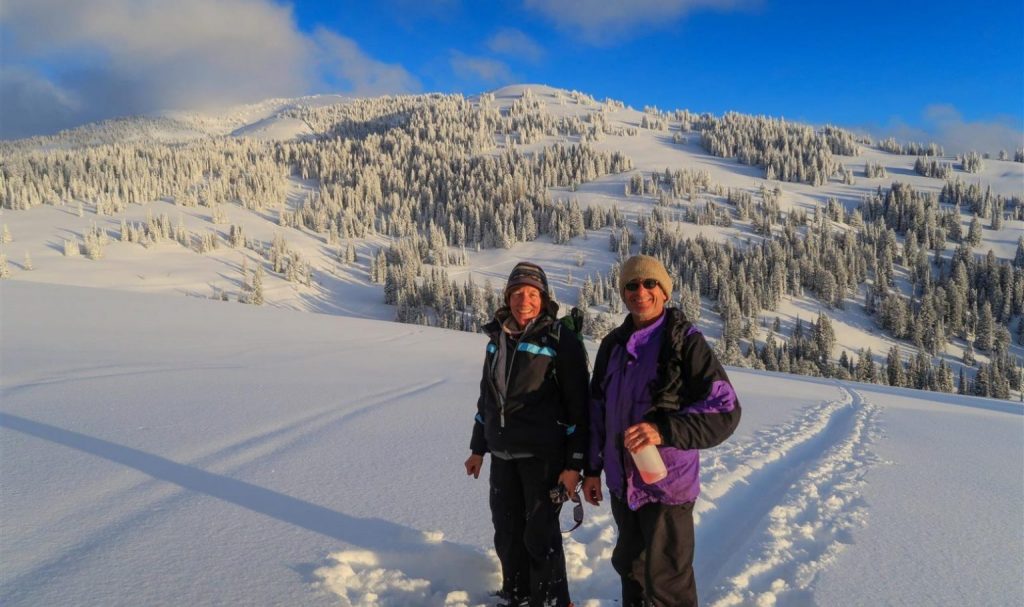 New on the Blog:
The Bridger-Teton US Forest Service and one of its greatest stewards and advocates, Linda Merigliano
Linda Merigliano is the Recreation Program Manager for the Jackson and Black Rock areas of the Bridger-Teton National Forest, and one of local leaders in Recreate Responsibly. Spanning from Kemmerer to the Yellowstone border, the Bridger-Teton National Forest is one of the largest national forests in the United States, covering an area of nearly 3.4 million acres and including large swaths of designated wilderness.
---
Come out this Saturday for a community favorite event. The race is a mellow tour of the trails at Trail Creek in a fun, supportive environment – a perfect addition to your holiday weekend.
This event offers distances for every age and ability, 10 AM start time with 30 second interval start format. Racers can choose from 0.5k, 3k, 5k, and 10k options. There will be no laps or repeating loops to minimize racer overlap.
MASKS must be worn whenever 6 feet of distance cannot be maintained while not actively racing, and at all times when around the Cabin area. DO NOT COME to Trail Creek if you or a member of your household is feeling sick.
There will be no day-of registration, so sign up today by clicking below!
---
All Buffed Up!
We love seeing our buffs in the wild! Send us your photos for a chance to be featured to info@jhnordic.com! #RecreateResponsibly
---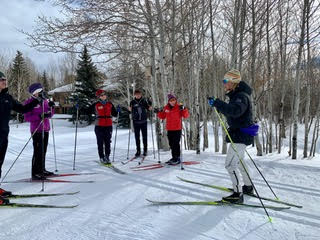 Skate Ski technique, tips, fitness, fun… Meet dressed to ski at the Teton PInes Nordic Center trailhead – Clubhouse south side.
TIME: 11am – 12:30 pm
LOCATION: TETON PINES NORDIC CENTER – Moose-Wilson Road, Wilson
Please RSVP unless you are signed up with a Masters Clinic season pass.
Please arrive -dressed and booted up, ready to ski. Bring skate ski gear this week. Feel free to arrive with a warm outer jacket, which you can leave in your day pack or bag outside at the Nordic Center. Due to the current health guidelines , we will remain outside for the full lessons. There are indoor bathrooms, but there is no indoor warming space.
Come at 10:50am to Teton Pines, to meet the coaches and to divide into small groups.We will meet on the snow, on the south side of the Teton Pines Clubhouse, in front of the Nordic Center lower level retail shop. Rental skis, hot waxing, Nordic clothing and accessories are available at the shop. If you need rental equipment, we recommend you plan ahead -contact Cody – tetonpinesxc@gmail.com or ‭(307) 733-1733.
Please wear a mask so that we can #RecreateResponsibly. We will divide into small groups based on ability, and maintain 6 feet + distance at all times. If you do not feel well, please stay home.
Please bring your own water and a snack.
We have 3 coaches per clinic. To keep groups small, please spread out during personal instruction.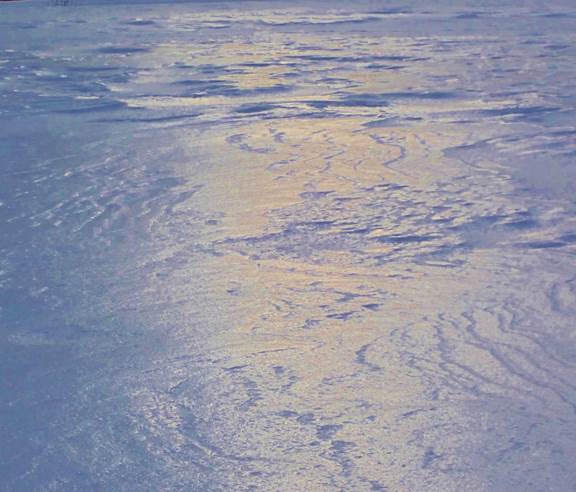 Last Updated: 12/21
December Thaw!
The image to the left shows an interesting phenomenon occurring in the fields today. With temps in the low 40's, moderate breezes, and lots of recent snow, the result has been a glaze forming pretty much universally on top of all the snow in the open. Even the freshly groomed tracks this morning were getting a bit of glazing and while conditions are definitely fast, it didn't seem to be causing problems for skiers this morning.
Warm unsettled weather looks to continue for a couple of days and then things clear up and cool down towards Christmas. It most likely will be a busy week this week with people showing up for the holidays. The teams keep practicing, but according to the schedules there will be no morning practices and the only major change is that the prep/comp teams will be starting a little earlier than usual.
Today's Pisten Bully grooming began with double classic tracks in the close field, then double passes with a fresh single classic track in the East Fields, moved on with best line skate grooming on almost every trail, and then finished up with some additional skate grooming in the close field. Skiing is simply quite nice.
In the last few days in addition to the East Fields, our beloved Gut Flop has returned to the grooming docket. It is skiable, but use caution as the base is still thin, and it is as steep and fast as ever!
Groomer's choice for today would be to carefully check out the East Fields which appear to have firmed nicely.
---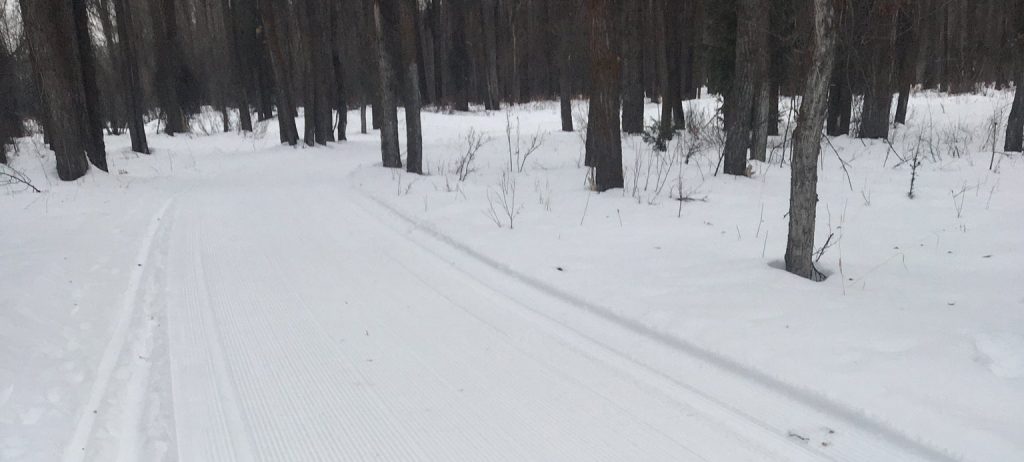 Last Updated: 12/21
Warm snow conditions today. We'll be grooming Cache Creek to Noker Mine. Happy Holidays everyone.
---
Last Updated: 12/19
We are open daily 9am-4pm (closed Christmas Day). We groom 16km of track each morning for both skate and classic skiing. The conditions are great right now and will continue to improve as we get more snow this week.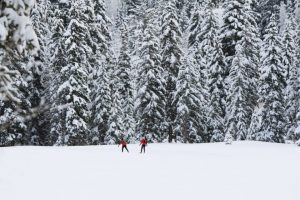 Please come ready to ski as we do not have an indoor area for getting ready this year. We have lots of covid protocols to keep everyone safe and healthy this season. Please check in with us at our outside window/intercom located on the southside of the Teton Pines Clubhouse. The main Clubhouse upper level/front door is closed to the public. The restaurant is closed to the public this winter as well.
We still have lots of nordic gear in our shop if you need to pick up some last minute gifts for the nordic skiers on your list! We currently have a good selection of sizes in skate gear ( skis/boots/poles) but our classic gear is currently in short supply. We are expecting a small shipment of classic skis around Jan 1. We have a great selection and supply of hats, jackets, pants, socks and gloves by Daehlie, Skida, and Swix. If you want to explore Grand Teton NP and the Jackson Hole area on xc skis, we carry the must have xc ski trail guidebook for our region in the shop: https://www.facebook.com/SkiYellowstone
Please call or email Cody for more details: (307) 733-1733 or tetonpinesxc@gmail.com
---
Last Updated: 12/21
The weather continues to show no quarter on the Nordic Course and we're doing our best to make lemonade out of lemon snow conditions. Recent winds, rain, and warm weather left the snowshoeing loop with minimal to no snow and will be closed until more snow returns. The snow quality this morning was less than desirable for grooming and was like dragging a comb through toothpaste. Overall, we were able to smooth the track out fairly well by doing multiple passing w/the pistenbully and should ski fast considering snow conditions. Drifting should be minimal today with the snow currently in a melt phase, making it less likely to shift. Colder weather and more snow/wind are in the forecast tomorrow with calmer more favorable conditions return by the end of the week.
Please see the Following Restrictions:
Dog Loops & All Nordic Skiing Trails OPEN
Sled Hill OPEN (Will be Groomed Again once more Snow Returns)
Classic Tracks SET
Snow Shoeing Loop CLOSED UNTIL MORE SNOW
Casual Walking Not Permitted
Early Season & Drifty Conditions
Grooming is currently via snowmobile and Pistenbully
**SKI W/Caution!!… Current Depths and Coverage are Very Deceiving
Next update will be Thursday (12/24) or whenever conditions dramatically change. Bundle up and Enjoy!
---
Last Updated: 12/20
Today GTNP, Taggert to South Jenny, Overcast and windy. Fresh snow on the trail some drifting.
---
Last Updated: 12/21
More new snow again today! The snow is a bit soft still, but the track is laying as pretty as I've ever seen it, if the cold temps mid week hit like they're supposed to it will be some fantastic skiing. Come experience it for yourselves! To help with social distancing and to get you on the trails faster please purchase your trail passes and sign your waivers online in advance (see link below). As always, remember to recreate responsibly. Bring a mask as it is required to enter the lodge. Lunch and dinner are both by reservation only.
https://www.turpinmeadowranch.com/adventures/winter-adventures/
https://www.turpinmeadowranch.com/the-ranch/live-conditions/
–Cheers, Gabe Hassan
https://www.turpinmeadowranch.com | 307.543.2000
---
Last Updated: 12/21
XC OPEN (Last groomed 12/19/2020, Fat Bike CLOSED.

Trail Etiquette: Please keep your dogs leashed in the parking lot and be sure to clean up after them!
Grooming Schedule: Tuesday, Thursday, & Sunday
Last Updated: 12/20
Skate: Set | Classic: Set
Randy and Dalton spent Saturday staking out the track. Good work. So this morning I should be able to stay on course and reset both classic and skate tracks. I'll begin to groom around 830.
Please do not park in the library parking lot.
---
Grooming Schedule: Monday, Wednesday & Friday
Last Updated: 12/20
Skate: Set | Classic: Not Set
Smoothed out well. Some weeds stubbing out on track but snow cover improving.
---
Grooming Schedule: Monday, Wednesday, Friday
Last Updated: 12/21
Skate: Not Set | Classic: Not Set
Sherman Park was rolled out this am. The conditions are sloppy and soft. The cooling trend starting Monday night through the week will help improve the conditions.
---
Grooming Schedule: Monday, Wednesday, Friday, Saturday
Last Updated: 12/21
Skate: Set | Classic: Set
Monday: Plan to reset both skate and classic tracks this morning. Temperatures in mid 30s should make for fast skating.
---
Grooming Schedule: Tuesday, Friday, Sunday
Last Updated: 12/20
Skate: Set | Classic: Set
Campground and Yetis loops are all set. Skate and Classic tracks have been set. The snow is soft but it is smooth. Enjoy the glide.
No dogs December 1 – April 15.
---
Grooming Schedule: Tuesday, Thursday, & Saturday
Last Updated: 12/21
Skate: Set | Classic: Set
The snow is melting rapidly 😞 Dirt and grass is starting to become visible. We did set a new classic track, but watch out for the brown spots.
No dogs allowed.
---
5th Street Singletrack
Grooming Schedule: As needed
Last Updated: 12/17
Singletrack: Set
Late Thursday – Twas a week before Christmas when all through the 5th St. the ditches were filled and checked off his list, so St. Nick took his sled and gave us a groom. Then I in my post work haze did arise and rode in laps until the demise of my thighs. On Friday go ski out some powder then go grab your bike! It's the best that it's been before the Holidays strike!
---
Southern Valley Singletrack
Grooming Schedule: As needed
Last Updated: 12/21
Singletrack: Set
Derrick and I plan to head out this evening after 5pm to groom the singletrack trails. Please be aware of machinery on the trials and allow time for them to setup. Happy hour, Powerline and Sherman Springs access have been groomed with the V plow. All other singletrack trails we're groomed four nights ago and are now rider packed. Enjoy the ride!
No dogs December 1 – April 15.
---


Wednesday, December 23 | TETON PINES
This 8 clinic series will take place on Wednesday this week rather than Thursday. Masters Clinics run bi-weekly from 11:00am – 12:30pm through March 18th, alternating between skate skiing and classic cross-country.
---
SATURDAY, DECEMBER 26th | TRAIL CREEK
Register with the JH Ski Club. A community favorite, honoring Betty Woolsey of Trail Creek Ranch. All ages welcome, interval start. Come dressed to ski and wear a mask!
---
Based on our goal to Recreate Responsibly, the JH Nordic Alliance has decided to cancel this season's Annual Free Winter Trails Nordic, Fat Bike and Snowshoe Event. Stay tuned for January 2022! In the meantime, we encourage you to get out safely, responsibly, wear a mask, keep your groups small, and space out!
---
We'd love to hear about your outdoor adventures, what your doing to stay healthy, safe, respectful of community health guidelines – send pictures or post on FB and Insta – #JHNordic