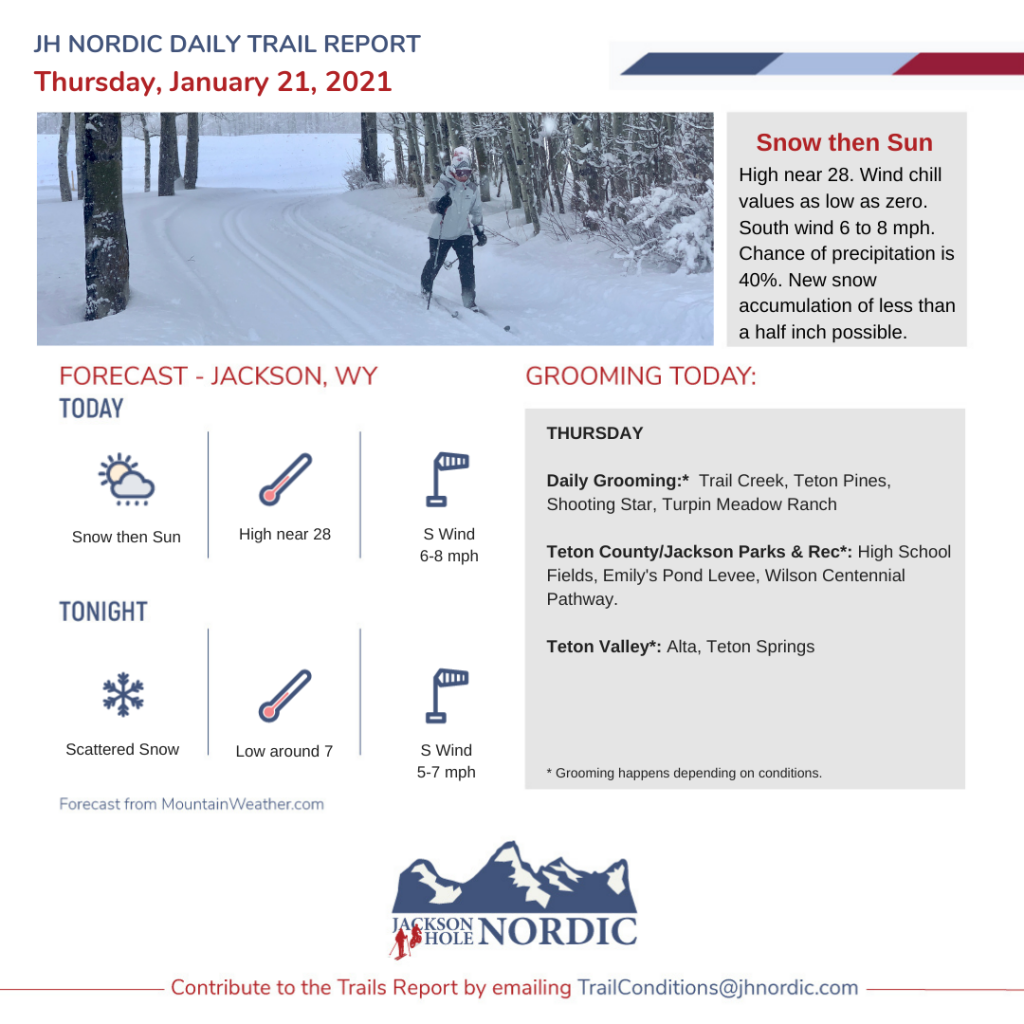 ---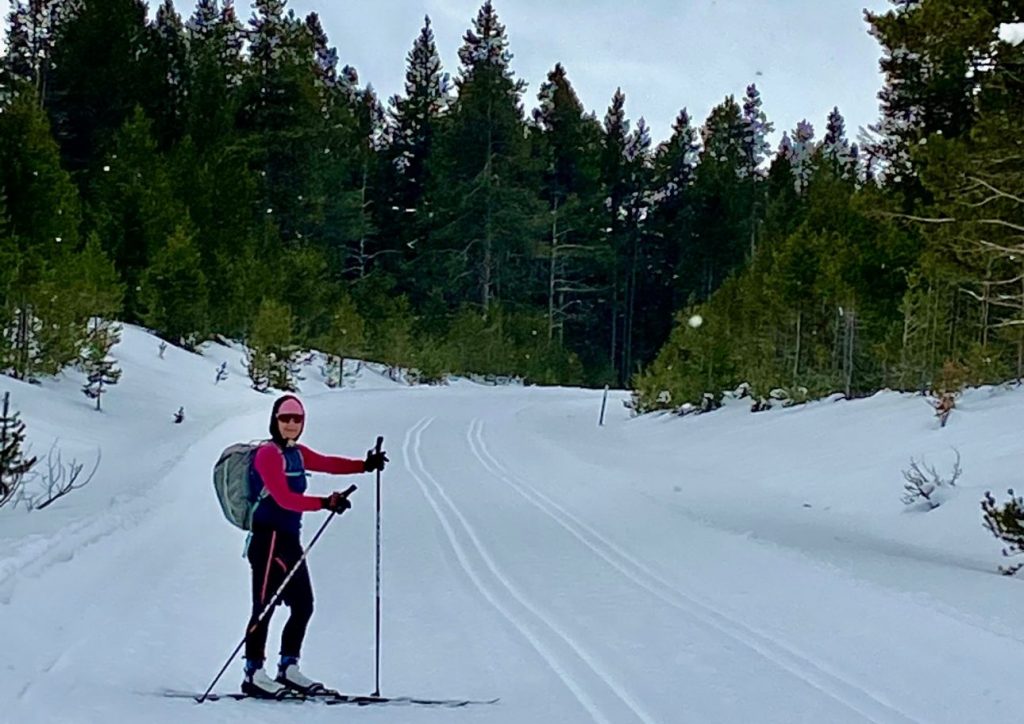 Skate Ski Signal to Taggart
Sunday we skated from Signal to Bradley Taggert and it was fast and fun! 
-Frank B. 
---
January 20, 2021 Hole Hiking Update

Provided by Karen Daubert
Friends of Bridger-Teton Board member/ active winter trails skier
The Hole Hiking Experience
Gratitude!
Crisp cold air, breezy clouds, delightful visibility, and sunshine! I feel so much gratitude for Winter's Beauty and to simply be outside, watching my breath curl upwards, feeling my newly sore muscles and listening to the crunch under my skis as I enjoy Nordic adventures – old and new.
It has been a pleasure to read reports of good conditions on both sides of the Tetons and in our own local National Forests. Given the almost unlimited opportunities to explore – on the Bridger Teton and Caribou Targhee National Forests, this year's dream is to focus on new routes on our public lands and to share these special places via JH Nordic trip reports. There are so many places to visit – and ways to appreciate the efforts of so many to keep these places open, inviting, accessible and public! I am grateful for them all.
Three recent visits to Teton Valley resulted in differing conditions and a lot of fun! Moose Creek up to the bridge and back makes for a lovely half day adventure for canine friends as well as Nordic and back-country skiers. Mike Harris loops are very popular and often include squeals of joy as families play in the snow. And although East Mail Cabin Creek is not for the fainthearted as it is a common route for back-country skiers, the lower section follows the meandering creek amongst a winter wonderland.
Throughout all these adventures, it is difficult not to feel tremendous gratitude for our Nordic Friends and Family. How easy it is to take for granted the daily trail reports, trail write ups, daily grooming, tireless volunteers – and staff – who work so hard on behalf of all Nordic skiers. Thank you for being such a warm and welcoming community!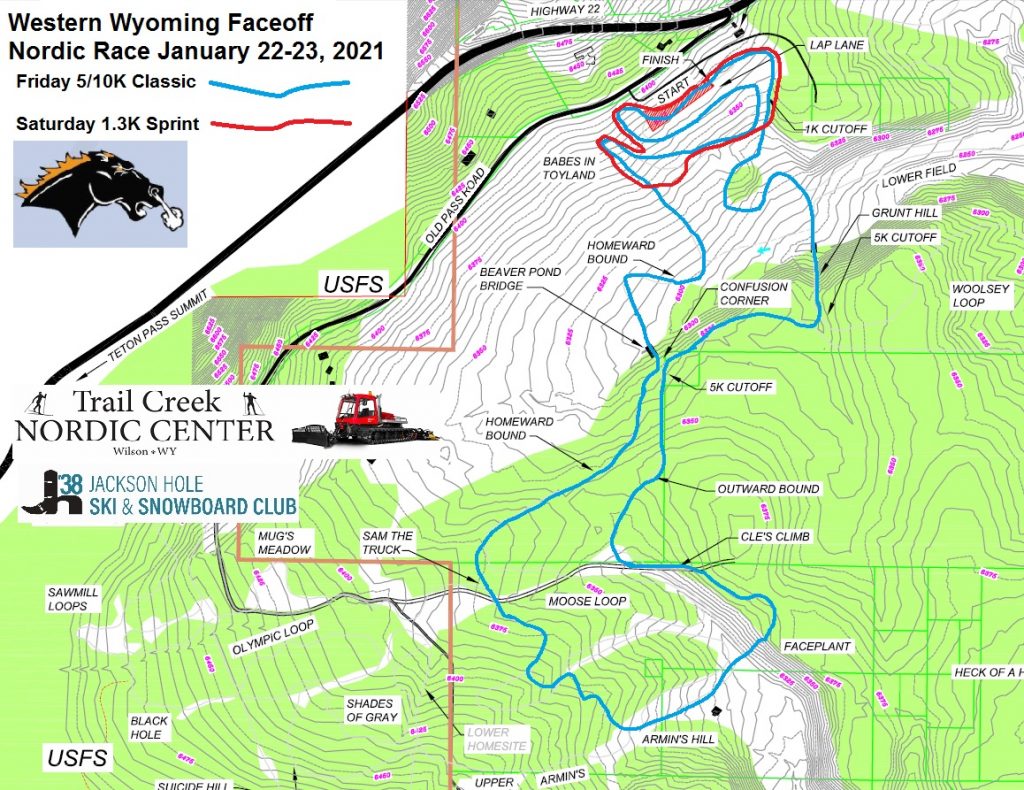 Last Updated: 1/20
Racing Weekend on Tap!
The fourth major event on the Nordic calendar this season happens Friday and Saturday beginning at noon each day with the Western Wyoming Faceoff Nordic races.  Friday's race will be classic technique with Saturday being a freestyle event.  Western Wyoming teams along with some racers from Idaho will be competing to see who is the fastest.  Spectators are allowed but remember that masks, social distancing and covid safe procedures are required.  Click on the image above for a more detailed map so that you know where you can ski throughout the races.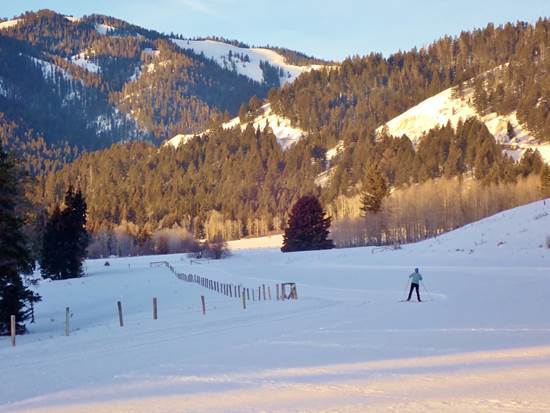 Today being Wednesday is a busy day with all of the teams on snow this afternoon. The Pisten Bully has been hard at it today, making laps throughout the system in preparation for all the activity. All trails received skate grooming with some classic touch up in the close field. While the snow is very firm and a grouser tracks are showing through, skiing for both classic and skate techniques should be nice today.
In spite of a subzero start to the day, hardy skiers have already been out making good progress and you can too; temps are warming nicely and there is plenty of room for us all to ski together.
Groomer's choice for today is working together for a great race weekend.
---
Last Updated: 1/20
Game Creek and three creek pathway are groomed and will be fast and firm.
Cache creek and May park are groomed and will be firm and fast. Classic tracks are shallow. Game Creek will be done around 11:15.
---
Last Updated: 1/14
Check out the new snow cat for grooming perfection, just arrived this morning! We tested the before and after. The new groomed corduroy was silky smooth, nice and wide…will be a great bonus!

Daily grooming, wide corduroy skate ski lanes with well defined classic tracks make for excellent ski conditions. Skate and classic cross country ski/ boots/ pole rentals. . If you want to explore Grand Teton NP and the Jackson Hole area on xc skis, we carry the must have xc ski trail guidebook for our region in the shop:
https://www.facebook.com/SkiYellowstone
Please call or email Cody for more details: (307) 733-1733
or tetonpinesxc@gmail.com
---
Last Updated: 1/17
Fantastic Nordic conditions should continue through Thursday! Trails will likely remain hard packed with icy sections and ski fast. Weather is calling for light snow on Sunday followed by more cold/dry weather until Friday. Next Update will be on Friday. Enjoy!
Please See the following Restrictions
Dog Loops & All Nordic Skiing Trails OPEN
Sled Hill OPEN
Classic Tracks SET Inconsistent Depths due to Ice
Snow Shoeing Loop OPEN
Casual Walking Not Permitted
---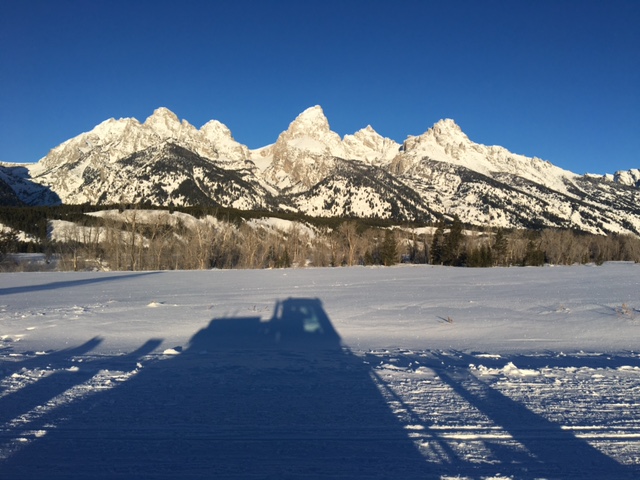 Last Updated: 1/19
Blue Bird day in GTNP. Grooming from Taggart Lake Trailhead to South Jenny. Trail conditions are good!
---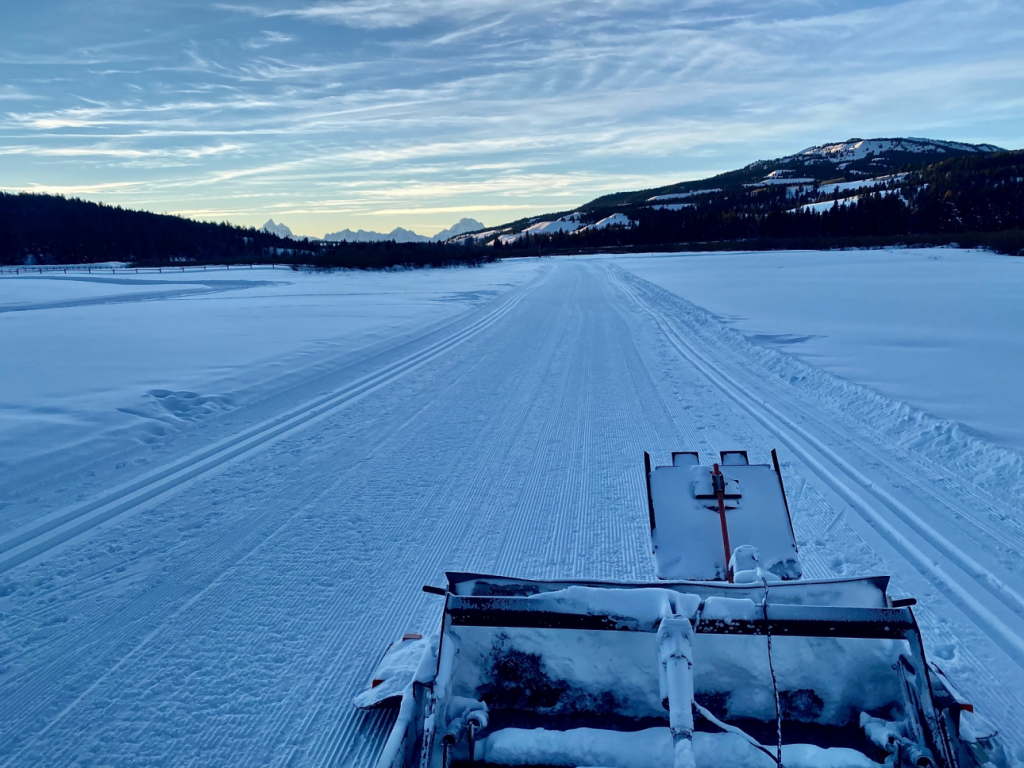 Last Updated: 1/20
We have been grooming in the afternoons so our trails are EXTRA fast the next day! Skate lanes have been laying down beautifully and the classic track is very well defined right now. All trails are looking great for the weekend! Come out and ski or fat bike with us!
Want to improve your classic or skate ski skills? Want to explore new places on the edge of the Teton Wilderness by snowshoe? Let us know! Elee, one of our incredible PSIA certified instructors, would love to help expand your XC ski skills and show you all the incredible things right in Turpin Meadow Ranch's backyard! All rental equipment is included! 
To help with social distancing and to get you on the trails faster please purchase your trail passes and sign your waivers online in advance (see link below). As always, remember to recreate responsibly. Bring a mask as it is required to enter the lodge. Lunch and dinner are both by reservation only.
https://www.turpinmeadowranch.com/adventures/winter-adventures/
https://www.turpinmeadowranch.com/the-ranch/live-conditions/
https://www.turpinmeadowranch.com | 307.543.2000, office
---
Last Updated: 1/20
XC OPEN (Last groomed 1/17/2021, Fat Bike OPEN.

Trail Etiquette: Please keep your dogs leashed in the parking lot and be sure to clean up after them!
---
Grooming Schedule: Tuesday, Thursday, & Sunday
Last Updated: 1/20
Skate: Set | Classic: Set
Will groom tomorrow (Thursday) morning. Plan on finishing by 9am.
Please do not park in the library parking lot. Please be sure to keep your dogs on a leash and to clean up after them.
---
Grooming Schedule: Monday, Wednesday & Friday
Last Updated: 1/18
Skate: Set | Classic: Set
Just enough new snow ( 1") to freshen the skate track. Classic track is set and, hopefully, firm up tonight.
---
Grooming Schedule: Monday, Wednesday, Friday
Last Updated: 1/20
Skate: Set | Classic: Set
Sherman Park ski trails look pretty inviting today. Not enough snow to reset the classic track but The old classic track is still in decent shape. Did three passes with the drag on the skate track. Also groomed the single track/dog walking trail. Enjoy!
---
Grooming Schedule: Monday, Wednesday, Friday, Saturday
Last Updated: 1/20
Skate: Set | Classic: Set
Wednesday: Cold, dry weather makes for good Nordic skiing. This morning plan to reset skate track and will try to improve classic, if conditions allow.
---
Grooming Schedule: Tuesday, Friday, Sunday
Last Updated: 1/18
Skate: Set | Classic: Set
I reset the skate track only on campground loop. The classic track was still in good shape. On yetis I reset the skate and the classic track. Condition should be good tomorrow. Enjoy the glide!
No dogs December 1 – April 15.
---
Grooming Schedule: Tuesday, Thursday, & Saturday
Last Updated: 1/18
Skate: Set | Classic: Set | Singletrack: Set
Cat groomer groomed Nordic last night. Groomed singletrack this morning. Trails look great!
No dogs allowed.
---
5th Street Singletrack
Grooming Schedule: As needed
Last Updated: 1/19
Singletrack: Set
Thurs night – 5th St. singletrack riding fast and firm. Good times! Go fatbike!
---
Southern Valley Singletrack
Grooming Schedule: As needed
Last Updated: 1/14
Singletrack: Set
Trails are solid and firm with the warmup and cool down yesterday. High winds has shedded some snow from trees and there are limbs and branches across trail. Use caution.
No dogs December 1 – April 15.
---
Darby Canyon
Grooming Schedule: As needed
Last Updated: 1/19
Groomed to the Pinnacle summer TH.


TETON PINES
JANUARY 21st
All welcome (no beginners)
Drop-in $35 (includes clinic & Teton Pines Nordic all day ski pass)
or $30 (if you already have a Teton Pines Nordic pass or membership).
---
Based on our goal to Recreate Responsibly, the JH Nordic Alliance has decided to cancel this season's Annual Free Winter Trails Nordic, Fat Bike and Snowshoe Event. Stay tuned for January 2022! In the meantime, we encourage you to get out safely, responsibly, wear a mask, keep your groups small, and space out!
---
---
We'd love to hear about your outdoor adventures, what your doing to stay healthy, safe, respectful of community health guidelines – send pictures or post on FB and Insta – #JHNordic