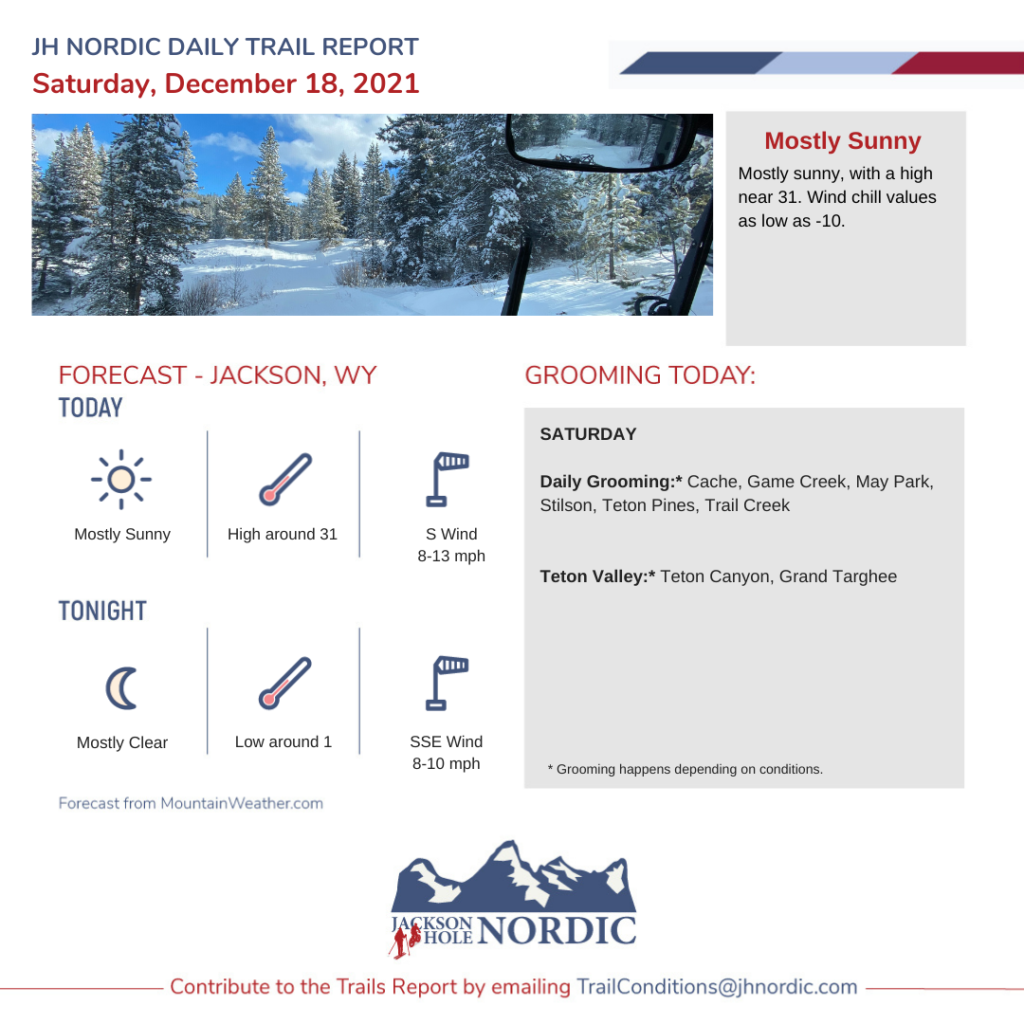 ---
More Snow = More Nordic Options Available
With more snow accumulating in the valley more Nordic options are becoming available. Teton Pines and Trail Creek Nordic Centers have opened their trails. Turpin Meadow Ranch will open their trails on Sunday and your public lands are available daily.
Nancy L. contributed the following trail report from her recent outing on old pass road. "Snow was soft and a foot deep going up and down old pass road this morning on BC Nordic skis. Kicker skins from Skinny Skis were perfect for climbing! Beautiful to be in Bridger Teton National forest!"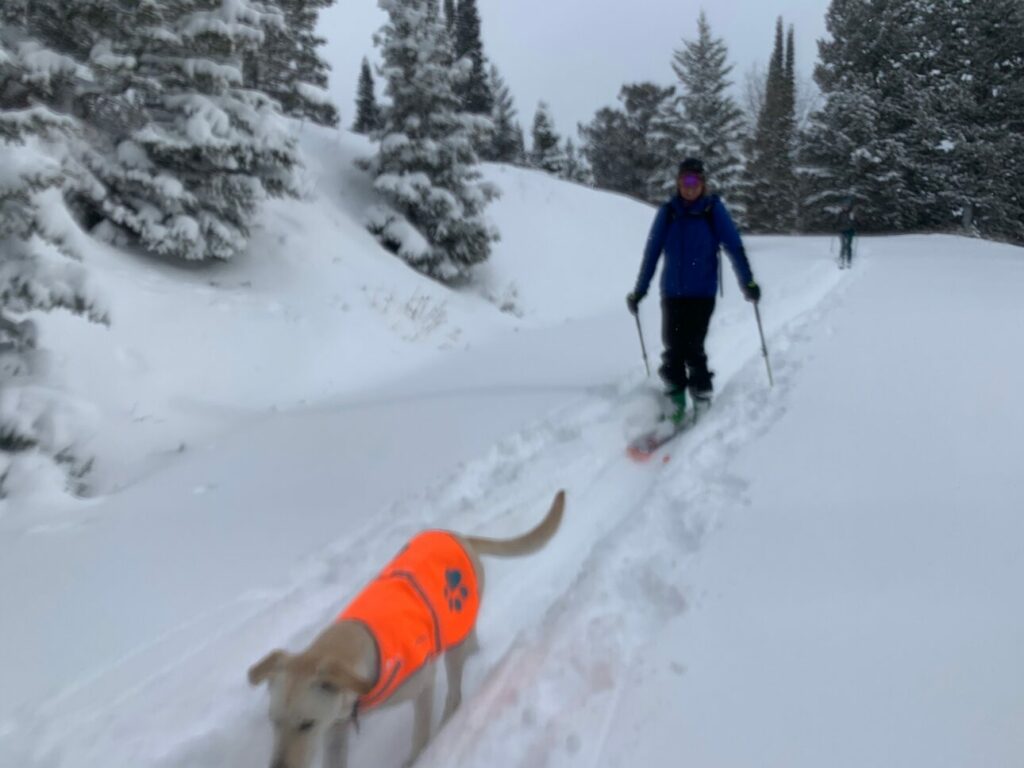 You also can contribute by emailing trailconditions@jhnordic.com, please send your photos and descriptions of your adventures that you are willing to share with the JH Nordic community.
---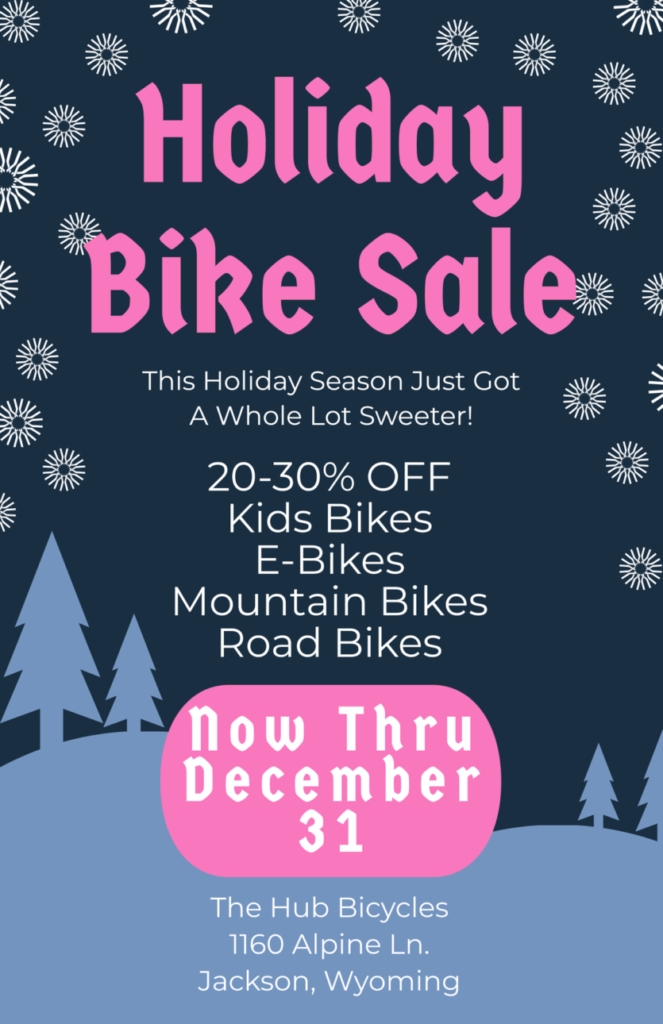 Celebrate Cycling With The Hub Holiday Bike Sale
This holiday season give the gift of cycling (or get yourself something for being extra good this holiday season)! We have the best selection of the year, and we're offering fantastic deals to help spread the cheer. So whether you're looking for a new kids bike, a commuter E-Bike to make getting around easier, or something for shredding the trails, now is the time! Benno, Prevelo, Cannondale, Orbea, Marin, and more.
20% Off All Kids Bikes
20% Off All E-Bikes
Up To 30% Off Select Mountain and Road Bikes
IN-STORE ONLY
Call us for more details 307-200-6144

---
Banff Film Festival to be Online Again This Year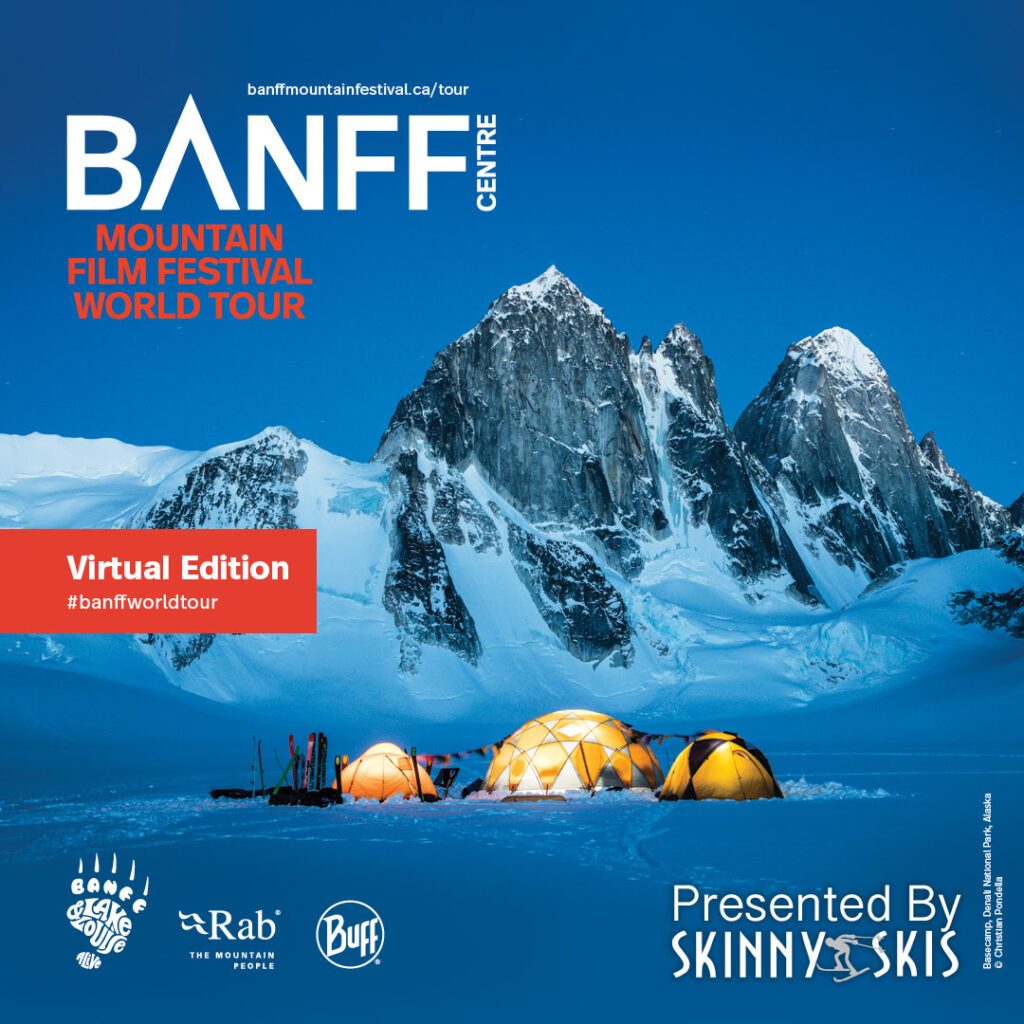 Skinny Skis has been Jackson's local host for the Banff Centre Mountain Film Festival World Tour for over 20 years! While we were hoping to again host an in person event it wasn't possible this year in the capacity required to make an event like this happen. We will be back to the full, in person, screenings as soon as possible as sharing these amazing mountain stories with our community has been a privilege over these many years.

Click the links below to enjoy the 21/22 edition of the Banff Mountain Film Festival presented by Skinny Skis from the comfort and safety of your own home this season. Thank you for your support and enjoy the show!
To make the festival easier to watch in this virtual format the films have been divided up into 2 programs, the Sage Program and the Pine Program. Each program features a diverse set of films but we'd strongly recommend getting the Pine & Sage Tour Bundle for the full Banff Film Festival experience as it includes both programs, an extended rental time, and a package discount. 

Individual programs: $15 (3-day rental period)
Bundle (2 programs): $28 (14-day rental period)

Your rental period starts when you begin viewing and can be gifted to a friend or loved one by selecting "Gift this" on the left hand side during checkout. If viewing through the android or apple apps click the "Library" button at the bottom followed by the "Purchased" button at the top. 
---
---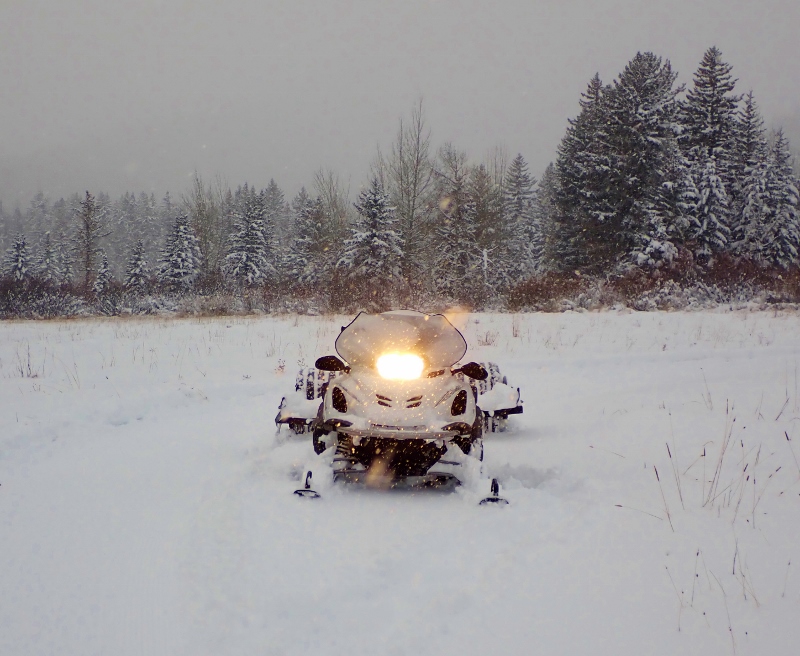 Last Updated: 12/17
If you have been wondering about the lack of news from the Trail Creek Nordic front in recent weeks, even though we've not been officially open, we've been hard at work getting ready for a fantastic ski season with pretty good bases already established on many trails.
A few details first, we are still in a pandemic; the good news is that Nordic skiing is a really good thing to do in such times.  The cabin is open this year, but if there is any doubt, be sure to pop on a mask to keep people safe (like in the cabin with non-family members).  Make sure to get those passes purchased (the link is on this page) so you can take full advantage of long and great season.  Parking is the same as in recent years, and while our primary mission youth skiing is at record numbers, the shuttle buses are back this year so hopefully things will run smoothly in the busy afternoon time frame.  Keep tuned into the grooming report for information about when the busiest times to be avoided will be happening. 
As to skiing today, for early season thin soft conditions, it is fantastic.  The majority of the woods trails received multiple roller passes today, anticipate Ginzu grooming in the woods tomorrow after all the recent pristine white bounty has had a chance to firm a bit, and our dependable close field trails did receive Ginzu grooming in addition to rolling today.  Classic tracks are probably about a foot away in the woods, but won't take much to happen in the fields. Groomer's choice for today is a classic cruise through the woods.
Finally our really big news, the new Prinoth Husky is sitting right behind the cabin, poised to explode upon our trails with another foot or so of snow.  We anticipate amazing skiing behind this sophisticated new acquisition and also want to send a sincere thanks to all that contributed in turning the dream of a new groomer into reality!
Passes can be purchased at the Trail Creek page.
---
Last Updated: 12/17
On 12/18 Cache, May Park, Game, and Stilson will be groomed with the snowmobile. The levee will not be packed because the snowmobile does not leave a firm enough surface to hold up to walkers. The levee will be user packed until the next storm. Trails are soft and caution is needed.
---
Last Updated: 12/17
Will be groomed with a snowmobile on Saturday
---
Last Updated: 12/17
Teton Pines Nordic Center is open to the public, with fresh grooming. Classic cross country skiing recommended as snow is still soft from the latest snowfall. Skate skiing also good.
Open 9-4 Call Teton Pines Nordic at 307 733-1733 for more info.  
---
Last Updated: 12/14
Not yet open, grooming coming soon
NEW for 2021-22:
*ACCESS: Non-members may access the Nordic ski trails and rental gear from 12pm-5pm only.
*EXCEPTIONS:
– Purchase of a Season Pass allows Full-Access 9am-5pm
– A non-member may book a lesson with a Shooting Star Nordic Instructor during any normal operating hours.
* TRAIL FEES:
-Member Guest: $15
– Adult non-member: $40
-Jr. non-member-13+ $20
-Junior 12 and under Free
*Season Passes – $450 (December); $350 (January); $300 February.
RENTALS AND LESSONS:
A wide range of rental classic cross country, skate skis and snowshoes are available .
Nordic Instruction is available for individual and group lessons. Rentals not included.
Call Shooting Star Nordic Shop to reserve: 307 739 3270
---
Grooming coming soon
Skiing is becoming more and more available in GTNP! Official grooming has not yet begun, and snow can be patchy in places, but there should be enough snow for ungroomed classic skiing on carefully selected routes. Cross country skiing, skate skiing, walking, and snowshoeing are permitted on the groomed trail on Teton Park Road, but recreationists are reminded to use the designated tracks for the appropriate uses. Dogs on leash are only permitted in the multi-use lane (west side).
---
Last Updated: 12/17
We are so grateful for this last storm cycle though early season conditions still persist. The ranch opens for lodging December 18, trails will be open Sunday December 19.
https://www.turpinmeadowranch.com/the-ranch/live-conditions/
https://www.turpinmeadowranch.com | 307.543.2000
---

Trail Etiquette: Please keep your dogs leashed in the parking lot and be sure to clean up after them!
---
Grooming Schedule: Tuesday, Thursday, Saturday & Sunday
Last Updated: 12/16
Cross Country 15k: XC OPEN
Fat Bike and Snowshoe: Jolly Green Giant and Roundabout OPEN
Remember, singletracks will be closed when there is more than 3 inches of snow in a 24 hour period. With substantial snowfall predicted this week, be sure to check ahead to make sure trails are open!
---
Grooming Schedule: Tuesday, Thursday, & Sunday
Last Updated: 12/16
Skate: Set | Classic: Not Set
Still pretty thin at 3 pm this afternoon when I groomed the library loop and in and out. More snow is needed to expand the grooming into the tilled fields. This new snow will help, but it is going to take significant depth of snow to not have dirt showing. Hopefully this storm will allow grooming equipment to start the smoothing and packing process. That being said, what is groomed is great for the little ones to get out on snow and have fun!
Please do not park in the library parking lot. Please be sure to keep your dogs on a leash and to clean up after them.
---
Grooming Schedule: Monday, Wednesday & Friday
Last Updated: 12/15
Skate: Not Set | Classic: Not Set
Caution – Very thin snowpack. Many hazards exist! Just finished rolling out the 5" of snow on the Driggs track to stare establishing a base. We need more snow to hide all the rocks, grass and twigs. I'd recommend walking along the edges of the groom, or use your rock skis with caution. LET IT SNOW!
---
Grooming Schedule: Monday, Wednesday & Friday
Last Updated: 12/13
Skate: Not Set | Classic: Not Set
We need a bit more snow, but the weekly forecast looks promising.
---
Grooming Schedule: Monday, Wednesday, Friday & Saturday
Last Updated: 12/17
Skate: Set | Classic: Set
Friday: Looks like the roller will have to be used this morning to pack down additional snowfall. Plan to reset both skate and classic tracks.
---
Grooming Schedule: Tuesday, Friday & Sunday
Not yet open, grooming coming soon
Last Updated: 12/17
Skate: Set | Classic: Not Set

Further compacted the trails (with the exception of the extension OFF of the campground loop) with some corduroy. The longer we skiers can stay off of it, the harder/faster it'll be in the AM. A few rolling bumps and twigs, but not too shabby.
No dogs December 1 – April 15.
---
Teton Reserve Nordic
Grooming Schedule: Monday, Thursday & Saturday
Not yet open, grooming coming soon
Last Updated: 12/13

It's good to see some snow on the ground, but we need quite a bit more before grooming around the golf course. It won't be long!
No dogs allowed.
---
Southern Valley Singletrack
Grooming Schedule: As needed
Last Updated: 12/17
Singletrack: Not Set
The last storm dropped about an average of 12 new inches of snow to the southern valley area. I plan for an evening run on the snowmachine over as much singletrack as possible. Please be aware of the machinery on the singletrack trails after 5 PM. Stay tuned for a follow up report.
No dogs December 1 – April 15.
---
Darby Canyon
Grooming Schedule: As needed
Last Updated: 12/15

CLOSED TO WHEELED MOTORIZED TRAVEL. Groomed 12/15 to summer TH
---
Rammell Mountain Road
Grooming Schedule: As needed
Last Updated: 12/15
Grooming coming soon

The USFS is continuing to monitor snow levels on our roads and will close them to wheeled motorized vehicles when there is enough snow to groom
---
South Leigh Road
Grooming Schedule: As needed
Last Updated: 12/16
Grooming coming soon

Groomed 12/16. South Leigh is now closed to wheeled motorized vehicles for the winter.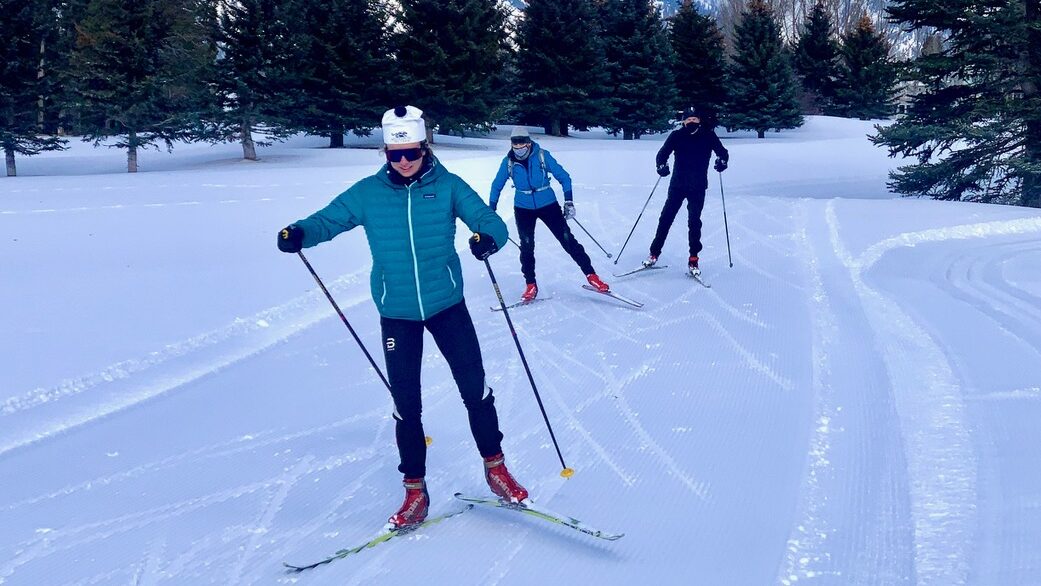 FIRST CLASSIC SKI CLINIC THURSDAY DECEMBER 23, 2021

There will be 10 clinics running every Thursday in January and February from 11am-12:30pm. The Nordic Masters clinics will focus on skate ski and classic cross country skiing every other week.
Joining all 10 clinics is your best approach to developing your full Nordic skiing technique, balance, stride, stamina, and overall fitness while having fun in a small group. For those who only wish to focus on one technique, we are offering a Skate Ski Clinic series of 5 clinics or a Classic Cross country series of 5 clinics.
The groomed trails at Teton Pines and Trail Creek are both too shallow for skate skiing at this time so we will postpone the first skate ski clinic to Thursday Dec 30th 11a-12:30p at Teton Pines Nordic Center. Thank you for your understanding and patience for our trails to become Nordic ski ready.
There's still time to sign up for the skate and/or classic xc clinics. Our first classic ski clinic will be on Thursday, Dec 23rd at Teton Pines Nordic Center. We look forward to seeing you there!
---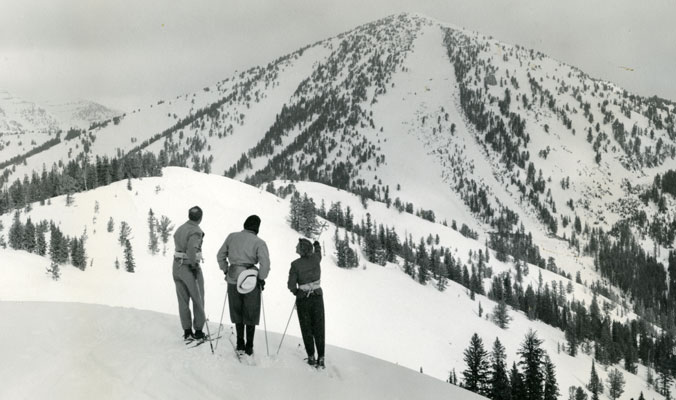 Come work off your Christmas feast in style! This community event offers distances for every age and ability. 10 AM start time with 30 second interval start format. Racers can choose from 0.5k, 3k, 5k, and 10k options. There will be no laps or repeating loops to minimize racer overlap.
DO NOT COME to Trail Creek if you or a member of your household is feeling sick. Masks must be worn whenever 6 feet of distance cannot be maintained while not actively racing, and at all times when around the Cabin area.
Visiting racers, please complete the online Acknowledgement of Risk
---
SPONSORED BY THE JH NORDIC ALLIANCE MEMBERS
SAVE THE DATE: SUNDAY, JANUARY 9TH, 2022
Turpin Meadow Ranch – 1 hr north of Jackson- Buffalo Valley Road (off Hwy 287/26) – Parking onsite/carpooling encouraged.
Fun, Free Community Day – with Raffle benefiting a local Nordic Alliance non-profit:
Free trail pass and demo gear, though it is encouraged that folks bring their own equipment to maximize time on the snow!

Family, friends, visitors, dogs (on leash) welcome: please register in advance to secure your spot!
Email : Info@JHNordic.com for more info
---
---
We'd love to hear about your outdoor adventures, what your doing to stay healthy, safe, respectful of community health guidelines – send pictures or post on FB and Insta – #JHNordic