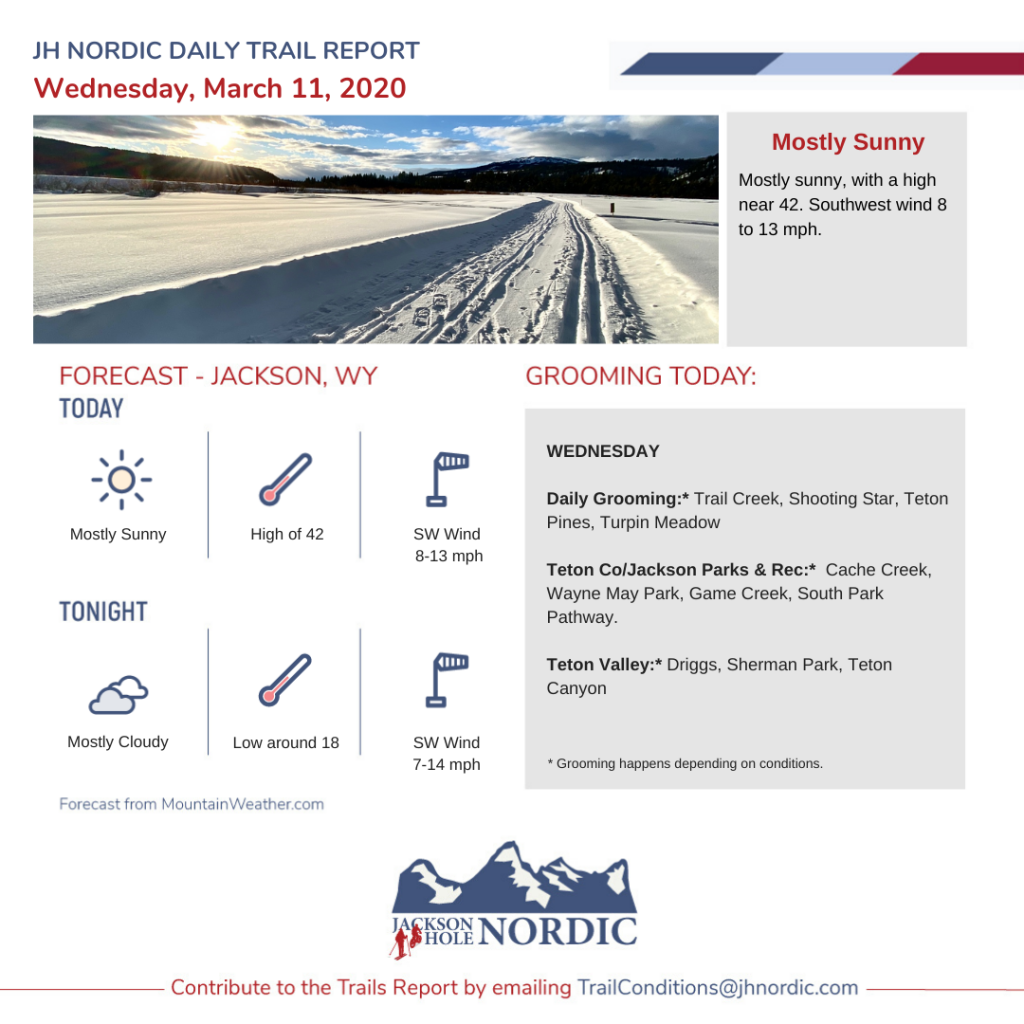 ---
Thank you for continually sharing your photos with us of Nordic skiing in Jackson Hole
---
Last Day for GTNP Grooming this Sunday
Last day for GTNP grooming is this Sunday. Last full groom from Taggart to Signal and back is this Friday. Many thanks to Grand Teton National Park Foundation for underwriting this outstanding grooming service, and for all the community donations and support contributed.
Thanks also the the volunteer GTNP Nordic Ambassadors who assisted on this iconic trail.
Conditions remain excellent…get out and enjoy. The Park will begin plowing the closed section of the road between Taggart and Signal the following week.
---
JH Ski Club Nordic Team at Jr. Nationals
Here's pictures of Mason Wheeler & Natalie O'Brien – U16's. Mason was 6th & Natalie was 8th yesterday. Elijah Weenig (no pictures) was also 8th in U18 category. – By S. Obrien
Kate Brigham was 15th & Aurora Stiles 36th yesterday – both U16's.
---
XC Ski in Yellowstone
Thanks to Cynthia H. for sharing her XC ski trip to Yellowstone…wildlife at a safe distance, geysers, blue skies, adventure!
---
It's Time to Make Your Teams for Pole-Pedal-Paddle!
Saturday April 4, 2020
This year marks the 42nd anniversary of Pole Pedal Paddle, a Jackson Hole tradition where racers compete in in alpine skiing, cross country skiing, biking, and boating all in one race! The event raises money for the Jackson Hole Ski & Snowboard Club.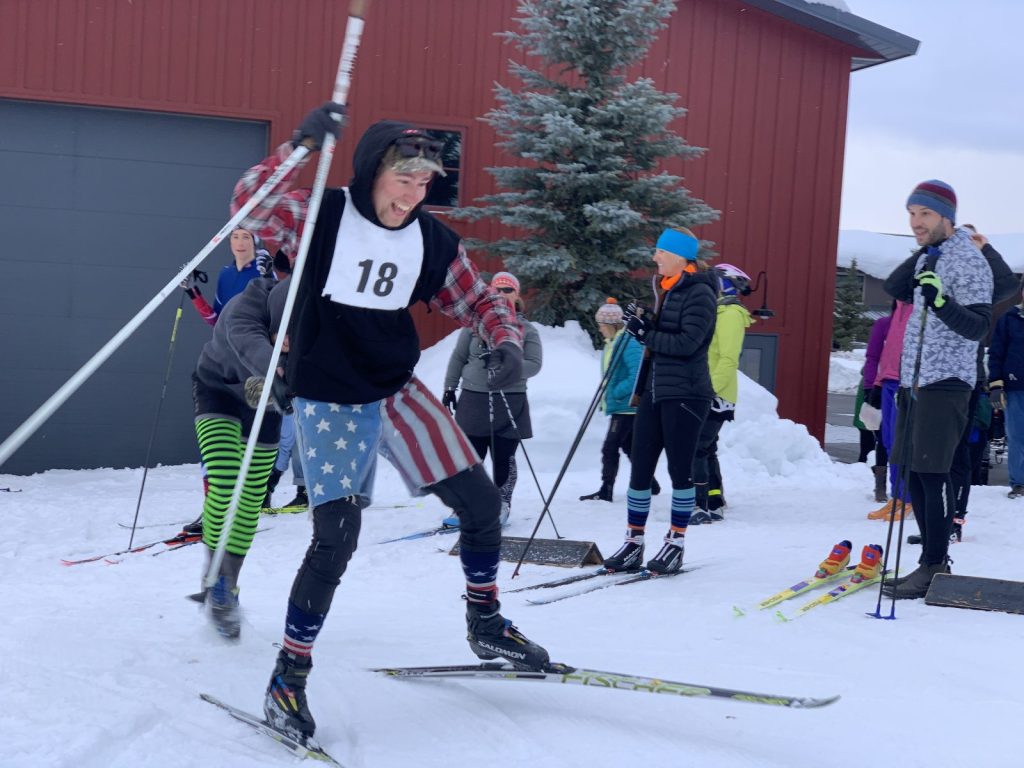 The deadline for submitting ALL TEAM INFO in your online registration, including all names, ages, assigned legs, and signed waivers is March 31, 2020. Teams without all submitted info by 3/31 cannot race.

Last Updated: 3/10
Grooming Daily
Wrapping up Festivities and Top Ten Finishes!
This is the last week of practice and things are in a festive mood at Trail Creek!  BB gun biathlons, Nordic X'ing, and even a Trail Creek Cabin piñata are making for fun times as the season winds down.  Wednesday will be another big day with the final team practices on Thursday.  Thanks to Coaches Kathy and Ann for pictures!
That is not the end for all of our skiers as many are off to the Western Club Championships at Soldier Hollow in Utah this upcoming weekend and of course our huge field of national competitors are racing all week at Donner Summit in California.
Speaking of the national racers, yesterday was a great day with top 10 finishes and lots of great results in general.  All the results can be viewed at my race results, just search for Soda Springs, CA.
Today at Trail Creek while the practice schedule is a little lighter than Monday or Wednesday, there will be practices going on and if you are able to make it out you'll be able to find some pretty nice skiing.  Conditions as of 11:15 AM are a temperature just below freezing, light to moderate winds, and cloudy skies.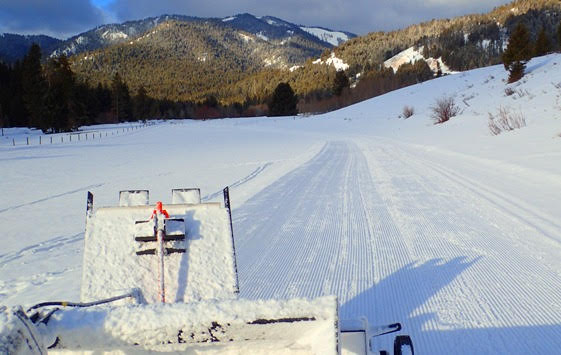 The Ginzu was hard at this morning working the inch of overnight snow into some pretty nice skate lanes.  Classic tracks were too hard to reset but will still work ok in many locations.  All in all things are pretty nice.
Groomer's choice for today is Homesite.
---
Last Updated: 3/8
Last Day of Grooming was 3/8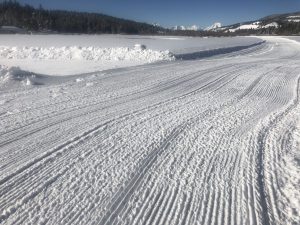 Thanks to everyone for making this another great winter! We appreciate all of our regular guests who have become part of the Turpin family. We hope to see all of you again next season for more skiing, and biking. Thanks to all who made the journey out this winter, we hope you had a memorable ski or bike. Looking forward to seeing you all again next season.
Grooming ended March 8th. No lodge services available. Trails are open but no longer being groomed.
---
Grooming Today: Cache Creek, Wayne May Park, Game Creek, South Park Pathway
Last Updated: 3/10
The school fields and the levee are groomed and in OK shape. Stilson will be done around 11. Grooming will continue through the month of March as long as conditions allow.
---
Last Updated: 3/10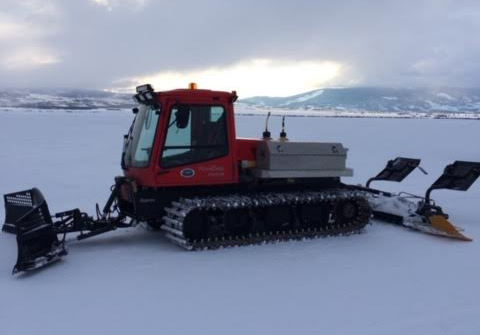 Spring skiing conditions all day today.  GTNP Taggart Lake Trailhead to South Jenny
---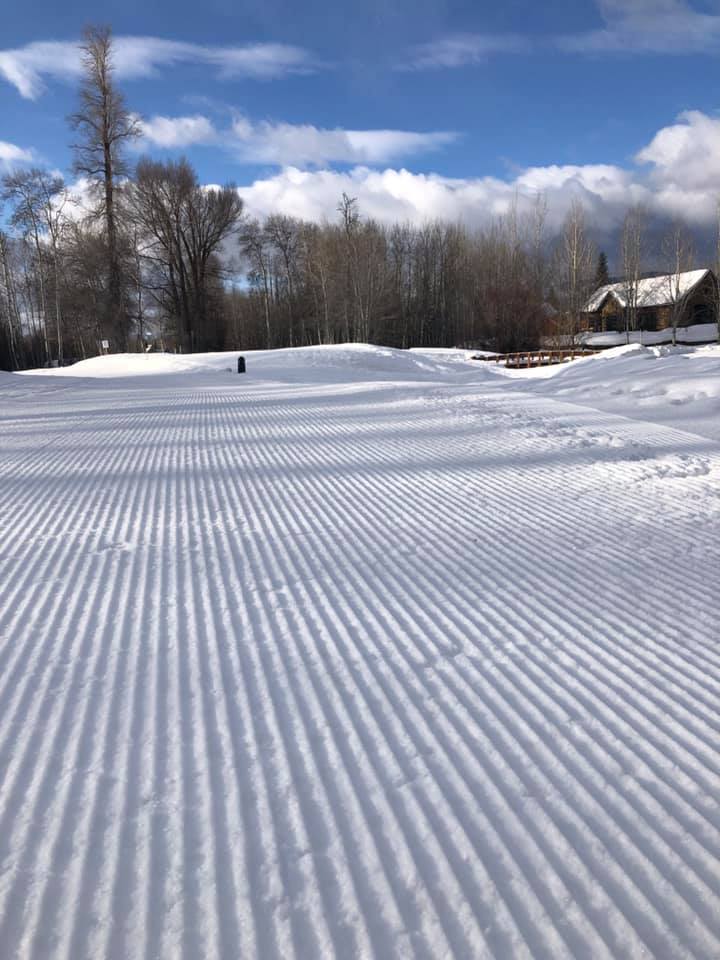 Last Updated: 3/10
Grooming Daily
Conditions are still good at Teton Pines even with the warm temps. We are still grooming daily with the snowcat Skate skiing will be awesome from around 9:30-11 until the warm temps soften and slow things a bit Classic skiing has been fast in the mornings and soft beginning around noon. We are in the typical spring freeze/thaw cycle which makes grooming the classic track a little challenging. Calling us is best for the most current conditions (307)733-1733. Softgoods are 20% off in the shop, so come in before it's too late. Our closing is scheduled for March 20.
---
Last Updated: 3/6
Grooming Daily
Trails are in great shape and will favor fans of fast skate skiing. The recent warm weather has transitioned our snowpack into a hard-packed and icy surface. Due to the firmness of the snow, classic tracks will not be set today and likely for the remainder of the season. Also, skiers should anticipate icier/fast conditions in the mornings that should evolve to softer/slushy snow in the afternoons as the temperature warms. Outlook is calling for a wintery mix of rain & snow to pass through this weekend. Have fun and enjoy the spring conditions!
Next Update: Monday
---
Update: 2/22
Teton village pathway trail – groomed on Tuesday. Firm, packed snow.
---
Update: 3/9

From our Nordic track maintenance team:
With rising temperatures and winter coming to an end, adjustments will be made to the route of the groomed trail. Beginning this past weekend, the trail will only be groomed on the north side of Spring Gulch Road.
This accomplishes two important things. For one, it allows us to extend the grooming period of the season because as the roadways clear it becomes increasing difficult and unsafe for the staff to cross the roads with grooming equipment. In addition, suspending grooming operations south of Spring Gulch Road helps us minimize disturbances to the local moose population. In general, please be extra mindful not to disturb wildlife during this important period for their winter survival.
---
Last Updated: 3/10
Grooming Daily
Cross Country/Fat Bike 15k: XC OPEN (Last groomed 3/8/2020), Fat Bike Closed.
---
Last Updated: 3/10
Nordic:Trails above groomed this morning. 22F degrees. At least ½ foot of new snow. Sun just poked out. Expect soft conditions today. Road and parking plowed.
Fat Bike 2/13: All Lower Kelly Park is groomed with a great riding base. Should be perfect conditions for the next 3-5 days due to high pressure system. For more information contact Geared Up, 307-399-5539 c.307-760-1912, www.gearedupbikes.com

Grooming Today: Driggs, Sherman Park, Teton Canyon

Grooming Schedule: Tuesday, Thursday, Saturday, Sunday
Last Updated: 3/10
Skate: Good| Classic: Fair
---
Grooming Schedule: Monday, Wednesday, Friday
Last Updated: 3/6
Skate: Poor | Classic: Good
Gave up after setting the track. The snow could not carry the groomer.
---
Grooming Schedule: Monday, Wednesday, Friday
Last Updated: 2/25
Skate: Fair | Classic: Fair
Groomed on 2/24, 6 pm
---
Grooming Schedule: Monday, Wednesday, Friday, Saturday, Sunday
Last Updated: 3/10
Skate: Good | Classic: Good
A couple inches of snow fell yesterday, this should make for a good reset of both skate and classic tracks. Will update afterwards, around 9am.
---
Grooming Schedule: Tuesday, Thursday, Saturday
Last Updated: 3/8
Skate: Excellent | Classic: Good
Reset both skate and classic tracks. Much snow-pack loss, but the trails should ski nice. The classic track has been set to the opposite side from where it is normally placed.
---
Grooming Schedule: Tuesday, Friday
Last Updated: 3/10
Skate: Excellent| Classic: Excellent
---
5th Street Singletrack
Grooming Schedule: as needed
Last Updated: 2/9
Singletrack: Poor
Skinned a lap after some foot traffic then rode front portion on triple wide. Need a sled for more compaction but will keep trying!
---
Teton Springs Singletrack
Grooming Schedule: as needed
Last Updated: 3/2
Singletrack: Excellent
Plowed with v plow. All good
---
Southern Valley Singletrack 
Grooming Schedule: as needed
Last Updated: 3/2
Singletrack: Excellent
---
Darby Canyon
Grooming Schedule: as needed
Last Updated: 3/9
---
South Leigh Road
Grooming Schedule: as needed
Last Updated: 3/9
JH Masters Recreational Clinic – Skate Ski 
Thu Mar 19, 2020
Teton Pines Nordic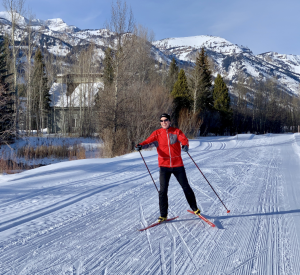 Tips, Technique, & Fun -Coaches provided by JH Ski Club Nordic program
Open to all (no first time beginners)
-Drop-in $35 (includes clinic & Teton Pines Nordic all day ski pass
Teton Pines Pass holder or member $30
Register – email : info@jhnordic.com or call: 307 739 6399
---
Send us your event dates, stories, photos
Follow JHNordic on Facebook, Instagram @JHNordic, #JHNordic
Sign up for Daily or Once a Week JH Nordic Trail ConditionReports to know what's groomed,
what's happening first thing every morning – or just Saturdays.