---
Protected: Garmin InReach -Gear Review
Safety net for you and reassurance for family and friends -Review by Scott Sanchez
No one plans on accidents, but they do happen. In the modern world, we have been so habituated to our cell phones that we think they can get us out of emergencies, anywhere and anytime. Well, welcome to Wyoming. The best places don't have service. 99% of the time, I think not having cell service is a blessing, but for the 1%, electronic communications can be a life saver or at least let loved ones know you are safe. While we only think of extreme adventures needing rescue, more routine situations may merit assistance. A longer than expected tour, a sudden change in the weather, a twisted ankle or broken gear. Nice to have a Garmin inReach satellite communication tool in your pack!
This year I purchased a Garmin inReach Mini. I realized I spend a lot of time in the backcountry and woods solo. Garmin inReach devices along with a service subscription give you a satellite texting network that works anywhere you can see the sky and doesn't require cell or Wi-Fi. A quick push of the SOS button will send your location to the pertinent rescue entities. Beyond this, you can send prewritten text messages, or you have rudimentary typing.
For more information, demo, and local assistance in setting up your inReach device, see JD Outfitters and Skinny Skis in Jackson WY.
---
First Day on Nordic skis at age 3!
---
March Nordic Newsletter
JHSC Club and Community Nordic Update. Happenings of the JHSC Nordic Program, Trail Creek Nordic Center, and Local Nordic Community
February has been a banner month for JHSC Nordic! All of our age groups are skiing at Trail Creek; we have been attending races locally and regionally; we wrapped up our Winter Sports programs at Colter and Wilson elementary schools; and we kicked off our campaign to buy a new Pisten Bully for Trail Creek!
The big news this month is that the Western Youth Championships event is coming to Trail Creek March 6-7! This event will gather the best 10–13-year-olds from across the American West at Trail Creek to race in the highest-level youth racing in the country this year! If your athlete is in the Devo or Junior Programs, I highly encourage them to compete in this event. More information is available at this page.
February has been a banner month for snow in the Tetons, but for Nordic skiers that means a lot of grooming! While our groomer, Steve Swan, does a great job with trail preparation with the current equipment, our Pisten Bully is showing its age and has become unreliable at handling the piles of snow we get at the foot of Teton Pass. You may have noticed a change in the grooming for a while this month, which resulted from a breakdown of the Pisten Bully. We have had the current model for over 10 years and we are now fundraising to keep the corduroy at Trail Creek crisp and fresh throughout the harshest Teton weather. Please check out the Cat Campaign website and consider donating to support JHSC athletes and keep the trails buffed at Trail Creek!
Will Wicherski
Head Coach and Nordic Program Director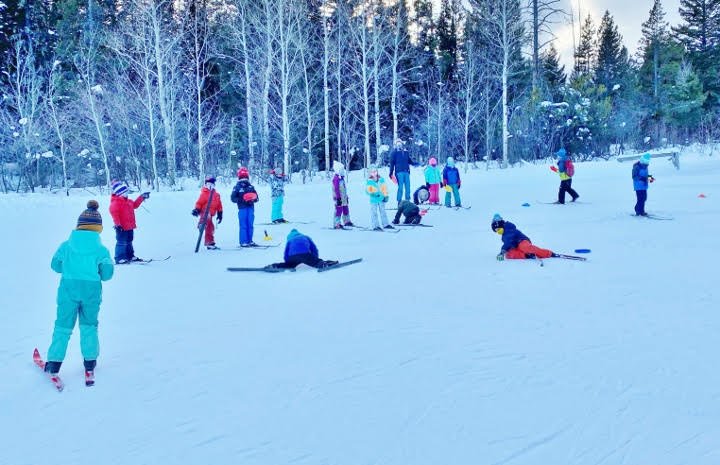 Last Updated: 2/28
State Champions!
High School Coach Katie reported yesterday that the Jackson Hole High School Nordic Team swept the state championships over the weekend in Casper, way to go team!  Full results are available at the High Plains Nordic site, but highlights include Kate Brigham's placing first and Mason Wheeler placing second in both Friday's 5 K classic race and Saturday's 10 K skate race.  Way to go racers!
Speaking of racers, our very own Coach Rob is doing a virtual American Birkebeiner today at our very own Trail Creek.  While some skiers are in Wisconsin in person, because of the pandemic many more are participating virtually across the country.  Rob's goal is approximately to ski about three laps of our traditional Moose Chase Course, shooting for over 50 kilometers.  As of shortly after 9 AM he was on course, cheer him on if you see him on the trails today.

Today's grooming was with the Pisten Bully and covered pretty much every course.  Double passes were made with single passes on most other trails.  Overnight we received about a half inch of snow.  Most of the single pass sections were skate only grooming although a few places received a classic track in that pass.  While the wind was blowing a little more than desirable in the fields, all in all skiing should be nice in most places today.

Groomer's choice for today is to ski the old Moose Chase Course.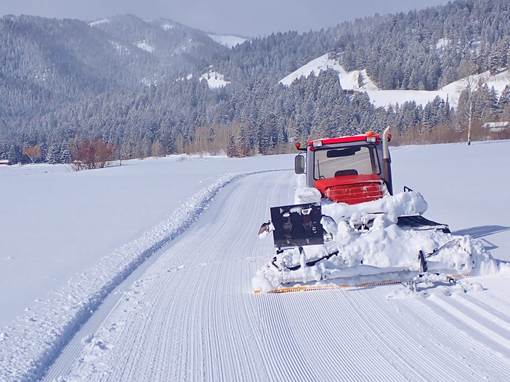 ---
Last Updated: 2/27
The levee and stilson are groomed and in good shape. They will be a bit soft for walkers until it sets up but it should ski well. The school fields will be done around 10:30.
---
Last Updated: 2/20
We rolled Cache Hagen Sidewalk and Hagen Highway this evening and will snowshoe the trails near the trailhead this weekend.
Grooming provided by Friends of Pathways.
---
Last Updated: 2/27
Trip Report Sat. Feb 27th update:
Wide open spaces with friendly , occasional, passing encounters, families, friends, couples all enjoying the sunshine and perfect grooming at Teton Pines. Look forward to more of these conditions all week! Groomed every morning.

Call us for specific retail questions (307) 699-3394 or tetonpinesxc@gmail.com. Our hours are 9am-4pm daily.
---
Last Updated: 2/28
It looks to be a full week of calm weather and sunny skies! Nordic skiing should be extremely enjoyable and fast! Beginning today and again on Monday, GCM will be packing down the snow & laying down corduroy on top of the greens with our snowcat. (Please, Do Not Walk or Ski on the Greens!) This is needed to support our walking rotary push spreaders that apply the black colored sand. The sand is the same natural material we use in the summertime but is the color black. The dark color absorbs the sunlight and naturally assists with a faster snowmelt on these surfaces. The black sanding process will likely begin Tuesday and last through Thursday or Friday. On Monday we will shift our daily grooming to the evening hours beginning at 6pm and continue this pattern until we are finish with this practice. The evening grooming is needed to allow our staff more maneuverability in the morning hours to efficiently complete this time sensitive operation. Please, note that skiers will likely encounter our equipment (snowmobiles & snowcat) throughout this week and the trails could have a few rougher sections around the areas we are currently working. I will send our next update towards the end of the week once we have finished.  Enjoy and soak up the sunshine!
---
Last Updated: 2/17
Teton Village Pathway from Lake Creek Bridge north to just south of the GTNP moose-wilson road south entrance was groomed this morning. Nice for an easy , flat nordic ski, fat bike , or trail run. Or if you're commuting by ski or bike from Wilson or Jackson!
Groomed by Jackson Hole Mountain Resort, and funded by Teton Village Association .
---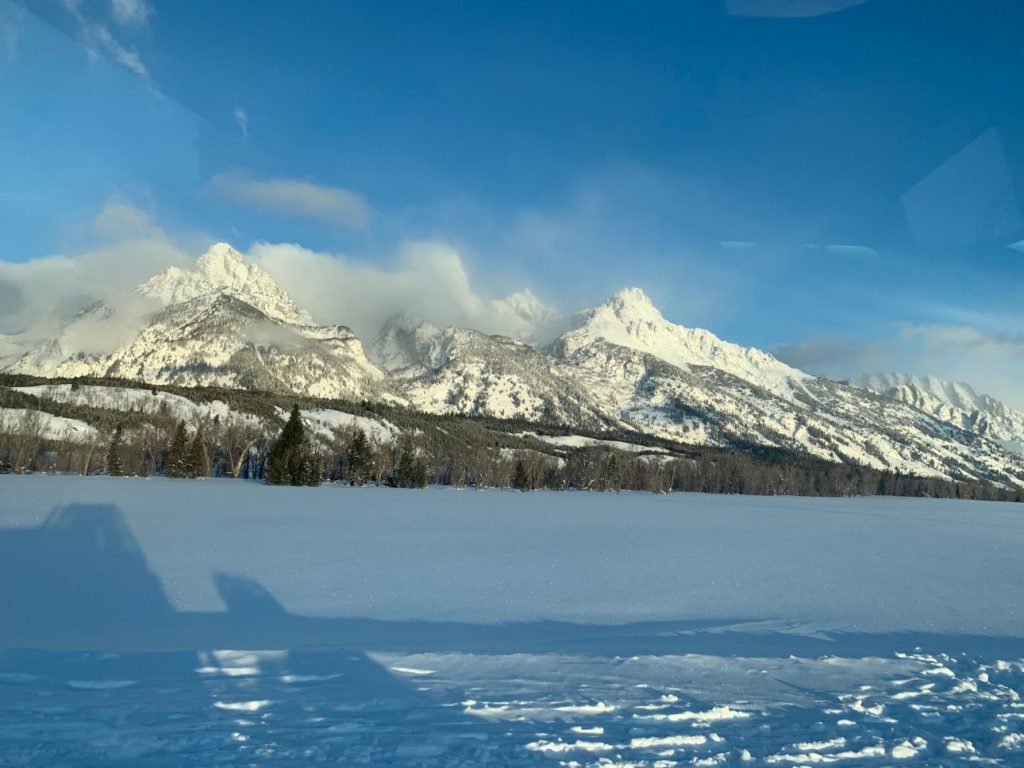 Last Updated: 2/28
It's the last day of February. Hope everyone is able to get out and enjoy the fresh groomed tracks that Lee is laying today from the Taggart Lake Trailhead to South Jenny.  Happy Sunday Funday! 
---
---
Last Updated: 2/28
Going to be a gorgeous day today! No new snow but lots of wind drifts down low. the skate lane was reset and should be quite fast later today after a bit of sun. The fat bike single track is also like pavement! Only one more week to come enjoy the trails! If you're new to skiing or wanting to refine your skills, book a ski lesson with our professional ski instructor Elee (she also does guided tours)! She is a wealth of knowledge and can help take your Nordic skiing, whether it be skate or classic, to the next level! To help with social distancing and to get you on the trails faster please purchase your trail passes and sign your waivers online in advance (see link below). As always, remember to recreate responsibly. Bring a mask as it is required to enter the lodge. Lunch and dinner are both by reservation only.
https://www.turpinmeadowranch.com/adventures/winter-adventures/
https://www.turpinmeadowranch.com/the-ranch/live-conditions/
https://www.turpinmeadowranch.com | 307.543.2000, office
---
Last Updated: 2/28
Cross Country/Fat Bike 15k: XC OPEN (Last groomed 2/27/2021, Fat Bike CLOSED.

Trail Etiquette: Please keep your dogs leashed in the parking lot and be sure to clean up after them!
---
Grooming Schedule: Tuesday, Thursday, & Sunday
Last Updated: 2/28
Skate: Set | Classic: Set
Sunday: Plan to use the Ginzu to reset both skate and classic tracks this morning. Expect both to turn out well. Should finish by 9am.
Please do not park in the library parking lot. Please be sure to keep your dogs on a leash and to clean up after them.
---
Grooming Schedule: Monday, Wednesday & Friday
Last Updated: 2/27
Skate: Set | Classic: Set
Driggs will be groomed by 10:30 fish Saturday morning.
---
Grooming Schedule: Monday, Wednesday, Friday
Last Updated: 2/27
Skate: Set | Classic: Set
Groomed and reset the skate track classic track and single track. It'll be soft this afternoon but should set up very nicely. Enjoy the weekend glide and ride.
---
Grooming Schedule: Monday, Wednesday, Friday, Saturday
Last Updated: 2/28
Skate: Set | Classic: Set
Smoothed out the skate lane, it is looking a bit soft. Soft dry snow made for a good looking classic track. Enjoy!
---
Grooming Schedule: Tuesday, Friday, Sunday
Last Updated: 2/28
Skate: Set | Classic: Set
Campground and Yetis loops got a fresh groom this morning. Classic track and skate track are set. Enjoy the glide and the up-and-coming high pressure system.
No dogs December 1 – April 15.
---
Grooming Schedule: Tuesday, Thursday, & Saturday
Last Updated: 2/27
Skate: Set | Classic: Set | Singletrack: Set
Groomed the Nordic track reset the classic track and the single track all the way to Sherman Springs parking area. The snow should set up quite well make for an enjoyable weekend. Enjoy the glide and the ride!
No dogs allowed.
---
5th Street Singletrack
Grooming Schedule: As needed
Last Updated: 2/18
Singletrack: Set
Got the trail packed in and buffed out yesterday afternoon. It will be good till the next round of snow arrives.
---
Southern Valley Singletrack
Grooming Schedule: As needed
Last Updated: 2/28
Singletrack: Set
After the month of heavy snows I was only able to groom happy hour and the connector to the Moose Creek parking area. All other singletrack trails had a groom last week and are partially filled with snow and partially rider packed. We will have to get a team groom going in the near future. Any and all snowshoe, bike and ski traffic will help the process. Thanks for being an advocate. Standby for updates.
No dogs December 1 – April 15.
---
Darby Canyon
Grooming Schedule: As needed
Last Updated: 2/26
Groomed to Pinnacle TH – 2/25
---
South Leigh Road
Grooming Schedule: As needed
Last Updated: 2/26
Groomed 2/25
---
Pinnacle Trail
Grooming Schedule: As needed
Last Updated: 2/26
Groomed to upper meadows – 2/25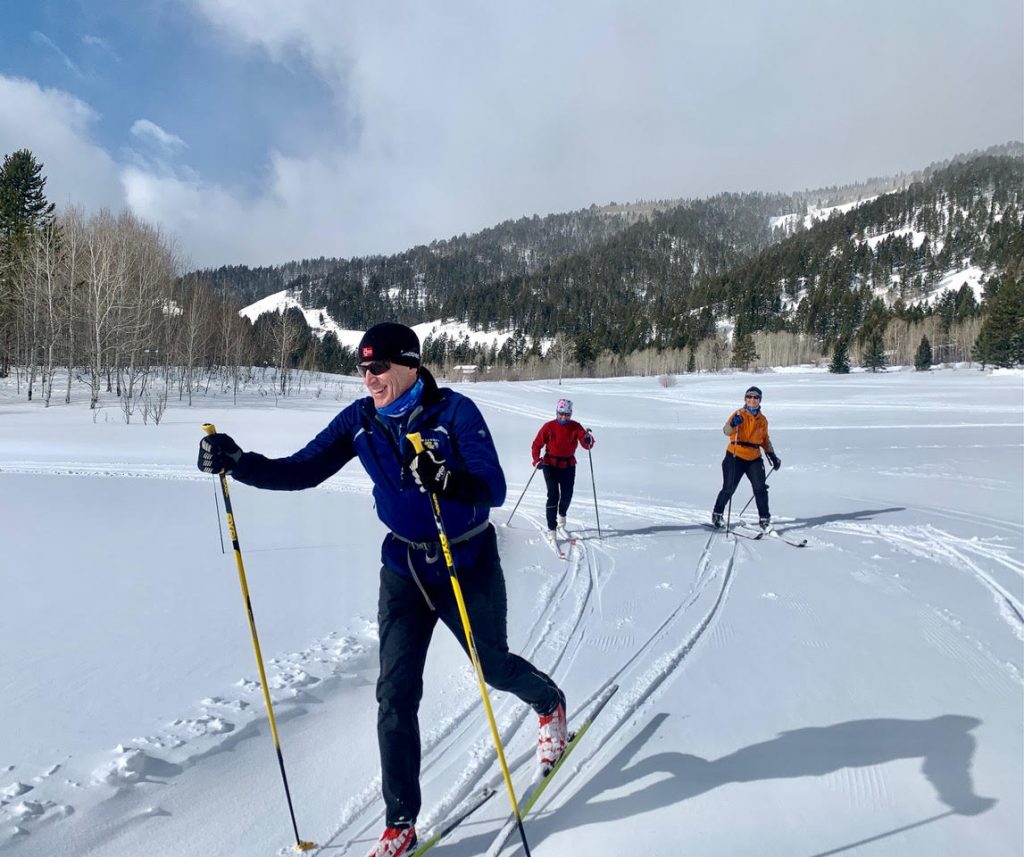 TRAIL CREEK NORDIC CENTER | WILSON, WYOMING
THURSDAY, MARCH 4th
Time: 11am -12:30pm – Meet on snow outside the JH Ski Club Nordic cabin.
3 Nordic coaches from the JH Ski Club – 3 small skier groups based on ability. This clinic will focus on classic XC techniques. BYO Mask.
Trail Creek Nordic trail pass is included for the day for Clinic season pass holders and drop-in participants ($35). Stay on and explore the trails after the clinic.
---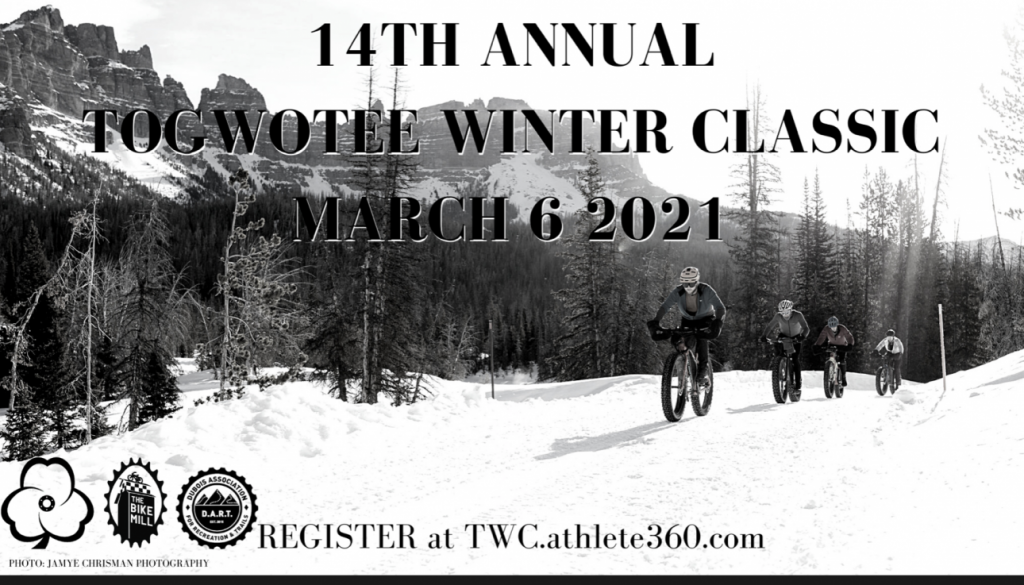 14th Annual Togwotee Winter Fat Bike Classic
BROOKS LAKE PARKING LOT | TOGWOTEE PASS EASTSIDE 7:00AM-3:00 PM
SATURDAY MARCH 06, 2021
Togwotee Winter Classic is a not-for-profit and currently the longest standing, contiguous fat bike race in the Lower 48. The ride takes place on groomed snow and/or snowmobile trails at 8000′ to 9,600′ in elevation on the Continental Divide under extreme winter conditions.
Entry Fee: Free
Registration: 74 Racer Limit — please register on Athlete360 to reserve your spot.
---
---
We'd love to hear about your outdoor adventures, what your doing to stay healthy, safe, respectful of community health guidelines – send pictures or post on FB and Insta – #JHNordic