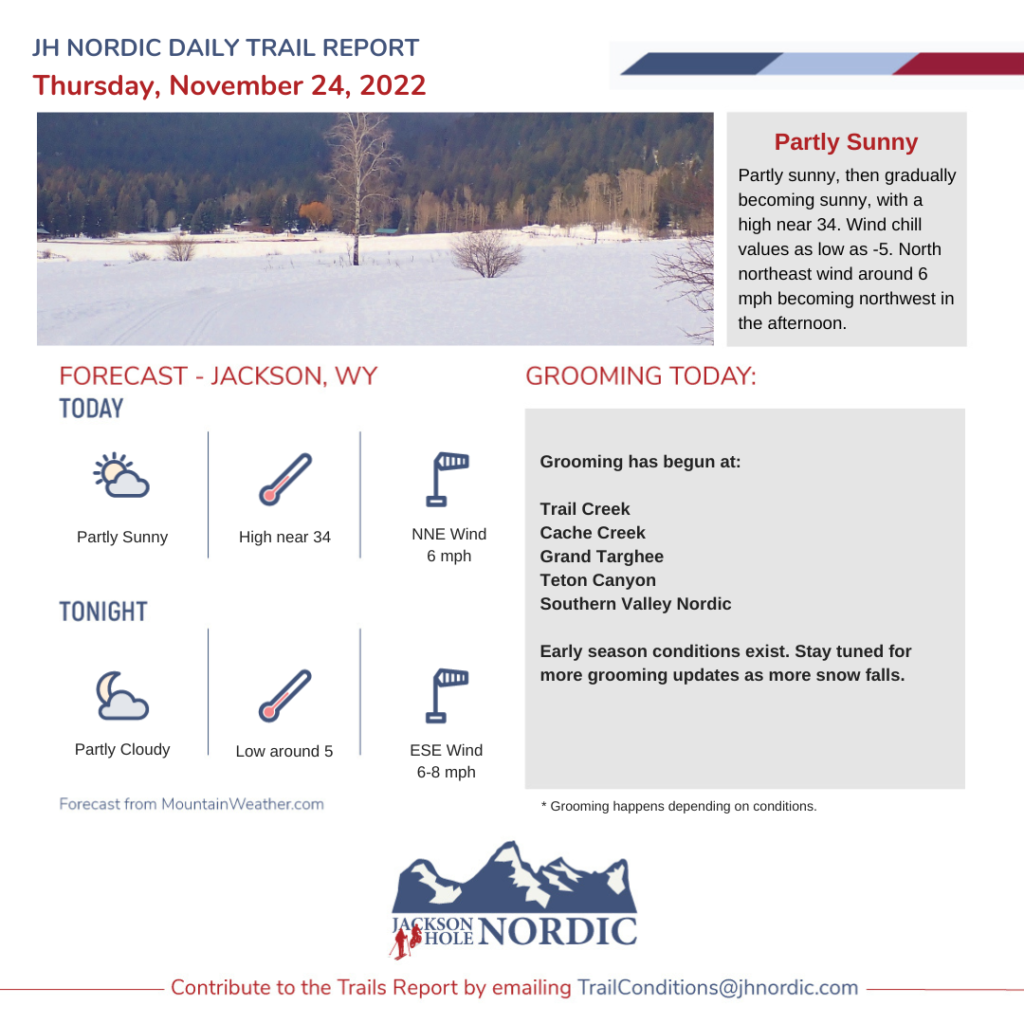 ---
Happy Thanksgiving! This year we are especially thankful for our wonderful community, our diligent groomers, and the abundance of all the winter activities we get to enjoy!
Some early season grooming is occurring at Trail Creek, Cache Creek, Teton Valley, and Southern Valley Nordic and Targhee. Most areas are still waiting for 8-10 inches more snow.
While we're waiting for more snow, there are plenty of snow covered non-groomed trails good for bc nordic, fat biking and snowshoeing. When venturing out, remember to bring bear spray, give wildlife plenty of space, and be responsible with your dog.
---
Cliff Creek was ski-able, even a bit of tracks laid down. Haven't closed the gate yet, so trucks could make it up—though I was alone. – Robert F.
Thanks for the report, Robert! Have you been out skiing lately? We want to hear about it! Email TrailConditions@jhnordic.com to share your experience!
---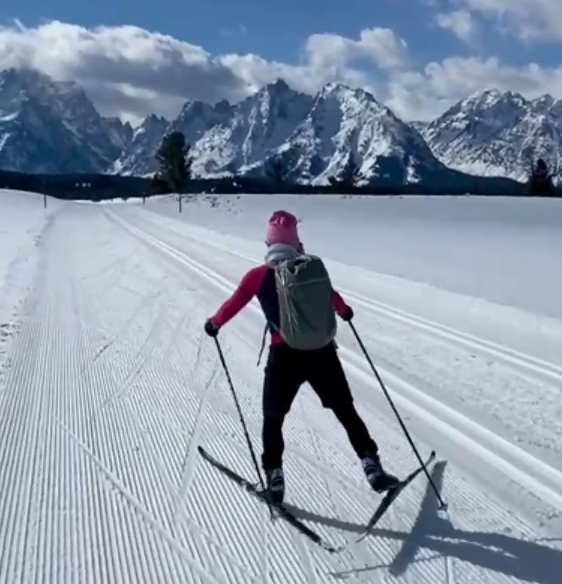 Deciding which winter recreation to engage in while visiting Jackson Hole requires understanding your options. Let us break it down for you, and perhaps you'll try something different this winter season—and love it! We are so thankful for those who get out and utilize the trails that so many work hard to prepare!
NORDIC SKIING
In Nordic skiing, the skis have a free-heel binding system. Nordic skis are light and narrow for ease of maneuvering.
The most popular form of Nordic skiing, the classic cross-country style, is what people generally try first. XC skiing often occurs on maintained tracks, with parallel grooves in the snow as a guide for the skis. This terrain helps you glide along without having to exert too much energy. With "classic," the technique goes like this: You slide one foot directly forward, followed by the other foot. Your poles alternate and parallel the opposite foot. If your left foot is forward, your right pole is forward, and vice versa. Your arms move diagonally to the legs, referred to as the 'diagonal stride.' The rhythm you should feel is like walking. "Classic" can be fast for a cardio workout or slow for less intensity. The undersides of the skis have scales to prevent slipping backward and allow you to glide smoothly and quickly on the snow.
---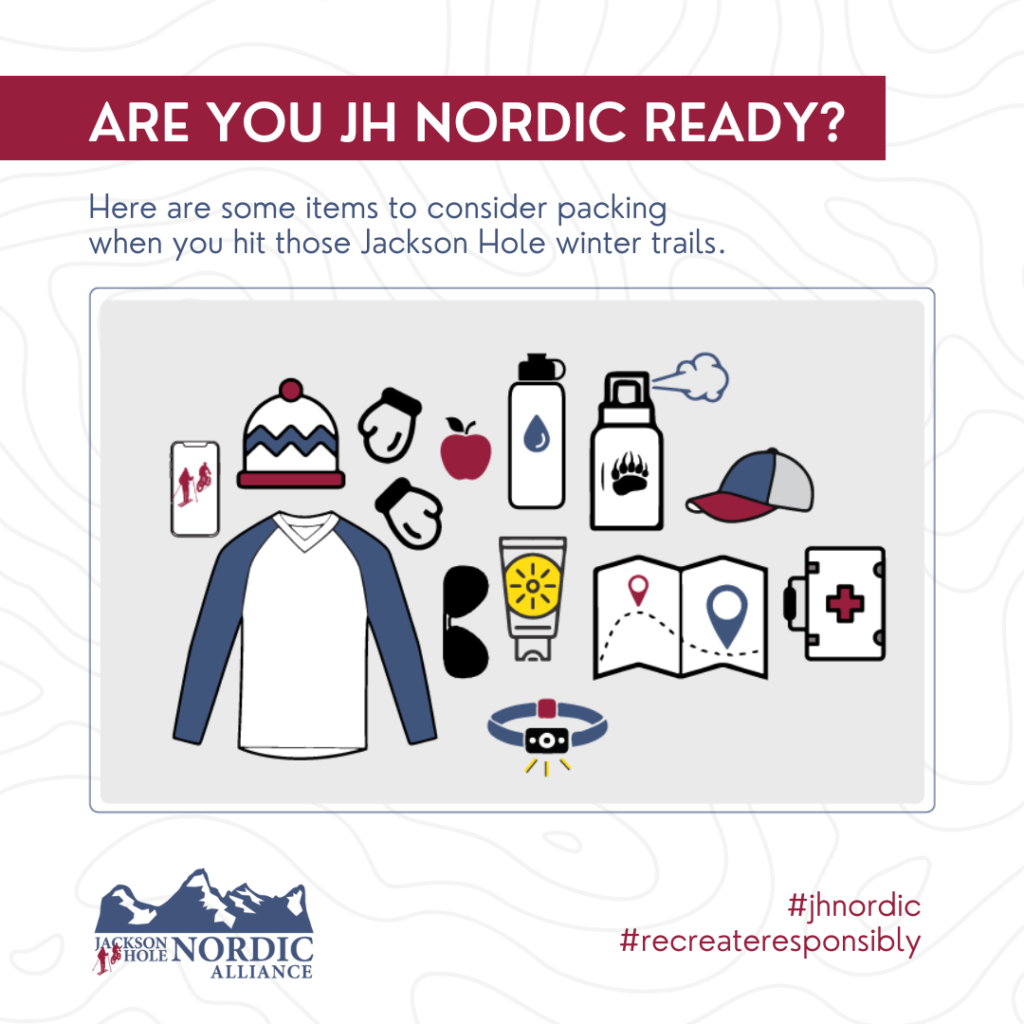 ---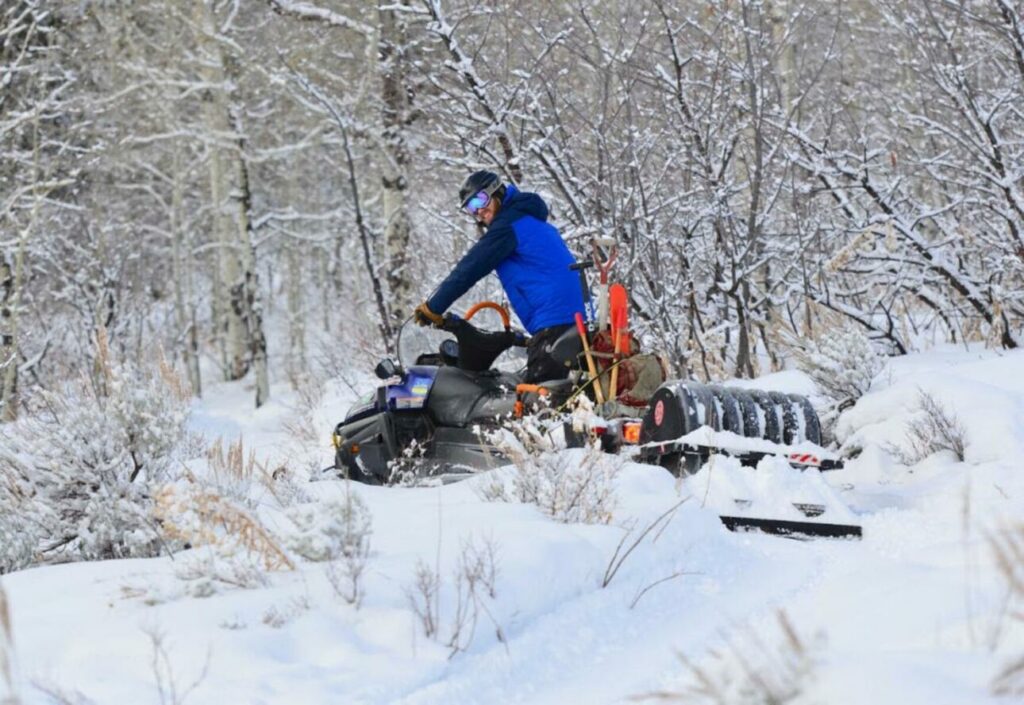 Don't miss the weekly Nordic Notes column in the JH News & Guide for an excellent summary for Nordic and winter trails users, connecting information from the JHNordic Trail Reports and other local sources, along with tech tips and more local winter trail info. Written by Gannett Swan.
Early snowfall has jump-started the ski season, but balmy weather still abounds and most trails remain thinly covered. Be sure to watch for rocks and other hazards still poking through the snow. Get back into the swing of things on your beater skis and, while you wait, get your good pair tuned up for maximum performance once the weather obliges with a solid base.
---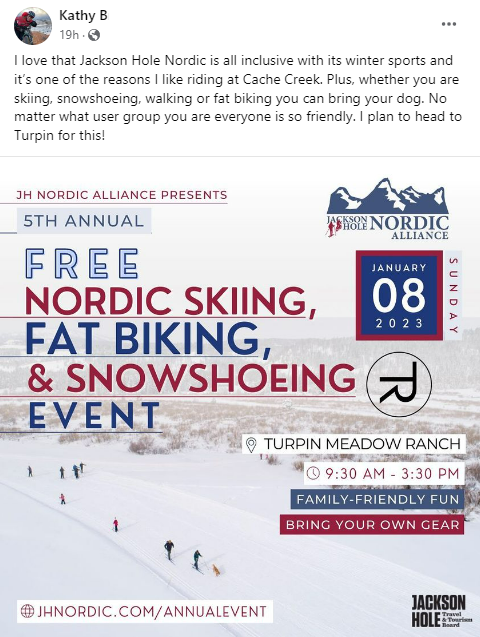 Thankful for the Annual Free Ski Event – Save the Date!
Don't forget to mark your calendars for the 5th Annual Free Nordic Skiing, Fat Biking & Snowshoeing Event January 8th, 2023.
A special thanks to Kathy B. for the kind words. We'll see you at Turpin!
---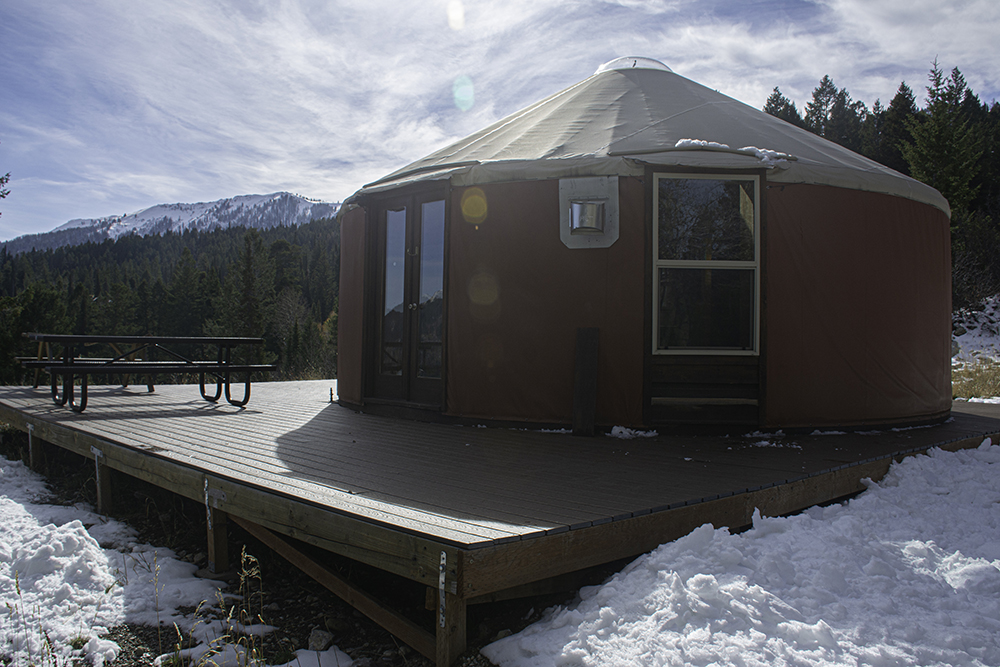 Teton Valley Trails & Pathways has been granted a permit by the Teton Basin Ranger District to manage a backcountry yurt. Located in the heart of Horseshoe Canyon, the Horseshoe Yurt is a perfect place to experience your next winter adventure.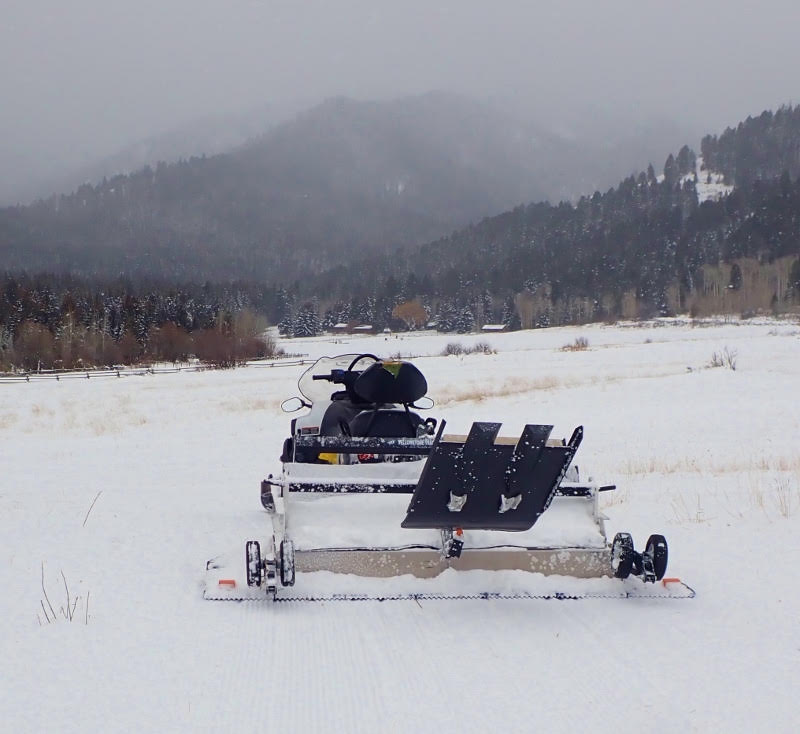 Grooming Schedule: Daily starting 11/26
Last Update: 11/17
We're Back!
Welcome back to a soon to be fantastic 2022-2023 Nordic ski season at Trail Creek Nordic Center! Conditions are still very thin with lots of vegetation showing through the snow cover and most trails have around a 5 inch base. That being said, you are more than welcome to grab your (older) skis and have a great Nordic ski at Trail Creek today.
The Close Field has been experiencing the Ginzu for some time; on the rest of the trails, except for the top of Homesite/Suicide and the area of the Boiler trail near the Old Pass Road, these trails have also been rolled in the past few days and received their first Ginzu grooming of the year today. The East Fields still need a couple of feet of snow before grooming begins there. Things are definitely coming along, but don't expect Olympic quality skiing just yet.
Groomer's choice for today is the Close Field.
Please purchase your season pass or day ski pass online -or pay your trail fee ($20) directly in the box at the JH Ski Club cabin. Your payments help the JH Ski Club Nordic program to operate daily grooming and support our kids' Nordic ski program. https://secure.givelively.org/event/jackson-hole-ski-snowboard-club/2022-23-trail-creek-pass-purchase
---
Last Update: 11/23
No Grooming Yet
Trail grooming is expected to begin next Friday or Saturday, depending on snow accumulation.
Teton County/Jackson Parks and Recreation appreciates the community's patience and staff is looking forward to a great winter full of outdoor recreation.
---
Last Update: 11/17
Main Trail (forest service road), Hagen and Ferrin's Trails Grooming
Thanks to Friends of Pathways' Chris O., he has been out doing some early grooming for fat biking and nordic skiing up Cache. We remind walkers to keep to one side in the existing footprints, to maintain a nice smooth trail for skiers and riders. And keep the trail clean, pick up the poop. Respect wildlife and wildlife closure areas. Donate to Friends of Pathways and Friends of Bridger Teton to support these Bridger Teton Forest winter trails.
---
Last Update: 11/21
Opening Day TBD
We still need of about 8-12"+ of additional snow before any further trail prep and potential grooming can begin. Outlook is calling for a new snow system to possibly develop around Sunday, November 27th. If this next weather pattern does yield decent accumulations, we'll need to be patient and allow for the proper amount of snow to accumulate first, and then begin packing/prepping trails for multiple days after the weather has calmed down. Trails will continue to remain closed until further notice and through at least all of November…potentially longer. I will send the next update on Monday 11/28.  Happy Thanksgiving and hope this year's turkey is served with plenty of new snow to be thankful for!
SNOW DEPTHS NEEDED TO BEGIN TRAIL PREP
Snowmobile Grooming: 12"-20"+
Pistenbully/Snowcat: 24"+
---
Last Update: 11/17
Granite canyon Moose-Wilson road closed until Dec 16th
The portion of the Moose-Wilson Road, south of Death Canyon junction and including Granite Canyon Trailhead, remains closed due to construction activities. The road and trailhead will open to over-snow winter recreation December 16. The northern section of the Moose-Wilson Road remains open.
Taggart to Signal – closed to vehicles, not yet groomed (until early mid Dec.), however thhere is skier track along the road allowing for enjoyable classic xc skiing. Dogs allowed on leash only on the road trail. Donate to Grand Teton National Park Foundation's Nordic grooming fund to contribute to the cost of grooming. GTNPF.org/donate and note "Nordic".

Please show how thankful you are and support TVTAP winter trail grooming on your favorite TV winter trails by purchasing a TVTAP Trail sticker Please remember to manage your dogs and respect dog and wildlife closures. Buy a dog trail sticker, too!
Last Updated: 11/23
Cross Country 15k: XC OPEN | Fat Bike Trails : Open | Snowshoe Trails: Open
Remember, singletracks will be closed when there is more than 3 inches of snow in a 24 hour period.
---
Last Updated: 11/23
Skate: Set | Classic: Set
About 6 inches new snow by time began grooming this afternoon. Used the roller to set skate and classic tracks. Both remain somewhat soft.
---
Last Updated: 11/20
Skate: Set | Classic: Set
Groomed the "inner" Campground loops with the Ginzu and set both the skate and classic track. Groomed Yeti's with the Ginzu and set the skate track. Due to an equipment issue I was not able to set a classic track. Early season conditions persist. Be aware of some rogue limbs sticking up and a few thin spots.
No dogs December 1 – April 15.

Mark your calendar so you don't miss out on all the wonderful events coming up! Explore the highlighted events below or find more events on our website at https://jhnordic.com/events/
---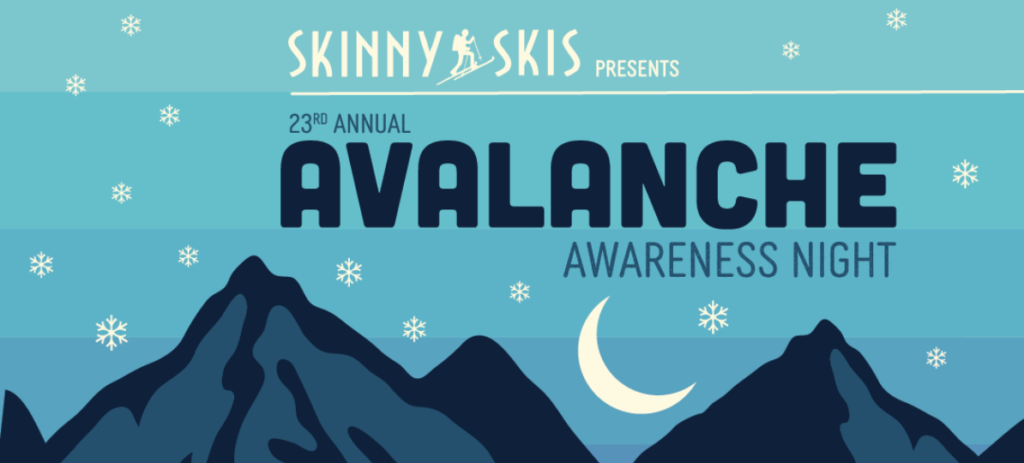 December 1, 2022 | Doors at 5:30PM
Center for the Arts
Join us for a night of winter backcountry outlook, information, food, fun, and prizes as we all take a refresher course on backcountry safety and adverse conditions from industry experts. A silent auction will benefit the Bridger Teton Avalanche Center, BT National Forest and Teton County Search and Rescue organizations that we are so thankful for!
---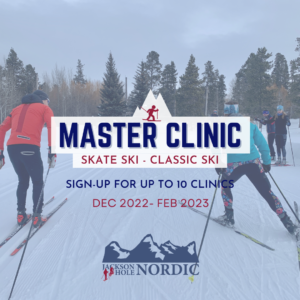 Thursdays – from Mid December to late February
First Clinic (Classic) – Thursday, December 15
Teton Pines Nordic Center
Join us this winter season to increase your ski speed, stamina, and strength. Work on your technique and form with professional tips and exercises from USSA certified coaches. Stay and ski all day with your clinic ski pass at Teton Pines Nordic Center or Trail Creek Nordic Center (we will ski at both locations through out the winter to provide a variety of terrain and technique).
---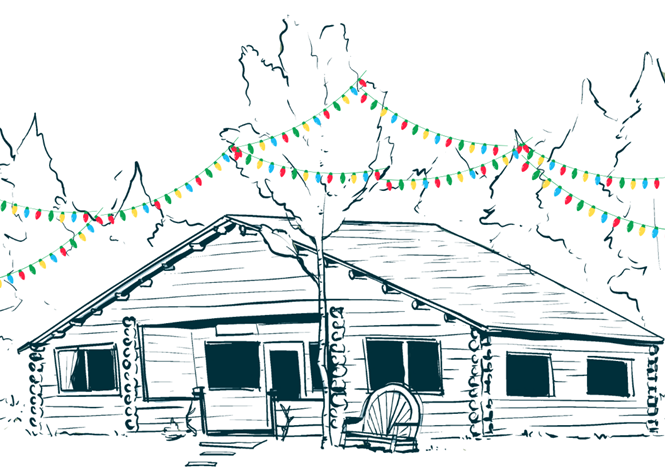 December 11, 2022 | 1:00PM – 4:00PM
Murie Ranch, Moose, WY
Join us for a Murie-inspired Cookie Swap out at the Murie Ranch on December 11th. What's a cookie swap, you might ask? Bring a couple dozen of your favorite cookies and a Tupperware container and the swapping will begin. Thankful for tasty events in and around Jackson! You'll leave with an assortment of everyone else's best cookies and a very happy heart!
---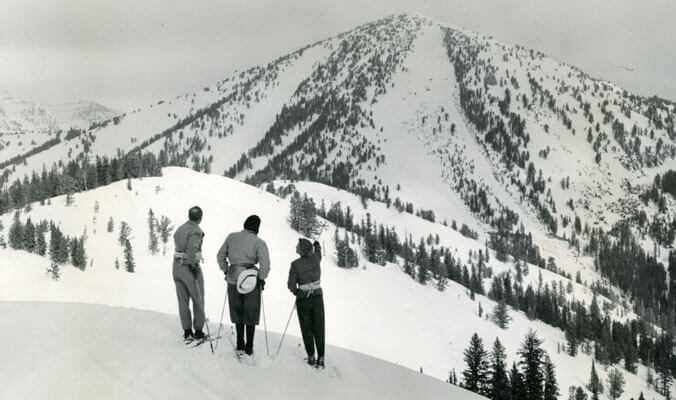 December 26, 2022
Trail Creek Nordic Center
Come work off your Christmas feast in style! This community event offers distances for every age and ability, 10 AM start time with a mass start classic format.
Racers can choose from 0.5k, 3k, 5k, and 10k options.
---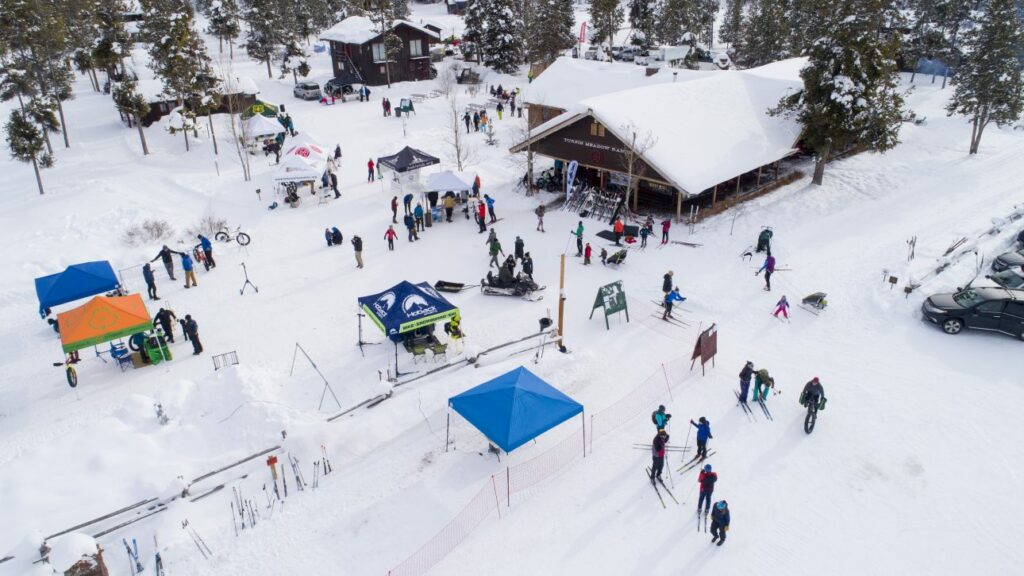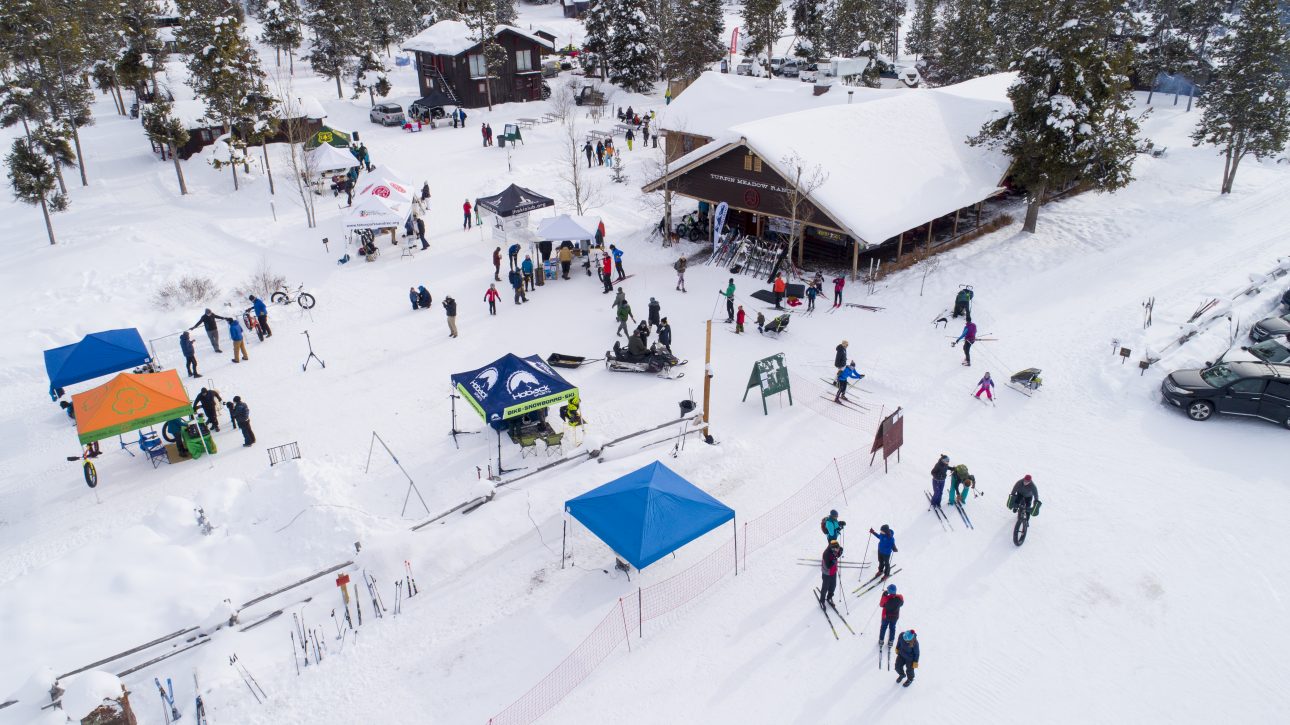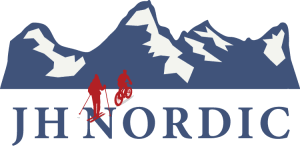 Sunday, January 8th, 2023 | 9:30AM – 3:00PM
Turpin Meadow Ranch
Fun, Free Community Day – with Raffle benefiting local Nordic Alliance non-profit. Free trail pass, Free skate & classic XC ski demo gear, Free fat bike demos, free Nordic ski lessons, Free BackCountry Nordic Ski & Snowshoe tours, Kids Corral (2-5 yr olds), Bridger-Teton USFS wildlife and wilderness info, Kates Bars, Lunch, snacks, hot & cold drinks. We are so thankful to all those who help us put on this wonderful community event!

Sponsored by the JH Nordic Alliance members. Family. Friends, visitors, dogs (on leash) welcome. Bring your own skis and bikes recommended to use between free demos and tours.
---
---
---
We'd love to hear about the outdoor adventures you are thankful for, what your doing to stay healthy, safe, respectful of community health guidelines – send pictures or post on FB and Insta – #JHNordic