It's always hard to think about leaving your favorite adventure partner at home when you embark on a snowy adventure. But what if you didn't have to?
Setting you up for success for snowy adventures with your dog
We reveal Cross Country skiing tips to ski with your dog safely while maximizing the fun for you both! Cross Country skiing with your dog is pretty much a match-made in heaven workout in the fresh winter air. Here are things to think about before bringing your pup along for the adventure.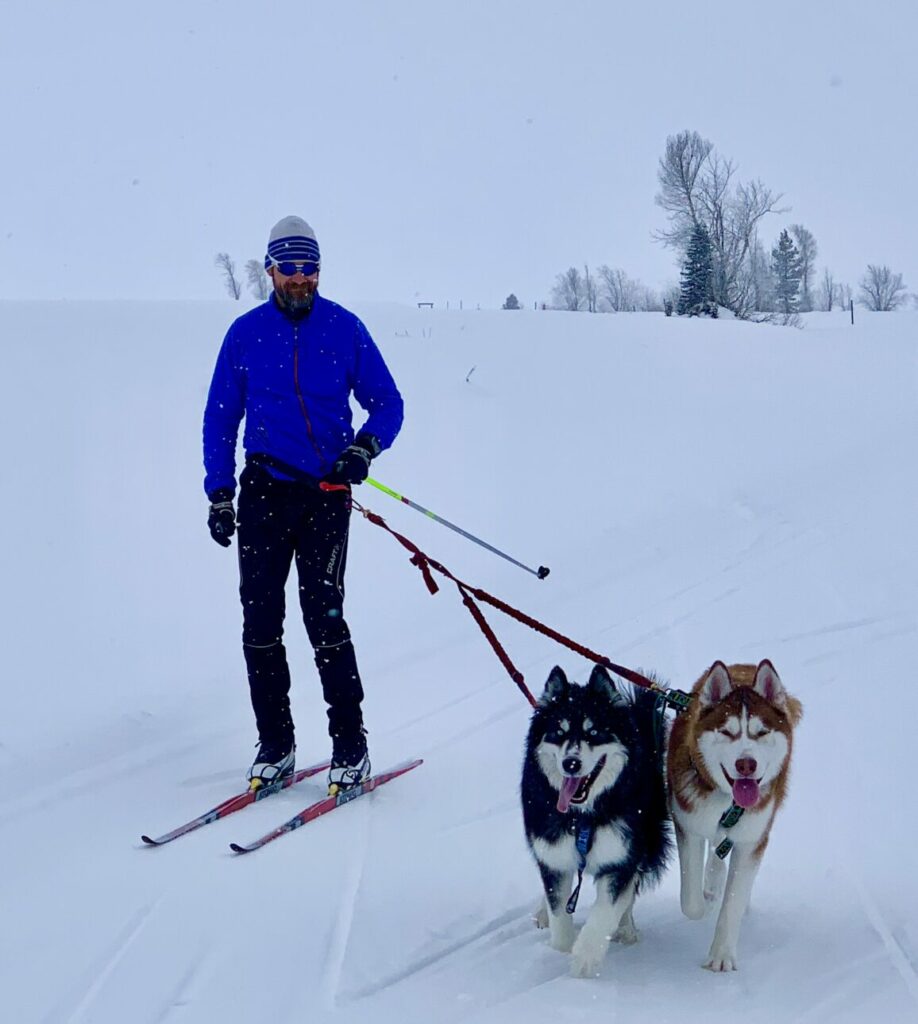 Basic Guidelines to skiing with your dog!
First and foremost, Check JH Nordic trails – click the Dog icon -to find over 40 dog-friendly trails , to make sure that dogs are allowed on the trails you are hoping to ski on. If they are not, take your dog to a different trail. If dogs are allowed make sure that you follow all the protocol that trail asks for skiing with your dog.
Your dog needs to be well trained, meaning they run slightly in front or to the side of you. They need to listen and respond to commands as well. This way your pup doesn't harass other skiers and you don't hurt yourself or your dog by having your dog get in your way. 
Put your dog on a leash, or one at a hands reach! When you are in heavily populated areas or in a parking lot put your dog on a leash (even if they are well behaved it will put the fellow patrons at ease.)
In Grand Teton National Park, dogs must be on leash at all times. Dogs are permitted only on selected road trails such as Teton Park road, Moose-Wilson Road.
Common dog etiquette also applies on winter trails. If nature calls, always clean it up! Check out more of what you can do to keep our trails clean here. 
Try to go skiing when the trails are not populated with tons of other skiers – usually early mornings or late afternoons.
Have fun with your pup!
And remember to bring a poop bag and pick up the poop!
Some of our favorite places to go skiing with our dogs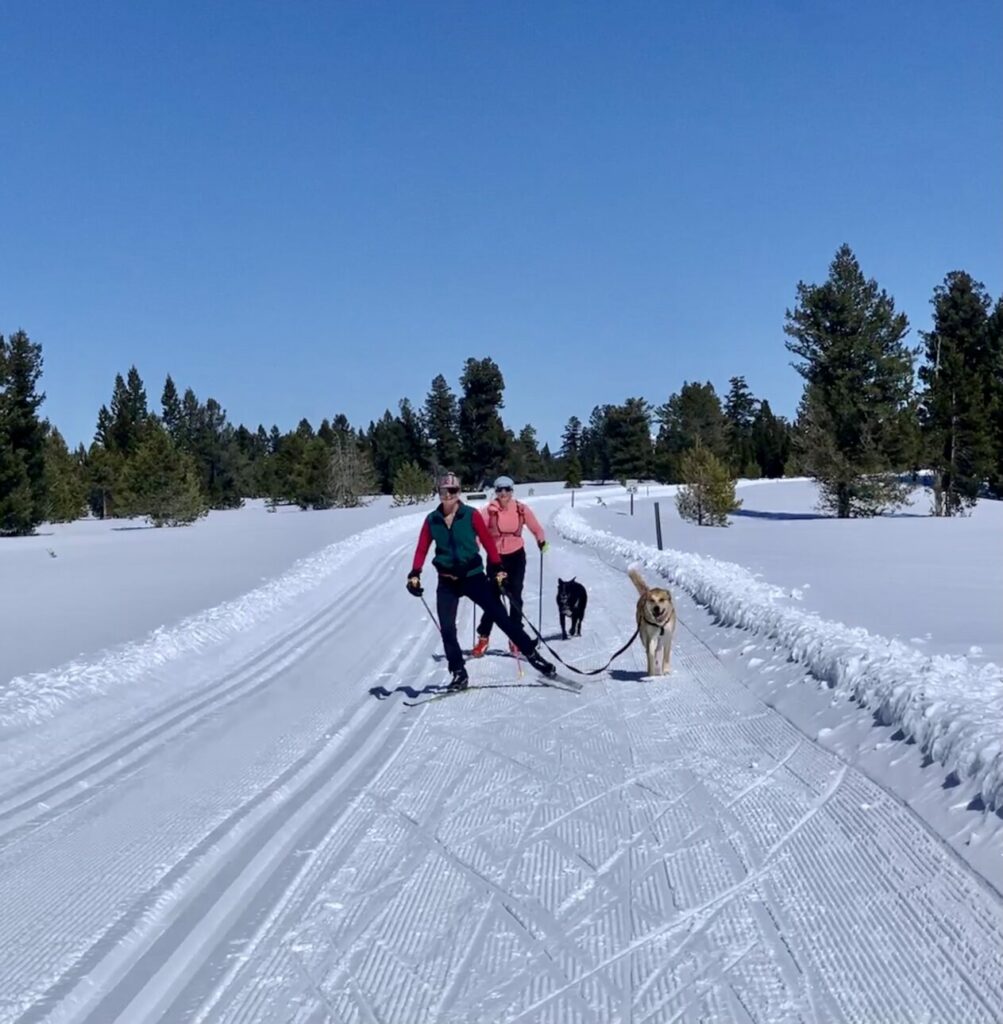 The importance of picking up poo!
Did you know Poop Pollutes?? Unscooped dog poop leaches into groundwater, ponds, creeks, Lakes and rivers polluting the natural water sources. Dog poop transmits bacteria, virus, and other pathogens to animals and humans. The nutrients in dog good causes excess algae to grow. as algae decays it uses up the oxygen needed by fish, harming more natural resources.
So you're thinking, what can I do to keep the waterways in my beloved community clean? Pick up your dog's poop, and another poop or two while you're at it. To really do you part for every dog that you bring to the trail grab, bag, and toss at least one poop! Pick up Mutt Mitts at your trail head, beside to always have a few spare attached to your dogs leash, in your pocket.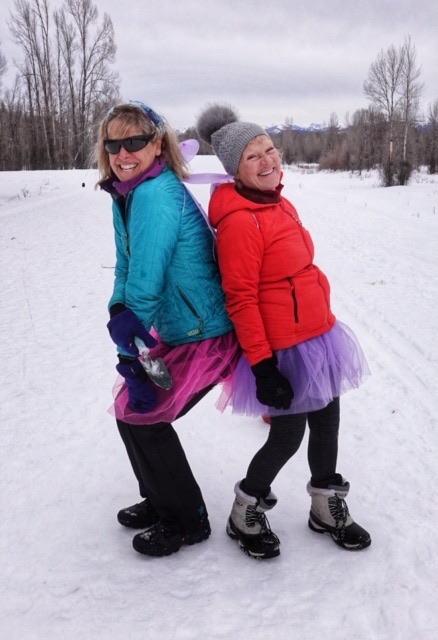 We challenge you to go the extra step and clean up after more than just your dog. Go out with many bags and pick up as much poop as you can while informing trail users of the importance of poop pick up. Oh and you can't forget your tutu and wings to look as cute as these poop fairies.

Each year, PAWS of Jackson Hole contributes 150,000 free mutt mitts to our community. To date, we've distributed 2.4 million free mutt mitts in the 25 stations we manage around town! We also sell mutt mitts and stations to local businesses and HOAs ($125 for a mutt mitt station and $12 for a sleeve of 100 mutt mitts). Call us if you'd like to install a mutt mitt station in your neighborhood.