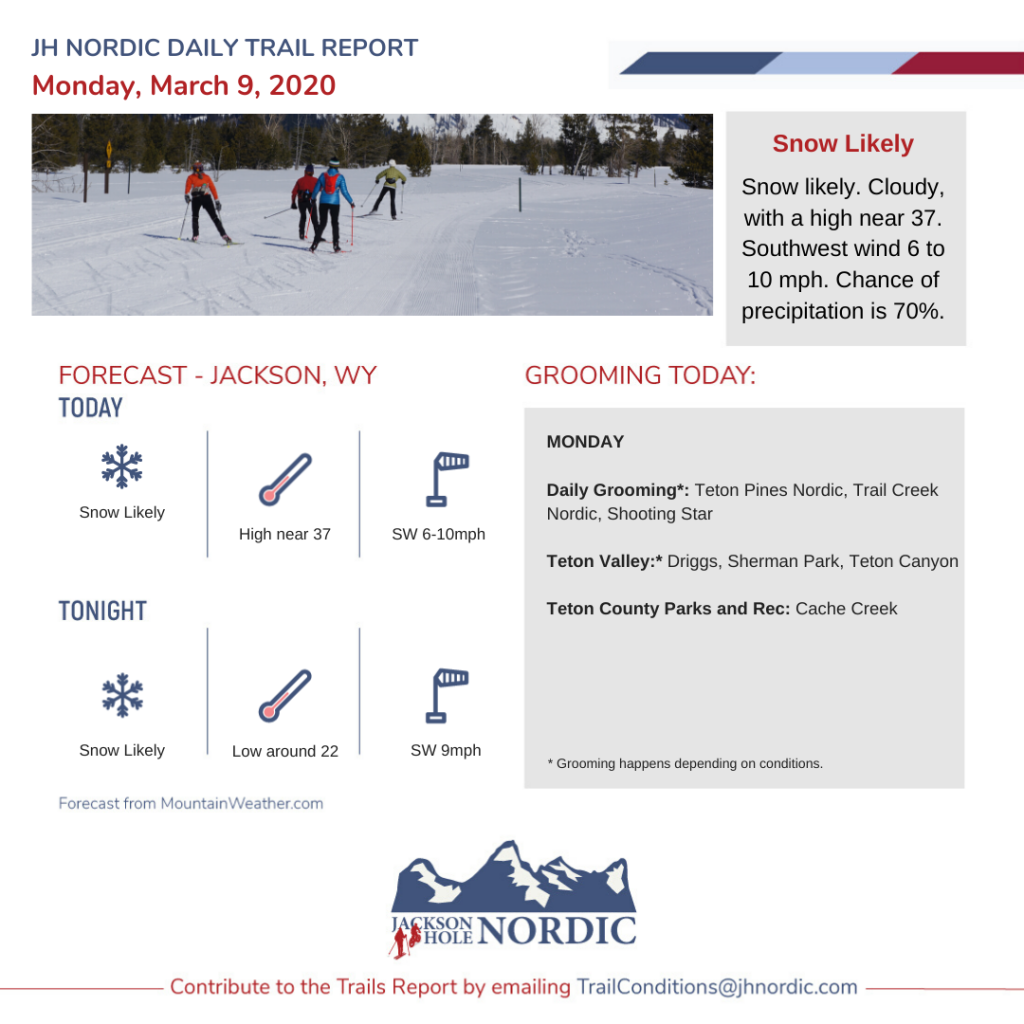 ---
Thank you for continually sharing your photos with us of Nordic skiing in Jackson Hole
---
Trail Report: Taggart to Jenny Lake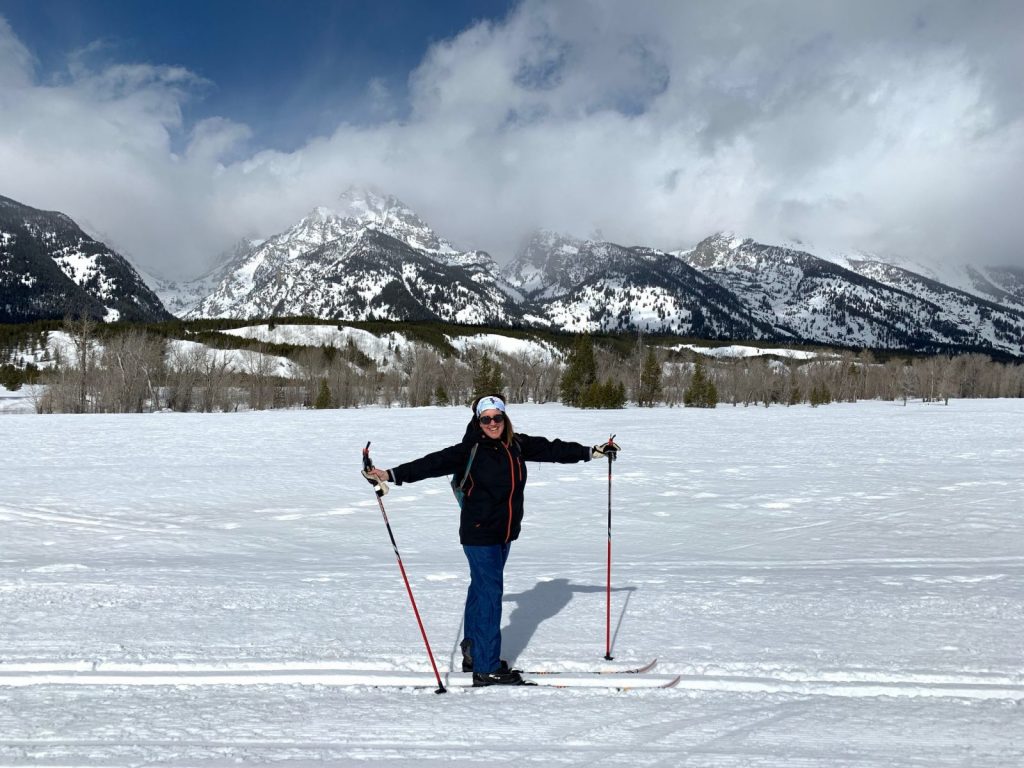 Sunday morning, Outbound skiing was good on freshly groomed tracks, good quality snow at 10 am. Return journey, classic tracks remained in good shape, thanks to the groomer. South headwind had picked up, so watch for wind.

Recommendation: choose to ski on days with fresh grooming , to avoid frozen ski tracks from the previous day. Watch the temps to hit the key window between stiff, frozen and mushy snow. Groomed tracks will hold up longer than off trail.
---
It's Time to Make Your Teams for Pole-Pedal-Paddle!
Saturday April 4, 2020
This year marks the 42nd anniversary of Pole Pedal Paddle, a Jackson Hole tradition where racers compete in in alpine skiing, cross country skiing, biking, and boating all in one race! The event raises money for the Jackson Hole Ski & Snowboard Club.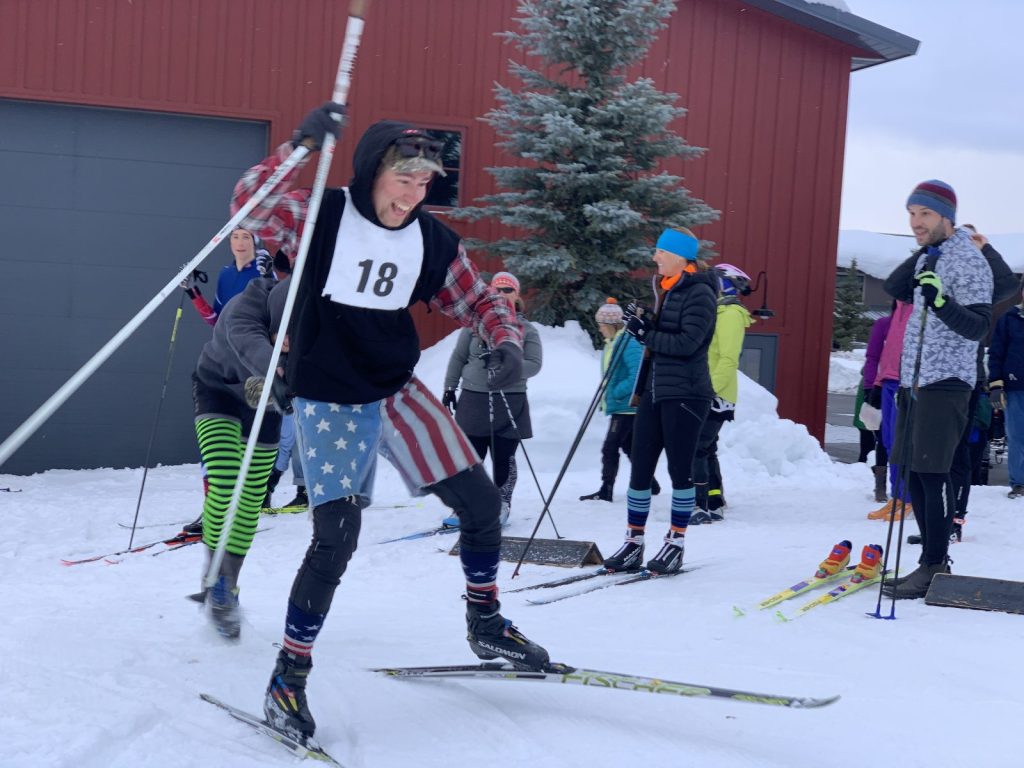 The deadline for submitting ALL TEAM INFO in your online registration, including all names, ages, assigned legs, and signed waivers is March 31, 2020. Teams without all submitted info by 3/31 cannot race. 

Last Updated: 3/8
Grooming Daily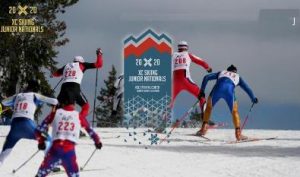 Missed the Snow!
It would have been very nice to get a few inches of snow to freshen things up a bit at Trail Creek last night, but even though we didn't, things are coming around nicely. As of 11:45 AM the warm 3ºC/37ºF temperature and partly cloudy skies are softening the snow nicely.
The map here is the course for tomorrow's 5 and 10 K classic races, click on it to see the amazing amount of data conveyed. Today's primary agenda at nationals is opening ceremonies and while our athletes are surely getting some skiing in at Donner Pass, racing doesn't begin until tomorrow. One slightly negative note, it appears from the event website that in order to view live streaming one will have to pay a pretty hefty fee, if a more affordable alternative is discovered it will be passed on here.
Yesterday's grooming was with the Ginzu groomer and commenced in the fields. Initial conditions were very icy, but by midday the fields were skiing nicely and the woods were just about there as well. No classic tracks were set today but mostly remain in ok shape.
Groomer's choice for today is the fields.
---
Last Updated: 3/8
Last Day of Grooming was 3/8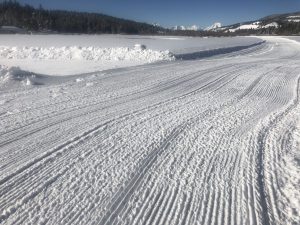 Thanks to everyone for making this another great winter! We appreciate all of our regular guests who have become part of the Turpin family. We hope to see all of you again next season for more skiing, and biking. Thanks to all who made the journey out this winter, we hope you had a memorable ski or bike. Looking forward to seeing you all again next season.
Grooming ended March 8th. No lodge services available. Trails are open but no longer being groomed.
---
Grooming Today: Cache Creek
Last Updated: 3/7
P&R will continue grooming Cache and Game Creek through March 28th this year. Valley locations will be evaluated daily to determine when those will no longer be groomed. Our goal is to get through March 15th with valley locations. Keep checking back for updates!
The school fields are groomed and in good shape. The levee is groomed with a shallow classic track. Stilson groomed. 
---
Last Updated: 3/8
No Grooming Today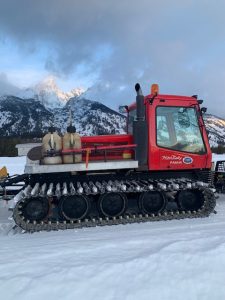 The rain made the conditions a little firm in GTNP this morning (Sunday 3/8). Regardless get out there and enjoy the last week of skiing in the park. 
---
Last Updated: 3/3
Grooming Daily
We are closing early (3pm) on Tuesday March 3, but will resume normal hours on Wednesday March 4 (9am-4pm).
Conditions are still good and holding steady but watch the thermometer as we are in some pretty serious freeze/thaw cycles from now until the end of the season. The skiing will be best late morning after the temps begin to raise. Skate skiing conditions are typically awesome this time of year but classic track skiing conditions can vary drastically. The warm days make resetting the classic track challenging so please bear with us as we rapidly approach the end of the season! We've had incredible ski conditions and grooming for the past 100 days—so please thank our great groomers(Mike, Mark, and Curt)when you see them!
Our entire classic rental fleet is on sale now as we prepare to bring in a new rental fleet next season!
Classic package:
Salomon Snowscape 7 skis
Salomon Escape/Siam/etc boots
Swix poles
Total: $275 (dates for pickup vary on size you need—call us for details).
We have spring gloves, base layers, hats, jackets and a few pairs of pants remaining! We also have great deals on classic, BC, and skate skiing poles, boots, and skis!
---
Last Updated: 3/6
Grooming Daily
Trails are in great shape and will favor fans of fast skate skiing. The recent warm weather has transitioned our snowpack into a hard-packed and icy surface. Due to the firmness of the snow, classic tracks will not be set today and likely for the remainder of the season. Also, skiers should anticipate icier/fast conditions in the mornings that should evolve to softer/slushy snow in the afternoons as the temperature warms. Outlook is calling for a wintery mix of rain & snow to pass through this weekend. Have fun and enjoy the spring conditions!
Next Update: Monday
---
Update: 2/22
Teton village pathway trail – groomed on Tuesday. Firm, packed snow.
---
Grooming Today
Update: 2/22

Skier Update: Trail is ' groomed' – not perfectly smooth corduroy, more "flattened and rolled". Occasionally, there is a classic cross-country track, sometimes not. Certainly a nice hour and bit around the golf course with great views, a fun place to ski if you are looking for a new flat, groomed trail to try out.
Groomed with classic track on Tuesdays, Thursdays, and Saturdays.
---
Last Updated: 3/8
Grooming Daily
We lost an hour, but we gained 2″ of new snow on the mountain overnight. Not such a bad deal!
Cross Country/Fat Bike 15k: XC OPEN (Last groomed
3/8/2020), Fat Bike OPEN.
---
Last Updated: 3/3
Nordic:Breezy, but not moving snow so far. All multi-use trails groomed this morning. Tree Loop and perimeter of Upper Surveyor also. Headed for the Golf Course now. Hopefully will have Golf Course and CCC trails done by lunchtime (Editor's update: Mike won't get to the CCC Pond trails today). About 16F degrees at Nordic Equipment Building this morning, slight breeze. Have a nice day.
Fat Bike 2/13: All Lower Kelly Park is groomed with a great riding base. Should be perfect conditions for the next 3-5 days due to high pressure system. For more information contact Geared Up, 307-399-5539 c.307-760-1912, www.gearedupbikes.com

Grooming Today: Driggs, Sherman Park and Teton Canyon

Grooming Schedule: Tuesday, Thursday, Saturday, Sunday
Last Updated: 3/8
Skate: Fair | Classic: Poor
---
Grooming Schedule: Monday, Wednesday, Friday
Last Updated: 3/6
Skate: Poor | Classic: Good
Gave up after setting the track. The snow could not carry the groomer.
---
Grooming Schedule: Monday, Wednesday, Friday
Last Updated: 2/25
Skate: Fair | Classic: Fair
Groomed on 2/24, 6 pm
---
Grooming Schedule: Monday, Wednesday, Friday, Saturday, Sunday
Last Updated: 3/8
Skate: Fair | Classic: Not set
Unfortunately rain in canyon overnight, then light freeze. First mile of skate is rough, a lot of mixed use again yesterday, hard to repair with current conditions. Unable to do anything about classic track. Only good news this morning is the road and parking lot are in good shape.
---
Grooming Schedule: Tuesday, Thursday, Saturday
Last Updated: 3/8
Skate: Excellent | Classic: Good
Reset both skate and classic tracks. Much snow-pack loss, but the trails should ski nice. The classic track has been set to the opposite side from where it is normally placed.
---
Grooming Schedule: Tuesday, Friday
Last Updated: 3/6
Skate: Good | Classic: Good
---
5th Street Singletrack
Grooming Schedule: as needed
Last Updated: 2/9
Singletrack: Poor
Skinned a lap after some foot traffic then rode front portion on triple wide. Need a sled for more compaction but will keep trying!
---
Teton Springs Singletrack
Grooming Schedule: as needed
Last Updated: 3/2
Singletrack: Excellent
Plowed with v plow. All good
---
Southern Valley Singletrack 
Grooming Schedule: as needed
Last Updated: 3/2
Singletrack: Excellent
---
Darby Canyon
Grooming Schedule: as needed
Last Updated: 3/4
---
South Leigh Road
Grooming Schedule: as needed
Last Updated: 3/3
Togwotee Winter Classic Fat Bike Race Continues Through Saturday
Friday, March 6 – Saturday, March 7
Lava Mountain Lodge, Dubois WY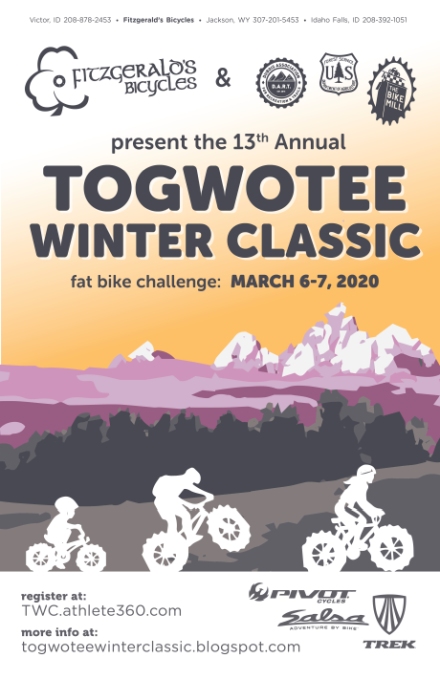 The Togwotee Winter Classic is a not-for-profit fat bike race on groomed snow and/or snowmobile trails at 8000′ to 9,600′ in elevation under extreme winter conditions.
The course for this year will be different. There will be a 35-mile loop and a 20-mile loop. See link for maps, more info.
---
Send us your event dates, stories, photos
Follow JHNordic on Facebook, Instagram @JHNordic, #JHNordic
Sign up for Daily or Once a Week JH Nordic Trail ConditionReports to know what's groomed,
what's happening first thing every morning – or just Saturdays.