---
Scott Lacy: Grassroots-funded professional Nordic racer (and former Jackson Hole Ski Club Nordic coach)
With the JH Ski Club Nordic teams crushing most of the regional youth Nordic races in recent weeks, find out about a former Ski Club Nordic coach who has gone pro.
Though Scott Lacy grew up in a family full of alpine skiers, he was drawn to the Nordic community. He found that Nordic skiing was a different type of work than alpine skiing–one that required more long-term goal setting and achievement.
Even though Scott thought he might join an elite team right after graduating from college, he decided to shift his focus away from Nordic. He knew that taking the next step towards skiing meant saying yes to one thing and no to everything else, and he wasn't ready for that. After spending some time in Seattle and back at Dartmouth, Scott realized that if he wasn't going to be racing, he needed to fully commit and just have as much fun as he could. This led him to Jackson, Wyoming.
"The kids made me love skiing again. I hadn't touched Nordic skis since college, and I really enjoyed the reconnection to the roots of skiing," Scott said. "I happened to move up with the same age group of kids, which was really cool because I felt like I was relearning my skiing dream, seeing them succeed and go from middle-school skiers to getting top 10's at nationals."
"The kids knew that [I wasn't done too]. When I was skiing around and working on the racecourse with them, they would say 'you need to race–you want this way more than anyone I've ever met,'" he said. "As much as I loved coaching, I knew that [I would leave eventually], and of all the goals I had in life, skiing was the time-sensitive one, so I decided to [pursue] it."
Scott has found an elite team with high-level coaches to train with in Bozeman this year. Their life-balance philosophy is helping him maintain a more sustainable training regimen.
"You have to love doing what you're doing intrinsically for the sake of doing it," he said. "That's where I was lucky, where I realized I stood a chance in what I was doing because I don't necessarily love racing. In fact, the nerves do really get to me, and on race mornings I'm pretty nervous every single time. But in the end, I love training, I love the community, and I love putting on skis. At the end of the day, a race isn't a race, it's just another day of training — you just happen to have a bib on and you happen to be on a course. And the more you work on the process, the better those race days turn out."
Scott is still working on funding his race season this year, so there is a great opportunity for people in the Jackson Nordic community to support him. He is working with a true grassroots effort, drawing from the strong Nordic community that he has loved since childhood. If you'd like to support Scott or learn more about his story, you can check out his website.
---
Lots of Snow! Find the Freshly Groomed Trails this Weekend
The skier tracked trails will be deep from the fresh snowfall, so consider opting for a freshly groomed-that-day trail, which should be soft and easier to ski and snowshoe.
For adventures in the snow this weekend freshly groomed trails such as Trail creek, Turpin meadows and Teton Pines. Many others can be found under trails section of JH Nordic. Use the icons to filter and search for trails for snowshoeing, skate skiing, groomed and fat biking.
---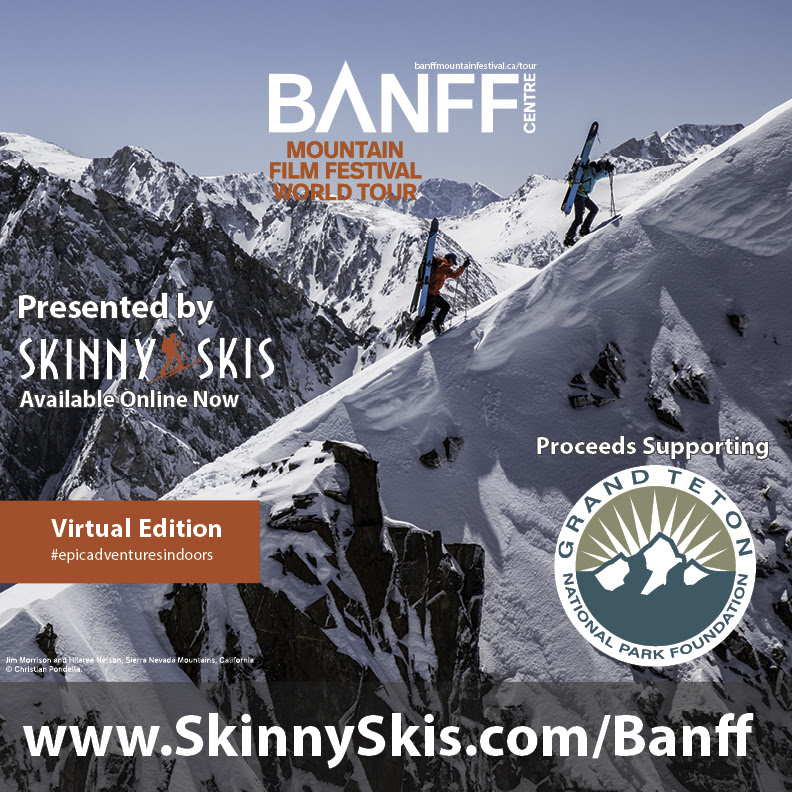 Skinny Skis updates – Banff Virtual Partnering with GTNPF
Proceeds to Support GTNPF's Teton Crest Trail Renewal ProjectFebruary is typically Banff Film Festival month here in Jackson when we get to invite all of our friends in the community to join us down at the high school to watch some amazing films together. Obviously, this year is not a typical year! Hopefully, you have already heard that we've moved the festivities onto the web, so you can "virtually" enjoy the film festival in your PJ's at home this year.

During the month of February, we will be donating all of the proceeds Skinny Skis earns from Banff Festival rentals to the Grand Teton National Park Foundation and their Teton Crest Trail Renewal Project. The project started last year with a focus of work getting done on Hurricane Pass. The upgrades will continue this summer, 2021, with projects along the south fork of Cascade Canyon and the first phase of improving the Paintbrush Divide. You can read more info on what they're planning in 2021 further down in the newsletter.

Last Updated: 2/6
Weather Moving In!
The image above was taken early this morning, when the clouds were just beginning to slip over the ridge. By the time grooming wrapped up snow was once again blanketing our wonderful trails. The snow looks to continue through the weekend. The good news is that our local snow reporting station, Phillips Bench hit 100% of normal today. Lots of snow is always a good thing, even though it might slow your Nordic ski down just a bit today.
As of about 10 AM this morning all of the trails were in really nice shape. Little snow had fallen since yesterday's grooming and the Pisten Bully was able to make multiple passes on pretty much every trail with the skate lanes having firmed nicely and the classic tracks being crisp and sharp. However, the wind was picking up and snow was beginning to fall as grooming concluded so the best bet for the afternoon will probably be skiing in the woods.
The high school team is wrapping up their two day race in Lander today; it looks like it's sunny over there so hopefully they're having a great race!
Groomer's choice for today is Homeward Bound.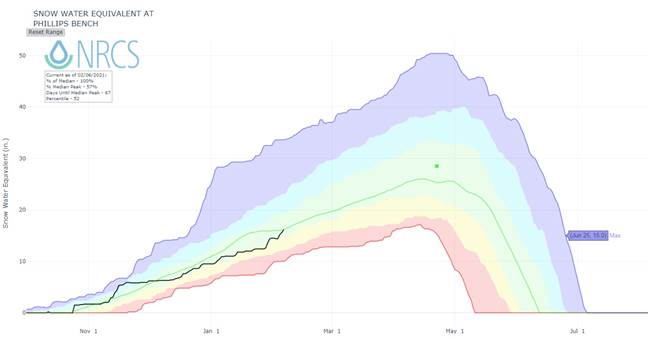 ---
Last Updated: 2/6
The levee and stilson are groomed and in good shape. The school fields will be done around 10:30. Cache creek users today!
Friends of Pathways groomed all the trails in Cache but did not go to Noker as the avalanche danger was high.
---
Last Updated: 2/4
Excellent grooming for both skate and classic . Perfect corduroy, soft enough to good traction, cold enough for great glide.

Please call or email Cody for more details: (307) 733-1733 or tetonpinesxc@gmail.com
---
Last Updated: 2/1
Teton Village pathway along the Moose-Wilson road was groomed Sunday. Nice snowy packed conditions, good for nordic, fat biking, walking, trail running!
---
Last Updated: 2/1
The course is in great shape and the trails continue to firm up after the recent snow storms. Monday & Tuesday's weather looks to promote ideal Nordic conditions, boasting lots of sunshine and warm temps. Outlook is calling for another active cycle of wintery weather beginning Wednesday and lasting through the weekend. Accumulations look to be on the light side, but skiers should anticipate a daily 1-3" of snow to fall on the track during the daylight hours with some possible drifting throughout this system. Overall, it should be another great week to get outside and go on a Nordic adventure. Next Update will be Monday 2/8. Enjoy!
Please See the following Restrictions
Dog Loops & All Nordic Skiing Trails OPEN
Sled Hill OPEN
Classic Tracks SET
Snow Shoeing Loop OPEN
Casual Walking Not Permitted
---
Last Updated: 2/6
Trip Report: It was the "Big Deep" from Granite canyon trailhead to Phelps Lake today. Fortunately, the Moose-Wilson Road section had a basic skier-track, though the snow was over a foot deep on the sides, so poling needed a high- arm technique.
Once off the snowy road trail section, the skier-track continued up the "access road" trail for another 1/3 mile. Then the trail breaking began ( where earlier xc skiers has turned back).
Thanks to a fellow xc skier gentleman, Mark, he broke trail most of remaining 1/2 mile to the Lake. With knee deep snow, the trail was tough to follow. But now that the ski track is in, it was east to retrace our track back to the road track. And hopefully , still visible tomorrow as the snow continues to fall!
Friendly reminder: dogs are only allowed on the road section of the trail ( and on leash) – to protect our fragile wildlife in winter. We came across 2 ski parties with 4 dogs, heading to Phelps Lake. There's quite a bit of ski-track road to ski with dogs, between Granite and Death canyon winter trailheads.
---
Last Updated: 2/4
NEW SNOW! FINALLY! All trails groomed out beautifully this morning. Our skate lane will be a little soft as the freshly groomed new snow settles in. The classic lane was completely reset across all trails and is in pristine condition. We look forward to seeing everyone this weekend! Come ski and fat bike with us. Bring your dog!
If you're new to skiing or wanting to refine your skills, book a ski lesson with our professional ski instructor Elee (she also does guided tours)! She is a wealth of knowledge and can help take your Nordic skiing, whether it be skate or classic, to the next level!
To help with social distancing and to get you on the trails faster please purchase your trail passes and sign your waivers online in advance (see link below). As always, remember to recreate responsibly. Bring a mask as it is required to enter the lodge. Lunch and dinner are both by reservation only.
https://www.turpinmeadowranch.com/adventures/winter-adventures/
https://www.turpinmeadowranch.com/the-ranch/live-conditions/
https://www.turpinmeadowranch.com | 307.543.2000, office
---
Last Updated: 2/6
Cross Country/Fat Bike 15k: XC OPEN (Last groomed 2/5/2021, Fat Bike CLOSED.

Trail Etiquette: Please keep your dogs leashed in the parking lot and be sure to clean up after them!
---
Grooming Schedule: Tuesday, Thursday, & Sunday
Last Updated: 2/5
Skate: Set | Classic: Set
Just finished a double groom job on everything at Alta. Classic track is set. Get out there early Saturday morning before round two of snow comes in.
Please do not park in the library parking lot. Please be sure to keep your dogs on a leash and to clean up after them.
---
Grooming Schedule: Monday, Wednesday & Friday
Last Updated: 2/5
Skate: Set | Classic: Not Set
Driggs was groomed at 5pm Friday. New snow was a bonus for Driggs track. Cooler temps should help. Enjoy skiing in town!
---
Grooming Schedule: Monday, Wednesday, Friday
Last Updated: 2/5
Skate: Set | Classic: Set
With over 8" of new snow, I was only able to roll out the Skate track and Singletrack. It's going to be really soft snow for awhile. The classic track was not set.
---
Grooming Schedule: Monday, Wednesday, Friday, Saturday
Last Updated: 2/6
Skate: Set | Classic: Set
Saturday: Plan to reset both skate and classic tracks this morning. Believe both will turn out well, if not still a bit soft.
---
Grooming Schedule: Tuesday, Friday, Sunday
Last Updated: 2/6
Skate: Set | Classic: Set
I plan on grooming early Sunday morning. I hope to reset the skate and classic tracks. Standby for updates.
No dogs December 1 – April 15.
---
Grooming Schedule: Tuesday, Thursday, & Saturday
Last Updated: 2/5
Skate: Set | Classic: Not Set | Singletrack: Set
I'm gonna head out to roll and pack down the Nordic and singletrack. Please be aware of the machinery. I will be grooming tonight instead of tomorrow morning before the next round of snow.
No dogs allowed.
---
5th Street Singletrack
Grooming Schedule: As needed
Last Updated: 1/25
Singletrack: Set
Did a few laps around the park with the sled and tire drag this afternoon. It will be firm and ready for action as soon as the snow sets up a bit.
---
Southern Valley Singletrack
Grooming Schedule: As needed
Last Updated: 2/4
Singletrack: Set
I was able to groom and widen happy hour, hillbender, grumpy connector, upper Ladyslipper, lower Ladyslipper, and Pole Canyon connector. Nemo is currently ungroomed. The word is there's a downed tree across to the trail. Enjoy the ride!
No dogs December 1 – April 15.
---
Darby Canyon
Grooming Schedule: As needed
Last Updated: 2/4
Groomed to Pinnacle TH
---
Rammell Mountain Road
Grooming Schedule: As needed
Last Updated: 1/21
Grooming on 1/21
---
South Leigh Road
Grooming Schedule: As needed
Last Updated: 2/3
Groomed 2/3


WHITE PINE NORDIC SKI TRAILS | PINEDALE, WY
FEBRUARY 27, 2021
6k, 10k, 20k and races. Races will all be mass start, freestyle race. Prizes and giveaways!
---
---
We'd love to hear about your outdoor adventures, what your doing to stay healthy, safe, respectful of community health guidelines – send pictures or post on FB and Insta – #JHNordic