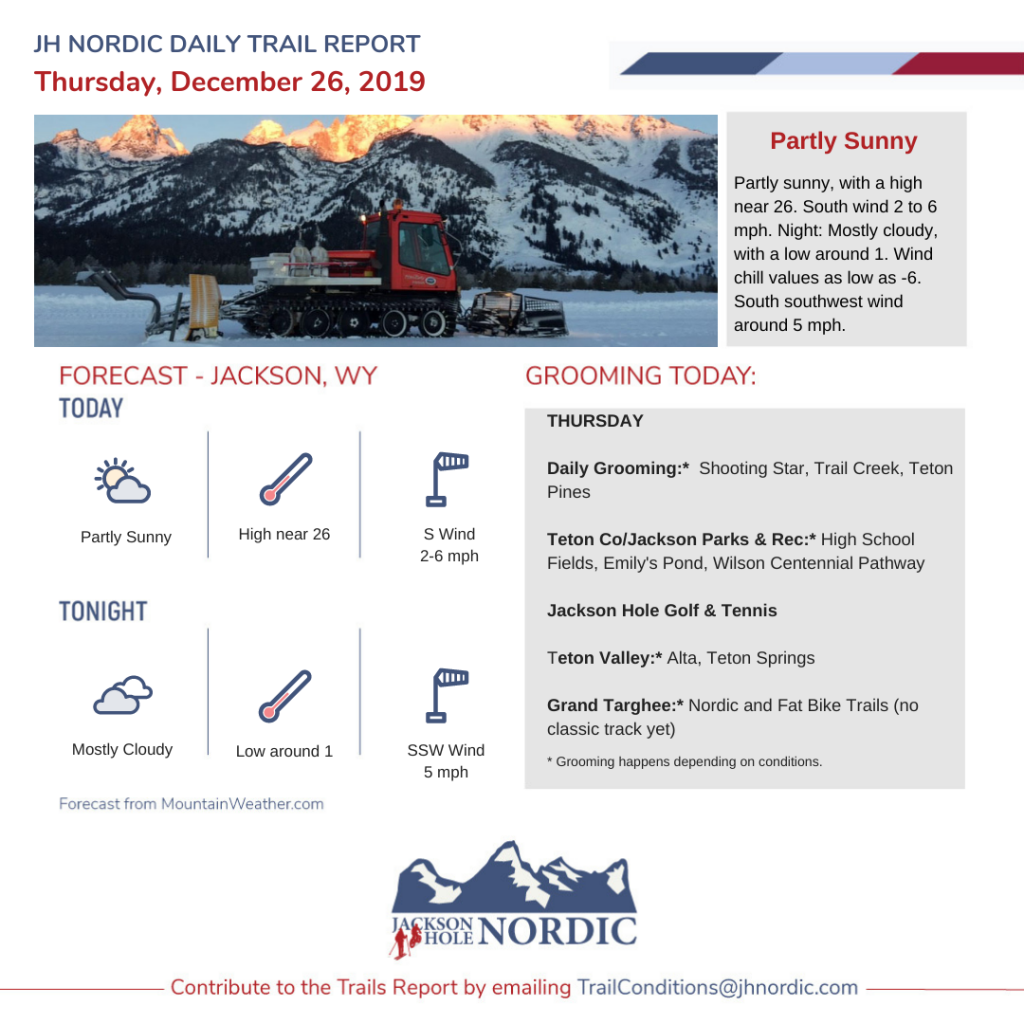 ---
Thank you for continually sharing your photos with us of Nordic skiing in Jackson Hole
---
A merry Christmas was had by all on the Emily's Pond trail. Elk were spotted along the river while enjoying a morning ski!

Last Updated: 12/25
Merry Christmas!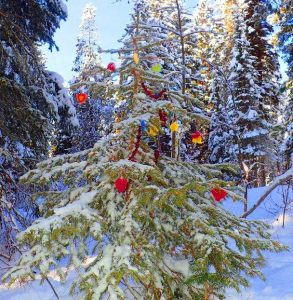 It is truly a divine day at Trail Creek with mystical clouds slowly drifting down the ridges, waves of sunshine beaming on evergreens laden with fresh snow, and lots of fresh Pisten Bully grooming just beckoning to your skis.  Not only is the snow calling, if you make it out today you might be rewarded with the discovery of the beautiful Christmas tree above that has magically appeared somewhere along our network of trails.
Today's grooming was double passes with fresh classic tracks of the Betty Woolsey Course resulting in slightly soft but incredibly beautiful conditions which in addition to calm and mostly sunny include a very comfortable -3ºC/27ºF noon temperature.
Merry Christmas from all of the Nordic gang at Trail Creek!
---
Last Updated: 12/25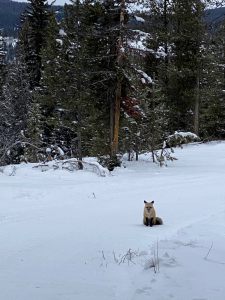 What does the fox say?? He says our trails groomed out very well this morning with the couple inches of snow we got over night. The trails were so quiet this morning that our little forest friend was curious as to what the groomer was up to.  The light spots are filling in nicely and should be perfect after the snow we got this afternoon (12/25). All classic track is in and all single track fat bike trails are in! We groom all trails daily and both nordic trails and fat bike trails will be groomed first thing in the morning and ready to go by 9am. Colder temperatures are coming and our trails are setting beautifully with the new snow. Come escape the holiday town crowds out at TMR! Bring your dog!
The Lodge is open for Lunch daily from 11:30 am – 2:30 pm.   For those wanting to check out the weather and local conditions we just added and LIVE streaming Camera here at the ranch.  You can log in from the comfort of your desk or at home and see what the conditions are here at the ranch.   You can also watch some of the most amazing sunsets and sunrises over the Tetons.  
Just click the YouTube link before and you can watch our LIVE cam 24/7 : https://youtu.be/WeeDyqRKqVI  
---
Last Updated: 12/24
9am: The school fields are groomed and in good shape, maybe a bit soft until the snow sets up. There will be no grooming tomorrow due to the holiday so grooming will resume on Thursday following our regular schedule.
8am: The levee and Stilson are groomed but filling in quickly especially the Levee since it was the first track groomed this morning. All tracks will be soft until they set up since we have around 6" of new snow overnight on the West Bank.
---
Last Updated: 12/24
Grooming Grand Teton National Park / Taggart to South Jenny – fresh snow today. Happy Holidays.
---
Last Updated: 12/24
We are open 11am-4pm on Christmas Day! The forecast for the next week looks INCREDIBLE for Nordic skiing! We will have awesome skate and classic conditions for the foreseeable future. Please visit our Facebook page for the most updated wax and condition updates.
Call us at (307)733-1733 for lesson availability and booking.
We still have a great selection of nordic jackets, pants, hats, gloves, skis, and much more if you need some last minute gifts!
---
Last Updated: 12/19
Classic tracks are now set and skiing should continue to be very enjoyable. Expect some inconsistent areas due to our minimal snowpack. Early season conditions and warmer weather will continue through the weekend. Get out and enjoy!
Classic Tracks Set: YES
Snowshoeing : OPEN
Sled Hill: OPEN
Next Update: Monday
---
Update: 12/24
A few updates on the Nordic Track and JHG&T.
Season Passes are available to non members for $100, passes can be picked up in the admin office at JHGTC M-F 9am-5pm or by calling 307.733.7787. 
We purchased a new groomer 2 years ago so we do now have a set cross country track with enough room for skate skiers and/or fat bikes next to the set track.
There are no other services available (ie. No lunch) though dinner is offered Thursday, Friday and Saturday evenings beginning at 5:30pm; Clubhouse amenities are reserved for members only.
We groom the track on Tuesdays, Thursdays, and Saturdays
Contact Steve Cole, Membership Director, at:
scole@gtlc.com
or 307.733 .7787.
---
Last Updated: 12/25

Merry Christmas all! It seems that we've made it onto the nice list this year, being that we've received two inches of snow and it's still falling!
Cross Country/Fat Bike 15k: XC OPEN (Last groomed 12/24/2019), Fat Bike OPEN.
---
Last Updated: 12/20
Fat Bike: Yesterday and this morning we completed a 2.5 mile section of new groomed single track. Beginning at lower Kelly Park, climbing to Kelly Park proper with a fun skirting loop around the meadow. It's set up and ready to ride!
Nordic 12/19: Groomed this morning: Old Road Trail, Upper & Lower Surveyors, Moose Ridge and Tree Loop. Rest of the trails should be in pretty good shape. Everyone do a Snow Dance, we need more snow! 0F degrees at the Nordic Equipment Building, -5F in Surveyor Park this morning.

Grooming Schedule: Tuesday, Thursday, Saturday, Sunday
Last Updated: 12/24 @ 7am
Skate: Good | Classic: Good
---
Grooming Schedule: Monday, Wednesday, Friday
Last Updated: 12/23 @ 5pm
Skate: Fair | Classic: Fair
---
Grooming Schedule: Monday, Wednesday, Friday
Last Updated: 12/22 @ 4pm
Skate: Good | Classic: N/A
---
Grooming Schedule: Monday, Wednesday, Friday, Saturday, Sunday
Last Updated: 12/25 @ 8am
Skate: Fair | Classic: Fair 
---
Grooming Schedule: Tuesday, Thursday, Saturday
Last Updated: 12/24 @ 9am
Skate: Good | Classic: Good
---
Grooming Schedule: Tuesday, Friday
Last Updated: 12/24 @ 1pm
Skate: Poor | Classic: Good
---
5th Street Singletrack
Grooming Schedule: as needed
Last Updated: 12/22 @1pm
Singletrack: Good
Figure-8 is well packed and firm. Big loop is flagged for grooming once it snows.
---
Teton Springs Singletrack
Grooming Schedule: as needed
Last Updated: 12/16 @ 10am
Singletrack: Good
Got the singletrack set out at Teton Springs last night. Things are starting to shape up. Enjoy!
---
Southern Valley Singletrack 
Track Grooming Schedule: as needed
Last Updated: 12/16 @ 10am
Singletrack: Good

December 26 | Teton Pines, Wilson | 11am-12:30p
Clinic # 2 will feature Skate Ski Tips, Technique, and Fun! Coaches provided by the JH Ski Club Nordic program. Sign up for all 8 clinics or drop-in. Clinics every other Thursday with Classic XC and Skate ski lessons alternating.
Register: info@jhnordic.com  For more info, see: blog.jhnordic.com
---
December 28 | Trail Creek Nordic Center | 9am-12pm
Register with the JH Ski Club. A community favorite, honoring Betty Woolsey of Trail Creek Ranch.
All ages welcome.
JHSkiClub.org/nordic

Sunday, January 5th 2020 | Turpin Meadow Ranch | 10am-3pm
Mark your calendar and Register online!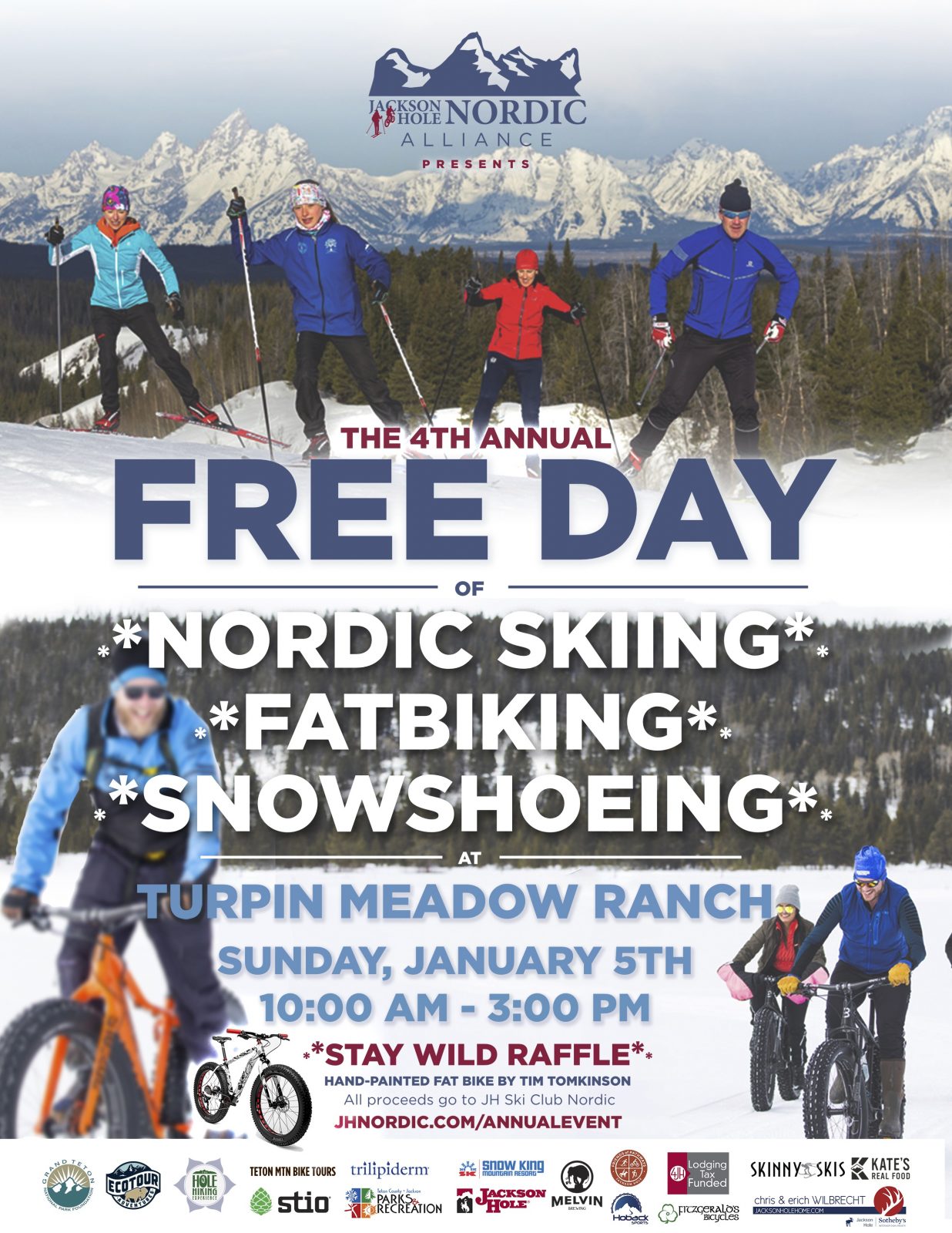 We're getting excited with more demo skis, more fat bikes, Melvin Beer, Kates Bars, Free lessons, snowshoe and BC Nordic tours up the Buffalo Fork, and a huge raffle to benefit the JH Ski Club Nordic program. Raffle will include a Stay Wild fat bike, donated by the JH Travel and Tourism/Lodging Tax supported team, Nordic skis from Skinny Skis, and lots more. Wanna donate to the Raffle? Contact the JH Ski Club: info@JHSkiclub.org
Speed through Registration by pre-signing the Event Activity and Trail Use Waiver online – click here . 
Once the Waiver form is completed online, you will be able to print a pdf copy. We encourage you to print this to present at registration.  We can also look you up as "pre-registered
Sponsored by the JH Nordic Alliance members and JH Travel & Tourism Board
Want to get involved, sponsor an activity, volunteer?
This community event is a great way to connect with our community and visitors. Contact Nancy @: info@JHNordic.com

---
Send us your event dates, stories, photos
Follow JHNordic on Facebook, Instagram @JHNordic, #JHNordic
Sign up for Daily or Once a Week JH Nordic Trail ConditionReports to know what's groomed,
what's happening first thing every morning – or just Saturdays.