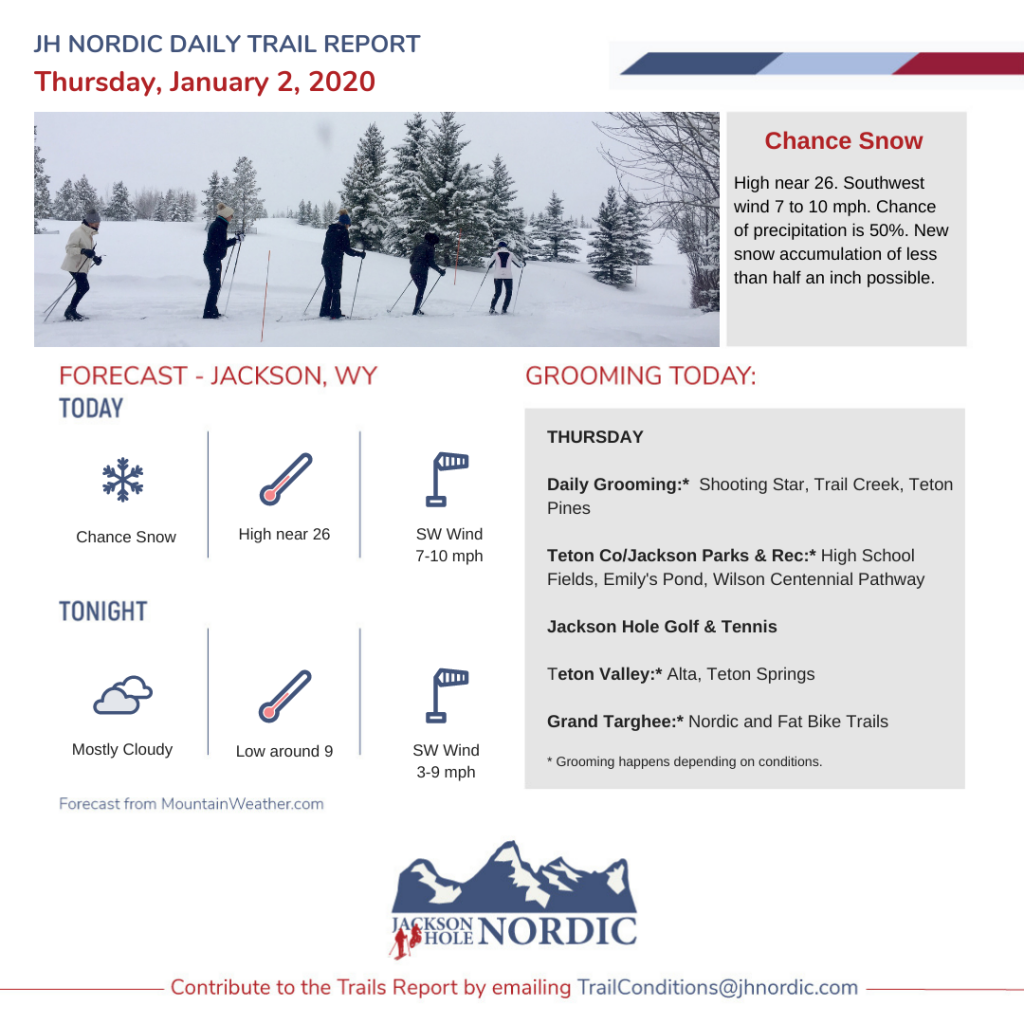 ---
Thank you for continually sharing your photos with us of Nordic skiing in Jackson Hole
---

GTNP Snowshoe Hikes for Visitors
Grand Teton National Park offers free 2 hour snowshoe hikes on Tuesday, Thursday and Saturday at 1:30. It's free. Meet at Taggart trailhead.
Must have a reservation. Reserve your spot by calling: 307.739.3399.
Bring your own snowshoes or rent through Skinny Skis.

Last Updated: 1/1
Happy New Year!
Happy New Year and best wishes for a great 2020!  The New Year is coming in with nothing short of an epic snow storm with around a foot having fallen so far with heavy snow continuing.  The Pisten Bully was valiantly trying to groom trails today but by the time a lap was accomplished, many inches of additional snow had fallen.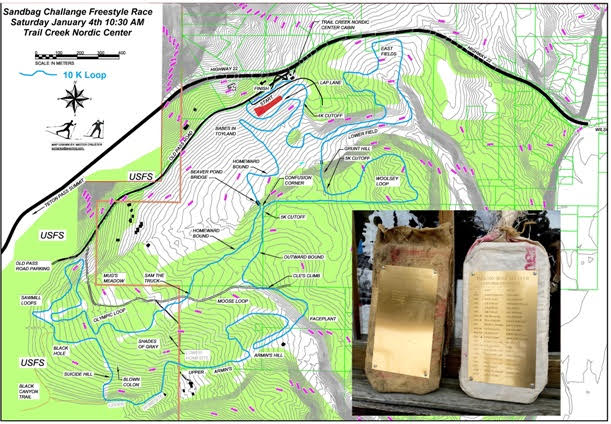 The really big thing on the horizon here at Trail Creek is the Sandbag Race at 10:30 on Saturday January 4th.  Click on the image below to see an enlarged version of the course map and make sure to show up with your freestyle skis to participate in what should be a fun race.
Today's grooming began with a Pisten Bully skate/classic pass of the race course followed by an additional skate pass.  While conditions are definitely soft, nothing but smiles were on the faces of the skiers enjoying the white bounty falling from the sky.
Groomer's choice for today is to plow through some of our wonderful fresh snow.
---
Last Updated: 1/1


Several inches of fluffy snow overnight and continuing to snow hard this morning. Bully groomed everything this morning with fresh snow pilling up on top of track. Great day for a true winter outing. Additional snow made for great grooming and all trails are completely vegetation free and shaping up great. Snow expected all day today.  We will reset everything with the bully in the morning. 
Happy New Year! Come and see us in 2020.
Click on our Turpin Ranch Cam to see real-time weather, conditions and views of the ranch. https://youtu.be/WeeDyqRKqVI
---
Last Updated: 12/31
9:20am: The school fields are groomed and in good shape. There will be no grooming tomorrow because of the holiday. Grooming will resume on Thursday on the regular schedule.
6:40am: The levee is groomed and in good shape although the classic track is a bit shallow since the track is very firm. I am starting Stilson shortly and should be done around 9:45.
---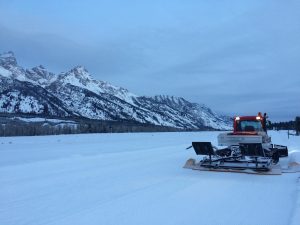 Last Updated: 12/31
Grooming today from Taggart Lake  Trailhead to South Jenny.  There is some snow in the forecast let's hope for a lot!
---
Last Updated: 12/28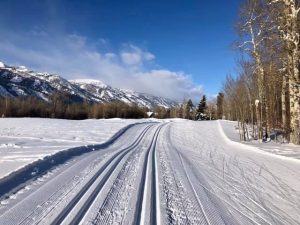 A busy day at the Pines, but the track is still looking good at 3pm! Come on out tomorrow for another awesome day in the sunshine!!
We have skate and classic track set daily. We still have lesson slots available for next week, but call as soon as possible as they will fill soon. We have backcountry xc ski packages, skate ski packages, and classic (touring and race) ski packages available. Our sizes are beginning to get more limited, so hurry out if you'd like to get on some new ski gear this winter!
---
Last Updated: 1/1
New year, new snow! Your 20/20 vision on the Nordic course might not be so crystal clear as heavy snow and high winds could reduce visibility during today's weather event. Good news, our Pistenbulley is back up and running, which should easily smooth out the track each morning! Expect softer conditions and possible drifting on the trails through Thursday. Happy 2020!  
Next Update: Friday 
---
Update: 12/24
A few updates on the Nordic Track and JHG&T.
Season Passes are available to non members for $100, passes can be picked up in the admin office at JHGTC M-F 9am-5pm or by calling 307.733.7787. 
We purchased a new groomer 2 years ago so we do now have a set cross country track with enough room for skate skiers and/or fat bikes next to the set track.
There are no other services available (ie. No lunch) though dinner is offered Thursday, Friday and Saturday evenings beginning at 5:30pm; Clubhouse amenities are reserved for members only.
We groom the track on Tuesdays, Thursdays, and Saturdays
Contact Steve Cole, Membership Director, at:
scole@gtlc.com
or 307.733 .7787.
---
Last Updated: 1/1
Mother Nature brought 6″ of fresh 9% powder, and that's just an appetizer. The main course is still on the way, but I've heard rumors that it is also powder. The time has come, and the best part is that according to NOAA – tomorrow is going to be even better. If all goes as planned, there will be free refills for all! Expect snowy skies today with a high near 21. The windchill could reach -10. CoS is 100% and 7-11″ is predicted. A winter storm warning remains in effect through tonight.
Cross Country/Fat Bike 15k: XC OPEN (Last groomed 1/1/2019) no classic, Fat Bike CLOSED.
---
Last Updated: 1/1
Nordic: Half Moon Tie-In, Kelly Park, Kelly Tie-In, Upper & Lower Surveyor, Moose Ridge, Tree Loop, and Old Road Trail all fresh groomed this morning. 1-2 inches of new snow and still snowing. The road is plowed and snow packed. Some of the parking has been plowed. 17F degrees. Flat light today. Expect soft conditions. Classic skiing probably best choice. Happy New Year! Let it snow!
Fat Bike 12/20: Yesterday and this morning we completed a 2.5 mile section of new groomed single track. Beginning at lower Kelly Park, climbing to Kelly Park proper with a

Grooming Schedule: Tuesday, Thursday, Saturday, Sunday
Last Updated: 12/31 @ 9:20am
Skate: Good | Classic: Fair
---
Grooming Schedule: Monday, Wednesday, Friday
Last Updated: 12/30 @ 5pm
Skate: Fair | Classic: Fair
---
Grooming Schedule: Monday, Wednesday, Friday
Last Updated: 12/29 @ 8pm
Skate: Excellent | Classic: N/A
---
Grooming Schedule: Monday, Wednesday, Friday, Saturday, Sunday
Last Updated: 1/1 @ 1pm
Skate: Fair | Classic: Good
---
Grooming Schedule: Tuesday, Thursday, Saturday
Last Updated: 1/1 @ 3pm
Skate: Not Set | Classic: Not Set
---
Grooming Schedule: Tuesday, Friday
Last Updated: 12/28 @ 11:30am
Skate: Good | Classic: Fair
---
5th Street Singletrack
Grooming Schedule: as needed
Last Updated: 12/28 
Singletrack: Excellent
Figure-8 is super fast and fun! Sled forthcoming to groom the big loop,
---
Teton Springs Singletrack
Grooming Schedule: as needed
Last Updated: 12/31 @ 3pm
Singletrack: Fair
Hasn't been groomed for a while, but still in good shape.
---
Southern Valley Singletrack 
Track Grooming Schedule: as needed
Last Updated: 12/16 @ 10am
Singletrack: Good

Sunday, January 5th 2020 | Turpin Meadow Ranch | 10am-3pm
Mark your calendar and Register online!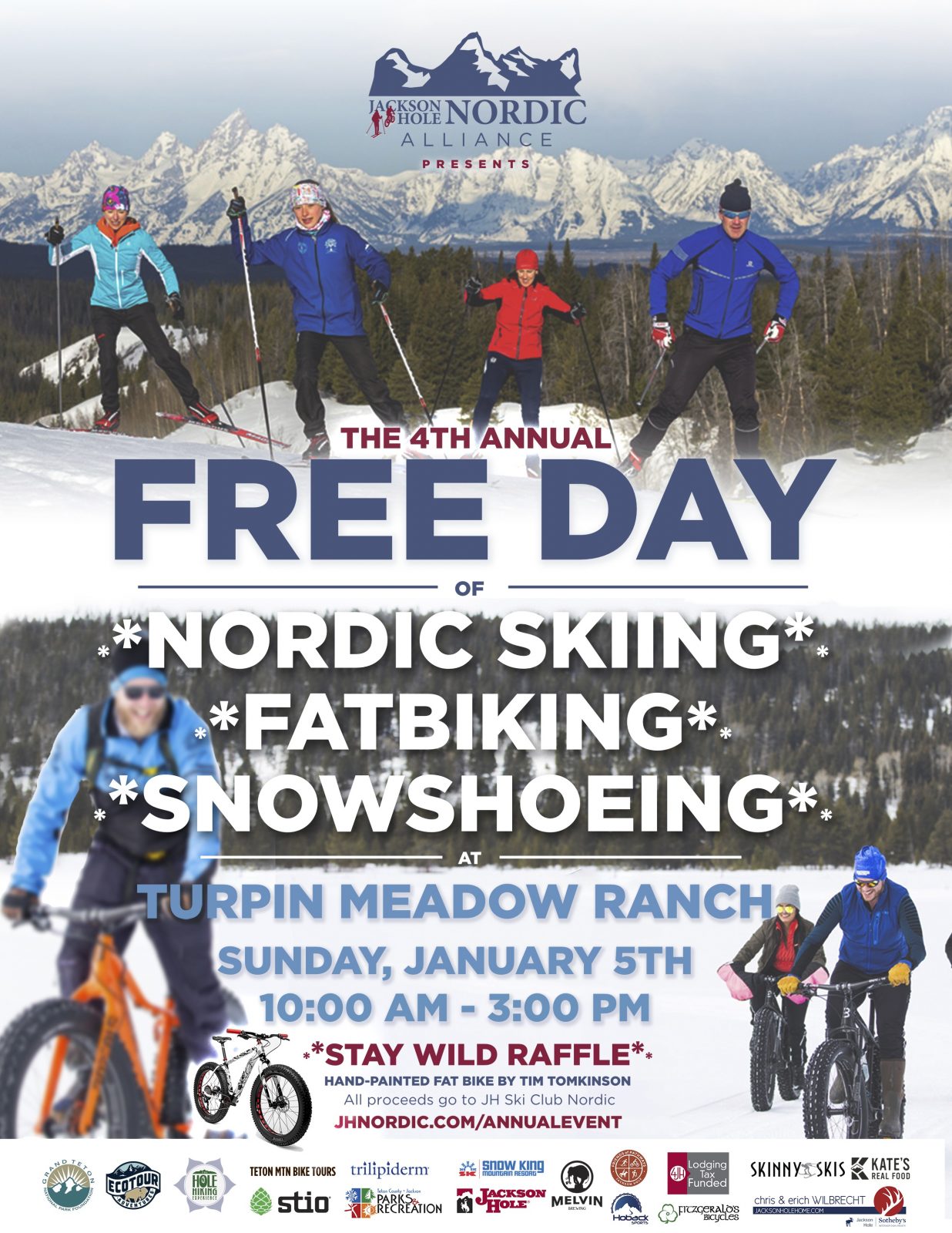 We're getting excited with more demo skis, more fat bikes, Melvin Beer, Kates Bars, Free lessons, snowshoe and BC Nordic tours up the Buffalo Fork, and a huge raffle to benefit the JH Ski Club Nordic program. Raffle will include a Stay Wild fat bike, donated by the JH Travel and Tourism/Lodging Tax supported team, Nordic skis from Skinny Skis, and lots more. Wanna donate to the Raffle? Contact the JH Ski Club: info@JHSkiclub.org
Speed through Registration by pre-signing the Event Activity and Trail Use Waiver online – click here . 
Once the Waiver form is completed online, you will be able to print a pdf copy. We encourage you to print this to present at registration.  We can also look you up as "pre-registered
Sponsored by the JH Nordic Alliance members and JH Travel & Tourism Board
Want to get involved, sponsor an activity, volunteer?
This community event is a great way to connect with our community and visitors. Contact Nancy @: info@JHNordic.com

---
January 9 | Teton Pines, Wilson | 11am-12:30p
Clinic #3 will feature Classic XC Ski Tips, Technique, and Fun! Coaches provided by the JH Ski Club Nordic program. Sign up for all 8 clinics or drop-in. Clinics every other Thursday with Classic XC and Skate ski lessons alternating.
Register: info@jhnordic.com  For more info, see: blog.jhnordic.com
---

January 11 | Grand Targhee Nordic Trails
Long course: 24 km with 1425' elevation gain;
Intermediate course: 14.5 km with 870' elevation gain (compares to Teton Ridge Ranch course of 26 km/ 1680' elevation gain and 13 km /840' of elevation gain.
Kid's races: 6.5 km and 2 km.
"Touring class" level so you can ski the course at your own pace.
Location: Grand Targhee Nordic Trails, Ski Hill Rd., Alta WY – Benefits both Teton Valley Trails and Pathways and Teton Valley Ski Education Foundation.
---
Send us your event dates, stories, photos
Follow JHNordic on Facebook, Instagram @JHNordic, #JHNordic
Sign up for Daily or Once a Week JH Nordic Trail ConditionReports to know what's groomed,
what's happening first thing every morning – or just Saturdays.