---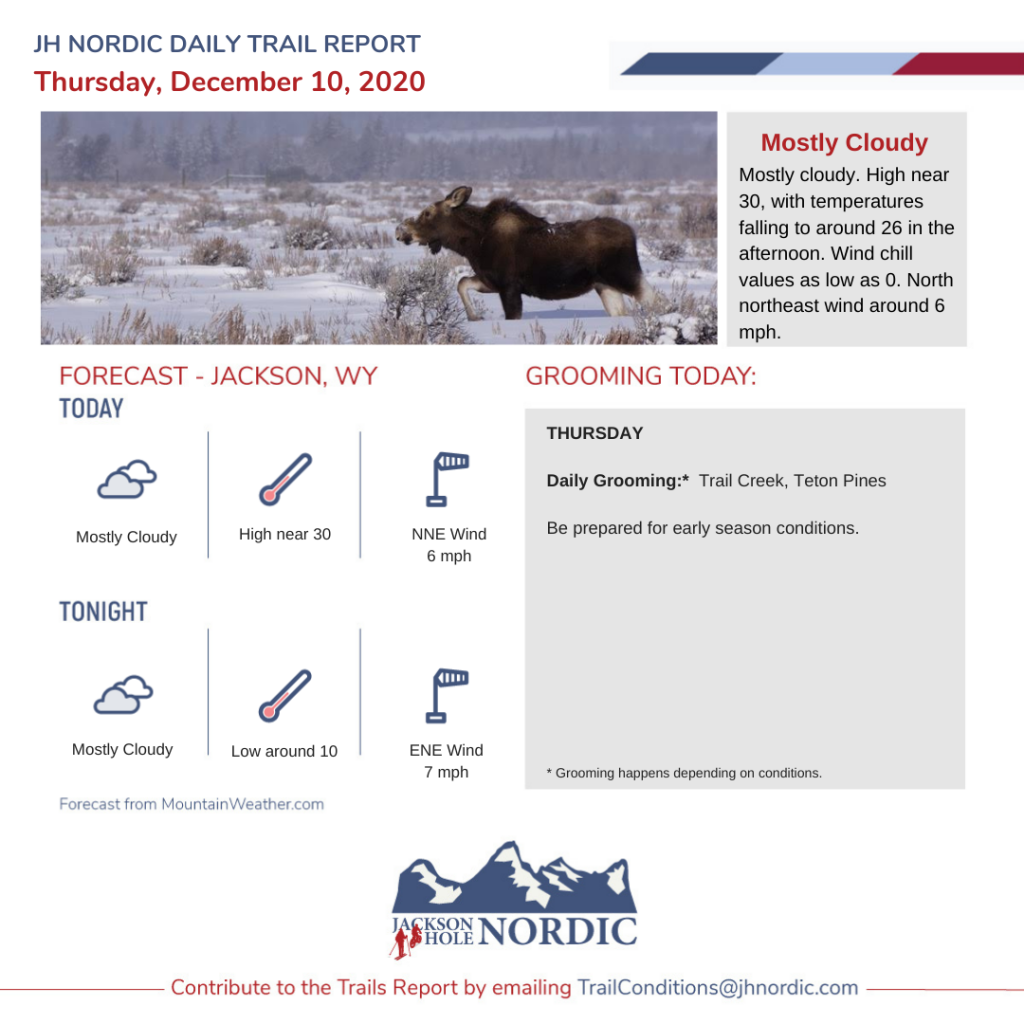 ---
Teton Village to Lake Creek Bridge Pathway Grooming
Grooming from Teton Village along the pathway south to the Lake Creek Bridge, and north from Teton Village to the Granite Entrance to GTNP has been confirmed. A perfect and convenient place for fat biking and Nordic skiing. Big thanks to the Teton Village Association and JHMR for their contributions to groom this section of pathways.
Grooming will begin as soon as enough snow has accumulated on the pathway.
---
December 10, 2020 Nature Update
Provided by Cathy Shill founder of The Hole Hiking Experience
www.holehike.com
"To expand your consciousness, concentrate on the distances of your environment" – J Donald Walters
December starts sunny and cold. Days of continual sun create a temperature inversion so the air is warmer higher in elevation as the cold dense air becomes trapped in the valley. The cycle continues until the weather pattern changes. Both October and November surpassed averages for snowfall in the town of Jackson. Not much precipitation so far i December, but that can quickly change with a storm or two. Looks like some weather may arrive at the end of the week, as temperatures are becoming warmer and snow is on the way. Winter wildlife closures began on December 1, 2020 and continue through April 30, 2021. Many areas are closed to winter travel so animals have parts of the valley without human disturbance.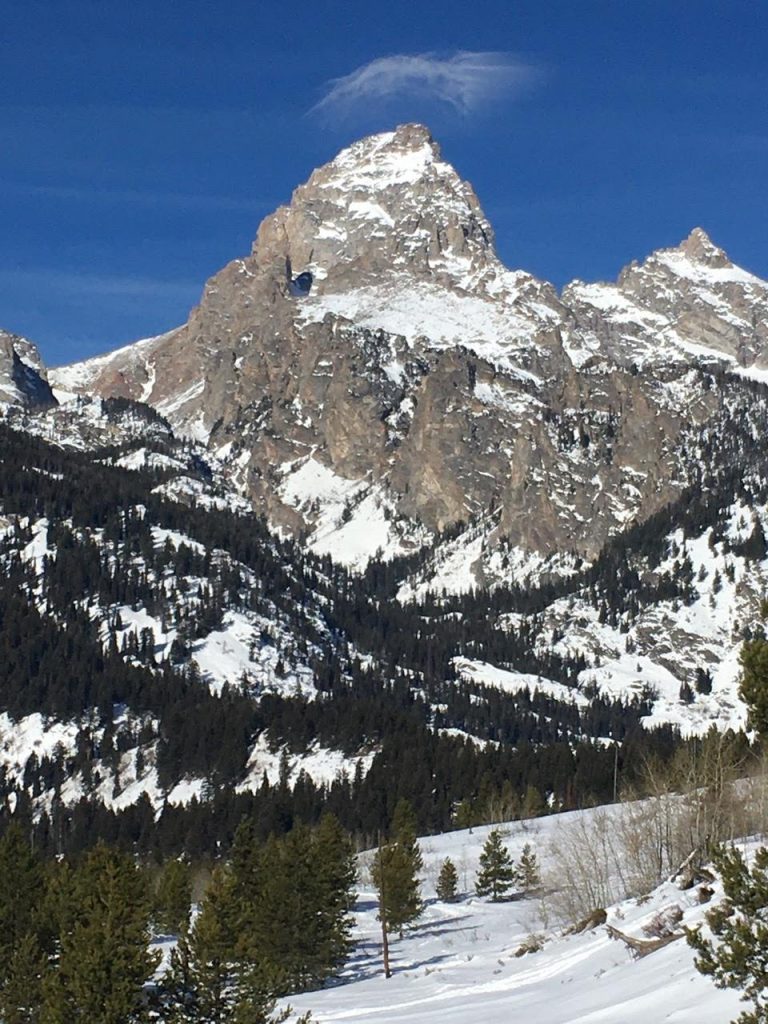 Winter can be a very stressful time of year and people playing in the mountains can displace wildlife. Most hills near the town of Jackson are closed for wintering wildlife. Great resource provided by the Jackson Hole Conservation Alliance with links to where closures are located‐ https://jhalliance.org/dont‐poach‐the‐powder/. Please respect the closures and as the locals say, "Don't Poach the Powder." Lots of great places still available to explore.
Early season conditions continue and animals are still migrating to winter territories. Daily changes in Jackson Hole. Keep an eye out for the Trumpeter Swans on Flat Creek in the National Elk Refuge. We actually have more swans during the winter since the Canadian Trumpeter Swans migrate in the fall to the tri‐state region of Wyoming, Idaho and Monta. Swans need free flowing water so move through the valley as needed.
You will still find more snow north in the valley. Check out JHNordic.com for tours in the Togwotee Pass area. Brooks Lake is always a fun tour. Turpin Meadow Ranch is also a nice place to visit with a set track or access to forest trails (grooming starts Dec 18th). With more snow on the way, more options will become available.
Remember to Tread Lightly to protect the vegetation. Bear Spray should still be carried and make sure to tell a friend where you are touring for safety.
---
Groomed? Plowed? Winter Updates and N89 Pathway Renewal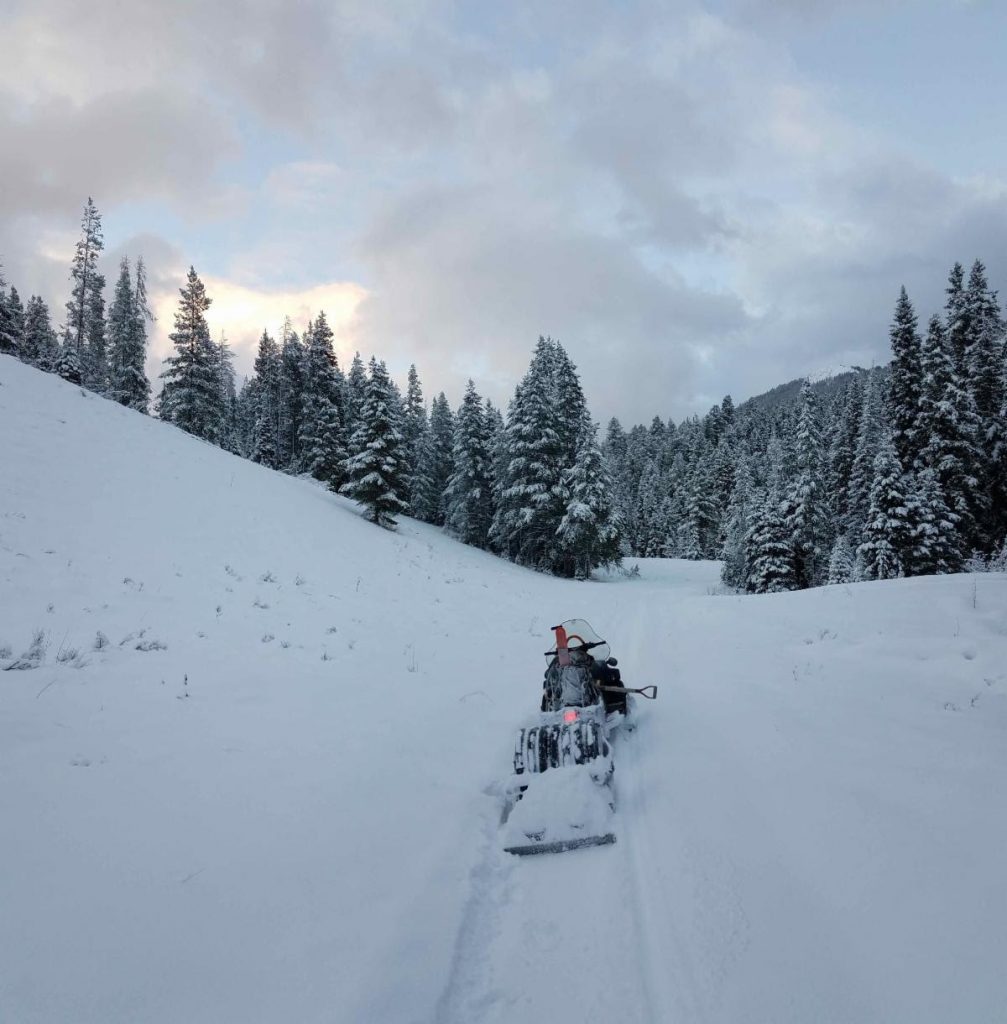 WE NEED YOUR HELP to raise $6K to help fund the Cache Creek winter grooming program from December 15 – March 15! In addition to the normal singletrack grooming program, Friends of Pathways will be supplementing the Parks & Recreation budget shortfalls and taking over Cache Creek Road grooming expenses up to the Noker Mine on Mondays. This is an additional $6,000 expense on top of our normal $10,000 singletrack grooming expense. 

Teton County Parks & Recreation has reduced its winter pathway grooming and plowing schedule due to budget cuts.

Last Updated: 12/9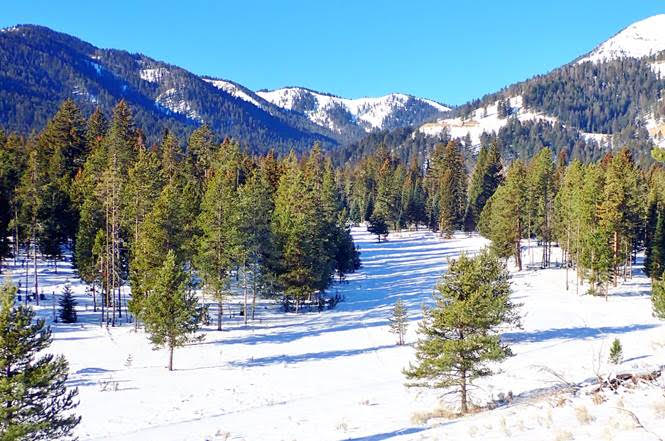 One Last Sunny Day!
It may be a bit on the chilly side but it is nothing short of glorious today at Trail Creek with yet another perfect blue sky hovering above our snowy white ski trails. The recent slate of sunny days however does promise to change, with clouds moving in tomorrow and then snow starting Thursday night. We are near having enough snow for universal classic tracks; about 8 inches would make that happen which will probably occur sometime in the next week.
If you are planning on coming out tomorrow, the current plan is to burn off several brush piles. We have been holding off on burning as the ash can dirty the snow, but again the fresh snow will make all of our troubles go away.
Today's grooming was best line Pisten Bully skate grooming on almost every trail with additional passes on the hard working close field. You might notice some new signs in the woods for the road crossings on the National Forest. While they do advise ski removal, hopefully that won't be necessary as we are working hard with all stakeholders to ensure pristine ski conditions.
Groomer's choice for today is Moose Loop.
---
Last Updated: 12/9
We are still patiently awaiting more snow in order to get the PistenBully out for grooming. We did get the roller/snowmobile out to Stilson in the last day or two and most other areas are skier packed at this time.
---
Last Updated: 12/9
We are open and the skiing is still pretty good even after the dry spell! Snow is on the way, so we should have incredible conditions beginning Friday. By the look of the forecast, we should be set for the winter and will groom daily for both skate and classic skiing.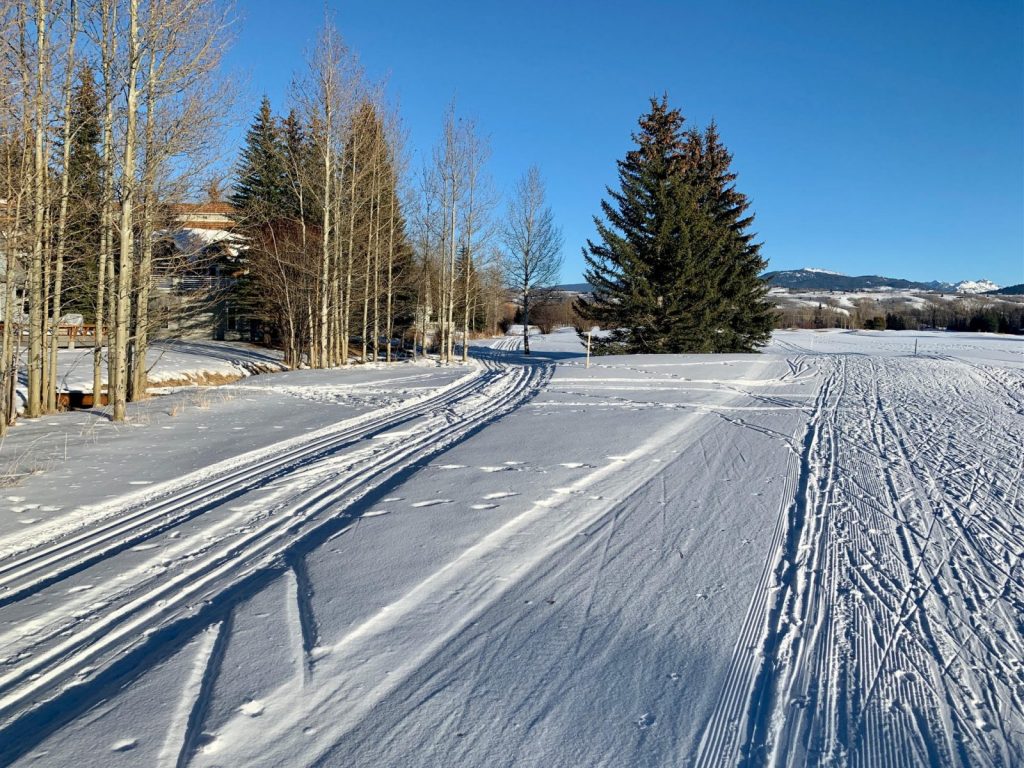 We have a fully stocked shop with a great supply of hats, gloves, jackets, pants, classic skis, metal-edged classic skis, skate skis, boots, and poles! The brands we carry are: Swix, Skida, Daehlie, Salomon, Alpina, and Sporten. We currently have a very good supply of all sizes in clothing, but our ski/boot size options are a bit limited. We have limited indoor access due to Covid and are set up for touchless and outdoor transactions and rentals. You can purchase ski passes at: www.tetonpinesnordiccenter.com We can also process all transactions over the phone if that's easier for you. We have indoor shopping with a maximum of 2 people in the shop at a time. We can also bring all our items outdoors if you don't want to come inside to shop.
If you have your own gear, please use your vehicle as your "basecamp" as we do not have any indoor areas for getting ready. We have restrooms available and our current maximum capacity is 2 people inside at a time. We do not have an area inside for getting ready but do have lots of covered outdoor seating available.Please check in at our intercom/window on the backside of the Teton Pines Clubhouse. Follow the signs from the parking lot.
---
Last Updated: 12/7
The trails are hanging in there and skiing well for what little snow we have. Anticipate early season conditions to persist through the weekend and reminder that the track is currently available for Nordic Skiing only. Please see the following restrictions for the upcoming week:
Dog Loops & All Nordic Skiing Trails OPEN
Sled Hill CLOSED UNTIL MORE SNOW
Snow Shoeing CLOSED UNTIL MORE SNOW
Casual Walking Not Permitted
Classic Tracks Not Set… NEED MORE SNOW
Early Season Conditions (Thin/bumpy/bare/narrow areas exist… Cowboy Skiing!!)
Grooming is currently via Snowmobile and Ginzu Attachment (No Snowcat/Pistenbully until more snow)
Forecast is calling for colder weather and possible snow showers beginning around Friday (12/11). Keep your fingers crossed this next storm cycle brings lots of snow! Next update will be Monday (12/14) or whenever conditions dramatically change.
---
Last Updated: 12/9
Cross Country/Fat Bike 15k: XC OPEN (Last groomed 12/1/2020, no classic), Fat Bike OPEN.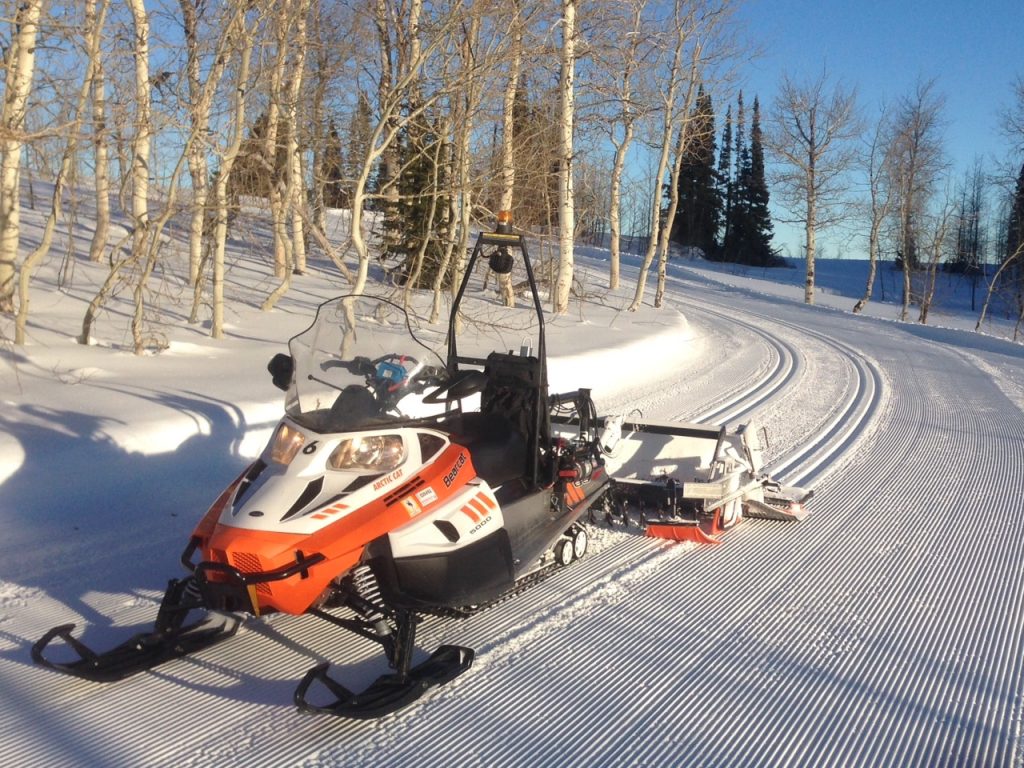 Grooming Schedule: Tuesday, Thursday, & Sunday
Last Updated: 12/2
Skate: Set | Classic: Not Set
Wednesday afternoon: Made a few passes around the track with a drag to try and smooth and firm up. Snow cover is thin, but skiable, a little grass showing here and there, and a couple dirt spots. Main south loops and outer north track, probably about 4 miles set.
---
Grooming Schedule: Monday, Wednesday & Friday
Last Updated: 12/8
Skate: Not Set | Classic: Not Set
Let it snow!
---
Grooming Schedule: Monday, Wednesday, Friday
Last Updated: 11/12
Skate: Not Set | Classic: Not Set | Singletrack: Not Set
It is good to have snow in the Valley! We are monitoring the forecast and working hard to get the grooming equipment ready for action. We plan to begin the scheduled grooming season by December 1st. There is a chance we might be able to get things groomed ahead of schedule, so stay tuned.
---
Grooming Schedule: Monday, Wednesday, Friday, Saturday
Last Updated: 12/9
Skate: Set | Classic: Set
Plan to reset skate track this morning. Classic remains in fair shape during this spell of cold, dry weather. The skating has been good.
---
Grooming Schedule: Tuesday, Friday, Sunday
Last Updated: 12/9
Skate: Set | Classic: Not Set
Groomed Tuesday night. I was able to smooth out Yeti nicely. There is a great base there now and ready for new snow!
---
Grooming Schedule: Tuesday, Thursday, & Saturday
Last Updated: 11/12
Skate: Set | Classic: Not Set
The Bronze Buffalo Sporting Club at Teton Springs will be open to the public for skiing this winter. We have made an agreement with the new owners to continue grooming the trail this winter, for the public to enjoy. The plan is to begin the scheduled grooming season on December 1st. There is a chance we might be able to get things groomed ahead of schedule, so stay tuned. Note: Dogs are not allowed on this trail.
---
Southern Valley Singletrack
Grooming Schedule: As needed
Last Updated: 12/5
Singletrack: Set
Happy Hour to state line got a fresh groom and cleanup Friday 12/05 at 6pm after a good amount of use during the Global Fat Bike Day. Nemo, Hillbender and Lady slipper continue to ride well though there are some spots with bare ground showing. Be aware of mud and soft snow in the warmer parts of the coming days. Please plan to ride in the early am and late pm when temperatures are colder to avoid making ruts. Enjoy the ride!
---
5th Street Singletrack
Grooming Schedule: As needed
Last Updated: 11/12
Singletrack: Not Set
We plan to groom about a one-mile loop in the frisbee golf area behind the 5th Street Skate Park


THURSDAYS, DEC 10TH – MARCH 18TH | TETON PINES
8 clinics every other week from 11am-12:30pm, starting on December 10th -March 18th, alternating skate skiing and classic cross-country.
---
SATURDAY, DECEMBER 26th | TRAIL CREEK
Register with the JH Ski Club. A community favorite, honoring Betty Woolsey of Trail Creek Ranch. All ages welcome, interval start. Come dressed to ski and wear a mask!
---
Based on our goal to Recreate Responsibly, the JH Nordic Alliance has decided to cancel this season's Annual Free Winter Trails Nordic, Fat Bike and Snowshoe Event. Stay tuned for January 2022! In the meantime, we encourage you to get out safely, responsibly, wear a mask, keep your groups small, and space out!
---
We'd love to hear about your outdoor adventures, what your doing to stay healthy, safe, respectful of community health guidelines – send pictures or post on FB and Insta – #JHNordic