Snowy Weekend Ahead

Snowy weekend forecast for Jackson Hole! Plenty of snow in the valley to xc ski on many non-groomed trails. We hope you can get out this weekend! Read on to find out how.
---
Winter Outlook for Recreational Trails
Early snow has blanketed Jackson Hole and Teton Valley valley floors with enough snow at 6000 ft to ski along service roads in Bridger-Teton US Forest, Grand Teton NP closed roads, and trails with a grass or fine gravel base.
In GTNP, the Moose-Wilson Road between Granite Canyon and Death Canyon turnoff is now closed to vehicular traffic – perfect for classic BC Nordic skiing, snowshoeing, or walking on the side. Teton Park Road is also now closed to vehicles for the winter between Taggart trailhead and Signal Mountain. Grooming will not begin until December. Remember that dogs are only allowed on the roads in GTNP, and must be on leash.
Both Park road trails were busy this week for small groups and individuals happy to recreate in the fresh snow. Plan ahead for parking at trailheads, as we anticipate that both GTNP and Bridger-Teton Trailheads will be popular this winter.
Avoid the crowds to stay Covid-safe and have an alternate plan. Be sure to wear a mask or double buff, and even though you're outdoors, maintain 6 feet and social distance
For more details on winter trails outlook, see our comprehensive update story from all our grooming service providers, Nordic centers here at Winter Trails Outlook.
---
Trail Grooming Schedules vs. Daily Grooming Reports & Updates
As trail grooming gets underway later in November into December (subject to snow), JH Nordic will start producing our Daily JH Nordic Trail Reports featuring the latest trail grooming info for all publicly accessible trails in greater Jackson Hole and Teton Valley.

The Daily Trail Report is available via email – subscribe on the Home page of JHNordic.com – and NEW: choose which days you want to receive it (daily or choose any day or multiple days of the week -to suit your schedule).

Rather not have another email, and prefer to look up the Trail grooming reports on the website? The full Daily Trail Report is posted at JHNordic.com/News/ under Daily Trail Reports

To produce the Daily JH Nordic Trail Report, we connect with all 10 Nordic Centers and grooming providers to consolidate the latest – all in one place. Some grooming services don't send updates every day, so we report the most recent (with the date).

Looking simply for Grooming Schedules to know which trails are grooming on which days? Then go to the Grooming page on JHNordic.com. The new grooming schedules for winter 20-21 are posted now (same as last year). Remember, these are the scheduled days – NOT what's groomed now. Watch for opening days at each trail on the Daily Trail Reports.

Questions? Email: info@jhnordic.com.
---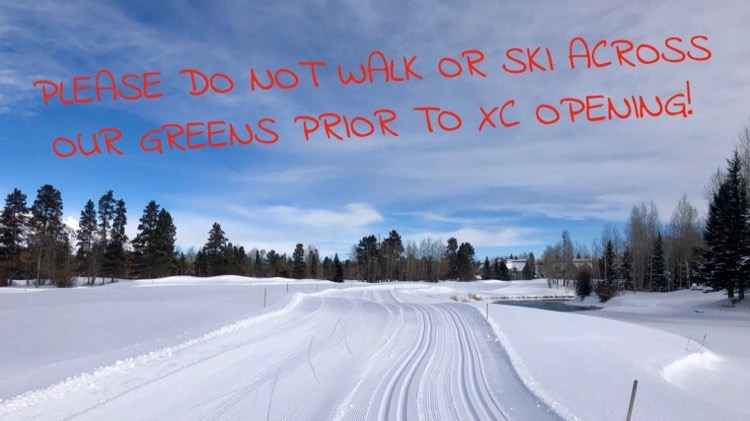 Teton Pines Update
Teton Pines Nordic Center and Trails – still closed – Please respect closure and wait until officially open.
Cody and his team at the Teton Pines Nordic Center are getting things set up and beginning to prep for opening day. IMPORTANT REMINDER: Teton Pines Country Club golf course and Teton Pines Nordic ski track are currently closed.

Skiing across greens kills the grass and that is a very bad situation for TPCC and TPNC. Teton Pines Nordic is working on the Nordic ski track base, and will be announcing its Open Date when available . Stay tuned for updates…in the meantime, respect this closure. There are other skiable trails in Bridger-Teton Forest trails and GTNP, ready to ski on skier tracks now.
---

Nordic skiing could be the perfect winter escape this year with its natural social distancing, easy access to trails, easy first-time experience, and a great workout, as well as the relative affordability of Nordic ski gear (versus alpine skiing or touring).
The outdoor recreation industry is forecasting that Nordic skiing will have a huge year, so getting your gear set-up early will be essential.
---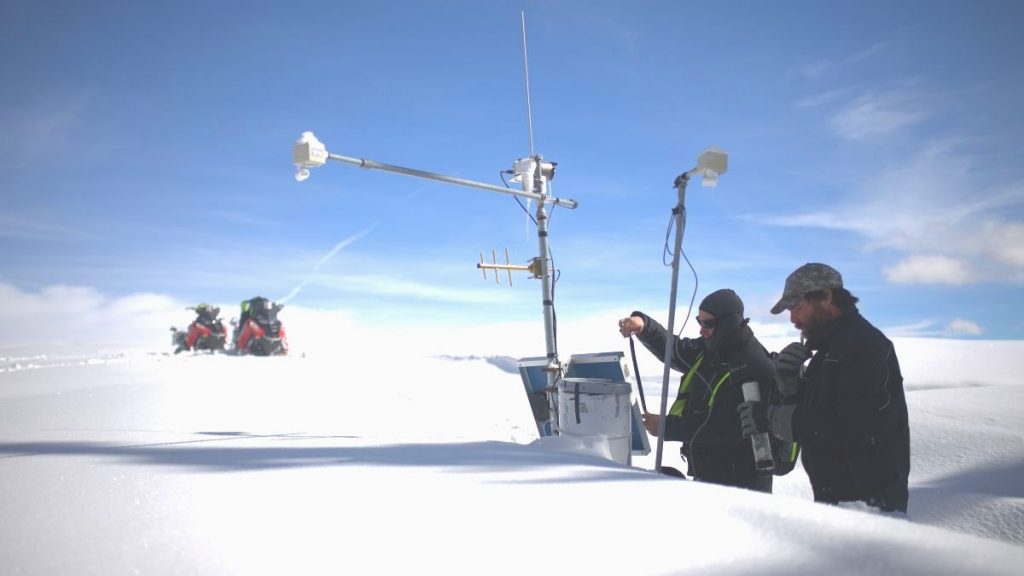 A VIRTUAL EVENT THURSDAY, DECEMBER 3RD | 6:30-8:45pm MST
Even if you don't go deep or high into the winter backcountry on your Nordic skis, fat bike or snowshoes, it is important to understand risk, the evolving state of our snowpack, how to be ready in case of emergency. We highly encourage everyone to attend this informative program (online this year) and support Bridger-Teton Avalanche Center. They are one of our daily "go-to" information sites for winter weather and snow information, along with MountainWeather.com.
Register Here.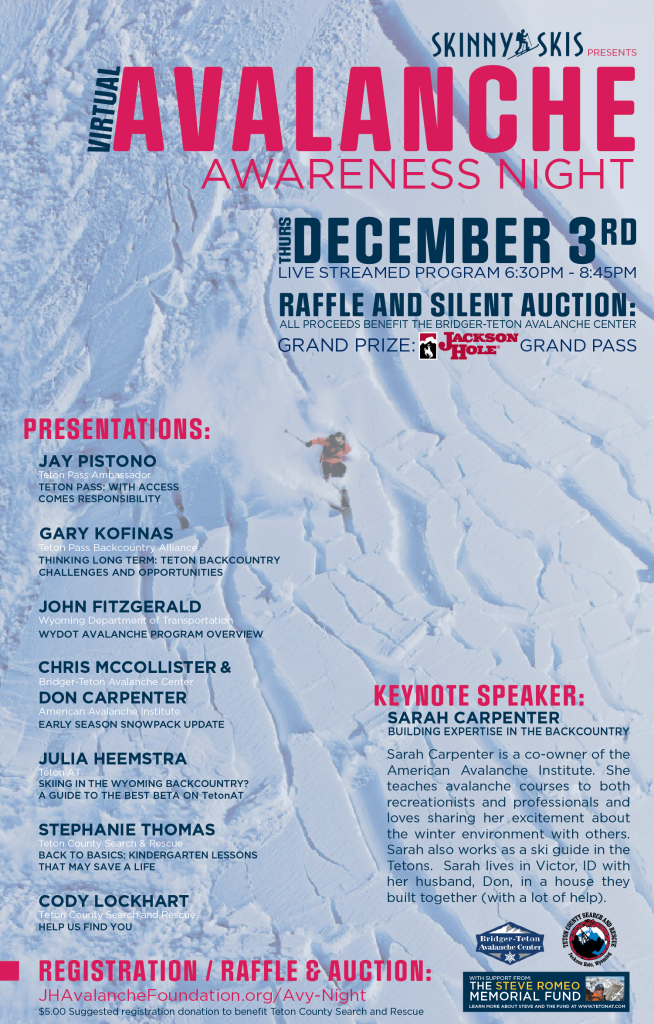 ---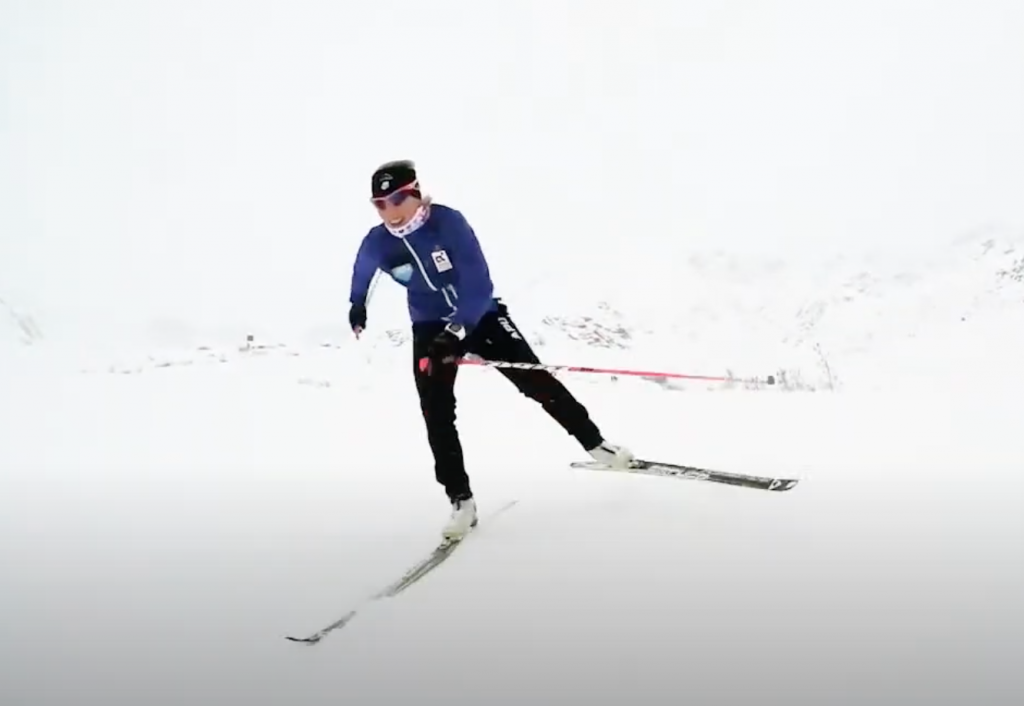 Kikkan Randall, Nordic Olympic Gold Medalist, speaks with local JH student-athletes
Last week, George Davis of 22 Nordic, JH Nordic Alliance member specializing in getting more younger local kids on Nordic skis, helped to produce a live streaming conversation with Nordic Gold medalist, Kikkan Randall.

Kikkan spoke with student-athletes from the JH Ski & Snowboard Club Nordic program, Coombs Outdoors, JH High School Nordic team and the JH community over YouTube. She shared her amazing, inspirational story of how she grew and trained from a high school Nordic skier to a Gold medal Olympian – the importance of team, having a plan, resilience, determination, perseverance, and more.
---
We'd love to hear about your outdoor adventures, what your doing to stay healthy, safe, respectful of community health guidelines – send pictures or post on FB and Insta – #JHNordic