---
This Month at a Glance
Get a Jump on Winter with Skinny Skis (corrected)
---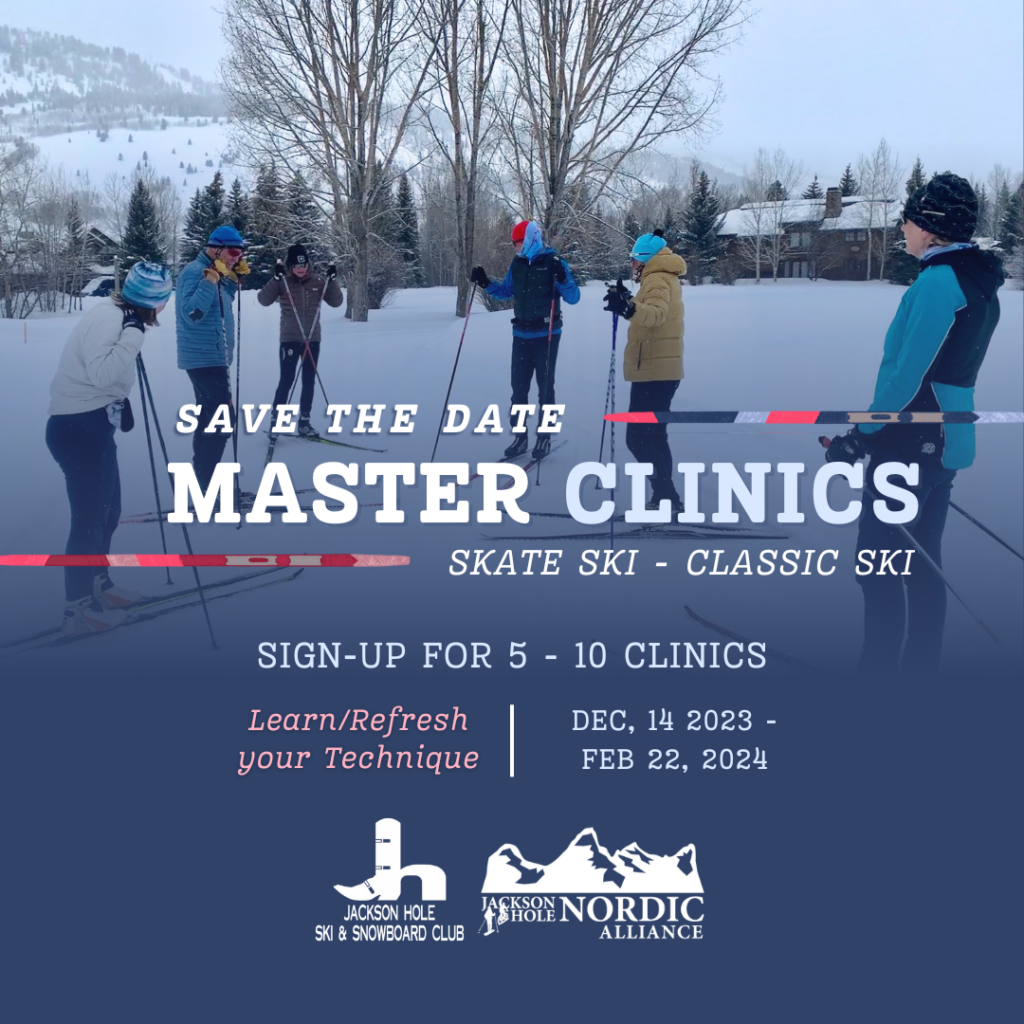 Hosted by Masters Coach Rob Murphy and Jackson Hole Ski Club Nordic team coaches, these fun, informative, practiced based clinics are back for Season 6!
There will be 10 clinics, starting with 2 clinics in December, then running every Thursday in January and February from 11am-12:30pm, (please arrive at 10:45am ready to ski). The Nordic Masters clinics will focus on skate skiing and classic cross country skiing every other week.
Joining all 10 clinics is your best approach to developing your full Nordic skiing technique, balance, stride, stamina, and overall fitness while having fun in a small group.
---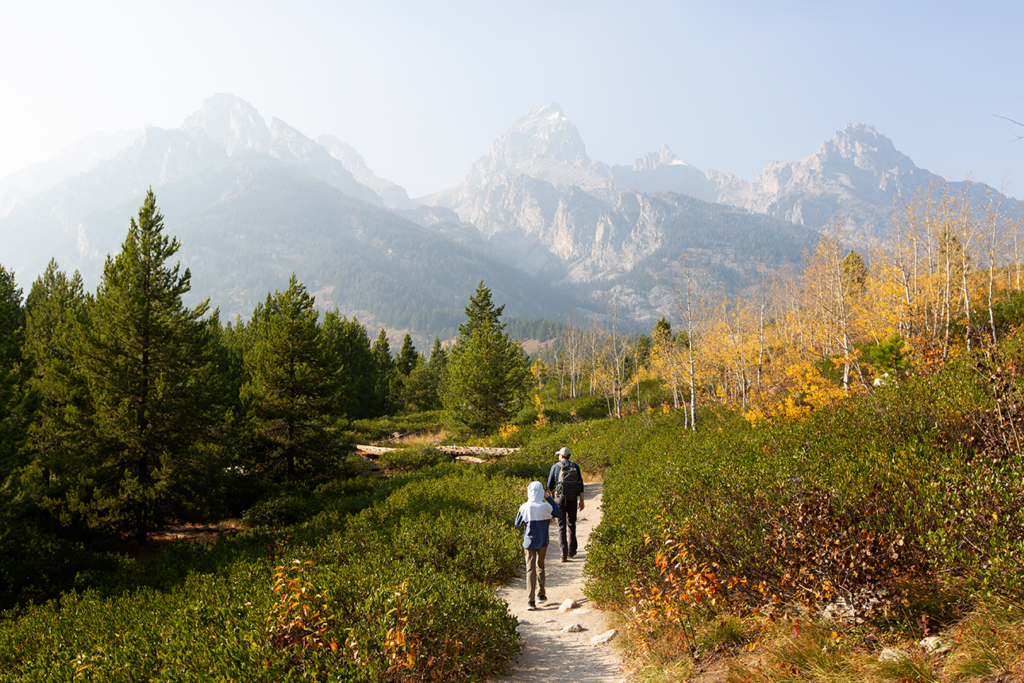 To teach kids and others to "Recreate Responsibly" is the slogan in just about any mountain town. From seasoned outdoor enthusiasts to beginners, every person is responsible for our beloved natural spaces. When you teach kids how to recreate responsibly, you give them wisdom for life. They will grow up to be responsible adults who take care of the environment around them. The goal is to treat public land in such a way that our grandchildren's grandchildren will still be able to access and recreate on the same trails one day.
---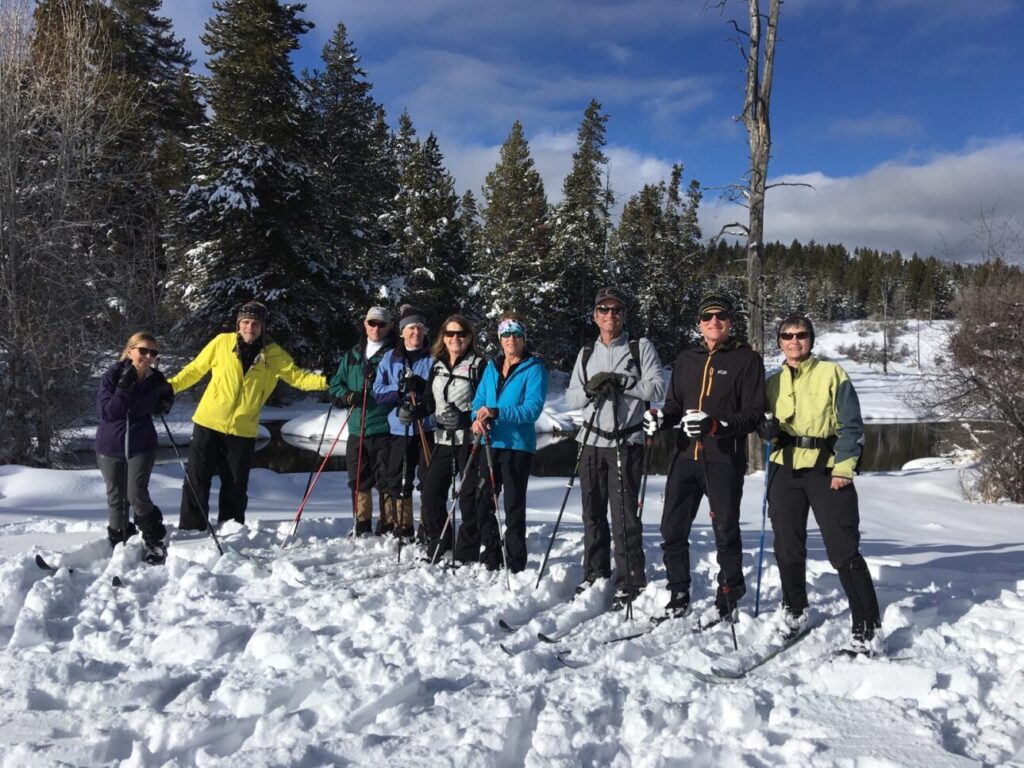 Hiking trails in Grand Teton National Park can get quite crowded in the summer. You can't find parking after 9am, the person ahead of you on the trail is taking their good ole time, and wildlife is scared off by all of the loud foot traffic. If you're looking for a trail with Teton views and less people, Two Ocean Lake Loop is the perfect spot for you.
---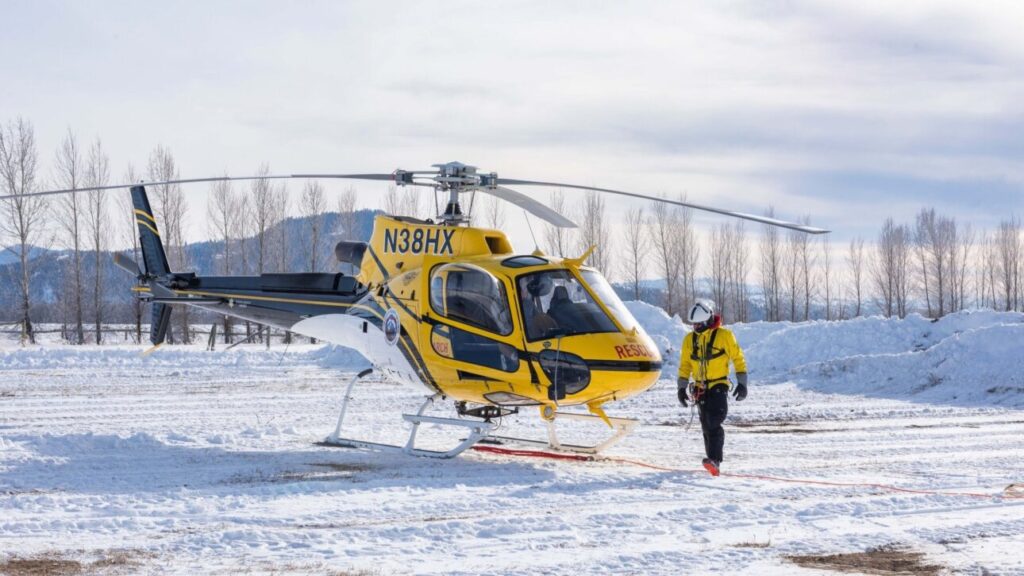 Aron made a mistake when he headed off to solo Bluejohn Canyon in Southeastern Utah. I shall never forget the call I got from my daughter, Jamie, in early May 2003. "Turn on CNN" she said. "They are saying Aron cut off his arm." I did. And he had. Aron being, Aron Ralston, my daughter's ex-boyfriend. When you find yourself in a dangerous position in the backcountry, do you know who to call in an Emergency on Nordic and Winter Trails?
---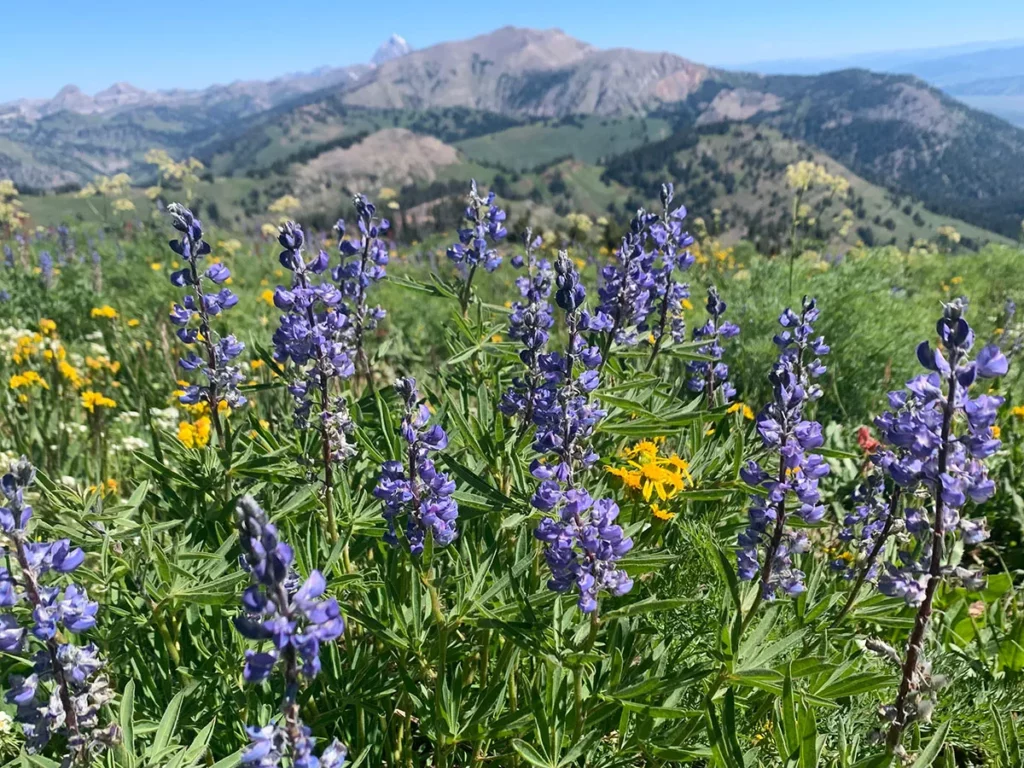 Monsoonal moisture continues to bring cool, wet weather to the valley. With this trend, the valley is still green and the wildflowers are still popping, which is rare in August when the weather is typically hot and dry and the landscape is crunchy. It's the summer to take a raincoat on all adventures.
By the end of August, one can sense the change of seasons with short days and cool nights becoming more evident. August is the season of ripening berries which provide nutrition for many species. Young robins love the chokecherries near my deck. It's fun to identify the bushes and enjoy tasty huckleberries, serviceberries, thimbleberries and raspberries as you walk through different habitats. As a naturalist, I enjoy using the senses to educate — to smell, touch and taste nature while on the trail. But be sure to properly identify berries before you bite into them. Not all are sweet or good to eat.
---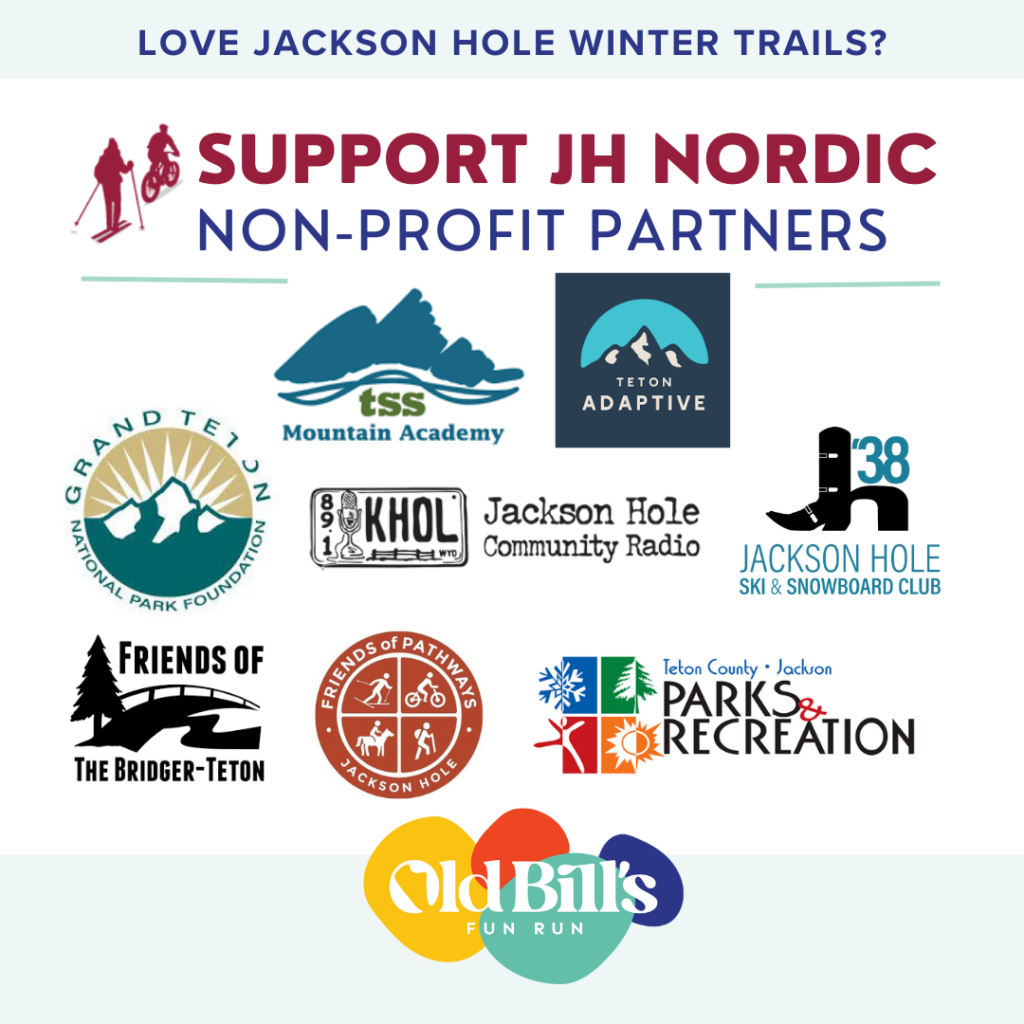 Race Day: Sept 9th, last day to give: Sept 15 at 5 pm.
Support JHNA Non-profits through Old Bill's (KHOL, JH Ski and Snowboard Club, Friends of Bridger-Tetons, Friends of Pathways, Grand Teton National Park Foundation, Teton Science School, Teton Adaptive Sports, Teton County Search and Rescue).


---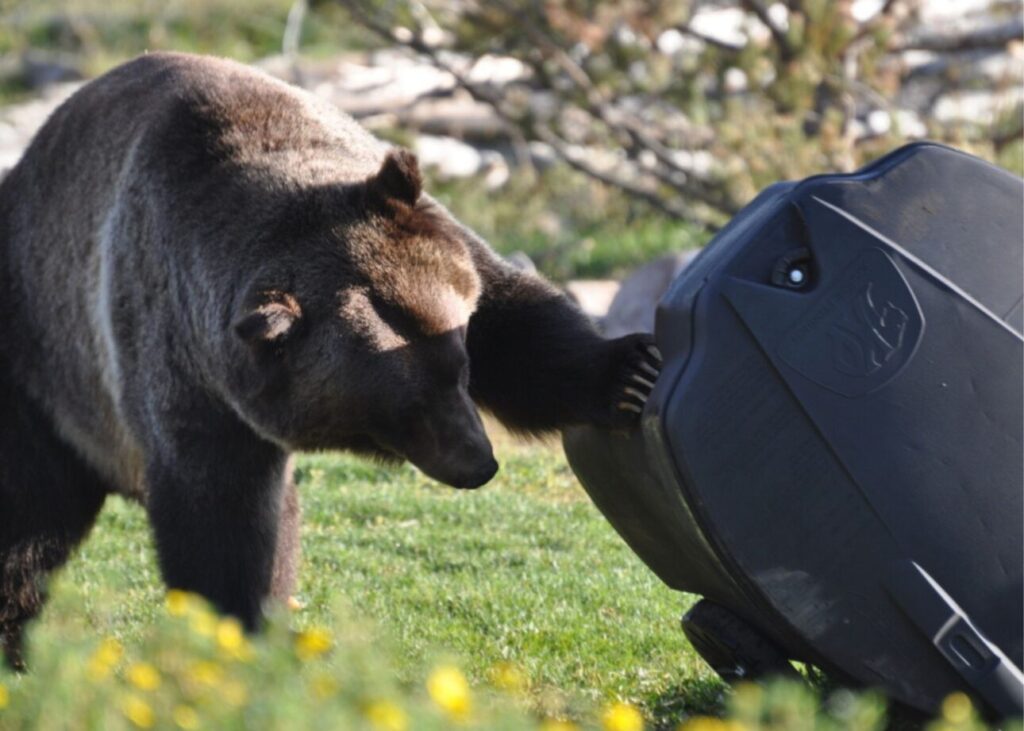 Bear-resistant trash cans, dumpsters, or enclosures are required for all Teton County residents and business outside the Town of Jackson. Inside the Town of Jackson, residents within the designated 'Bear Conflict Zone' are required to use a bear-resistant trash can, dumpster, or enclosure.
---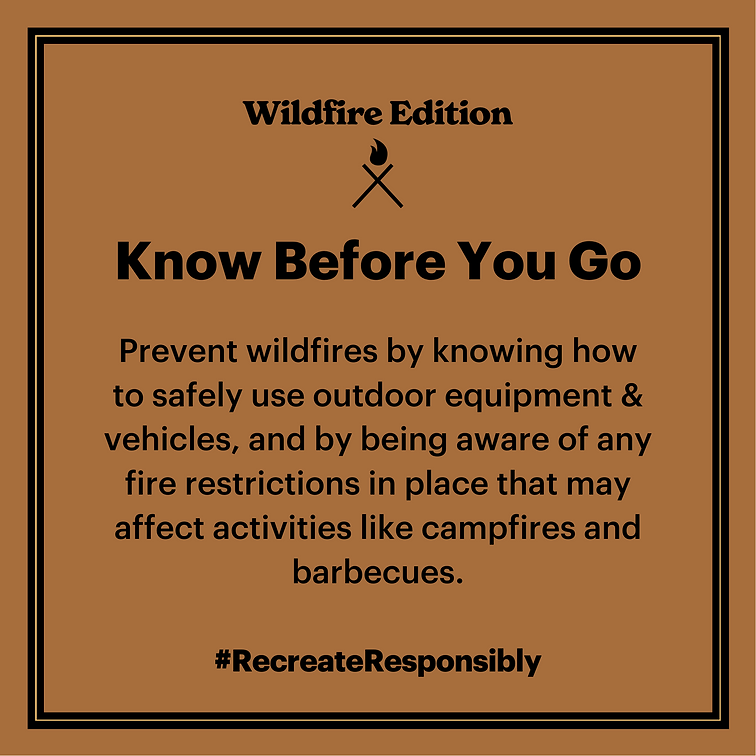 We all play a valuable role in preventing wildfires. Nearly nine out of ten wildfires are human caused and can be prevented. Everyone can do their part. Here are some tips to help you #RecreateResponsibly in terms of wildfire danger and stay safe during #FireYear2023.
---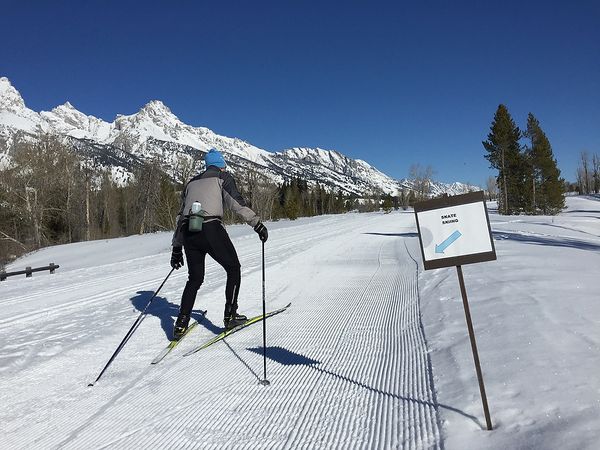 Ski Season is Right Around the Corner!
UPDATED & CORRECTED INFO – APOLOGIES FOR THE ERROR IN PREVIOUS TRAIL REPORT
With nearly all our 23/24 XC skis in stock now, it's a great time to get a jump on the winter season. Skinny Skis has a large selection of the best XC skis for every category of skiing – touring, backcountry, performance, and World Cup level racing from Salomon, Fischer, Madshus, Rossignol, Kastle, and Alpina. Our ski wall will be up September 8th but we're happy to bring skis out for early shoppers.
Skinny Skis service shop is up & running for anything from basic waxing to high performance stone grinds. We have in-store wax clinics planned for November & December – a lot is changing in the world of waxing XC skis and it's remarkably easy to get speedy skis with little effort and without a waxing iron! Details on wax clinics with be available through JH Nordic and Skinny Skis website by mid-October. https://skinnyskis.com/
Our junior season lease program (kid's 12 yrs and under) is underway. Stop by anytime to get your kiddo set-up with XC touring, skate, classic, or combi skis and boots. Equipment is limited – first come first serve – so don't wait until the snows flies to take advantage of this popular program.

Don't miss out! The JHN Events page is updated with a forecast of events coming up into the 2023/24 Winter season.
September 9, 2023
9am-12pm | Jackson Hole Elementary Fields
One of the most innovative fundraisers in the nation, Old Bill's Fun Run is also one of the most successful.
This run has no finish line. There are no podiums or medal ceremonies. It ends as it started, together, united in a greater purpose. Here, every step, every pace, every individual spin of the wheel represents a collective spirit — a shared vision of a more vibrant and enriched community for all. Old Bill's Fun Run exemplifies the very best of Jackson Hole. In this marathon of generosity lies the opportunity for meaningful contribution, for altruism amplified by the kindness of others, and for the singular drive to make a difference.
In 2022, Old Bill's raised $19,957,301 in support of local nonprofits, an increase of 1.2% over last year. This effort represents over 24,000 gifts from 4,193 donors.
---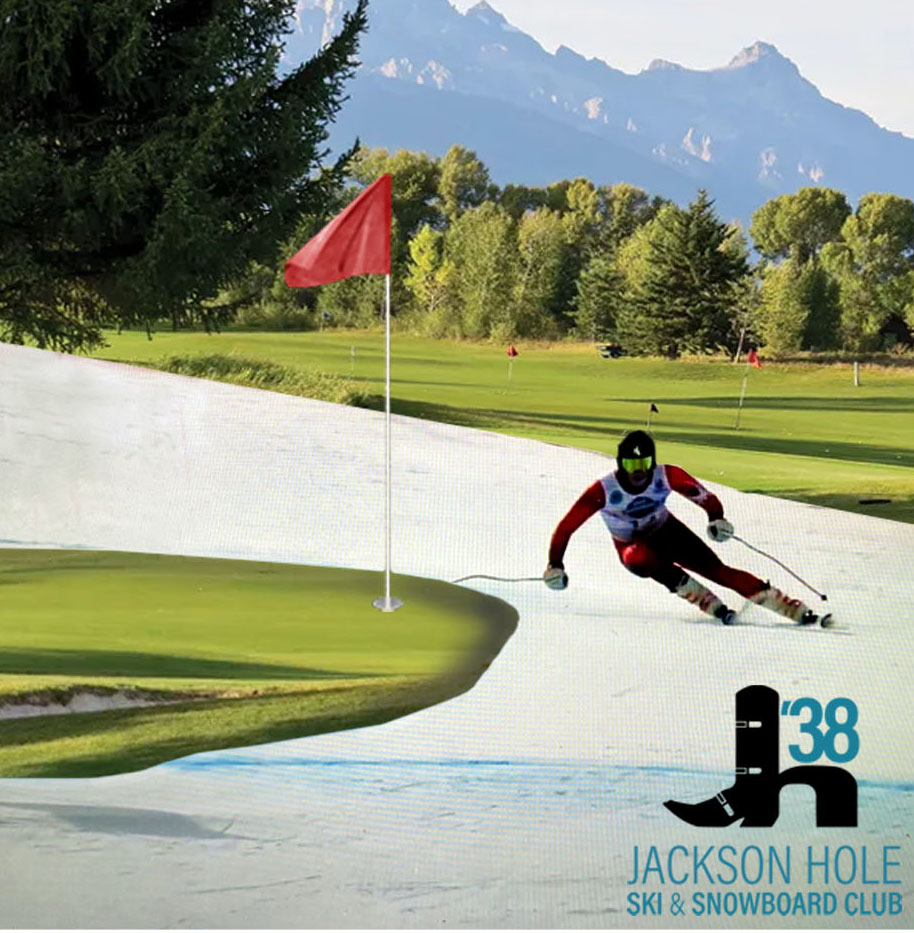 October 2nd, 2023
1pm | Jackson Hole Golf & Tennis
Shotgun style gold tournament hosted by JHSC as a fundraiser for the Wes Barron Scholarship Fund. Each teams starting hole will be announced at registration and teams will work through until they have finished all 18 holes.
Through the efforts of the Barron family and the JHSC the fund has been established in his name and is making a difference in the lives of local children. Wes' Fund is able to help local kids, with financial need, participate in Alpine Racing.
---

October 28, 2023
7am | Heritage Arena
Turn your gear into cash AND snag deep discounts on new & used gear: Nordic, alpine, freeski, snowboard, backcountry & more.
Drop off gear Friday Oct 27th from 12noon to 6pm – Heritage Arena, Jackson.
Buy new & used gear -Saturday 7am – 4pm at Heritage Arena, Jackson.
See https://jhskiclub.org/skiswap for all details.
---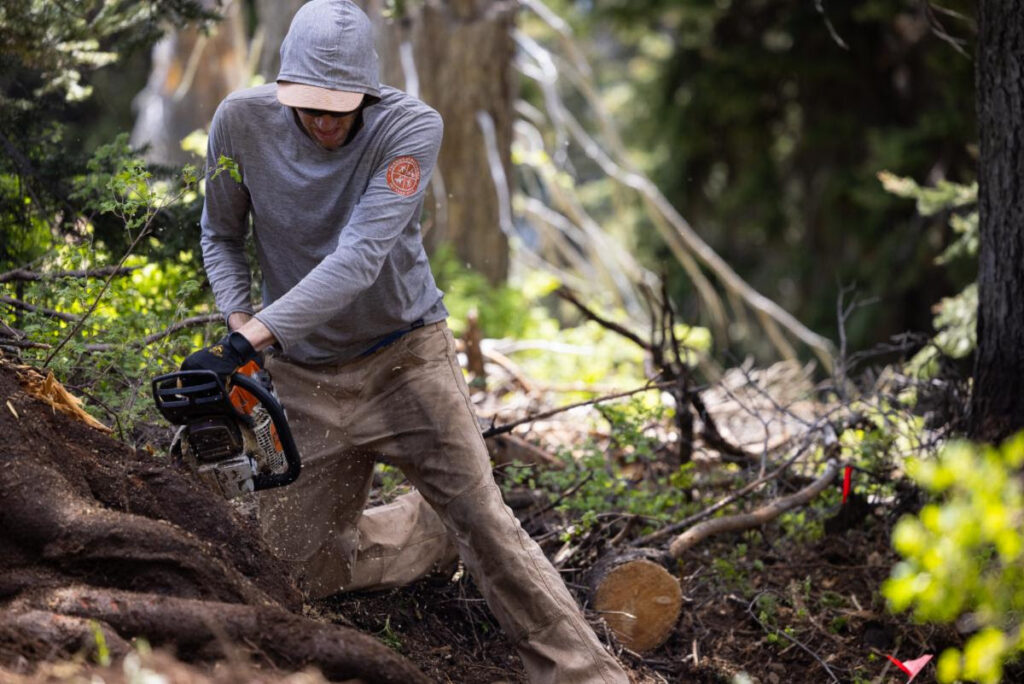 October 28, 2023
7:45am – 12pm | Trail Creek

Pitch in and help the JHSC Nordic Program get the trails at Trail Creek ready for the winter! We meet at 7:45 AM at the Trail Creek Cabin to start work at 8. Bring some clothes that can get dirty, any tools you may have such as shovels and pruning shears, and any equipment specific to your job you sign up for in the volunteer page. Sign up for volunteer credit in the form below, and make sure to sign in the morning of Cleanup to ensure your work deposit credit is fulfilled.
---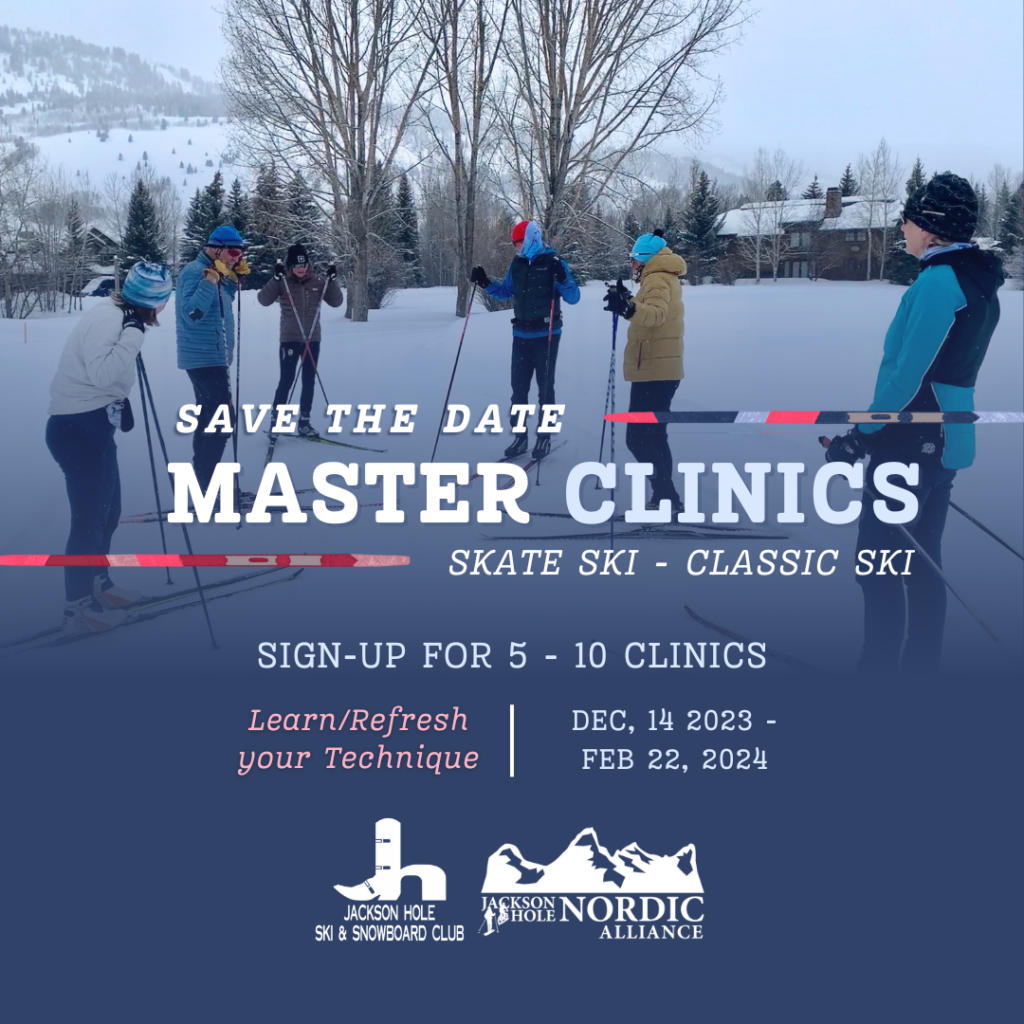 JHSC Nordic Recreational Masters Clinics
Thursdays, Dec 15, 2023 – Feb 22, 2024
11am – 12pm | Alternating between Teton Pines and Trail Creek
The Nordic Master Clinics are back! Learn/refresh your technique on classic and/or skate skis with certified coaches in small groups. Sign-up from 5-10 clinics, no drop-ins please.
---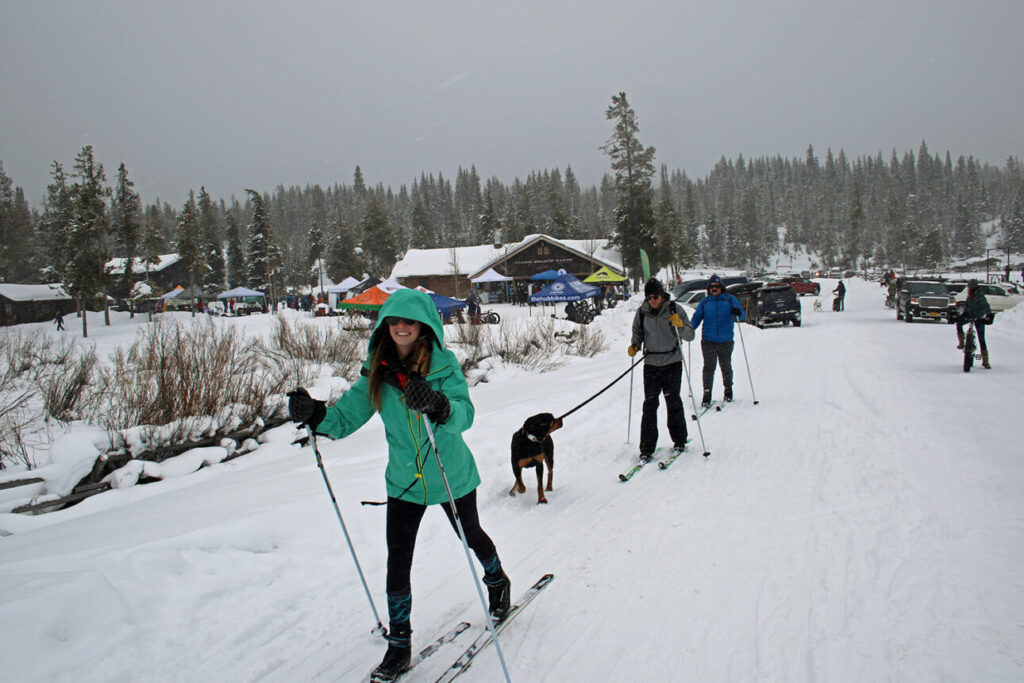 Saturday, January 7th, 2024
Turpin Meadow Ranch
Fun, Free Community Day – with Raffle benefiting local Nordic Alliance non-profit
Free trail pass, free skate & classic XC ski demo gear, free fat bike demos, free Nordic ski lessons, free BackCountry Nordic Ski & Snowshoe tours, Kids Corral (2-5 yr olds), Bridger-Teton USFS wildlife and wilderness info, Kates Bars, Lunch, snacks, hot & cold drinks.
---
---
We'd love to hear about your outdoor adventures. What are you doing to stay healthy, safe, respectful of community health guidelines – send pictures or post on FB and Insta – #JHNordic