Hiking trails in Grand Teton National Park can get quite crowded in the summer. You can't find parking after 9am, the person ahead of you on the trail is taking their good ole time, and wildlife is scared off by all of the loud foot traffic. If you're looking for a trail with Teton views and less people, Two Ocean Lake Loop is the perfect spot for you.
Scenic Views at Two Ocean Lake Trail
Although the mountain views aren't quite as drastic as some other places in GTNP, Two Ocean Lake has diverse scenery. You'll see the Tetons in the backdrop and you'll hike past a beautiful lake, aspen groves, rolling sagebrush meadows, and dense conifer forests. The wildflowers are beautiful in peak summer and the aspen trees are idyllic in the fall.
Trail Description at Two Ocean Lake
Rating by GTNP: Moderate
Trail Duration: 6.4 mile loop
Elevation Gain: 700 feet (210 m)
Average slope: 4%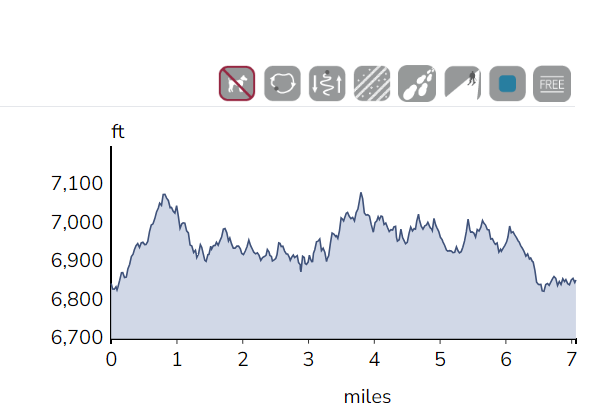 You can go either direction on the loop. However, if you want great views of the Tetons, proceed westbound along the northern side of the lake (counterclockwise).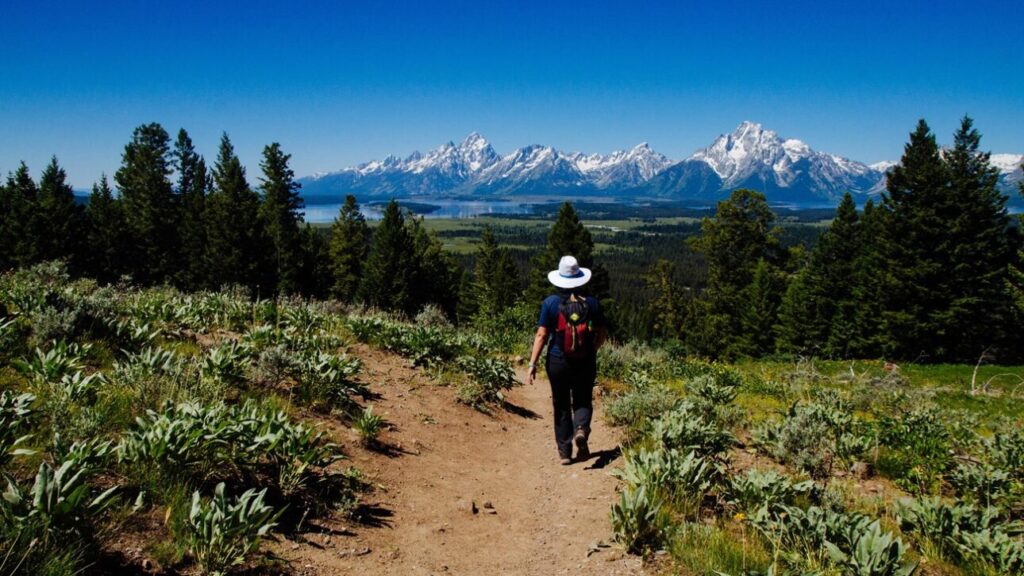 Why We Love Two Ocean Lake Trail
Besides its scenic views and remote feel, we love Two Ocean Lake Trail because it only has an elevation gain of 700 feet in 6.4 miles—making it a great trail to run. If you're training for a 10k, then this is the perfect spot! Even though the trail can get narrow in areas, it doesn't have a lot of loose rocks.
Another reason to love Two Ocean Lake Trail is that it connects with other trails and scenic points.
Take a slight out-and-back detour to Grand View Point from the northwest point of the lake. This scenic overlook has amazing Teton views.
Connect to the Emma Matilda Lake trail either from Grand View Point or Two Ocean Lake trailhead. If you want a longer hike or trail run, this is a great option.
Tips Before You Go To Two Ocean Lake Trailhead
Although Two Ocean Lake Trail nearly borders Bridger-Teton National Forest, it is still fully in Grand Teton National Park. This means that no dogs are allowed. Keep your furry friends at home for this hike!
Two Ocean Lake has a lot of marshy areas. You'll see submerged grass and willows around the lake. The standing water from snowmelt and runoff makes this area the perfect spot for mosquito habitat. As you can imagine, mosquitoes can get QUITE nasty in the summer. Bring bug spray or visit this trailhead mid-August and after to avoid those pesky insects.
Be bear aware! While this slogan should be applied to every hike in western Wyoming, it is especially important in the Moran area. Hikers have reported both black and brown (grizzly) bears on this trail. Bring bear spray, keep it accessible, make noise on the trail, and be alert. Plus, there are a variety of berry bushes along the trail that a bear could be chowing down on. Make sure that a bear is aware of your presence in advance and keep your distance if you spot one.
If you hike this trail in the spring, bring shoes that can get dirty. The high level of the lake, snowmelt, rain, and spring run-off can make the trail muddy.
Enjoy the views, solitude, and exercise!