Two Oceans & Emma Matilda Lakes
7.3mi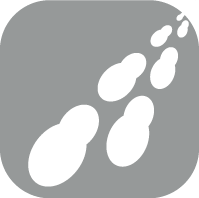 ---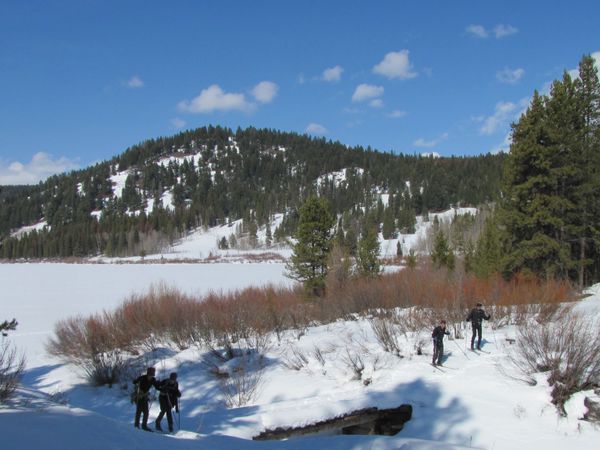 Access via: From Jackson, drive north on WY Hwy 89 to Moran Junction, turn left (west) toward the GTNP Entrance. Drive west 1 mile past the GTNP entrance, turn right on Pacific Creek road. Drive northeast 1 1/2 miles to the Two Oceans Lake Road trailhead on the left. Parking is limited. No facilities.
Fee: $0.00
---
Two Oceans Lake and Emma Matilda Lakes are 2 mid-sized glacial lakes set in the north-eastern part of Grand Teton National Park, and offer a variety of trails – from a short simple 3 mile out-and-back to Two Oceans, to a full loop around one or both, adding gentle hills up and over the moraines and around the lakes.
This ski trail description follows the summer park service road for 1 1/2 miles out from the plowed road to Two Oceans Lake's north-east corner, then returns back south, retracing one's tracks approx. ¼ mile, to the end of the summer park service road. There is a good map showing the area and the summer hiking trails, which can all be skied. From this point, an untracked or skier-tracked trail (depending on date of last snowfall) heads southwest into the forest, and climbs over the gently sloped, wooded hillside (moraine) to the north side of Emma Matilda Lake. At the top is an open meadow and sweeping view of Emma Matilda Lake to the south, and the Tetons – from the Grand Teton to Mt Moran – to the southwest.

N.B. Both lakes are frozen and snow covered in mid-winter. Check with the GTNP Park Rangers at the entrance to the Park to determine if the lakes are frozen sufficiently to ski on. If any doubt, do not venture onto the frozen lake.

From the meadow above Emma Matilda, there is a trail T-junction – right takes you west around Emma Matilda Lake, with a possible extension further west to Jackson Lake Lodge (4.5 miles one way). Left (this trail description) heads east along the ridge above Emma Matilda, through gently rolling slopes, aspens groves and meadows, back to the Two Oceans Lake trailhead – approx. 1.75 miles.

As the trail curves south-east around the lake rim, the trail begins to head down off the ridge (moraine). This short stretch follows an open gully, and may require some traversing/switchbacks to negotiate on XC skis. The trail meets the Pacific Creek Road t the bottom in a parking area, ½ mile southwest of the original trailhead. Ski or walk along the road to reach yr vehicle.

Other trails in Grand Teton National Park