A summer evening cooling off from the August heat in the Tetons provides the perfect backdrop to enjoy a round of s'mores around the campfire. It's funny to think about the conversation around the campfire: pick a stick found around the campsite or bring your specialty s'more stick from home; once your stick is marshmallow ready, you then decide do you want to toast the marshmallow or nuke it completely or somewhere in between? It really is an art form.
Did you know that s'mores are from the phrase "some more?" This name certainly summed up the "yummy" (winning combination) more than ever. The first official recipe for a s'more came out in the 1927 Girl Scout guidebook, Tramping and Trailing with the Girl Scouts. It's arguable whether in fact one is really enough.

---
Enjoy a few of our favorite innovative recipes that we loved from A Bright Moment and Teton Valley Family Magazine this season:
S'mores Croissants
PREP: 5 MINS | COOK: 5 MINS | TOTAL: 10 MINS
Ingredients
Croissants
Milk Chocolate
Marshmallows
Instructions
For Fire Roasted S'mores: Slice the croissants in 3/4th of the way lengthwise. Roast the marshmallows on roasting sticks to desired doneness. Layer the inside of the croissants with the chocolate and roasted marshmallow. Wait one minute for the marshmallows to melt the chocolate and enjoy!
For Oven Baked S'mores: Slice the croissants in 3/4th of the way lengthwise. Lay open on a parchment paper lined pan. Add the chocolate to one side of the croissant and the marshmallows on the other open half. Broil on HIGH for 2-3 minutes, until desired doneness. Fold together and enjoy!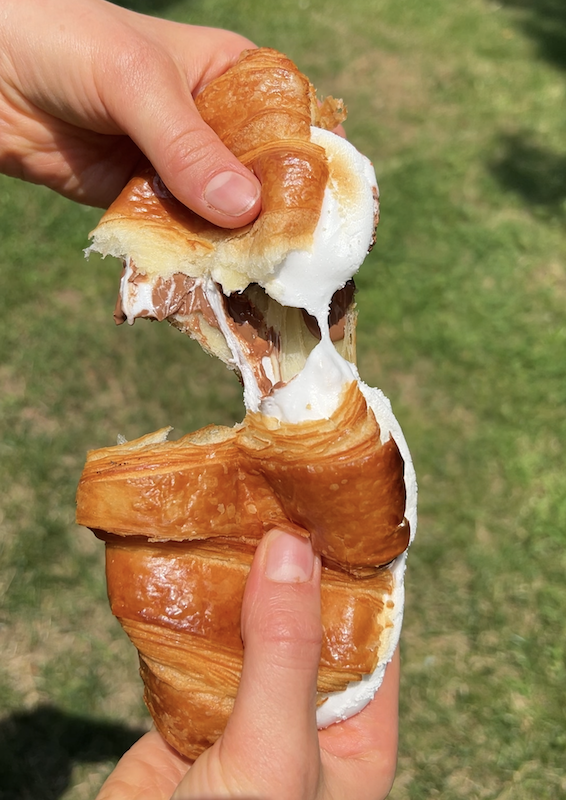 Follow @brightmomentco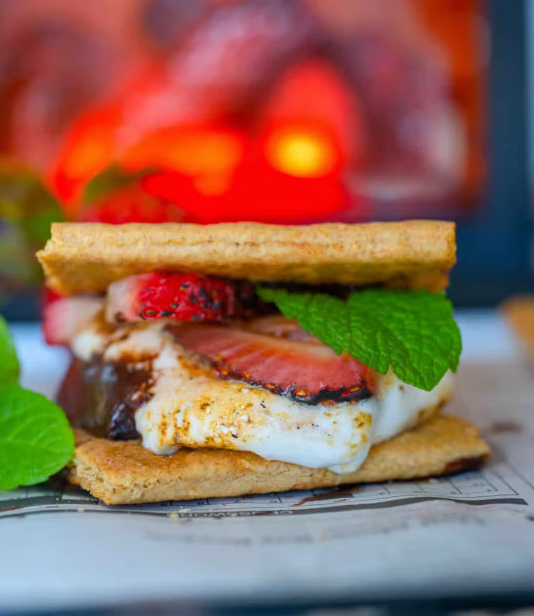 Vegan Strawberry S'mores
Fully embrace summer—without leaving anyone out—by concocting a vegan s'more, berry included.
Ingredients
Vegan marshmallows (like Dandies)
Vegan graham crackers
Vegan chocolate
Fresh strawberries
Fresh mint
Instructions
Add a fresh strawberry to your roasting stick and roast it alongside your marshmallow.
Carefully take the roasted strawberry off of the stick first; slice it in half.
Place 1/2 of the sliced berry on top of a graham cracker topped with chocolate. Then, place the toasted marshmallow and the other berry on
top of that, before putting on the graham cracker lid.
Top with a couple of fresh mint leaves.
Squeeze the graham crackers together carefully.
TIP: PLACE HALF A GRAHAM CRACKER WITH CHOCOLATE ON A FLAT ROCK NEAR THE EDGE OF THE FIRE. LET IT BE WHILE YOU ROAST THE MARSHMALLOW, SO IT'LL BE MELTED WHEN YOU ARE READY.
---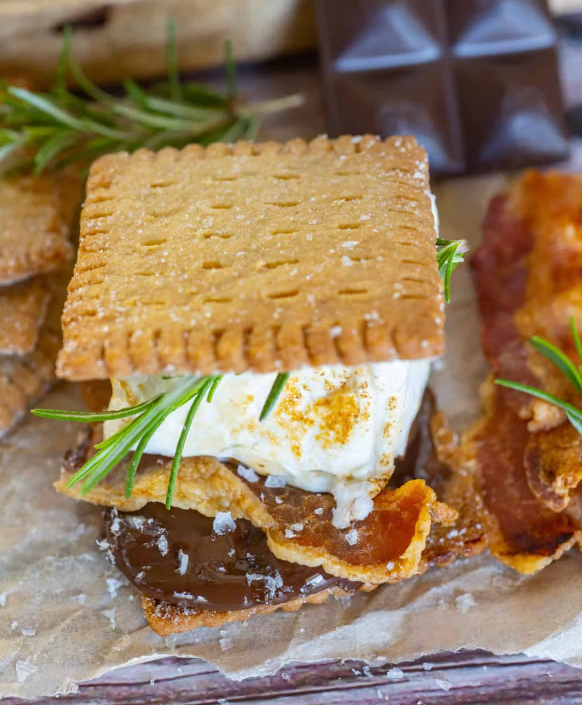 Maple Bacon S'mores
The sweet and salty combo makes everything better! And this s'more rendition—complete with maple bacon, Persephone marshmallows and graham cookies—is over-the-top.
FOR THE BACON:
Uncured bacon
Maple syrup
Preheat the oven to 400°F.
Place the bacon on a parchment-lined baking sheet.
Brush both sides of each piece of bacon with maple syrup.
Bake for 10 minutes, and then flip each slice. Continue baking until crispy.
When done, set the bacon aside on paper towels.
* Recipe adapted from smokedmeatsunday.com
FOR THE S'MORES:
Persephone's vanilla marshmallows
Persephone's graham cracker cookies
Dark chocolate (70% or higher–I love the Chocolove brand)
Ground black pepper
Fresh rosemary
Flaky sea salt
Cut the bacon pieces in half.
Place 1/2 a piece of cooked bacon on top of the graham cookie topped with chocolate. Next, add a toasted marshmallow and sprinkle with flaky sea salt, ground black pepper, and fresh rosemary.
Top it with a smidge of maple syrup (if desired), and another graham cookie. Squeeze gently. Enjoy!
Whether you are at the top of Curtis Canyon enjoying a campfire and spectacular sunset over the Tetons or in the Bridger-Teton Forest camping with family or even making memories with littles in your own backyard – we hope you'll take the time to slow down this S'mores Day (August 10th) and enjoy the quality moments with your family that matter most.

Here's a friendly Recreate Responsibly tip…
Be sure to Leave No Trace if you plan to make your s'more at your campsite. Okay, admittedly the traditional s'more is hard to keep tidy. Before you put out that campfire and head to bed, be sure to look to the ground and pick up any signs of s'mores. These special treats are yummy to the wildlife too but we don't want to attract unwelcomed campers to our site.