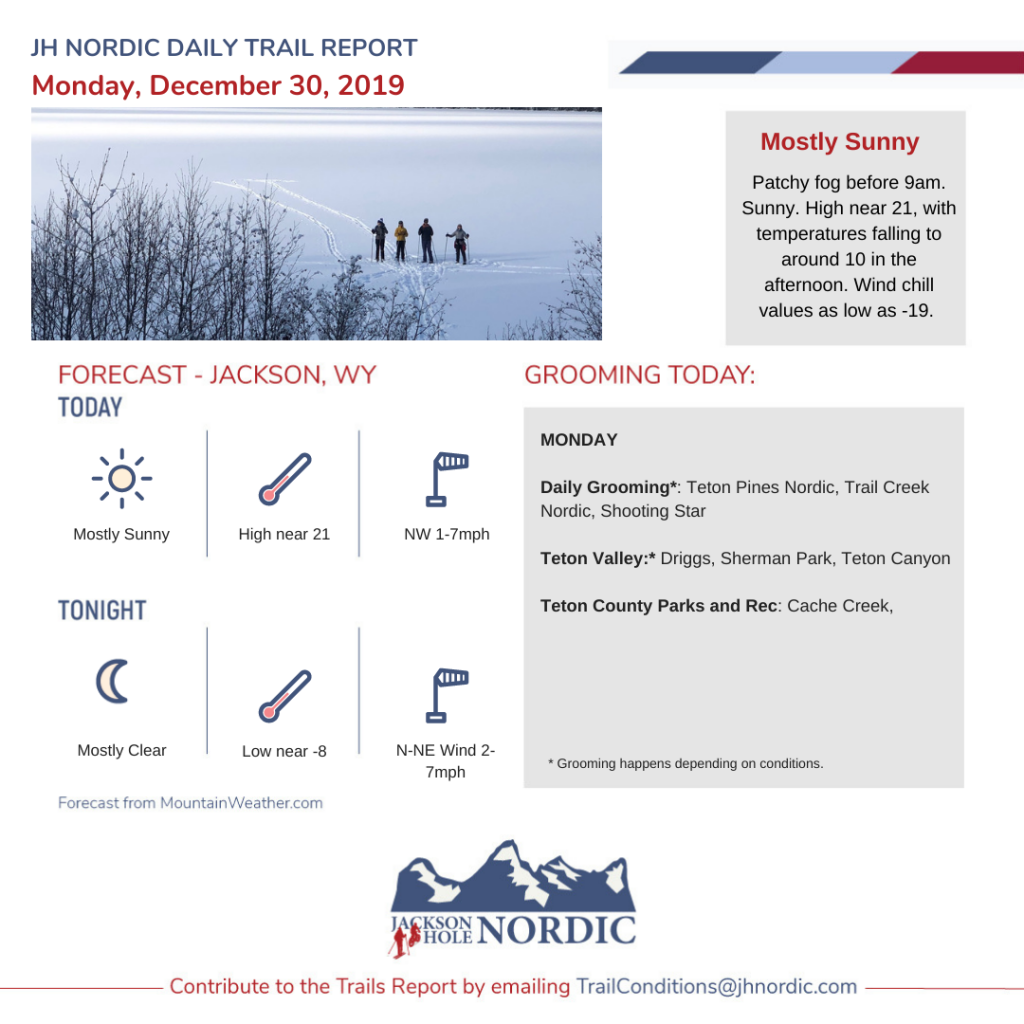 ---
Thank you for continually sharing your photos with us of Nordic skiing in Jackson Hole
---
Freestyle @ Trail Creek Nordic Centre, Wilson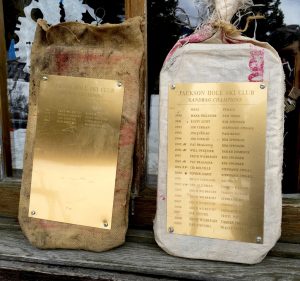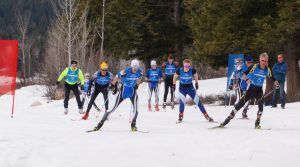 The format for the Sandbag Challenge at Trail Creek on Sat, Jan 4, will be the same as in past Sandbag Finals. Any skier who has done a local race in the last 30 years will be given a percentage handicap to be subtracted from their actual time. The low net times will win the prizes. Registration starts at 9:00. Race start around 10:30. The course will be similar to the Betty Woolsey but freestyle.
Race is open to all, snow and grooming have been spectacular at Trail Creek.
---
Shooting Star Nordic Trails New Expanded Dog-Friendly Loops
Shooting Star's Nordic Center recently announced it has expanded its dog-friendly loops, based on the popularity of dog-owners loving to ski with their dogs on a beautifully groomed trail. See the updated map below. The yellow track is dog-friendly.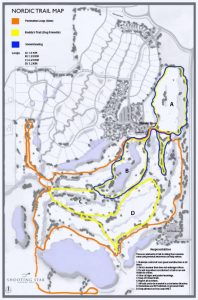 Shooting Star Nordic trails are open to non-members, with a daily fee of $35. Junior skiers (13-18): $15; 12 and under: free. Season passes are $350 in December, dropping to $300 in January and $250 in February.
They also have Nordic ski/boot rentals, professional Nordic lessons, and snowshoe rentals. Please check in at the Nordic Center Club house (left of the main Club entrance). Open 9am-5pm. For more info, call: 307-739-3260
---
Trail Report: Fun at Phelps Lake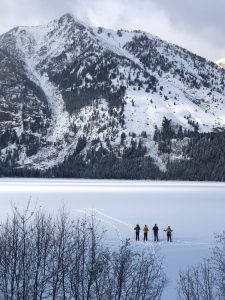 We love this gorgeous photo from Phelps Lake in Grand Teton National Park – four adventurous XC skiers basking in the beauty of the snowy peaks!
Trip report from 12/28: a nice flow of classic cross country skiers and snowshoers along the Moose-Wilson Road skier- tracked trail today. Sun was warm, yet cooler temps kept the snow light, powdery and dry. Phelps Lake is frozen, with a light snow cover, so we ventured to ski a ways on the ice for spectacular views of Death Canyon, Mt. Albright, Static Peak.

Last Updated: 12/28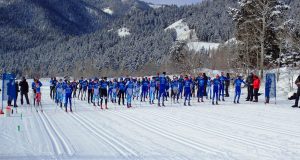 Great Race, Great Bonfire, Busy Day!
All in all the race was a great event with good attendance and racers spanning nearly 80 years in age. Look for more great images in the days to come.
As if a signature race wasn't enough, we finished the day with a great bonfire. A good crowd attended with adults toasting in front of the fire and the kids doing crazy ski and sledding things around the close field, a good time was had by all. If you missed it, make sure you put it on your calendar for next year.
Today at Trail Creek fresh grooming was in full force as well with trails being rerouted to pre-Betty Woolsey configurations. Almost every trail received double Pisten Bully passes with fresh classic tracks. 12:45 PM conditions are cloudy, calm, very light snowfall, with a temperature of -12ºC/10ºF.
Groomer's choice for today is to ski the newly groomed trails in the woods.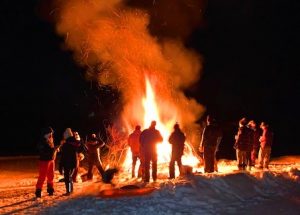 ---
Last Updated: 12/27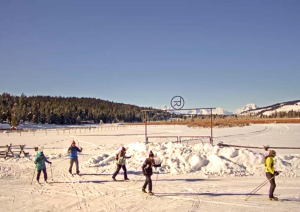 Just like the Grand, our trails are SHARP and ON POINT! We groomed last night (12/27) so the trails would set perfectly overnight with the below zero temps. They are fast and looking prime! Come out to TMR this weekend! FREE SKI DAY is Jan. 5!  Bring your dog! 
Click on our Turpin Ranch Cam to see real-time weather, conditions and views of the ranch. https://youtu.be/WeeDyqRKqVI
---
Last Updated: 12/28
The levee is groomed, very firm, and should ski decently. I am starting Stilson now and should be done around 10:00.
Everything for the day is groomed and in good shape. Grooming will resume Monday up Cache Creek to Noker Mine Draw.
---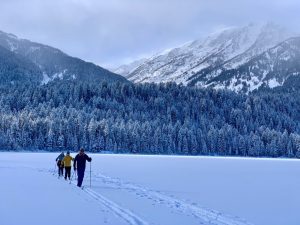 Last Updated: 12/29
A little foggy out there today but should see clear sky's this afternoon. Grooming Taggart Lake trailhead to South Jenny this morning.
---
Last Updated: 12/28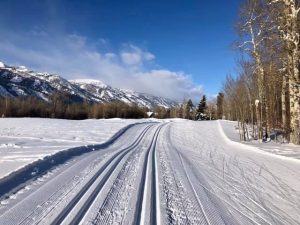 A busy day at the Pines, but the track is still looking good at 3pm! Come on out tomorrow for another awesome day in the sunshine!!
We have skate and classic track set daily. We still have lesson slots available for next week, but call as soon as possible as they will fill soon. We have backcountry xc ski packages, skate ski packages, and classic (touring and race) ski packages available. Our sizes are beginning to get more limited, so hurry out if you'd like to get on some new ski gear this winter!
---
Last Updated: 12/27
Skiing continues to be fantastic! Our Pistenbully (snowcat) is currently down for repairs and should be running again later next week. In the meantime we'll continue to groom the skate lanes daily with the snowmobile and ginzu attachment. The classic tracks are still set and should remain great shape, but won't be touched up again until the snowcat is repaired.  Bundle up and enjoy the rest of 2019!
Next Update: Tuesday
---
Update: 12/24
A few updates on the Nordic Track and JHG&T.
Season Passes are available to non members for $100, passes can be picked up in the admin office at JHGTC M-F 9am-5pm or by calling 307.733.7787. 
We purchased a new groomer 2 years ago so we do now have a set cross country track with enough room for skate skiers and/or fat bikes next to the set track.
There are no other services available (ie. No lunch) though dinner is offered Thursday, Friday and Saturday evenings beginning at 5:30pm; Clubhouse amenities are reserved for members only.
We groom the track on Tuesdays, Thursdays, and Saturdays
Contact Steve Cole, Membership Director, at:
scole@gtlc.com
or 307.733 .7787.
---
Last Updated: 12/29

2″ of new snow overnight! And this snow is light. Real real light. Like ski-through-and- vanishes-into-thin-air-light. It will be a lot like skiing on clouds today. Soft, puffy clouds. So c'mon up and finish out the decade with those skis and fat bikes!
Cross Country/Fat Bike 15k: XC OPEN (Last groomed 12/29/2019), Fat Bike OPEN.
---
Last Updated: 12/20
Fat Bike: Yesterday and this morning we completed a 2.5 mile section of new groomed single track. Beginning at lower Kelly Park, climbing to Kelly Park proper with a fun skirting loop around the meadow. It's set up and ready to ride!
Nordic 12/28: Kelly Park, Half Moon Tie-In, Upper & Lower Surveyor, Moose Ridge, and Old Road Trail and Tree Loop all fresh groomed this morning. Be cautious, there are still several moose in the area, saw at least 5 near where Old Road Trail meets Surveyor Park. If encounter moose, suggest turning around and go a different way. Please control your dogs. Thank you for cleaning up after them. Use caution on trails not groomed. Weren't groomed because of thin coverage.

Grooming Schedule: Tuesday, Thursday, Saturday, Sunday
Last Updated: 12/29 @ 11am
Skate: Good | Classic: Good
---
Grooming Schedule: Monday, Wednesday, Friday
Last Updated: 12/27 @ 11am
Skate: Fair | Classic: Poor
---
Grooming Schedule: Monday, Wednesday, Friday
Last Updated: 12/29 @ 8pm
Skate: Excellent | Classic: N/A
---
Grooming Schedule: Monday, Wednesday, Friday, Saturday, Sunday
Last Updated: 12/29 @ 10am
Skate: Excellent | Classic: Fair
---
Grooming Schedule: Tuesday, Thursday, Saturday
Last Updated: 12/28 @ 9am
Skate: Good | Classic: Excellent
---
Grooming Schedule: Tuesday, Friday
Last Updated: 12/28 @ 11:30am
Skate: Good | Classic: Fair
---
5th Street Singletrack
Grooming Schedule: as needed
Last Updated: 12/28 
Singletrack: Excellent
Figure-8 is super fast and fun! Sled forthcoming to groom the big loop,
---
Teton Springs Singletrack
Grooming Schedule: as needed
Last Updated: 12/16 @ 10am
Singletrack: Good
Got the singletrack set out at Teton Springs last night. Things are starting to shape up. Enjoy!
---
Southern Valley Singletrack 
Track Grooming Schedule: as needed
Last Updated: 12/16 @ 10am
Singletrack: Good

Sunday, January 5th 2020 | Turpin Meadow Ranch | 10am-3pm
Mark your calendar and Register online!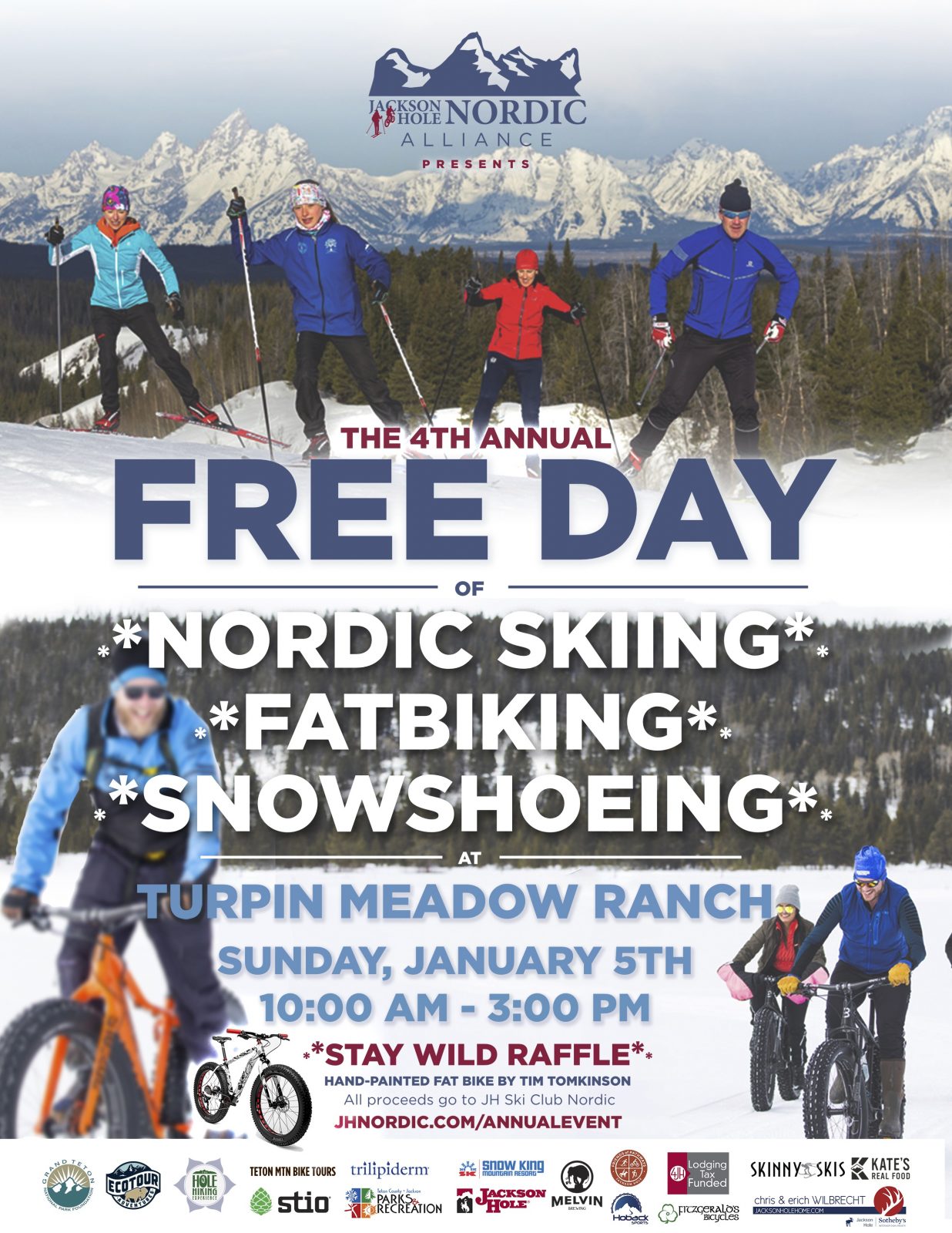 We're getting excited with more demo skis, more fat bikes, Melvin Beer, Kates Bars, Free lessons, snowshoe and BC Nordic tours up the Buffalo Fork, and a huge raffle to benefit the JH Ski Club Nordic program. Raffle will include a Stay Wild fat bike, donated by the JH Travel and Tourism/Lodging Tax supported team, Nordic skis from Skinny Skis, and lots more. Wanna donate to the Raffle? Contact the JH Ski Club: info@JHSkiclub.org
Speed through Registration by pre-signing the Event Activity and Trail Use Waiver online – click here . 
Once the Waiver form is completed online, you will be able to print a pdf copy. We encourage you to print this to present at registration.  We can also look you up as "pre-registered
Sponsored by the JH Nordic Alliance members and JH Travel & Tourism Board
Want to get involved, sponsor an activity, volunteer?
This community event is a great way to connect with our community and visitors. Contact Nancy @: info@JHNordic.com

---
Send us your event dates, stories, photos
Follow JHNordic on Facebook, Instagram @JHNordic, #JHNordic
Sign up for Daily or Once a Week JH Nordic Trail ConditionReports to know what's groomed,
what's happening first thing every morning – or just Saturdays.