While we may have has a bit of a drought as of late, snow seems to be on the way, and just in time! According to Mountain weather, we are expecting about 1 inch Friday night and 3 inches Saturday morning in the mountains.

---
Opening Day at Grand Targhee – Groomed Nordic Trails (and Alpine) – Nov 22nd
Head on over and up to Grand Targhee on Nov 22nd (and 23rd-24th) for the opening weekend. At 8000 ft+, Targhee has had a skiable snow base since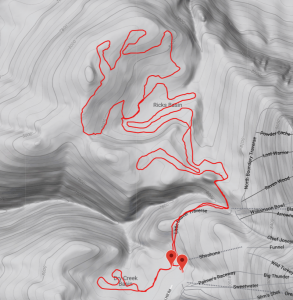 mid Oct, and now with recent snow, conditions should be quite good for early season. Great way to get in shape, enjoy some groomed trails (the cardio workout alone at 8000 ft is always a humbling start to the Nordic ski season). Fat bike trails open, too. See 
Grand Targhee Nordic & Fatbike trails
 for a trail map and elevation profile. 
Try our new "Live Locator" feature to track your location on the trail (pull up the Grand Targhee trail map, then "allow"
jhnordic.com
 to use your current location. The Blue dot will pop up on the trail map to show your location and where you are on (or off) trail. "Live Location" automatically turns itself off when you close the map after you're done).
"Brave enough" Series by Bob and Betsy Youngman (Masters coaches, Vamps Nordic program, Sun Valley) –  https://thefastmaster.wordpress.com
Whether you're a Nordic recreational skier, an aspiring or experienced racer, a trail-runner, fat-biker, or alpine skier looking to stay fit, prevent injury, lift your performance, we love the Youngman's winter fitness training program.
The latest episode (Part V) addresses: "Developing a Plan"
Parts I-IV of this series on training planning, they reviewed:
Time horizons, setting goals, and plan structure
Understanding the elements of endurance training
Training Intensities
Strength training for cross country skiing      
In Part V they bring these four elements together to begin the process of developing a personal training plan for the year and race season.
The Big "C" and the Capital "R"
As expressed at the outset of this series of articles, there is a single underlying fundamental principle that will define an athlete's progression in any sport (and particularly in endurance sport) – making consistency and recovery the number one priority. Without consistent training stimuli and associated recovery, training progress will be slow or nonexistent and, in some cases, regression can occur. There are many aspects of life that compete for the available time of a masters skier. It can be very difficult to set aside sufficient time to devote to training and consistency and recovery can quickly "go out the window." This is where having a plan becomes so valuable. With a plan, one can incorporate the right training opportunities, in the correct sequence, into a busy schedule and maximize the benefits of whatever amount of time one has for training. Without a plan, training becomes disorganized, helter-skelter, and often doesn't get completed. Taking the time to put together a training plan will allow the masters athlete to effectively and efficiently manage the precious time they have to train. This, of course, also applies to younger skiers but is of particular importance to masters skiers who typically have more duties than time.  For more info and links, see: https://thefastmaster.wordpress.com
Thanks to Bob and Betsy Y. for sharing this with JHNordic.
---

GTNP Teton Park Road (between Taggart trailhead and Signal Mountain Lodge are now closed for the winter season to vehicular traffic. 
The Moose-Wilson Road in GTNP
is also closed from Granite Canyon trailhead to Death Canyon Road. A nice time to take advantage to ride a bike (Teton Park Road) or walk (with dogs on leash).. Check out the weather at the Taggart area via the JHNordic- GTNP webcam, on the
JHNordic.com
 home page.
New Multi-Use Groomed Winter Trail – Teton Village to GTNP Boundary and Lake Creek
The Teton Village Association just approved its funding for winter trail grooming from the heart of Teton Village north to the end of the bike path and south to the Lake Creek bridge along Hwy 390 (the Moose-Wilson road). The trail will be multi-use, open to nordic skiers, fat biker, runners, walkers, dogs on leash. This trail connects with the Community pathway at Lake Creek Bridge south to Stilson, allowing connectivity to Wilson and the town of Jackson via plowed pathways. Thanks to the TVA, local Teton Village residents, and JHMR (they provide the grooming service) for adding this groomed trail. Grooming is planned for 3 days/week. Stay tuned for which days via
jhnordic.com/grooming
/ and our Daily Trail Reports (via email and
blog.JHNordic.com
).

November 26 – December 2 | West Yellowstone
Thanksgiving by Nordic! Come for the day, overnight or make it a week! Always a fun way to start your ski season. An early season favorite for JH Ski Club Nordic teams on-snow training and fitness/skills development. As well as a  Jackson Hole-Teton Valley family and friends get-together.
---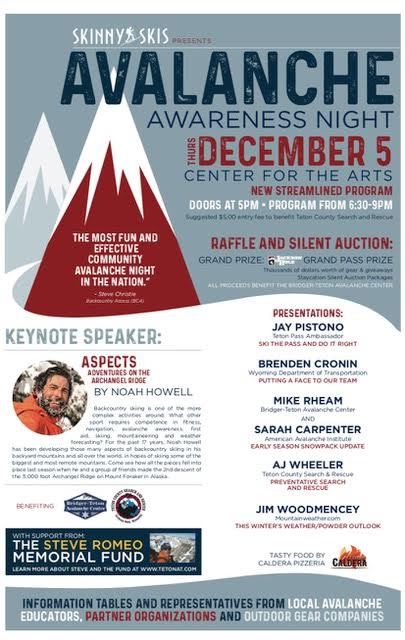 ---
Thursday December 12th | Teton Pines Nordic Center | 11am-12:30pm
Classic Cross-country Tips, Technique, and Fun! Coaches provided by the JH Ski Club Nordic program. Sign up for all 8 clinics or drop-in. Clinics every other Thursday with Classic XC and Skate ski lessons alternating.
Register: info@jhnordic.com  For more info, see: blog.jhnordic.com
---
December 14 | The Wildwood Room, Victor 6-9pm
Support Teton Valley Trails and Pathways (TVTAP) & winter grooming in Teton Valley! Join this fun community dinner, supporting some of your favorite Nordic and fat bike groomed trails in Teton Valley – Teton Canyon, Alta, Teton Springs, Yeti Trail, Driggs, Sherman Park – and summer bike paths, too!

Sunday, January 5th 2020 | Turpin Meadow Ranch | 10am-3pm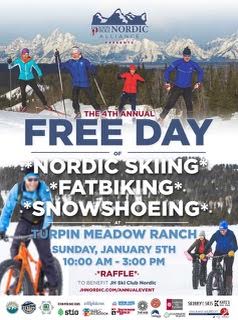 We're getting excited with more demo skis, more fat bikes, Melvin Beer, Kates Bars, Free lessons, snowshoe and BC Nordic tours up the Buffalo Fork, and a huge raffle to benefit the JH Ski Club Nordic program. Raffle will include a Stay Wild fat bike, donated by the JH Travel and Tourism/Lodging Tax supported team, Nordic skis from Skinny Skis, and lots more. Wanna donate to the Raffle? Contact the JH Ski Club: info@JHSkiclub.org
Sponsored by the JH Nordic Alliance members and JH Travel & Tourism Board
Want to get involved, sponsor an activity, volunteer?
This community event is a great way to connect with our community and visitors. Contact Nancy @: info@JHNordic.com

---

Feb 9-16 | Casper, Wyoming
Share your love of cross-country skiing with visually and mobility-impaired adults from across the United States and overseas. Ski for Light International is seeking volunteers to assist skiers at this special event.
Read more
---
Send us your event dates, stories, photos
Follow JHNordic on Facebook, Instagram @JHNordic, #JHNordic
Sign up for Daily or Once a Week JH Nordic Trail ConditionReports to know what's groomed,
what's happening first thing every morning – or just Saturdays.