On this day of good food, great friends and family, we at JHNordic are thankful for so many things.
We are grateful for our dearest friends and family – near and far,
our kind, generous, caring Jackson Hole and Greater Teton community,
our beautiful, wild, open, accessible public lands,
our precious wildlife,
our good health and healthcare,
the joy and wonder of children,
our ability to explore and discover the world – from our backyard to far-off remote places,
people doing amazing things for others,
and for you, our readers.
We wish you a day full of all you are thankful for, with a side of fresh tracks.
---
Winter Storm Watch
It looks like we're finally going to get the snow we've been hoping for! With a chance of snow through Saturday and a winter storm watch for Friday and Friday night, Old Man Winter may be here to stay. Expect temperatures to begin to dip as we head into the weekend, beginning with highs in the 30's and then a decline to a low of -1 expected Sunday.
According to MountainWeather, we can expect up to 9 inches in the mountains Friday night. See below for the accumulation forecast.

---
Which Trails have Snow? Which are Groomed?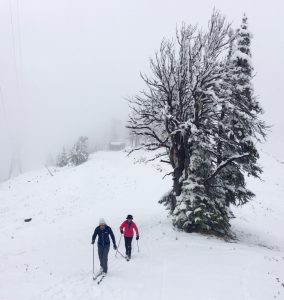 Early season conditions abound ( i.e. not enough snow to groom, backcountry nordic trails are thin). However…
Grand Targhee Nordic and Fat bike trails remain closed until more snow accumulates for a solid base to groom (as of Wednesday Nov, 27th) Several alpine ski lifts have opened for downhill. JHNordic is monitoring conditions and info for trail openings. Readers can check online at GrandTarghee.com for regularly posted updates.
 West Yellowstone Rendezvous is open for its opening week of clinics, training. 
Teton Pass and Togwotee Pass have snow for untracked Backcountry Nordic, Fat biking, and Snowshoeing
This transition time of year is perfect for fat biking when trails have a bit of snow, a bit of dirt – fat bikes rule. Demo a fat bike at Hoback Sports, Fitzgerald's Bicycles and Teton Mountain Bike Tours. Not sure where to ride or what's in good condition? Take a tour with Teton Mountain Bike Tours, Check out over 40 fat bike friendly trails at JHNordic.com/trails/, then click on the icon "fat-bike-friendly" – lots of cool choices!
---
Winter Wildlife Closures in Bridger-Teton
US National Forest
Winter closures are in effect from December 1st through 8:00am May 1st of each year, unless otherwise noted by a special order. 
Please respect these closures and help to protect our wildlife through the difficult winter season.
USFS Winter Closure map
---
JHNordic has a new Gold Sponsor:
Mary and Jim Speyer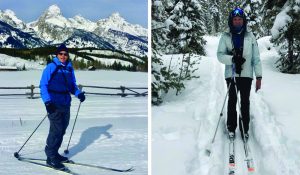 Mary and Jim Speyer, long time Jackson Hole residents, are active nordic and alpine skiers, cyclists, and outdoor enthusiasts. They are devoted to family, friends, local and national philanthropic organizations and serve on various non-profit boards in the JH area. We're excited to have them on board!
---
Latest from
West Yellowstone
Plateau trails only- Rendezvous Trail not yet open – Update: S. McGee
---
Open Positions: Bridger-Teton USFS Winter Trails – Nordic Ambassador volunteers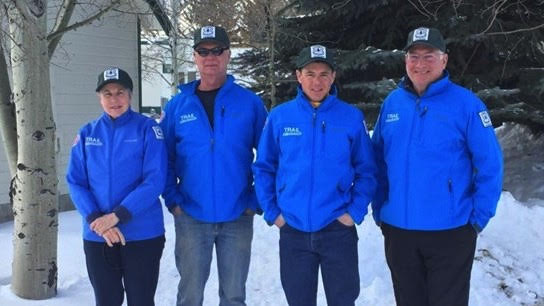 Do you enjoy being out on our favorite Bridger-Teton US forest trails in the winter? Enjoy Nordic skiing, snowshoeing or fat biking our trails, as well as helping users to understand our multi-user trail etiquette, leave no trace ethic, respect wildlife and winter closures, love our Public Lands?
Bridger-Teton USFS has a small team of locals who serve as volunteer Winter Trail Ambassadors, mainly on Cache Creek, Game Creek, and Emily's Pond trails.
They have a few open positions.
Interested to know more? Contact David Wilkinson at B-T USFS: davidlwilkinson@fs.fed.us
---
Open Positions: TC/J Parks & Recreation – Nordic Instructor
Do you enjoy Cross Country Skiing? Want to work outside with kids? Teton County/ Jackson Parks and Recreation is hiring cross country ski instructors to work with the youth after school ski club!
This is a great opportunity for someone who loves cross country skiing and wants to share that with local youth! The after school cross country ski club runs Tuesdays and Thursdays from 3-5:30pm during January and February and meets at Jackson Elementary School. This non-competitive club is focused around safety, fun and learning and will engage about 25 3rd -5th graders. Skiing will take place at the Jackson Elementary School playing fields with optional field trips on non-school days.
Time commitment is 6 hours per week (3-6pm Tuesdays and Thursdays during January and February). Intermediate cross country ski skills and the desire to work outside with kids necessary! Pay DOE.
Interested?Contact Cory at cconnett@tetoncountywy.gov or call 307-732-5762

Going on Now!
November 26 – December 2 | West Yellowstone
Thanksgiving by Nordic! Come for the day, overnight or make it a week! Always a fun way to start your ski season. An early season favorite for JH Ski Club Nordic teams on-snow training and fitness/skills development. As well as a  Jackson Hole-Teton Valley family and friends get-together.
---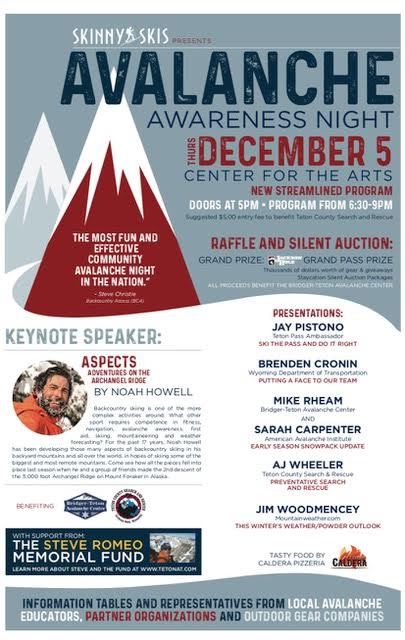 ---

Wednesday December 11th | Snake River Brewing | 7-10pm
Enjoy a fun night of brews and trivia supporting our winter trails!
---
Thursday December 12th | Teton Pines Nordic Center | 11am-12:30pm
Classic Cross-country Tips, Technique, and Fun! Coaches provided by the JH Ski Club Nordic program. Sign up for all 8 clinics or drop-in. Clinics every other Thursday with Classic XC and Skate ski lessons alternating.
Register: info@jhnordic.com  For more info, see: blog.jhnordic.com
---
December 14 | The Wildwood Room, Victor 6-9pm
Support Teton Valley Trails and Pathways (TVTAP) & winter grooming in Teton Valley! Join this fun community dinner, supporting some of your favorite Nordic and fat bike groomed trails in Teton Valley – Teton Canyon, Alta, Teton Springs, Yeti Trail, Driggs, Sherman Park – and summer bike paths, too!

Sunday, January 5th 2020 | Turpin Meadow Ranch | 10am-3pm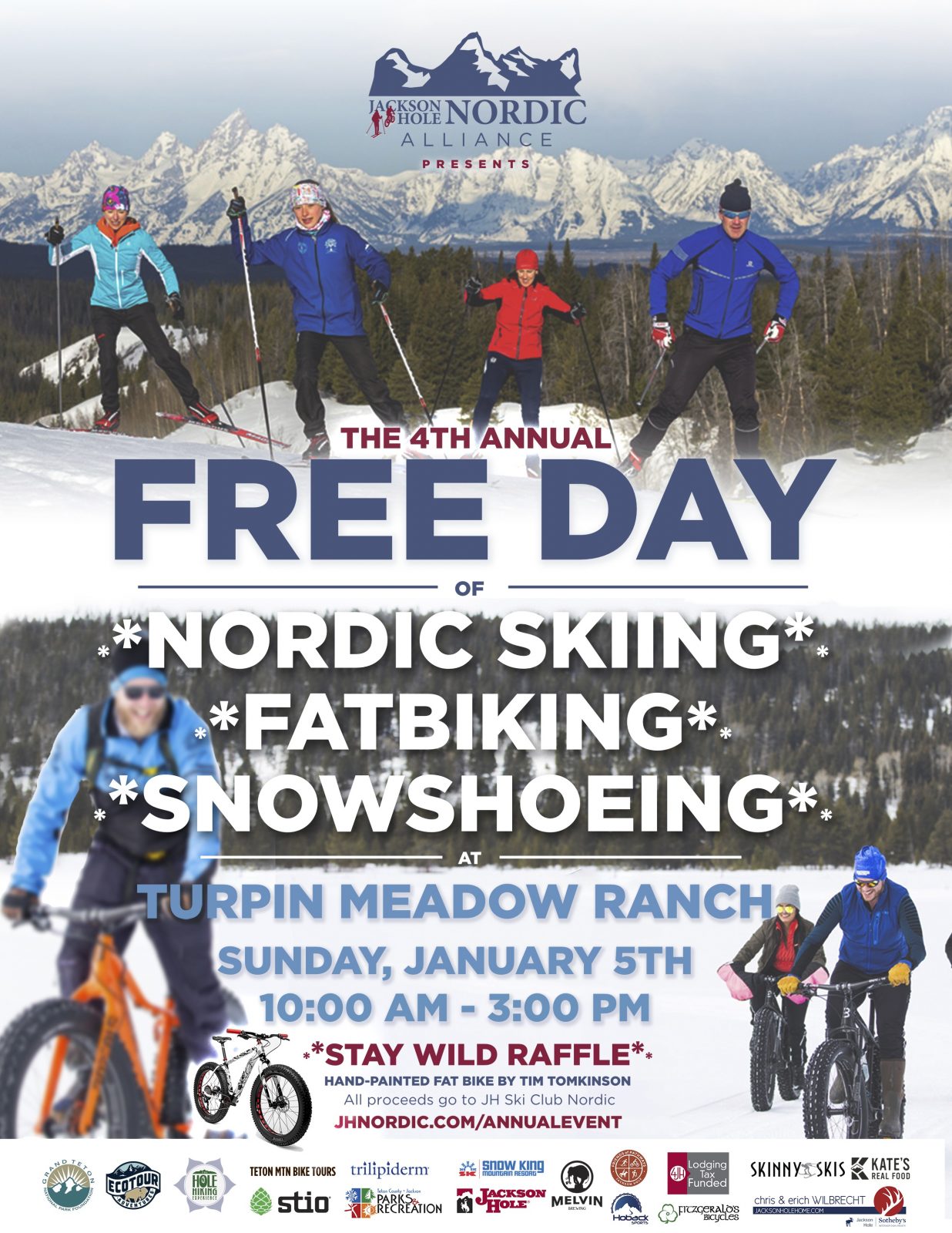 We're getting excited with more demo skis, more fat bikes, Melvin Beer, Kates Bars, Free lessons, snowshoe and BC Nordic tours up the Buffalo Fork, and a huge raffle to benefit the JH Ski Club Nordic program. Raffle will include a Stay Wild fat bike, donated by the JH Travel and Tourism/Lodging Tax supported team, Nordic skis from Skinny Skis, and lots more. Wanna donate to the Raffle? Contact the JH Ski Club: info@JHSkiclub.org
Sponsored by the JH Nordic Alliance members and JH Travel & Tourism Board
Want to get involved, sponsor an activity, volunteer?
This community event is a great way to connect with our community and visitors. Contact Nancy @: info@JHNordic.com

---
Send us your event dates, stories, photos
Follow JHNordic on Facebook, Instagram @JHNordic, #JHNordic
Sign up for Daily or Once a Week JH Nordic Trail ConditionReports to know what's groomed,
what's happening first thing every morning – or just Saturdays.