Teton Pines Nordic Center is groomed today, open for the season.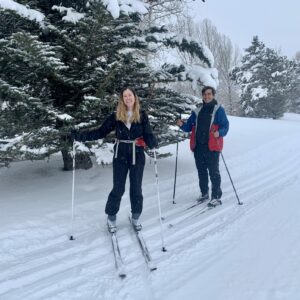 Excited to report that Teton Pines Nordic Center opened, Friday, with trails groomed for classic skiing and skate skiing to kick off the season. JHNordic skied the trails, with delight! Classic cross-country skis recommended. Trail passes, rental and new nordic ski gear and clothing are available at the Teton Pines Nordic Ski shop.
See Teton Pines Nordic Facebook page for grooming updates.
Contact Cody Downard , Teton Pines Nordic Center owner/operator for more info : 307-733-1733
Dec. 1 Update: We are grooming now and we will have classic track and skating. It's still a little soft, but the trail is deep enough now so skating won't hurt it. Actually it would help pack it down – Thanks!
---
Perfect Time for Fat Biking
Fantastic riding in Cache Creek, Nemo Trail (Teton Valley Southern Trails), just about any fat bike trail.  Remember Winter Wildlife Closures begin today Dec 1st. And remember Trail etiquette, sharing the trail with all other users, don't ride when the snow is too soft..  See JHNordic.com/trails/ and click on the "fat bike friendly" icon to find a huge selection of fat bike trails.
This transition time of year is perfect for fat biking when trails have a bit of snow, a bit of dirt – fat bikes rule. Demo a fat bike at Hoback Sports, Fitzgerald's Bicycles and Teton Mountain Bike Tours. Not sure where to ride or what's in good condition? Take a tour with Teton Mountain Bike Tours, Check out over 40 fat bike friendly trails at JHNordic.com/trails/, then click on the icon "fat-bike-friendly" – lots of cool choices!
---
New limited edition JHNordic 2020 Neck Gaiters – Coming Soon!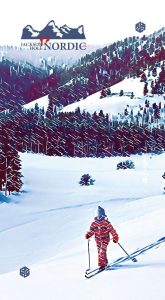 We are pleased to announce the winner of the Annual JHNordic Neck Gaiter "buff" photo competition : Kathy Neiley, Lollipopper Nordic ski coach at the JH Ski Club and long time Nordic ski enthusiast.
---
Which Trails have Snow? Which are Groomed?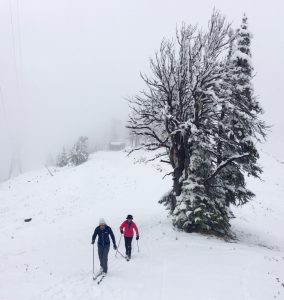 Grand Targhee Nordic and Fat bike trails remain closed until more snow accumulates for a solid base to groom (as of Saturday Nov, 29th) Several alpine ski lifts have opened for downhill. JHNordic is monitoring conditions and info for trail openings. Readers can check online at GrandTarghee.com for regularly posted updates.
Select Teton Valley Trails are groomed by TVTAP! Click for most updated information. Teton County / Jackson Parks & Rec grooming starts Dec 10th. Teton Pass and Togwotee Pass have snow for untracked Backcountry Nordic, Fat biking, and Snowshoeing.

---
(3-Minute Audio Story)
"Jessie Diggins made history winning the first U.S. Olympic gold medal in cross country skiing in 2018. She and skiers at a season kickoff welcome the U.S.'s first World Cup race since 2001."
---
This Tuesday is Giving Tuesday – Please Support Nordic Non-Profits 
---
Winter Wildlife Closures in Bridger-Teton
US National Forest
Winter closures are in effect from December 1st through 8:00am May 1st of each year, unless otherwise noted by a special order. 
Please respect these closures and help to protect our wildlife through the difficult winter season.
USFS Winter Closure map

Going on Now!
November 26 – December 2 | West Yellowstone
Thanksgiving by Nordic! Come for the day, overnight or make it a week! Always a fun way to start your ski season. An early season favorite for JH Ski Club Nordic teams on-snow training and fitness/skills development. As well as a  Jackson Hole-Teton Valley family and friends get-together.
---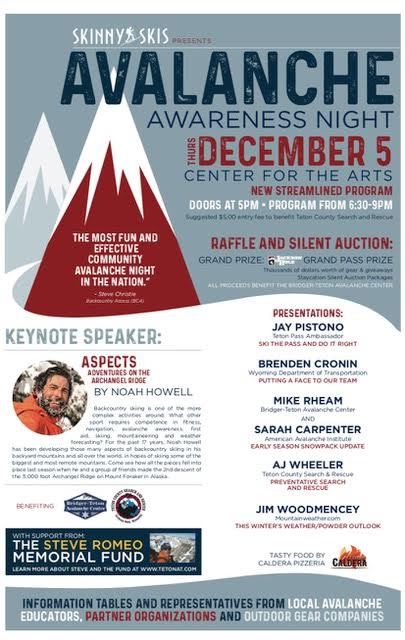 ---

Wednesday December 11th | Snake River Brewing | 7-10pm
Enjoy a fun night of brews and trivia supporting our winter trails!
---
Thursday December 12th | Teton Pines Nordic Center | 11am-12:30pm
Classic Cross-country Tips, Technique, and Fun! Coaches provided by the JH Ski Club Nordic program. Sign up for all 8 clinics or drop-in. Clinics every other Thursday with Classic XC and Skate ski lessons alternating.
Register: info@jhnordic.com  For more info, see: blog.jhnordic.com
---
December 14 | The Wildwood Room, Victor 6-9pm
Support Teton Valley Trails and Pathways (TVTAP) & winter grooming in Teton Valley! Join this fun community dinner, supporting some of your favorite Nordic and fat bike groomed trails in Teton Valley – Teton Canyon, Alta, Teton Springs, Yeti Trail, Driggs, Sherman Park – and summer bike paths, too!
---
Saturday, February 8th | Trail Creek
The JH Ski Club recently determined that the Moose Chase Nordic Ski Race was not meeting the goals of the Club. The effort that went into making the Moose Chase a large, regional event did not fit well with the Club's venue at Trail Creek and ultimately was not benefiting the JHSC Nordic Program. The Club will pull the Moose Chase offline for 2020 with discussions continuing between our Nordic Program, staff, and board about how to bring back an improved community Nordic event in the future. The changes are designed to increase resources for the Club and place more emphasis on its core mission of serving 500 local student-athletes.
In its place, the JH Ski Club will host a new JH Ski Club Winter Nordic Carnival on Sat. Feb 8th, with a series of fun races for all Ski club ages, masters, and alumni. Designed to engage all of our JHSC Nordic teams, there will be standard 1,3, 5, and 10km mass start races and a team NordicX sprint. The Ski Club coaches will be organizing sprint teams early in the season. One team will consists of (1.Lollipopper or Teewinot. 2.Development. 3.Junior. 4. Prep or Comp). Teams will have the opportunity prior to the event to train together, talk tactics and technique during regular practice times at Trail Creek.
Registration/Entry:
Race entry is open for all JHSC athletes, and all are highly encouraged to participate. For more info: jhskiclub.org/news/november-nordic-newsletter-0

Sunday, January 5th 2020 | Turpin Meadow Ranch | 10am-3pm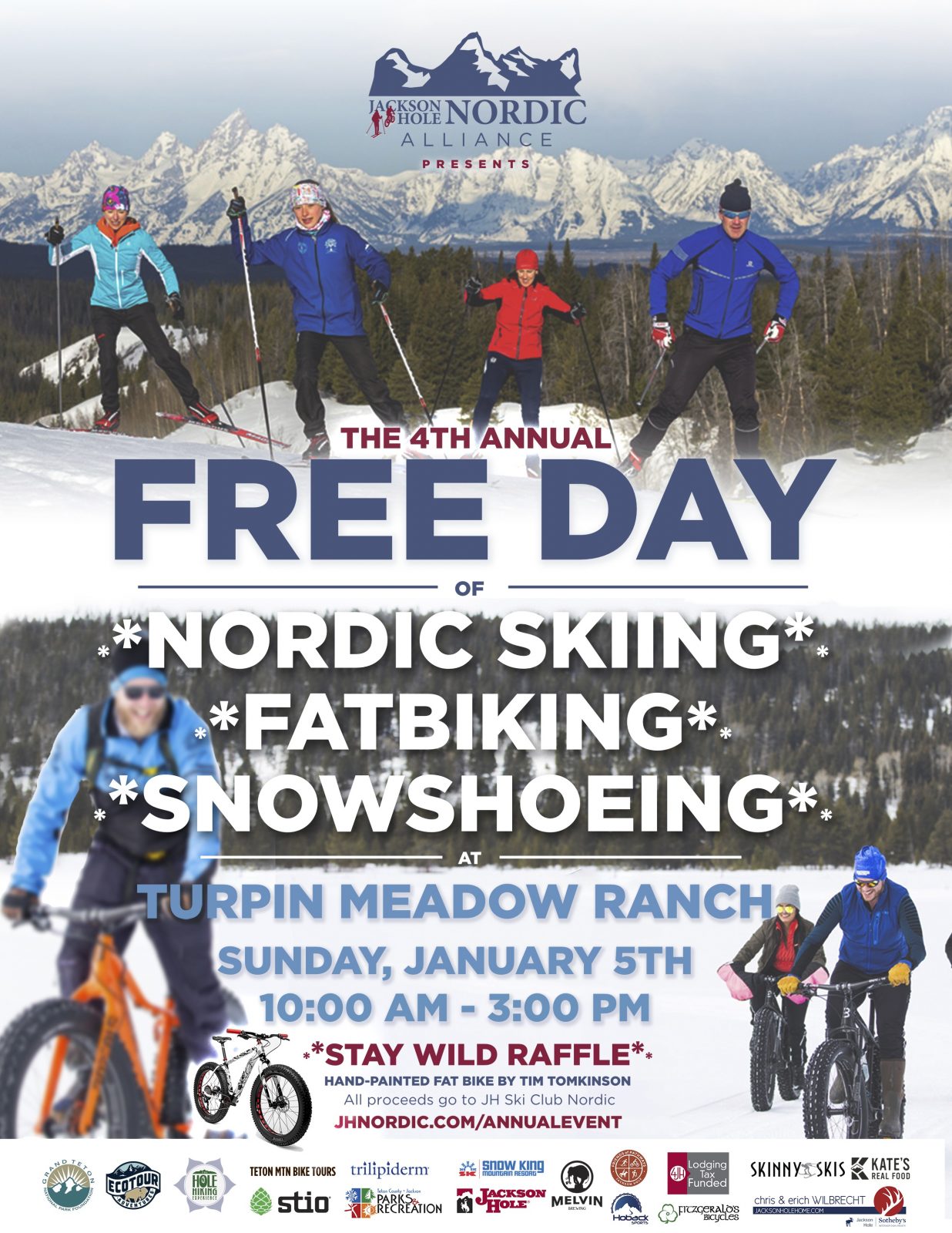 We're getting excited with more demo skis, more fat bikes, Melvin Beer, Kates Bars, Free lessons, snowshoe and BC Nordic tours up the Buffalo Fork, and a huge raffle to benefit the JH Ski Club Nordic program. Raffle will include a Stay Wild fat bike, donated by the JH Travel and Tourism/Lodging Tax supported team, Nordic skis from Skinny Skis, and lots more. Wanna donate to the Raffle? Contact the JH Ski Club: info@JHSkiclub.org
Sponsored by the JH Nordic Alliance members and JH Travel & Tourism Board
Want to get involved, sponsor an activity, volunteer?
This community event is a great way to connect with our community and visitors. Contact Nancy @: info@JHNordic.com

---
Send us your event dates, stories, photos
Follow JHNordic on Facebook, Instagram @JHNordic, #JHNordic
Sign up for Daily or Once a Week JH Nordic Trail ConditionReports to know what's groomed,
what's happening first thing every morning – or just Saturdays.