Trail Creek Nordic Center Opens

Trail Creek Nordic just opened today, with Groomer Steve back in the saddle.
Trail Creek Groomer reports trails will be a bit on the brushy side until we get some more significant snow, but for an opener things are pretty good. The close field was worked extensively, complete with classic tracks although they are a bit on the thin side. A foray into the woods was also on the agenda with initial passes on most of the private property except for Woolsey Woods and Grunt.
Look for additional grooming mid-morning Sunday with today's plan to provide additional full width grooming without classic tracks on all of the private property. Grooming on the National Forest will be a few days out yet.
Come out, ski, and watch the JH Ski Club Nordic youth teams train on the trails weekday afternoons. The best Nordic center in town for your early season cardio training!
---
Shooting Star Nordic Center Opens Today – December 2
All of the yellow dog loop will be open and a small stretch of the orange loop along hole 3 & 4 (See Map below). Additional loops will be added once more snow accumulates. Conditions will be early season and rustic… so expect rough sections, grass, rocks, and bare spots.
After compacting the recent snows on these areas, the compacted base is approx. 2-4". Due to this minimal snowpack, no snow shoeing or casual walking will be allowed and no classic tracks will be set. Only classic/touring style skis are permitted as the trails will likely be too soft/rough for enjoyable skate skiing.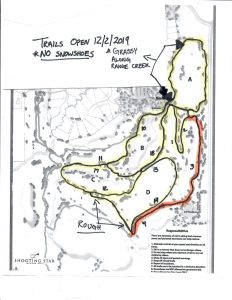 ---
Trail Openings
Teton Pines Nordic Center
Excellent skate and classic cross country skiing – Grooming daily. Classic track is set. Nordic Shop is open with new season gear and some sale items.
Teton Valley Trail & Pathways
TVTAP has begun grooming Teton Canyon.
Plus plenty of fast biking at Mike Harris, Yeti Trail, Sheep's Bridge (off Teton Canyon).
Stay tuned for updates on Teton County/Jackson Parks and Rec, Grand Targhee Nordic, and Grand Teton National Park Teton Park Road grooming dates.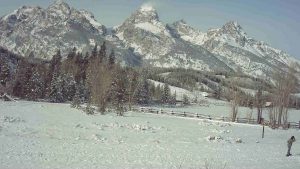 Skier tracked Nordic skiing is reported to be starting on the Moose-Wilson Road, starting at Granite Canyon, and Teton Park Road – starting at either Taggart trailhead or Signal Mtn Lodge. Check out the JHNordic-GTNP webcam for snow conditions just north of Taggart.