---
Thank you for continually sharing your photos with us of Nordic skiing in Jackson Hole
---
Considerable Avy Conditions

The snowpack remains unstable and dangerous avalanche conditions exist. Weak snow layers at the base of the snowpack that were covered by last week's significant snowfall event could fail to the presence of a single person and may release remotely. Yesterday, widespread collapse was reported and many avalanches were triggered during the first round of mitigation efforts at the Jackson Hole Mountain Resort. Two days ago a large skier triggered slide was initiated on Teton Pass and a snowmobiler was fully buried on Togwotee Pass. He was uncovered by his party without injury. Caution is advised in route selection as avalanches can be triggered from below a slope as well as above. In terrain where the recent snow lies directly upon the ground, avalanches are not expected today.
Learn more at https://jhavalanche.org/viewTeton
---
Parks & Recreation After-School Cross Country Ski Club is Open for Registration!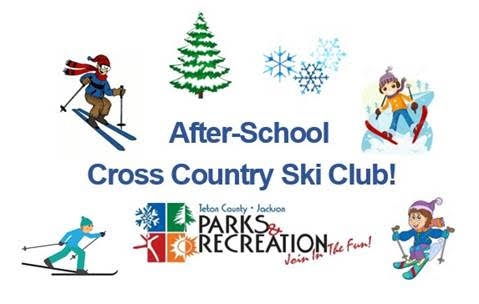 This non-competitive club is focused on fun, adventure and learning! Participants will learn the basics of cross-country skiing with instruction from experienced ski instructors. All ski equipment is provided! (skis, boots and poles). Program is open to 3rd – 5th graders.
Club meets at Jackson Elementary in the cafeteria Tuesdays and Thursdays from 3:05 till 5:30pm. Skiing will take place on the playing fields at JES.
Dates Include: January 7th, 9th, 14th, 16th, 21st, 23rd, 28th and 30th (Tuesdays and Thursdays)
Students may use the after-school activity bus to attend from other elementary schools and arrive to the JES cafeteria anytime from 3:05 to 3:45. Snacks provided!
Cost is $96. This includes eight sessions, equipment, instruction and a snack.
To register call the Rec Center front desk at 307-739-9025 or click here to register online
Questions?? Call Cory at 307-732-5762 or email cconnett@tetoncountywy.gov

Trail Creek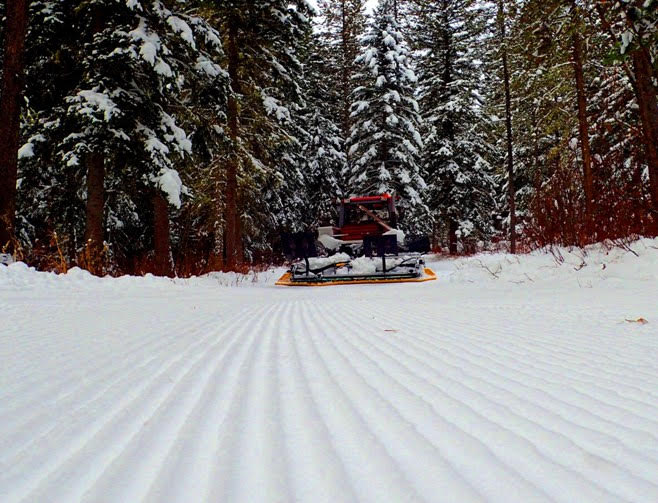 Last Updated: 12/4
Homesite Delight!
Whether it's that long steady but not too steep climb, or the thrilling but not too dangerous long downhill, Homesite is a favorite for many of our regulars.  Add in the fact that Homesite is also a summer road which means that it starts the season smooth and brush free makes it a great place to go spend some ski time today.
As of 11 AM no snow has fallen since yesterday's grooming and the temperature is -3ºC/27ºF with calm winds and mostly cloudy skies.  The forecast for the next few days is quite warm temps but with the weak December sun it shouldn't cause too much trouble.  While we might switch to lighter grooming equipment in the next couple of days to go easy on our early season snow pack, the Pisten Bully was out again today, setting a best line skate pass on all recently groomed trails.  Bring your old skis and have a great time skiing over the occasional brush or grass you'll find sticking through the snow.  Don't forget to purchase your passes which can be done here.
Changing topics, recent newspaper articles have announced that big changes are happening to some of our traditional racing venues, namely the Moose Chase.  To get the full story check out the official JHSC Moose Chase Press Release.
Groomer's choice for today is Homesite.
---
Turpin Meadows
Last Updated: 12/4
Trails open, grooming begins Dec. 20th.
---
Teton Co./Jackson Parks & Rec
Last Updated: 12/4
Three creek pathway, the school fields, Stilson, and May Park have been groomed with the snowmobile. Stilson has the best skiing for today. Firm and smooth enough for skate skiing. There will be no classic tracks set until I am able to get the Pistenbully out.
12/3: All trails have been rolled. Trails are very soft and walkers will leave footprints almost to the ground so don't expect great skiing in areas frequented by walkers. Bases are only about 4". The tidd tech snowmobile groomer will be out the remainder of the week.
---
Grand Teton National Park
Last Updated: 12/4
Grooming starts mid December – subject to snow.
---
Teton Pines
Last Updated: 12/1
We are grooming now and we will have classic track and skating. It's still a little soft, but the trail is deep enough now so skating won't hurt it. Actually it would help pack it down
---
Shooting Star
Last Updated: 12/2
The course is officially open! See Sunday's email to view the attached map for what is currently open. Conditions will be early season, so expect a few trail gremlins to pop up on your Nordic journey due to the minimal snow pack and recommend using classic/touring style skis. Overall, the views and skiing should be very enjoyable this week, so get outside and begin to establish those ski legs again! Enjoy!
Classic Tracks Set: NO
Snowshoeing : CLOSED
Sled Hill: CLOSED
Next Update will be sent Friday.
---
Grand Targhee
Last Updated: 12/4
After a solid week of Shoshone laps, nothing feels better than top to bottom cruisin'. Get those ski
legs back under you today – swoop from left to right and right to left and feel the breeze blow as you flow down the hill. Pair all of that with
some sun rays and warmer temperatures and you have yourself the perfect recipe to wipe those mid-week blues away.
Nordic Trails: Open (no classic)
Fat Bike: Closed
---
Pinedale
Last Updated: 12/2
Half Moon Tie-in, Kelly Park, Old Road Trail, Lower Surveyor, Upper Surveyor, Moose Ridge, all groomed this morning. Use caution. Even though we got about 16 inches of snow, there is still thin coverage in areas, especially Half Moon Tie-in trail. There are moose in the area – please control your dogs.

Alta Track
Grooming Schedule: Tuesday, Thursday, Saturday, Sunday
Last Updated: 12/3 @ 4pm
Skate: Poor | Classic: Not Set
---
Driggs
Grooming Schedule: Monday, Wednesday, Friday
Last Updated: 11/30 @ 12pm
Skate: Fair | Classic: Not Set
---
Sherman Park
Grooming Schedule: Monday, Wednesday, Friday
Last Updated: 11/30 @ 7am
Skate: Not Set | Classic: Not Set
---
Teton Canyon
Grooming Schedule: Monday, Wednesday, Friday, Saturday, Sunday
Last Updated: 12/4 @ 2pm
Skate: Good | Classic: Good
---
Teton Springs
Grooming Schedule: Tuesday, Thursday, Saturday
Last Updated: 11/30 @ 7am
Skate: Not Set | Classic: Not Set
---
Yeti's Loop
Grooming Schedule: Tuesday, Friday
Last Updated: 11/30 @ 7am
Skate: Not Set | Classic: Not Set
---
5th Street Singletrack
Grooming Schedule: as needed
Last Updated: 12/4 @ 1pm
Singletrack: Good

TONIGHT!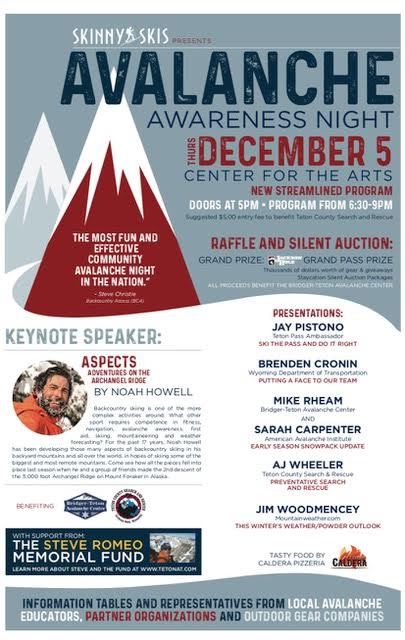 ---

Wednesday December 11th | Snake River Brewing | 7-10pm
Enjoy a fun night of brews and trivia supporting our winter trails!
---
Thursday December 12th | Teton Pines Nordic Center | 11am-12:30pm
Classic Cross-country Tips, Technique, and Fun! Coaches provided by the JH Ski Club Nordic program. Sign up for all 8 clinics or drop-in. Clinics every other Thursday with Classic XC and Skate ski lessons alternating.
Register: info@jhnordic.com  For more info, see: blog.jhnordic.com
---
December 14 | The Wildwood Room, Victor 6-9pm
Support Teton Valley Trails and Pathways (TVTAP) & winter grooming in Teton Valley! Join this fun community dinner, supporting some of your favorite Nordic and fat bike groomed trails in Teton Valley – Teton Canyon, Alta, Teton Springs, Yeti Trail, Driggs, Sherman Park – and summer bike paths, too!
---
Saturday, February 8th | Trail Creek
The JH Ski Club recently determined that the Moose Chase Nordic Ski Race was not meeting the goals of the Club. The effort that went into making the Moose Chase a large, regional event did not fit well with the Club's venue at Trail Creek and ultimately was not benefiting the JHSC Nordic Program. The Club will pull the Moose Chase offline for 2020 with discussions continuing between our Nordic Program, staff, and board about how to bring back an improved community Nordic event in the future. The changes are designed to increase resources for the Club and place more emphasis on its core mission of serving 500 local student-athletes.
In its place, the JH Ski Club will host a new JH Ski Club Winter Nordic Carnival on Sat. Feb 8th, with a series of fun races for all Ski club ages, masters, and alumni. Designed to engage all of our JHSC Nordic teams, there will be standard 1,3, 5, and 10km mass start races and a team NordicX sprint. The Ski Club coaches will be organizing sprint teams early in the season. One team will consists of (1.Lollipopper or Teewinot. 2.Development. 3.Junior. 4. Prep or Comp). Teams will have the opportunity prior to the event to train together, talk tactics and technique during regular practice times at Trail Creek.
Registration/Entry:
Race entry is open for all JHSC athletes, and all are highly encouraged to participate. For more info: jhskiclub.org/news/november-nordic-newsletter-0

Sunday, January 5th 2020 | Turpin Meadow Ranch | 10am-3pm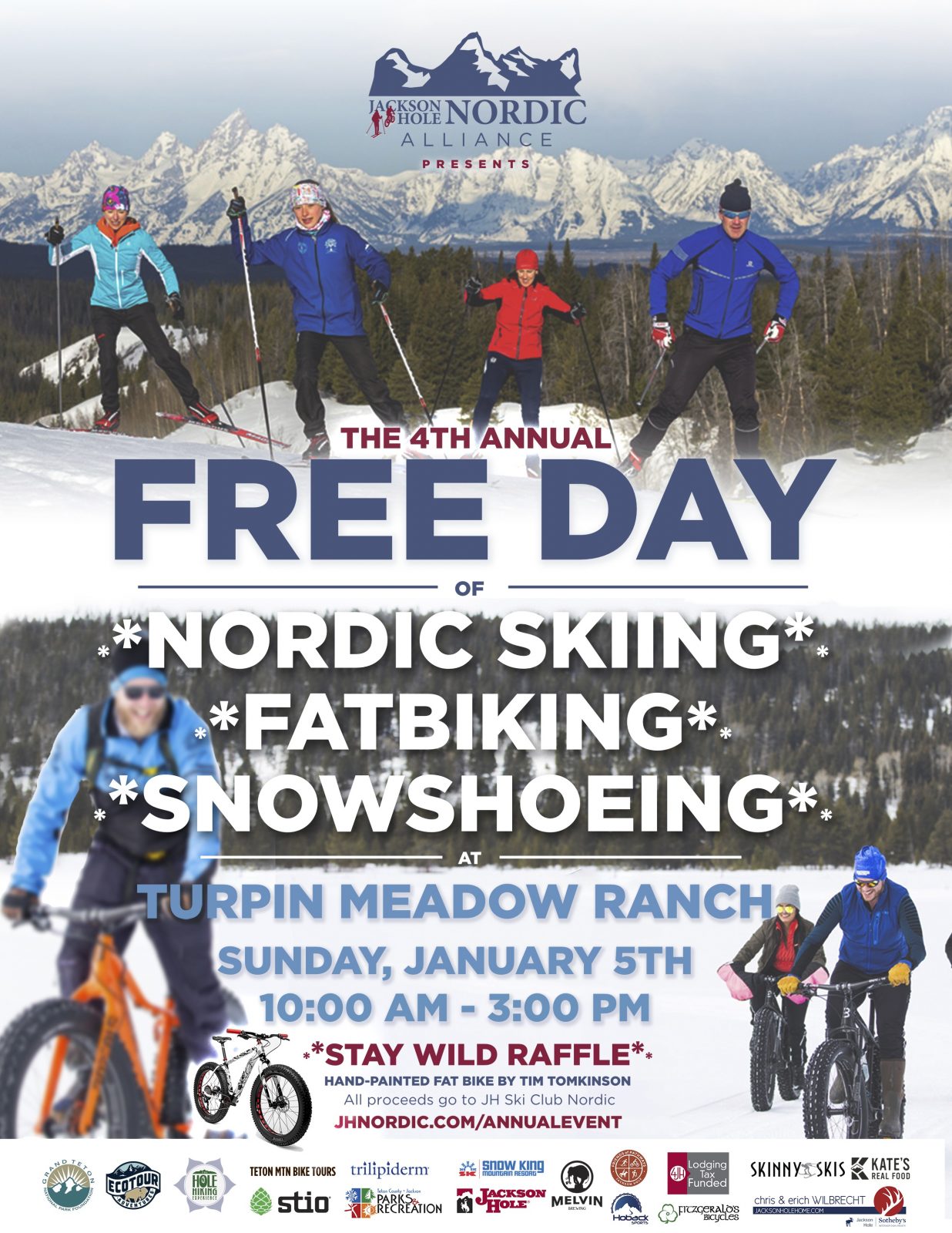 We're getting excited with more demo skis, more fat bikes, Melvin Beer, Kates Bars, Free lessons, snowshoe and BC Nordic tours up the Buffalo Fork, and a huge raffle to benefit the JH Ski Club Nordic program. Raffle will include a Stay Wild fat bike, donated by the JH Travel and Tourism/Lodging Tax supported team, Nordic skis from Skinny Skis, and lots more. Wanna donate to the Raffle? Contact the JH Ski Club: info@JHSkiclub.org
Speed through Registration by pre-signing the Event Activity and Trail Use Waiver online – click here . 
Once the Waiver form is completed online, you will be able to print a pdf copy. We encourage you to print this to present at registration.  We can also look you up as "pre-registered
Sponsored by the JH Nordic Alliance members and JH Travel & Tourism Board
Want to get involved, sponsor an activity, volunteer?
This community event is a great way to connect with our community and visitors. Contact Nancy @: info@JHNordic.com

---
Send us your event dates, stories, photos
Follow JHNordic on Facebook, Instagram @JHNordic, #JHNordic
Sign up for Daily or Once a Week JH Nordic Trail ConditionReports to know what's groomed,
what's happening first thing every morning – or just Saturdays.