---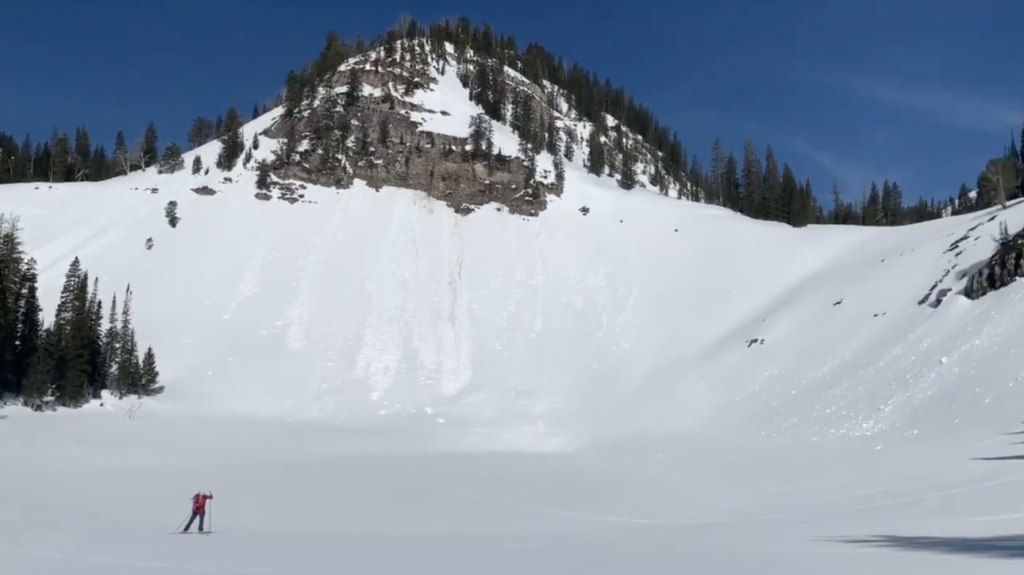 Watch the video! Scotty McGee shares his awesome skate ski adventure with us this past week!
Crust is maturing at mid elevations. Optimal conditions exist within a short window of time as temperatures recently are rising to 40 degrees by 10am. Early starts pay off! Keep an eye out for the second or third clear night in a row and cool day time temperatures for best conditions.
You can utilize snow science to determine optimal spring crust conditions. Pay attention to terrain, aspect, temperature window, and time of day to ensure the snow will be firm, but not too icy, sticky or slushy!
---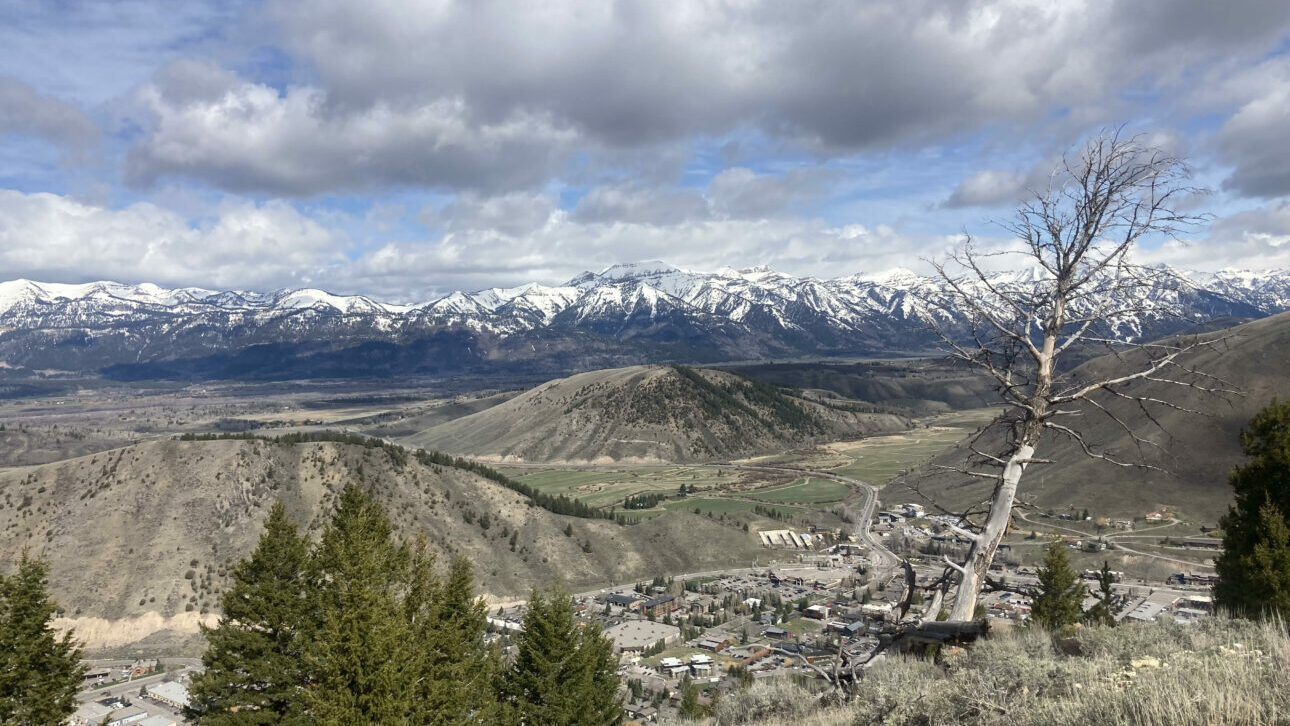 SKIING
HIKING*
Josies Ridge
Snow King
Crystal Butte
High School Butte
BIKING*
Old Pass Road to the Snowline
Bike paths are all dry and fairly empty
Low elevation Valley trails
* Wet conditions may exist on trails as we transition from spring to summer. Please be mindful of trail c* Wet conditions may exist on trails as we transition from spring to summer. Please be mindful of trail conditions and keep impact minimal when hiking or biking by avoiding wet areas. Expect mud on any shady trail and snow above 8000 ft. 

 Remember to carry bear spray, give wildlife and their little ones lots of space.
---
May Nature News
with the Hole Hiking Experience
Late season snowfall and cooler temperatures have helped preserve the snowpack. Melting snow is crucial to keep the summer meadows moist and blooming as well as keeping wildfire risk at bay. Water content in the Teton snowpack is currently about 70-80% of average.
Since April has been wet and cool, trail access may be limited by snow. Best to explore trails in the southern part of Jackson Hole. Could be fun to explore Dog Creek south of town followed by a soak in Astoria Hot Springs. The pathways are always a good option for walks and such. Winter trail closures have ended. but it's best to let wet trails dry to minimize impact.
Local — Grizzly 399
The iconic female grizzly, 399, is out of winter hibernation and moving through the valley. There is great concern for her and her four cubs' safety. In recent years, the family has found human food sources such as compost piles, bee hives, fruit trees and bird seed in neighborhoods adjacent to Grand Teton National Park. The cubs are sub-adults now, so she will chase them away to begin their adult lives on their own this spring. We are sending well wishes to 399 and the cubs for long lives away from people and populated areas.
Regional — Season of Migration
Spring is the time of migration. Elk migrate north to Yellowstone and other parts of Jackson Hole while the Pronghorn have begun their long migration back to summer in the Jackson valley. Lots of animals are on the move throughout the state so it's important to slow down and be aware to limit animal-vehicle collisions.
Field Facts
It's birthing season for many animals and baby bison have been seen in both Yellowstone and Grand Teton parks
Winter wildlife closures end allowing access to all trails around Jackson Hole
Backcountry Tips
Bear spray is essential while hiking in the Greater Yellowstone Ecosystem
Plan for winter weather during spring months — the mountains can be quite cold time of year
Remember to stay on the trail to reduce impact and find south-facing trails that are dry to avoid damaging the muddy ones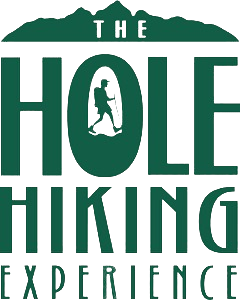 Catherine E. Shill
The Hole Hiking Experience, Inc. Bhutan Himalayan Experience
307.690.4453
---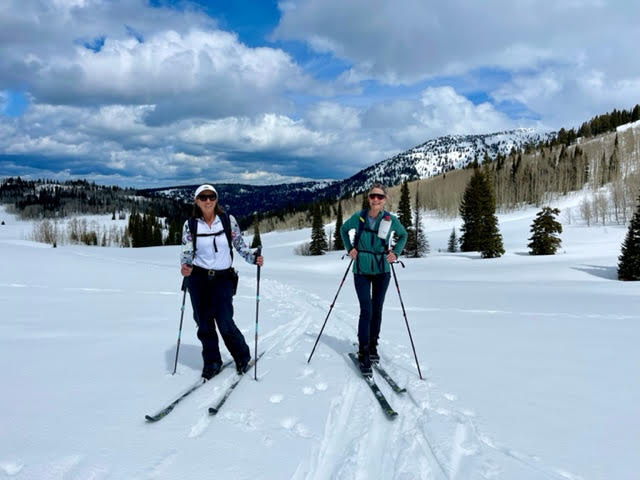 Trip Report: April 30th and May 1st Targhee Nordic Ski
We started a bit late both days at 11:30am but had a good ski both days and wax kept snow from sticking. Targhee was doing a lot of road plowing in late April so accessing the nordic area required a road crossing and a few plowed low areas but was empty once beyond. Don't think I'd go back this season but was a great day! -Beth
---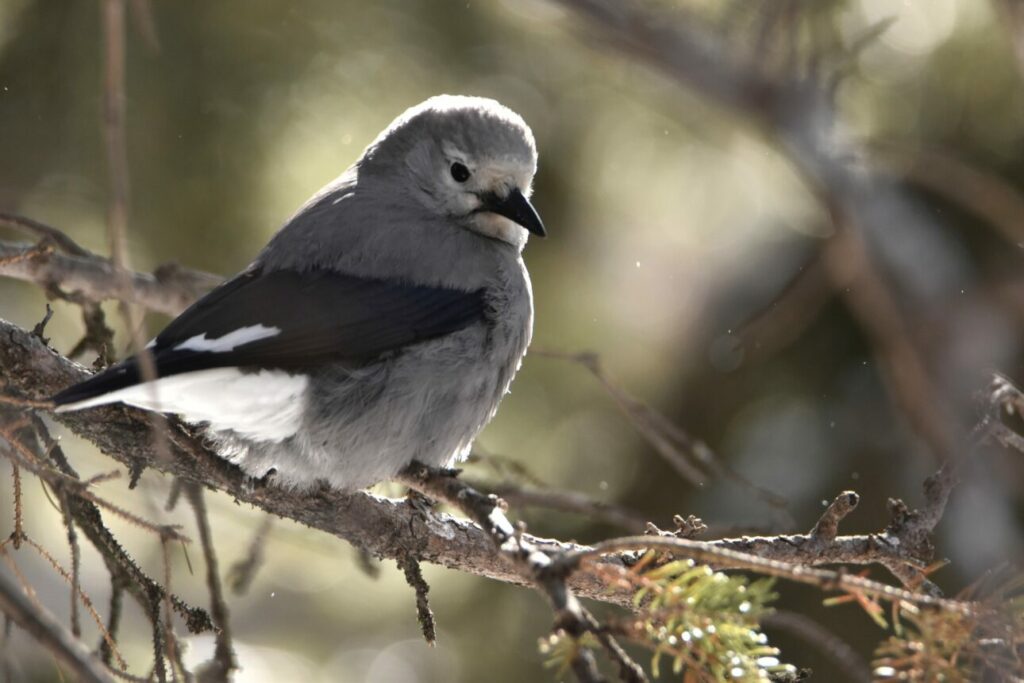 Spring Migration
with Jackson Hole EcoTour Adventures
With the spring migration many songbirds are returning to Wyoming. However, one species we get to see year round is the Clark's Nutcracker, pictured here. While other species migrate, these clever members of the Corvid family elect to stay, surviving largely off of the food they stored during the warmer summer months.
---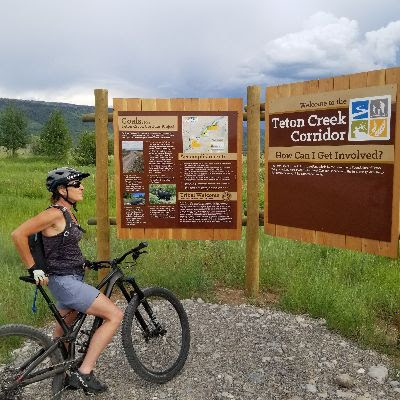 Teton Creek Corridor is Open
The Teton Creek Corridor Pathway is ready for your wheels and feet! The wildlife closure ended on April 30 and the pathway is officially open. If there is any question as to the need to have the closure, look at the pictures below taken on opening day. Clearly the Elk had been in the area over the winter and early spring- they must not have a handy TVTAP waste bag dispenser! If out in the early morning or evening, keep an eye out for critters and give them space.

As a reminder, the pathway does cross several parcels of private property and runs adjacent to the riparian zone. Dogs need to remain on leashes while using the pathway and as always, carry your own baggies to pack the dog waste out (unlike the elk).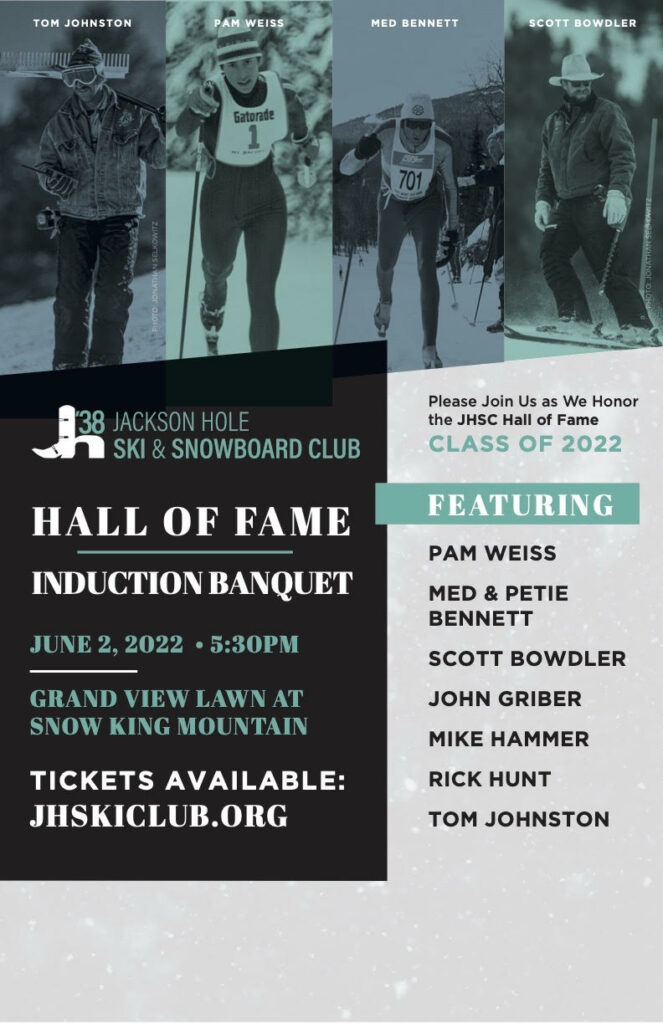 ---

2022 Run and Ride for the Cure
Wilson School
Sunday, September 18th, 2022
The 21st annual Run and Ride for the Cure is on this year! But we've pushed the date back from the usual June timing to mid-September. So please mark the date on your calendar and keep an eye out for when we'll have more information on registration for this amazing annual event for a great cause. We're excited to continue this valley tradition supporting the St. Johns Health Foundation this year!
---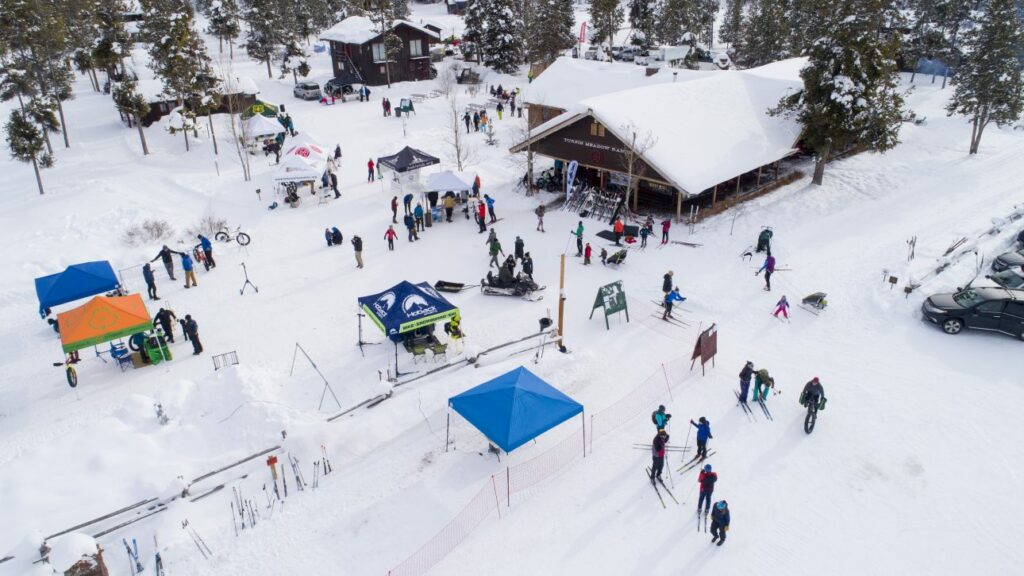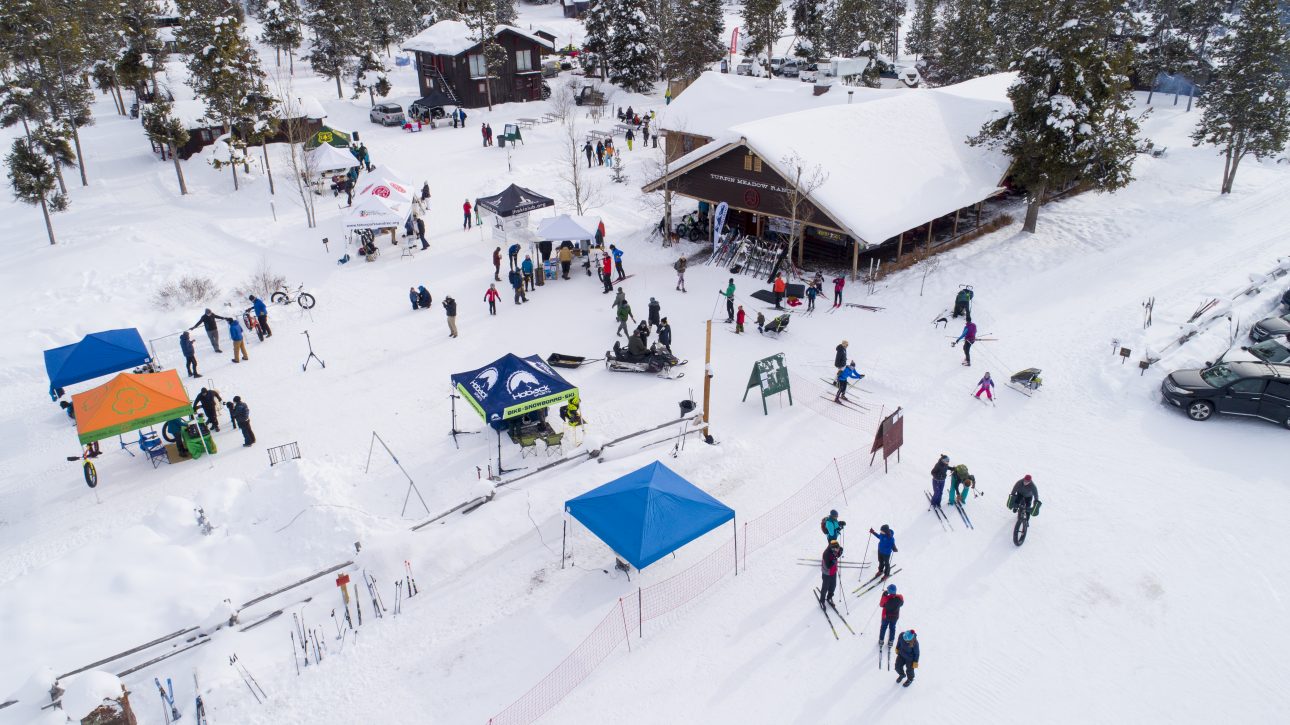 JH Nordic Alliance 5th Annual Free Ski, Fat Bike, & Snowshoe Day
Turpin Meadow Ranch
Sunday January 8th, 2023
Fun, Free Community Day – with Raffle benefiting local Nordic Alliance non-profit.
Free trail pass, Free skate & classic XC ski demo gear, Free fat bike demos, free Nordic ski lessons, Free BackCountry Nordic Ski & Snowshoe tours, Kids Corral (2-5 yr olds), Bridger-Teton USFS wildlife and wilderness info, Kates Bars, Lunch, snacks, hot & cold drinks.

Sponsored by the JH Nordic Alliance members.
Family. Friends, visitors, dogs (on leash) welcome.
Bring your own skis and bikes recommended to use between free demos and tours .
---
---
We'd love to hear about your outdoor adventures, what your doing to stay healthy, safe, respectful of community health guidelines – send pictures or post on FB and Insta – #JHNordic