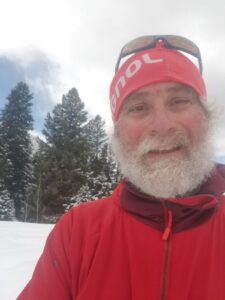 JD High Country Outfitters's Store Manager, Scott Sanchez, has been skiing in the Tetons since '84. Nearly 40 years later, he's rarely missed a ski day.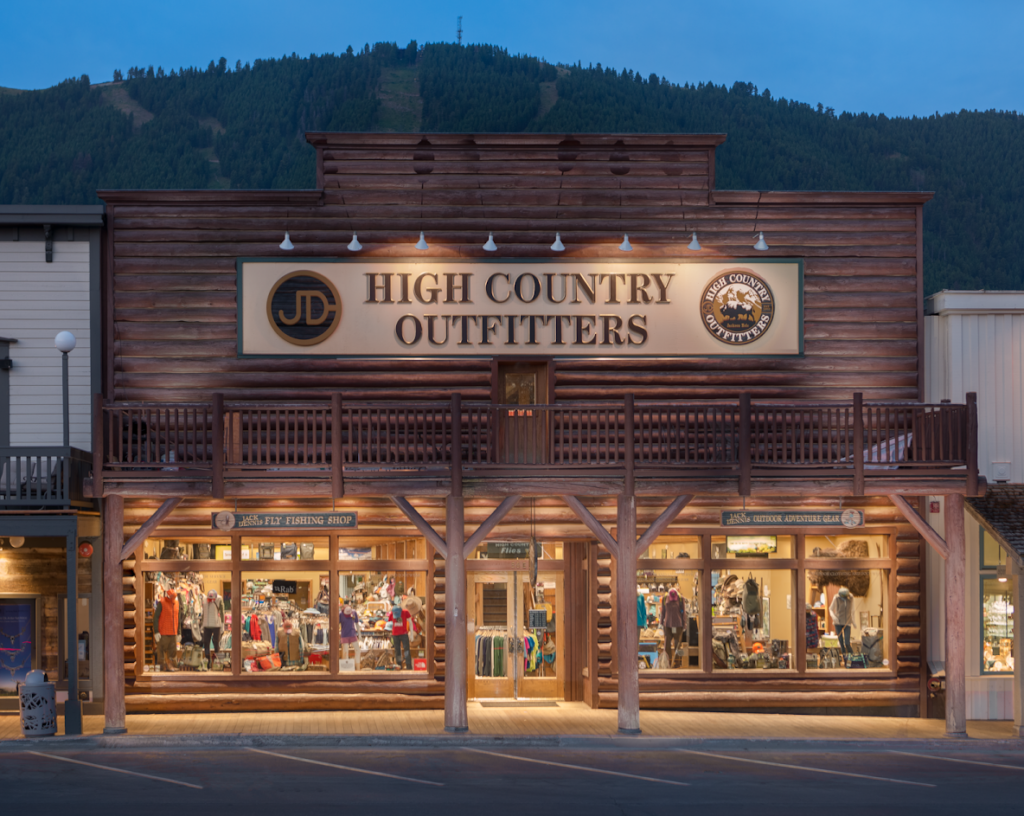 JD High Country Outfitters is born
Scott's place of business came about years ago when two existing storefronts merged. Jack Dennis Sports, established in 1972, and High Country Flies, established in 1974. Since its fusion, JD High Country Outfitters has been helping outdoor recreators get outfitted for all kinds of adventures in and around the Tetons from fishing, hunting, and camping, to cross-country skiing and snowshoeing.
Enter Sanchez
Scott Sanchez of JD High Country Outfitters
In August of 1985, Sanchez joined the ranks at JD High Country where he's become a familiar face in Jackson ever since. For years, he's been helping folks get the gear they need for various adventures around the Tetons, including cross-country skiing.
Growing up in Salt Lake City meant Sanchez was on skis at a young age. And as a high school track and cross-country athlete, cross-country skiing was a natural progression. For a while, Sanchez would compete in cross-country ski races. Nowadays he's in it for fun only – and can be seen clocking miles all over the valley on both classic and skate skis.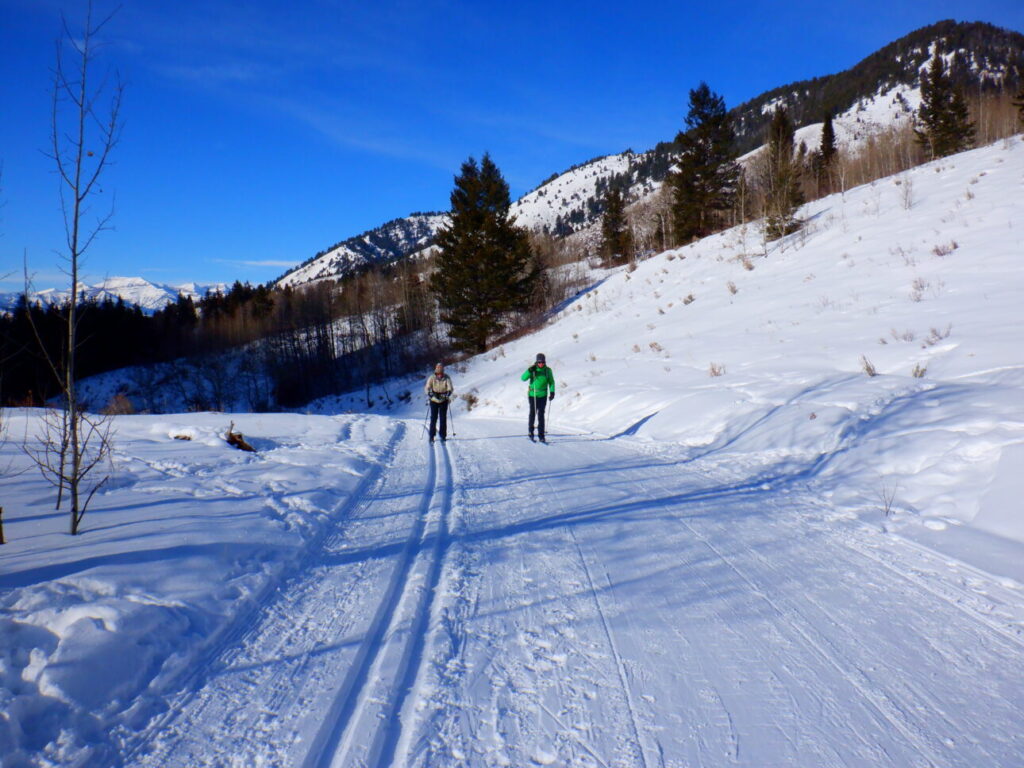 Scott Sanchez can be seen skiing all over the valley
When asked where some of his favorite places to cross-country ski were, Sanchez had a long list of trails, all offering something unique.
If you're close to East Jackson and have limited time, a figure-8 in May Park will add up to a quick half mile. Or on the other side of Jackson, skiers can log a short 1.5 miles on The School Loop Trail.
Another convenient track that's more centrally located to everyone in the valley is the Stilson Loop. A fantastic course for beginners, you can get an easy 3 miles here.
For longer excursions, Scott reassures you can't go wrong with Grand Teton National Park. It has something for everyone paired with a gorgeous view of the mountains. Beginners might enjoy a short stride to Lucas Fabian cabins via groomed trail or Taggart Lake via the skier track -or more experienced skiers like Sanchez might appreciate the 14 miles to Signal Mountain.
"Cache Creek is also one of my favorites, When they groom up there, it's the best ski in town," says Sanchez "I ski up Game Creek a fair amount too."
Resources for those new to XC Skiing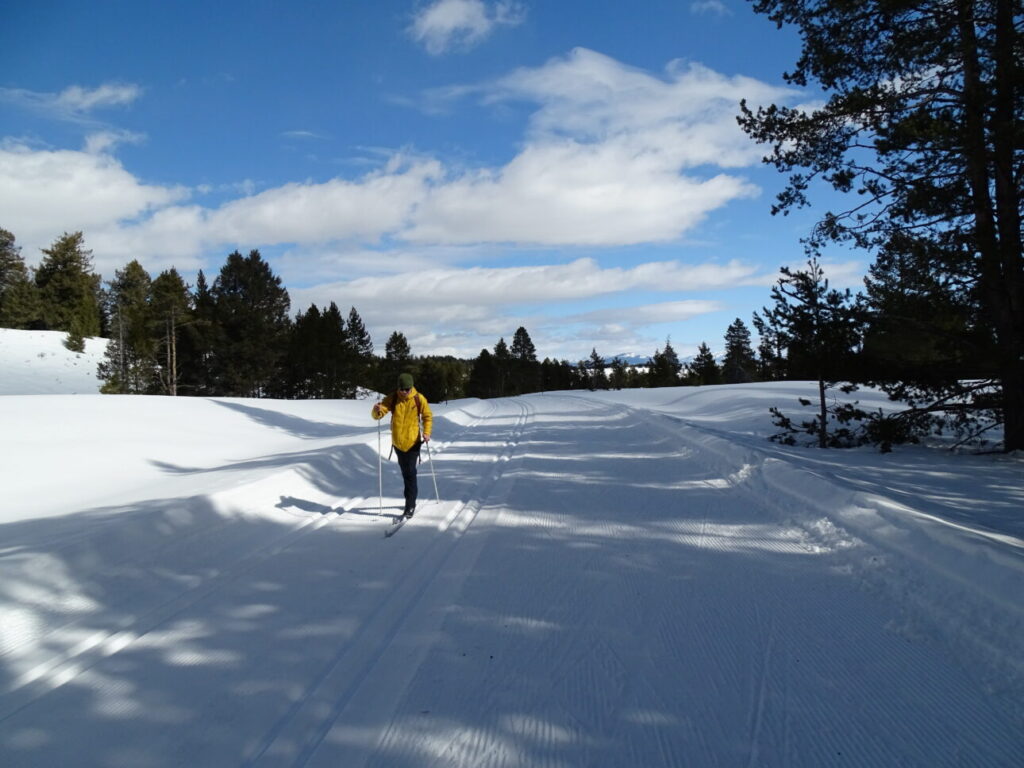 As someone who helps beginner cross country skier acquire gear, Sanchez has grown an appreciation for some of the helpful resources for beginners. This includes the Friends of Pathways trails map & the JH Nordic brochure. On the brochure, Scott is sure to point out the QR code that will take you to the JH Nordic Website. From there, recreators can see trail maps, difficulty levels, and now real-time grooming reports. "It's a symbiotic relationship where we help support and educate people by getting them out and directing traffic. Making sure we're getting them to places that are appropriate for their ability level."
Once skiers have the necessary information, Sanchez just wants people to go have fun on skis. Since JD High Country Outfitters rents and sells more entry-level gear, it's a great place for beginners to start. He reasons, "for under $400 you can be cross-country skiing (on your own skis) which is what a single day at the village will set you back after lunch and apres."
Pop by JD High Country Outfitters to say hello to Scott when he's on the clock.
Or perhaps catch him on the winter trails!