Taggart Lake
5.9mi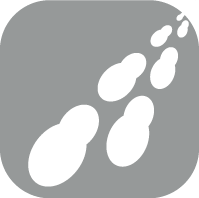 ---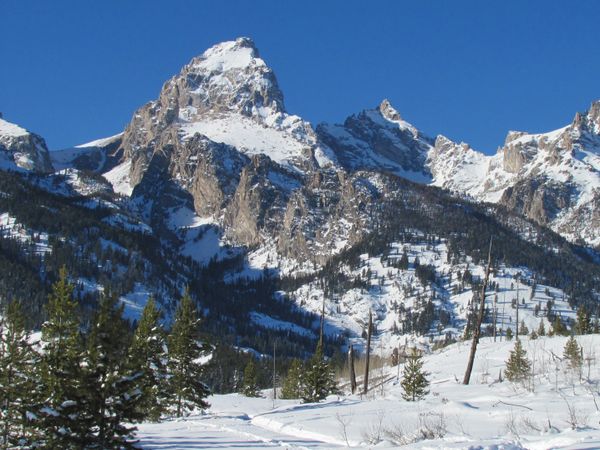 Access via: Teton Park Road, GTNP 3.2 miles north from Moose. Entrance fee or National park pass required.
Fee: $0.00
---
From the Taggart-Bradley Lakes parking lot, head due west for 500 yrds following the ski tracks (summer hiking trail) across the open meadow. The main XC ski trail turns right (north) to follow the summer hiking trail. The trail rises gradually, entering a grove of aspen trees, crosses the creek on a wooden bridge, continues north rising gradually above the horse ranch. After approx. 400 yrds, the trail turns right (west) and heads uphill on a steeper grade. Some will prefer to remove their skis at this point for the uphill (and downhill on the way down), as the trail is only wide enough for a ski track. After some 500 yrds of climbing, the trail levels out at the top of the forested moraine to offer a magnificent view of the Grand Teton. The occasional fallen tree offers a nice place for a picnic or rest. Continue west, where the trail splits – left to Taggart Lake – right to Bradley Lake. Head left for another 1/3/ mile, thru a forest of young pines , then an open meadow, and finally, take a right for 40 yards to reach Taggart Lake.
**Early in the season, the lake may not be frozen enough to ski on, so do not venture onto the lake until well into the winter, after several weeks of known, well- below- freezing condition without thaw. Check with GTNP staff for current conditions.

Return via the same path.

For those wishing to continue on to Bradley Lake, the easiest is to retrace one's path back to the spit 1/3 mile before Taggart lake. See Trail description for Bradley Lake.

Another variation for the return trip is to continue south from Taggart Lake, following the summer trail "Beaver Creek". After leaving the lakeside at Taggart Lake, head south, cross the wood bridge over the creek draining Taggart (Beaver Creek). Continue south downhill then traverse left ( south-east) around the small hill/moraine. The ski track traverses the bottom of the hill above the meadow ( on skier's right) for approx. ¾ mile ( heading east by now) , until one exits into the open meadow to rejoin the final 500 yd track to the carpark.

Other trails in Grand Teton National Park