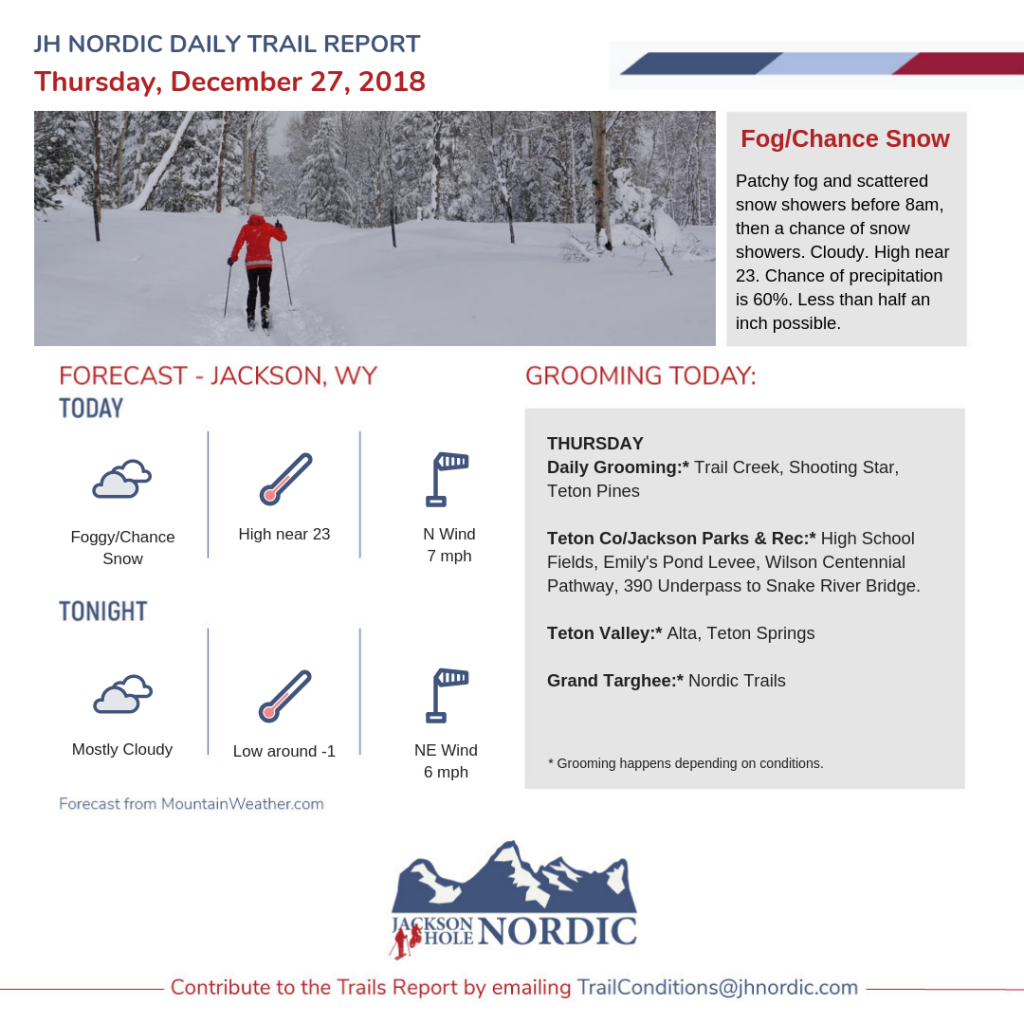 ---
Status of winter operations BT USFS
A note from the Forest Service: As you know, the Forest Service is included in the Government Shutdown. Therefore, the majority of our folks are furloughed and the offices are closed. However, we will be able to provide limited services with a focus on public safety. This includes:
The BT Avalanche Center will continue to issue forecasts
Plowing will continue at Granite, Gros Ventre, Mosquito Creek and Cache Creek (but may not be as frequent)
Snow ranger patrols will continue on a limited basis (this includes Cache and Game and our snowmobile patrols)
Jay will continue to cover Teton Pass
The ambassadors will continue covering Cache and Game (since they are not technically FS volunteers)
Thank you for your support of our winter program and your patience. Hopefully we will return to full operations soon.
---
MARK YOUR CALENDARS!
---

Betty Woolsey Classic – 2k, 5k, 12k
Saturday, December 29
Trail Creek Nordic Center
Wilson WY (off Hwy 22)
9am-12pm
The 2018 Betty Woolsey Classic Race will be at Trail Creek Nordic Center on the Old Pass Road above Wilson Wyoming.  Start time is 10 AM with race distances of 3km, 5km, and 10km.  Registration fee is $15.  Come on out for a fun day of Nordic racing!
---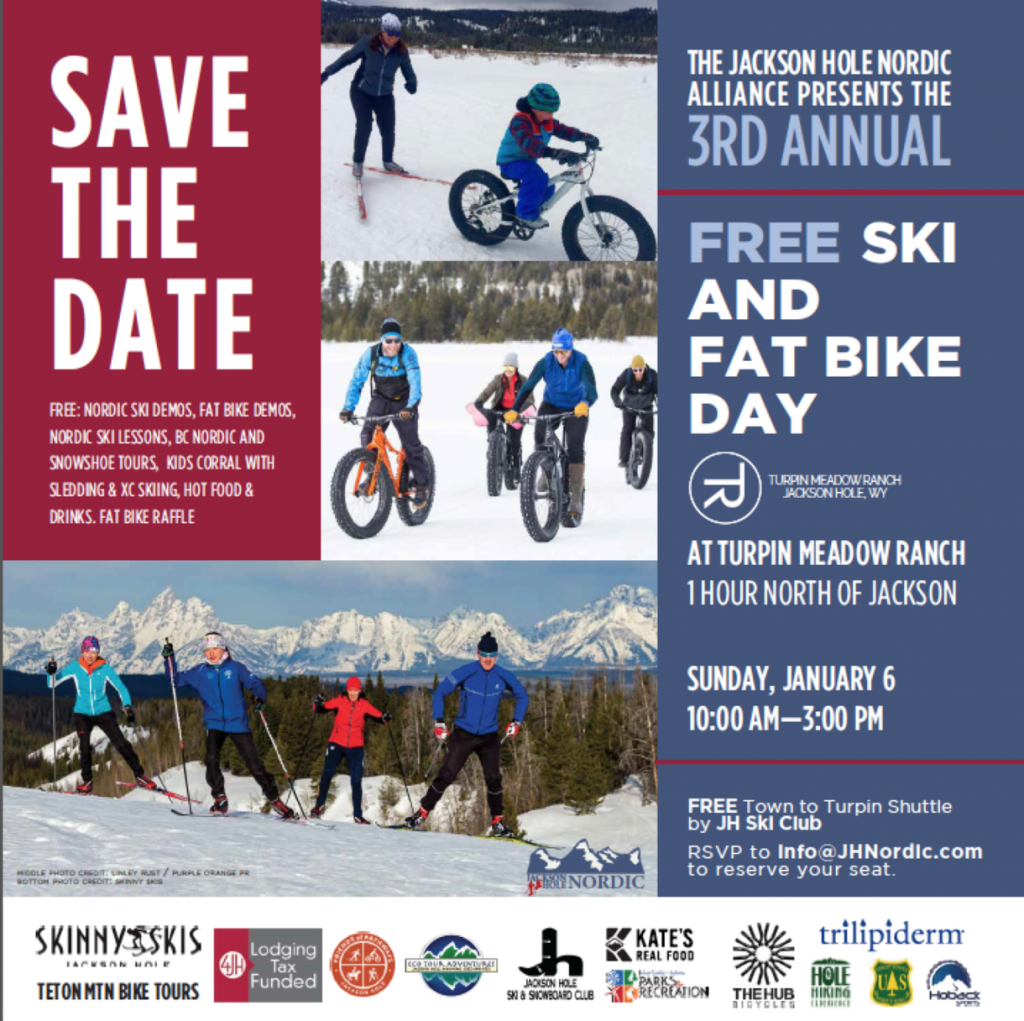 Countdown to Jackson Hole Nordic Alliance's Annual Free Ski and Fat Bike Day at Turpin Meadow Ranch on Sunday, January 6th, 10 am – 3 pm
A little under 2 weeks to go!
Remember:
FREE Nordic Ski & Fat Bike Demos
Nordic Ski Lessons for the newbies
Backcountry Nordic & Snowshoe tours
Kids Corral with Sledding & XC skiing
You can bring the whole family including the dog, just be sure to have your pup on a leash and clean up after them
Don't forget we have a Free shuttle to Turpin Ranch from Jackson, email info@jhnordic.com to reserve your seat
This free event benefits Friends of Bridger-Teton USFS, towards Cache Creek trail access and trail ambassadors.
---
GROOMING REPORTS
---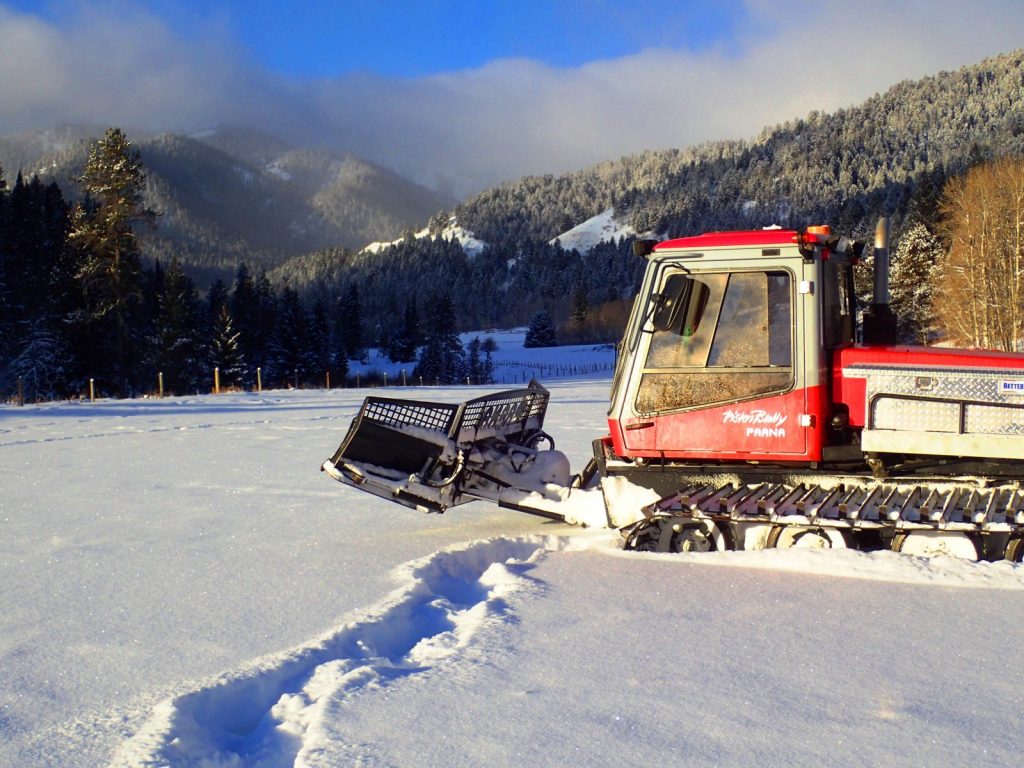 Trail Creek Grooming Report
Last updated: 12/26 @ 12pm
Seriously Grooming the Betty Woolsey!
Those of you familiar with Trail Creek will notice something new and different in the image above, our trusty Pisten Bully was out in the East Fields.  While those favored tours of many of our patrons are not fully set today, permission was granted to at least access the East Field Woods and the Lower East Field.  The above image was the before, the image below was taken about an hour later when the first East Field trail of the season was nearing completion.  While it is a little soft today, skiers found it within minutes and were smiling.
Today's grooming was double passes with fresh classic tracks set by the Pisten Bully.  The route was Saturday's Betty Woolsey course; look for detailed maps tomorrow, but there will be 1/2K, 3K, 5K, and 10K versions (more or less) of the legendary classic race.  The theme as in years past will be a gentle tour through the woods with a few new twists thrown in here and there.
If you can't wait for tomorrow's map basically the course begins in the far end of the stadium making a pretty sharp turn back below the stadium, climbs up beyond the stadium, crosses the access road, passes below the cabin, heads out into the East Field Woods, descends into the Lower East Fields, up Grunt, then Woolsey Woods, to Confusion, out to and around most of Moose Loop, up through Armin's, down lower Homesite to Animal Farm, out and around Black Hole/Boiler, down through Mug's Meadow, onto Homeward Bound, then a short meander across the close field, back onto the "below the stadium path" and back to the finish at the cabin.
Overnight about 4 inches of dry snow fell with noon conditions being partly sunny, calm with a few flakes falling, and a temperature of -5ºC/23ºF.  Tracks will be just a bit soft today, but things are looking absolutely beautiful with fresh snow sparkling in the bits of sunshine, if you have the time you really should go for a ski!
Groomer's choice for today is the Betty Woolsey Course.
---
Shooting Star Grooming Report
Last Updated: 12/26 @ 9am
The recent snows have freshened up the trails and skiing should be excellent. Bundle up as temperatures are expected to be cooler through Saturday. Get outside and enjoy!
---
Last Updated: 12/26 @ 5pm
Back up and groomed! We were able to drag the small groomer around to refresh the skate lane. Classic tracks are holding up. Come out and enjoy the beautiful weather during this holiday break!
Buy Your Turpin Meadows Trail Pass!
---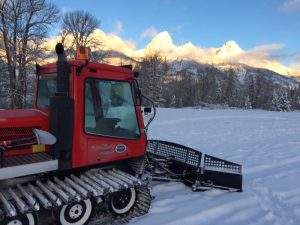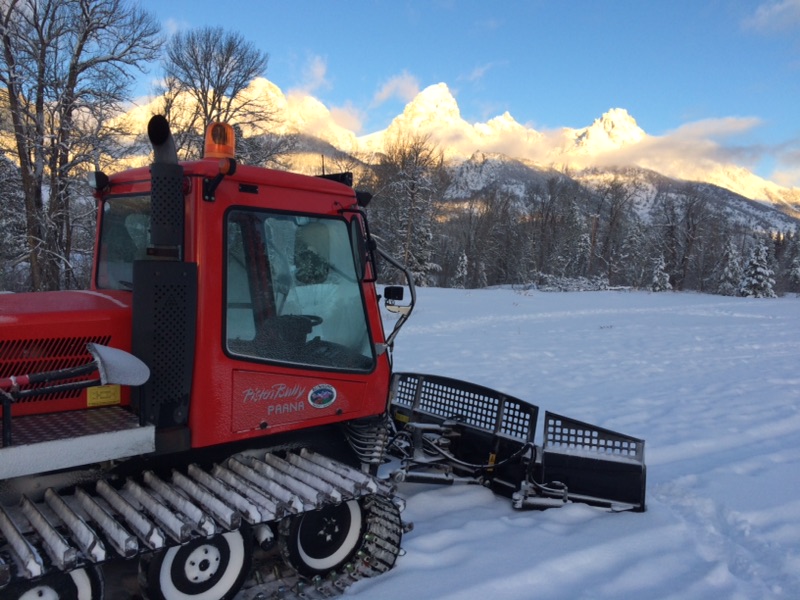 Grand Teton National Park Grooming Report
Last Updated: 12/26 @ 8am
Merry Christmas! Grooming in Grand Teton National Park today from Taggart Lake Trailhead to South Jenny Lake. Looks like it's going to be a beautiful day out there.  Get out and enjoy the fresh tracks.
---
Teton Pines Grooming Report
Last Updated: 12/26 @ 7pm
Conditions are great at Teton Pines! All of our trails are groomed daily for both skate and classic. Wax recommendations for the day can be found on our Facebook page or by calling us at (307)733-1733.
---
11:00am: Game Creek is finished and in good shape. Three Creek will be done around 12:30.
8:00am: Cache Creek and Wayne May Park are finished and in great shape. I'll be heading to Game Creek next and should be done around 11:00.
XC OPEN (Last groomed AM 12/25/2018), Fat Bike CLOSED.
The gifts keep on coming! I guess Santa wasn't quite done yet. 5″ in 24 hours, with 4″ falling after lifts' closure. Don't start this new year off on the wrong foot with Santa. Maintain your name's placement on the nice list by getting up the hill, skiing hard and giving thanks for these tidings! Cloudy skies will make way for some sun today, with highs nearing 15 degrees. Winds will remain calm throughout the day. Meet us at Dreamcatcher this morning, where we will be celebrating 50 years of Grand Targhee. Balloons, smiles and fresh powder can be expected!
---

Alta Track
Grooming Schedule: Tuesday, Thursday, Saturday, Sunday
Last Updated: 12/25 @ 12PM
Skate: Good  |  Classic: Excellent
Looking good out here. Merry Christmas!
Driggs
Grooming Schedule: Monday, Wednesday, Friday
Last Updated: 12/26 @ 2PM
Skate: Fair  |  Classic: Poor
Skating possible both loops. Classic OK south loop. More snow, please!
Sherman Park
Grooming Schedule: Monday, Wednesday, Friday
Last Updated: 12/26 @ 7PM
Skate: Good  |  Classic: Not Set
Groomed Sherman Park Nordic trail Wednesday afternoon. Enjoy!
Teton Canyon
Grooming Schedule: Monday, Wednesday, Saturday and Sunday
Last Updated: 12/26 @ 6AM
Skate: Fair |  Classic: Fair
Wednesday: Plan to reset both skate and classic tracks this morning. Guessing track will be a bit soft with a few inches new snow. Finish by 10am.
Teton Springs
Grooming Schedule: Tuesday, Thursday, Saturday
Last Updated: 12/26 @ 12PM
Skate: Excellent |  Classic: Excellent
Reset all trails over about 4″ of fresh snow.
5th Street Singletrack
Grooming Schedule: Monday, Wednesday, Friday
Last Updated: 12/21 @ 10PM
Singletrack: Fair
Pulled the singletrack roller around the loop today. It's thin out there, but definitely rideable.
Teton Springs Singletrack
Grooming Schedule: Monday, Wednesday, Friday
Last Updated: 12/21 @ 3PM
Singletrack: Fair
It's blowing snow. Groomed the short route out to Sherman Springs, but it's probably blown in by now. Also groomed the Sherman Springs access road out to 9500.
Southern Valley Single Track
Grooming Schedule: As Needed
Last Updated: 12/26 @ 8PM
Singletrack: Good
A couple of tricky spots over near pole canyon.
Rammell Mountain Road to Indian Meadows
Grooming Schedule: As Needed
Last Updated: 12/19/2018 7:51:17
Singletrack: N/A
Comments: Groomed Today
For more info on Teton Valley grooming, visit their grooming page.
---
Pinedale Nordic Grooming Report
Last Updated: 12/26 @ 9AM
Half Moon Tie-In, Kelly Park, Kelly Tie-In, Upper & Lower Surveyor, Tree Loop, Moose Ridge, Flatline, Heart Attack and Old Road Trail have all been groomed this morning. About 1″ of new snow. 12F degrees. Lots of deer and moose both up above – give them their space.
---
UPCOMING EVENTS
---

2019 TRIPLE CROWN RACE SERIES
Register by January 1
1) Skinny Skis 27th Annual Moose Chase Nordic Ski Race
2) FCExcavation 37th Annual Jackson Town Downhill
3) Rendezvous River Sports 44th Annual Karen Oatey Pole Pedal Paddle
_________________________________________
The Triple Crown celebrates Jackson Hole's winter sports traditions and recognizes our region's heartiest athletes.
Do you have the grit and determination to race the entire series? Over $10,000 in Cash and Prizes!
---
New Nordic Master's Program
Thursday January 3
11-12:30: Classic Technique for All
Dates: Jan 3, Jan 17, Jan 31, Feb 14, Feb 28
Trail Pass + Nordic coaching on Tips & Technique, alternating Classic cross-country and skate skiing.
$150 for 6 clinics, $100 for 6 clinics for existing pass holders.
Drop-in clinic and trail pass: $35
Clinic only:  $30.
More info? Contact Nancy at info@jhnordic.com. 650-464-6000