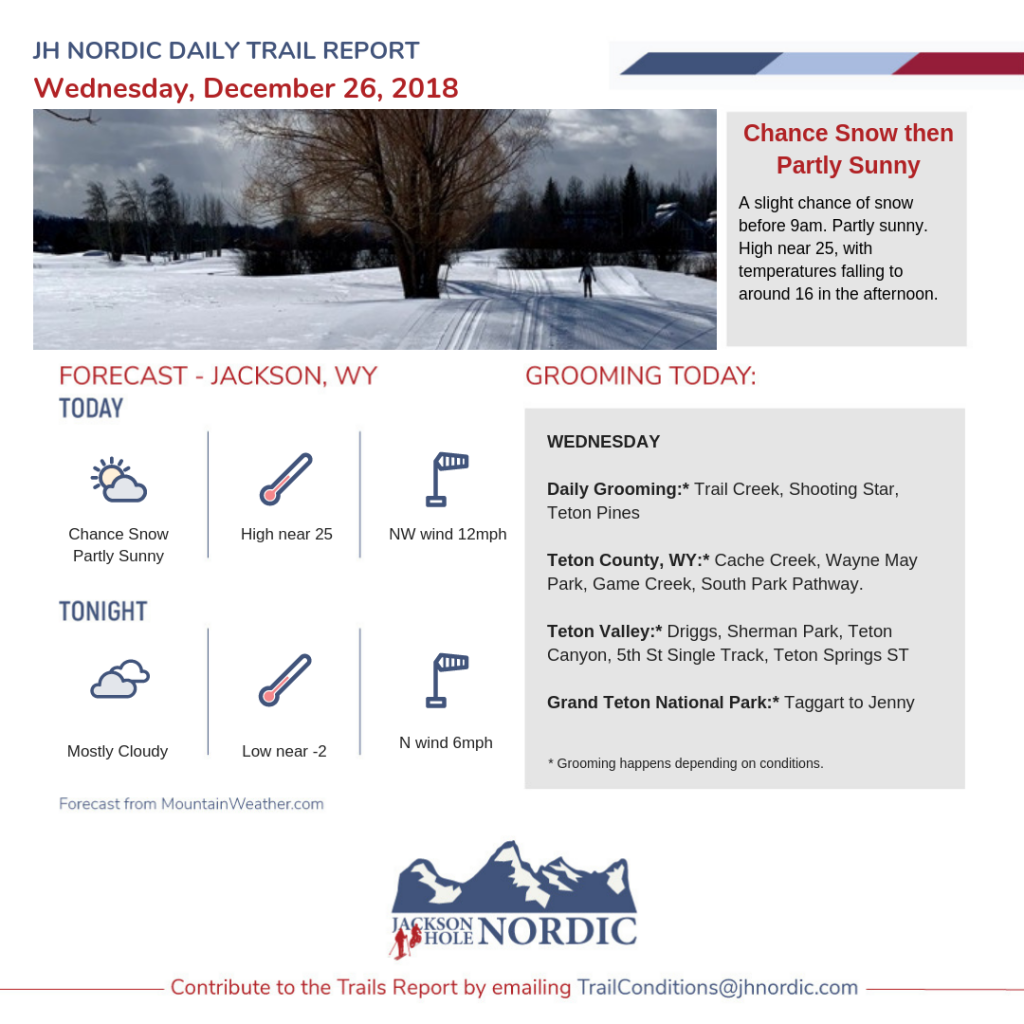 ---
MARK YOUR CALENDARS!
---

Betty Woolsey Classic – 2k, 5k, 12k
Saturday, December 29
Trail Creek Nordic Center
Wilson WY (off Hwy 22)
9am-12pm
The 2018 Betty Woolsey Classic Race will be at Trail Creek Nordic Center on the Old Pass Road above Wilson Wyoming.  Start time is 10 AM with race distances of 3km, 5km, and 10km.  Registration fee is $15.  Come on out for a fun day of Nordic racing!
---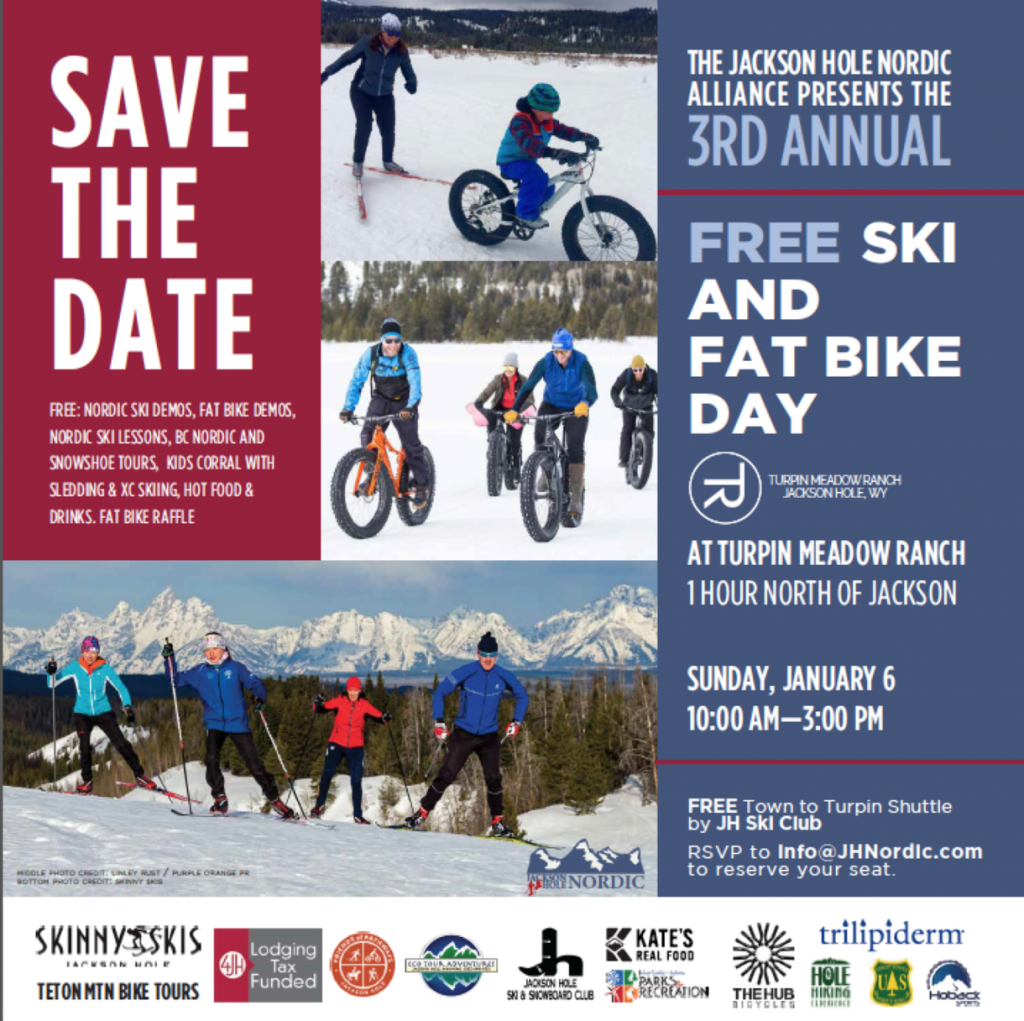 Countdown to Jackson Hole Nordic Alliance's Annual Free Ski and Fat Bike Day at Turpin Meadow Ranch on Sunday, January 6th, 10 am – 3 pm
A little under 3 weeks to go!
Remember:
FREE Nordic Ski & Fat Bike Demos
Nordic Ski Lessons for the newbies
Backcountry Nordic & Snowshoe tours
Kids Corral with Sledding & XC skiing
You can bring the whole family including the dog, just be sure to have your pup on a leash and clean up after them
Don't forget we have a Free shuttle to Turpin Ranch from Jackson, email info@jhnordic.com to reserve your seat
This free event benefits Friends of Bridger-Teton USFS, towards Cache Creek trail access and trail ambassadors.
---
GROOMING REPORTS
---
Trail Creek Grooming Report
Last updated: 12/25 @ 9am
Merry Christmas!
It's the most wonderful time of the year and what better thing to do on such a day than grab your family and head on out to Trail Creek for a great Nordic ski!  Christmas blessings from the JHSC Nordic gang, may the spirit of Christmas be with us all throughout the new year.
Due to some Santa duties, today's grooming was earlier than usual but everything is set and ready to go.  The Pisten Bully made the initial pass with fresh classic tracks on all trails followed by a Ginzu skate pass to make plenty of room for skaters.  Overnight a strong inch of snow fell; as of 8:30 AM the temperature was -7ºC/19ºF with calm and cloudy conditions.  Skate lanes might be a smidge soft but all in all you will find some great skiing today!
Groomer's choice for today is a ski with the family.
---
Shooting Star Grooming Report
Last Updated: 12/23 @ 11am
The course groomed out well and should provide enjoyable skiing. Look for some light snow to fall this afternoon and linger through tomorrow. Enjoy!
---
Last Updated: 12/26 @ 7pm
We are still working to find a solution to our mechanical problems. In the meantime , classic Nordic skiing is very good in the fresh snow. And, did you know Turpin is a great place to snowshoes? We have snowshoes for rent and offer daily tours! Check out our tours here: https://www.turpinmeadowranch.com/jackson-hole-adventures/snowshoeing/
Buy Your Turpin Meadows Trail Pass!
---
Grand Teton National Park Grooming Report
Last Updated: 12/25 @ 8am
**Christmas Holiday Notice: The park road will be groomed Wednesday 12/26 instead of Tuesday due to Christmas falling on Tuesday.
---
Teton Pines Grooming Report
Last Updated: 12/25 @ 11am
Christmas Corduroy! Come out and ski today! We are open from 11-4pm. We groomed the classic track yesterday late afternoon and skate track this morning. The classic tracks have a dusting of fresh cold on them, so classic skiing is awesome this morning!The skate track is firm and fast today!! Wax of the day: glide—Swix LF 7, kick/grip—Swix Blue extra/violet special. JHNordic
---
The levee and Stilson are groomed in in great shape. Skate and classic lanes will ski nicely. I will be done with the school fields around 11am. Cache will be groomed to Noker Mine Draw on Monday. Because of Christmas there will be no grooming on Tuesday.
XC OPEN (Last groomed AM 12/25/2018), Fat Bike CLOSED.
You must have been good this year, because Santa delivered! Your present awaits. Enjoy a morning lounging around, but don't lounge for too long, there is snow to be skied!
6″ in 24 hours, with 2″ of those falling after lifts closure. Skies are currently clear, and the high will be 24. Winds are expected to range from 7 to 10 mph and blow ESE.
We woke to sunshine, breakfast, and Rocky Mountain coldsmoke, 
The kids were getting along, no fighting, no joke. 
A beautiful Christmas day was had and these weren't just words I've scribed you see, 
It's the magic of the Tetons, home of the vibe that's uniquely Targhee.
---

Alta Track
Grooming Schedule: Tuesday, Thursday, Saturday, Sunday
Last Updated: 12/25 @ 12PM
Skate: Good  |  Classic: Excellent
Looking good out here. Merry Christmas!
Driggs
Grooming Schedule: Monday, Wednesday, Friday
Last Updated: 12/21 @ 9AM
Skate: Good  |  Classic: Not Set
A drag was used to level track today in anticipation of coming snow. Nordic track will be set Monday.
Sherman Park
Grooming Schedule: Monday, Wednesday, Friday
Last Updated: 12/24 @ 7AM
Skate: Good  |  Classic: Not Set
Made several passes to buff out all the lumps. Should be good for the holidays! Have fun.
Teton Canyon
Grooming Schedule: Monday, Wednesday, Saturday and Sunday
Last Updated: 12/25 @ 1PM
Skate: Good |  Classic: Good
Christmas 1pm: About to make a quick pass in and out with Ginzu to reset south classic and skate tracks
Teton Springs
Grooming Schedule: Tuesday, Thursday, Saturday
Last Updated: 12/24 @ 10AM
Skate: Excellent |  Classic: Excellent
All trails set. Came out pretty nice. Also, groomed out a sledding hill north of the cart bar on the Grille Loop.
5th Street Singletrack
Grooming Schedule: Monday, Wednesday, Friday
Last Updated: 12/21 @ 10PM
Singletrack: Fair
Pulled the singletrack roller around the loop today. It's thin out there, but definitely rideable.
Teton Springs Singletrack
Grooming Schedule: Monday, Wednesday, Friday
Last Updated: 12/21 @ 3PM
Singletrack: Fair
It's blowing snow. Groomed the short route out to Sherman Springs, but it's probably blown in by now. Also groomed the Sherman Springs access road out to 9500.
Southern Valley Single Track
Grooming Schedule: As Needed
Last Updated: 12/21 @ 3PM
Singletrack: Good
Upper Lady Slipper is in great shape. Lower Lady Slipper had a bit of wind loaded snow in spots. It's groomed all the way to Pole Canyon, but wind is blowing. Nemo is in good condition with a solid base.
Rammell Mountain Road to Indian Meadows
Grooming Schedule: As Needed
Last Updated: 12/19/2018 7:51:17
Singletrack: N/A
Comments: Groomed Today
For more info on Teton Valley grooming, visit their grooming page.
---
Pinedale Nordic Grooming Report
Last Updated: 12/24 @ 9AM
Half Moon Tie-In, Kelly Park, Kelly Tie-In, Upper & Lower Surveyor, Tree Loop, Moose Ridge, Flatline, Heart Attack and Old Road Trail have all been groomed this morning. Dusting of new snow – spitting snow a bit now. 23F degrees. CCC and Golf Course trails should be in decent shape.
---
UPCOMING EVENTS
---

1) Skinny Skis 27th Annual Moose Chase Nordic Ski Race
2) FCExcavation 37th Annual Jackson Town Downhill
3) Rendezvous River Sports 44th Annual Karen Oatey Pole Pedal Paddle
_________________________________________
The Triple Crown celebrates Jackson Hole's winter sports traditions and recognizes our region's heartiest athletes.
Do you have the grit and determination to race the entire series? Over $10,000 in Cash and Prizes!
---
New Nordic Master's Program
Thursday January 3
11-12:30: Classic Technique for All
Dates: Jan 3, Jan 17, Jan 31, Feb 14, Feb 28
Trail Pass + Nordic coaching on Tips & Technique, alternating Classic cross-country and skate skiing.
$150 for 6 clinics, $100 for 6 clinics for existing pass holders.
Drop-in clinic and trail pass: $35
Clinic only:  $30.
More info? Contact Nancy at info@jhnordic.com. 650-464-6000