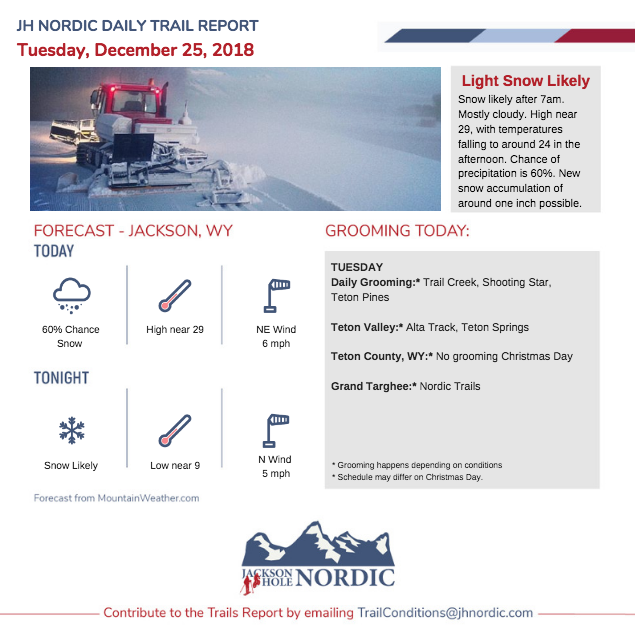 ---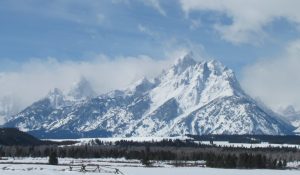 In response to the lapse in federal appropriations, Grand Teton National Park is implementing its plan for a government shutdown. Government-operated facilities in the park will be closed. Visitors will be able to access the park, though no visitor services will be available.
Grand Teton National Park Deputy Superintendent Gopaul Noojibail said, "Visitors will be able to access Grand Teton National Park, but should plan ahead and use caution as park staff will not be available to provide guidance or assistance. If visitors see something that jeopardizes visitor safety or park resources, call Teton Interagency Dispatch Center at
307.739.3301
."
Grand Teton National Park's shutdown plan includes:
Park roads will remain open if they are essential to respond to emergencies-this includes most roads that are normally maintained and open at this time of year. Access to all residences will be maintained.
Emergency response may be delayed.
Entrance stations will not be staffed.
Grooming of the Teton Park Road will continue through a partnership agreement with Grand Teton National Park Foundation.  Grooming is scheduled to occur twice a week.
Access to Yellowstone National Park's south entrance will continue, including staging and winter services available at Headwaters Lodge at Flagg Ranch in John D. Rockefeller, Jr. Memorial Parkway.
---
1) Skinny Skis 27th Annual Moose Chase Nordic Ski Race
2) FCExcavation 37th Annual Jackson Town Downhill
3) Rendezvous River Sports 44th Annual Karen Oatey Pole Pedal Paddle
_________________________________________
The Triple Crown celebrates Jackson Hole's winter sports traditions and recognizes our region's heartiest athletes.
Do you have the grit and determination to race the entire series? Over $10,000 in Cash and Prizes!
Who Will Wear the Crown!?
---
GROOMING REPORTS
---
Trail Creek Grooming Report
Last updated: 12/24 @11am
Peaceful!
Delicate snowflakes are gently falling on the trails today at Trail Creek, creating a truly peaceful experience for you on your Nordic outing; as of 11:30 AM 2-4 inches of the lovely white stuff have fallen with calm winds and a temperature of -5ºC/23ºF.  Today's grooming began with a Pisten Bully classic track pass over most trails followed by a skate pass with the Ginzu groomer.  Even though a fair amount of snow has fallen since the first classic tracks were set, a pretty good Christmas Eve crowd has kept them skied in nicely.
May you find peace on your Nordic ski today and may we all find peace in our journey through life in the year to come.
Groomer's choice for today is the Close Field.
---
Shooting Star Grooming Report
Last Updated: 12/23 @ 11am
The course groomed out well and should provide enjoyable skiing. Look for some light snow to fall this afternoon and linger through tomorrow. Enjoy!
---
Last Updated: 12/23 @ 4pm
SPECIAL ANNOUNCEMENT for 12/24 &12/25
Snow is in the forecast and we are always grateful for that! Unfortunately both pieces of grooming equipment are out of order so we will not be able to refresh our trails until they are fixed (we are working on it) or we beg/borrow/steal some one else's equipment (we're talking to some folks)!
In the meantime we would like to offer a Christmas gift to you: we invite you to come ski Turpin free of charge on Christmas Eve and Day! Please still sign in at the office but know that your trail pass will be waived, all other operations will be running normally. We are recommending you bring your classic skis.
Buy Your Turpin Meadows Trail Pass!
---
Grand Teton National Park Grooming Report
Last Updated: 12/21 @ 8am
Taggart Lake Trail Head to Signal Mountain today – cloudy – cool – and windy today.  Have a great day out there everyone.
**Christmas Holiday Notice: The park road will be groomed Wednesday next week instead of Tuesday due to the Christmas falling on Tuesday.
---
Teton Pines Grooming Report
Last Updated: 12/24 @ 5pm
We are open Christmas Day 11am-4pm. Check out Facebook page for the latest wax recommendations and grooming updates.
---
The levee and Stilson are groomed in in great shape. Skate and classic lanes will ski nicely. I will be done with the school fields around 11am. Cache will be groomed to Noker Mine Draw on Monday. Because of Christmas there will be no grooming on Tuesday.
XC OPEN (Last groomed AM 12/23/2018), Fat Bike CLOSED.
Christmas Eve turns, for some a family tradition, for others a right of passage into the turkey and dessert coma that awaits. Keep an eye out for Santa today, he too will be skiing.
A white Christmas it is, at the Ghee, with 2″ since lifts' closure and more on the way. Except snow showers throughout the day with highs near 21, and winds SW at 10-13mph. The chance of snow is 80% and 3-7″ of accumulation is predicted.
---

Alta Track
Grooming Schedule: Tuesday, Thursday, Saturday, Sunday
Last Updated: 12/22 @ 11PM
Skate: Good  |  Classic: Good
I ran two laps around the track on Saturday night. There was one motivated skier out there enjoying the gorgeous full moon conditions. I left the classic track alone since it was firm and in good shape. I did smooth out the skate lane since it had seen a lot of traffic through the day. It should set up very well overnight. Enjoy!
Driggs
Grooming Schedule: Monday, Wednesday, Friday
Last Updated: 12/21 @ 9AM
Skate: Good  |  Classic: Not Set
A drag was used to level track today in anticipation of coming snow. Nordic track will be set Monday.
Sherman Park
Grooming Schedule: Monday, Wednesday, Friday
Last Updated: 12/24 @ 7AM
Skate: Good  |  Classic: Not Set
Made several passes to buff out all the lumps. Should be good for the holidays! Have fun.
Teton Canyon
Grooming Schedule: Monday, Wednesday, Saturday and Sunday
Last Updated: 12/24 @ 6AM
Skate: Good |  Classic: Fair
Monday: Hoping that there is an inch of new snow in the canyon this morning, to allow a nice reset of both skate and classic tracks. Plan to finish grooming by 930am.
Teton Springs
Grooming Schedule: Tuesday, Thursday, Saturday
Last Updated: 12/24 @ 10AM
Skate: Excellent |  Classic: Excellent
All trails set. Came out pretty nice. Also, groomed out a sledding hill north of the cart bar on the Grille Loop.
5th Street Singletrack
Grooming Schedule: Monday, Wednesday, Friday
Last Updated: 12/21 @ 10PM
Singletrack: Fair
Pulled the singletrack roller around the loop today. It's thin out there, but definitely rideable.
Teton Springs Singletrack
Grooming Schedule: Monday, Wednesday, Friday
Last Updated: 12/21 @ 3PM
Singletrack: Fair
It's blowing snow. Groomed the short route out to Sherman Springs, but it's probably blown in by now. Also groomed the Sherman Springs access road out to 9500.
Southern Valley Single Track
Grooming Schedule: As Needed
Last Updated: 12/21 @ 3PM
Singletrack: Good
Upper Lady Slipper is in great shape. Lower Lady Slipper had a bit of wind loaded snow in spots. It's groomed all the way to Pole Canyon, but wind is blowing. Nemo is in good condition with a solid base.
Rammell Mountain Road to Indian Meadows
Grooming Schedule: As Needed
Last Updated: 12/19/2018 7:51:17
Singletrack: N/A
Comments: Groomed Today
New Nordic Master's Program
Thursday January 3
11-12:30: Classic Technique for All
Dates: Jan 3, Jan 17, Jan 31, Feb 14, Feb 28
Trail Pass + Nordic coaching on Tips & Technique, alternating Classic cross-country and skate skiing.
$150 for 6 clinics, $100 for 6 clinics for existing pass holders.
Drop-in clinic and trail pass: $35
Clinic only:  $30.
More info? Contact Nancy at info@jhnordic.com. 650-464-6000
---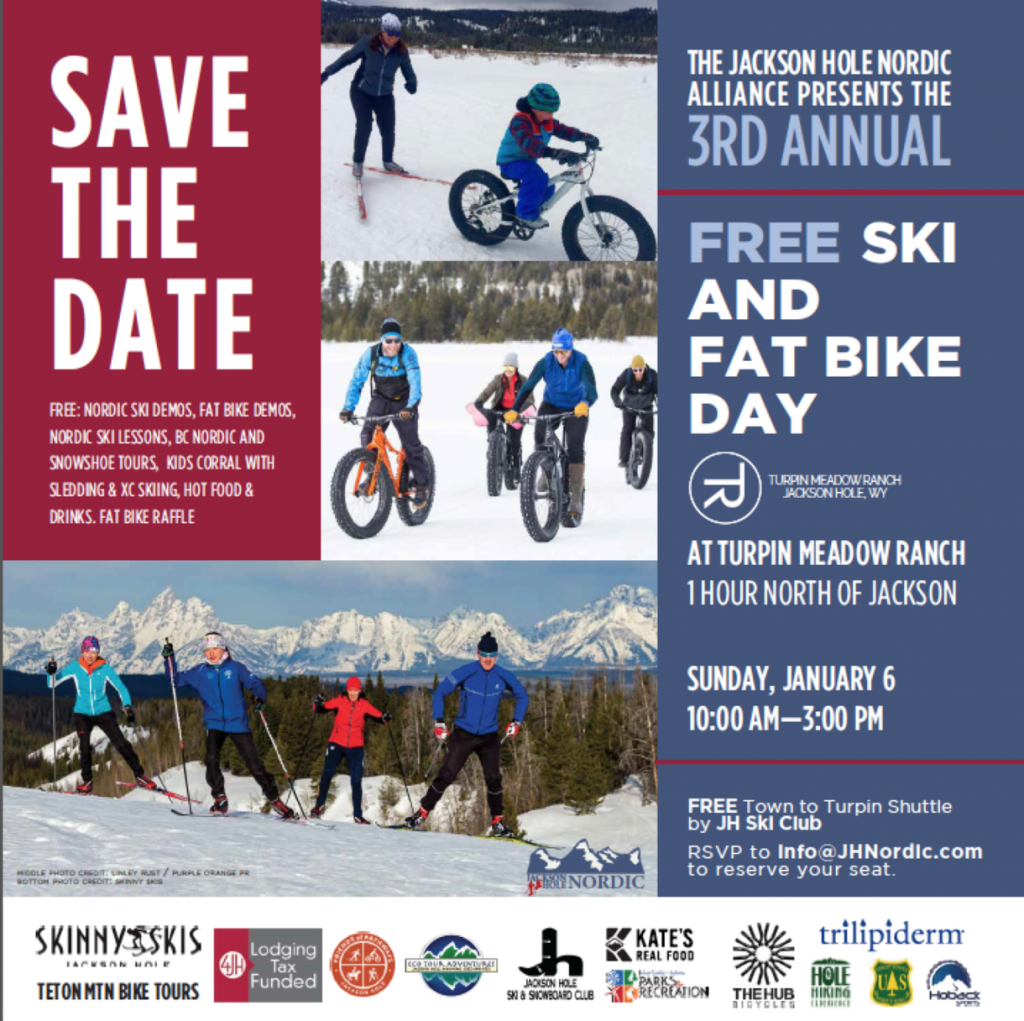 Countdown to Jackson Hole Nordic Alliance's Annual Free Ski and Fat Bike Day at Turpin Meadow Ranch on Sunday, January 6th, 10 am – 3 pm
A little under 3 weeks to go!
Remember:
FREE Nordic Ski & Fat Bike Demos
Nordic Ski Lessons for the newbies
Backcountry Nordic & Snowshoe tours
Kids Corral with Sledding & XC skiing
You can bring the whole family including the dog, just be sure to have your pup on a leash and clean up after them
Don't forget we have a Free shuttle to Turpin Ranch from Jackson, email info@jhnordic.com to reserve your seat
For more events, visit our events page.